ssMaritime.com & ssMaritime.net
With Reuben Goossens
Maritime Historian
The Saxonia Class Liners
Page 5
Fair Princess becomes an Aussie!
This page is under construction – more to be added in the near future
Fair Princess departed Sydney on her maiden cruise for P&O Holidays Australia on 7 February 1997 to a disastrous start. Her maiden cruise was plagued with mechanical faults, including a fire in the casino. She sustained water damage in cabins below. Sadly, she was plagued with ongoing generator, and air-conditioning problems for most of her time in Australia, which saw a good number of cruises cancelled. Eventually, P&O sent for US specialists who knew Fair Princess well from her time in the US with Princess Cruises. Repairs were made, but she did continue to suffer from generator problems until she was sold.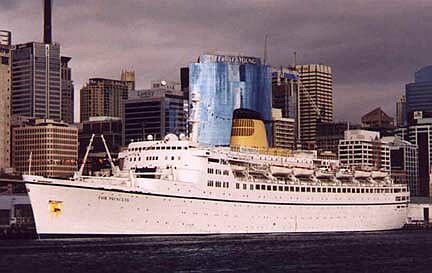 Fair Princess berthed in Darling Harbour Sydney
T.S.S. Fair Princess
Many past passengers felt that this ship could never provide the kind of cruise experience the Fairstar had offered for so long. However, records and bookings prove, that after her ongoing improvements, including re-carpeting and refurbishing, Fair Princess eventually gained the esteem of passengers who loved "Ships that are ships," the respect this fine vessel deserved. Even amongst first time cruisers, she slowly built up a good following, and enjoyed many repeat passengers on every sailing. The author, whilst on the "New Zealand Enchanter" cruise ex Sydney 31 January 2000, found that there were over four hundred and fifty repeat passengers onboard, being almost half of her capacity.
Fair Princess continued her proud history as a ship that has served her owners with pride! Not that her owners always served her with great pride, as due to the new land based hotel style management, Fair Princess became a moneymaking workhorse. To the point, P&O, massacred one of the finest rooms onboard, the delightfully peaceful, non-smoking "Harry's Bar," by placing slot machines and gaming tables, where once there were cosy tables and chairs for passengers to enjoy a quiet drink, away from a room filled with smoke, like in all the other bars aboard. P&O also placed two casino tables in what was the annexe, connecting the South Seas Lounge, and Harry 's Bar, which had been a delightful corner for a drink, or a game of cards. Obviously, the casino was not large enough for P&O! After the alterations, non-smokers did not have a single non smoking lounge / bar aboard. The only non-smoking venues onboard was the dinning room.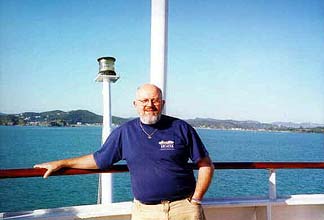 The author departing the Bay of Islands 2 February 2000
The announcement came early in 1999, that the ex Sitmar / Princess Cruises Fairsky / Sky Princess would replace the Fair Princess in November 2000. Sky Princess was renamed Pacific Sky for the Australian cruise market. P&O intended to use, and duly marketed Fair Princess to cruise out of Auckland New Zealand for an annual series of Pacific cruises. This news was gratefully received by New Zealanders, as advance bookings obviously revealed.
Index
Page 1
– Foreword – Construction
Page 2 – Sitmar buys Carinthia and Ivernia – Sisters go Russian
Page 3
- Fairwind / Fairsea – Sitmar sold to P&O Princess Cruises
Page 4 – The Fairstar the Australian connection
Page 5 – Fair Princess becomes an Aussie
Page 6 – Passenger list images
Page 7 – Albatros ex Dawn Princess / Fairwind / Sylvania / Ivernia /
Saxonia – Passenger list images
Fair Princess Photo Album – Exteriors
Fair Princess Photo Album - Interiors
Fedor Shalyapin - ex Franconia / Ivernia
China Sea Discovery – ex Fair Princess / Fairsea / Fairland / Carinthia
China Sea Discovery Photo Album
All photographs are by the author, or from the author's private collection, unless mentioned otherwise ~ Fairsea in Juneau Alaska - Luca Ferrerio ~ Fair Princess (Princess Cruises) - Marvin Jensen ~ Pacific Sky – Marion Carter ~ China Sea Discovery - Kiwi Marine Consultants Ltd, Hong Kong ~ Photographer of Fedor Shalyapin laid up, and other '*unknown' photographers, please see photo notes below.
Use the Back button on your browser or Close the Page to return to the previous page
or go to our
INDEX
***********************************
Who is the Author of ssMaritime?
Commenced in the passenger Shipping Industry in May 1960
ssMaritime.com & ssMaritime.net
Where the ships of the past make history & the 1914 built MV Doulos Story
Also visit my …
"Save The Classic Liners Campaign" & "Classic Ocean Voyages" pages
Photographs on ssmaritime and associate pages are by the author or from the author's private collection. In addition there are some images that have been provided by Shipping Companies and private photographers or collectors. Credit is given to all contributors. However, there are some photographs provided to me without details regarding the photographer/owner concerned. I hereby invite if owners of these images would be so kind to make them-selves known to me (my email address may be found on www.ssmaritime.com only), in order that due credit may be given. I know what it is like, I have seen a multitude of my own photographs on other sites, yet these individuals either refuse to provide credit or remove them when asked, knowing full well that there is no legal comeback when it comes to the net. However, let us show these charlatans up and do the right thing at all times and give credit where credit is due!
This notice covers all pages, although, and I have done my best to ensure that all photographs are duly credited and that this notice is displaced on each page, that is, when a page is updated!
ssMaritime is owned and © Copyright 2010/12 - by Reuben Goossens - All Rights Reserved