ssMaritime.com & ssMaritime.net
With Reuben Goossens
Maritime Historian
The Saxonia Class Liners
Page 7
TSS
Albatros
Out of the four Saxonia Class ships, the Albatros, owned by V-Lines, operated under charter as a fulltime cruise ship for the German Cruise Company, Phoenix Reisen. Over the years, she cruised around the world, filled with German tourists. Rated by Berlitz as a 3 star cruise ship, she offered German holidaymakers reasonable fares. She has been beautifully maintained.
However, in November 2003 the charter agreement with Phoenix Reisen was suddenly concluded due to machinery problems. As repair costs would have been very high, V-Lines decided to sell for scrap. She departed Genoa on Sunday 21 December with the name Genoa painted on her bow, and headed for Alang India, where was beached and broken up. Goodbye old girl!
Raoul Fiebig of Das Ruderhaus has an excellent page on her, which also contains many excellent photographs of her in and exteriors.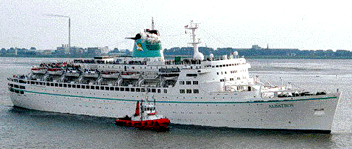 A fine view of the Albatros, and her steam powered whistle in full action
(Raoul Fiebig – Das Ruderhaus)

Conclusion
The author gave a Maritime Lecture, entitled, "The Saxonia Class Liners" aboard the TSS Fair Princess on 08 February 2000, during her final cruise to New Zealand, which departed Sydney 31 January, returning 14 February.
Special thanks: Fair Princess' Captain Philip Pickford, Chief Engineer Domenico Magilio, Purser John Nicoli, and Food & Beverage Manager Carlos Melo, for their charming hospitality, behind the scenes tours, and their assistance in making this article and lecture a success. Thank you Mike Wall of Kiwi Marine Consultants Ltd, Hong Kong, Mr. Peter Frawley, Managing Director P&O Cruises Australia, for the concluding information regarding the China Sea Discovery.
Index
Page 1
– Foreword – Construction
Page 2 – Sitmar buys Carinthia and Ivernia – Sisters go Russian
Page 3
- Fairwind / Fairsea – Sitmar sold to P&O Princess Cruises
Page 4 – The Fairstar the Australian connection
Page 5 – Fair Princess becomes an Aussie
Page 6 – Passenger list images
Page 7 – Albatros ex Dawn Princess / Fairwind / Sylvania / Ivernia /
Saxonia – Passenger list images
Fair Princess Photo Album – Exteriors
Fair Princess Photo Album - Interiors
Fedor Shalyapin - ex Franconia / Ivernia
China Sea Discovery – ex Fair Princess / Fairsea / Fairland / Carinthia
China Sea Discovery Photo Album
All photographs are by the author, or from the author's private collection, unless mentioned otherwise ~ Fairsea in Juneau Alaska - Luca Ferrerio ~ Fair Princess (Princess Cruises) - Marvin Jensen ~ Pacific Sky – Marion Carter ~ China Sea Discovery - Kiwi Marine Consultants Ltd, Hong Kong ~ Photographer of Fedor Shalyapin laid up, and other '*unknown' photographers, please see photo notes below.
Use the Back button on your browser or Close the Page to return to the previous page
or go to our
INDEX
***********************************
Who is the Author of ssMaritime?
Commenced in the passenger Shipping Industry in May 1960
ssMaritime.com & ssMaritime.net
Where the ships of the past make history & the 1914 built MV Doulos Story
Also visit my …
"Save The Classic Liners Campaign" & "Classic Ocean Voyages" pages
Photographs on ssmaritime and associate pages are by the author or from the author's private collection. In addition there are some images that have been provided by Shipping Companies and private photographers or collectors. Credit is given to all contributors. However, there are some photographs provided to me without details regarding the photographer/owner concerned. I hereby invite if owners of these images would be so kind to make them-selves known to me (my email address may be found on www.ssmaritime.com only), in order that due credit may be given. I know what it is like, I have seen a multitude of my own photographs on other sites, yet these individuals either refuse to provide credit or remove them when asked, knowing full well that there is no legal comeback when it comes to the net. However, let us show these charlatans up and do the right thing at all times and give credit where credit is due!
This notice covers all pages, although, and I have done my best to ensure that all photographs are duly credited and that this notice is displaced on each page, that is, when a page is updated!
ssMaritime is owned and © Copyright 2010/12 - by Reuben Goossens - All Rights Reserved