ssMaritime.com & ssMaritime.net
With Reuben Goossens
Maritime Historian
"The Saxonia Class Liners"
Page 6
The following three images were kindly provided to Maritime World Online by


Mr. Philip Wood who sailed on the Saxonia ex Liverpool to Quebec 2 May 1956.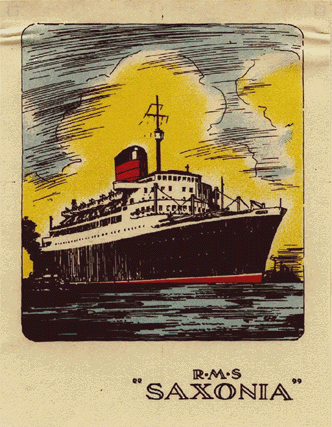 Above: Cunard inserted this delightful colour sketch into each Passenger List.
<![if !supportLineBreakNewLine]>
<![endif]>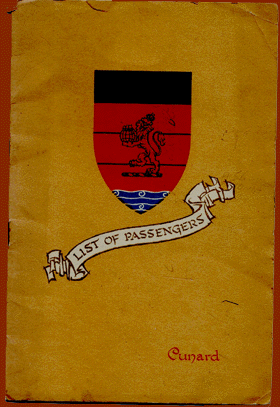 Above: Passenger List Cover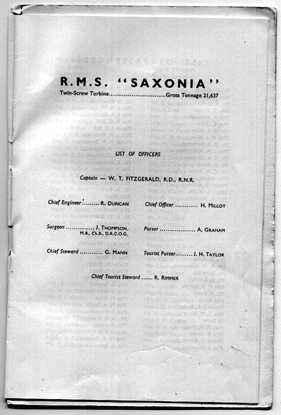 Right, "list of officers" of the 2nd of May 1956 voyage
See more images of these magnificent ships
(Link located down the page)
Memories of the Franconia
by

Steve

Pudney
Our journey was from Montreal to Southampton in 1963, occupying three luxury cabins. I was 13 at the time, and remember three vivid things about the voyage.
1 … With the ship having its own cinema, I watched "CHARADA" three times running. It starred Audrey Hepburn, and Cary Grant.
2 … My father challenged me to eat the 13 courses at one evening sitting to win a bet. Well, I lost because they served crystallised ginger towards the end, and that finished me!!!
3 … There was a hurricane, which the ship had to negotiate during the voyage, thus, many passengers were given an injection, that they would sleep through it. I had the injection but my father did not. When I awoke he was more greener in colour than me!!!!!!
Interior and exterior Images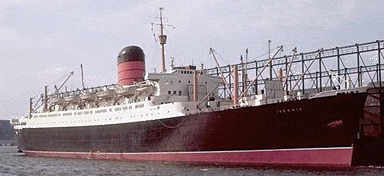 Ivernia with her three forward holds clearly visible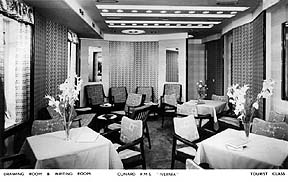 Original postcard of the Ivernia's Tourist Class Drawing / Writing Room
(Authors Private Collection)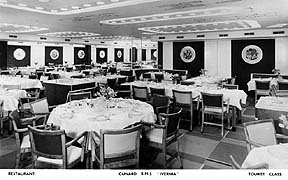 Original postcard of the Ivernia's Tourist Class Dinning Room.
(Authors Private Collection)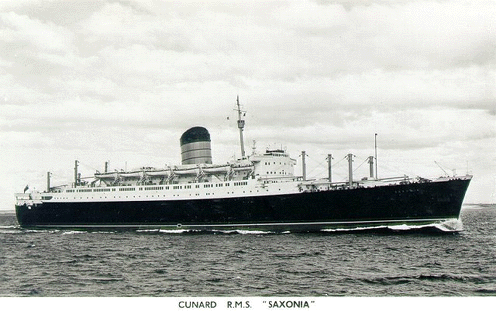 A super view of the Saxonia as built - (Postcard from Authors Private Collection)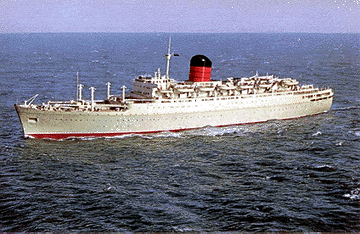 A fine aerial view of the now renamed Carmania (Saxonia)
She is seen after her refit in her new cruising guise with a green hull.
(Image from Authors Private Collection)
We thank Mr. Philip Wood for his delightful images of the 1956 passenger list, and Mr Steve Putney for his memories.
Index
Page 1
– Foreword – Construction
Page 2 – Sitmar buys Carinthia and Ivernia – Sisters go Russian
Page 3
- Fairwind / Fairsea – Sitmar sold to P&O Princess Cruises
Page 4 – The Fairstar the Australian connection
Page 5 – Fair Princess becomes an Aussie
Page 6 – Passenger list images
Page 7 – Albatros ex Dawn Princess / Fairwind / Sylvania / Ivernia /
Saxonia – Passenger list images
Fair Princess Photo Album – Exteriors
Fair Princess Photo Album - Interiors
Fedor Shalyapin - ex Franconia / Ivernia
China Sea Discovery – ex Fair Princess / Fairsea / Fairland / Carinthia
China Sea Discovery Photo Album
All photographs are by the author, or from the author's private collection, unless mentioned otherwise ~ Fairsea in Juneau Alaska - Luca Ferrerio ~ Fair Princess (Princess Cruises) - Marvin Jensen ~ Pacific Sky – Marion Carter ~ China Sea Discovery - Kiwi Marine Consultants Ltd, Hong Kong ~ Photographer of Fedor Shalyapin laid up, and other '*unknown' photographers, please see photo notes below.
Use the Back button on your browser or Close the Page to return to the previous page
or go to our INDEX
***********************************
Who is the Author of ssMaritime?
Commenced in the passenger Shipping Industry in May 1960
ssMaritime.com & ssMaritime.net
Where the ships of the past make history & the 1914 built MV Doulos Story
Also visit my …
"Save The Classic Liners Campaign" & "Classic Ocean Voyages" pages
Photographs on ssmaritime and associate pages are by the author or from the author's private collection. In addition there are some images that have been provided by Shipping Companies and private photographers or collectors. Credit is given to all contributors. However, there are some photographs provided to me without details regarding the photographer/owner concerned. I hereby invite if owners of these images would be so kind to make them-selves known to me (my email address may be found on www.ssmaritime.com only), in order that due credit may be given. I know what it is like, I have seen a multitude of my own photographs on other sites, yet these individuals either refuse to provide credit or remove them when asked, knowing full well that there is no legal comeback when it comes to the net. However, let us show these charlatans up and do the right thing at all times and give credit where credit is due!
This notice covers all pages, although, and I have done my best to ensure that all photographs are duly credited and that this notice is displaced on each page, that is, when a page is updated!
ssMaritime is owned and © Copyright 2010/12 - by Reuben Goossens - All Rights Reserved