Please Note: Firefox and some other search engines are not suitable – Use "Internet Explorer" for this page to load perfectly!

Click the logo above to reach the ssMaritime FrontPage for News Updates & "Ship of the Month"
With Reuben Goossens Replica Watches
Maritime Historian, Cruise'n'Ship Reviewer, Author & Maritime Lecturer
Please Note: All ssMaritime and other related maritime/cruise sites are 100% non-commercial and privately owned. Be assured that I am NOT associated with any shipping or cruise companies or any travel/cruise agencies or any other organisations! Although the author has been in the passenger shipping industry since 1960, although is now retired but having completed around 680 Classic Liners and Cargo-Passengers Ships features I trust these will continue to provide classic ship enthusiasts the information the are seeking, but above all a great deal of pleasure! Reuben Goossens.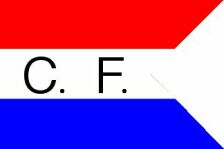 Cie de Nav Fraissinet et Cyprien Fabre
MS Jean Mermoz
Later Mermoz, Serenade, Serena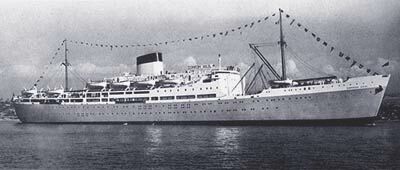 The Liner MS Jean Mermoz
Jean Mermoz was especially built for the Marseilles to West Africa service, sailing via Casablanca, Dakar, Conakry, Monrovia, Abidjan, Tema, Lome, Cotonou, Lagos, Duala, Libreville, Port Gentil, and Pointe Noire. She was launched on November 17, 1956, and completed in May 1957. For the next eight years she crossed the Atlantic many times for her owners, simply known as the Fabre line. Then in 1965 she was transferred to Nouvelle Cie de Paquebots, Marseille.
Jean Mermoz original specifications:
Owner:??????????????????????????? Compagnie de Navigation Fraissinet et Cyprien Fabre.
Built by:????????????????????????? Chantiers de l"Atlantique, France, 1956/57.
Tonnage:???????????????????????? 12,460 GRT (Gross Registered Tons).
Length:?????????????????????????? 162m - 527ft.
Width:??????????????????????????? 19.75. 65ft.
Draft:????????????????????????????? 6.4m - 22ft 9in.
Engines:????????????????????????? B&W type diesels 16,600 BHP.
Screws:?????????????????????????? Twin.
Speed:??????????????????????????? 16 knots – Max 18.5 knots.
Passengers:???????????????????? 144 First, 140 Cabin, 110 Third, 24 Forth berthed + 446 Steerage.
Fully Air-Conditioned
In the late sixties, loadings on French ships declined due to the ever-increasing costs and fierce competition from the less expensive Greek & Italian operators. Jean Mermoz was converted into a full time cruise ship in 1969/70 at the Mariotti Shipyards in Genoa.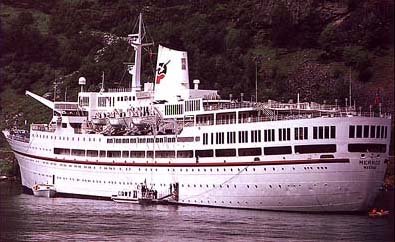 Paquet Cruises MV Mermoz
Upon completion, her profile has changed dramatically having gained a new deck above the bridge, deck extensions forward and aft and a heightened funnel. Renamed Mermoz, she was now listed as being 13,803 GRT, with a passenger capacity of 757 (max) in a one class configuration. She commenced cruising for Paquet Cruises in September 1970. Her itineraries were exotic visiting remote ports along the South American coast, Galapagos Islands, the Black Sea, and the "Lost Isles" of the Indian Ocean. In addition she operated the Annual Music Festival at Sea, featuring famous classical artists as onboard entertainers.
In 1985 Mermoz cruise the South Pacific for the first time and visited Australia in November, visiting Brisbane (the author's homeport) and Sydney. After being delayed by eight hours due to rough weather, her visit to Sydney became a political issue as there was a pay dispute related to the crew. Due to this her departure was delayed. Then, tugboat operators declared her "black" in protest against the French nuclear tests in the Pacific. Mermoz departed three days late on November 21. Paquet Cruises had intended to bring the Azur to cruise out of Sydney, but decided against it, due to the problems encountered with the Mermoz. French ships were not welcome in Australia at the time.
Mermoz continued to successfully cruise the world catering to both French and American passengers, bur gradually her clientele became almost exclusively French. Paquet Cruises was sold to Costa Cruises in 1993, which saw her continue operating cruises for the French market. In 1996, American Carnival Cruises purchased Costa, which would mean carnival would soon dispose of this fine classic liner. They did this in November 1999, when the sold her to the Cypriot Louis Cruise Line, who mostly operated classic ships. She was renamed Serenade and operated mini two night cruises from Limassol to Israel and Egypt. Later, due to the Israel Palestinian situation she commenced cruises from Malta to Italy. She also served as a floating hotel for the G-8 Summit at Genoa. She was again refurbished in 2001 and is currently listed at 14,789 GRT. Her interiors are still delightfully French and although she is an intimate ship, she feels like a much larger vessel. She has been well maintained throughout the years and is pristine throughout.
<![if !vml]>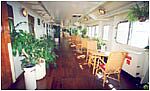 <![endif]><![if !vml]>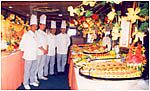 <![endif]>
Several views of her interiors
<![if !vml]>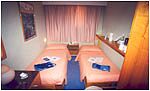 <![endif]><![if !vml]>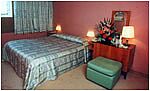 <![endif]>
In 2003, Serenade she commenced a short series of mini two and three night cruises from Cyprus to the Greek Islands and Egypt, but she has spent considerable time laid-up at Eleusis Bay Greece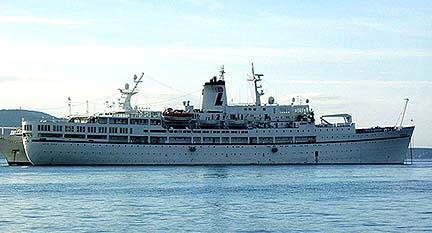 Serenade laid up at Eleusis

Taken December 2003 by the late Captain Yiorgos (George) Graikos

Please Note

: This fine ship was sold to Indian breakers in April 2008 and departed for Alang India in June named Serena. She arrived and was beached in June and has since been broken up.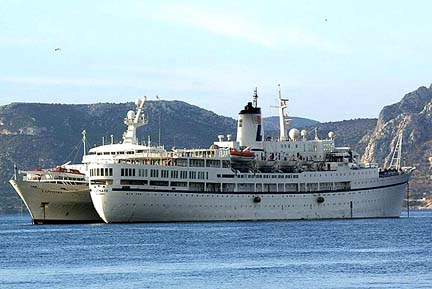 Serenade laid up at Eleusis
Taken December 2003 by the late Captain Yiorgos (George) Graikos
Also read about her Sister Ship, the: MS General Mangin
"Blue Water Liners sailing to the distant shores.
I watched them come, I watched them go and I watched them die."
****************************
Visit our ssMaritime Main INDEX
Where you will discover around 680 Classic Passenger & Passenger-Cargo Liners!
ssMaritime.com & ssMaritime.net
Where the ships of the past make history & the 1914 built MV Doulos Story
Please Note: ssmaritime and associated sites are 100% non-commercial and the author does not seek funding or favours and never have and never will.
Photographs on ssmaritime and associate pages are either by the author or from the author's private collection. In addition there are some images and photographs that have been provided by Shipping Companies or private photographers or collectors. Credit is given to all contributors, however, there are some photographs provided to me without details regarding the photographer or owner concerned. Therefore, I hereby invite if owners of these images would be so kind to make them-selves known to me (my email address can be found at the bottom of the page on www.ssmaritime.com), in order that due credit may be given.
ssMaritime is owned & ? Copyright by Reuben Goossens - All Rights Reserved