M/S Seaven Seas, built to become the USS Long Island (1941), Sold in 1941 & renamed M/S Nelly, In 1953 rebuilt and renamed M/S Seven Seas sold in 1966
Click the logo above to reach the ssMaritime FrontPage for News Updates
With Reuben Goossens
Maritime Historian, Cruise'n'Ship Reviewer, Author & Lecturer
Please Note: All ssmaritime and my other related ssmaritime sites are 100% non-commercial and privately owned sites. Be assured that I am NOT associated with any cruise or shipping companies or travel/cruise agencies or any other organisations! The author has been in the passenger shipping industry since May 1960 and is now semi-retired, but continues to write article on classic liners and cruise ships in order to better to inform cruise and ship enthusiasts for their pleasure!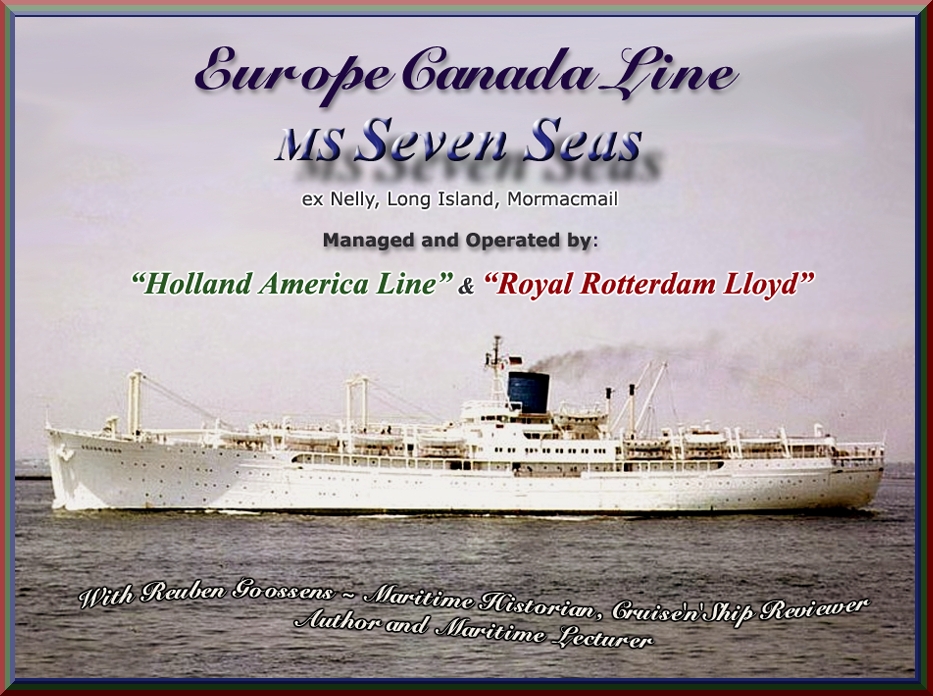 Image from the author's collection
On ssMaritime.com, we pride ourselves in diversity, for we do not just cover the great Liners, but also ships that are more modest and less known. The ms Seven Seas fall's into the latter category. Does this mean she is of lesser importance in relation to maritime history? No certainly not, for during her thirty-seven years, she had an eventful and a most interesting career, be it at war or as a migrant ship, a university at sea, a liner and a cruise ship and finally a workers hostel.
The Seven Seas certainly has a story to tell, and I trust it will bring back many memories to those who sailed and lived on her.
The Seven Seas was originally laid down as a standard C3 class cargo ship at the Sun Shipbuilding & Drydock Company, in Chester, PA, USA – Yard 184, for the Moore-McCormack Line as the MS Mormacmail and she was launched on January 11, 1940. However with the war coming on she never sailed under that name. It was prior to her completion that she was transferred to the US Navy and she was totally transformed to become an auxiliary aircraft carrier at the famed Newport News shipyard.
USS Long Island:
On June 2, 1941 the US Navy officially commissioned and renamed the ship as the USS Long Island. A ship of war with long flight deck topside that extended from her stern to above and forward of her bridge, and she had the capacity to accommodate from 16 to 21 aircraft in her main hanger located below deck.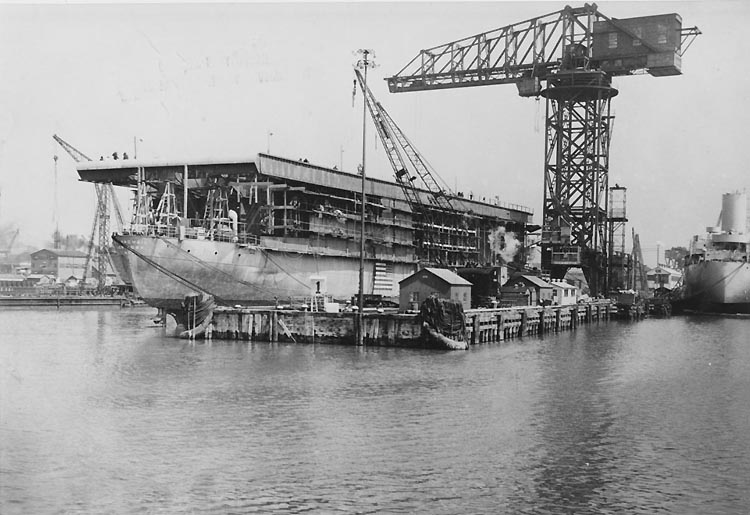 The AVG-1 Long Island in construction
She was armed with one 5-inch gun and two 3-inch guns as well as other guns. It is important to note that the USS Long Island was the very first escort aircraft carrier of the United States Navy to be employed in the war! Her official signal code's was at first "AVG-1", then "ACV-1" and finally "CVE-1."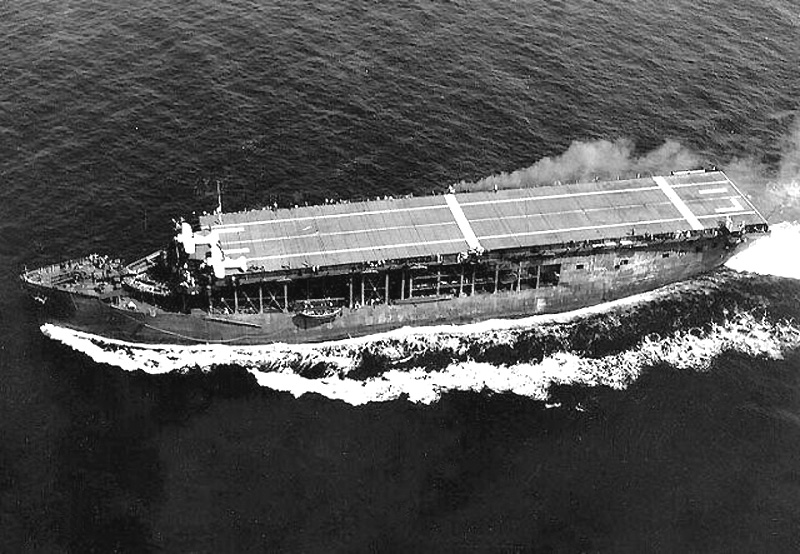 A fine photo taken from the air showing her flight deck and her early plain grey paintwork
Note her smoke stack on the starboard side and the two aircraft forward on the flight deck
Photograph from the author's private collection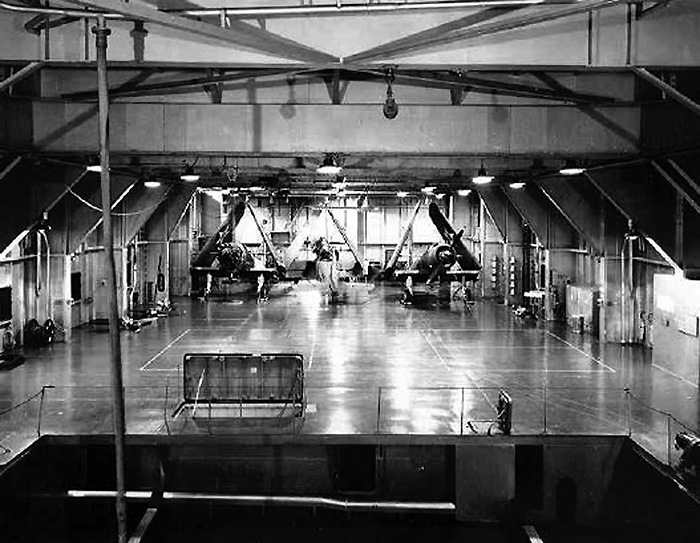 Here we see USS Long Island's hanger deck
Photograph from the author's private collection
She operated first in the Atlantic region for a short time, but she soon was transferred to the Pacific where she spent the remainder of the war years being involved in the famed "Naval Battle of Guadalcanal." The USS Long Island had a proud record and was involved in many battles during her time in the Pacific and she did her name and her country proud!

Here we see some a good number of aircraft on the flight deck and featuring a camouflage livery
Photograph from the author's private collection
Thankfully, unlike so many other ships of her kind, she served her wartime duties and returned to the United States unscathed, where so many ships had been destroyed and sunk. With the USS Long Island having been the first of her class to enter the conflict and a ship that had fought so bravely having been in the centre of so many conflicts, especially in the Pacific she was honoured with not only a "Battle Star" but also a special "Plaque" by the Unites States Government to honour her proud service! This Plaque remained on the ship to her closing days. She was decommissioned on March 26, 1946 and the MS Long Island was released from service and laid up with the many other C class ships, which were now all redundant and idle.
MS Nelly:
Having been laid up since March, 1946, the MS Long Island remained laid up with the countless other C-3 class ships, but it was two years later, on March 12, 1948 that she was purchased at an auction by Caribbean Land & Shipping Co, being a Swiss based company who obtained her as a freighter. It was not until February 1949 she was renamed MS Nelly being reregistered in panama, she made an Atlantic crossing from the United States to La Spezia, Italy where she was extensively rebuilt into a rather basic migrant ship to operate services to Australia.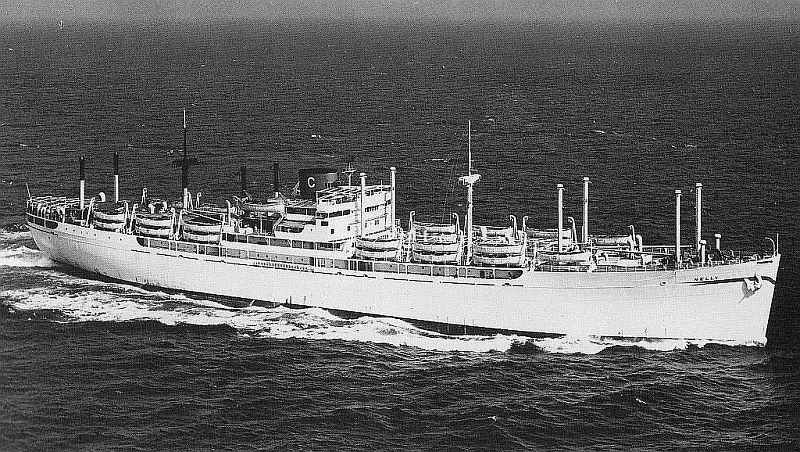 The humble MS Nelly is seen at sea
Image from the author's collection
When completed she was now able to accommodate up to 1,300 in the most basic of accommodations, being mostly dormitories with only a few two bedded cabins that could be also be sold as three or four berth cabins. There were two dinning rooms with long tables with multiple sitting, and several lounges, a main lounge, the bar and several other public venues. There was ample deck space for daytime activities.
The Nelly was placed on the migrant trade to Australia and her first voyage departed Naples for Australia in June 1949, sailing via the Suez and Fremantle, but she completed her voyage in Melbourne on July 17. It would not be until her third voyage to Australia that she made her first call to Sydney, arriving there on January 15, 1950.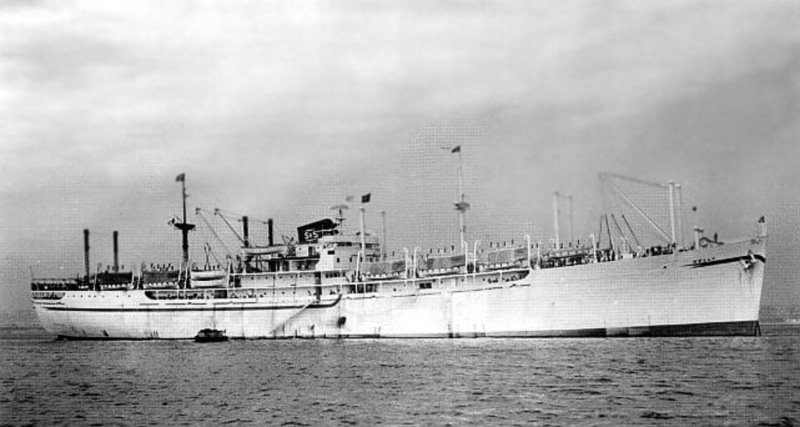 MS Nelly seen arriving in Sydney in January 1950
Image from the author's collection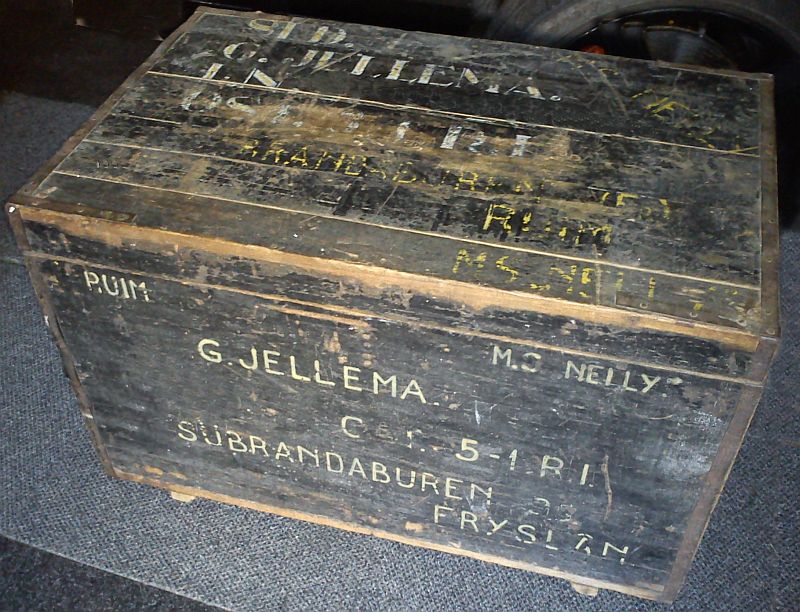 Dutch soldier G Jellema sailed back to Rotterdam from Indonesia on the MS Nelly
His son kindly sent me the photograph of his dear late Father's trunk that was kept in the ships hold
Photograph by and © Sjoerd Jellema
She continued on the Australian run, including a special voyage to Jakarta to bring Dutch nationals back to the Netherlands. In addition to her Australian operations, she also operated a number of Trans-Atlantic crossings to Canada.
MS Nelly's Migrant services from Bremen to Melbourne:
It is interesting to note that the MS Nelly was the very first ship that carried the first German migrants under the bilateral scheme to Australia, which was signed on August 29, 1952. She departed Bremen under the command of Captain Tallak Nilsen late in October 1952, and she sailed via Dover (England), Santa Cruz (Tenerife), Las Palmas (Canary Islands), Cape Town (South Africa), Fremantle (port of Perth - Western Australia), and she arrived in Melbourne (Victoria) on December 5. She continued her services from Bremen to Australia. On various occasions she would also operate special displaced persons and migrant voyages from Bremen to Quebec, one arrival on Canada that is recorded was on October 30, 1951, but not many other can be found.
However, on January 1953 the MS Nelly departed Bremen and Southampton for Melbourne Australia for the last time under that name. She arrived in Melbourne on February 24, and remained there for three full days before returning to Bremen. Upon having returned she was withdrawn from service as she was to be comprehensively rebuilt and upgraded into a two-class liner.
MS Seven Seas:
Her new role was for her to operate both migrant as well as regular passenger services, thus she had to become quite a stylish looking liner with beautifully decorated public rooms and a superb "Pent House" style First Class section!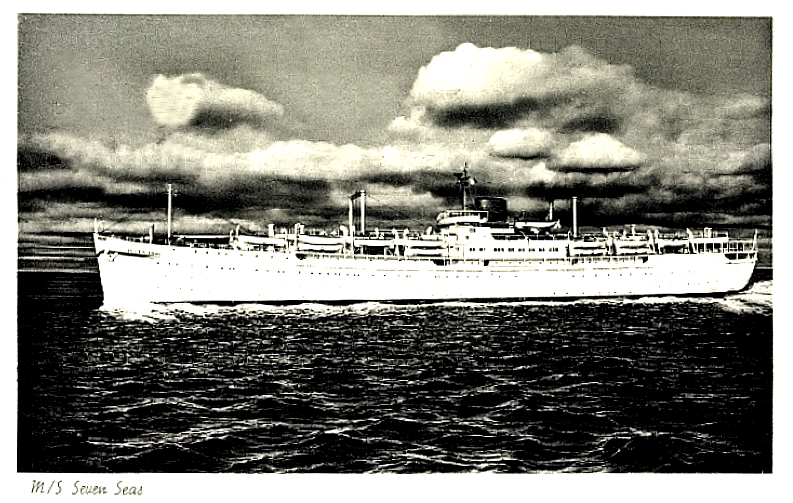 This is a very early black and white postcard of the MS Seven Seas
Image from the author's collection
Upon completion she had been renamed MS Seven Seas and the all-new looking ship had her superstructure greatly enlarged, as her decks were extended forward and aft as well as her bridge house being enlarged. The additional space allowed more public rooms as well as new accommodations. In addition she was now being a two-class liner, having accommodations for just 20-First Class passengers who travelled in comfort and in style, and 987 Tourist Class passengers whose accommodations and public facilities were of an excellent standard for the times! In fact her accommodations and lounges were very modern and attractive to say the least.
The all-new MS Seven seas departed Bremerhaven for her very first voyage on May 9, 1953 as she headed for Australia sailing via the Suez Canal and Fremantle, arriving in Melbourne on June 12. Upon return to Germany she was chartered to the Europe-Canada Line, which was jointly owned by Holland America Line and Royal Rotterdam Lloyd, although the Europe-Canada Line was established especially to provide inexpensive student/migrant travel to Canada, thus during her career she frequently operated student voyages to North America, etc, and the Seven Seas commenced operating frequent Trans-Atlantic voyages.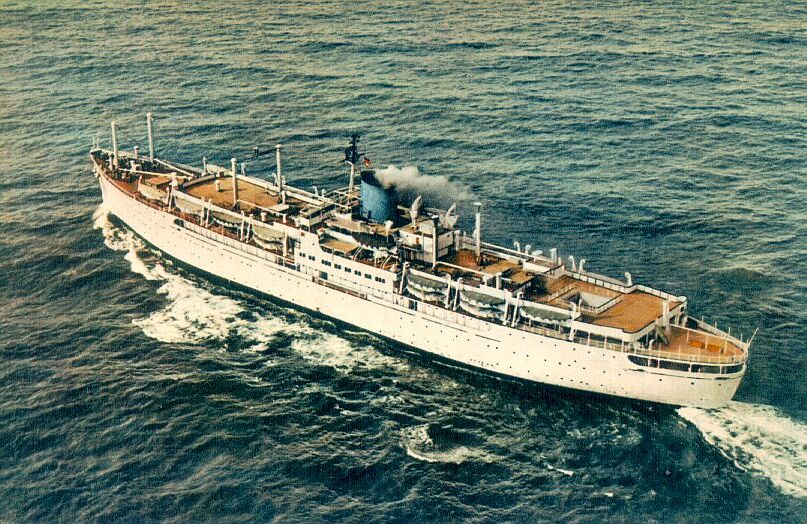 A postcard of the Seven Seas issued by Europe-Canada Line
Image from the author's collection
Her new service departed Bremen sailing via Le Havre, Southampton to Quebec and Montreal also making occasional calls to New York. However, whilst she was now seasonally employed on the Atlantic service, she still operated her Australia services and as past passenger reminded me who departed Bremerhaven on October 24, and arrived in Melbourne on November 26 in 1954.
Towards the end of 1955, she was obtained outright by the Europe-Canada Line and having been registered in Panama since 1949, she was now reregistered in West Germany. She was now mostly used on the Trans Atlantic service until 1960, for either regular passenger services or student voyages,
However, whilst under charter to Royal Rotterdam Lloyd, she departed Southampton on October 30, 1960 for a special voyage to Australia and New Zealand and then upon her return to Europe, she recommenced her regular service from Bremerhaven to New York.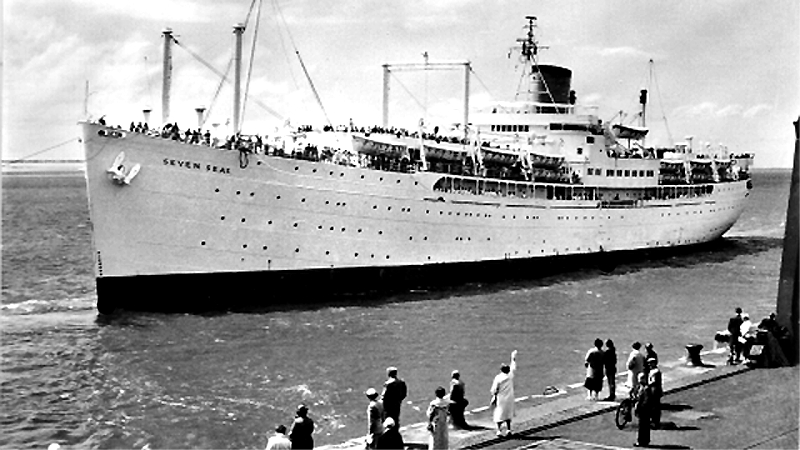 The MS Seven Seas departs for another long student voyage
Image from the author's collection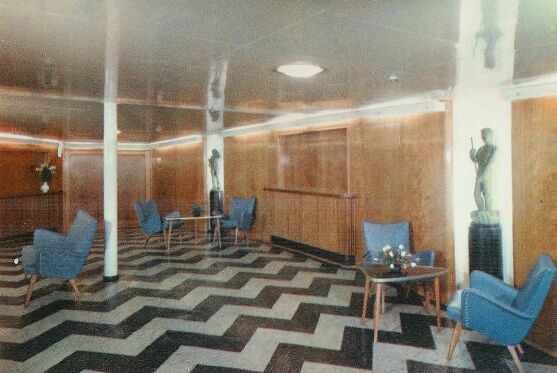 The Lobby and purser's Office
A postcard from the author's collection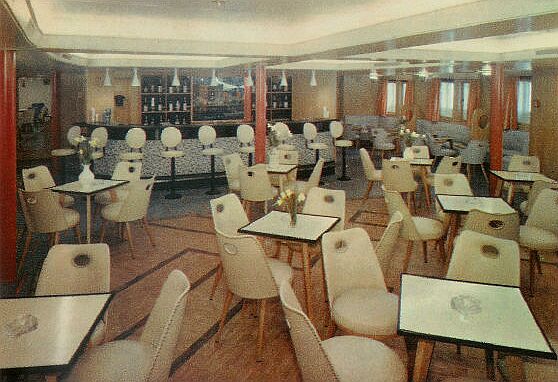 One of the Bars aboard the Seven Seas
A postcard from the author's collection
The following three images were sent in by Ingo Mosemann of Germany who served on MS Seven Seas
as a steward for four years during the early 60's. I am most grateful to him.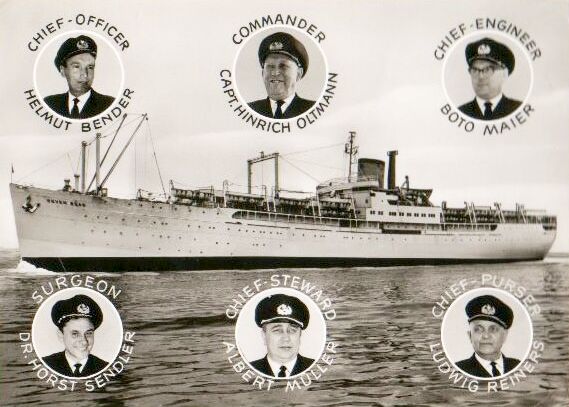 1961 postcard of the MS Seven Seas showing the Captain and senior Crew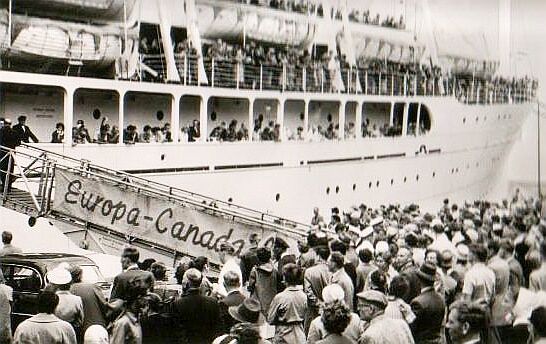 Seven Seas ready to set sail again!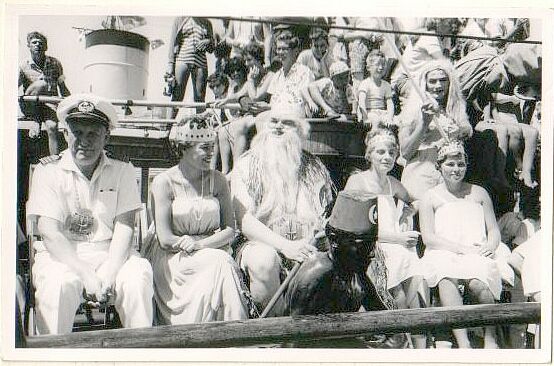 Captain Hinrich Oltmann, King Neptune and some attractive lady passengers at the Crossing of the Equator
celebration during a voyage to New Zealand – This photo was dated 16 November 1961
Photograph from the Ingo Mosemann collection
The Mark Cameron story of his voyage to New Zealand:
As my Father was a helicopter pilot and early in 1961 he found work in New Zealand, but they needed his presence at short notice, therefore he had to fly to New Zealand meaning that my Mother, Anne Francis Cameron, nee Parkes aged 21 at the time, had to arrange our voyage, pack up house and home get ready and eventually we sailed on the MS Seven Seas in the autumn of 1961 to New Zealand and we joined my Father there. We sailed from the UK via the Panama Canal and like so many others we were emigrating from UK on what I believe are called in the 'Ten Pound Special.'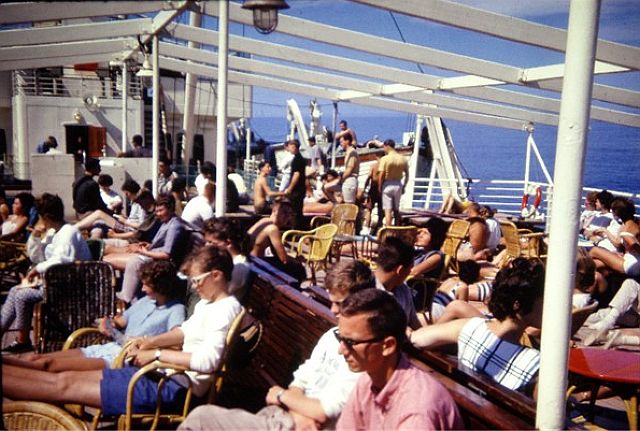 Passengers enjoying the sun out on the aft deck
We settled down and spent years in Huntley New Zealand, that is, until my Father was moved on to Africa, for in those days a helicopter pilot's job was particularly itinerant and I can say that it still is. Later I became a pilot myself and now I fly for Emirates.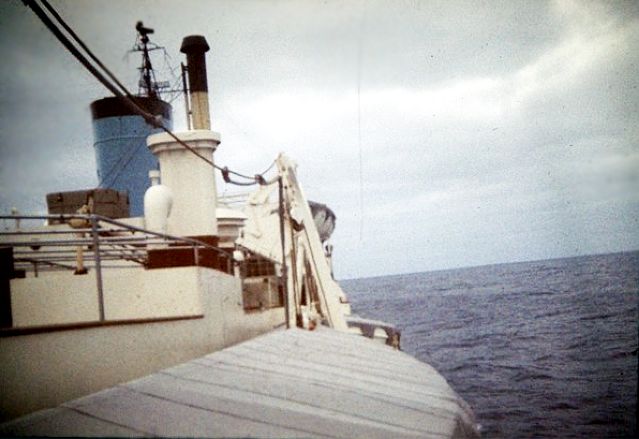 Overlooking the ocean from atop the ship far aft
The photograph below is of me playing out on deck and obviously I had a great time aboard. The original is a slide that has been scanned, repaired and colour balanced. At the time of sailing my Mother was pregnant with my brother who was born in 1962, on March 1.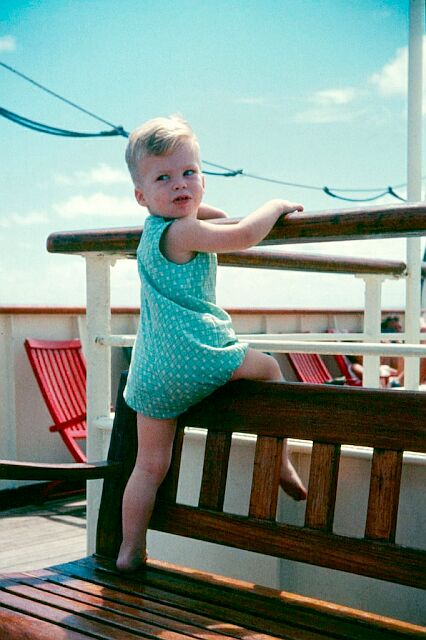 A young Mark Cameron seen aboard the MS Seven Seas
Photograph taken by his mother Anne Francis Cameron
Mark Cameron.
***********************************
The Seven Seas made another voyage to New Zealand, as we have read in Mark Cameron's story late in 1961/62, as I recall my time on board on that occasion in Wellington and she was a delight to behold, for all her lounges were a simple delight and the ship had that something special about her, it was a feel of comfort, but more-so one of happiness! The passengers I spoke with were all extremely happy with the ship especially her crew and not a single complaint was to be found! Upon her return to Europe early 1962, she returned once again to her original Canadian duties until April 1963 when she returned to the New York service.
Having arrived in New York she had been chartered by the Chapman College to undertake a series of study cruises for their University of the "Seven Seas", visiting various countries! When the charter contract had completed, the ship proceeded to Amsterdam where she was taken over by Holland America Line once again for a voyage to Australia departing Amsterdam in March 1964 sailing via Fremantle on April 28, then to Melbourne and Sydney. She departed Sydney on May 6 and sailed via New Zealand, the Pacific, Panama Canal bound for New York. From New York she recommenced on another season operating as a floating university.
Engine Room Fire at Sea:
However, tragedy struck the ship when late on Saturday July 17, 1965 the engine room was disabled by fire, whilst she was located around 500 miles from St. John's Newfoundland's, Canada. The ship drifted hopelessly at sea having no power, and the captain quickly issued a letter to all passengers to assure them that help was at hand, for a call had gone out and the Dutch Ocean Going tug "Ierse Zee" as well US Coast Guard vessel "Absecon" soon came to the rescue. The tug being already at sea and close by reached the stricken liner on Monday July 19, and commenced a slow tow, thereafter the Coast Guard vessel arrived, which improved the towing speed arriving at St. John's on Friday July, 23. Upon arrival her passengers disembarked and were transferred to their destination, New York City!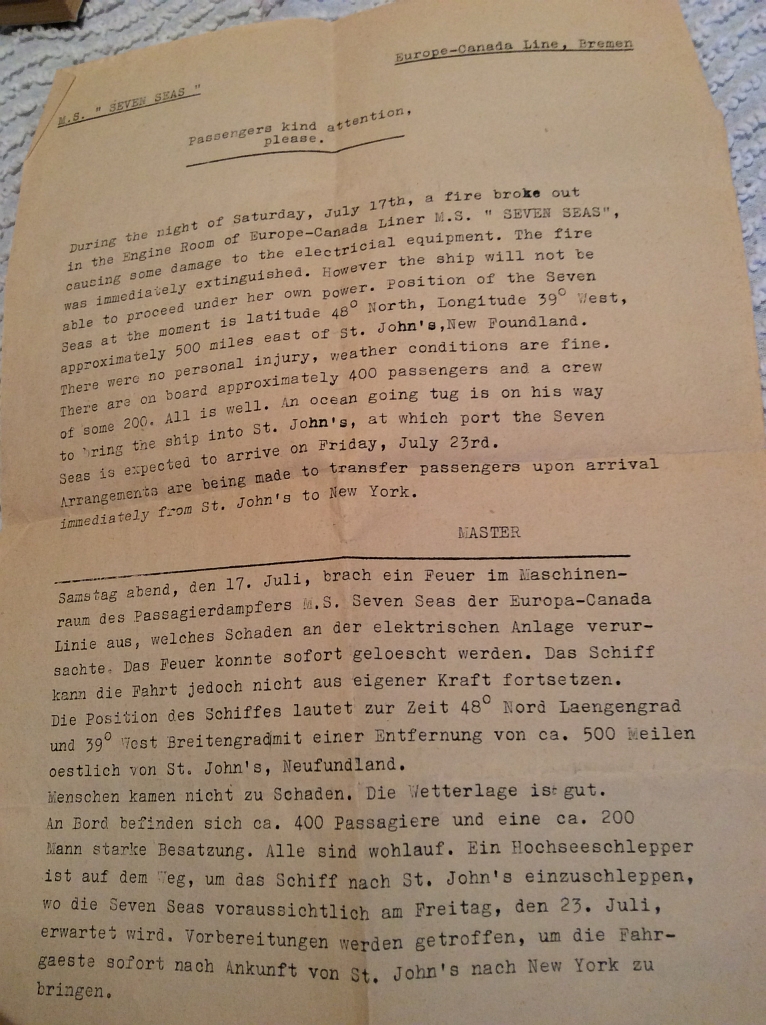 An official notice to passengers in English & German informing them of the fire situation and what was going to happen
This notice was provided by Stephane whose Mother sailed on this voyage
She was taken to a shipyard where the ship would undergo considerable repairs. These repairs kept her out of service for a considerable time, for she would not resume services again until early 1966.
She was chartered to operate as an American floating university, thus the Seven Seas departed Los Angeles on Thursday February 10, 1966 and sadly this would also be her very last voyage to Australia. Sailing via the Pacific Islands and New Zealand, she arrived in Sydney on Tuesday March 8, where she remained for two nights and departed on March 9; she then headed south and west for Fremantle and sailed via India to the Middle East to some European ports and then the Seven Seas returned to New York.
Having returned to New York from her floating university world voyage, the wonderful MS Seven Seas commenced her final summer season of Trans-Atlantic services, however she was finally taken out of service in September 1966, having operated as a successful and a popular passenger liner for seventeen years, although the ship was in fact twenty five years old and had sailed around the globe so many times, as well as countless Trans-Atlantic voyages! As a maritime historian, I receive emails from past passengers regarding many ships, but the Seven Seas is always one ship that comes up more and more, for she was and seems to remain a greatly loved ship, for "her crew were amazing" her "lounges were a delight" and "she had that special atmosphere that made us and all on the ship always feel so happy." Externally she never looked much, but internally she was a delight, as I know well, on Pages Two & Five you will discover her interiors - See the INDEX at the bottom of the page.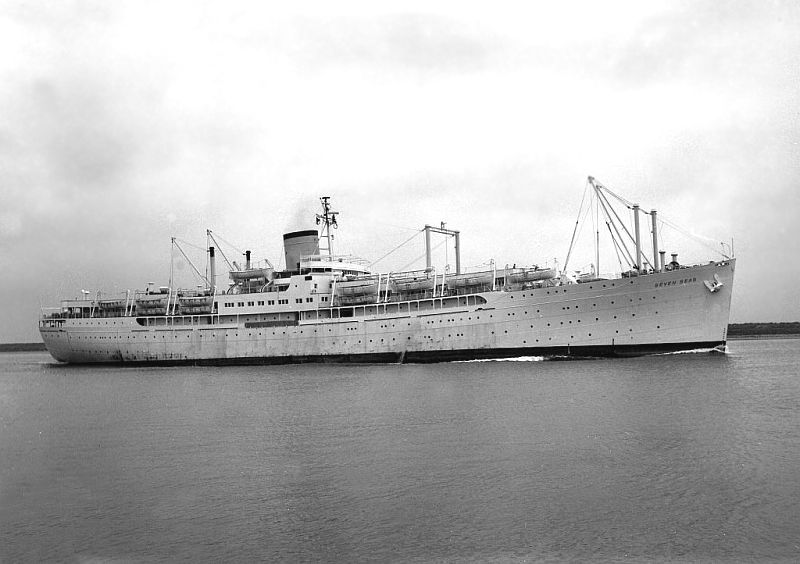 The MS Seven Seas is seen her towards the latter days of her career!
Sent in by a supporter, but photographer unknown *See photo notes at bottom of page please!
Her Final Days:
With the Seven Seas having been withdrawn from active duties in September 1966 she was rapidly sold to a Dutch company the "Student Lodging Company" and she was relocated to the great harbour city of Rotterdam in the Netherlands and she was and berthed along the Parklaan at "Parkhaven" close to the famous "Euromast." During this time she was used as a student accommodation ship as well as a campus for medical students for the nearby famed Medical Faculty Rotterdam, the "Erasmus University." It is said that she hosted at least 2,000 students up to January 1971.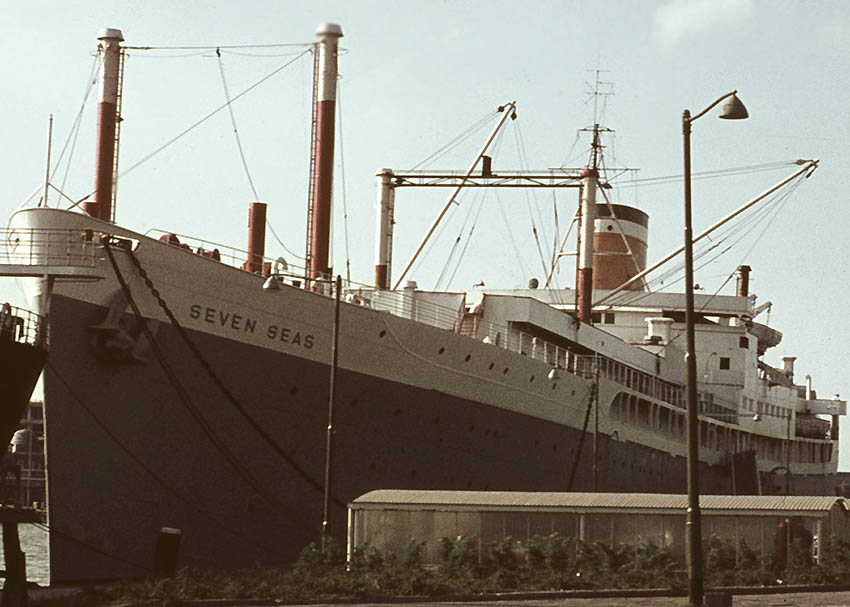 The Seven Seas seen in Rotterdam as a student accommodation ship as seen in September 1968
Photograph taken by & © Ray Little (UK)
Dr. Jack Angenent MD, who was kind enough to write to me in regard his time spent on board the Seven Seas, for he, both lived and studied aboard her until her final days as a student/university ship, from September 1968 to January 1971. I hereby wish to thank Jack Angenent MD for the following photographs of the ship seen berthed alongside at the Parklaan as well as one on board.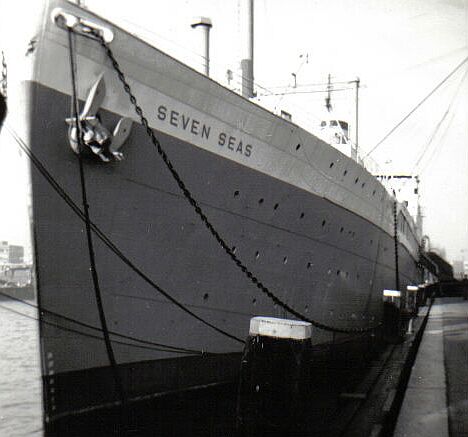 Seven Seas is seen berthed at Parkhaven, Rotterdam from 1968 to 71
The three Photographs below are by & Copyright © Jack Angenent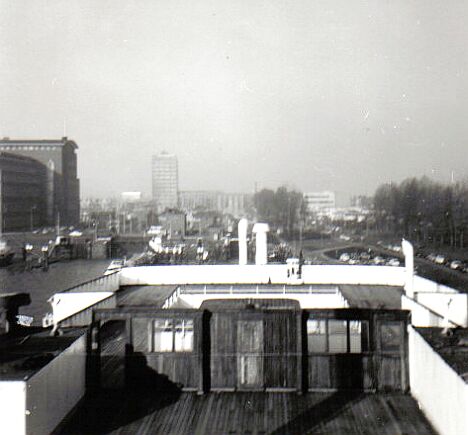 Sports Deck and swimming pool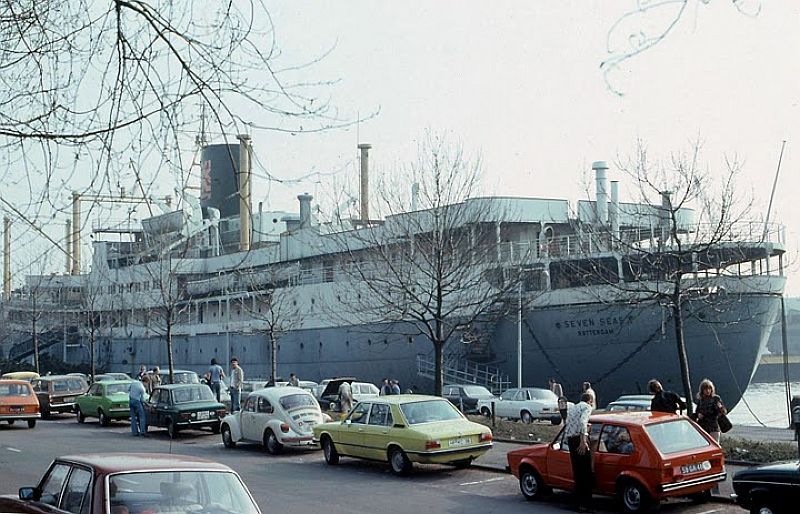 She had her funnel painted with new colours in 1971 having been sold
However, in February 1971 the Dutch company "Verolme" purchased the Seven Seas from the "Student Lodging Company" and she was relocated to another berth in Rotterdam where she was used this time as a floating hostel for overseas (mostly Eastern European and Middle Eastern) workers in Rotterdam. She operated as a workers hostel for six years, but she was finally sold to be broken up in April 1977. On May 4, she departed Rotterdam under tow arriving the next day at the "van Heyghen Freres" breakers yard at Ghent, Belgium.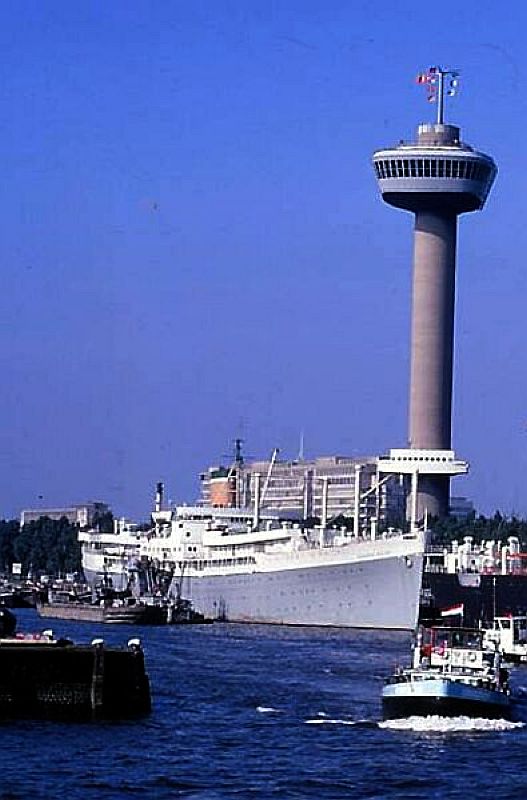 She is seen here in Rotterdam with the "Euromast" behind her. The mast has since been greatly heightened.
The Bridge on the mast is a replica of the Holland America Lines SS Rotterdam Bridge, built in 1958
Image from the author's collection
MS Seven Seas - Specifications

:
Built:

Sun Shipbuilding & Dry Dock Company, Chester, PA - USA.
Yard:

184.
Tonnage:

13,523 GRT.
Length:

150.0m / 492ft.
Beam:

21.2m / 69.6ft.
Draught:

8.68m / 28.5ft.
Engines:

Busch-Sulzer geared diesels.
Screws:

One - 9,000 BHP, 16.5.
Speed:

17 knots.
Air-conditioning:

Partial.
Passengers:

First Class, 20.
Tourist Class, 987.
Crew:

192.
Seven Seas Index

:

Page One - Ships History Page.

Page Two - Photo Album.

Page Three - The Maat Families Atlantic crossing.

Page Four - Frans Mast sails in 1957 to New York.

Page Five - Arthur Lukach & friends sails to and from France in 1954.

"Blue Water Liners sailing to the distant shores.
I watched them come, I watched them go and I watched them die."

********************************

Use the Back button on your browser or Close the Page to return to the previous page
or go to our INDEX

ssMaritime.com & ssMaritime.net

Where you will discover over 1,250 Classic Liners & the 1914 built MV Doulos Feature

Photographs on ssmaritime.com, & .net and associate sites are by: 1. By the author. 2. From the author's private collection. 3. Or as provided by Shipping Companies and their Publicity Companies as well as by private photographers or collectors. Credit is given to all contributors. However, there are some photographs provided without details regarding the photographer concerned., therefore I hereby invite if owners of those images to be so kind and make them-selves known to me per email at rg@ssmaritime.com in order that due credit may be given

ssMaritime is owned and © Copyright - Reuben Goossens - All Rights Reserved