Please Note: Firefox and some other search engines are not suitable – Use "Internet Explorer" for this page to load perfectly!

Click the logo above to reach the ssMaritime FrontPage for News Updates & "Ship of the Month"
With Reuben Goossens
Maritime Historian, Cruise'n'Ship Reviewer, Author & Maritime Lecturer
Please Note: All ssMaritime and other related maritime/cruise sites are 100% non-commercial and privately owned. Be assured that I am NOT associated with any shipping or cruise companies or any travel/cruise agencies or any other organisations! Although the author has been in the passenger shipping industry since 1960, although is now retired but having completed around 680 Classic Liners and Cargo-Passengers Ships features I trust these will continue to provide classic ship enthusiasts the information the are seeking, but above all a great deal of pleasure! Reuben Goossens.
Europe Canada Line
Managed by "Holland America Line"
MS
Seven Seas
ex Nelly, Long Island, Mormacmail
The

Maat

Family heads for the USA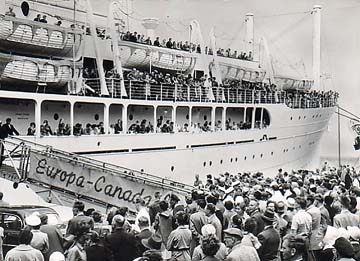 Seven Seas about to depart or yet another Voyage for Canada via Southampton & New York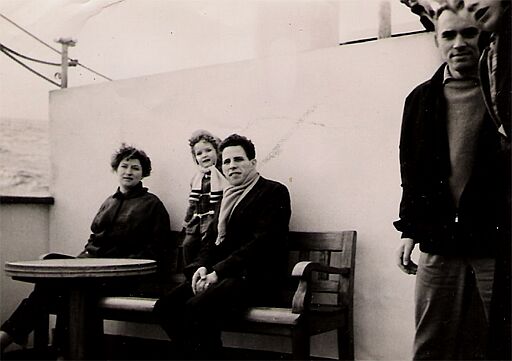 George and Riet Maat (seated) with their daughter Toni
<![if !vml]>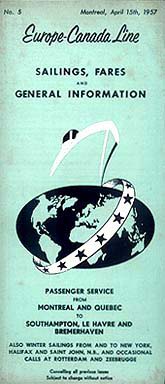 <![endif]>Mr. & Mrs. Maat with their two children, George and Toni, immigrated to the USA from the Netherlands. They departed Rotterdam on MS Seven Seas, January 4, 1957. During their Atlantic crossing they encountered wild weather, which was reported as the worst in 35 years. Waves pounded the ship seeing as she pitched and rolled violently. At times, when the seas were at their worst, the ship pitched so much that her propellers came high out of the water making a load spinning noise. Then suddenly as the waves calmed a little, extreme cold weather saw decks covered with a thin layer of ice and passengers were not permitted to go outdoors. Due to weather conditions, Seven Seas took 12 days to reach her destination, New York.
In spite the weather experienced, the Maat family still have some good memories of the ship itself. Obviously, the voyage would have been very much better had there been a little sunshine on the way.
1957 Europe Canada Line Schedule--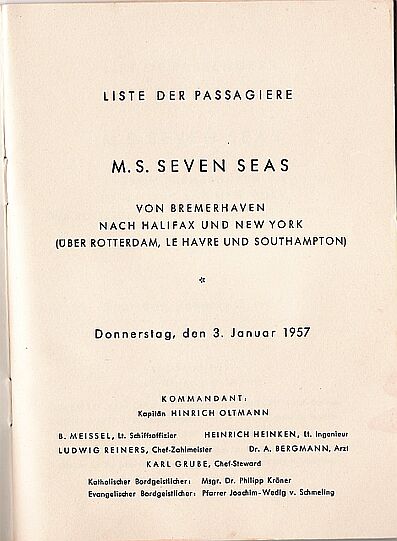 Above and below: Passenger List. Family Maat listing is highlighted by the yellow making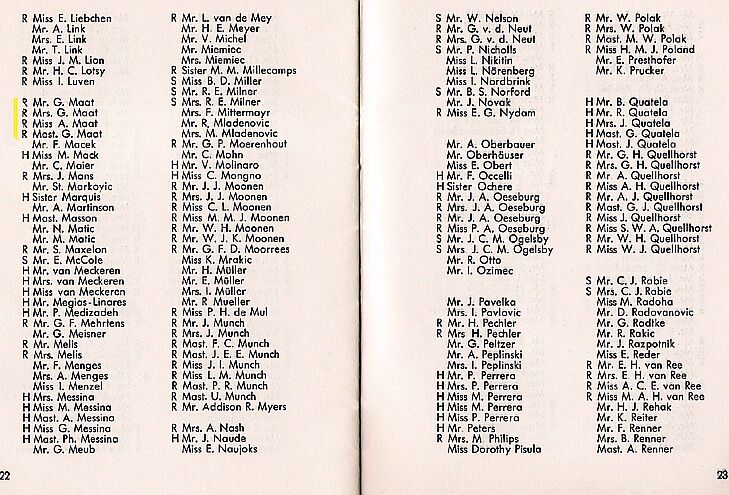 Mr. Maat wrote …
We found the ship quiet seaworthy, because many times as we came down from an enormous wave into what seemed a big hole, we thought the ship would brake in two, but we arrived in one piece. Huge icicles where all over the deck hanging from the lifeboats, railing etc. Most people were pretty seasick and stuck to eating fruit or drinking at the bar to settle their stomachs. The food was very good, a good choice from a menu. Service was excellent in the cabin as well as in the dining room. Everything was very clean and kept that way throughout the voyage. There was a nice lounge with dance floor, but alas, because of the weather they had the walkways, dining room, lounge, dance floor and stairways roped off in order for people to be able to hold onto something when navigating their way around. We tried dancing and I guess, because we were still young, we did not mind "sliding" from one side of the dance floor to the other when hitting a wave. Often we would go through our knees when the ship bottomed out. They covered the tables in the bar and dining room with wet table cloth's so the plates and glasses would stay put. We thought that most passengers were in the dining room during the voyage, but, we discovered when the ship docked in Halifax that there were a lot more people leaving the ship than we had seen throughout the voyage, as Canada was their destination. They must have all been to sick to come out of their cabins. We still think of her as a very nice ship. Of course in the 50s there were not the luxury liners they have now. However, at the time ee considered ourselves lucky even to be able to obtain tickets on her.
<![if !vml]>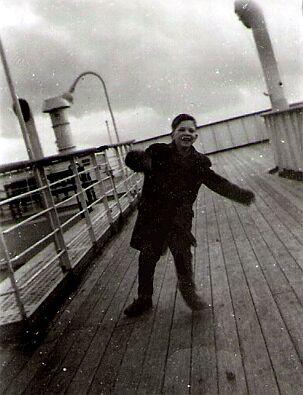 <![endif]><![if !vml]>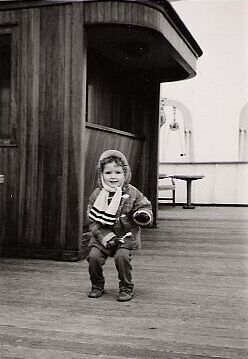 <![endif]>
Above Left: 8 year old George Maat trying hard to keep his balance as the ship rolls during stormy weather
Above Right: 3 year old Toni Maat out on deck during a calmer day
Mrs. Maat and children, George and Tony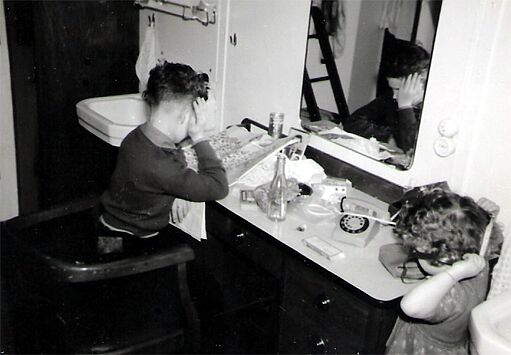 The Maat children in cabin 153
<![if !vml]>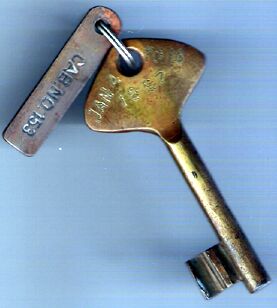 <![endif]><![if !vml]>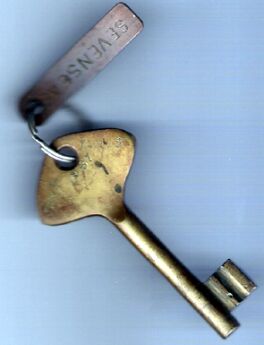 <![endif]>
Cabin Keys
We thank George and Riet Maat for sharing their experience and photographs with us.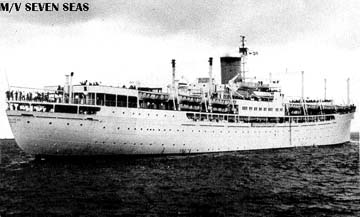 Seven Seas Index:
Page One -         Seven Seas Main History Page.
Page Two

-        Ships Main Photo Album.
Page Three

-      The Maat Families Atlantic crossing.
Page Four

-        Frans Mast sails in 1957 to New York.
-         Arthur Lukach & friends sails to and from France in 1954.
"Blue Water Liners sailing to the distant shores.
I watched them come, I watched them go and I watched them die."
****************************
Visit our ssMaritime Main INDEX
Where you will discover around 680 Classic Passenger & Passenger-Cargo Liners!
ssMaritime.com & ssMaritime.net
Where the ships of the past make history & the 1914 built MV Doulos Story
Please Note: ssmaritime and associated sites are 100% non-commercial and the author does not seek funding or favours and never have and never will.
Photographs on ssmaritime and associate pages are either by the author or from the author's private collection. In addition there are some images and photographs that have been provided by Shipping Companies or private photographers or collectors. Credit is given to all contributors, however, there are some photographs provided to me without details regarding the photographer or owner concerned. Therefore, I hereby invite if owners of these images would be so kind to make them-selves known to me (my email address can be found at the bottom of the page on www.ssmaritime.com), in order that due credit may be given.
ssMaritime is owned & © Copyright by Reuben Goossens - All Rights Reserved