Please Note: Firefox and some other search engines are not suitable – Use "Internet Explorer" for this page to load perfectly!

Click the logo above to reach the ssMaritime FrontPage for News Updates & "Ship of the Month"
With Reuben Goossens
Maritime Historian, Cruise'n'Ship Reviewer, Author & Maritime Lecturer
Please Note: All ssMaritime and other related maritime/cruise sites are 100% non-commercial and privately owned. Be assured that I am NOT associated with any shipping or cruise companies or any travel/cruise agencies or any other organisations! Although the author has been in the passenger shipping industry since 1960, although is now retired but having completed around 680 Classic Liners and Cargo-Passengers Ships features I trust these will continue to provide classic ship enthusiasts the information the are seeking, but above all a great deal of pleasure! Reuben Goossens.
Europe Canada Line
Managed by "Holland America Line"
MS
Seven Seas
ex Nelly, Long Island, Mormacmail
My Voyage on MS Seven Seas to New York
By Frans Mast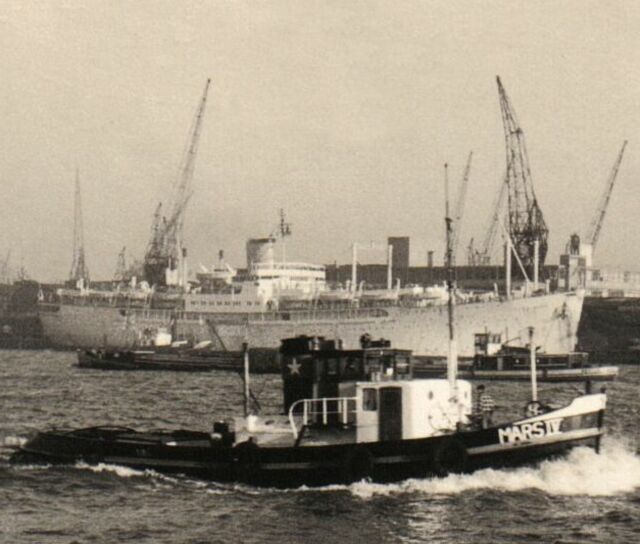 MS Seven Seas ready to depart for her Trans Atlantic voyage on March 1, 1957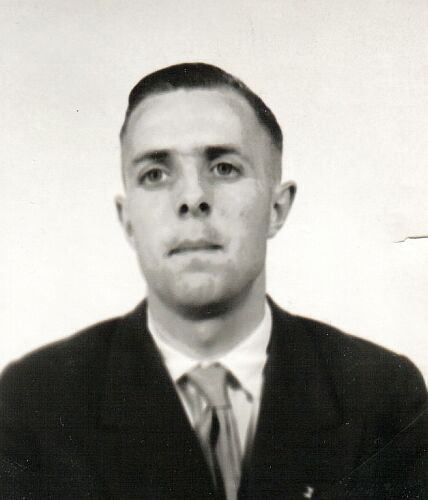 That is me back in 1957 - my passport photo
I had decided to immigrate to the United States and passage had been arranged on the Europe Canada Line liner the MS Seven Seas departing Holland on March 1, 1957. I took a taxi to Rotterdam to board the ship at the Holland America Line pier, and as I lived in Schiedam near the River Maas, it was only a short distance away. Having said all my farewells to my parents and all my many family members I commenced with the official formalities and was ready to board this nice looking white ship. Having boarded I soon I found my to the side deck of the ship where I would be able to see my family and I remained there until the three blasts of the ships horn and we slowly pulled away It was an emotional experience, something you do not quickly forget, especially with the music playing over the system and people everywhere crying as they were leaving the home they had always known, and many did not know if they would ever see it again.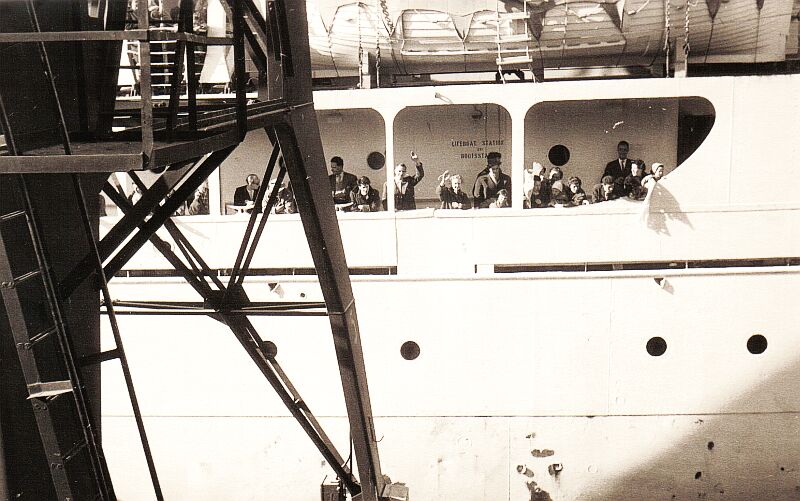 That is me in the middle waving goodbye to my family ashore
Taken by my brother J. Mast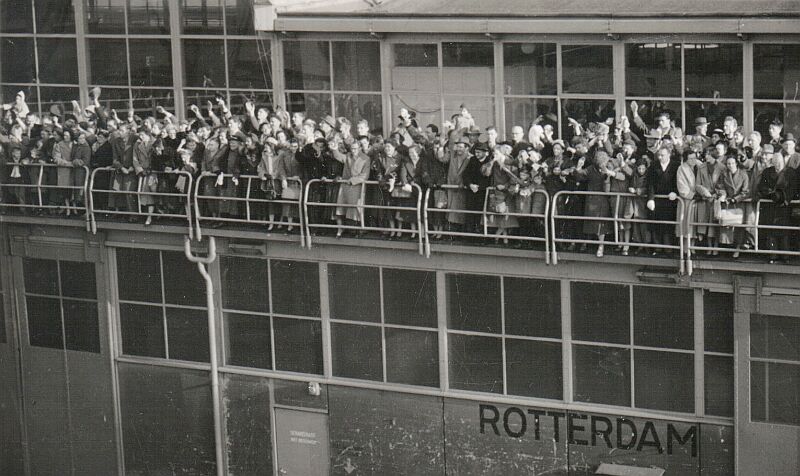 My brother is on the far left with the little girl in the white jacket with a hood on his shoulders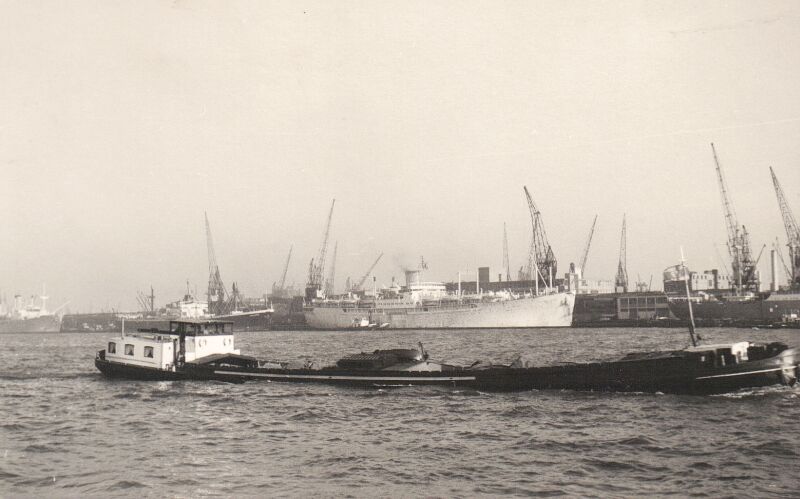 Ready to set sail
Taken by a family member
But now the voyage had commenced as the ship slowly sailed past my hometown of Schiedam, then Vlaardingen, Maassluis en finally  Hoek van Holland. However, as my brother had a car and he would travel along the way and there the family would assemble and stood waving at me until they could go no further, and it way finally Goodbye!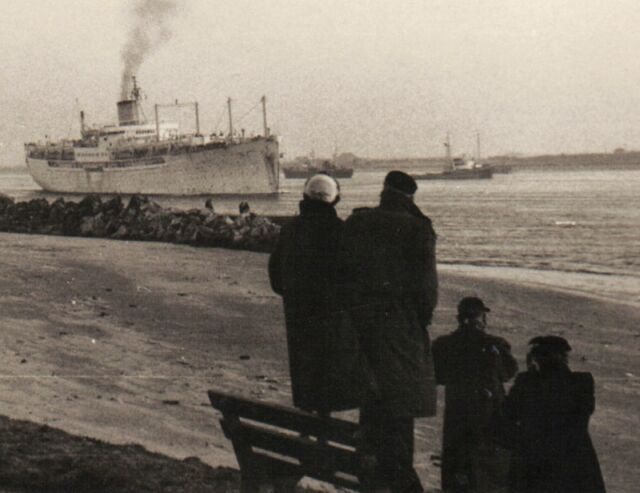 MS Seven Seas is taking me to a new life, as my family come see me off - here they are at Schiedam
Photo's taken by a family member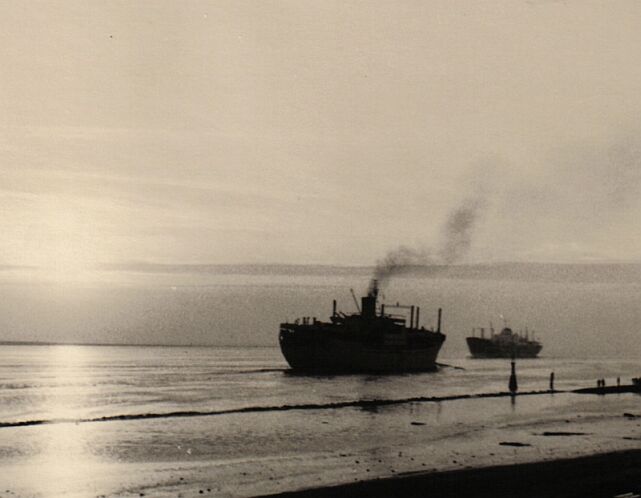 And here my family took a last shot of the ship at the Hoek of Holland as we are ready to enter into the North Sea
Photo's taken by a family member
After we reached the North Sea, I went to my room to see what it was it was like for I had no idea what to expect. It turned out to be a dormitory for 15 men to live and sleep. The ship, although under Holland America management, had a German crew but they spoke English, but like most passengers, I spoke very little English, but it was enough to get around. I loved to play chess and did so with quite a few of the passengers and I remember that there was a Hungarian girl who played really very well and thus I enjoyed playing with her.
On the way to New York the Seven Seas called at three ports, such as; Le Havre in France, then at Southampton in England and then Halifax in Canada.
Whilst on board I made good friends with a man named Bob Roos who was a delightful Indonesian Dutchman. We dined in four groups in two dining rooms and on my table around 90% were Dutch and the food was very good on board. Although whilst on the Atlantic we had some rough seas and there were many people who skipped their meals, but I never missed a meal nor, thankfully, was I seasick. Most of the time we had to make sure that our plates would not fall off the table. Later when we arrived in New York I discovered that the Hungarian girl was sick the whole time we were crossing the Atlantic, which was sad. She was fine at first, but then the weather was fine. About half way during the voyage apparently there was some engine trouble and the ship was stationary for a day, and thus we just drifted until the engines were restarted. I also recall that at one time during a Church service held by a German minister, I was asked to translate a Birthday wish from German into Dutch for a passenger, which I was only happy to do.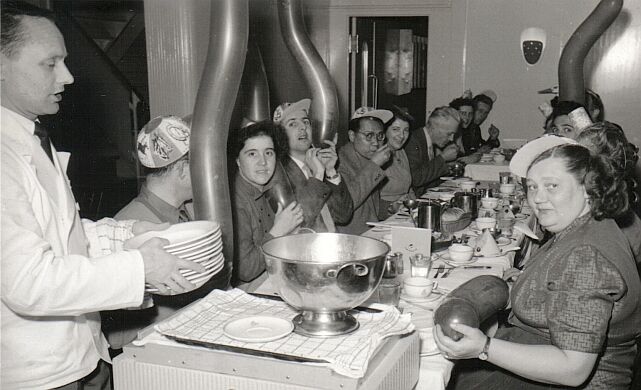 Our farewell dinner party with long balloons
There is a balloon separating me (clapping) from a Dutch Indonesian gentleman, and I am next to a young lady
Photo (my camera) by another passenger
When we reached Halifax we could leave the ship and go to town and do some shopping. I went with some friends and visited a Woolworth store. I remember well that the town was filthy and I was certainly not impressed with the place and did not enjoy my visit there. Two days later we arrived in New York City and I saw the Statue of Liberty for the first time!
The Passenger List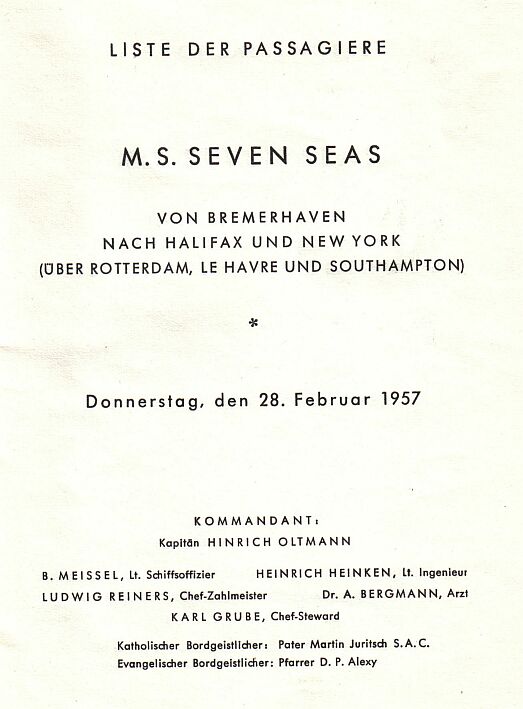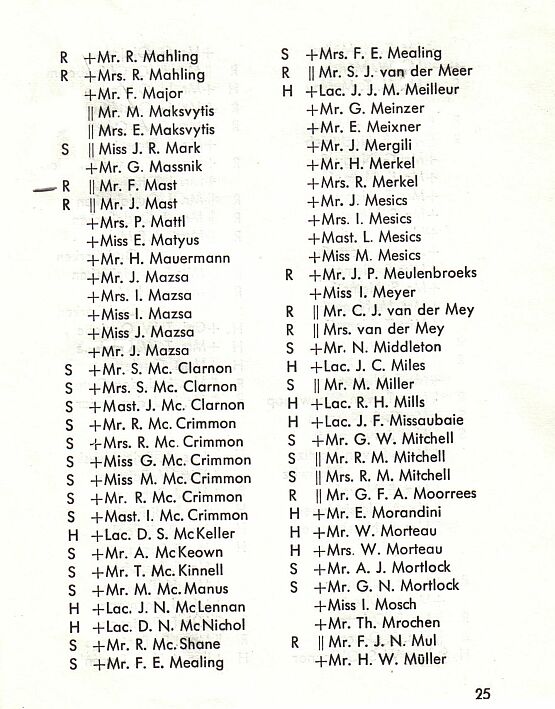 Just for interest. The Mr. Mast under my name in the passenger list is not related to me. And I never met him whilst I was on board. Also at that time, I smoked about a pack of cigarettes every day and I was very happy because a pack of cigarettes cost only 10 cents whilst at sea compared to the (well then) high price of 35 cents a pack at home in Holland.
Also my voyage to the America as an immigrant was fully paid for by my sponsor, which was the "World Church Service." And to enter America you had to have a job and a sponsor. The "First Presbyterian Church" of Oxford PA was my sponsor, and I commenced working at the J. J. Newberry's 5 and 10 cent store in Oxford. Later I married an American girl, and we now have four wonderful children and eight delightful grandchildren. As you might gather, by now I am now 78 years old, but I am still in good health.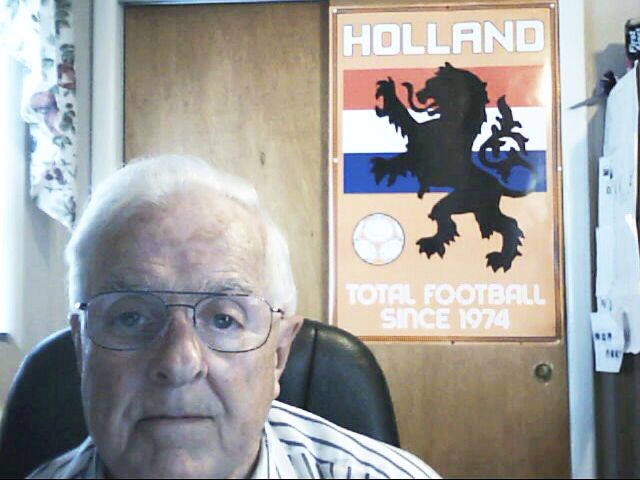 A more recent photo of Mr. Frans Mast
Thankfully, I did stop smoking about forty or so years ago and life has certainly been very good to me. Thus, the MS Seven Seas has certainly brought me to a good life in this new land and I will live with many happy memories of this fine old ship!
Frans Mast - USA.
Seven Seas Index:
Page One -         Seven Seas Main History Page.
Page Two

-        Ships Main Photo Album.
Page Three

-      The Maat Families Atlantic crossing.
Page Four

-        Frans Mast sails in 1957 to New York.
-         Arthur Lukach & friends sails to and from France in 1954.
"Blue Water Liners sailing to the distant shores.
I watched them come, I watched them go and I watched them die."
****************************
Visit our ssMaritime Main INDEX
Where you will discover around 680 Classic Passenger & Passenger-Cargo Liners!
ssMaritime.com & ssMaritime.net
Where the ships of the past make history & the 1914 built MV Doulos Story
Please Note: ssmaritime and associated sites are 100% non-commercial and the author does not seek funding or favours and never have and never will.
Photographs on ssmaritime and associate pages are either by the author or from the author's private collection. In addition there are some images and photographs that have been provided by Shipping Companies or private photographers or collectors. Credit is given to all contributors, however, there are some photographs provided to me without details regarding the photographer or owner concerned. Therefore, I hereby invite if owners of these images would be so kind to make them-selves known to me (my email address can be found at the bottom of the page on www.ssmaritime.com), in order that due credit may be given.
ssMaritime is owned & © Copyright by Reuben Goossens - All Rights Reserved