Please Note: Firefox and some other search engines are not suitable – Use "Internet Explorer" for this page to load perfectly!

Click the logo above to reach the ssMaritime FrontPage for News Updates & "Ship of the Month"
With Reuben Goossens
Maritime Historian, Cruise'n'Ship Reviewer, Author & Maritime Lecturer
Please Note: All ssMaritime and other related maritime/cruise sites are 100% non-commercial and privately owned. Be assured that I am NOT associated with any shipping or cruise companies or any travel/cruise agencies or any other organisations! Although the author has been in the passenger shipping industry since 1960, although is now retired but having completed around 680 Classic Liners and Cargo-Passengers Ships features I trust these will continue to provide classic ship enthusiasts the information the are seeking, but above all a great deal of pleasure! Reuben Goossens.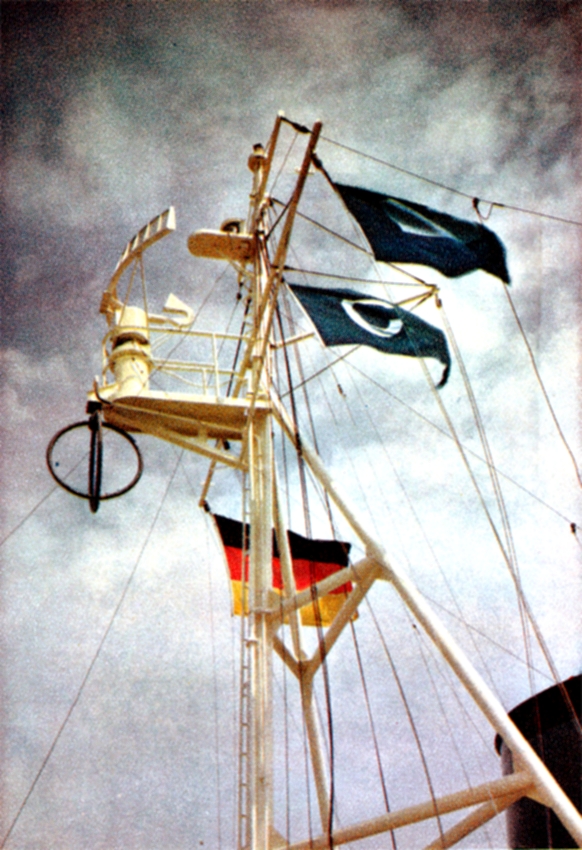 The ships mast and a part of her funnel
The image above is from the Author's private maritime collection
The Arthur S. Lukach, Jr. Story
Arthur and three friends sail from to New York to Le Havre and home on MS Seven Seas in 1954
My three high school classmates, David, Tony, Martha and myself Arthur had all graduated from the same school near Gramercy Park in Manhattan, and were at various colleges at the time. In 1954 we decided that we would something new and exciting and go on an adventure vacation to France, but we did not so by booking on a grand Trans Atlantic liner and sail to Le Havre, for the ship we had chosen was not exactly the  SS United States, or the RMS Queen Mary!
We chose something that suited our needs much better and that was a popular Atlantic popular liner, that also sailed as fat as Australia, at other times, the Europe Canada Line 13,523-ton MS Seven Seas. I was told that although she was a German owned ship, but she was managed and operated by Holland America Line as well as Royal Rotterdam Lloyd, with the latter being when she was on voyages between Europe and the UK to Australia and New Zealand. But, she would often operate as a popular student ship, as we experienced!
From memory we were to depart shortly after the college term was over, which would have been early in June. In the past I had seen a number of large passenger liners, thus upon arrival dockside I felt that the Seven Seas seemed somewhat small, bur she did look beautiful to us in her gleaming white livery and her funnel and tripod mast certainly looked impressive! Being a fine sunny spring day aided to the day, and thus we were very excited as we headed up the gangplank, for let's face it, guess what, we were going for a real ocean voyage on this rather nice smallish ship!
I will never forget that as we were heading up the gangplank and boarded the ship we were greeted by the ships band, and believe it or not, they sounded just the typical, well an … "Um-Pah-Pah" band, but I must say, as we continued our voyage the band became quite popular, as they were not just good but they were a whole lot of fun and we had some great nights dancing and having some real fun in the lounge and bar as they played what you can only call "happy music!"
We had booked ourselves into the budget part of the ship located a little aft and we three guy's were berthed in the male dormitory section, but we did had an eight berth cabin, for there were many that 12 or more berths, whilst Martha was in the female dormitory section and also in an eight berth cabin. We all had to go down the hallway to the share bathrooms and separate WC's, but that was no bother at all. The cabins were rather plain, but quite the bunks were comfortable and I slept well. There were four stacks of two bunks and there was a wardrobe for each person as well as a washstand and a porthole. I cannot recall the total number of students that were on board, but I would think it would have been around a thousand.
I can honestly say, that our voyage on the Seven Seas was a blast to say the least, for it was a good 13 days to Le Havre and it a just little longer coming home to New York, I will cover why this was later in my story. However, what was most notable was that as we departed New York our Captain announced that the great SS United States was about to pass us, for she was on her way home into New York, and believe it or not, she was followed by the grand RMS Queen Mary and then she was followed by her newer sister the RMS Queen Elizabeth. This was simply unbelievable that we would experience this on our voyage to France, it was simply wonderful, but where was my camera?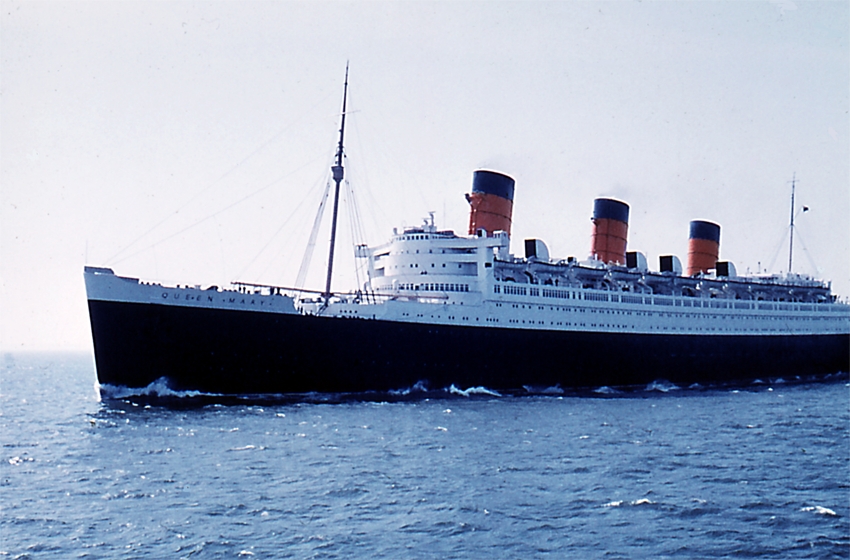 OK, Arthur did not have a camera, but someone else did!
Here we see the RMS Queen Mary at sea, but during another voyage
Name of the photographer unknown – See Photo notes at bottom of page
But what was even more amazing, all three of these very same ships passed us again when they were on the way to Europe mid ocean for they were so much fast that they all passed the little much slower Seven Seas that we were on. I thought, well that will be the end of all that excitement, but how wrong I was, for all three of these ships turned around in Southampton and believe it or not, they passed us for one last look as they were heading back to New York and we had not even reached our destination! Thus we saw these great liners three times in less than 13 days!
Once settled in, I had a good look around the ship as well as all the lounges, deck spaces and the dining rooms, but I was more than surprised at how pleasantly all the public areas were fitted out. The décor in general was modern 1950's European in style and it looked very smart! Somehow I had expected just the bare bones on a rather modest student ship, but this was certainly not the case here. My parents had travelled to Europe and I was definitely not expecting that our ship would measure up to liners they had used. My mother's first voyage was when she was eleven years old, and this was on the Cunard liner, the RMS Carmania with her parents and two brothers, they spent four months in France, Belgium, et al, ending in England for the coronation of King George V in late June 1911. Also my parents honeymooned and vacationed in Europe and loved to travel, and I had heard so many of their stories of all their voyages!
In comparison to the public venues, they certainly did not spend a great deal of money on the accommodation area, well the student dormitory section anyway, for the regular 2 and 4 berth cabins forward were by far superior.
Although the Seven Seas may not have been the most luxurious ship, but we certainly had everything we required and it was certainly more than enough for the young group to have a great deal of fun during their vacations. There were great lounges and extensive outdoor decks located forward and aft of the main centered superstructure and there was even a swimming pool located aft.
We just loved the evenings as we would enjoy the band playing and take a turn of the dance floor and in general have a great night! David, from our foursome, was an accomplished pianist and he would play for us whenever the piano was free and he did so both at night and during the day. I recall that the food on board was just fine, it was mostly European, come German style cooking I think, but there was a good variety on offer and we certainly never went hungry!
Seven Seas Photo Album
This delightful album of postcards was kindly provided to us by Mr. Arthur S. Lukach, Jr.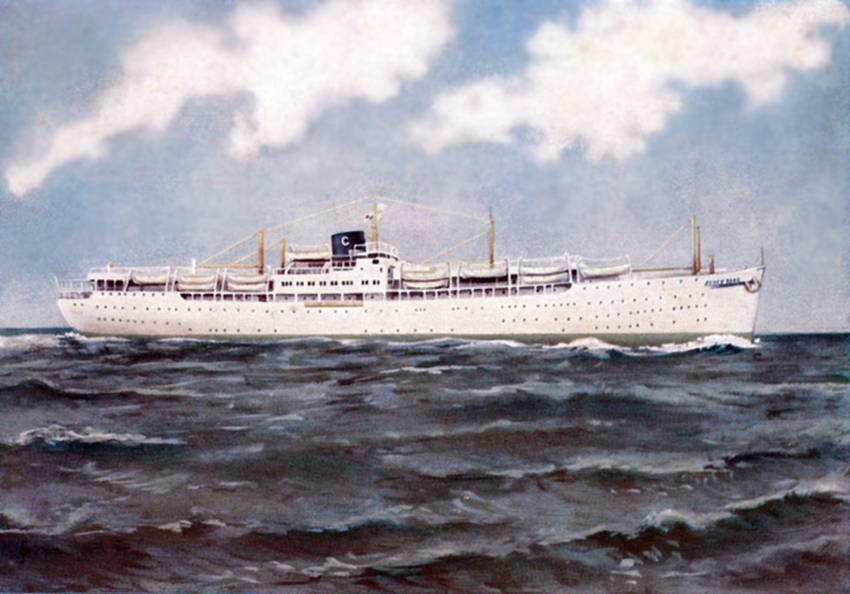 The delightful MS Seven Seas had already transported thousands of migrants to the United
States, Canada, Australia and New Zealand as well as operating the popular student voyages!
She had a comprehensive refit in 1953, and thus she had become a much better ship!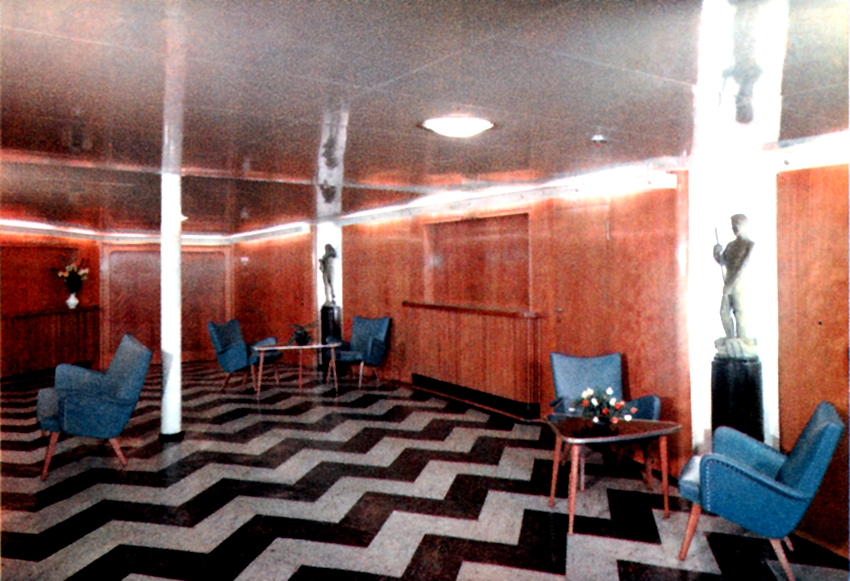 As you boarded on her Shelter (promenade) deck, you would enter the Main Entrance Hall
The décor included the walls clad in fine timbers having backlit alcoves wit statues standing
On black marble bases, modem furnishings for the time, and a zigzag patterned vinyl flooring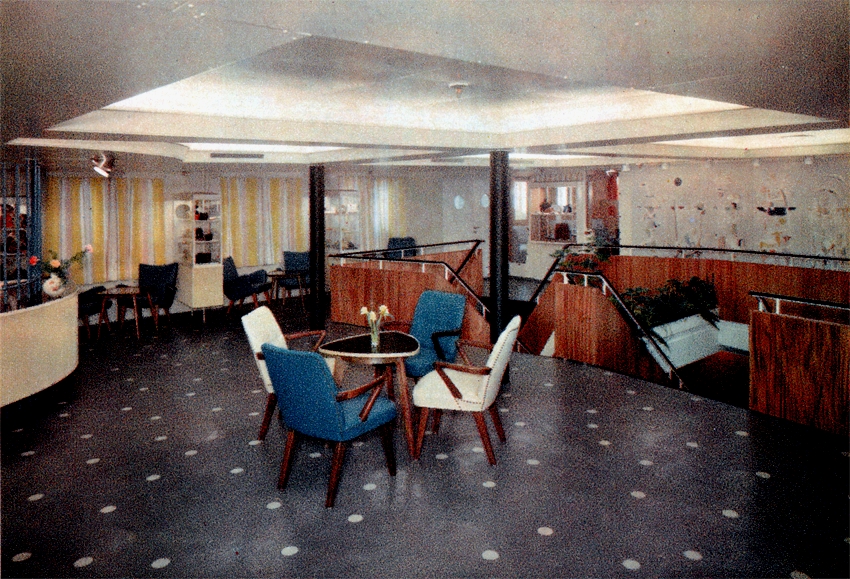 The Reception Hall was on the same deck and there was a shop and other facilities
Mote the doors to head outdoors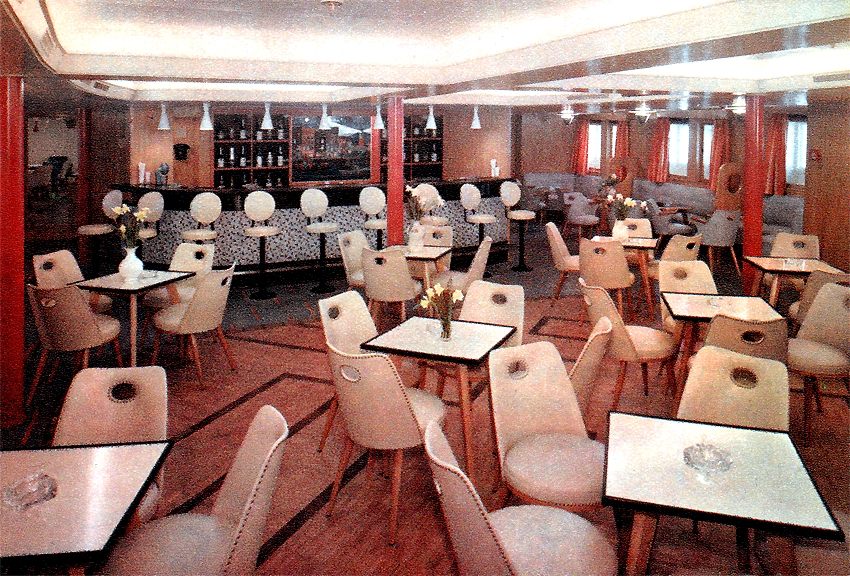 Here we see the delightful Large Bar which was a very popular venue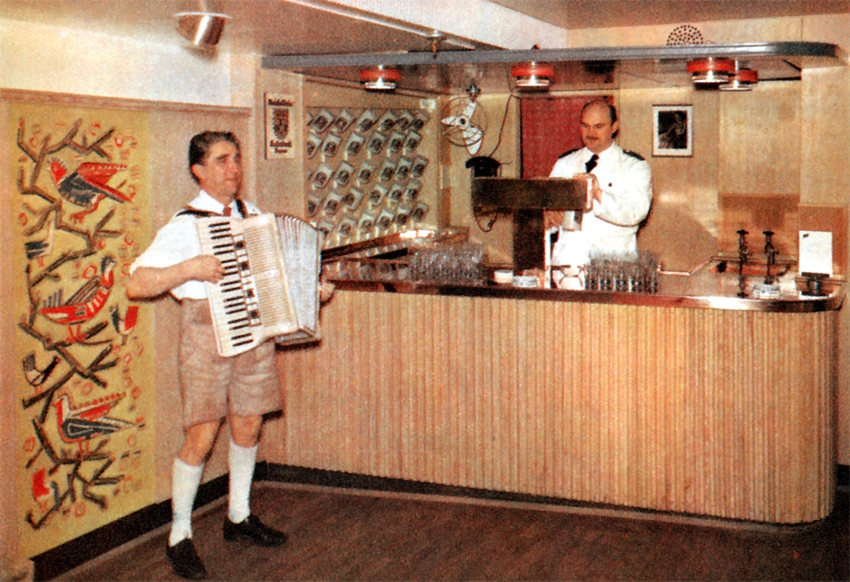 Herzlich Willkommen, möchten Sie einen Kaffee oder etwas anderes?
Welcome, would you like a coffee or something else?
That is just what you could hear in the Café, the place for a perfect coffee or something else!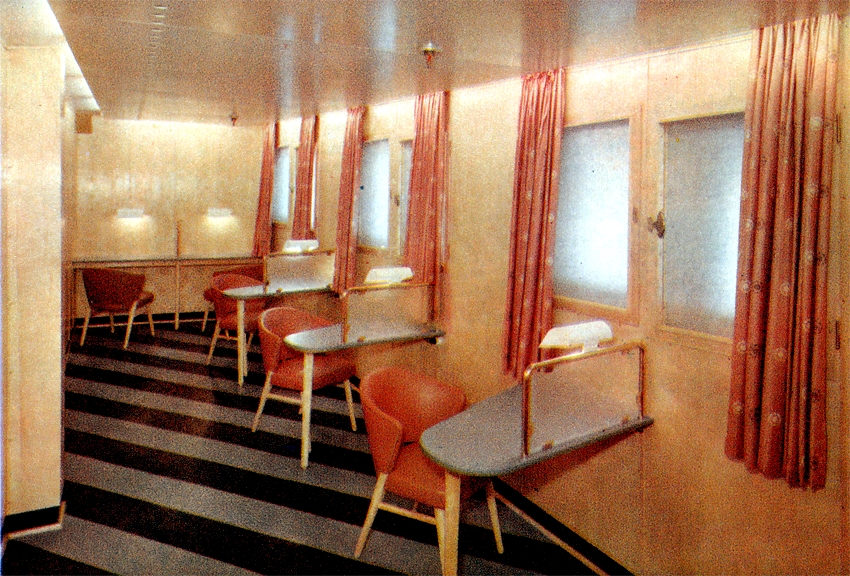 The writing Room was small, but you were not expected to remain too long
Of course the Seven Seas had a good number of other public venues from those shown above, such as the Main Lounge that had a band stand and hye dance floor. Located aft was the delightful Verandah Café, then there were other Bars, both inside and outdoor as well as a Library, a Reading Room and a Card & Games Room. Then there was a Medical centre that was fully staffed by a doctor and several nurses, should there be a need. Male and female hairdressers, shops, well the truth is any passenger liner is just like a floating city, and thus to us, she was as good as the Queen Mary, although not as the British might say, as "POSH." But as far as we were concerned, she was just great, not perfect, but just fine, thank you!
But all too soon our voyage across the Atlantic was over and we had arrived in Le Havre, France and our next adventure was about to begin! We had decided to buy a car from "Europe-by-Car" and thus we had prearranged it with our agent in New York. When we returned to Le Havre and were finished with the car, they simply buy it back from us, although at a lesser price, but it was still much cheaper than renting a car, and amongst the four of us it worked out just fine!
How I remember well one of the first things we did at La Havre, we went to a Café and I had a "le pain et le jambon" a "ham sandwich!" I simply could not believe how both "le pain et le jambon" was so much better than the white bread slices and the water injected ham that we were being fed at home in the States! We were going to love out food in France and all the countries we were about to visit!
After we left Le Havre we drove through the south of France we decided to visit the caves in Lascaux. In 1954 they still owned by the farmer on whose land they were located. We paid our admission and were treated to one of those well-known scenes: numerous outline scratches on the cave walls of various beasts, plus the colorful sketches that remain the big attraction. I convinced myself that the color sketches looked simply far too fresh to be so old. I guessed they were the creation of the farmer! They looked as though they were done just yesterday rather than by a primitive artist. I sensed that the farmer had stumbled upon the cave with only the scratched outlines and then shrewdly figured that tourists wouldn't pay very much to see them, so he drew the color sketches! Of course, the color sketches have been carbon dated as authentic work of the cave man era. But I still have this hunch that it's just too good an attraction to allow the whole truth to emerge.
And we continued on our adventure and drove around 6,000 miles – 9,656 Kilometers in our little Morris Minor, having visited as many countries and places of interest as we could! In order we visited: France, Andorra, Spain (Barcelona), back to France, Italy, San Marino, Trieste (Yugoslavia), Switzerland, Germany, and concluding in France. We saw so much and loved it all, for there were so many outstanding highlights!
BREAK …
The Return Voyage: In the next paragraph Arthur states; "At the end of the summer, our return voyage on the Seven Seas departed Le Havre on September 2, 1954."
Please Note: Since placing this article online, a reader (Brian) has confirmed that the departure was in fact one day later on the 3rd thus I have changed the copy below. Reuben Goossens.
At the end of the summer, our return voyage on the Seven Seas departed Le Havre on September 3, 1954 and it was a pleasant voyage, but around three quarters the way across, from the 9 to the 12th.we were diverted to go around and avoid "Hurricane Edna" as much as possible. However, it was still very rough going. The vast majority of passengers remained indoors, or even in their cabins, but personally, I was able to head out and see what was going on out on deck and sort of enjoyed the rather exciting roller coaster ride on that somewhat little ship as she rode those giant waves passed both under, but also over the top of the bow and the bridge! It was really rough, but I did not mind at all! But having to go around the hurricane, the voyage took a few days longer, not just because it made the voyage longer, but having to battle those massive waves and the head winds, etc!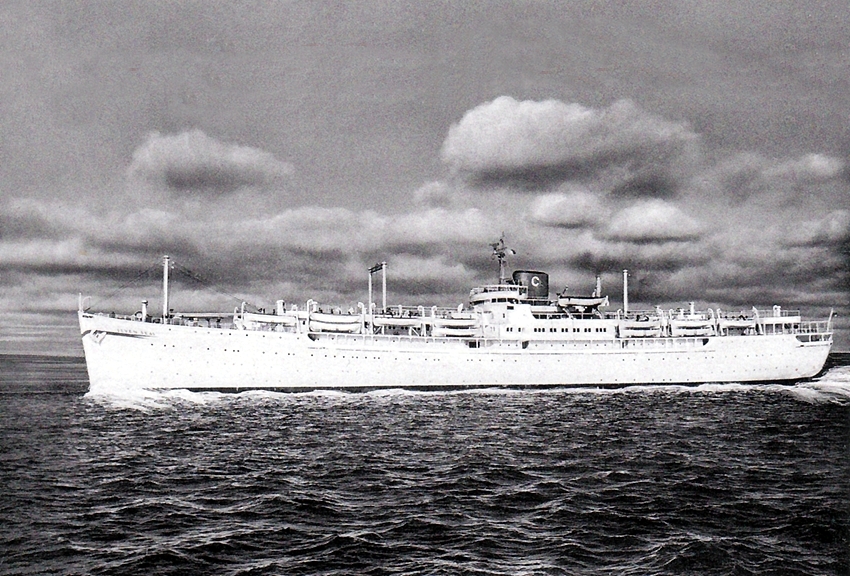 It is hard to believe that she was once a brave, fighting wartime aircraft carrier and then to become
A much loved passenger ship to so many for I know, as I have received almost a thousand emails from
Passengers who have sailed on her and 99.5% have nothing else but good memories!
Part of the postcard collection provided by Arthur
Finally our voyage of discovery had come to an end, but I am sure as you will know, "there is no place like home" and sailing up the Hudson River into New York was simply wonderful and we had a host of memories under our belts, and the delightful MS Seven Seas will certainly live in my heart forever. I have retained this collection of postcard of the ship, and Reuben it is my honor to now present them to you, to enjoy, and I know you will, and I hope you will use them online!
The International Ship:
I do recall being amused by the international scope of the ship, for it was originally built and rebuilt in the United States, then rebuilt post-war in Italy into a bare migrant liner, then rebuilt again to a far superior liner in Germany, being the ship we sailed on, registered in Panama, booking through a General Agent based in Switzerland and sailing from the U.S. to France and back with a German crew, but managed and operated by a Dutch Company!
But I must close by saying, that it is so sad, but today's students just do not know what they are missing for our experience was so special. Today it is all about going to some resort and going to some nightclub and not just get so drunk, but also drugged out of their heads, a tragedy! I cannot recall the number of students that were on board, but I think it would have been well over a thousand. (PS: Tourist Class of the Seven Seas had a total capacity of 987 passengers; however with the size of the ship, it certainly would have seemed like more! RG.)
Seven Seas Index:
Page One -         Seven Seas Main History Page
Page Two

-        Ships Main Photo Album
Page Three

-      The Maat Families Atlantic crossing
Page Four

-        Frans Mast sails in 1957 to New York
-         Arthur Lukach & friends sails to and from France in 1954.
"Blue Water Liners sailing to the distant shores.
I watched them come, I watched them go and I watched them die."
****************************
Visit our ssMaritime Main INDEX
Where you will discover around 680 Classic Passenger & Passenger-Cargo Liners!
ssMaritime.com & ssMaritime.net
Where the ships of the past make history & the 1914 built MV Doulos Story
Please Note: ssmaritime and associated sites are 100% non-commercial and the author does not seek funding or favours and never have and never will.
Photographs on ssmaritime and associate pages are either by the author or from the author's private collection. In addition there are some images and photographs that have been provided by Shipping Companies or private photographers or collectors. Credit is given to all contributors, however, there are some photographs provided to me without details regarding the photographer or owner concerned. Therefore, I hereby invite if owners of these images would be so kind to make them-selves known to me (my email address can be found at the bottom of the page on www.ssmaritime.com), in order that due credit may be given.
ssMaritime is owned & © Copyright by Reuben Goossens - All Rights Reserved