Rotterdam Lloyd MS Sibajak 1928 to 1959
Please Note: Firefox & some other Search Engines may not be suitable
Use Google Chrome for this Web Page to load perfectly!
Click the logo above to reach ssMaritime FrontPage & Featured ships
With Reuben Goossens
Maritime Historian, Author, Cruise'n'Ship Reviewer and Maritime Lecturer
Please Note: All ssMaritime and other related maritime/cruise sites are 100% non-commercial and privately owned. Be assured that I am NOT associated with any shipping or cruise companies or any travel/cruise agencies or any other organisations! Although the author has been in the passenger shipping industry for over 60 years, but due to age and poor health, I was forced to retire. Yet, I have completed well over 1,365 Classic Liners, Passenger-Cargo Liners as well as countless humble converted C3 converted humble Migrant Liners, which brought countless thousands of Europeans to the new world. I trust these features will continue to provide Classic Ship enthusiasts not just the information they are seeking, but more so provide a great deal of pleasure and memories!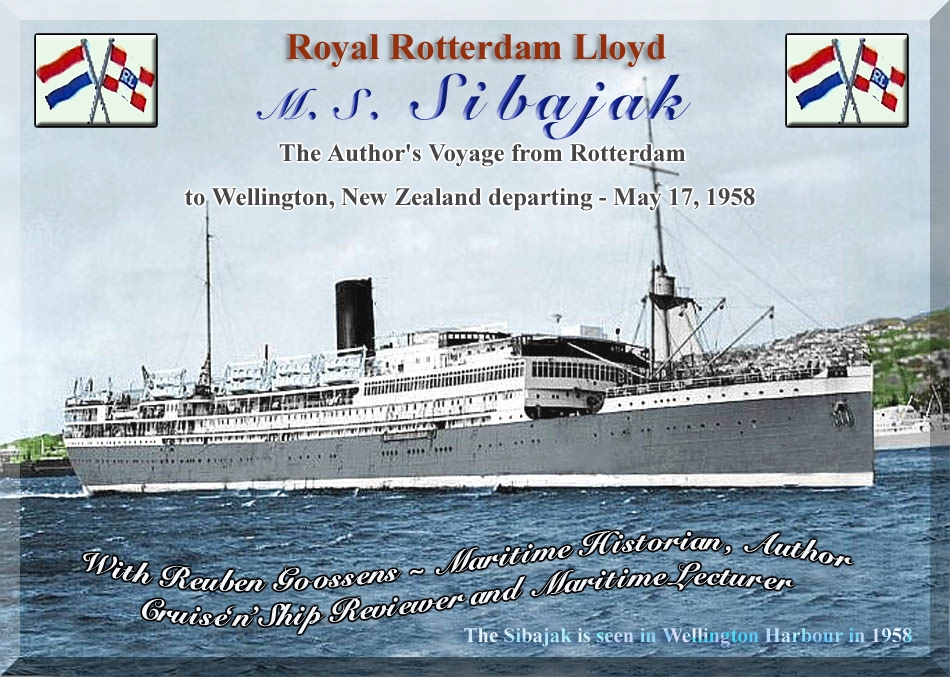 Page Three
Welcome,

this Page is

NEW

!

My Voyage on the Sibajak!

By the Author of ssMaritime.com

Please Note: Photographs of the MS Sibajak pages are mostly from the author's personal collection, unless otherwise stated!

However, I wish to thank

maritimedigitaal.nl for their kind cooperation of their excellent interior & other photographs
Reflections:
Although I was raised in the great harbour city of Rotterdam and saw the many great liners there in my younger years, I recall that my mother and I returned to Amsterdam during the winter of 1956/57 from France having been away for years living in various European countries for a year here and a year there, including Germany, Switzerland, Austria and France!
But finally we were home again, but this time she chose to live in Amsterdam the Netherlands and mother obtained a fine house that was a stone throw from the "Ij" being Amsterdam's Harbour. Thus not only was I happy being so close to the harbour, for now I was able watch the "Netherland Line" and other Liners come and go, it is such a wonderful sight!
In Rotterdam I would see the very best of all Dutch ships in this the world's largest harbour and it was home of the "Royal Rotterdam Lloyd" and the largest Dutch Shipping Company of all "Holland America Line." Thus I loved seeing their fine liners and would go and see them and dream sailing on one of those ships. Yes, I saw them all, be it in Rotterdam or Amsterdam! After we had returned to Amsterdam, mother took me to a photographer to have a photograph taken of me at what is known as the "Munt Toren" or the "Mint Tower" and I was aged twelve. However, having lived such a protected life not having mixed much with other children I knew very little of those thing that regular kids knew of my age, for I was obviously tutored and seldom saw the interior of a school!
However, in 1957 I remember one very special day when I was watching the MS Sibajak, which was making ready to depart. All her passengers had boarded and the gangplanks had just been lowered. From what I could see, she must have had at least 800 passengers aboard, yet most looked rather sad as did the masses of their families ashore standing there waving and crying at the same time whilst holding onto their many colourful streamers, not wanting them to break. The reason being that these streamers represented their final contact with their loved ones or close friends, either forever, or for a very long time!
Cheers were shouted, but as the tears flowed and the ship slowly pulled away from her berth and departed for far away lands on the other side of the earth. Strangely enough, I felt within me some sort of delight amongst all that sadness, for I dreamed that "one day I would be standing at that railing high above." and guess what, I did and I was delighted and not sad at all!
Then in January 1958 my mother suddenly told me that we would be going to New Zealand to live. I asked "where is that," and she said that we will have to take a ship to the other side of the world and I just about exploded with joy!
A few days later my mother gave me two brochures and the option of choosing the ship to sail on. One rather slim line brochure was very colourful and it was about the Netherland Lines more modern looking (for the day) MS Johan van Oldenbarnevelt (JVO), which I had seen and did sail in 1952. The other brochure was of the ship I had dreamed about, the MS Sibajak, thus obviously choose her. First because of that very special and exciting day I stood watching her departure, which had such an effect on me, for she looked so grand that day! In addition I felt that she was by far a more stately liner, possibly because of her more traditional two masts and her tall black funnel. Thus almost on the spot I decided that she was going to be the ship for me and I would be standing up there at that very railing I had dreamed about long before my mother decided she wanted to travel and take me all over Europe! I am sorry, but for a child it was not all fun, far from it, for I never knew where home would be as a child for we moved to different cities, towns and countries almost annually, even when we lived in Holland mother moved almost every year as well as her travels to other lands. But now it would be all the way to the other side to the earth, mother's horizons had stretched as far as was possible!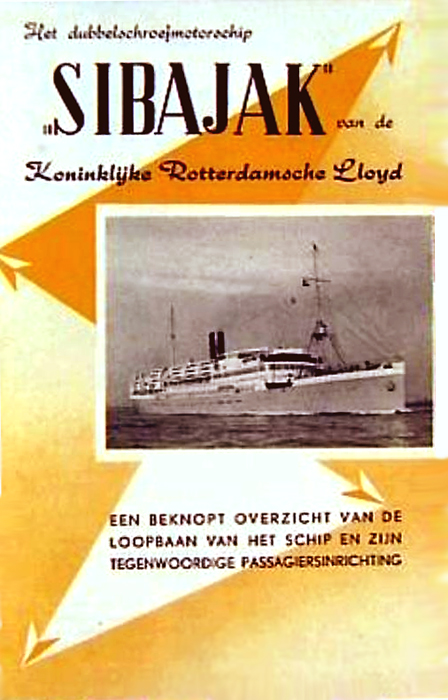 ….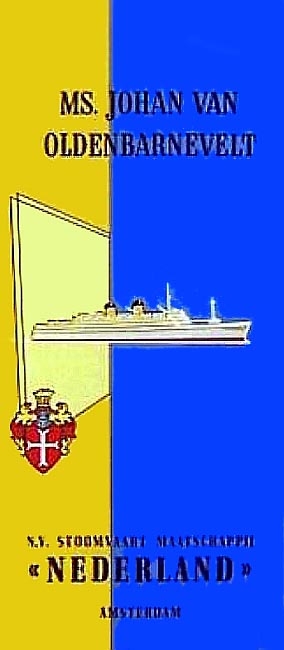 These are the covers of the two brochures I received early in 1958 from my mother
Our Departure:
The voyage would be my first encounter of being actually on a large passenger liner and of course it was going to be on a very long voyage to a strange and a new county! But, there was no doubt from what I had already seen; she would be very much like a large floating city that offered everything I could ever imagine. Amazingly, I had been on board a number of other ships, but never managed to get on board the Sibajak, possibly she was being spared just that special moment I would board her?
The suddenly the big day had come, and my mother had made all the arrangements to head from Amsterdam to Rotterdam, where we stayed at a hotel overnight. Mother arranged it all as it for her it was just another trip being part of her usual life, and nothing unusual! But, for me this was the greatest day of all, for today on Saturday May 17, 1958, one day after my birthday (which was never ever celebrated) we boarded the Motor Ship Sibajak on a beautiful sunny day in Rotterdam.
We had priority boarding the ship as we were full fare passengers and not migrants like the vast majority of passengers boarding, thus after we arrived we were rapidly taken through all the formalities and before we knew it we were up the gangplank and onboard the magnificent Sibajak.
I recall the delicate smell of freshly baked bread, which was a most welcoming smell, mother was escorted to her luxury cabin topside, whilst I was shown to my rather modest abode on a lower deck and far aft, as far removed from her as possible. I first settled into my four berth cabin. But before my mother came to collect me from my room, I quickly headed out to view the foc's'le, the ships bow for this was always my favourite part of any ship, and later my cruises on large lakes and seas when we travelled on smaller ships and vessels, and on the Sibajak, it would become my daily location and it usually had it to myself!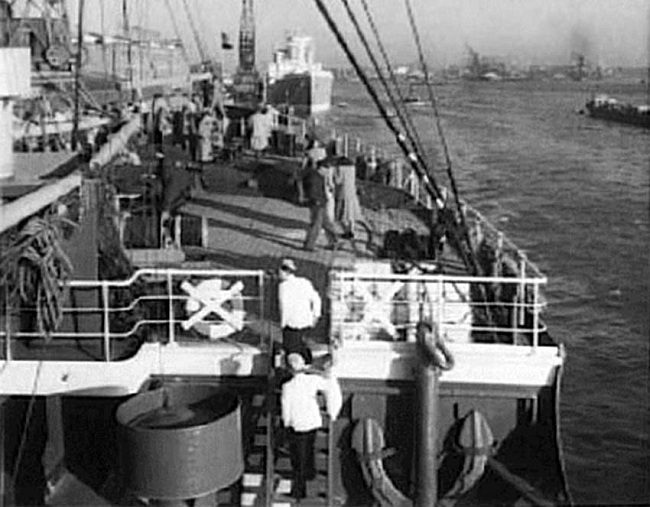 A quick view of the foc's'le before the ship would sail
But back to my cabin and soon mother was there and we headed out onto Promenade Deck to watch the ship depart. I managed to head to the spot I had chosen on that special day when I was saw her sail so long ago, being just aft of the covered promenade deck and there is even a photograph, which I assume was taken by the ships photographer, we can be just seen under the marked section.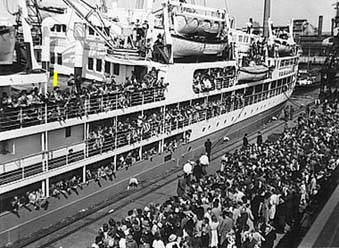 Our departure from Rotterdam the Netherlands on May 17, 1958
The author on the railing, with his mother standing behind, we can be seen just below the yellow marking
<![if !vml]>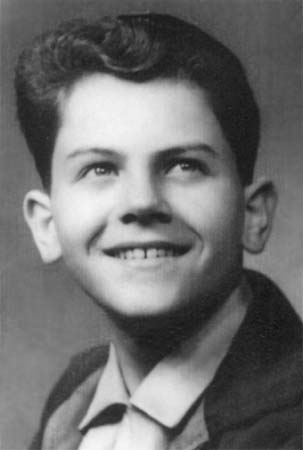 <![endif]>Quayside there was countless family members and friends shore side, soon the families would be allowed to come closer to the ship when embarkation and formalities had been completed and visitors had gone ashore and gangplanks rose. Then the streamers would be thrown by all and it would be a mass of colour as before the ship sails!
This photo of me was taken just two days prior departure-
I remember so well that the band was playing and in due course it became so such an emotional time for one and all, as it would for me, yet it was also filled with such excitement for it was a dream that finally had come true, even though I was leaving home, the country that I loved and knew, and here we were heading for a faraway and strange place where people would be speaking another language, but I would learn it very quickly, as I did learn to speak German whilst living in the Germanic countries, but never managed French. But, I had dreamed about this ship and doing a long voyage and here I was standing up high on that railing, I promised myself that I would one day! Of course for the immigrants who were leaving forever to a new land and thus it was a very sad farewell for them, just as I described in my description of Sibajak's earlier departure. But I did not know as yet that we would not be returning, for we were tourists, but I did not know, it would not end up to be a one-way voyage after all, for 'Mother' like always had her plans fully planned!
The Ship and Voyage:
The MS Sibajak's complete history is located on Page One, but I will provide just some of her general details below, which is suitable for this page. There is a full Index to all my MS Sibajak pages at the bottom of this page.
Royal Rotterdam Lloyd sent the Sibajak to the Rotterdam Dry Cock Company in August 1951 for one of the most extensive refits in her history as she would now become a stylish One-Class Liner. Her old third class facilities were completely stripped and all the First and Second Class Lounges and Dining Rooms were completely refurbished and updated, and a new lounge was constructed under the old second class Sun Deck with a bar, a place I spent a great deal of time with my new found younger friends as during the voyage I would seldom see my mother! But sadly I have no photographs of this venue. The previous third class Smoking Room far aft on Promenade deck became the new Children's Playroom. In addition all cabins received upgrades with superior bedding, soft furnishings and other modifications. Upon completion she accommodated a total of 956 passengers in the following accommodations; 598 passengers in 1, 2, 4 and several 6-berth cabins. 358 passengers in 5 medium to large dormitories each having the following; 18, 34, 40, 128 to 138 berths. She was completed on April 24, 1952 and she departed on her fist voyage as a One Class liner four days later! MS Sibajak now had an official Registered Gross Tonnage of 12,342 GRT.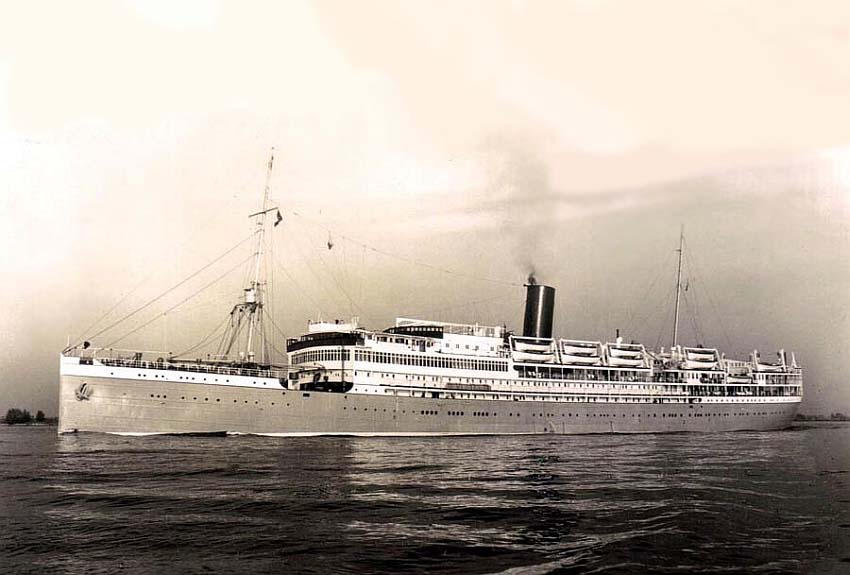 The 1952 refitted Sibajak is seen departing Rotterdam, and my mothers cabin was located in
the raised new superstructure just aft of the Bridge and hers is the second window from aft
Voyage details from Rotterdam via Wellington & Sydney to Melbourne:
Depart Rotterdam;……………………..May 17, 1958
Southampton:…………………….……..….May 18.
Willemstad, Curaçao;………….…..…….May 29.
Cristobal, Panama;………………..……..May 31.
Panama Canal;……………………..……….May 31.
Balboa, Panama;………………..…………May 31 & June 1.
Papeete, Tahiti;……………………….……June 13 & 14.
Arrive Wellington, New Zealand;.June 22, 1958.
Depart Wellington;………………….……June 23.
Sydney, Australia; …….…………..……June 27/28
Melbourne;……………………..…………….June 30.
As for my accommodation, I knew that mother had booked me in a four-berth cabin and I was allocated cabin 219 on "Tusshen" or C Deck, being on the same deck as the Dining Rooms. My cabin was located on the starboard side and just two cabins aft the Main Stairwell and what used to be the Second Class Dining Room where I dinned by myself. The cabin had a porthole offering light as well as fresh air! Although the room's décor was relatively plain but at least the berths offered some comfort, even though it was somewhat lumpy and it sagged in the middle. My berth was the lower berth (A) as you entered the cabin, all four berths were located along the aft wall with a washbasin in between, and like all cabins on board each cabin had a porthole. The floor was covered with linoleum tiles and it was rather cold and always felt unpleasant underfoot! The cabin did offer ample wardrobe space, sufficient for my clothes, shoes and other needs, etc. There was sufficient space for suitcases as at least four regular cases fitted under each pair of bunks. By now the ship did have forced air installed that added fresh air from outside, and the nozzles in the cabin could be moved as needed.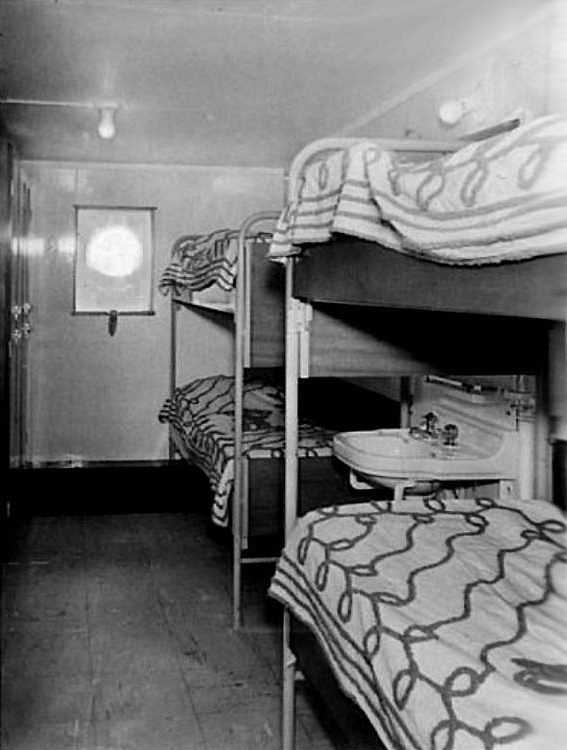 This was my four-berth cabin with my bed being the first bottom berth (A)
the washbasin in the middle, and the four wardrobes can be seen on the left
In addition each cabin on Sibajak had one or two washbasins, which was great considering when we travelled throughout Europe mother usually stayed at some of the best hotels and the vast majority of rooms had on a dresser a large porcelain bowl with a jug for water, although these were very fancy. When water was required for a quick wash, the maid for mother and the butler for my room would bring the perfectly heated water and they offered superb service whenever they were required. But the bathrooms the hotel bathrooms were always close by and were glamorous and they would be made ready as requested. But I am telling you stories which are all from the past, best to get back to the MS Sibajak, which was the ship of my dreams. But our facilities were the public showers and bathrooms and WC's, which were kept spotlessly clean, but not every passenger, would keep things clean and upon arrival at the facility a terrible dirty shock could await you! But the steward would always be there so fast to clean up and they were just amazing!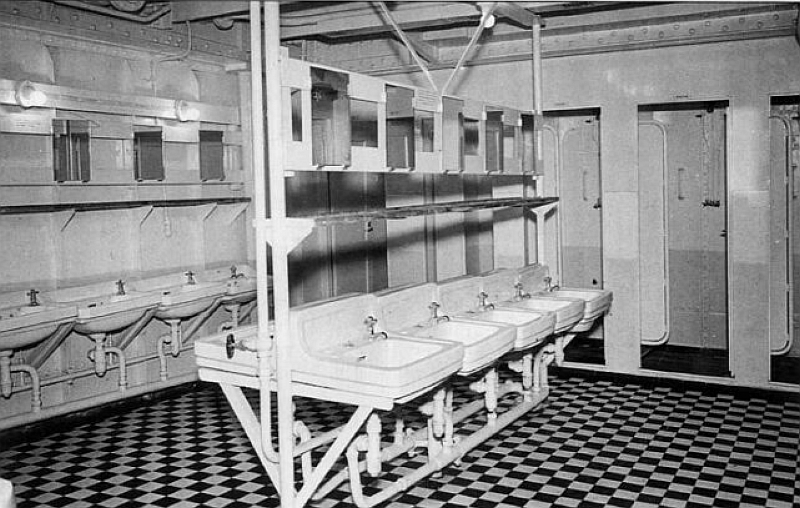 The traditional public bathroom onboard was neat and well organised, but I never had to share one in my life
at first this was a very frightening experience for me, like having to wash with others in the same place
My mother as always would have one the best cabins possible, but she was not able to have the Suite, which was only available to couples, in addition they had long been sold. The two Suites, which were now sold under as "deluxe cabins" were located port and starboard side far forward on Brug (A) Deck and they were very spacious, having two defined areas, a sitting room and bedroom as well as having a full bathroom with a full bath tub, shower, washbasin set in an attractive surround and a WC!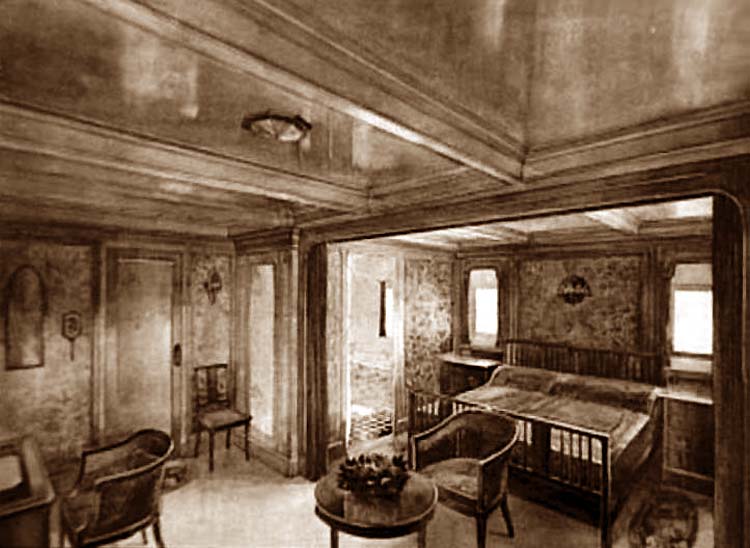 A promotional artist impression of the Deluxe Suite offering every luxury and comfort with the finest private facilities of the day!
However, mother did have the second best cabin on the ship being the Luxury Single Cabin, which was located far forward, just aft of the Bridge, portside on Boat Deck. This part of the ship was newly built over what was originally the First Class Promenade Deck and the aft section of the old officer's accommodations, thus everything was far more modern compared to cabins below! Mother, as I already indicated would always have a room, or cabin for herself and we certainly never shared a room. As I was not permitted near my mother's cabin I obviously never saw the inside of it, and only discovered what it looked like much later from the ships records, thus I found out that it was beautifully furnished having some of the finest of timbered furnishings a luxury mattress that was superbly comfortable, a modern style washbasin and it had all the luxury touches one could think about, including a large dressing table, come desk for writing that had a comfortable chair. It would have been nice to have had one in my cabin, no such luck, for in my cabin there was sweet nothing but my metal bunk without a luxury mattress!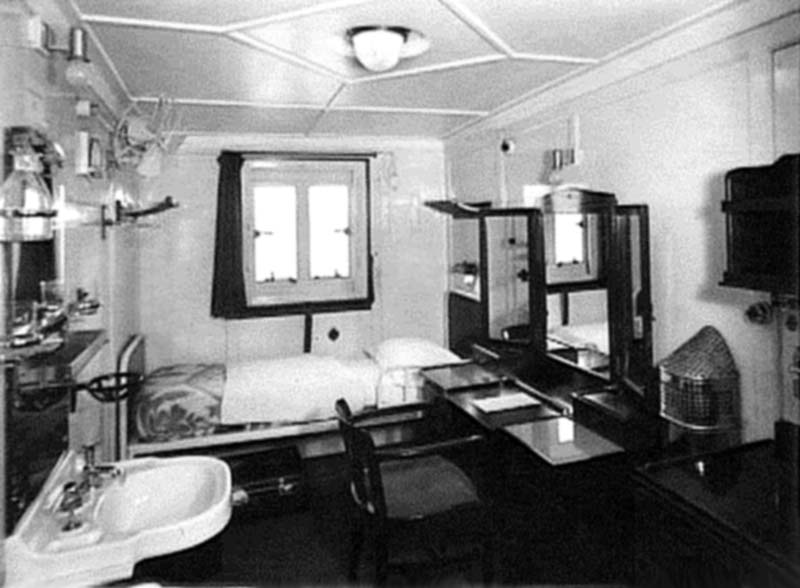 This was my mother's rather luxurious single cabin topside
As you will know from my earlier statement we were not immigrants, financed by the government, and I think it is fine to immigrate for it was simply wonderful how so many people migrated to New Zealand and Australia, as well as all the other countries worldwide and made a wonderful new life for themselves, but immigrants also enriched the countries with their culture and the wonderful cuisine and yes coffee, which they brought with them!
However mother loved her comforts, and she desired to meet people of her own class, high society. Thus with her first class cabin being far forward and desiring me to be as far away as possible and she did not wish to see me during the voyage, unless she arranged to meet me somewhere on her terms. That was the reason I was inserted in that cabin down below right at the back of the ship and she ordered that we would never meet, and I was commanded to never come up to the main forward Promenade deck and the original first class lounges, etc or dinning room and decks. Thus during the voyage I hardly ever saw "Mummy Dearest" for she only gathered with the "Upper Class". From what I gather there were around 90 full fare passengers aboard. As for me being just a youngster, obviously I would only be an interference to her enjoyment and pleasures whilst she was with her new fancy wealthy friends and at night mother would be in her elegant gowns covered in some of her finest jewels, including her Tahitian pearls or her amazing necklace containing countless diamonds. Of course that only came out on Gala evenings as that and other precious items were kept in the ships safe.
But as a teenager, it was the very first time in my life had to sleep with strangers, which was a fearful experience for me, living with three strange and much older men who had some very strange and horrible, filthy events in my room, which should not be seen!
However, on certain occasions during the voyage, mostly when there was a "Gala Dinner" her steward would come and give me a note, which would say;
"Get dressed in your dinner suit and make sure that you are in perfect condition to dine with me, your MOTHER, and my dear friends in the forward dinning room. Be there at 20.25 sharp."
It would be only at these Dinners she paraded me in front of her wealthy shipboard friends, and of course I had been well trained for these occasions for I knew my manners, and I had been well trained when it came to etiquette, thus I knew which fork, knife and spoon was used for what, etc. Thankfully I was always a huge success for mother, considering I was an attractive young man, with the perfect manners and the knowledge of things she had me trained for, such as 'proper conversation." Therefore, for me to successful at these functions, "Mummy Dearest" would be delighted and obviously became even more popular with the "in crowd." Thankfully, with my good performance, I received some additional spending money which was based on how well I pleased the guests, and it usually turned out that I had done even better than good.
At first, and again later, her friends were surprised that she 1. She even had a son, 2. That he was actually on the ship & 3. That she hid him and that he obviously had excellent manners.
But the truth is; I had to be good at mothers special events, for frankly I was on show, for if I was not absolute perfection, in appearance, manners or speech, life would be very, and I do mean very difficult for me to say the least, but that is another story, and a book I am simply am unable to write!
My wonderful Times on Board:
Of course I would occasionally wonder forward and end up on Promenade Deck, the old First Class section where mother would spend most of her time in one of the Magnificent Lounges or out on deck. But I found that the deck was always very crowded, thus the aft section were myself and my friends tended to remain was relatively restful and far less people.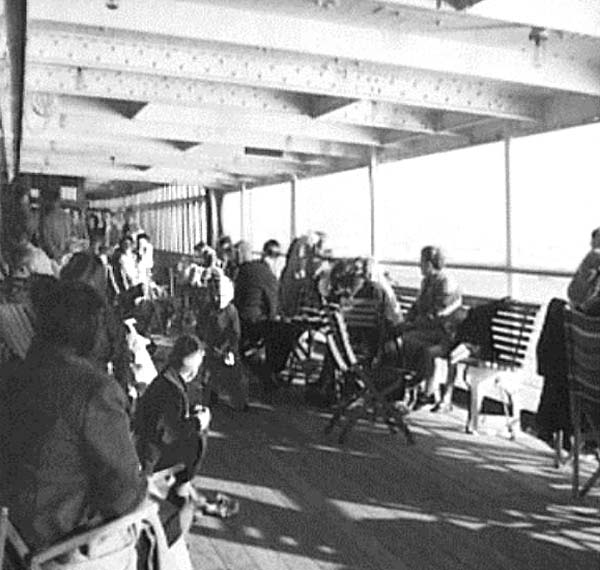 The ever-crowded Promenade Deck seen whilst crossing the Atlantic, as most are still wrapped up due to cool weather
There was a relatively new built lounge, that had been built under the covered section of the old second class promenade deck and it was obviously far more modern and it had a bar. Sadly I have never found a photograph of this venue, but I can only show the following.

The lower windows reveal the lounge under the previous second-class sun deck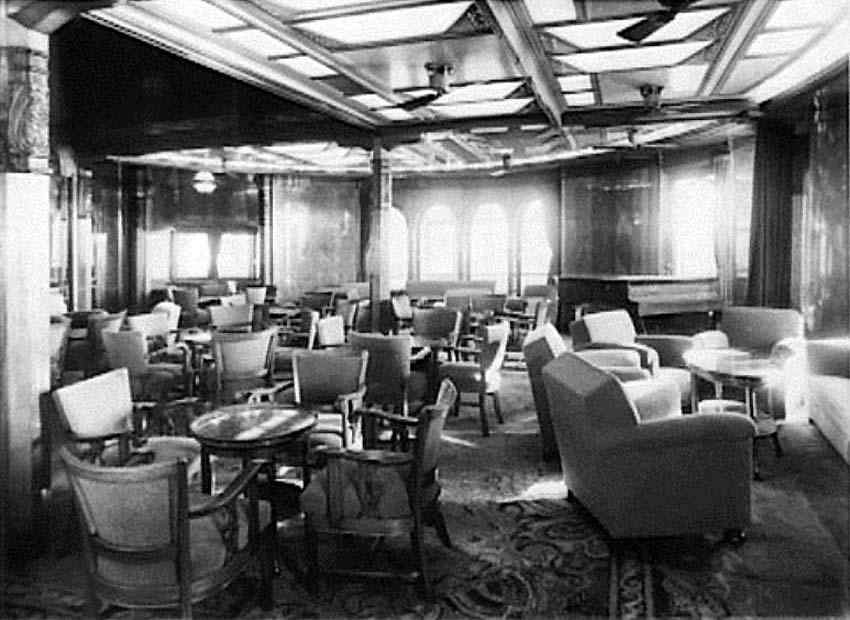 Here we see the far forward Music Salon and directly behind it was the Smoke Room with its bar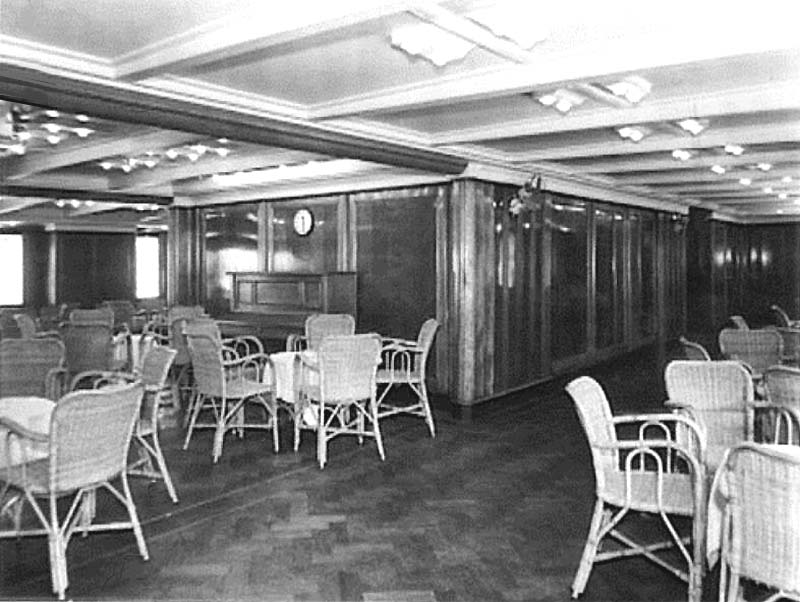 One Deck down on A Deck was another original Second Class Smoke room, now with cane furnishings
The original forward, ex First Class, Dining Room remained completely unchanged, whilst the aft Dining Room was by its nature just a little more simplified as I suppose it was originally the Second Class dining venue, and now the dining room where the majority of the migrants dined, as well as myself due to my cabin was located aft, but I did not mind and preferred it for the people were just wonderful and very friendly!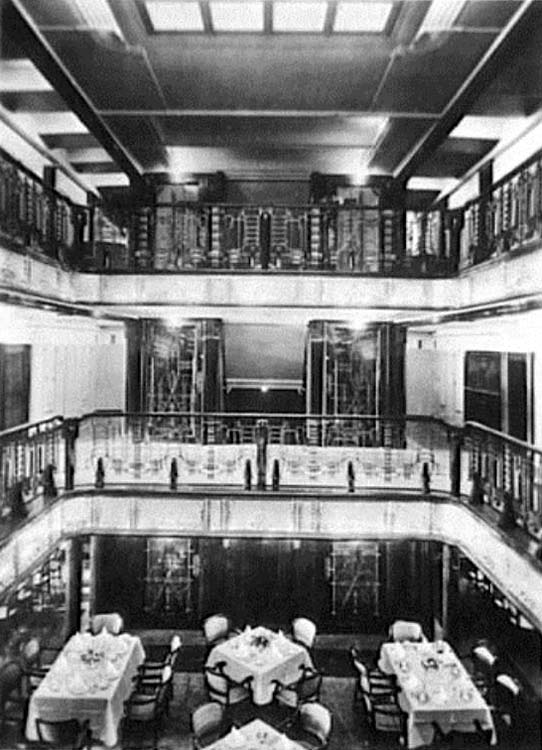 The forward Dining Room remained as glamorous as always!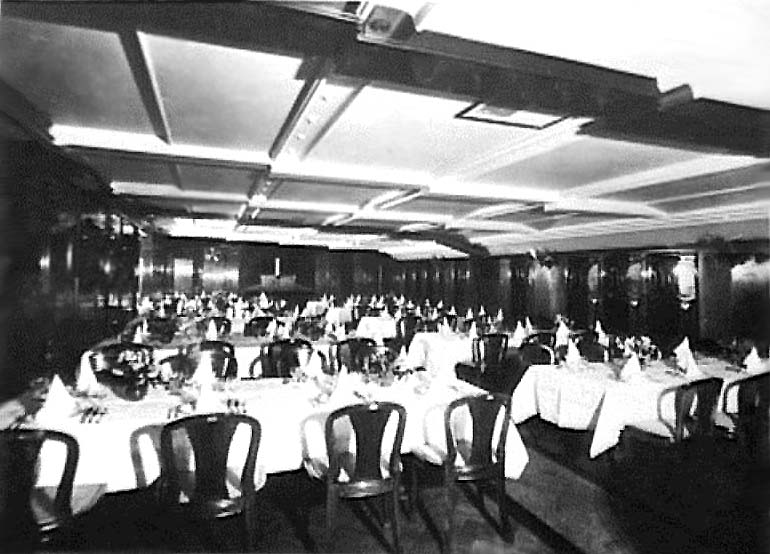 Here we see the aft Dining Room set for diner, but for breakfast and lunch there would be no tablecloths, of course I dined here
Speaking of the Dining Room, how can I ever forget the countless wonderful meals that were served they just seemed to be endless and the Indonesian stewards looked after me with great efficiency and they were so friendly, for they just could not do enough for you! Later, when as the ship arrived in warmer climates like the Pacific Ocean, a canvas pool was erected on the aft open-air section of what used to be the original Second Class Promenade open air Deck and it was well used!
I certainly came to know every corner of this ship for she was just like I imagined just amazing, and although this young lad had already travelled greatly, due to mother frequently travelling to so many cities, town in various countries, yet I had lived a greatly protected life and being home schooled so to speak!
There was no doubt about it, but this voyage commenced my great love affair with the ocean and ships to the point that whilst I was still aboard the Sibajak I decided that I was going to work in the Shipping Industry and amazingly less than two years later in May 1960, I did do just that!
I commenced working with Russell & Somers Shipping and Travel, Ltd., Johnston Street, Wellington and they were the General Sales Agency (GSA) of Royal Dutch Mails, being a combination name used for all of the Dutch Shipping Companies and they had managed the very ship I had sailed on until her final visit there late in July 1959 on her way to Sydney and Melbourne, and then to Hong Kong to the breakers. I was a hard worker in addition I learned everything about the shipping industry very fast and rapidly worked my way up the ladder to a sales agent.
Then in 1961 the Union Steamship Company of New Zealand (USSCo's) sought me out to join their ship Provisions department in order to supply USSCo's passenger ships with all their needs during their longer voyages, as well as their inter Island ferries. The items included pre-printed stationary, completed passenger lists for their longer voyages, blank menu covers and countless other needs required onboard in the ships passenger departments. Within six months I became the manager of this department, which looked after all USSCo passenger ships that included the inter Island ferries, and their delightful passenger cargo liners sailing the South Pacific from various New Zealand ports, as well as visiting Australia. These were the MV Matua and the MV Tofua!
Then in due course I was asked to come to Brisbane Australia where I became Manager of another company and then I became an Executive with Chandris Lines, but finally I operated a Cruise Company (which I later sold to Chandris my good friend Mr. Chandris) and all this began with a voyage on an old, but a wonderful ship the MS Sibajak from Rotterdam to Wellington New Zealand in 1958!
Back To the Voyage:
Having departed Rotterdam, we sailed to Southampton, England on May 18, where I remained on board and noted that at least a 120 or possibly more passengers boarded. This turned out good for me as having met a number of them a little later, thus as they could not speak Dutch, I was forced to practice the little English I did know and learn some more. I enjoyed the Atlantic crossing, which was remarkably smooth and it was during this time that I became friends with a good number of the Indonesian stewards who were without a doubt, looking back so honourable and they looked after this young almost deserted lad like their own son. My cabin steward very rapidly discovered that I had certain problems, and when he had time he would spend some time with me and told me that he understood and that I should not worry so much and if I was afraid and I should try and relax. Yet I told him how happy I was to be on the ship, but he could read me and see another picture that lay beneath the surface and yes, he was right! Soon the Restaurant stewards also took me in and I assisted in setting up tables and even helped in the Galley, which was jus amazing for I felt part of this great ship!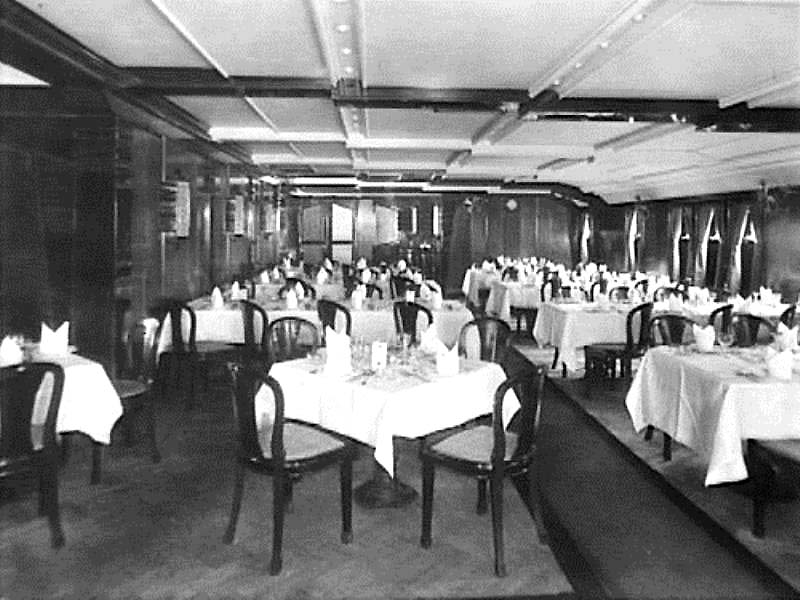 I would help the stewards here in the aft Dining Room as my cabin was close by and I would also dine here
Whilst mother dined in the forward dining room, I joined when invited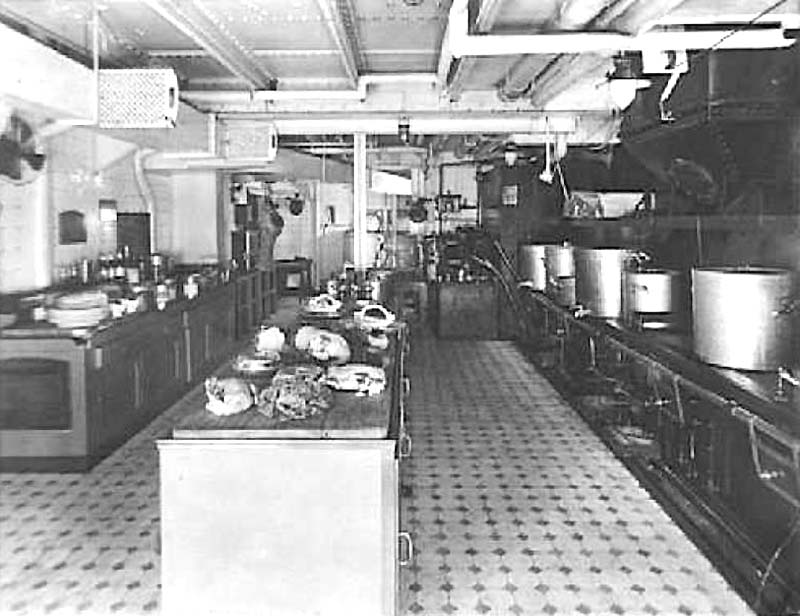 This was the Galley in which I gave a hand occasionally
Willemstad

, Curaçao:

All to soon the Atlantic crossing was about to end as we were about to arrive in the Caribbean and we gently sailed in to the port of the Dutch Colony of Curacao and its capital of Willemstad arriving on May 29, 1958 where went ashore and walked across that wonderful floating bridge that had many small boats under it, so that it could open to let the ships through. Willemstad was certainly a wonderful place, but it was also a very hot and a very steamy humid place, something I had never experienced before, for all the countries I had lived in during my life were all over Europe.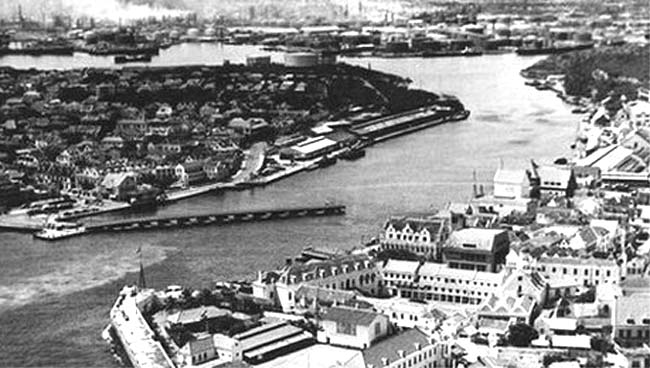 Here we see Willemstad in the 1950s with the Emma Bridge open, at the bottom are the docks where we berthed
And we walked to the bridge and the city center, which is across the river and to the left
I would visit Willemstad again just seven years later on an Italian liner the T/S Flavia and I still loved the place! Sibajak departed after having a wonderful day in a delightful small Dutch Colony with such wonderful and friendly people and Sibajak then we headed for the Panama Canal.
Memorabilia:
A very young Herman Wim Kuiper and his family also sailed on the Sibajak migrating to Wellington New Zealand and he sent me photographs of a small souvenir silver sugar spoon that his family purchased in the ship's shop, and I present it below.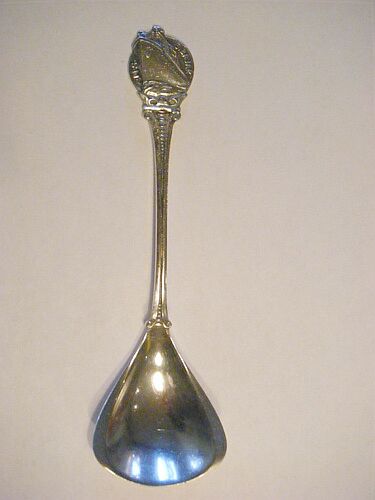 A silver MS Sibajak silver souvenir sugar spoon
Above & Below: Images of the sugar spoon are © & the property of Herman Kuiper & are used with his permission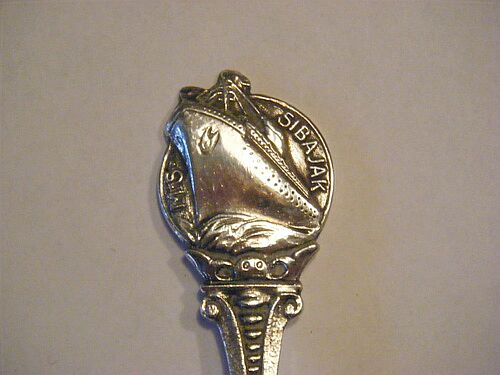 A close up of the decorative logo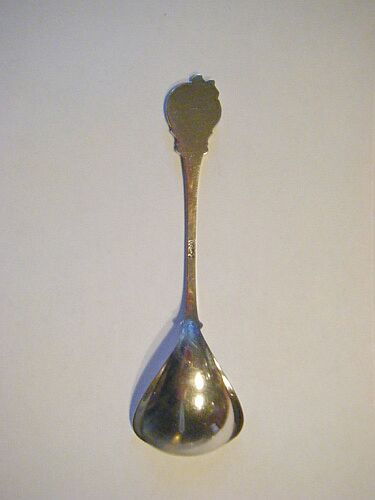 The back of the spoon with the silver stamp showing - Thank you Herman!
I received another email from Frans Banens who sailed on the Sibajak from Rotterdam to Melbourne arriving there on September 1957. And whilst he was visiting the Netherlands in 2014, he managed to buy a spoon from the M.S. Sibajak and he has sent me a photo of it. You will not there is a small difference between these spoons shown above from Herman.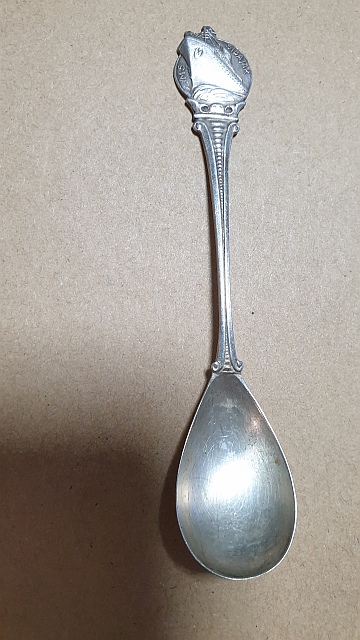 Photo of the sugar spoon are © & the property of Frans Banens & are used with his permission
Panama Canal Region:
When we reached Cristobal, Colón on May 31, which is located on the Atlantic side of the Panama Canal and although we did berth, but we were not allowed to go ashore, but soon enough we were on the way again. Our Panama Canal experience was without a doubt amazing, for it was the most amazing voyage spectacular, as we saw so many things, besides crocodiles in the water and sleeping on the banks, and even monkeys and colourful parrots in the trees and the list just goes on! The Sibajak slowly slipped through the calm waters of the Canal, but it was the experience with those amazing locks, yes in Holland we are used to having locks, but these were huge and very different. Of course I loved those little locomotives that are actually called - "Mules" and they would pull ships of all sizes in and out of the different locks, it was a wonderful sight to behold! Since then they built new modern ones!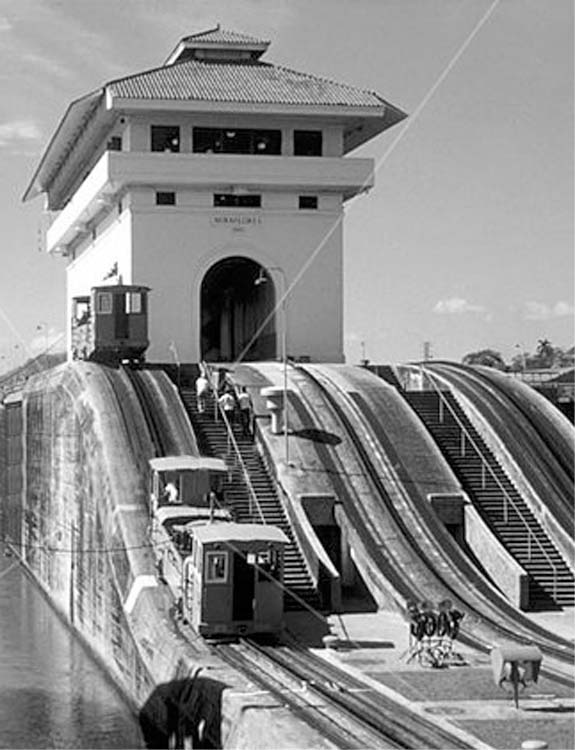 Here we see those fine old 1958 "mules" at the Miraflores Locks
Once we were on the other side we made a call at Panama City late in the day of June 1, however I was later told it was actually the Port of Balboa, which is of course on the western or Pacific side of the Canal. This time my mother took me off the ship with her group, for we were advised that Panama was one of the most dangerous places we would be visiting and if going ashore that passengers should go in large groups and not alone or as couples. Of course, although notices were given to each passenger on two occasions, one in the cabin and one on the dining table, right in front of you before you could even order your meal. Then there were a good number of announcements before passengers were permitted to go ashore, and they were also told that if passengers were late, the ship would not wait under any circumstances! Thus there was no excuse and say I did not know! Yet regardless all the notifications, tragically there were some passengers who were never seen again and others came back to the ship having been robbed and bashed. And yes, the ship did wait for over two hours after her official departure time. But, sadly there were some who were lured away because once you are on your own or even a couple, there can be nothing but pain, such as a knife or a gun that could well end your life! Thus it is sad, that even today, there are some who just think they know it all better! Finally we departed from Panama minus some passengers, and apparently RRL never received any news from Panama what happened to any of them, tragic.
Voyage Map - Willemstad to Wellington: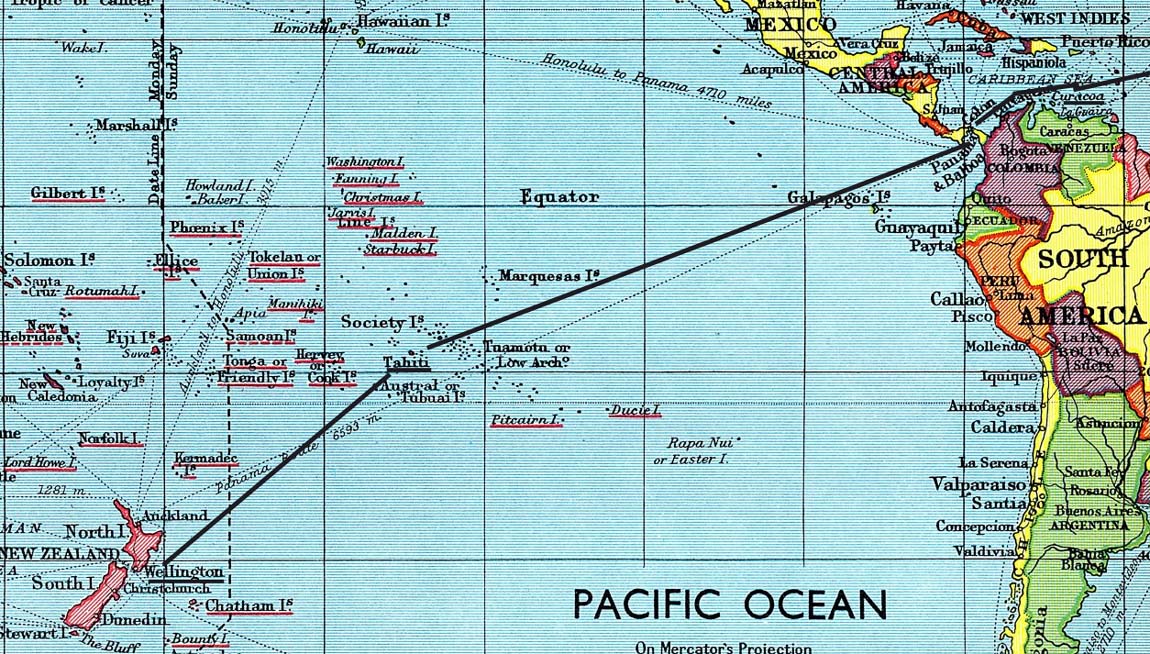 The Map Above: Far right, you can see Curaçao, also Colon close to the Atlantic side of the Canal, then Balboa & Panama City on the Pacific side, follow the line to Tahiti which as you can see it is just above the Equator, several days after leaving Tahiti we crossed the Equator on our way to Wellington were we disembarked.
I was so happy to be back onboard for I disliked Panama City at first sight and thankfully the next morning as I woke we were sailing across the wonderful Pacific Ocean. I had eleven blissful days at sea giving me a wonderful time with some new made friends of my own age, but I also enjoyed spending some time alone on the fo'c'sle (forecastle) for I loved watching the sea and those wonderful and countless flying fish.
From Tahiti we had an eight-day ocean voyage ahead of us to before we would arrive at Wellington New Zealand and the weather was simply magnificent! There were days when the sea was, and what I am going to say is absolutely true, it was as smooth as glass and honestly on some days it looked just like a mirror, so shiny and it reflected the sun and the sky, it was like a mirage beneath you. The large flying fish, not the smaller ones we tend to see these days, disturbed the water and at times there would be up to 30 or more skimming above the water. Early in the morning I would head forward of the ship and go to the foredeck and up onto the Fo'c'sle and sadly what I would discover there at times was tragic, for there would be flying fish lying on the deck. If you look at the Sibajak you will note that she was quite a low-slung ship, and these large flying fish could fly quite high and reach the lower deck levels and once they were up there it was the point of no return. Most would be dead, but at times I would find several that would still alive, thus I would throw them back into the sea first and then I would throw the dead ones back overboard, for I could not just leave them there.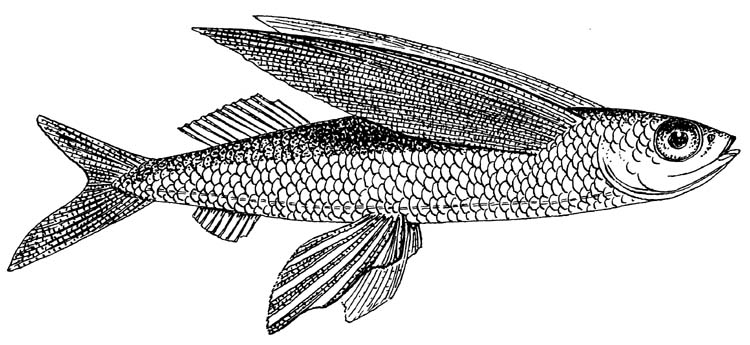 The flying fish of the Western Pacific
The following came from a report I discovered online regarding these flying fish of the western Pacific, which are larger than the current 25 to 25cm ones;
"There are about 41 species of flying fish that inhabit the western part of the Pacific Ocean and range from 30cm - 11.811inch to around 60cm - 1.11ft in length, although larger flying fish have been reported. The flights of flying fish are typically around 50 meters - 160ft, although they can use updrafts at the leading edge of waves and cover distances up to 400m - 1,300ft. Amazingly they can travel at speeds of more than 70 km/h - 43 mph with a maximum altitude is 6m - 20ft above the surface of the sea. Some accounts have them landing on the decks of ships."
In regard to the last statement, I certainly can account for that, for there were times that, as I said above, I would find those poor fish forward of the main superstructure lying next to the forward hold and tragically most of them dead, due to them having been out of the water too long, but those that were still alive, who had obviously only arrived within the last half hour, I threw back first and as fast as I could, followed by the dead ones! Then back inside to wash my hands and I would go back and find my friends, for I could not go back to the forecastle that day.
During the day my younger friends and I would spend sometime in the aft lounge on Promenade Deck playing cards or various games, and enjoying a soft drink or two! But the voyage across this stretch of the Pacific was perfect, par the sad fish experience.
Papeete

, Tahiti:

We were about to arrive at a country in what I can only be described as heavenly Papeete! We arrived at 6 AM on June 13, and we did not depart until 11 PM, which was just great, for Papeete would turn out to be a very special experience and for me and the vast majority of passengers something very new and exciting!

Having had another delicious breakfast mother and myself disembarked and there were Tahitians having dancing and singing their beautiful songs, and some of the most beautiful young ladies in their coloured dry grass hula skirts and coconut bra's (very nice indeed) awaited us with superbly smelling flower leis, which every single passenger received. Amazingly the wharf with the Sibajak was pretty much in the centre of town, thus we could walk around Papeete centre and I recall that like many others headed straight for the markets, which was just amazing! These wonderful markets are still there to this very day in the heart of town, but now they have been greatly enlarged and improved, but even back then it was a delight and we ate some of the wonderful fruits that were available and we had never heard about.

And although I was young, but those Tahitian girls were most pleasing to the eye for they were just beyond belief as they were so beautiful, with their smooth brown skin and slender with long legs and everything was just perfectly in place to say the very least, and this very rather young man did notice all that! However, then there were, well how can I say it delicately, those of the same gender and I now have to be very careful in this modern age, for we have to be so correct in everything we say! But these lovely ladies had obviously eaten extremely well over the years, and they were showing their grandeur in certain places on their delightful bodies. But like every single Tahitian they all had such wonderful natures and warm smiles that warmed the heart, and being with them was such a delight and they simply melted your heart! In the afternoon we also ventured around the town area and we loved the wonderful native plants and the odour of frangipani, for us Europeans that really left an imprint in our memories for it was so beautiful as it was something we had never encountered before! My garden had beautiful and fragrant frangipanis but they were all removed, as in my older age, I became allergic to their odour.

Another thing I remember is, as I was walking alongside the ship and looked into the crystal clear light blue water and I could see hundreds of multi coloured tropical fish swimming everywhere. To date, this is the only place that I had ever seen so many tropical fish just swimming in a harbour next to a ship in waters that was almost like crystal, indeed I had seen tropical fish, but in a tank in the Amsterdam "Artis Zoo" in their Aquarium that had tropical fish from Australia's Great Barrier Reef. But here they were just swimming free and yet there were even children swimming with them. Many years later I would be swimming as an adult with tropical fish, just like these Tahitian children, but up in the Great Barrier Reef and I enjoyed snorkelling at the Reef!

I returned to the Sibajak in the afternoon for a rest and after my evening meal we had special arrangements to go out for we were taken by bus to the Tahiti Beach Hotel where we were provided with a wonderful buffet meal and again we experienced a menu, but with a good number of foods that were quite new to us, but the flavours and textures were a delight to behold! Of course, this was a 5 star luxury hotel, thus we knew that it would be spotless, remember the Dutch are very fussy and everything must be very, very clean, and it certainly was! The grand meal was followed by ample cool drinks out in the large Bure. However, at the appointed time we went outside where we sat in a huge circle in comfortable chairs and out came the Tahitian dancers in their Hula skirts and they danced the Hula and other traditional dances from the region, including a dance they called the "Tamuree."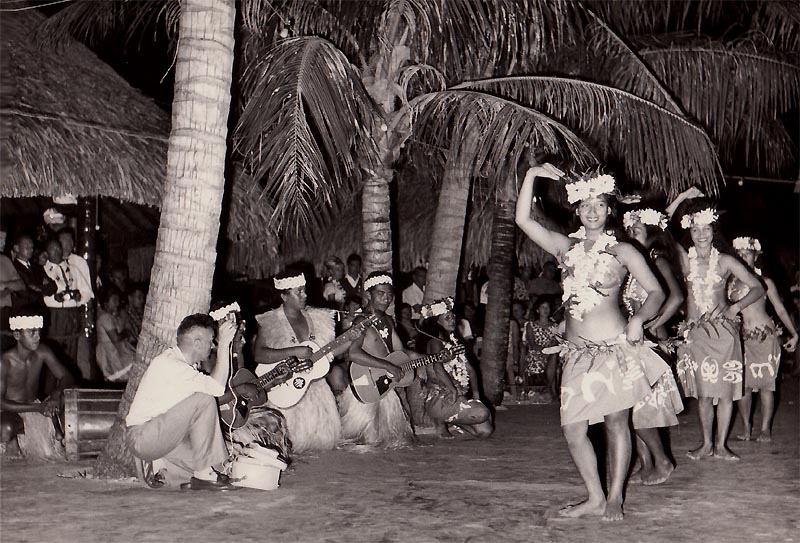 Above & below: Tahitian Dancers at the Hotel doing the Hula and that very sexy and famed "Tamuree"
At that time a single was released name "Doing the Tamuree," and believe it or not, it was a huge hit!
These photographs were taken at the same hotel, during my SS Flavia voyage later © Reuben Goossens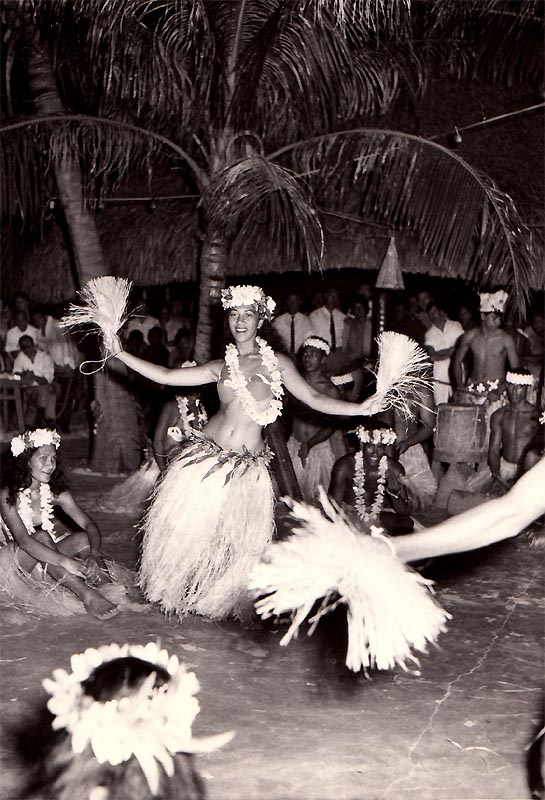 We had a wonderful evening but before we departed we were given a grand closing performance, being of course the ultimate spectacular, it was the icing on the cake and the wonderful dancers were superbly dressed and adorned in the most spectacular costumes of pale colours, Papeete and this great evening combined with the lovingly kind people made our visit to Tahiti without a doubt the highlight of the entire voyage, for without a doubt this has become my favourite port and now I have been back a good number of times, but my favourite Island is Bora Bora!
The entire experience in Papeete was so far more than remarkable and it left an imprint on my mind, thus I loved going back whenever I could, and I have a good number of times.
The Equator Crossing:
During the voyage as I already have stated many friends were made and there was no doubt a great time was had, the second day after we left Papeete we officially crossed the Equator. The ceremony took place directly aft of the forward section of the Promenade Deck main superstructure out in the open, where the canvas pool was located on the port side. I would say that the majority of passengers were up on the decks above, both on the forward and aft decks above, being Boat Deck, as well around the assigned area near the pool. The Equator Ceremony always begins with a parade with King Neptune at the front, together with his queen, being a male crewmember dressed somewhat hideously and carrying her baby, well a doll, and following them were King Neptune's slaves and those prisoners who were to be baptised and cleansed.
I was one of about fifteen of all ages chosen from the passenger list that would be the ones to be blessed, or better said had to suffer this baptism, for the actual baptism actually consisted of three large bins of the most hideous thick different brightly coloured porridge kind of glue like muck. When my turn came, I was dunked head first into each stinky bin, whilst King Neptune's happily read out why I needed this baptism to all and sundry and then I had gone through all three, I was thrown into the Pool, which was sort of a relief as it partially washed off the gunk! However, there was one big problem, I could not swim, thus someone had jump in to get me out of there! Nevertheless, it was all great fun!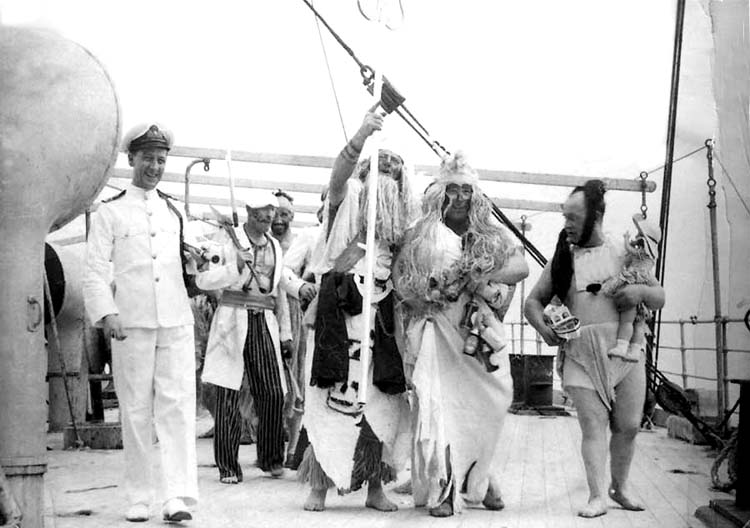 The Equator Ceremony had began with King Neptune, his Queen and a servant at the front of the parade
At night there were various kinds of entertainment up in the Music Lounge, but I preferred to spend time in the Lounge aft on A Deck with my friends and play various games, and one day, I even had my very first alcoholic drink in my life being a Rum and Coke, the truth is, I was not fussed with it for it did nothing for me. It certainly did not affect me, for I was used to drinking alcohol, but only at home at the dinner table, of at a restaurant at a function were wine would always be served, and I would be given a glass of one of the finest Reds, which I always preferred and do so to this day, or an elegant White, although I would never dare to use those terms with mother, for I had to know and use the vineyard details, where it came from as well as vintage, etc, I always felt it was more to impress the guests.
But, I certainly had a great time at the meals drinking some of the world's finest wines, yet I never became what one may call "a drinker" and I hardly drink at all these days, like I did when I was in business. However, I do enjoy the occasional fine Red and I do have a fine Cellar with some of the greatest!
However, being a young boy, rather innocent in all things in life, being left so alone far removed without any supervision can be dangerous and I certainly discovered that for there were some scoundrels on board who would attempt to entice me away. I became very scared at times, but I had my wonderful stewards and with them I was in complete safe hands, as they lived clean and pure lives, well whenever they were with me anyway. I am certainly thankful to these wonderful men who were so kind, for I was unable to speak to anyone else, not even mother, for she would just blame me, as always.
During the voyage mother and I had a camera and we took many wonderful photographs, however years later when I moved from New Zealand to Brisbane Australia one of my boxes was lost in transit and sadly it contained many of my older shipping photographs, including all those I had taken aboard the Sibajak voyage, I can tell you I cried! Thus you will have noted that on this page, the best I have are several, I did have set apart, which were taken by the ships photographer, and no, they were not like today a massive sales operation, I only managed to get them later through my work at Russell & Somers the GSA for Royal Rotterdam Lloyd!
But then came that notice that tonight there would be the "Diner D'Adieu" and later in the evening the special "Farewell Grand Buffet." Apparently this was always held before Wellington for both the New Zealand and Australian passengers, and it was a grand feast for the eyes, but better still, it was simply delicious!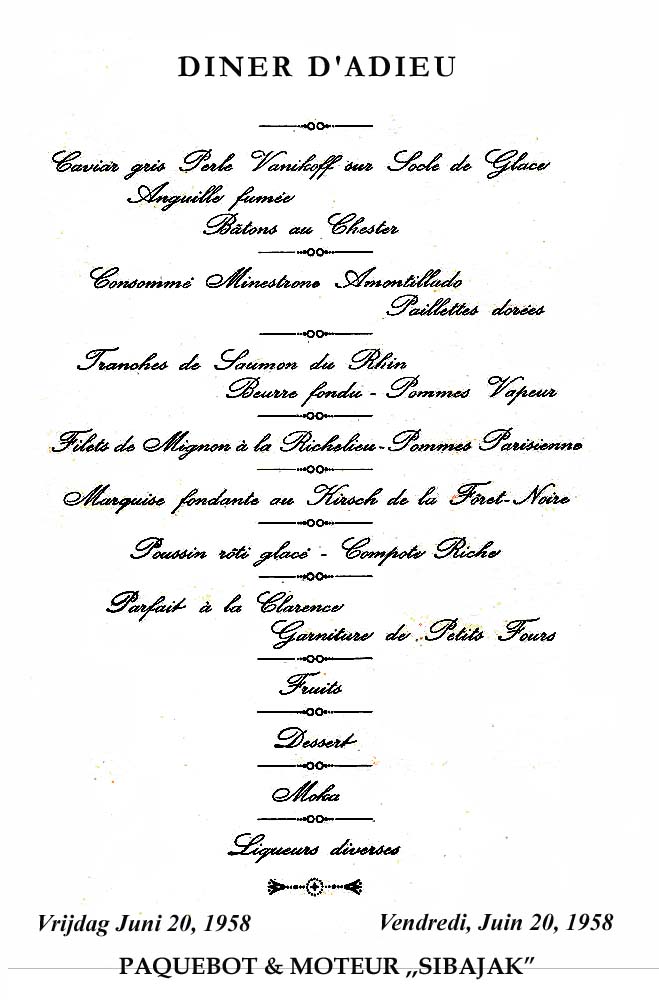 Menu for tonight's "Farewell Diner" or as it was called in French; "Diner D'Adieu"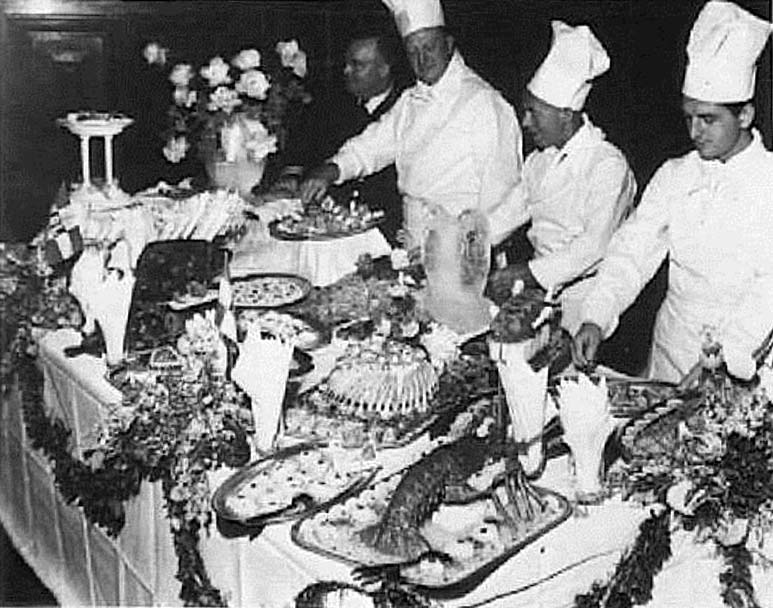 This was a spectacular event indeed with some of the most delicious foods on the planet I thought
There was accompanying music and it was a festive occasion
My treasured Ocean Voyage was coming to an end and I had to start packing again, which is something I hated, for I had to do this almost every ten months of my life in the past, and sadly in due course that would continue again for mother who kept an iron fist on her sons life, would not stay in one place for very long and she would move from one place to another almost every ten months.
June 22, 1958 – Wellington
:
Then came that unhappy day when as my beloved Sibajak slowly turned into Wellington Harbour early in the morning of Sunday June 22, 1958 and as I stood up on deck, this day proved to be just an amazing experience for me, for Wellington was without a doubt one of the most spectacular harbours I had seen to date and later having visited it, I would compare Wellington with Hong Kong!
As the Sibajak carefully entered the inlet into the Harbour entrance, which I learned later just happens to be one of the most dangerous, as many ships have floundered there in the past. In addition, as I discovered later when I actually lived there, that these events would have occurred mostly during Wellington's well known wild weather storms, for the region is well known for its gale force winds and there are times when massive waves break high over the bridge of a ship together with pouring rain makes visibility almost impossible!
But thankfully our arrival day was a delightfully sunny and a calm day as we slowly entered the harbour. One we had entered, it was like being in an inland sea as the ship was completely surrounded by hills and mountains. The other thing that stood out once we arrived closer to the city; were all those timber houses for they were rather strange to me, as I was used to brown brick houses and buildings back home in the Netherlands, and these houses were all pained in different colours. In the sun, these colours looked and seemed to be so vivid, blue, yellow, brown, green, and white and all the aforementioned would come in various tones, like beige, light blue or dark, etc! They were built along the shoreline as well as quite high up those steep hills.
But it did not end there, for the majority of roofs were also painted in a suitable colour that would match the colour of the house and it was either green, red, brown or a silver, in addition, they were all tin roofs, and I had never seen a tin roof in a civilised country, in the pacific yes! From the water all these houses looked extremely colourful to say the least, but, I did get used to them and now when I think about it, I wish they were still there, for Wellington has become a very modern city and many of those delightful coloured homes seemed to have disappeared! But there was no doubt that Wellington made huge impression on me as I looked upon them from the decks of the MS Sibajak, for it was my special welcome to New Zealand!
Welcome to Wellington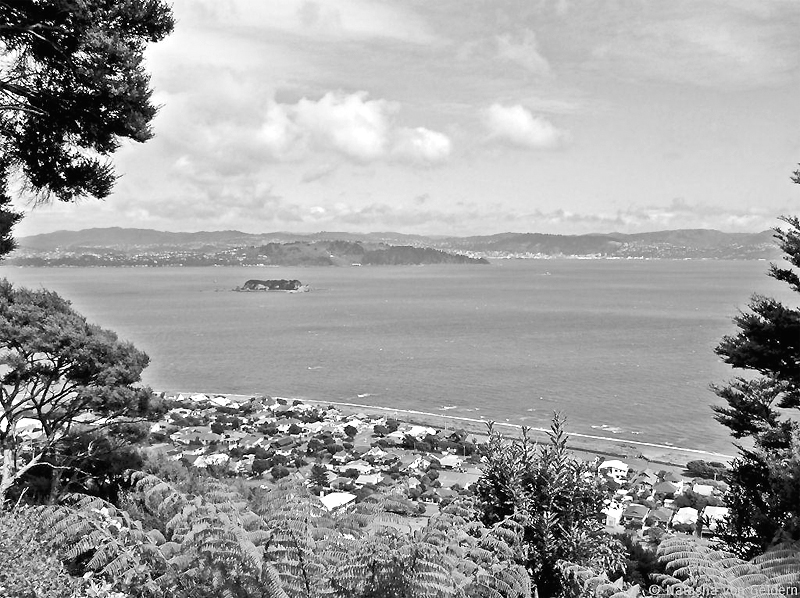 Beautiful Wellington Harbour as it was in the 1950s, the City can be seen in the distance just behind the point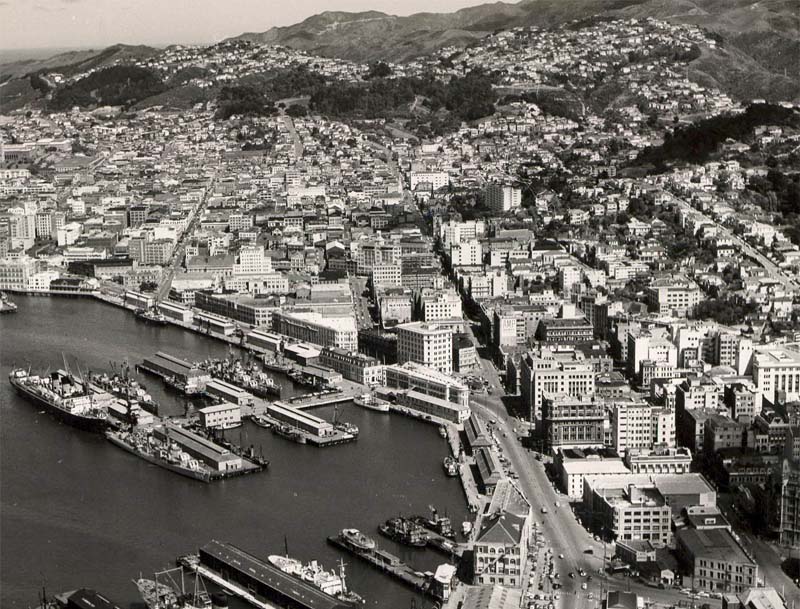 Here see the city centre and the very wharf where the Sibajak docked, where the ship is seen
 berthed at Queens Wharf, being the "Union Steam Ship Co," Trans Tasman liner, TSS Monowai
Queens Wharf today is mostly a Dining and a tourist venue, although small ships still berth there today
Modern Wellington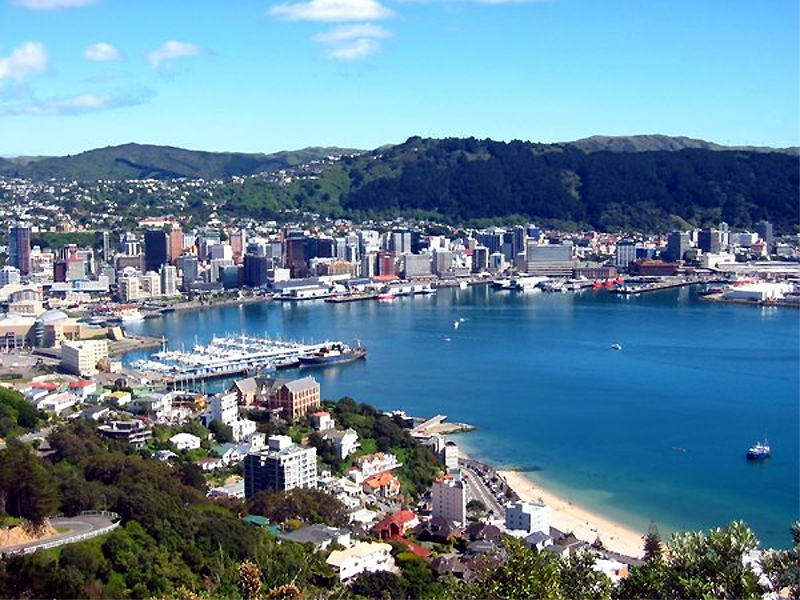 And here we see the modern Capital City of New Zealand as it is today
With Queens Wharf in the very centre, not at the Marina
Sadly, all too soon the MS Sibajak berthed at Queens Wharf and before I knew it both mother and myself had to walk down the gangplank of my beloved Sibajak, worst still for the very last time ever, for although I may not have realised it at that time, but just over a year later she would be sold to the breakers in Hong Kong. But regardless she influenced me for the rest of my life for shipping was now ingrained into my blood as was the sea, and remains in me still whilst I am in my 70s, although I am long retired.
Upon arrival I would have liked to have remained in Wellington and I could have visited the Sibajak when she was in port before she was lost to the breakers! But instead mother had arrangements to go northward to a town by the name of Palmerston North where we lived, but just as past history proved it was all repeating again for around 10 months later "Mummy Dearest" was ready to move again. Before I knew it we were on an overnight train north to Auckland for another ten months, give or take, and it was then we finally returned to Wellington, but by then the Sibajak had already been handed over to Chung Hing Enterprise of Hong Kong and was broken up, having faithfully served RRL for 31 long years, including coming out unscathed of WW2 having carried countless Australian, New Zealand and English/British troops all over the world! It was at this time in mid 1960 I commenced working with Russell & Somers Ltd., and my career in Passenger Shipping had begun and the rest is history. Today, January 2020, I am long retired due to old age and extreme poor health and eyesight! But I did manage to update some of this page having enlarged it.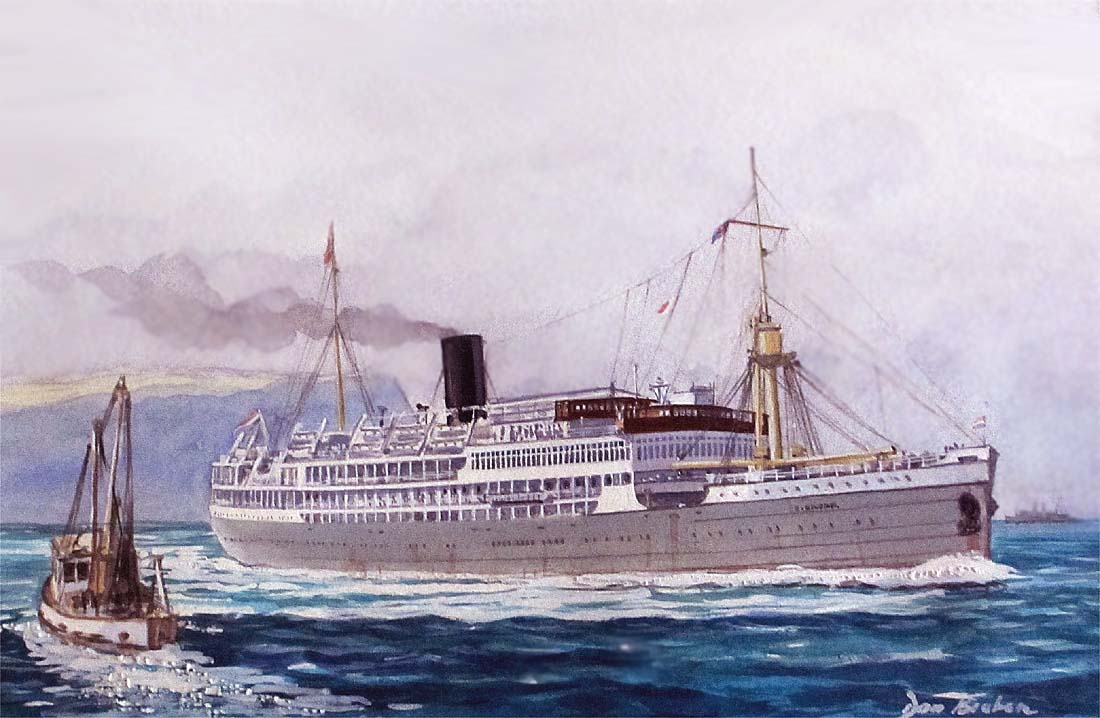 A watercolour painting of the Sibajak gifted to me by the wonderful Australian Maritime Painter Don Braben
Visit: www.donbraben.com
In Conclusion:

I trust that you will have gained something from my experiences on the Sibajak, although as you will have gathered, it is not the typical family story, but it was still a wonderful voyage for me and I enjoyed every little bit of it, especially the ship, for she was simply wonderful! I loved her old world feel, as she felt so elegant, although I did stay far away from the old First Class regions, for more than one particular reason, as I really liked the aft section much better, having said that I did love both the forecastle where I spent a great deal of time, as well as standing at the stern watching her wake. As you have read, I spent most of my time on those aft decks and the aft lounge on Promenade Deck and down on A Deck, which were wonderful. But it was my relationship with the wonderful and kindly Indonesian crew that made my voyage most of all, and I thank my Heavenly Father for them for they in many ways kept me safe and sane!

Over the years, ever since I have placed the Sibajak feature online, I have now received well over two thousand emails from folk who have sailed on the Sibajak and never have I heard a bad word said about this wonderful ship. I have even heard from a number of wonderful folk who sailed on the same voyage as me, just a joy! She took people from the Netherlands and the United Kingdom to the "New World," be it what we today call Indonesia or Canada, the United States of America. But I believe that she is most fondly remembered by the people of New Zealand and Australia the two countries she served for nine years from 1950 through to her final voyage in July/August 1959, although she did have a couple of voyages to other destinations in between.

Reuben Goossens.

MS Sibajak INDEX

:

Page One:           MS Sibajak had long career from 1927 to 1959 - This is her complete story!

Page Two:           Brochures, Deck Plans, Photographs Menus and Memorabilia.

Page Two-b:        The Ships Interiors, Deck by Deck.

Page Three:         The Author's voyage on the Sibajak from Rotterdam on May 17, 1958.

Page Three-b:      The Family Salden-Van Mulken sail to Australia on May 17, 1958.

Page Four:           Ships Chef H B Hulspas story, a floor show programme and a farewell menu dated 1955.

Page Five:           Family van der Net and their voyage to Australia in 1956.

Page Six:             Family van der Biezen sailed on her second last voyage in 1959.

Page Seven:        The Nieborak Family's voyage to Australia in 1959.

Page Eight:          Mr & Petzold sail from Rotterdam to Cape Town on October 25, 1949.

Also visit the Three other Dutch Liners on the New Zealand - Australian Service

MS Johan van Oldenbarnevelt - MS Oranje & MS Willem Ruys

Please Note: Email service to ssMaritime, is sadly no longer available,

This is due to the author's old age and illness as well as being disabled, etc.

***********************************

"Blue Water Liners sailing to the distant shores.
I watched them come, I watched them go and I watched them die."

Return to the ssMaritime MAIN INDEX

ssMaritime.com & ssMaritime.net

Where you will discover over 1,365 Classic Liners & the 1914 built MV Doulos Story

The Author has been in Passenger Shipping & the Cruise Industry for over 60 years!

Please Note: ssmaritime and associated sites are 100% non-commercial and the author seeks no funding or favours of any shape or form, never have and never will!

Photographs on ssmaritime and associate pages are by; the author or from the author's private collection. In addition there are some images that have been provided by Shipping Companies and private photographers or collectors. Credit is given to all contributors. However, there are some photographs provided to me without details regarding the photographer/owner concerned.

This notice covers all pages; although, and I have done my best to ensure that all photographs are duly credited and that this notice is displaced on each page, that is, when a page is updated!

ssMaritime is owned & © Copyright by Reuben Goossens - All Rights Reserved