Rotterdam Lloyd MS Sibajak 1928 to 1959
Please Note: Firefox & some other Search Engines may not be suitable
Use Google Chrome for this Web Page to load perfectly!
Click the logo above to reach the ssMaritime FrontPage & Featured ships
With Reuben Goossens
Maritime Historian, Author, Cruise'n'Ship Reviewer and Maritime Lecturer
Please Note: All ssMaritime and other related maritime & cruise sites are 100% non-commercial and privately owned. Be assured that I am NOT associated with any shipping or cruise companies or travel or cruise agencies, etc! Although having been in the passenger shipping industry since 1960, I am now retired but having completed features on well over 1,350 Classic Liners and Cargo-Passengers Ships, I trust these will continue to provide you the classic ship enthusiast the information you are seeking, but above all a great deal of pleasure!
R
oyal
R
otterdam
L
loyd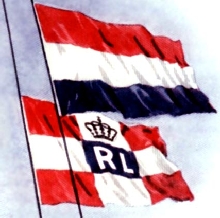 MS Sibajak
Page Two
Brochures, Deck Plans, Photographs, Menus & Memorabilia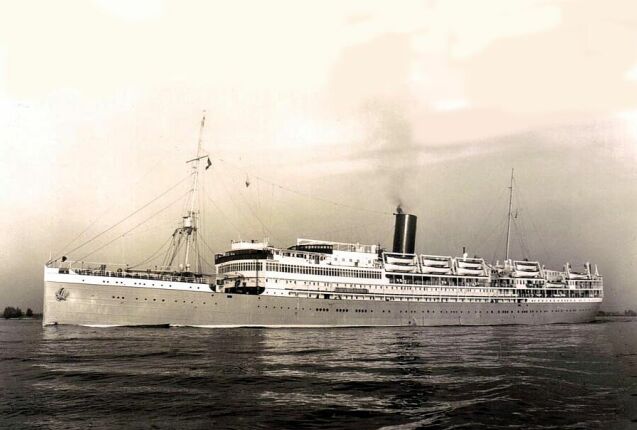 The author obtained this postcard on board the Sibajak during his voyage from Rotterdam to Wellington New Zealand – May/July 1958
Please Note: Photographs on the MS Sibajak pages are mostly from the author's personal collection, unless otherwise stated!
However, I wish to thank maritimedigitaal.nl for their kind cooperation!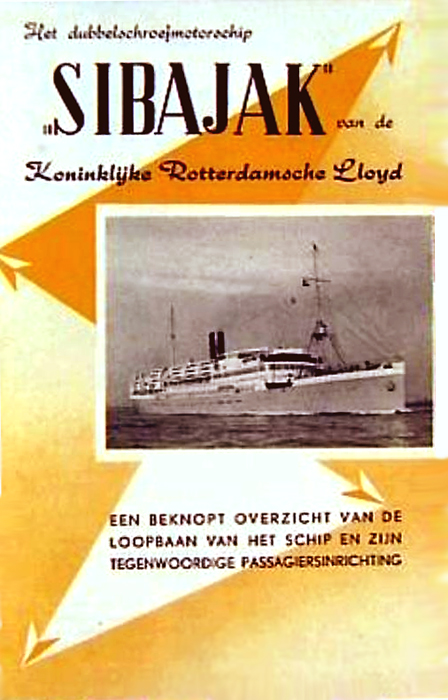 This is the cover of the brochure that started it all, and began my voyage on this ship in 1958
Two Deck Plans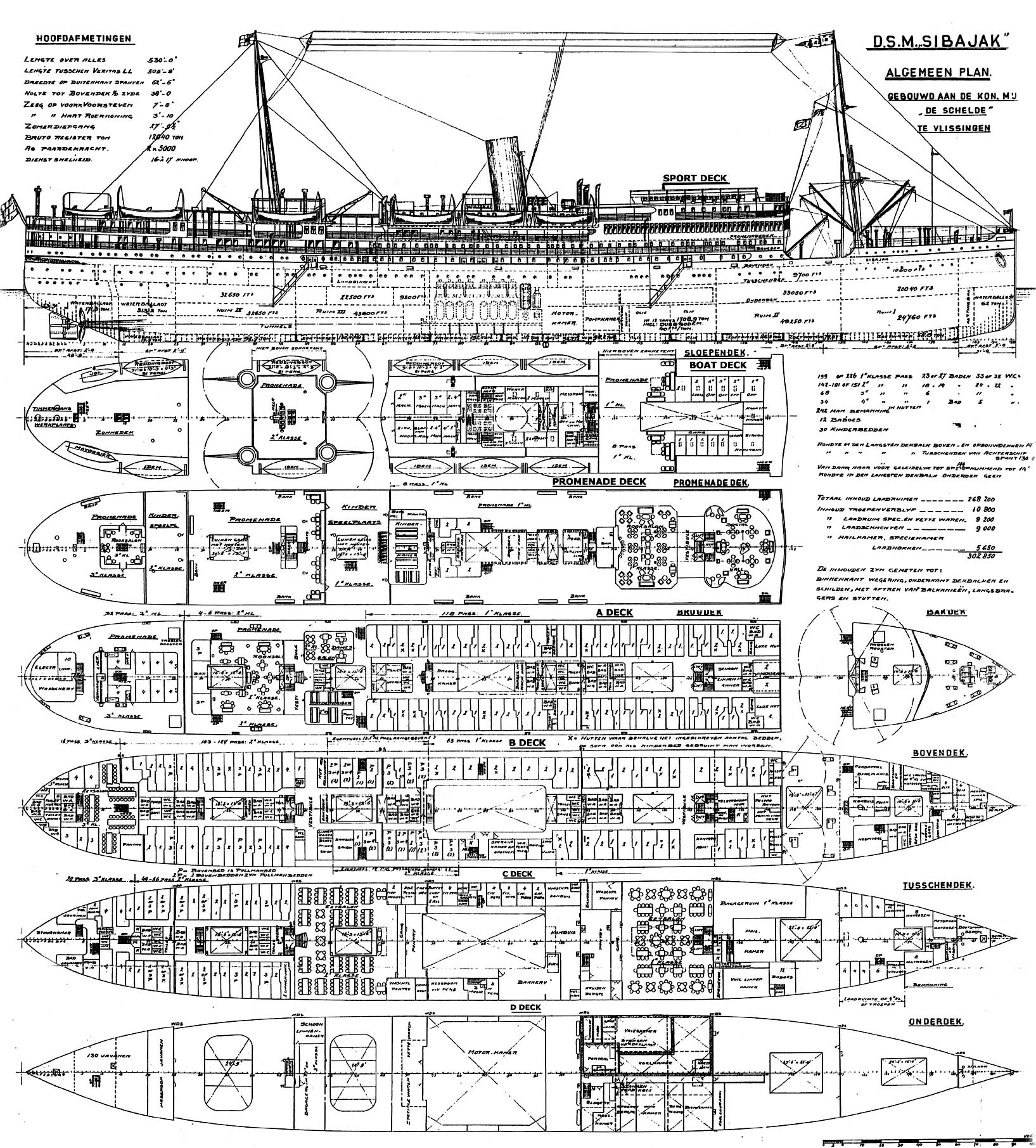 This is the first published (1928) Deck Plan
To see the full size of this deck plan just click on it, when the new page opens, the large image will reduce
but when it has fully loaded just click on it to view the large Deck Plan!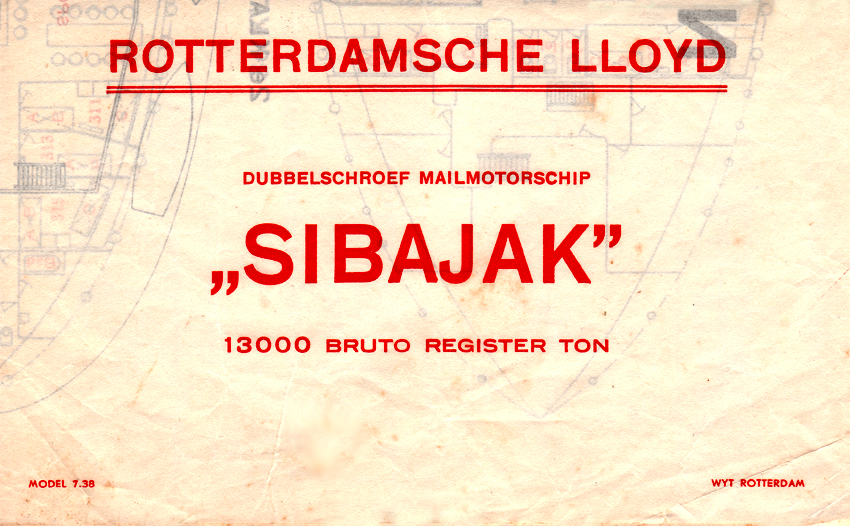 The cover to the plan below - as the plan below is so large, I had to photograph it and
it was difficult to obtain a good image from it as well as being the colours being balanced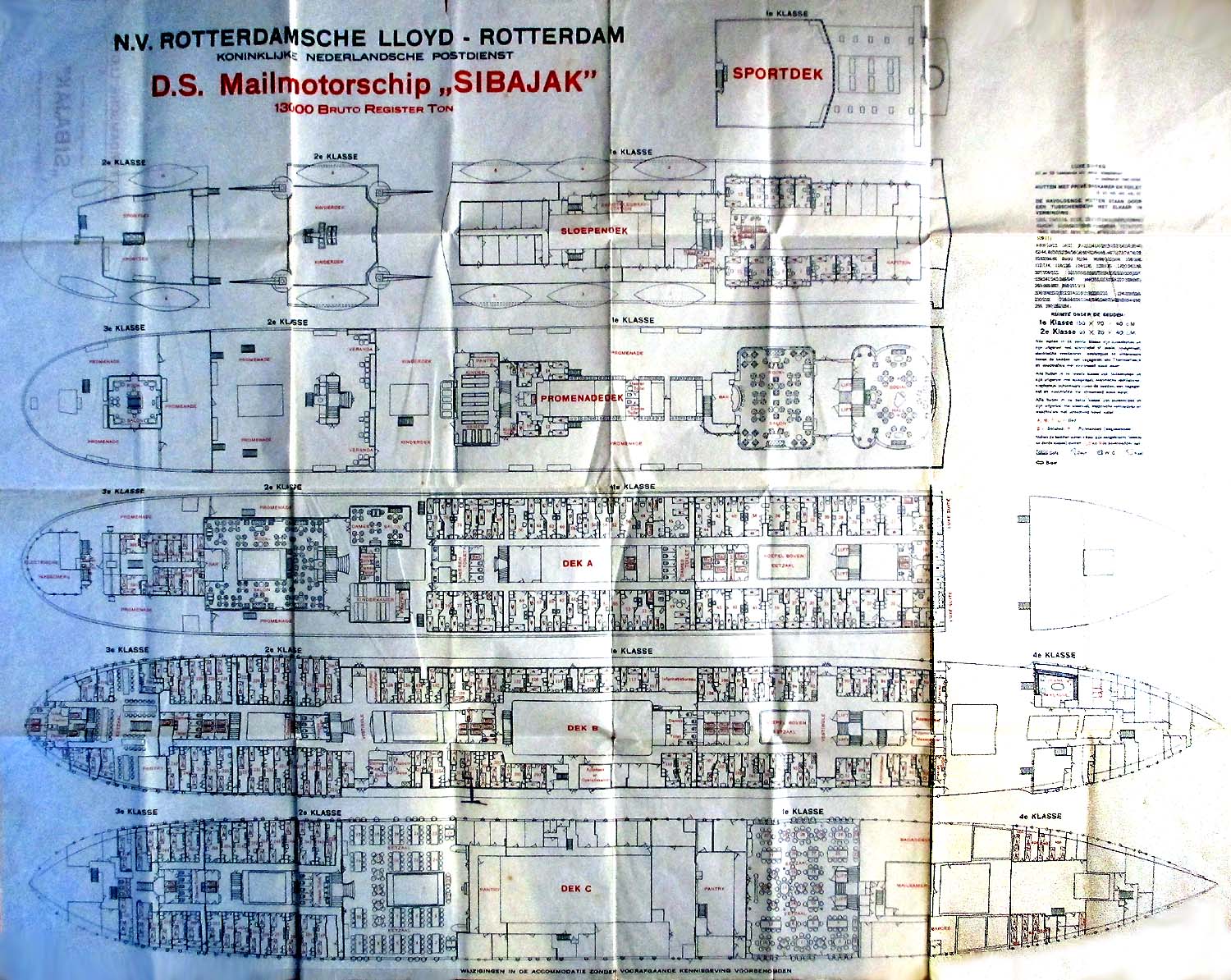 This is her 1938 deck plan after she was refitted and when her forward upper superstructure
was lifted and new First Class cabins were added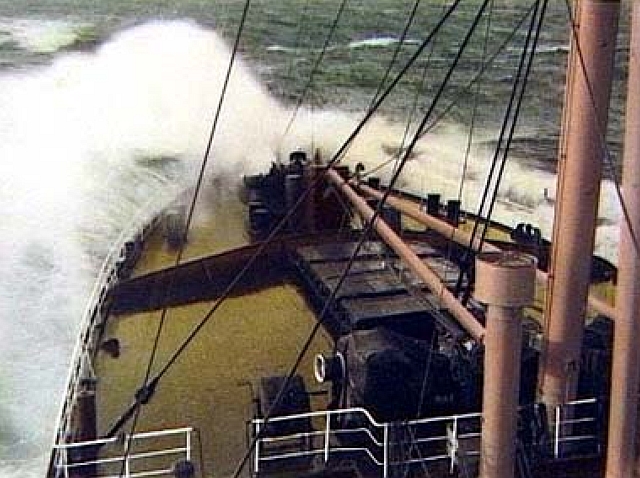 A dramatic shot of the bow, with the ship ploughing through a rough sea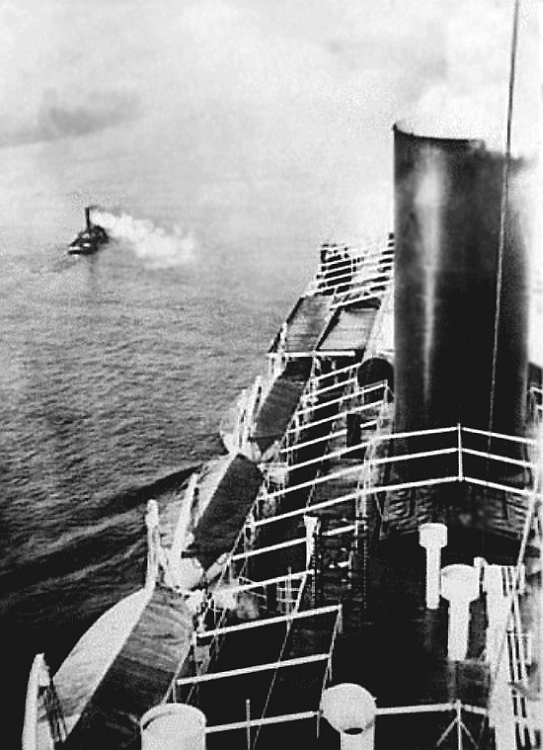 A better view of her upper decks as seen from the crows-Nest (the lookout) up from the forward mast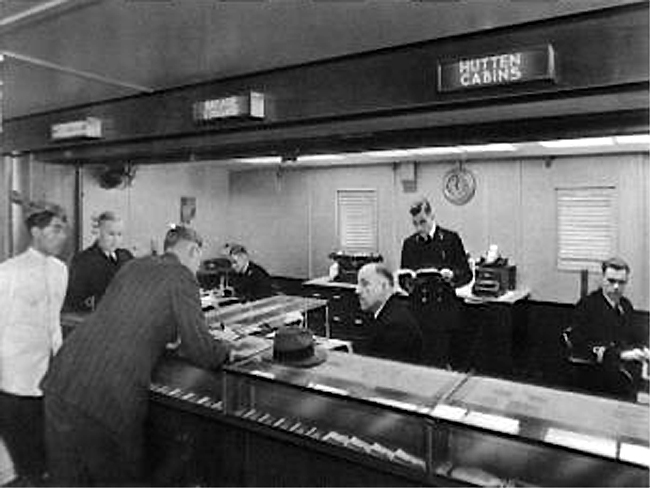 The Pursers Office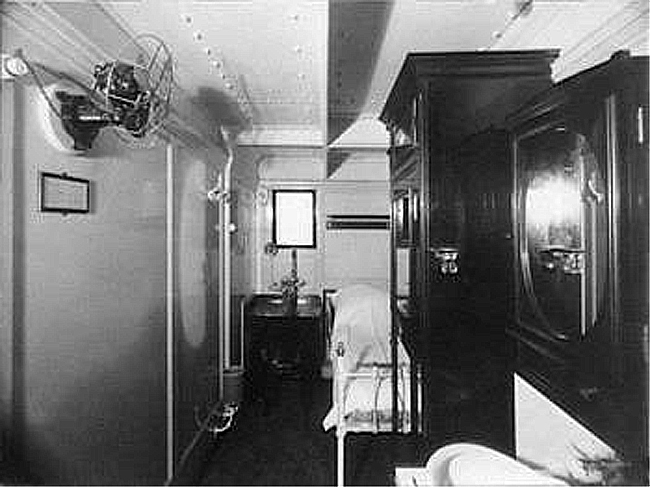 This is a First Class single cabin on "Boven" (B) Deck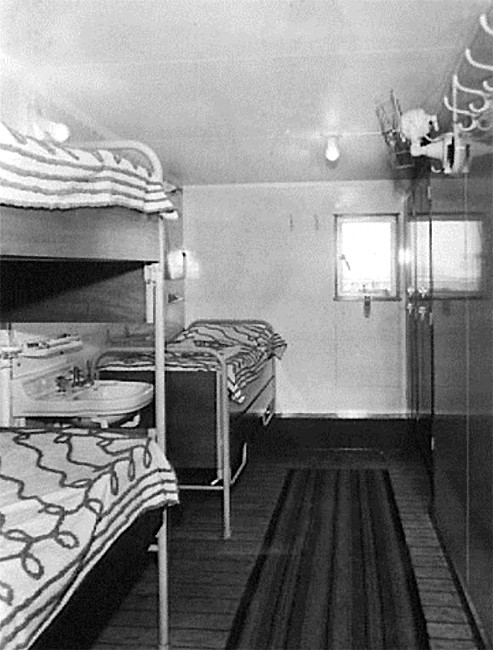 This is a convertible three or a four berth cabin. The berth near the window can be lifted
to become an upper berth. It is located aft on "Boven" (B) Deck – seen after her 1952 refit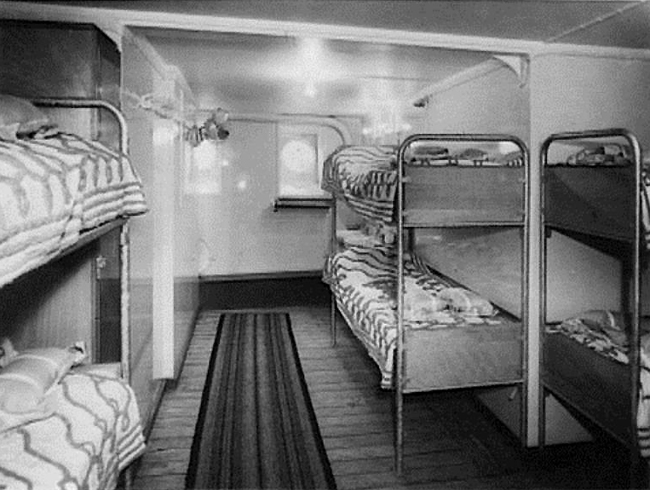 This is one style of the six berth cabins, but they varied greatly in shape
located on "Tusschen" (C) Deck far aft, seen after 1952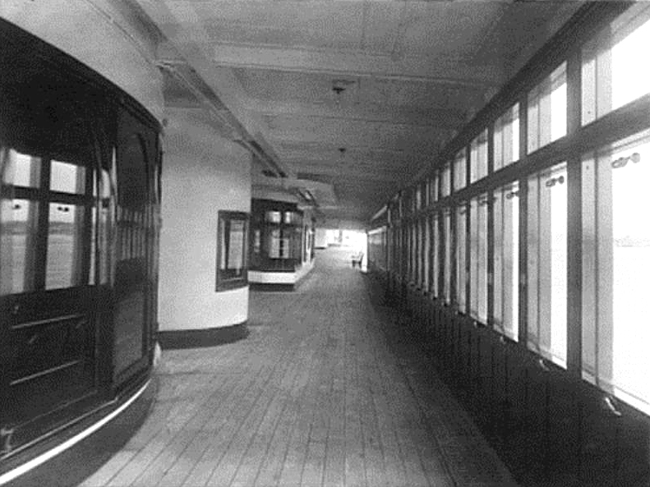 The glass enclosed section of the Promenade Deck, this is the portside looking aft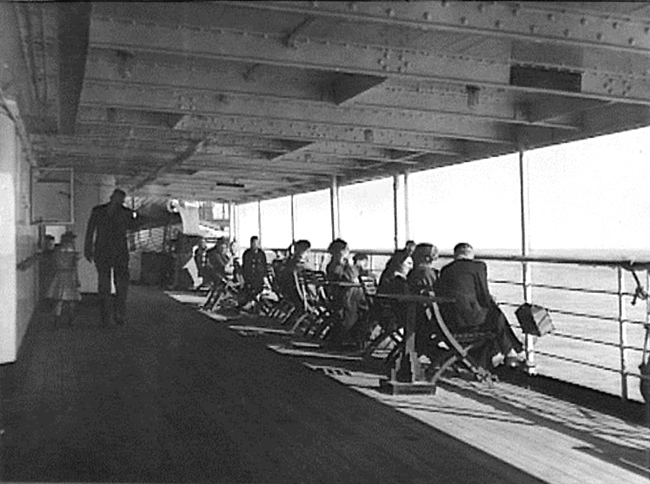 Passengers enjoying the ocean life and fresh air on Promenade Deck - portside aft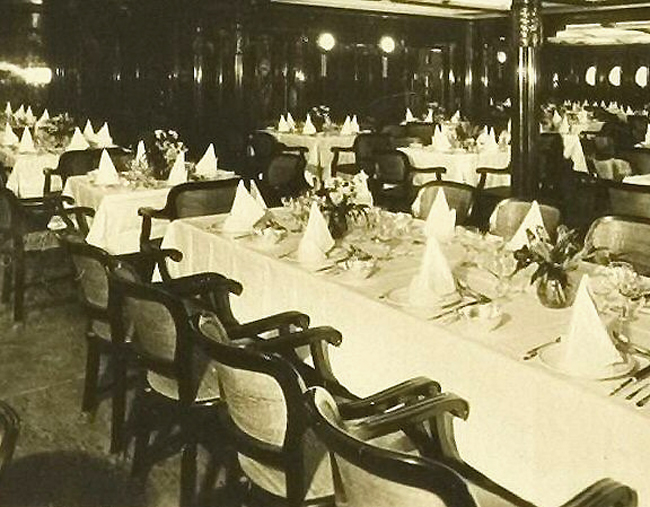 A close up of the forward grandiose Dining Room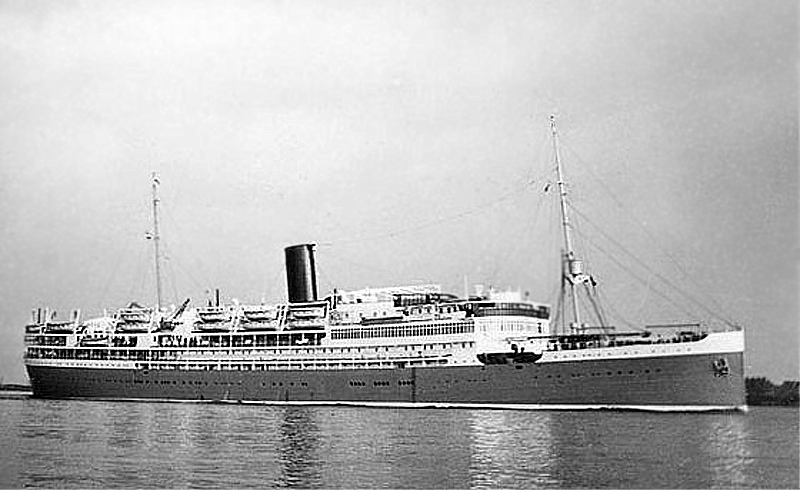 An fine view of the MS Sibajak whilst she was on the New Zealand and Australian service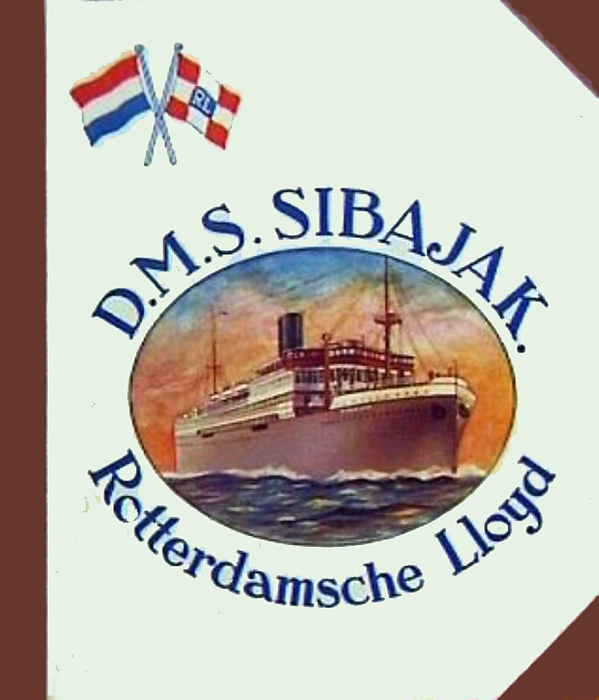 Above and Below:
Two typical brochures issued by Rotterdam Lloyd
I am sorry that the one below is of a lesser quality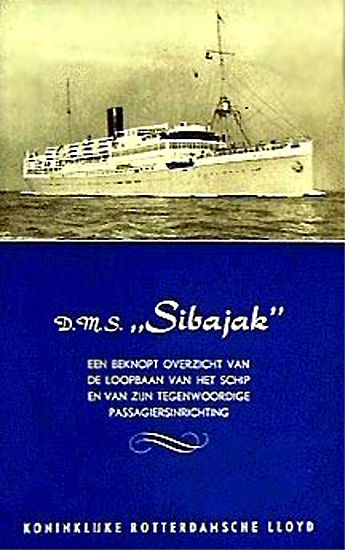 ****************************************
Three Very Special Menus
Two from 1939 & One from 1953
The first two menus were sent to me by a kind person, but sadly I have lost the details. Thus should that person, a relative or a friend know who this is, please let them know that I have placed them online as I wish to personally thank him or her! The only reason I have not been able to do it earlier is due to health problems.
But I am so happy that the world can now see these wonderful menus containing such wonderful art, especially considering that they were Second Class Menus. I found that the menu was extraordinarily good, and very much better than the eight menus in 1956 we can see Page Three, when the ship was all Tourist (One Class).
For interest, the Sibajak had originally been built as a Three Class and also for a short while as a Four Class ship, but in 1935 she was extensively modernised and fully refitted and at that time she became a Three Class Liner again accommodating: 200 First Class, 250 Second Class and just 75 in Third Class. This made her a much more pleasant ship and Second Class was very well catered for as we will see from the menus below.
I recall when I sailed on her in 1958 the menus when she was a One Class liner, the menus were very similar and we all enjoyed the food enormously!
It is also interesting to note that during the second war years, the Sibajak was taken over by the British and placed under the management of P&O, but with her usual Dutch crew and was refitted and used as a troop ship. Thankfully she survived the war, and retuned to service and in due course first to the America's, but then to Australia and New Zealand, which became her second home!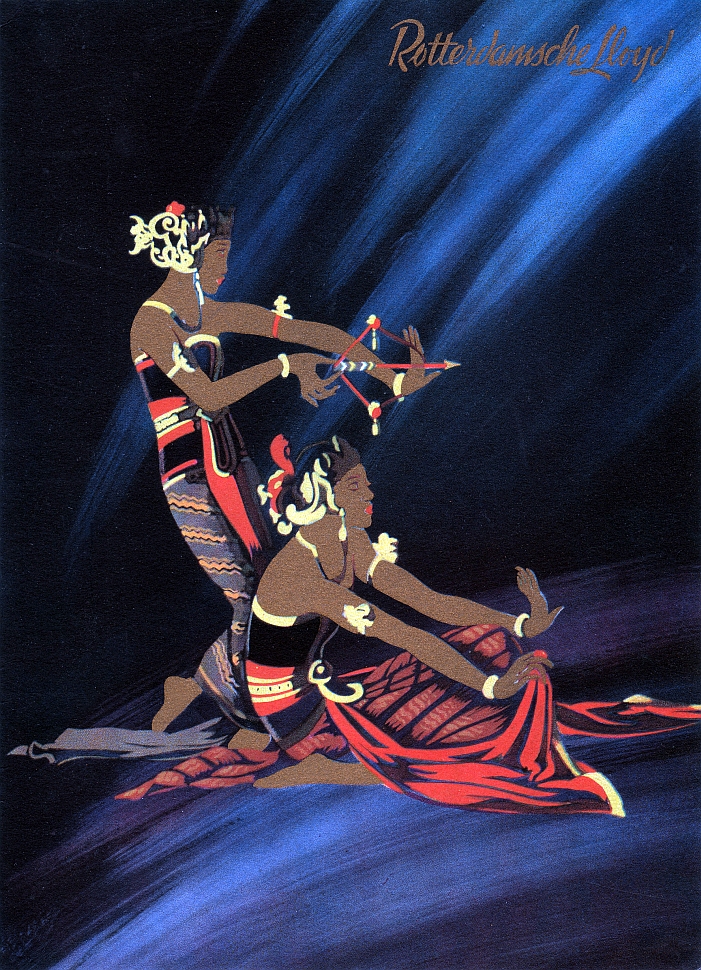 As you can see the art work is simply stunning and as the ship was originally on the Dutch East Indies
 (Indonesia) service, thus it reflects the region, in addition she did a many wonderful Indonesian stewards!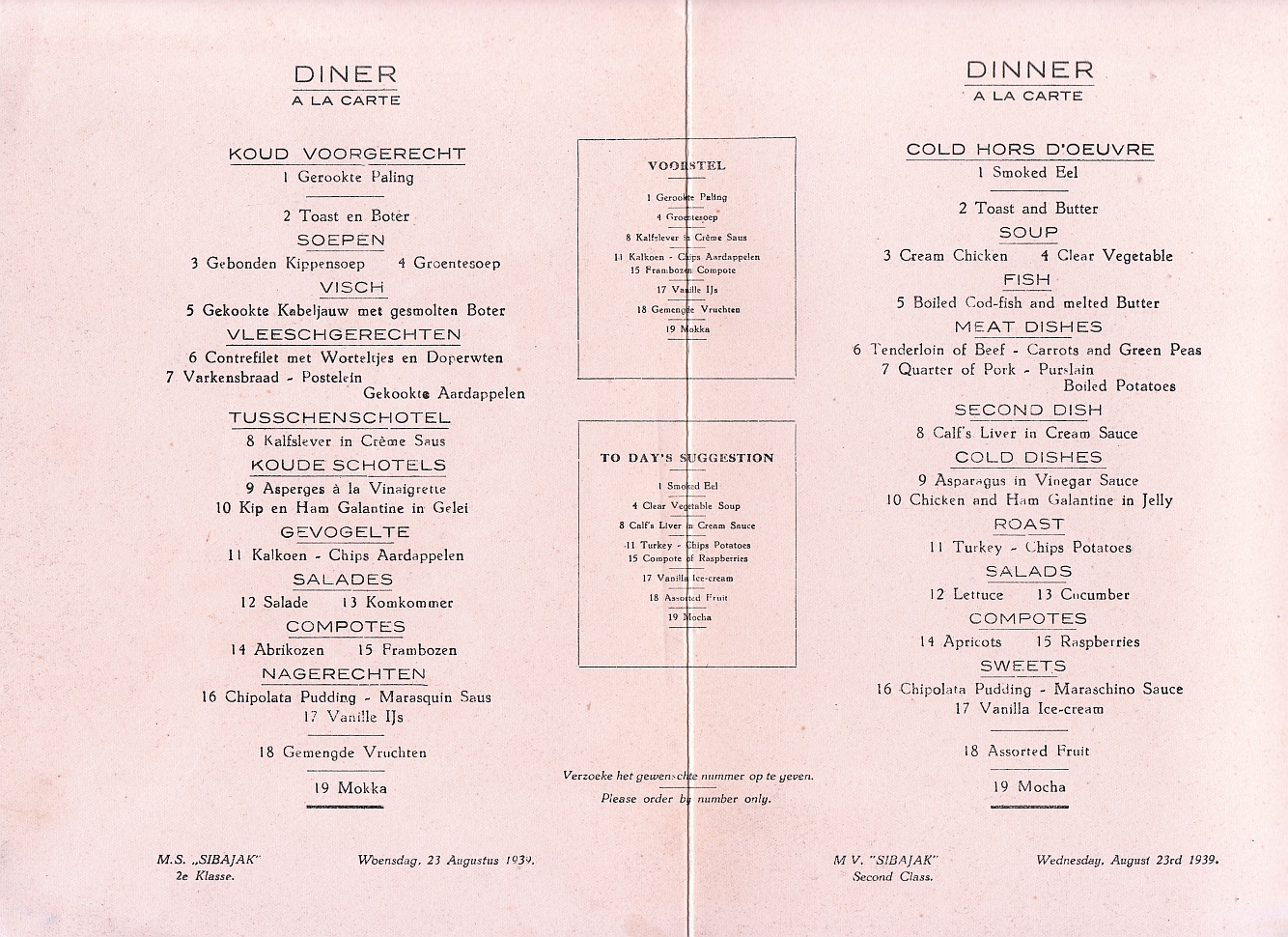 With travellers from the UK and the Netherlands, the menu was always in Dutch and English and at times in French, just to be fancy!
As we can see above the menu is excellent with a good choice of fine foods, but wait until you see the Farewell menu!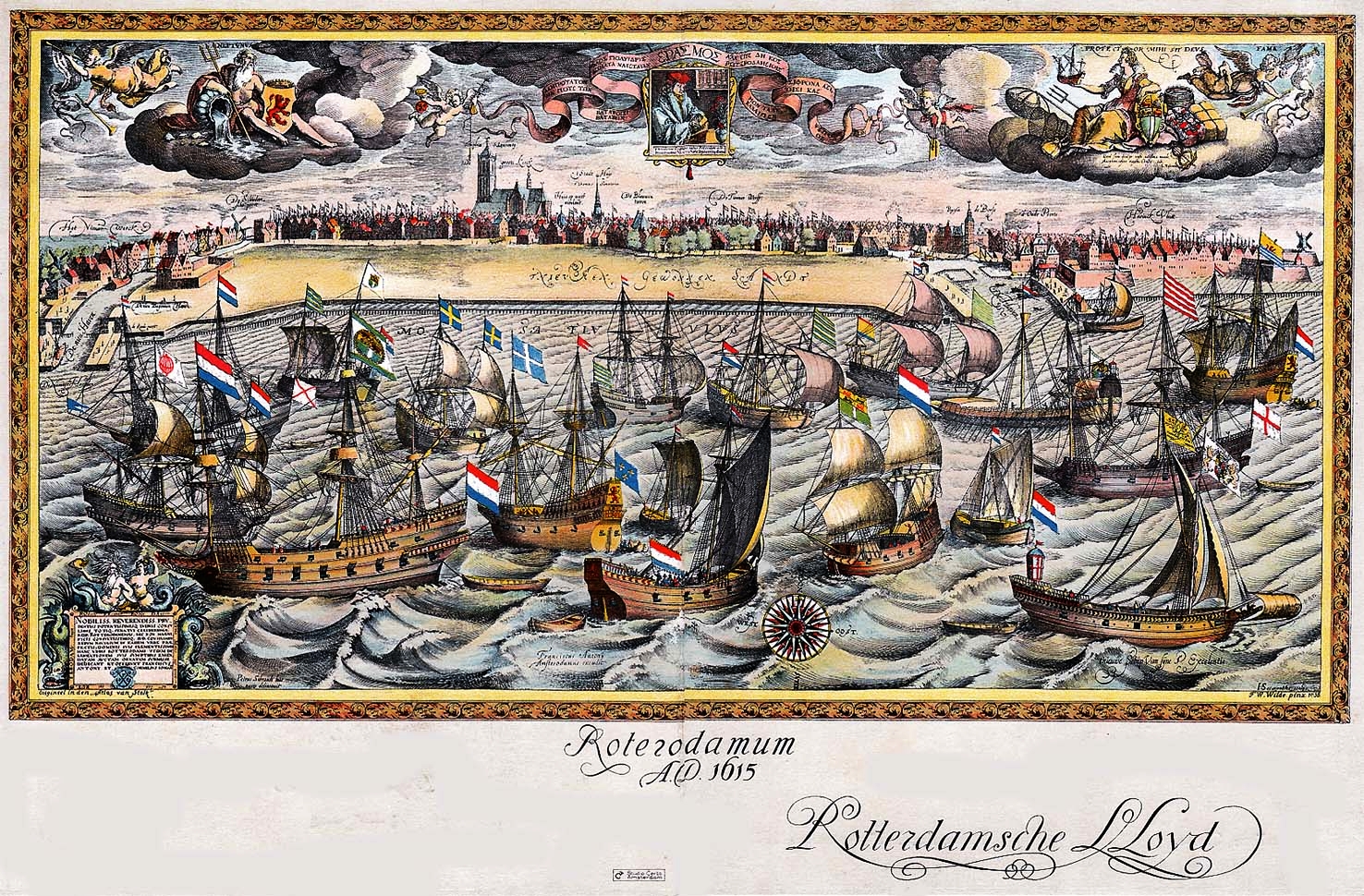 A typical scene of ancient Rotterdam Harbour in 1615, this was a popular style used by Dutch shipping lines and still is by Holland America Line today!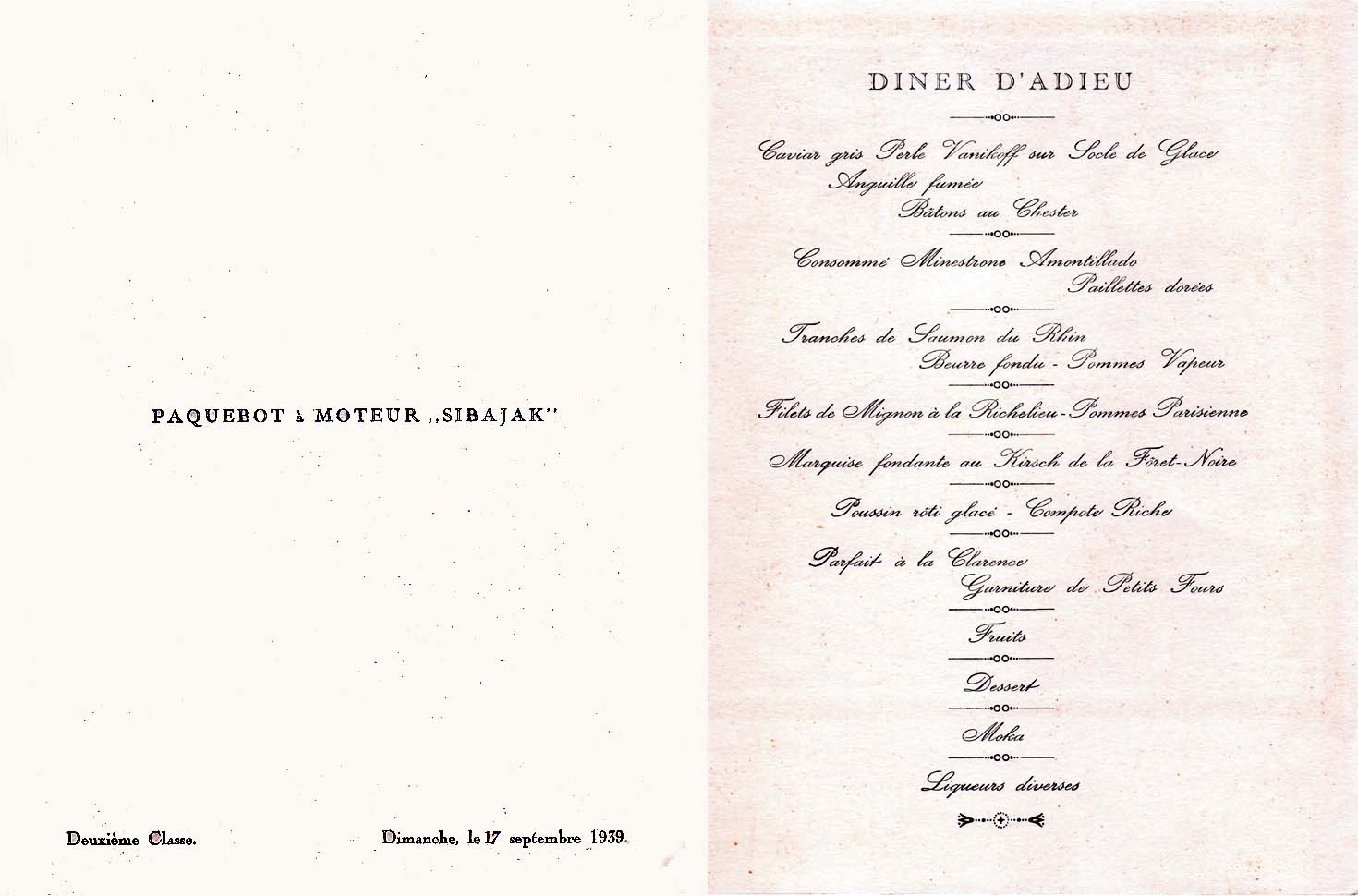 Something the Dutch could do is read a menu in French, when it comes to fine food, never a problem, but, other guests usually required translations!
**************************************
Now we come to one more menu that was kindly sent to me by Bert Jansen who sailed on the MS Sibajak in 1953. As we can see they must have been obviously sailing close by Papua New Guinea as we se a Papuan with his bow and arrow. I recall well the variety of art that came up every single day! I am grateful to Bert for him sending a scan of this fine specimen!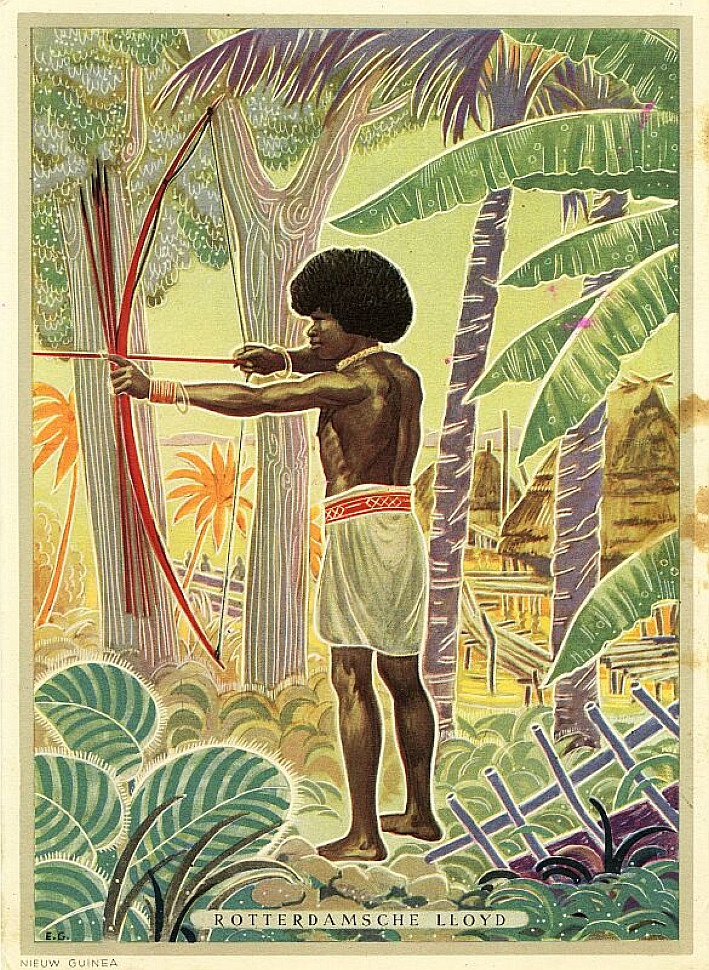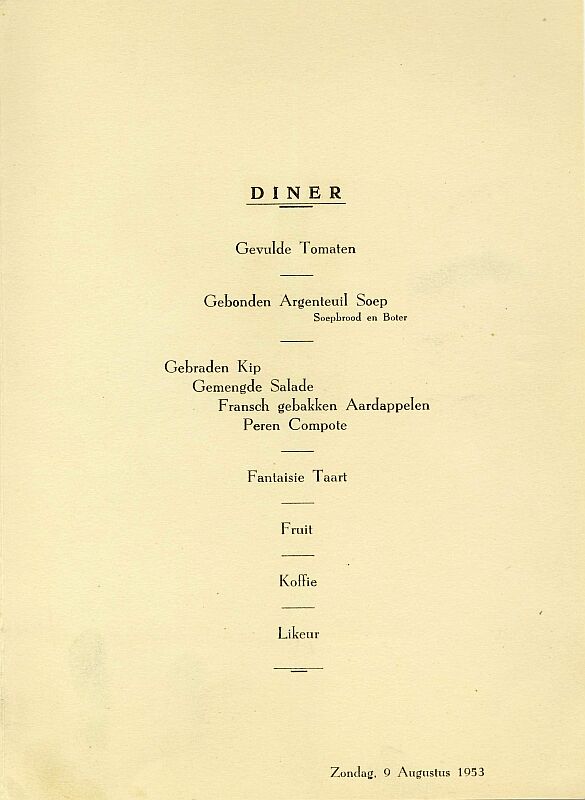 Memorabilia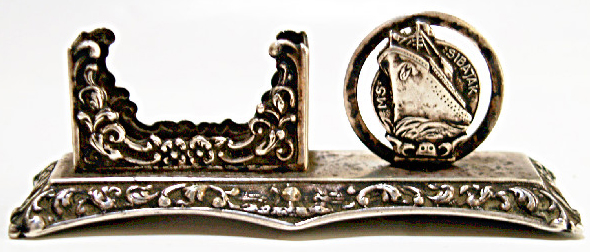 This is a very special Sterling Silver souvenir purchased aboard MS Sibajak and all it does is hold a box of matches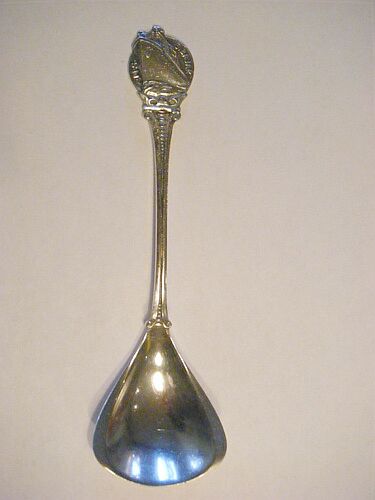 ---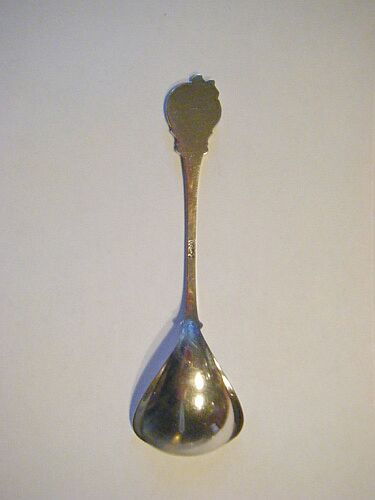 Above & below: A souvenir Sterling Silver Sibajak teaspoon with logo of the ship, with full silver and maker markings on the back
And we see a close up of the Sibajak bow detail below
The photographs of the spoon were provided by Hans Kuiper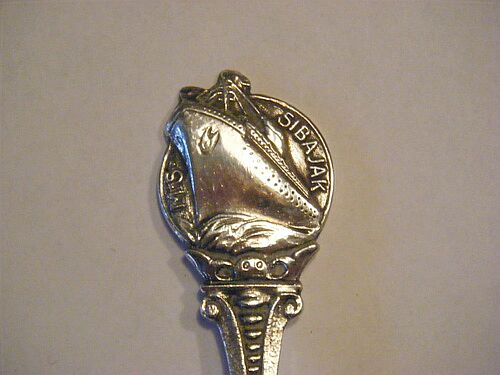 ****************************
Farewell Old Friend!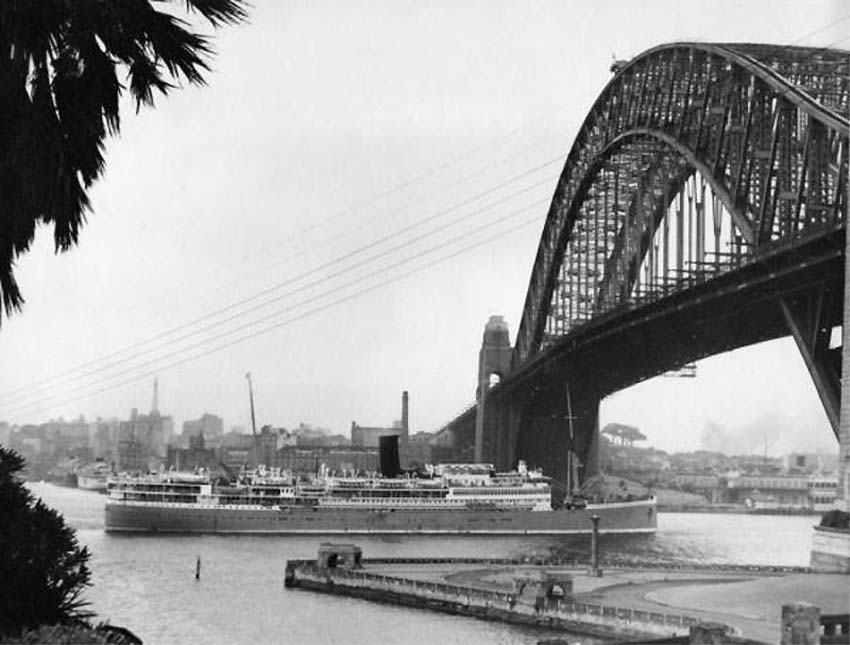 MS Sibajak is seen arriving in Sydney for the very last time ever on August, 1959

She would head for Melbourne next then to Asia and Hong Kong to be broken up

MS Sibajak Index:

Page One:           MS Sibajak had long career from 1927 to 1959 - This is her complete story!

Page Two:           Brochures, Deck Plans, Photographs Menus and Memorabilia.

Page Two-b:        The Ships Interiors, Deck by Deck.

Page Three:         The Author's voyage on the Sibajak from Rotterdam on May 17, 1958 - See Page 3b.

Page Three-b:      The Family Salden-Van Mulken sail to Australia on May 17, 1958.

Page Four:           Ships Chef H B Hulspas story, a floor show programme and a farewell menu dated 1955.

Page Five:           Family van der Net and their voyage to Australia in 1956.

Page Six:             Family van der Biezen sailed on her second last voyage in 1959.

Page Seven:        The Nieborak Family's voyage to Australia in 1959.

Page Eight:          Mr & Petzold sail from Rotterdam to Cape Town on October 25, 1949.

Also visit the Three other Dutch Liners on the New Zealand - Australian Service

MS Johan van Oldenbarnevelt - MS Oranje & MS Willem Ruys

Please Note: Email service to ssMaritime, is sadly no longer available,

This is due to the author's old age and illness as well as being disabled, etc.

****************************

"Blue Water Liners sailing to the distant shores.


I watched them come, I watched them go and I watched them die."

************************

Visit the ssMaritime INDEX

ssMaritime.com & ssMaritime.net

Where you will discover over 1,365 Classic Liners & the 1914 built MV Doulos Story

The Author has been in Passenger Shipping & the Cruise Industry for over 60 years!

Photographs on ssmaritime and associate pages are by the author or from the author's private collection. In addition there are some images that have been provided by Shipping Companies and private photographers or collectors. Credit is given to all contributors. However, there are some photographs provided to me without details regarding the photographer/owner concerned.

This notice covers all pages, although, and I have done my best to ensure that all photographs are duly credited and that this notice is displayed on each page, that is, when a page is updated!

ssMaritime is owned and © Copyright by Reuben Goossens - All Rights Reserved