Rotterdam Lloyd MS Sibajak 1928 to 1959
Please Note: Firefox & some other Search Engines may not be suitable
Use Google Chrome for this Web Page to load perfectly!

Click the logo above to reach ssMaritime FrontPage & Featured ships
With Reuben Goossens
Maritime Historian, Author, Cruise'n'Ship Reviewer and Maritime Lecturer
Please Note: All ssMaritime and other related maritime & cruise sites are 100% non-commercial and privately owned. Be assured that I am NOT associated with any shipping or cruise companies or travel or cruise agencies, etc! Although having been in the passenger shipping industry since 1960, I am now retired but having completed features on well over 1,350 Classic Liners and Cargo-Passengers Ships, I trust these will continue to provide you the classic ship enthusiast the information you are seeking, but above all a great deal of pleasure!
Royal Rotterdam Lloyd

MS Sibajak
Page Four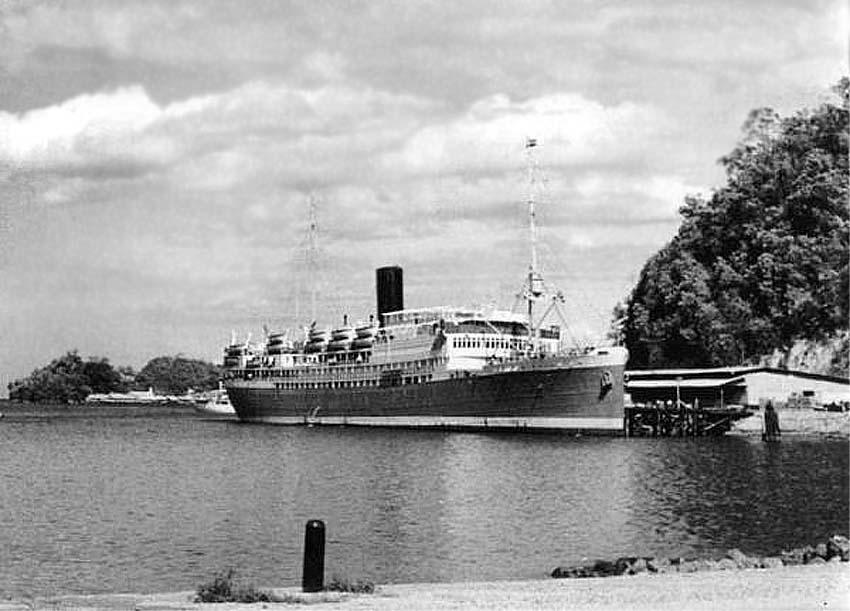 The images on this page come from a voyage that commenced from Hollandia, Papua Nieuw Guinea
Today that is Jayapura in Indonesia, but is located on the eastern part of the island of New Guinea
We see the Sibajak berthed at Hollandia in April 1955 and is due to sail for Rotterdam
Photograph from the author's private collection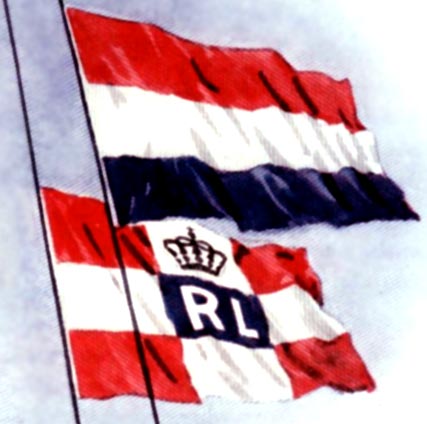 The Rotterdam Lloyd flag flies proudly just below Dutch flag
MS Sibajak - Chef H. B. Hulspas
Photographs, a Floor Show Programme & a Farewell Menu dated April 12, 1955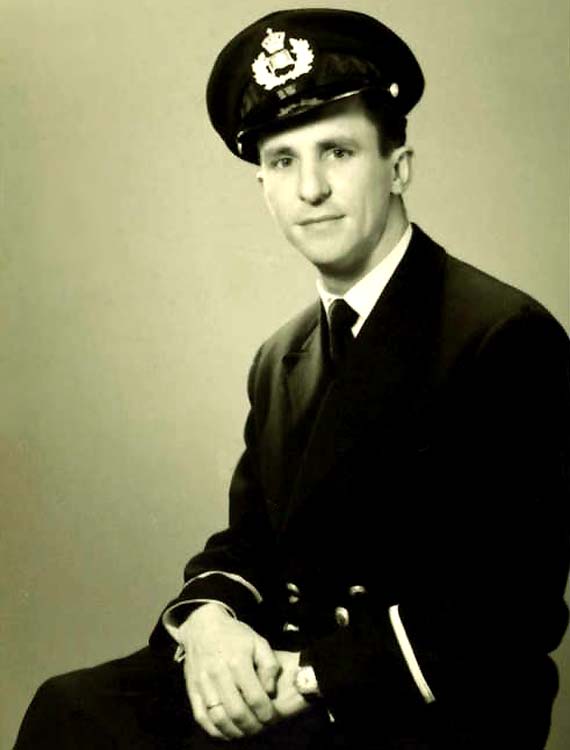 Here we see Chef H. B. Hulspas

in his full Rotterdam Lloyd uniform

Photograph provided by & © Helen Hulspas

On September 22, 2014 I received a most welcome email from the Netherlands in Dutch from Helen Hulspas, which I translated on freetranslation.com, which I find very useful, for my Dutch is certainly not up to scratch! Below are the Dutch and the translated messages.
Helen

Hulspas wrote;
"Geachte heer Reuben,
In mijn allereerste poging om meer te weten te komen over de M.S. Sibajak, alwaar mijn vader in de jaren rond 1955 chef kok was, kwam ik uw site tegen. Ik heb in mijn bezit twee mooie menukaarten en bedacht mij dat u daar wellicht
blij mee zou kunnen zijn. Bijgaand vandaar de ingescande exemplaren. Succes met uw site."
Thus, I went online to translate Helen's message on freetranslation.com from Dutch into English and it read as follows;
"Dear Reuben,
In my very first attempt to get to know more about the M.S. Sibajak, where my father in the years around 1955 was a chef, I came to your site. I have in <![if !vml]>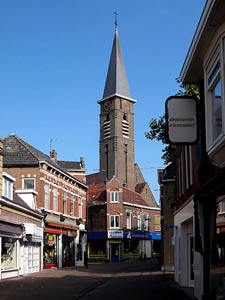 <![endif]>my possession two beautiful menus and remembered me that you may be happy with them. Please find enclosed the scanned copies. Success with your site."
However, the two menus mentioned were not attached to the said email, and I obviously mentioned this in my reply. I received all the images that were part of her dear late Father's collection as can now be seen on this page that arrived in the next three emails.
****************************************
Photographs of Chef H. B. Hulspas
Chef

Hulspas

Story:
Chef Hulspas' initials H. B. stood for Hermanus Bernardus and Herman was born in the Village of Naaldwijk in South Holland on September 2, 1933. The village lies about 10 km southwest of The Hague and it is famed as being the greenhouse of the Netherlands for its flowers and tulips are famed worldwide!
A village scene from the "Village of Naaldwijk" in South Holland--
H. B. Hulspas was trained in the art as a Pastry Chef and as a Chef of fine dining and in due course he was employed to work on large passenger liners including the MS Sibajak of the Rotterdam Lloyd in the mid 1950's.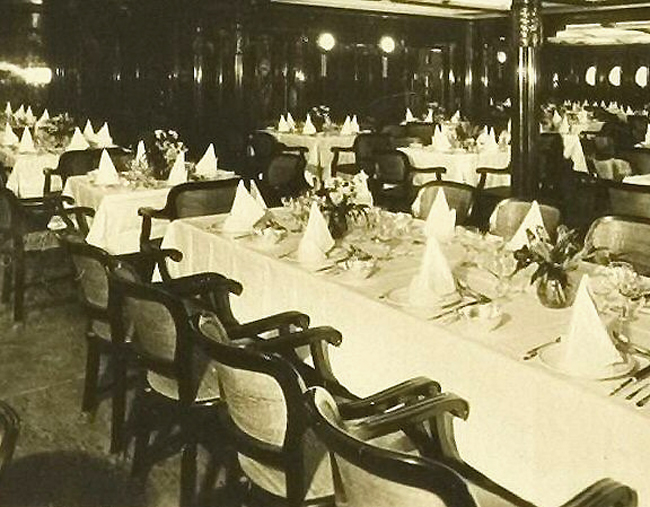 Before we see Chef Hulspas at work, this is where his creations will end up, on the ships beautifully set dining tables!
Photo from the author's private collection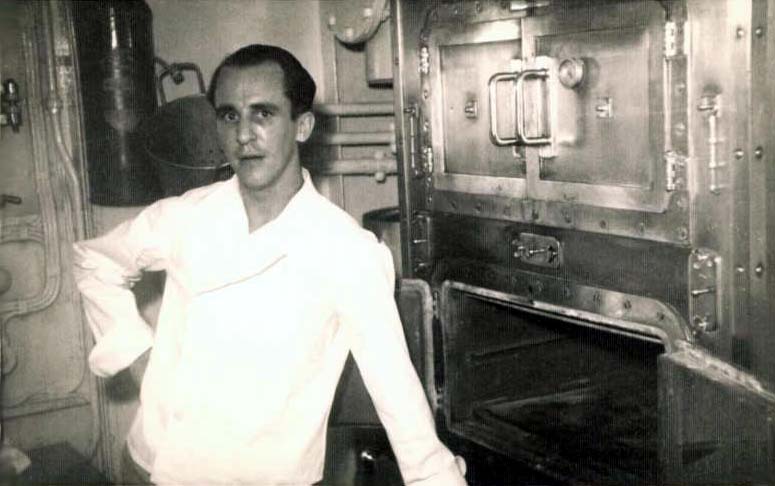 Above & below: The 25-year-old Chef Hulspas is seen in his element in the ships galley and the tools of his trade, the ovens
And there is nothing better than those daily baked fresh loves of bread and those delicious bread buns as
I remember so well, but I departed on the Sibajak from Rotterdam on May 17, 1958 and sailed to Wellington New Zealand!
Photographs provided by & © Helen Hulspas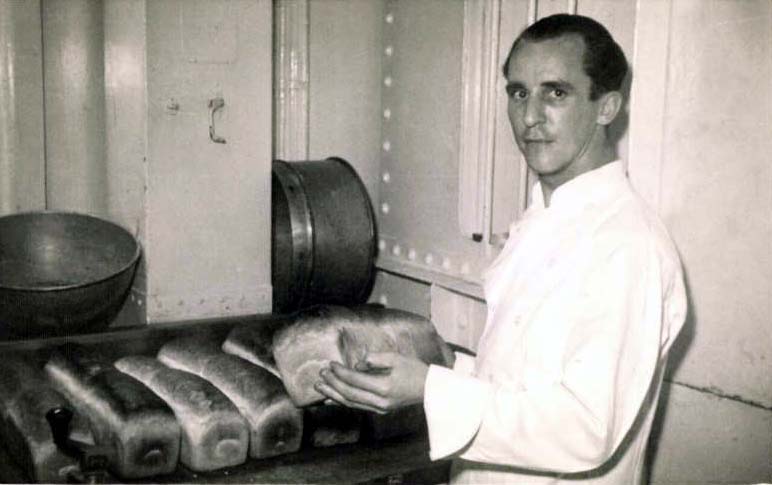 The Floor Show Programme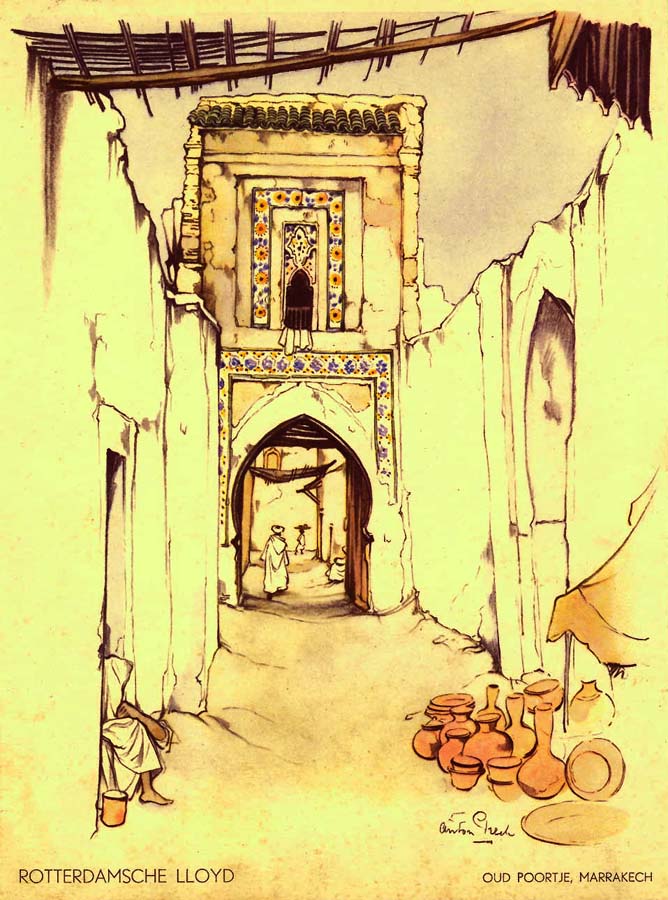 The front page
Provided by Helen Hulspas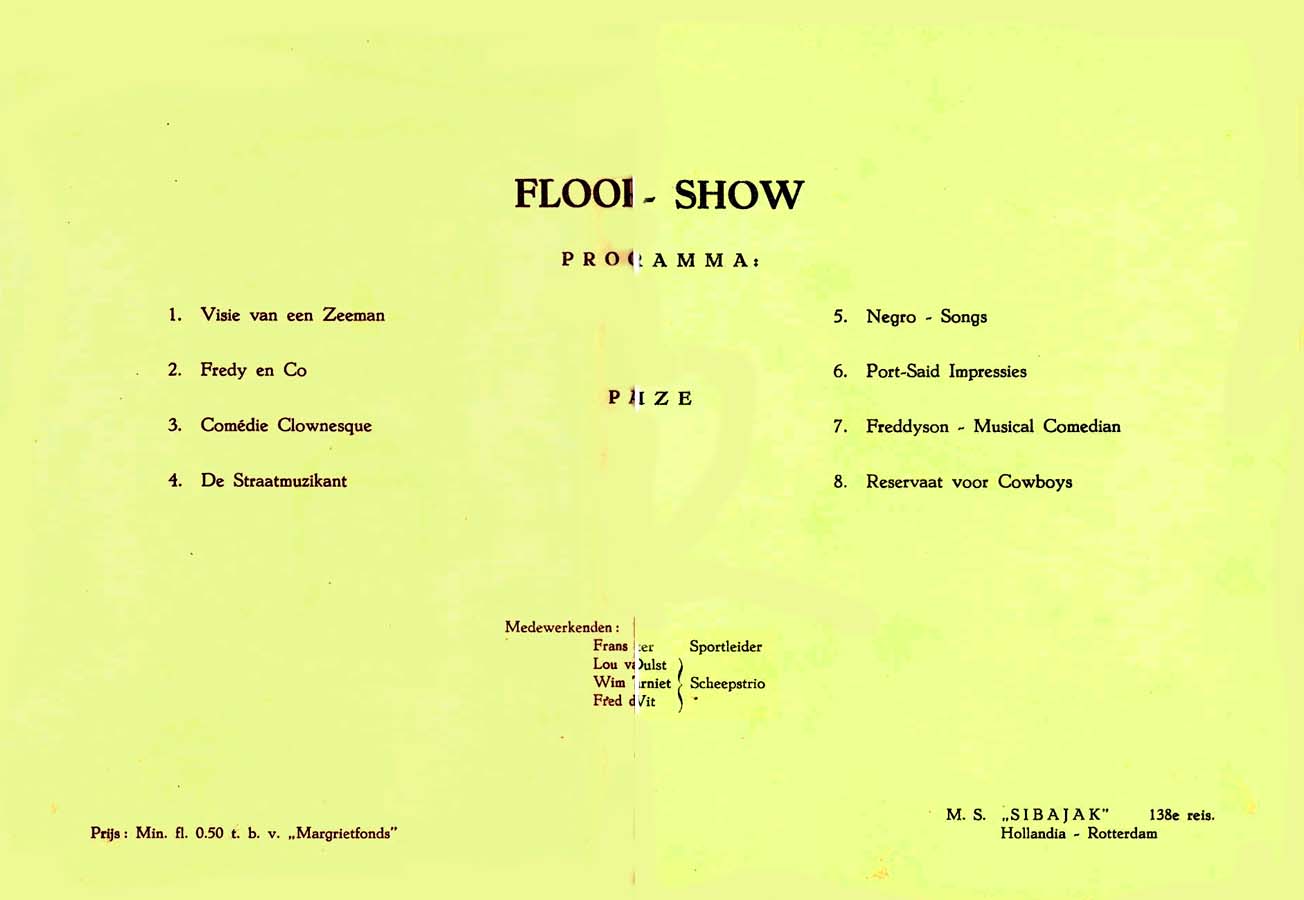 The interior, sadly during scanning the very centre was slightly lost, I have placed the two scans together
Provided by Helen Hulspas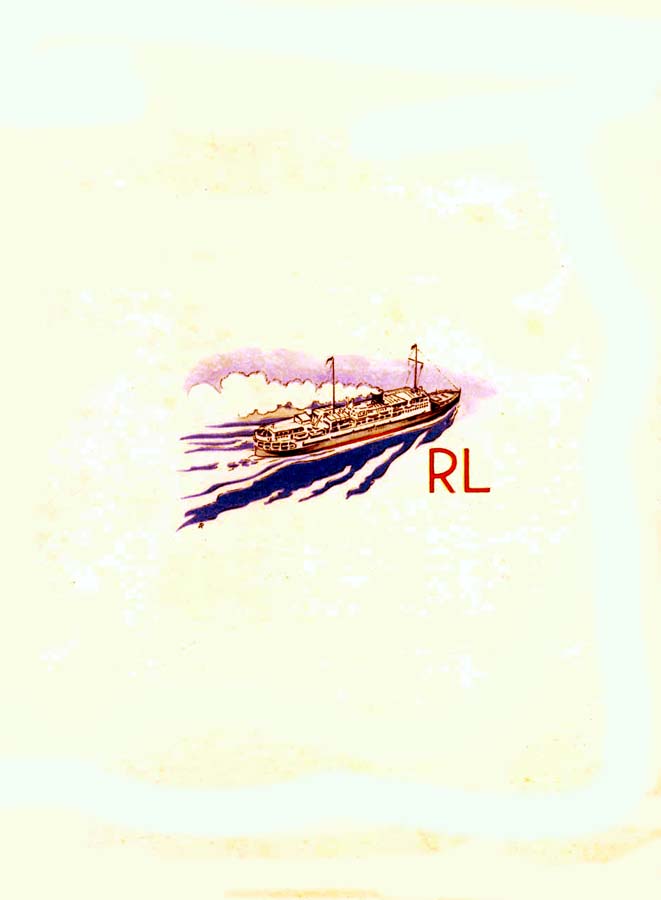 The back page
Provided by Helen Hulspas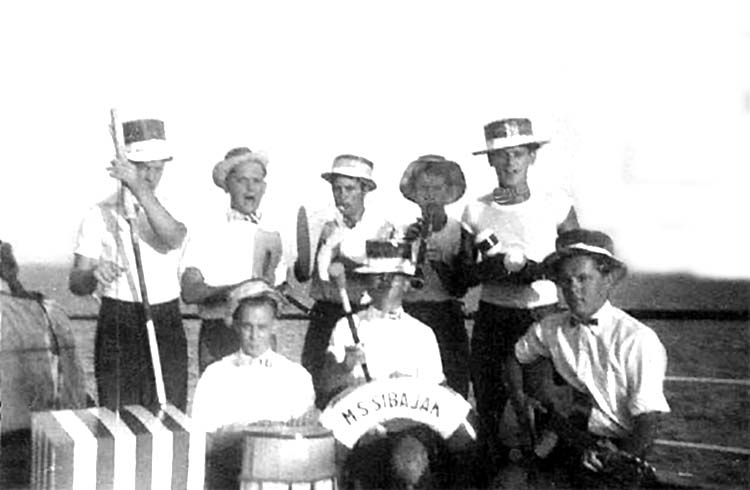 This is the passenger band during this voyage, called "Scheepsband de Emigranten"
Sent to me by a Dutch supporter a long ago & photographer unknown - Please see photo notes at bottom of page
The Farewell Menu April 12, 1955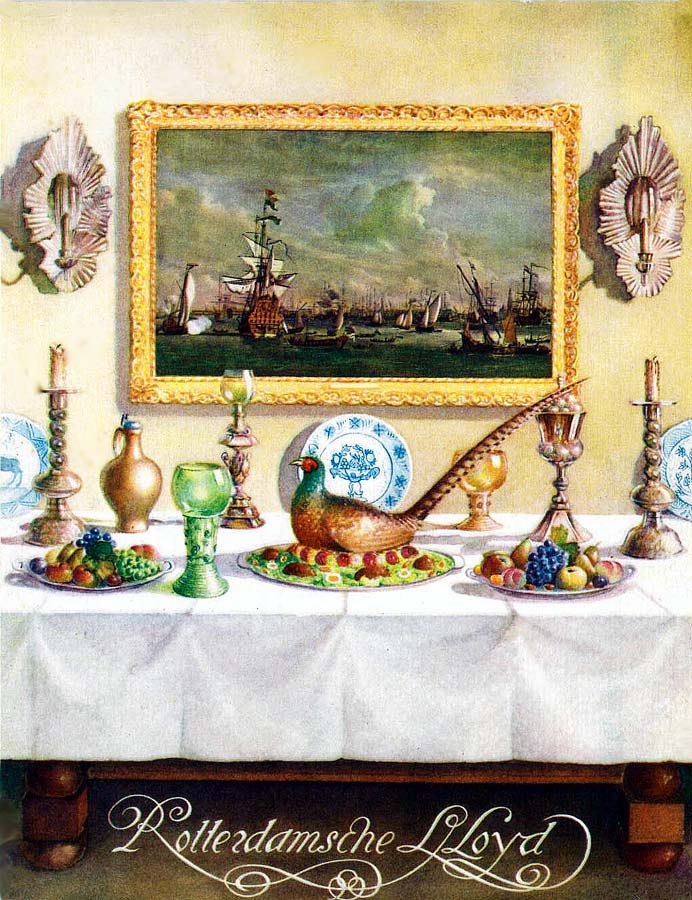 What a superb front page to the "Afscheidsdiner" or the "Farewell Diner"
Provided by Helen Hulspas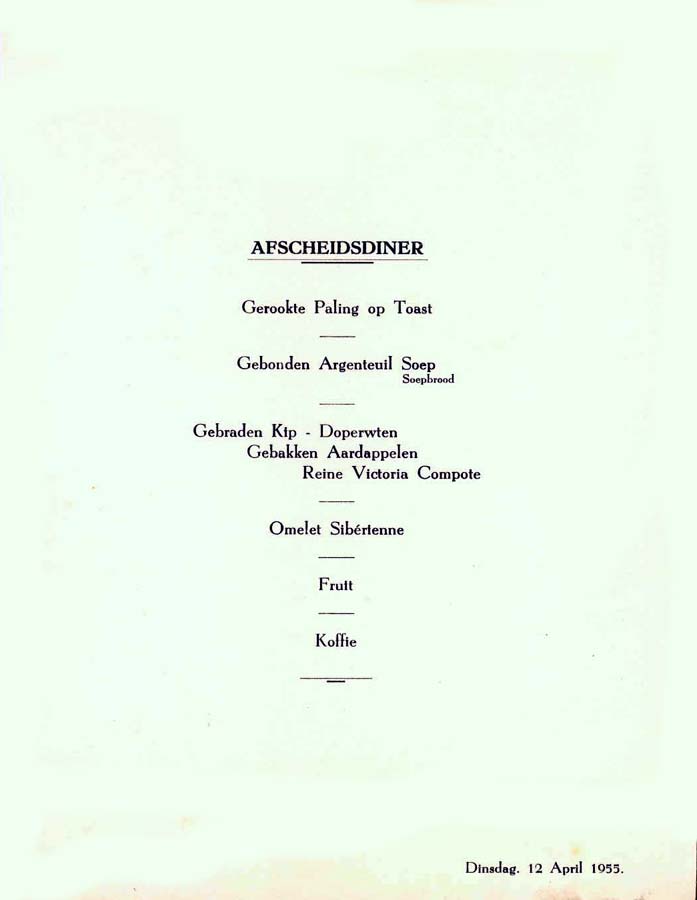 The menu page
Provided by Helen Hulspas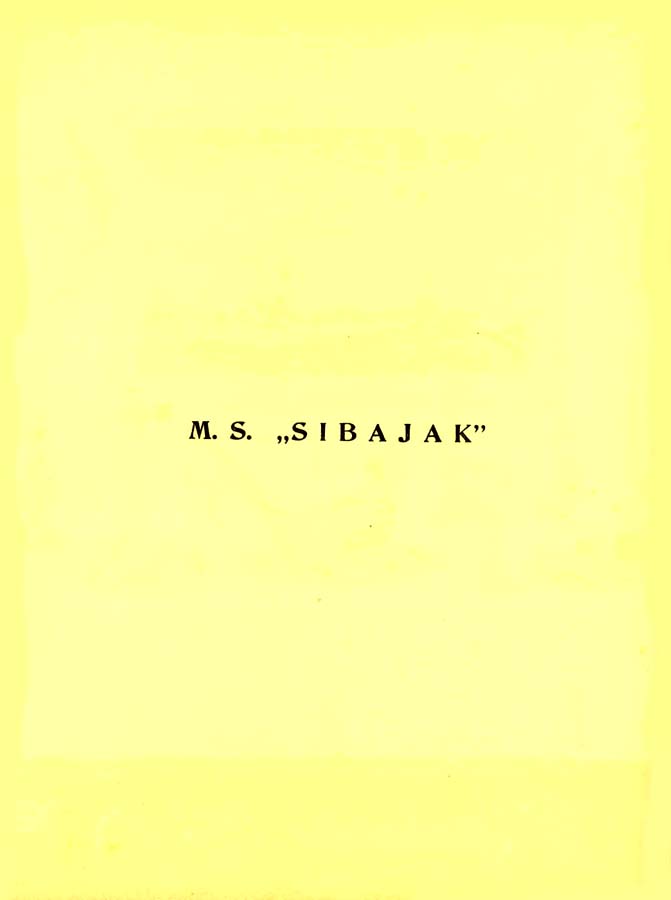 The back page is simple, but somehow relevant
as the "MS Sibajak" was just what the voyage was all about!
Provided by Helen Hulspas
In Conclusion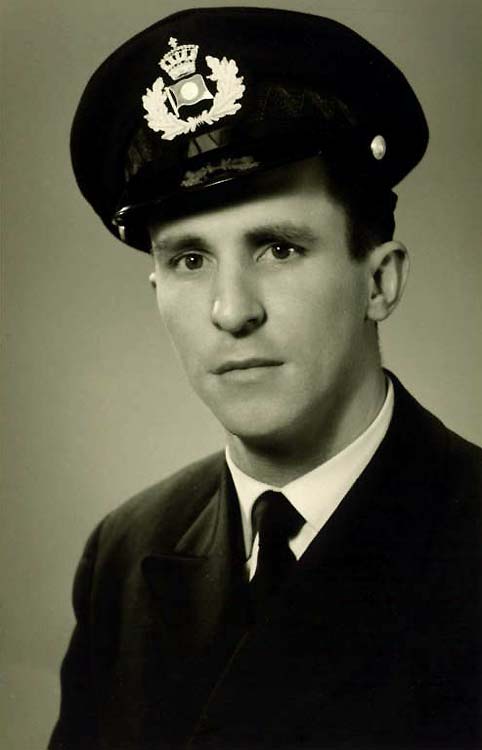 Photograph provided by & © Helen Hulspas
Although I do not have any further information covering the life and times of Chef H. B. Hulspas, but he passed away at the age of 70 in another village nearby named Leidschendam (close to Leiden) on March 26, 2004.
I hereby wish to thank Mr. Hulspas' daughter, Helen for contacting me for due to this her beloved Father's memory that was so directly related to that wonderful Dutch Passenger Liners, MS Sibajak as well as his life may well have been sadly lost!
Although time is slipping by, but should there be anyone who may remember him, you are most welcome to contact me; please see the bottom of the page!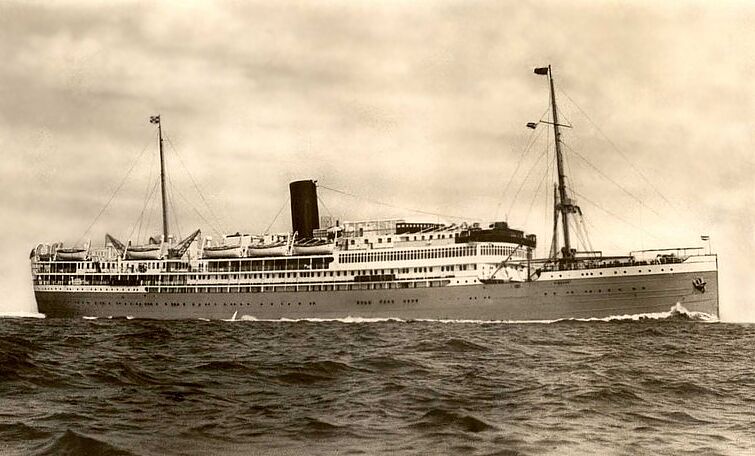 A wonderful postcard of the MS Sibajak in the 1950s

Postcard is from the author's private collection

MS Sibajak Index:

Page One:…………………….MS Sibajak had long career from 1927 to 1959 - This is her complete story!

Rotterdam on May 17, 1958 - See Page 3b.

Australia on May 17, 1958.

Chef H B Hulspas story, a floor show programme and a farewell menu dated 1955.

der Net and their voyage to Australia in 1956.

Page Seven:                 The Nieborak Family's voyage to Australia in 1959.

Page Eight:                  Mr & Petzold sail from Rotterdam to Cape Town on October 25, 1949.

Also visit the Three other Dutch Liners on the New Zealand - Australian Service

MS Johan van Oldenbarnevelt - MS Oranje & MS Willem Ruys

Please Note: Email service to ssMaritime, is sadly no longer available,

This is due to the author's old age and illness as well as being disabled, etc.

****************************

"Blue Water Liners sailing to the distant shores.


I watched them come, I watched them go and I watched them die."

************************

Visit the ssMaritime INDEX

ssMaritime.com & ssMaritime.net

Where you will discover over 1,365 Classic Liners & the 1914 built MV Doulos Story

The Author has been in Passenger Shipping & the Cruise Industry for over 60 years!

Photographs on ssmaritime and associate pages are by the author or from the author's private collection. In addition there are some images that have been provided by Shipping Companies and private photographers or collectors. Credit is given to all contributors. However, there are some photographs provided to me without details regarding the photographer/owner concerned.

This notice covers all pages, although, and I have done my best to ensure that all photographs are duly credited and that this notice is displayed on each page, that is, when a page is updated!

ssMaritime

is owned and © Copyright by Reuben Goossens - All Rights Reserved