Sitmar Line - TSS Castel Felice
Please Note: Firefox and some other search engines are not suitable – Use "Internet Explorer" for this page to load perfectly!

Click the logo above to reach the ssMaritime FrontPage for News Updates & "Ship of the Month"
With Reuben Goossens
Maritime Historian, Cruise'n'Ship Reviewer & Author
Please Note: All ssMaritime and other related maritime/cruise sites are 100% non-commercial and privately owned. Be assured that I am NOT associated with any shipping or cruise companies or any travel/cruise agencies or any other organisations! Although the author has been in the passenger shipping industry since 1960, although is now retired but having completed around 690 Classic Liners and Cargo-Passengers Ships features I trust these will continue to provide classic ship enthusiasts the information the are seeking, but above all a great deal of pleasure! Reuben Goossens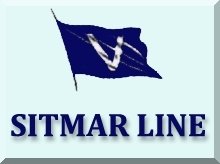 The Sitmar Ships
Part Two
TSS Castel Felice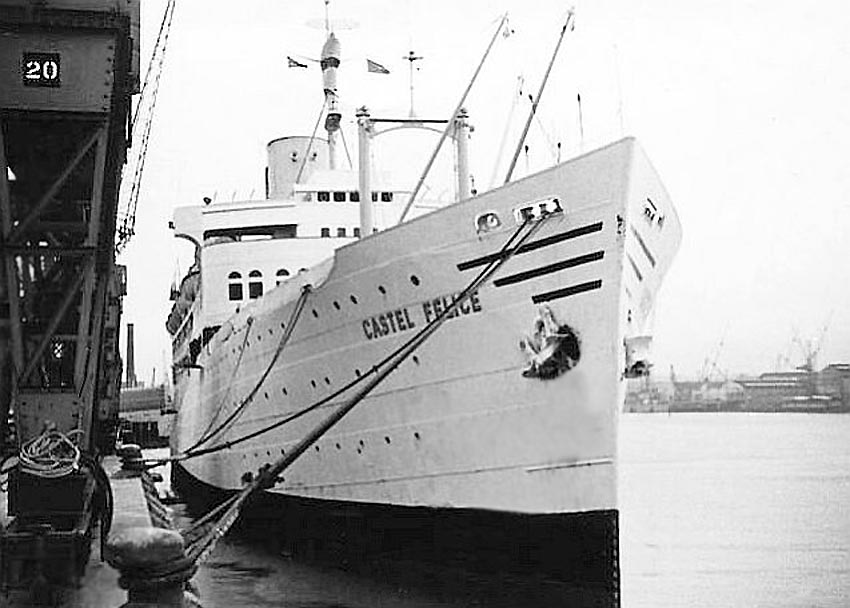 TSS Castle Felice seen in Southampton in November 1957

From the author's private collection

Robert Williams & Family sails to Australia

TSS Castel Felice Voyage 45 - November 1957

"We as a family immigrated to Australia in November 1957 and sailed from Southampton on the £10 assisted passage on the TN Castel Felice. If I remember right we disembarked at Sydney, but can clearly remember living in Brisbane Queensland, and going to school there. I have still have many photographs of that time and we lived in the suburb of Graceville.

Sailing together on the Castle Felice was; My Father: Albert Leslie Williams, born 13 May 1913, he passed away on 25 December 1971. My Mother: Muriel Irene Williams born 29 September 1917, she passed away on 15 August 1997. MY sister: Gail Williams born 19 September 1949. Myself: Robert Kenneth Williams was born on 22 November 1953, and my Brother: Clive Barry Williams was born 30 August 1955.

Whilst in Brisbane I also remember my Father and all the family visiting another Sitmar liner being the TSS Fairsky, which had docked at the Hamilton wharves. As far as I can remember, we did sail on her somewhere at some time.

Although having lived in Brisbane for four years, my parents for some reason decided to return to the UK in 1961 and we sailed on the 16,335-ton Chandris liner TSS Bretagne, which happened to be her maiden voyage for the company having just been fully refitted having been purchased from the France.

But, having found these pages on Sitmar lines and the TN Castel Felice has brought back memories, although I was but a young child. I present the photographs below and the menu as part of our collection in memory of a fine ship!

Photographs

on this page were provided by Mr. Robert Kenneth Williams of the UK, unless marked otherwise.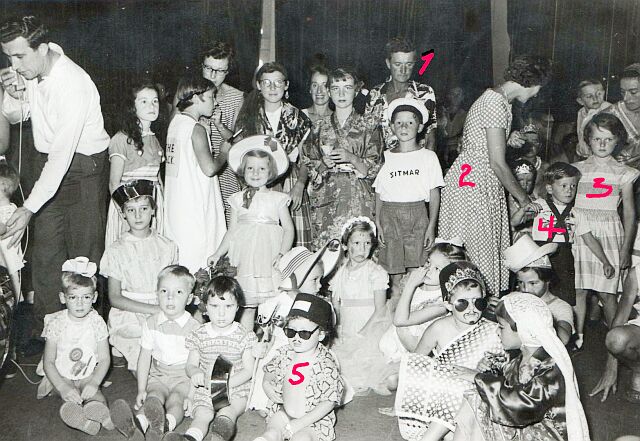 Fancy Dress Party – November 14
No 1. Is my Father Albert, 2. Is my Mother Muriel, 3. Is my sister Gail
4. Is myself, Robert. And finally; 5. Is my youngest brother - Clive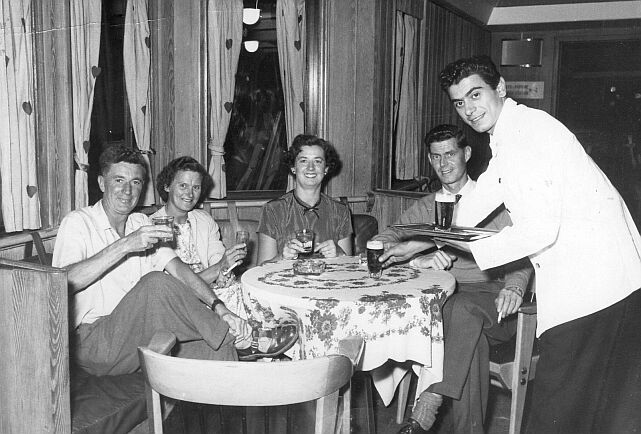 My Father and Mother: Albert & Muriel Williams (left) and friends Ron and Mary - taken November 22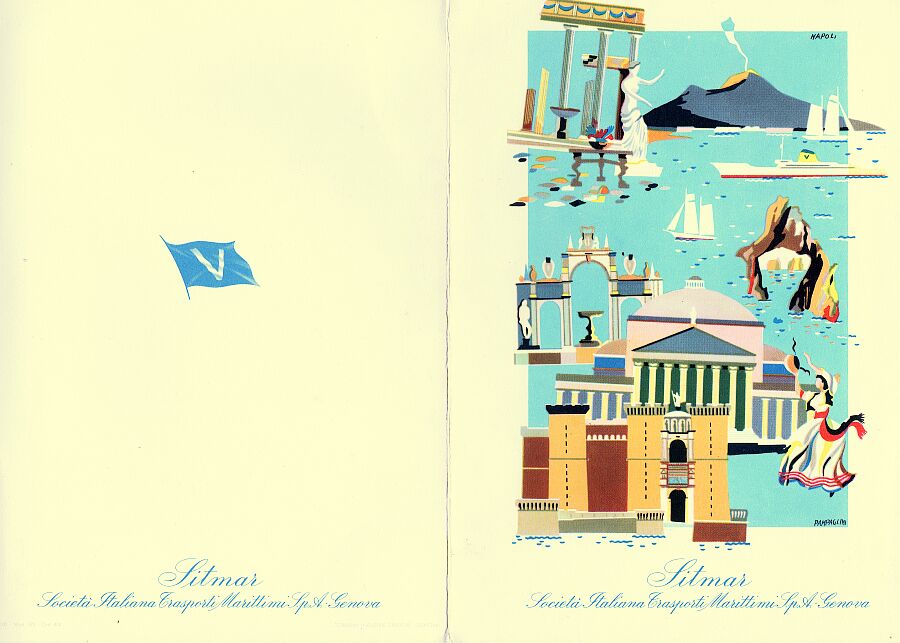 Menu cover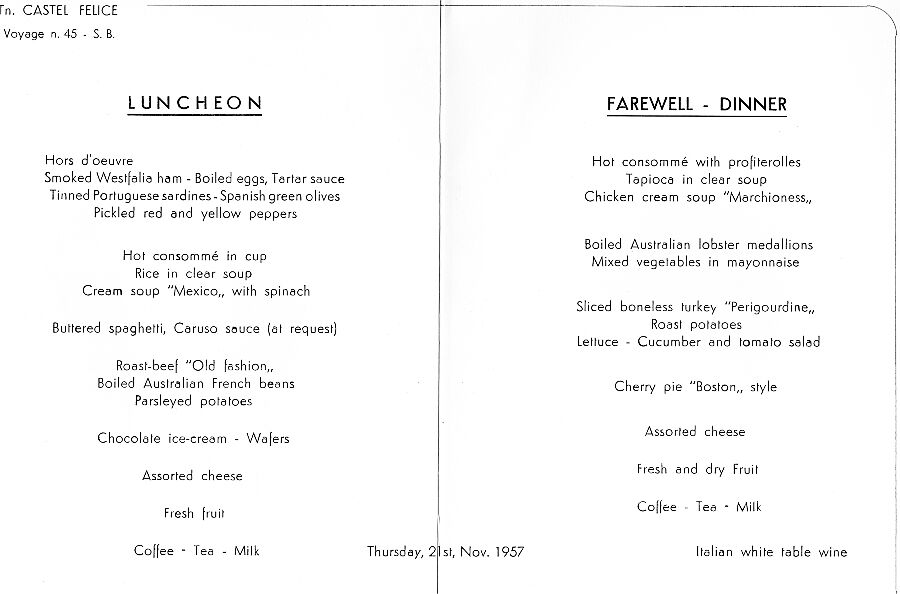 Luncheon Menu Thursday November 21, 1957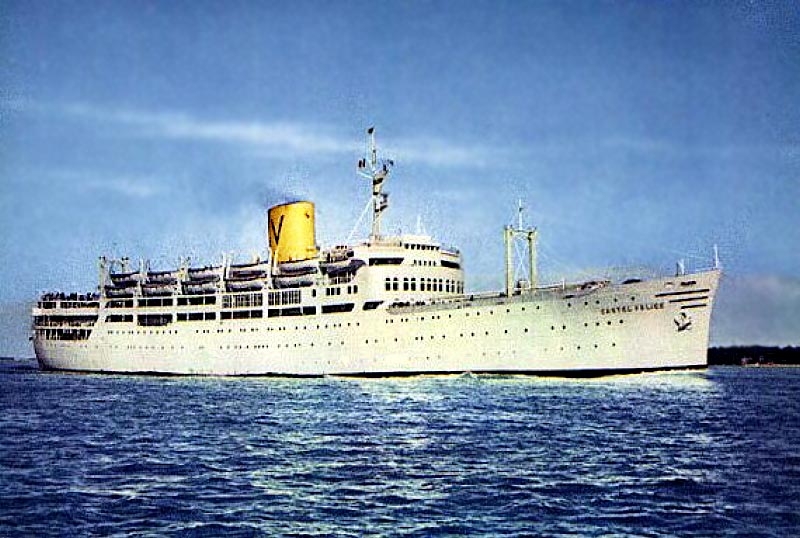 TSS Castel Felice seen after her 1957 refit

From the author's private collection

**********************************

The Castel Felice

INDEX:

Castel Felice-1 - History Page.

Castel Felice-2 - Cabin Plan & the Robert Brinkhuis story 1965.

Castel Felice-3 - My 1957 voyage to Canada by W. D. Hempel.

Castel Felice-4 - The Williams family sail to Australia in 1957- This Page.

Castel Felice-4 - A family's voyage to Australia - on another site!

Or Return to:……The Sitmar Ships - INDEX - For all the Other Sitmar Ships!

"Blue Water Liners sailing to the distant shores.
I watched them come, I watched them go and I watched them die."

****************************

Return to the ssMaritime Main INDEX

Where you will discover around 690 Classic Passenger & Passenger-Cargo Liners!

ssMaritime.com & ssMaritime.net

Where the ships of the past make history & the 1914 built MV Doulos Story

Please Note: ssmaritime and associated sites are 100% non-commercial and the author seeks no funding or favours of any shape or form, never have and never will!

Photographs on ssmaritime and associate pages are by the author or from the author's private collection. In addition there are some images that have been provided by Shipping Companies and private photographers or collectors. Credit is given to all contributors. However, there are some photographs provided to me without details regarding the photographer/owner concerned. I hereby invite if owners of these images would be so kind to make them-selves known to me (my email address may be found on www.ssmaritime.com only), in order that due credit may be given.

This notice covers all pages, although, and I have done my best to ensure that all photographs are duly credited and that this notice is displaced on each page, that is, when a page is updated!

ssMaritime is owned & © Copyright by Reuben Goossens - All Rights Reserved