Sitmar Line - TSS Fairsky (2) 1957-1977
Please Note: Firefox and some other search engines are not suitable – Use "Internet Explorer" for this page to load perfectly!

Click the logo above to reach the ssMaritime FrontPage for News Updates & "Ship of the Month"
With Reuben Goossens
Maritime Historian, Cruise'n'Ship Reviewer & Author
Please Note: All ssMaritime and other related maritime/cruise sites are 100% non-commercial and privately owned. Be assured that I am NOT associated with any shipping or cruise companies or any travel/cruise agencies or any other organisations! Although the author has been in the passenger shipping industry since 1960, although is now retired but having completed around 690 Classic Liners and Cargo-Passengers Ships features I trust these will continue to provide classic ship enthusiasts the information the are seeking, but above all a great deal of pleasure! Reuben Goossens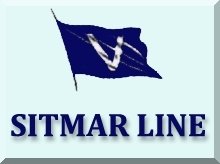 The Sitmar Ships
Part Four
TSS Fairsky
The Djakarta Incident June 1977
Pamela Hansen fondly remembers her "ill-fated" honeymoon cruise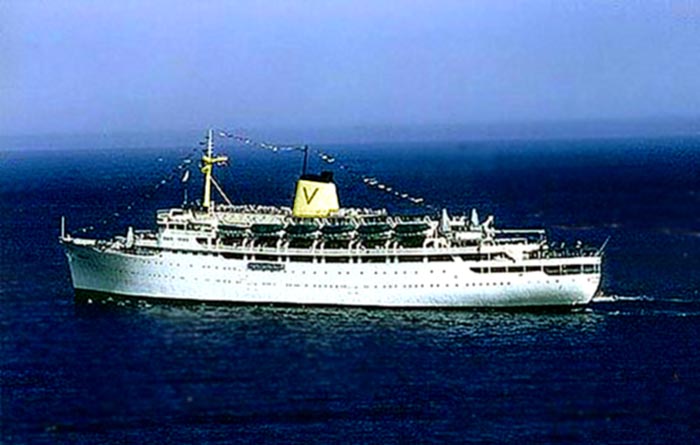 The cruise ship TSS Fairsky
Photograph from the author's private collection
Pamela Joyce Hansen kindly wrote me regarding her and her husband's experience whilst on a cruise when the SS Fairsky struck a sunken wreck just out of Djakarta in 1977.
Reuben Goossens.
Pamela wrote:
"Our cruise departed Darwin on June 12, 1977. I was 20 at the time and on my honeymoon. Although my passport was still under my maiden name (Hansen) and so was my booking, but on ship we went by my married name Mr & Mrs. Garry Morris, which confused things when later we had to disembark and head off to Djakarta.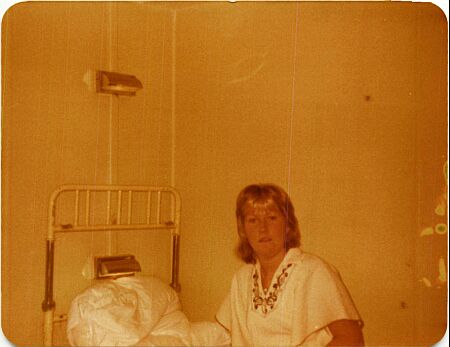 Pamela seen her standard cabin, without private facilities
We had an outside cabin, but the toilets and showers were down the corridor. In those days there were no double beds, thus being newly married we would put the two single mattresses on the floor and sleep there. The single bed being too small for two! But, we thoroughly enjoyed our honeymoon cruise for this was a delightful ship in every sense of the word!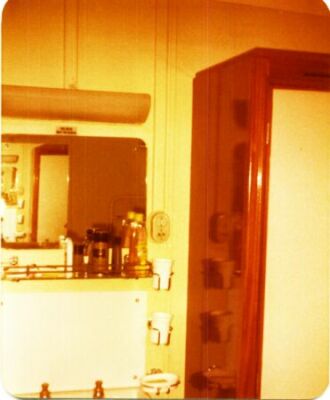 However, we did have a washbasin whilst the rest was just down the hall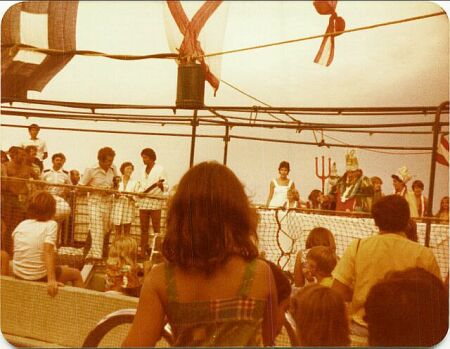 Crossing the Equator Ceremony on June 17, which was great fun!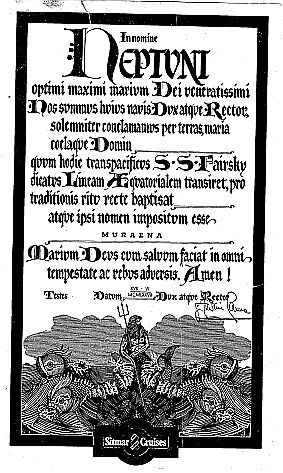 Above & below: All passengers receive a certificate a close up of the date is seen below

However having been to Singapore, it was not long after the Fairsky had departed Djakarta on June 23, we heard a loud bang or scraping of sorts and it turned out that the ship had struck a sunken wreck. We were told that her bow had been badly damaged, as it turned out later that she had indeed been holed. The announcement came that we were not allowed to return to our cabins, but had to remain out on deck until further notice. In the meantime the captain decided that he would beach her on a nearby sandbank to save her from sinking and to ensure our safety.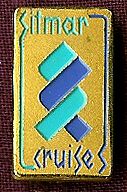 Before we left the ship our steward kindly gave us his two Sitmar Cruises lapel pins
We were then told on a deck-by-deck basis to go and get our things from our cabins and bring them up on deck. Our baggage area was the swimming pool and thus we left it all there, except for a handbag for passports and money, etc.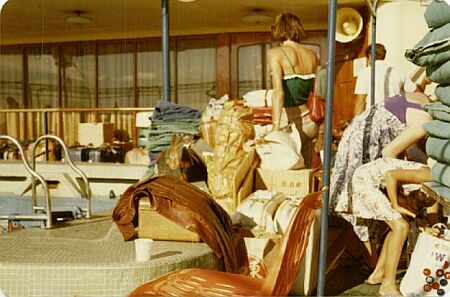 Our baggage had to be stacked around the pool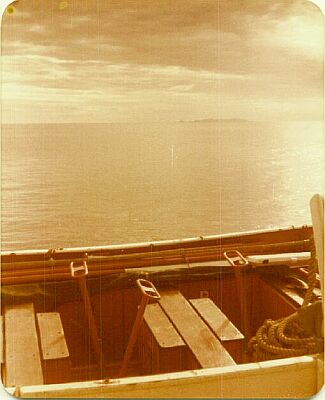 Lifeboats were soon made ready for launching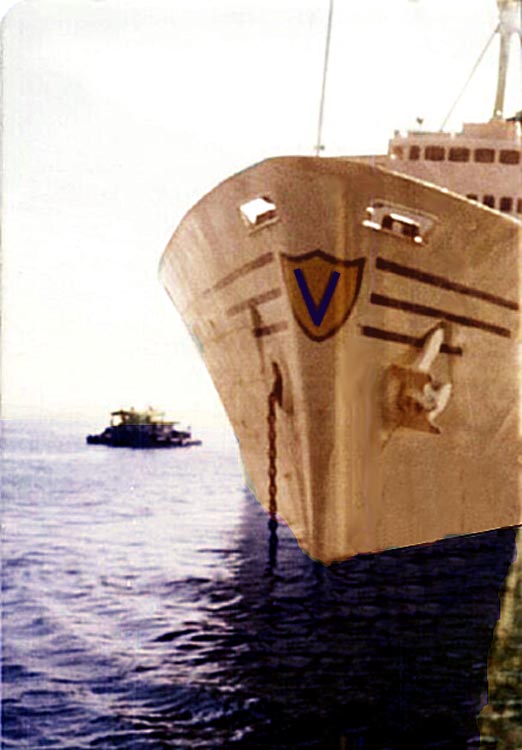 Even though her bow was low in the water and she was listing, to me she looked so sad, but still an impressive ship!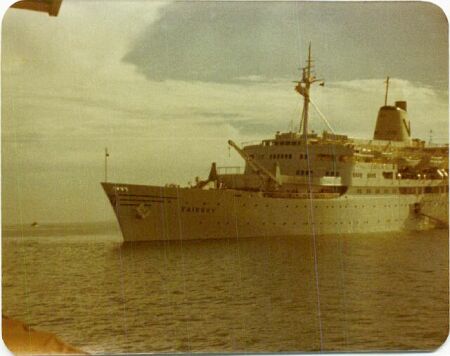 We are now slowly heading towards shore, whilst and others are still disembarking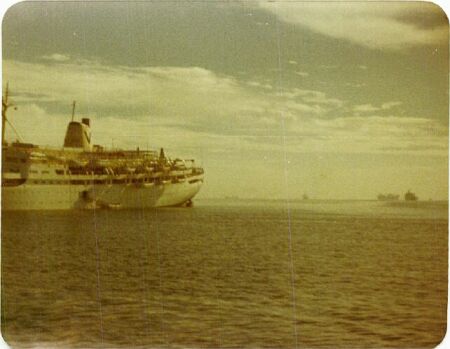 This photo clearly shows the other lifeboats still being lowered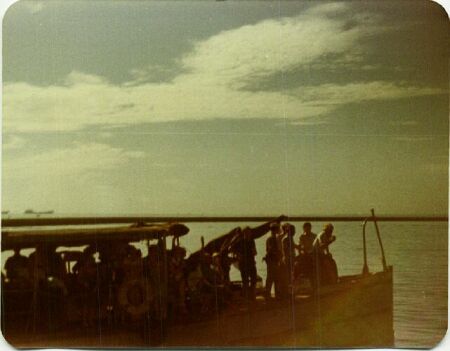 In due course Indonesian shore tenders came to ferry passengers back to shore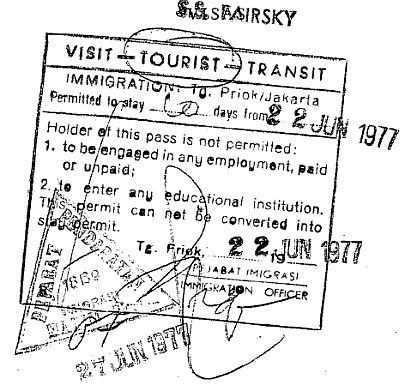 My Indonesian visa stamp in my Passport
I was allowed to leave the ship before my husband and I waited back on land for him to come, and about 3 hrs later Garry turned up. We were taken to a lovely hotel and Sitmar Lines paid for everything as well as all meals etc. As you can imagine I was only 20 and I was worried that my parents back in Darwin would be worried when they heard the news. So I tried calling them, not an easy feat as most people in Djakarta did not speak English. I was also spoken to by a Sydney radio station and I spoke to them about the "accident."
Sitmar arranged for day trips for us to go on and after several days we had permission to leave Indonesia. We flew back on a Jumbo jet to <![if !vml]>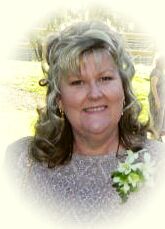 <![endif]>Darwin; I recall that our entertainer "Alistair" was also on the plane with us.
I certainly look back on the whole adventure with fond memories, part one of the cruise was just wonderful, the evacuation went very smoothly and all I can say is the way Sitmar handled the whole situation in Djakarta was superb!
*****************************
-Pamela Hansen is seen here 30 years later and she is now ready for her next cruise adventure!
At the time, Pamela was due to head off on her next cruise on P&O's Pacific Dawn on December 27, 2007, and it was her first cruise since her Fairsky experience. Better still, and I hope Pamela will not mind me saying this, but she will be celebrating her 50th Birthday on January 1, 2008 whilst the ship is at Champagne Bay Vanuatu! What a wonderful place to celebrate! She did tell me that she had a wonderful time and just loved cruising with P&O Cruises and the ship was simply wonderful, but she still loved the delightful intimacy of the Fairsky!
*****************************
THANK YOU: The story above was provided by M/s. Pamela Joyce Hansen, although it has been edited and some changes were made for clarification. All Photographs and images (except the introduction photo of the TSS Fairsky) were taken by and are © Pamela Hanson and are used by ssMaritime with Pamela's permission. However, the photographs have been recently improved and enlarged by myself.
I am grateful to Pamela for sharing her adventure with us and I hope that all her future cruises will be very happy ones and certainly memorable ones!
In conclusion: What happened to the Fairsky after she ended up on that sandbank? Well very soon that hole in her hull was filled with concrete and on the 29th.she was refloated and was able to proceed under her own power to a Singapore where she entered dry-dock where they investigated the severity of the damage. They placed a better temporary patch over the hole, but Sitmar decided not to repair her permanently and they placed her on the market.
For the conclusion of her story see the INDEX below and TSS Fairsky – "the History Page" containing details of her final days!
The Fairsky INDEX:
TSS Fairsky - Built as a C3 class freighter - the History Page.
TSS Fairsky - Contains two Deck Plans 1958 & 1970s.
TSS Fairsky - Piet Mulder sails on SS Fairsky.
TSS Fairsky - Fairsky wrecked near Djakarta - The Pamela Hansen story - This Page.
Or Return to: The Sitmar Ships - INDEX - For all the Other Sitmar Ships!
"Blue Water Liners sailing to the distant shores.
I watched them come, I watched them go and I watched them die."
****************************
Return to the ssMaritime Main INDEX
Where you will discover around 690 Classic Passenger & Passenger-Cargo Liners!
ssMaritime.com & ssMaritime.net
Where the ships of the past make history & the 1914 built MV Doulos Story
Please Note: ssmaritime and associated sites are 100% non-commercial and the author seeks no funding or favours of any shape or form, never have and never will!
Photographs on ssmaritime and associate pages are by the author or from the author's private collection. In addition there are some images that have been provided by Shipping Companies and private photographers or collectors. Credit is given to all contributors. However, there are some photographs provided to me without details regarding the photographer/owner concerned. I hereby invite if owners of these images would be so kind to make them-selves known to me (my email address may be found on www.ssmaritime.com only), in order that due credit may be given.
This notice covers all pages, although, and I have done my best to ensure that all photographs are duly credited and that this notice is displaced on each page, that is, when a page is updated!
ssMaritime is owned & © Copyright by Reuben Goossens - All Rights Reserved