Sitmar Line - TSS Fairsky (2) 1957-1977
Please Note: Firefox and some other search engines are not suitable – Use "Internet Explorer" for this page to load perfectly!

Click the logo above to reach the ssMaritime FrontPage for News Updates & "Ship of the Month"
With Reuben Goossens
Maritime Historian, Cruise'n'Ship Reviewer & Author
Please Note: All ssMaritime and other related maritime/cruise sites are 100% non-commercial and privately owned. Be assured that I am NOT associated with any shipping or cruise companies or any travel/cruise agencies or any other organisations! Although the author has been in the passenger shipping industry since 1960, although is now retired but having completed around 680 Classic Liners and Cargo-Passengers Ships features I trust these will continue to provide classic ship enthusiasts the information the are seeking, but above all a great deal of pleasure! Reuben Goossens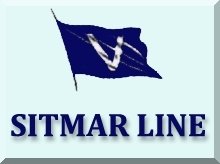 The Sitmar Ships
Part Four
TSS Fairsky
The Piet Mulder sails to Melbourne Australia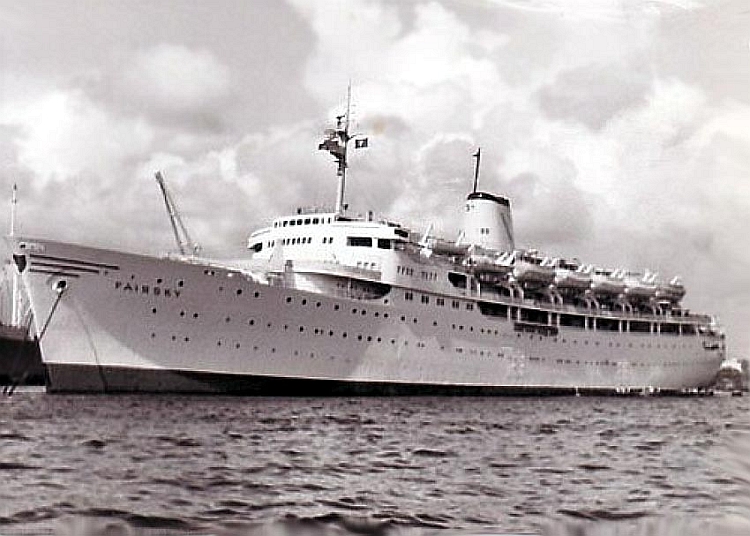 The beautiful Fairsky is seen on her was to Australia at anchor in Port Said
In 1963 Piet Mulder at the age of 24 sailed to Melbourne Australia and just as most travellers did in those wonderful days, he decided to come Downunder by ship and enjoy an exciting sea voyage as well as visiting a number of exciting ports on the way!
He boarded the Sitmar liner TSS Fairsky in Southampton, which departed on Thursday September 27, 1963 and the Fairsky sailed via the Suez Canal to Melbourne, via a range of ports. Although Piet did not share a great deal about his actual voyage, which he enjoyed greatly, but he did share a goog number of photographs as seen on this page, all of which are part of his photographic memories of voyage on the Fairsky.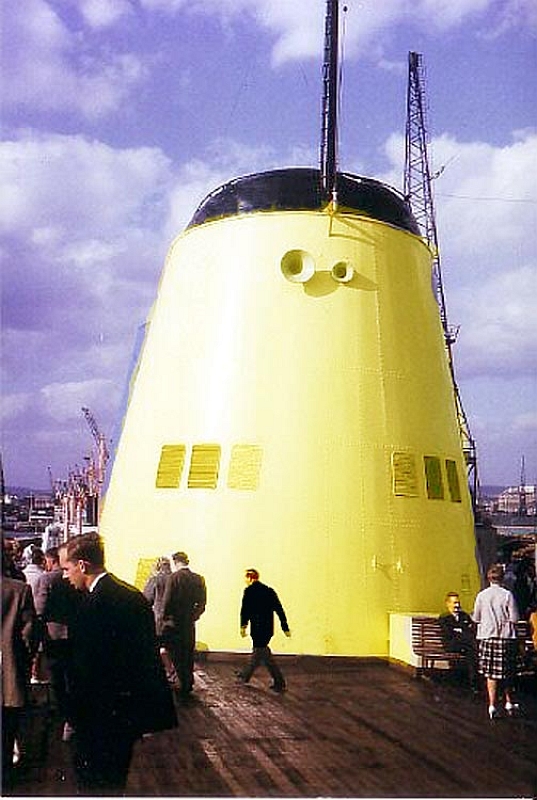 Passengers head up topside as Fairsky departs Southampton on September 27. 1963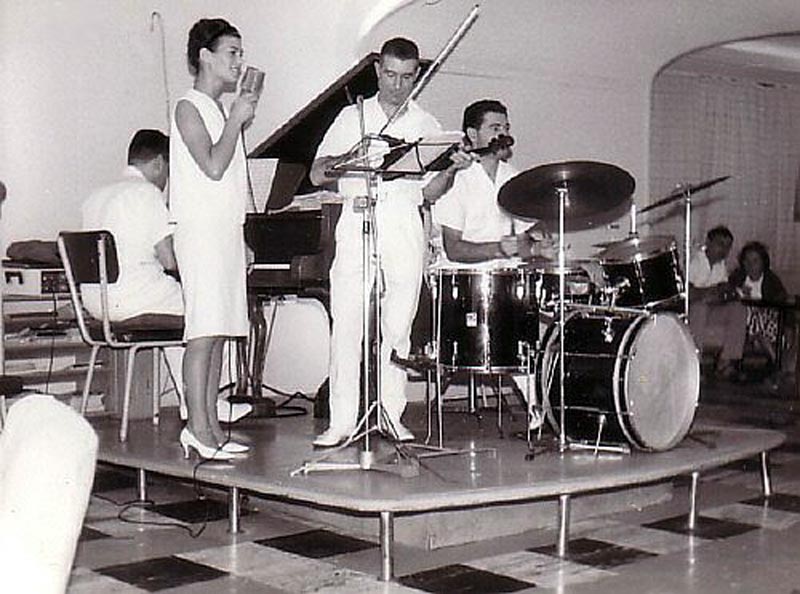 The band in the In the Social Hall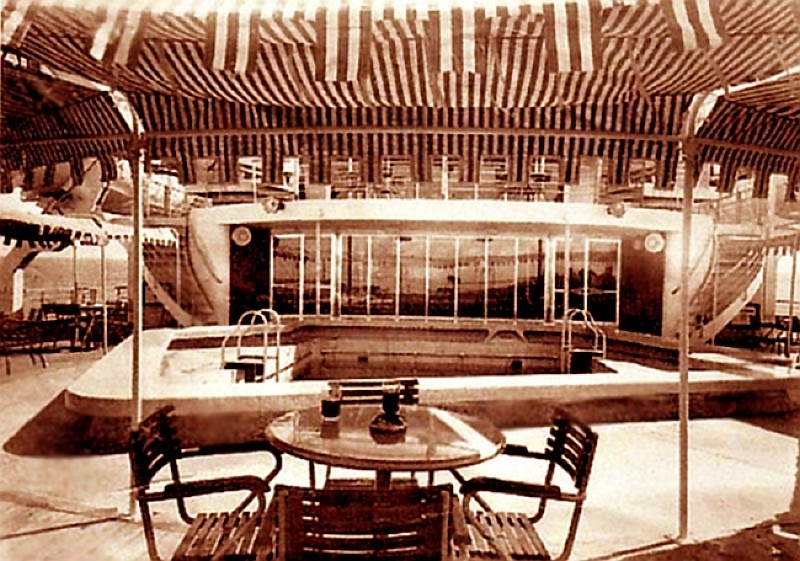 The ships Lido Pool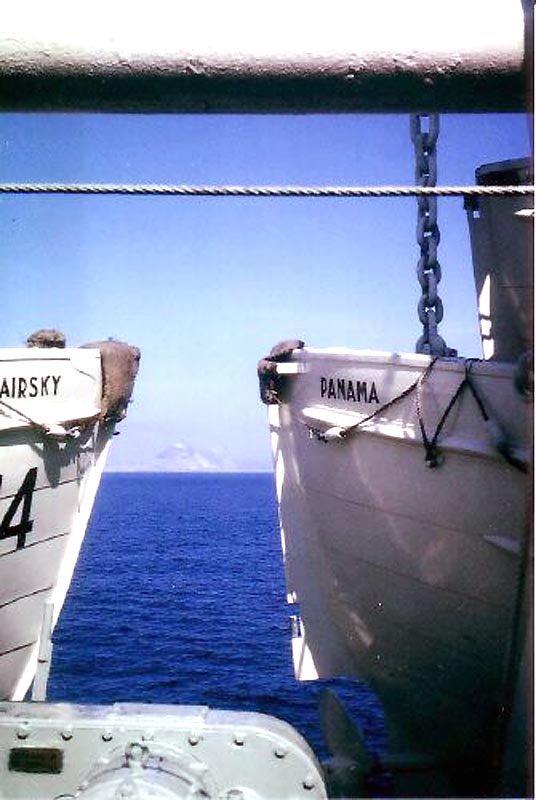 A fine photograph of the ships lifeboats whilst Fairsky sails past Gibraltar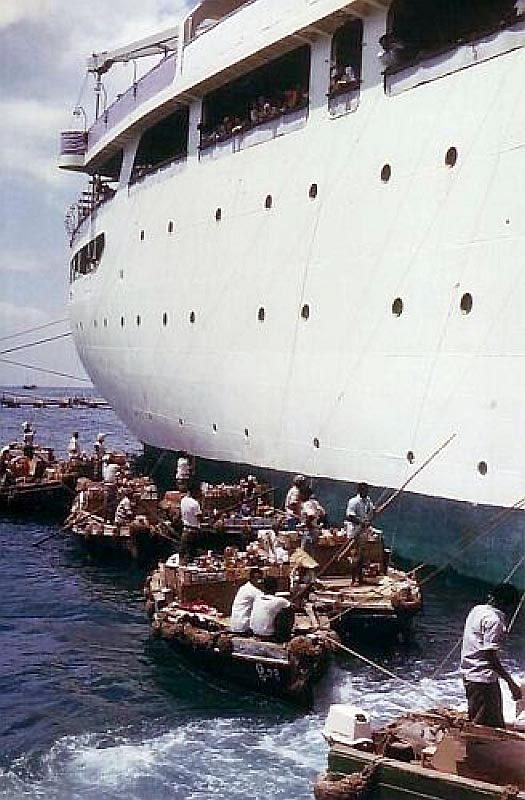 At anchor in Port Said with Egyptian's souvenir sellers boat side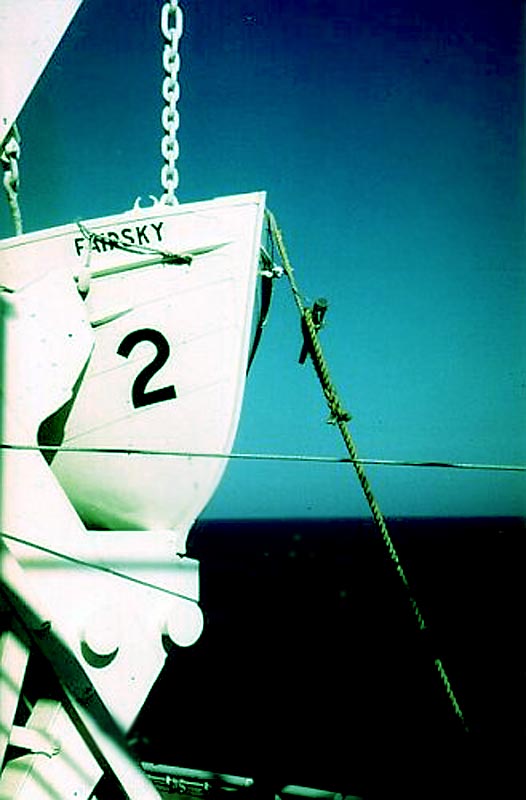 Crossing the Red Sea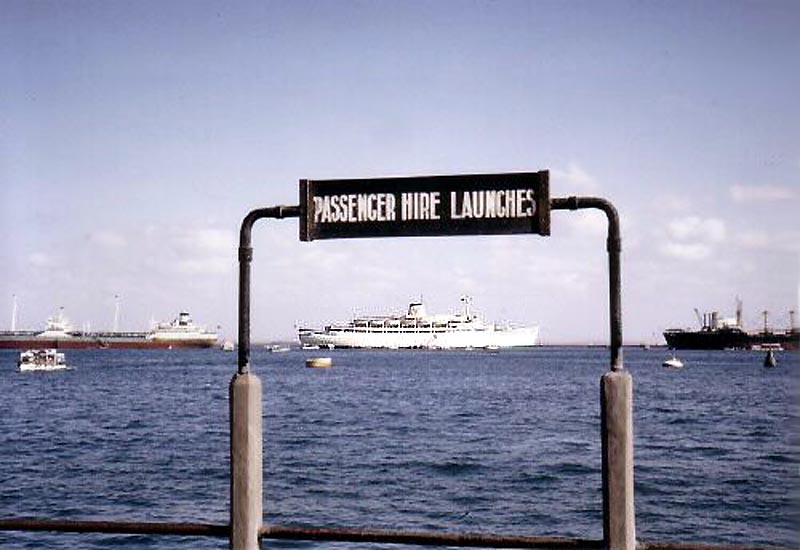 What a great shot of the Fairsky seen at anchor in Aden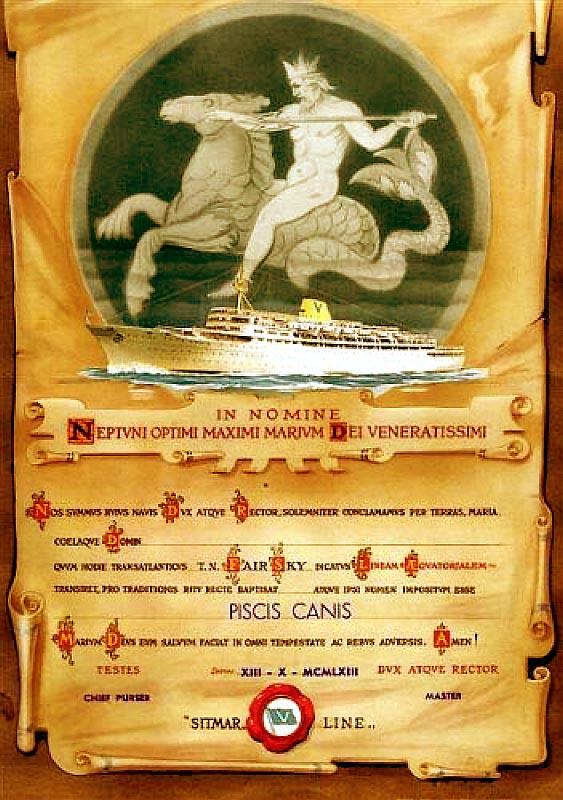 Crossing of the Equator Certificate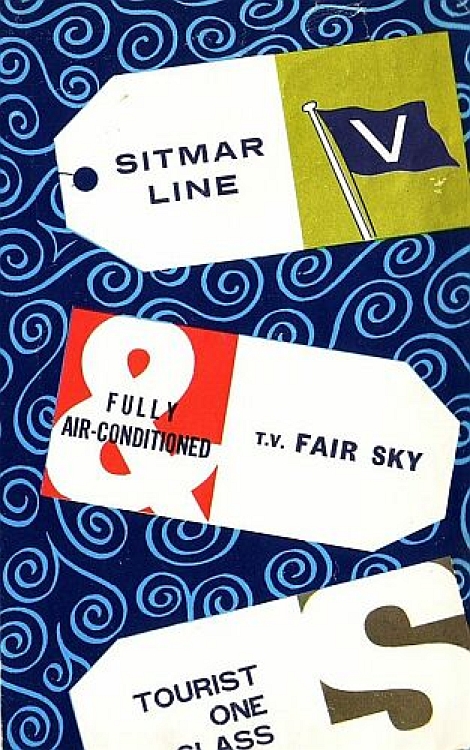 Sitmar Fairsky brochure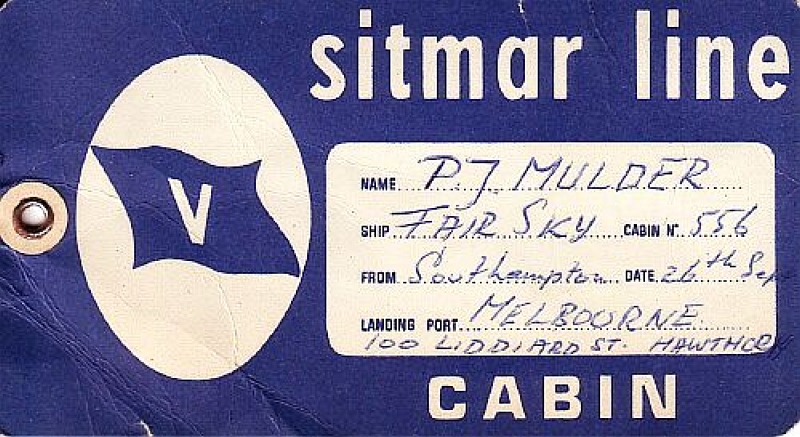 Baggage Label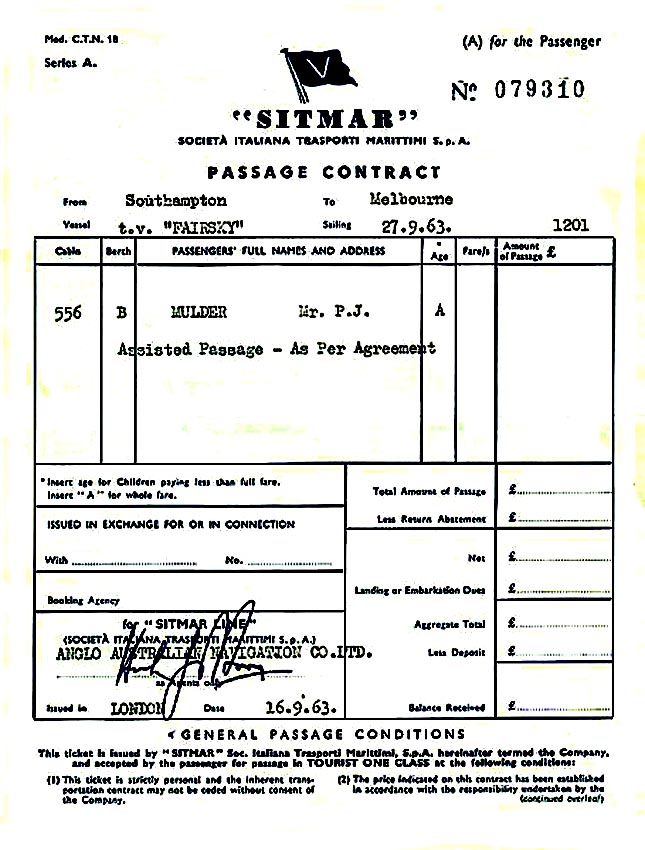 Piet's Migrant "Assisted" Passage Contract/ticket
All photographs/images on this page were provided by Piet Mulder of the Netherlands
The Fairsky INDEX:
TSS Fairsky - Built as a C3 class freighter - the History Page.
TSS Fairsky - Contains two Deck Plans 1958 & 1970s.
TSS Fairsky - Piet Mulder sails on SS Fairsky - This Page.
TSS Fairsky - Fairsky wrecked near Djakarta - The Pamela Hansen story.
Or Return to: The Sitmar Ships - INDEX - For all the Other Sitmar Ships!
"Blue Water Liners sailing to the distant shores.
I watched them come, I watched them go and I watched them die."
****************************
Return to the ssMaritime Main INDEX
Where you will discover around 690 Classic Passenger & Passenger-Cargo Liners!
ssMaritime.com & ssMaritime.net
Where the ships of the past make history & the 1914 built MV Doulos Story
Please Note: ssmaritime and associated sites are 100% non-commercial and the author seeks no funding or favours of any shape or form, never have and never will!
Photographs on ssmaritime and associate pages are by the author or from the author's private collection. In addition there are some images that have been provided by Shipping Companies and private photographers or collectors. Credit is given to all contributors. However, there are some photographs provided to me without details regarding the photographer/owner concerned. I hereby invite if owners of these images would be so kind to make them-selves known to me (my email address may be found on www.ssmaritime.com only), in order that due credit may be given.
This notice covers all pages, although, and I have done my best to ensure that all photographs are duly credited and that this notice is displaced on each page, that is, when a page is updated!
ssMaritime is owned & © Copyright by Reuben Goossens - All Rights Reserved