Sitmar Line – SS Castle Bianco & SS Castle Verde
Please Note: Firefox and some other search engines are not suitable – Use "Internet Explorer" for this page to load perfectly!

Click the logo above to reach the ssMaritime FrontPage for News Updates & "Ship of the Month"
With Reuben Goossens
Maritime Historian, Cruise'n'Ship Reviewer & Author
Please Note: All ssMaritime and other related maritime/cruise sites are 100% non-commercial and privately owned. Be assured that I am NOT associated with any shipping or cruise companies or any travel/cruise agencies or any other organisations! Although the author has been in the passenger shipping industry since 1960, although is now retired but having completed around 690 Classic Liners and Cargo-Passengers Ships features I trust these will continue to provide classic ship enthusiasts the information the are seeking, but above all a great deal of pleasure! Reuben Goossens.
The Sitmar Ships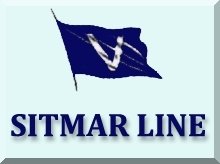 Part One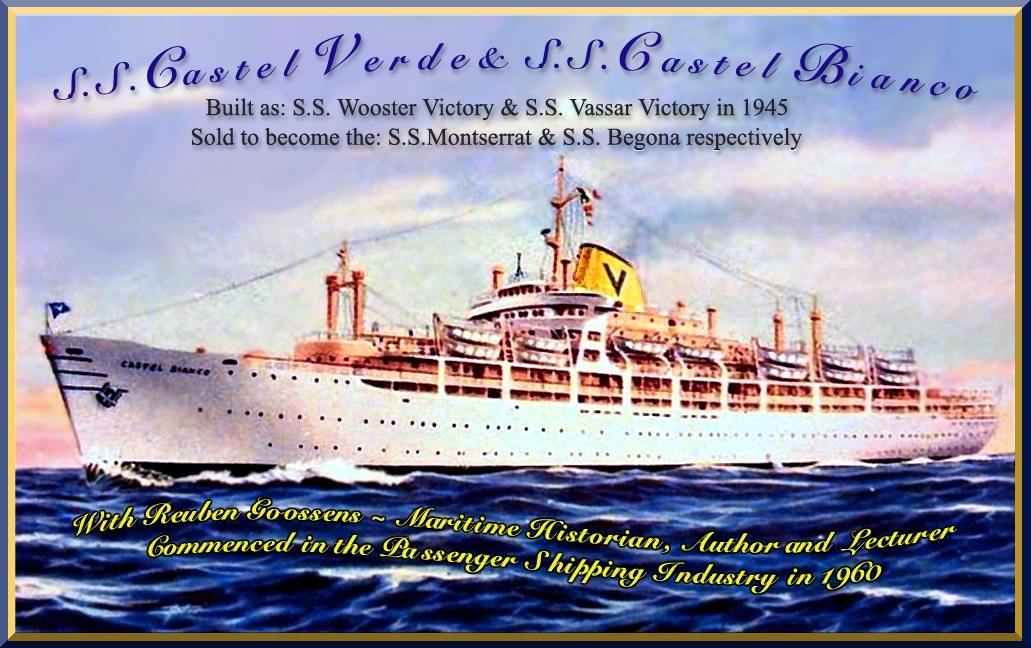 Introduction to "The Sitmar Ships":
Over the years I have received unbelievable numbers of requests to add a feature on all the Sitmar Liners and Cruise Ships. Well, it has taken a considerable time, but in this work, I will present a short history on each ship, together with a number of photographs. Therefore, I hope and pray that the following pages will have you reliving your Sitmar experience or possibly experiences, be it sailing to or from Europe/UK to New Zealand or Australia or the America's on a line voyage or later as a passenger on one of their many cruises!

I certainly have enjoyed writing and compiling this very special feature on a company that I greatly love and have sailed with many times!

Thus now go and read all about … The Sitmar Ships.

Reuben Goossens

.

After World War II, Alexander Vlasov who had a long maritime history took over Sitmar Line. Thereafter all the ships of Sitmar Line featured the large blue V on their shapely yellow funnels. In 1949, Sitmar commenced a passenger service between Genoa and Sydney.
SS Wooster Victory / Castel Verde:
1. The first ship that would later become the SS Castel Verde was originally built as one of the hundreds of "Victory VC2-S-AP2" and "C-Class freighters," the V Class in question being at the "Bethlehem Fairfield Shipyards" in Baltimore, USA. She was Hull Number 779 and had her keel laid down on February 9, 1945 and she was launched and named the Wooster Victory on April 2, and was delivered just twenty-three days later on April 25, 1945. Amazingly all V-Ships were built wit an amazing efficiency and at a great speed in just or under, four months the entire ship would be built and delivered! Yet, over the years V Ships proved to be excellent and very reliable workhorses, as many were obtained by various passengers companies after the war and these ships were rebuilt into either humble migrant Liners, whilst others became more modern, streamlined and far better looking Passenger Liners, such as Sitmar's delightful SS Fairsky, which had received and amazing rebuilding!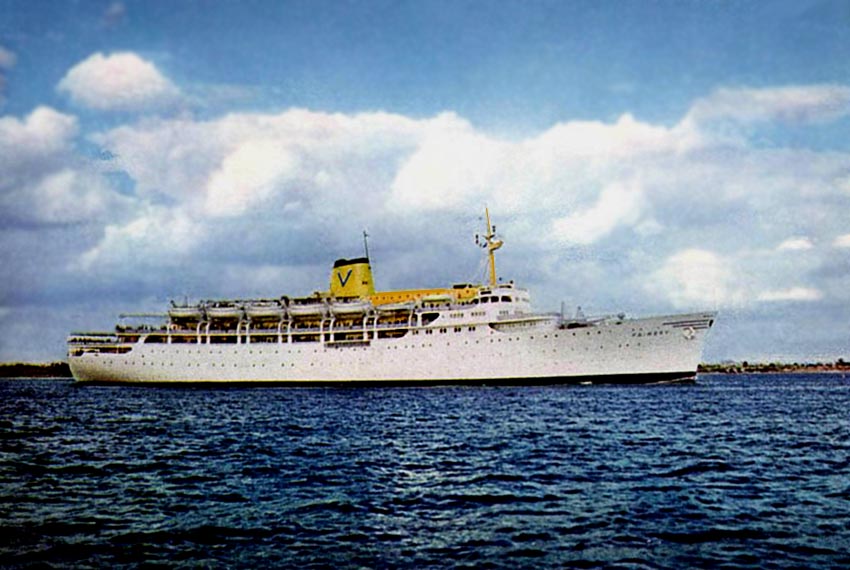 A Sitmar Line postcard of the SS Fairsky, a ship with a similar beginning in 1941
And she served as an escort aircraft carrier during the war, thus she was a huge rebuild in 1957
The 7,223 GRT (Gross Registered Ton) SS Wooster Victory was handed over on "Lend Lease" terms to Great Britain and she headed across the Atlantic and there her fit-out commenced for the purpose to become a troop transport ship. However, upon her completion and with the war having ended, she returned to the United States, who used her to repatriate their troops from Europe under the management of "General Steamship Corporation" and on May 10, 1945 she was sent to the Pacific region first.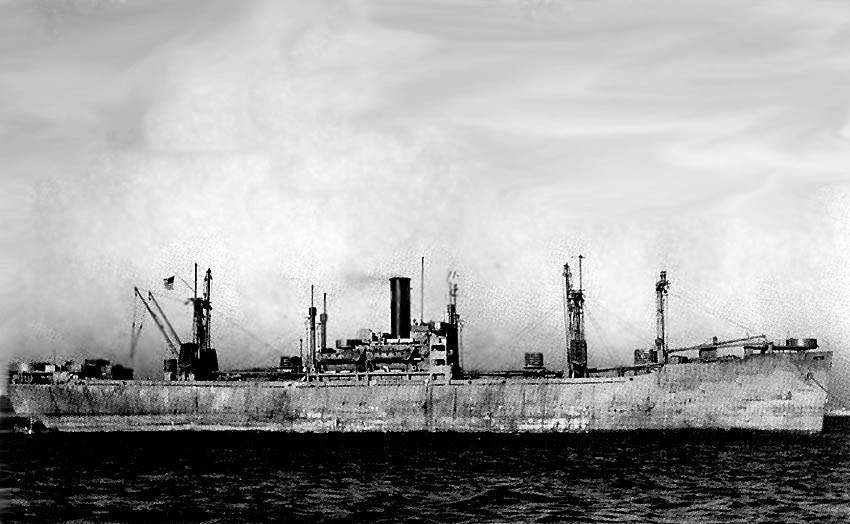 Here we the ships in their original guise, this is the sister-ship the SS Wooster Victory in 1945
She is operating to repatriate troops from Europe as well sailing to other destinations
During this tour of duty she actually visited Melbourne on May 25, 1945, after which she headed via South African waters and then commenced her US European duties making six return voyages to Europe.
On May 4, 1946 the Wooster Victory was laid up, first at the Hampton Roads, then in the James River Baltimore having been placed on the market!
Continued below in Part Two of the History Section!
SS Vassar Victory / SS Castel Bianco:
2. The second ship that would later become the SS Castel Bianco was another "Victory VC2-S-AP2 class of freighter" and she was also built by the Bethlehem Fairfield Shipyards in Baltimore. She was listed as "Hull 818" and her keel was laid down on March 18, 1945 and was launched and named Vassar Victory on May 4, and was delivered twenty-four days later on May 28, 1945.
Being the identical tonnage as her sister, the SS Vassar Victory was also handed over based on Lend Lease terms to Great Britain and like her sister, she also was sent to England where she was fitted out as a troop transport ship. But once again upon completion, she was also requested to return to the United States and operate to repatriate American troops from Europe. SS Vassar Victory made eight return voyages between Europe and North American ports and she returned to Baltimore concluding her duties on April 4, 1947. She was laid up in the James River and was duly placed on the market.
Continued below in Part Two of the History Section!
***************************
History - Part One
SS Wooster Victory
1954 to 1950
-

SS Castel Verde
1950 to 1957
Later: SS Montserrat 1957 to 1973
The SS Wooster Victory was sold to Alexandre Vlasov in January 1947 and she was reregistered in Panama it was decided to retain her original name. However, she remained laid up for the time being. However, she finally left her anchorage in the James River and headed for the shipyard at Baltimore where classification work would be undertaken.
Refit One - From Troop Ship to a Passenger-Cargo Liner:
However, the Wooster Victory required a general overhaul as well as a comprehensive refit, removing her previous troop quarters and create more comfortable dormitories for up to 890 persons with separate partitions for men and women, including suitable and ample facilities for each. In addition a new deck was aft of her main superstructure, which provided additional interior space, but also extra promenade deck space as well as a sport deck above. In addition two new lifeboats were added forward of her superstructure as well as six more aft of the central superstructure, giving the ship a total of twelve lifeboats, being sufficient for all on board! As a passenger ship she would have a crew of 220.
With all work completed and having received certification to sail, the Wooster Victory headed for New York, but she collected cargo in several ports in southern American ports, then on July 22, 1948 she departed from New York bound for Genoa.
The Vlasov Group together with other companies had signed contracts to transport displaced persons with the "International Refugee Organisation" (IRO) to countries that were willing to take them, which included Australia. On August 6, 1948 she was officially transferred to Alvion S.S. Corporation.
The SS Wooster Victory departed Genoa in October 1948 being her very first official voyage to Australia under the Vlasov (Sitmar) name and under the auspices of the IRO who had a staff on board of an escort, a doctor and a number of nurses to take care of the mostly Eastern European Refugees. In November the ship arrived in Sydney where 892 persons disembarked.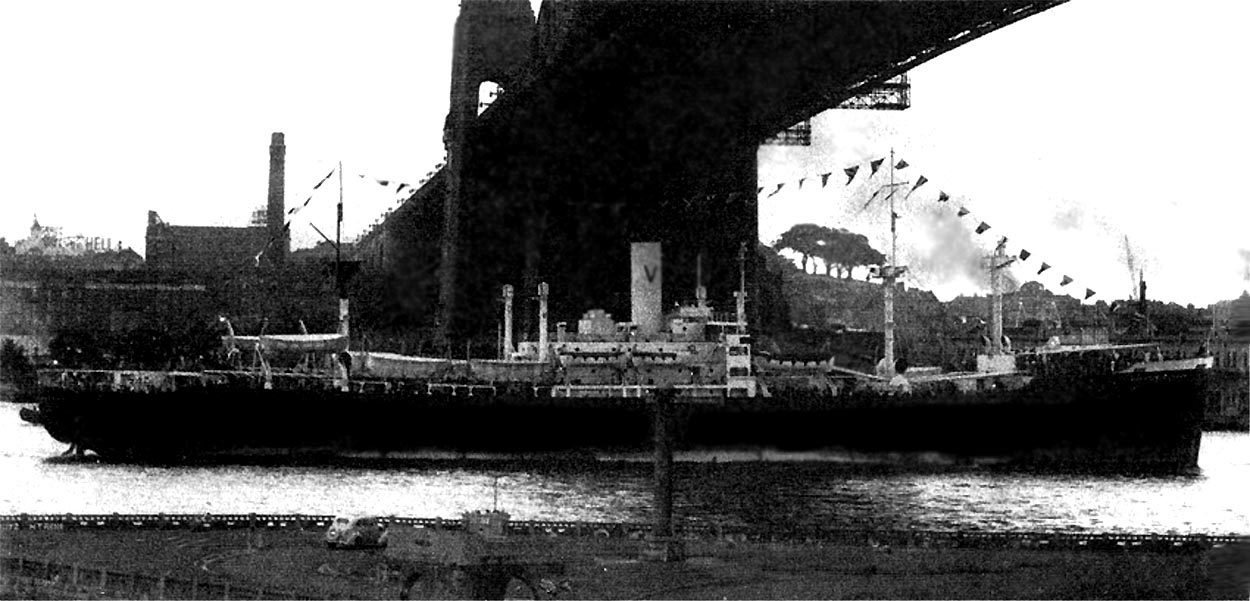 SS Wooster Victory is seen arriving in Sydney in October 1948
She then headed for Melbourne, however upon departure and ready for her voyage home to Italy, the ship received a radio message to alter course from U.N.O or the "United Nations Organization", To sail first to Manila Philippines and there to take on board a pilot, and await for authority to enter Shanghai where the ship is to take on board White Russians as wells as Jewish people, escaping from Maoist persecution. The SS Wooster Victory departed Shanghai on Christmas Eve 1948 and a week later her sister the SS Castel Bianco arrived at Shanghai for the same purpose. The Refugees all disembarked at Cape Town!
At some time in 1949 whilst the ship was in Italy, the company decided to paint her white and thus she would fit in with the rest of the company's greater fleet!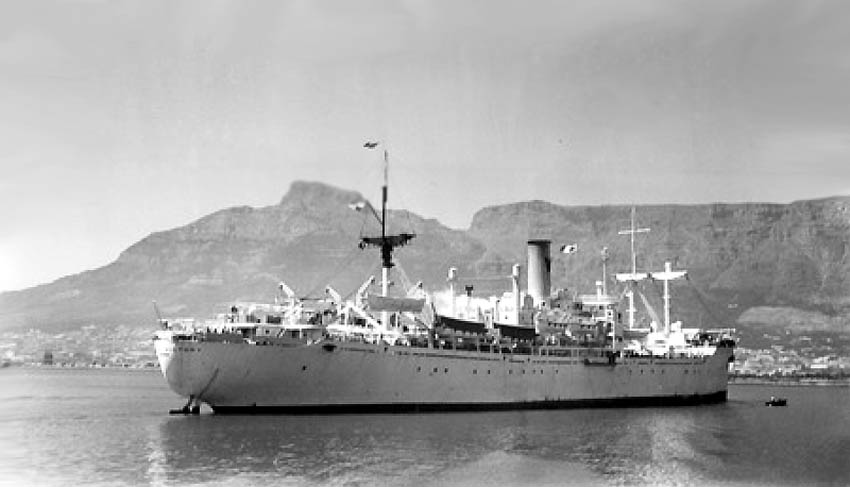 SS Wooster Victory seen in Cape Town 1949
Refit Two - 1950:
However, the Wooster Victory was given another refit in Genoa, which commenced on January 2, 1950, and during this refit she was given two full deck of portholes in her hull providing new cabins and superior and smaller dormitories. She now accommodated 24 passengers in cabins and 890 emigrants in dormitories, and a crew of 260. Her facilities were upgraded with a new spacious Social Lounge and a new specious Dining Room, Her exteriors also had a minor alteration, being painted all white, with her new shorter, shapely but thicker yellow funnel featuring the famed Vlasov "V" logo. Her lifeboats and masts all remained as they were fitted in 1948. In addition as the Name Castle Verde had become available, she was officially given this name!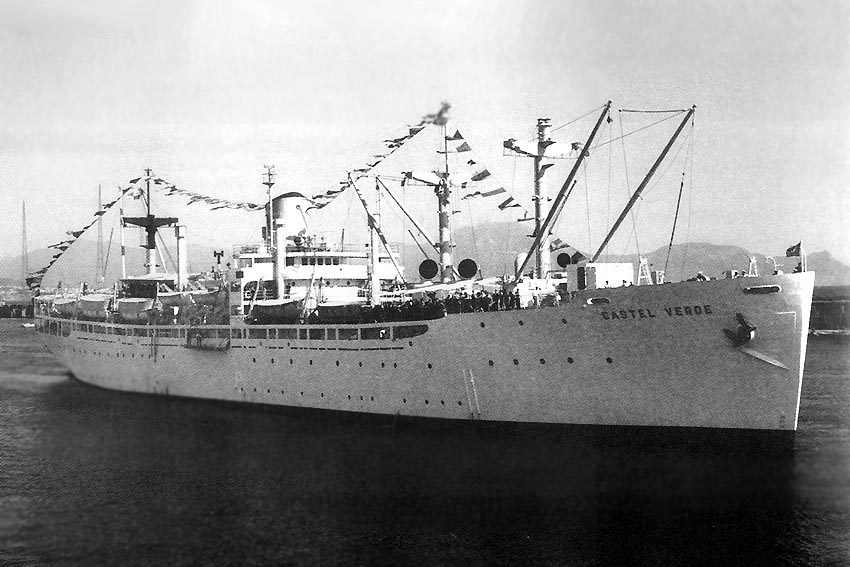 The just completed SS Castel Verde departs Naples on May 24, 1950 bound for Buenos Aires
Upon completion, the updated SS Castel Verde returned to service with 914 passengers on board all bound for Buenos Aires being her new service and she departed Genoa on May 22, 1950 and she called in at Naples on May 22. However, it was now decided to change her official registration and ownership, and she was transferred from Alvion to the Sitmar Line and she was now registered in Rome, flying the Italian flag!
Refit Three - 1953 a Major Rebuilding Programme:
She operated her South American service for a total of four years, however during this time she had operated a number of sailing to Australia. However, having returned to Italy from South America she headed to the Muggiano Shipyards at La Spezia on April 1953 where she would receive her largest of all her refits and on June 2 she would head for Genoa looking like a new ship with far superior facilities for 455 in Tourist Class being accommodated in comfortable cabins, and 578 in 32 superior dormitories, her crew increased to 275. However, her public facilities were greatly improved with more lounges and other facilities as found on most passenger liners; in addition her superstructure had greatly enlarged, providing more deck space for her passengers! She was now registered as being 9,006 GRT.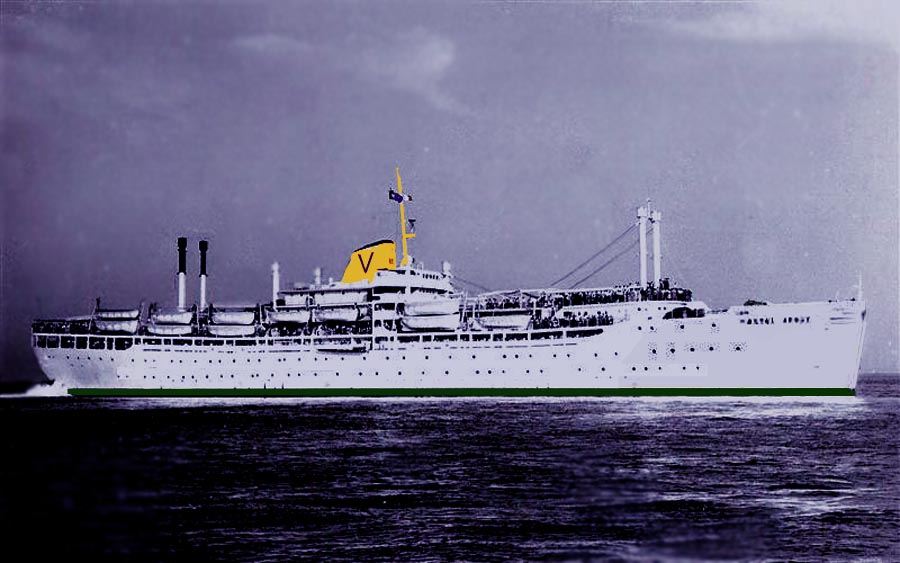 Here we what looks like an almost new ship as the Castle Verde heads for Australia
A year earlier, her sister the Castel Bianco received much the same rebuild and refit, yet the Castel Verde was one deck lower than the sister when she was finished, apart from this they looked very much similar.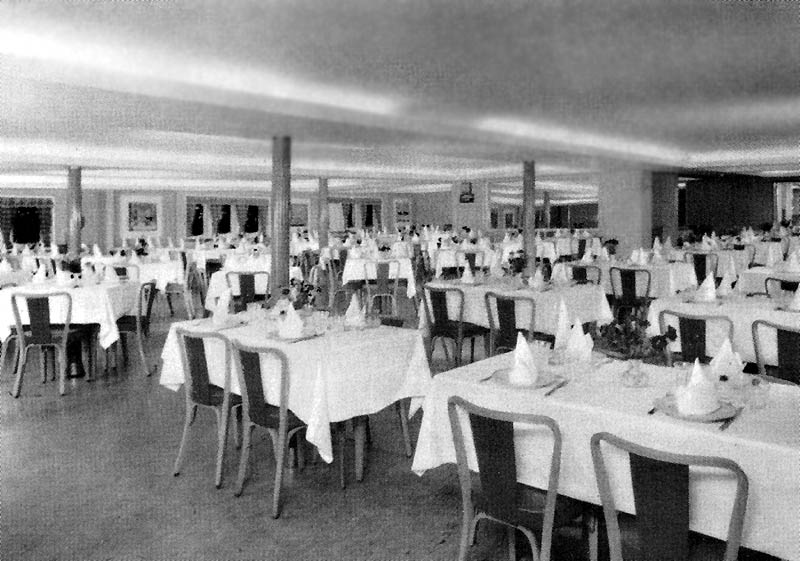 The Main Dinning Room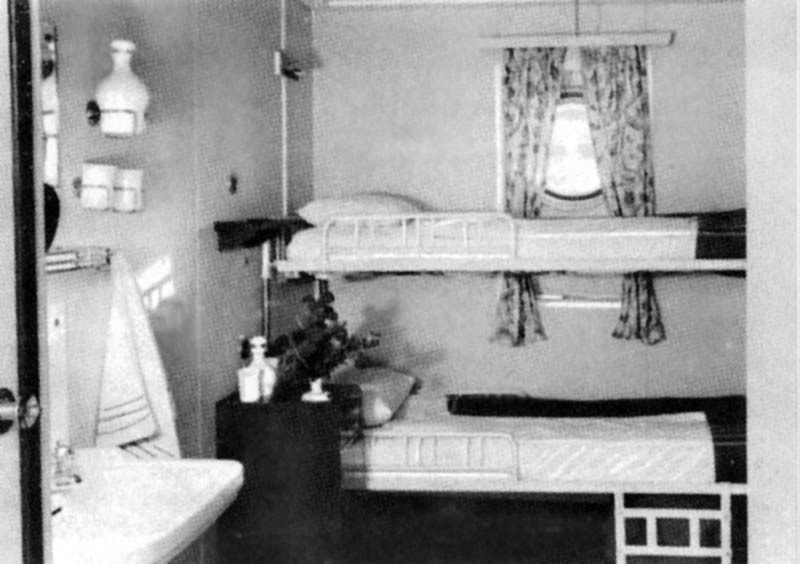 Here we see one of the comfortable two-berth outside cabins
As soon as the Castle Verde was completed she returned to the Central American service, but in 1954, however, she did operate four voyages to Australia, these being 1, July 1953, 2; April, 3; June and 4; October 1954 the latter being her very last visit to Australia ever! Thereafter she was mostly used on a new line service between Italy and the Caribbean; sailing from Genoa via Vigo, Lisbon, Madeira, Tenerife to Willemstad in Curacao. On her return she would also stop at Kingston to embark Jamaicans.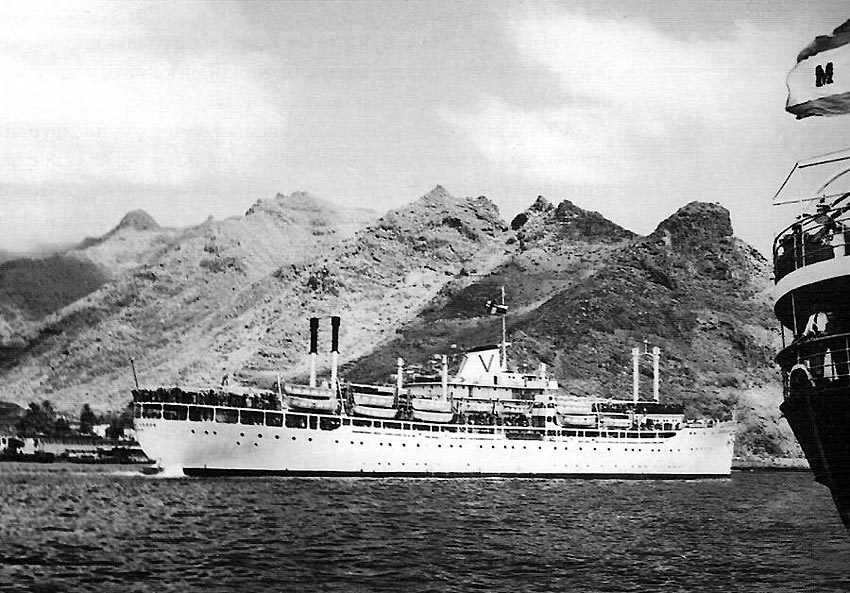 Seen the Castel Verde after she had her 1953 rebuild
As the SS Castel Verde arrived in her Homeport of Genoa late on March 28, 1957 the Captain and the ships crew of around 202, were aware that this had been their final voyage on their ship many had been on board for a considerable time, and the Wooster Victory / Castel Verde had become like a second home to them.
However, Sitmar had now sold her as they felt it was time to let their other fleet members Sitmar had decided to dispose of her and her sister for that matter considering Sitmar was still operating three ships on the Australian service, with occasional Trans-Atlantic voyages, etc.
These ships were the: SS Castel Felice 1952–70, MS Fairsea (1) 1949-1969 and the SS Fairsky (2) 1957-1977.
The Castel Verde was laid up and was sold in April 1957 to The Spanish Line.
SS Montserrat:
"Compania Transatlantica Espanola S.A," or "The Spanish Line" purchased the SS Castel Verde and renamed her "Montserrat." She was given an extensive refit at Barcelona vastly improving her interiors with her public facilities being redecorated, making her far more attractive as a cruise ship. Cabins offered were from two, three, four and some six-berth cabins, either with a porthole or inside. There were some with private facilities, but others had shared facilities. Her passenger capacity was vastly reduced to just 708 passengers and when completed, she commenced service as a British based cruise ship in Southampton in August 1958.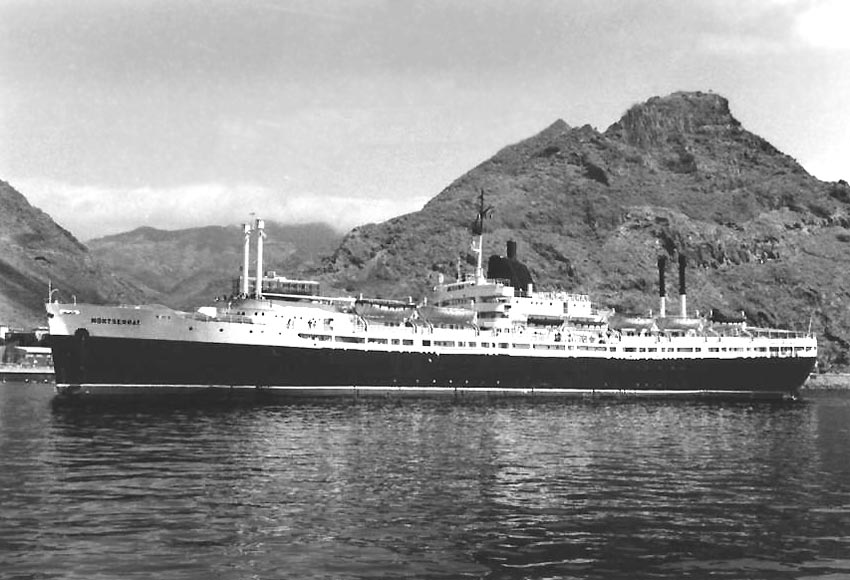 The Montserrat is seen here
The SS Montserrat operated the following service: Southampton, (Santander) Corunna, Vigo, Las Palmas, Tenerife, La Guaira, Trinidad, Barbados, (St Kitts) Tenerife, and Vigo back to Southampton. However, at times she would omit Southampton and commence or conclude the cruise in Spain.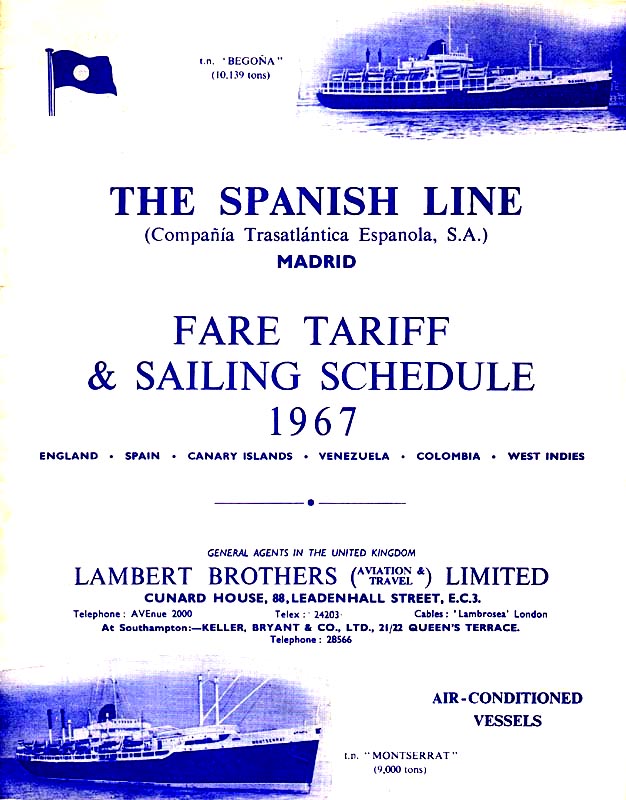 Here we see a 1967 Fare and sailing schedule for the Two Spanish Line ships
However, the SS Montserrat did make a single voyage to Australia. She departed Naples on May 6, 1959 but early into her voyage she started to suffer boiler problems, which grew worse and worse to the point that the ship was forced to reduce speed. By the time she reached Colombo she had to remain there for two full weeks to make urgent repairs. She departed and headed for Fremantle (Perth) Western Australia arriving on June 29. Inspectors came on board and her lifeboats failed safety inspections and the authorities refused to give the ship permission to proceed any further until she was fully compliant! Her passengers were forced to disembark and had to find their own way to their destinations. When the ship was finally compliant to sail, the Montserrat was permitted to depart on July 8, 1959 and she returned to Spain. Having returned, further repairs were made and once she was in a far better state, she continued on the Venezuela service until August 11, 1970 with 660 persons on board the ship suffered a major break down, leaving her adrift mid Atlantic. Thankfully the SS Begona happened to be close and she rushed to her rescue and took on board all of Montserrat's passengers, which meant she now had a total of 1,530 persons on board, considering food supplies, the Begona headed for port, thus leaving the Montserrat adrift for the next four days when a tug finally was able to reach her and take her in tow and to port where repairs were made. She returned to service for several more years, however in February 1973 she was sold to Spanish ship breakers and was scrapped at Castellon Spain that year.
Specifications:
Built:                           1945 Bethlehem-Fairfield, Baltimore, USA.
Hull No:                       779.
Tonnage:                     8,254 GRT (1947).
.                                 9,006 GRT (1954).
Length:                        138,7m.
Beam:                         18,9m.
Draught:                      10,49m.
.                                 1 H.P. & L.P. DR geared turbines 6,600 SHP.
Propeller:                     Single.
Speed:                         15 knots.
Operator:                     Alvion S.S. Corporation (1947 - 1950).
.                                 Sitmar Line, Genoa (1950 - 1957.
.                                 The Spanish Line 1957 - 1973).
Speed:                         15 knots.
Passengers:                  890 (1947 - 1950).
.                                 914 (1950 - 1953).
.                                 1,033 (1953 - 1957).
Other Names:……………..….Wooster Victory (1945 - 1953).
.                                 Spanish Line, Montserrat (1957-73).
Passengers:                  708 One Class (No cargo).
Broken Up:                   Spain 1973.
***************************
History - Part Two
SS Vassar Victory
1954 to 1947
-

SS Castel Bianco
1947 to 1957
Later: SS Begona 1957 to 1975
SS Castelbianco:
The SS Vassar Victory was the sold to Vlasov's "Compannia Argentina Navegacion de Ultramar" and she was reregistered to Panama. She departed Boston and headed for the Adriatic port of Ancona, arriving on July 19, 1947. The day after her arrival she was renamed "Castlebianco" and her registration was transferred to the Italian flag and her funnel was painted yellow with that famed big blue

V being the "Vlasov" logo. At first she was used as a simple cargo ship.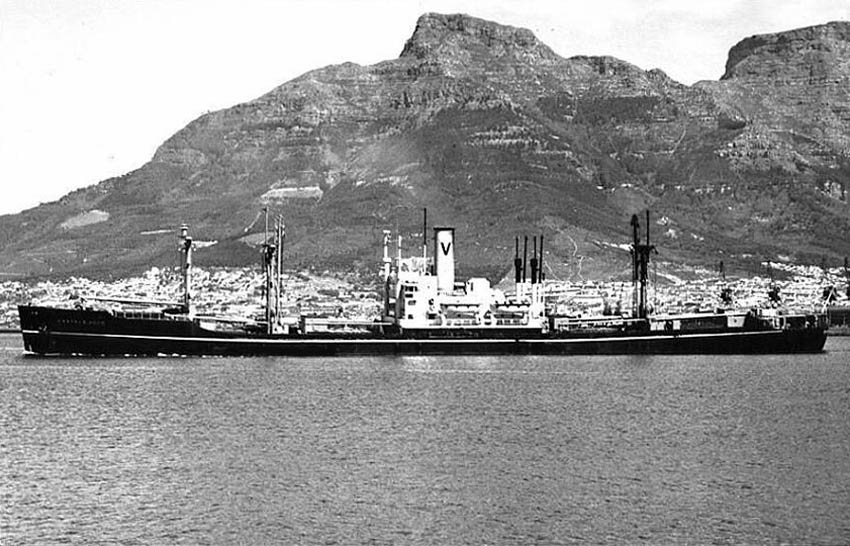 The SS Castlebianco is seen here at Cape Town in 1948 with her original black hull

The cargo ship, SS Castlebianco departed Ancona on August 16, 1947 for an around the world voyage, which became to say the least a horrific voyage! Amazingly she was collided twice with two other freighters, in addition she was grounded at one stage and heading for Sydney she was caught in a severe storm damaging her badly. She finally arrived in Sydney on April 23, 1948 and remained there for a two months in order to make the necessary repairs. Whilst at the Sydney's Shipyard's, the Australian's were able to give her a partial interior refit in order to install some humble accommodations for 480 passengers.

It would not be until October 14, 1948 that the

Castlebianco arrived for the very first time in Genoa, Italy with a crew complement of forty-four. Again, with the company having signed a contract with the IRO, the Castlebianco had taken on board a full complement of refugees and made ready to depart, which she did on October 19, 1948 and she headed for Sydney, Australia, where she arrived on November 19. Castlebianco, as did the SS Wooster Victory, was called to head for Shanghai where she was filled to capacity with Russian Jews who were fleeing persecution in China.

SS Castlebianco continued voyages from Genoa via Naples sailing via the Suez Canal, Melbourne and Sydney, with emergency voyages to the East Indies (Indonesia) to collect Dutch citizens who were suffering persecution, after the nation had proclaimed its independence, and thus they and Indonesian's who preferred to depart also would sail to Amsterdam or Rotterdam The ship operated on this service until April 19, 1950, for thereafter Bremerhaven would become her homeport for the Australian service!
First Major Refit in 1950:
The Castlebianco arrived in Genoa from Bremerhaven after returning from a voyage to Australia on July 13, 1950 and she was placed at the Calata Sanita Fit-Out berth where she would undergo a radical transformation to become a passenger Liner.
She was fitted steerage accommodations for 1,132 passengers with a crew of 122Whilst the deckhouse aft of her smokestack was enlarged where a new Social Lounge was fitted, whilst other public facilities were located elsewhere. In addition her hull was painted white and a full row of portholes were added in her hull. Besides her original four lifeboats an additions eighteen lifeboats were added, six located forward of her main superstructure and twelve aft making a total of twenty-two lifeboats.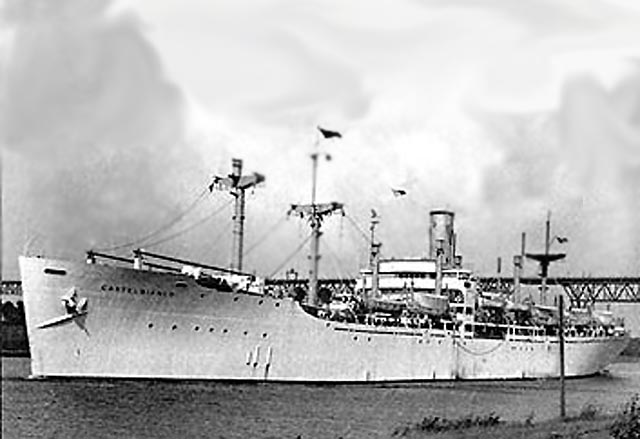 She is seen after her first major rebuild in 1950
Once completed, the SS Castlebianco headed for Bremerhaven and on September 4, 1950 she departed for Sydney and she remained on the Australian service in accordance with the IRO schedule.
However, soon she would undergo another refit that would the largest transformation take place!
Second Major Rebuild & Refit in 1952/53:
This was one of the largest refits undertaken and much was learned, for the Castle Verde's refit was undertaken a year later.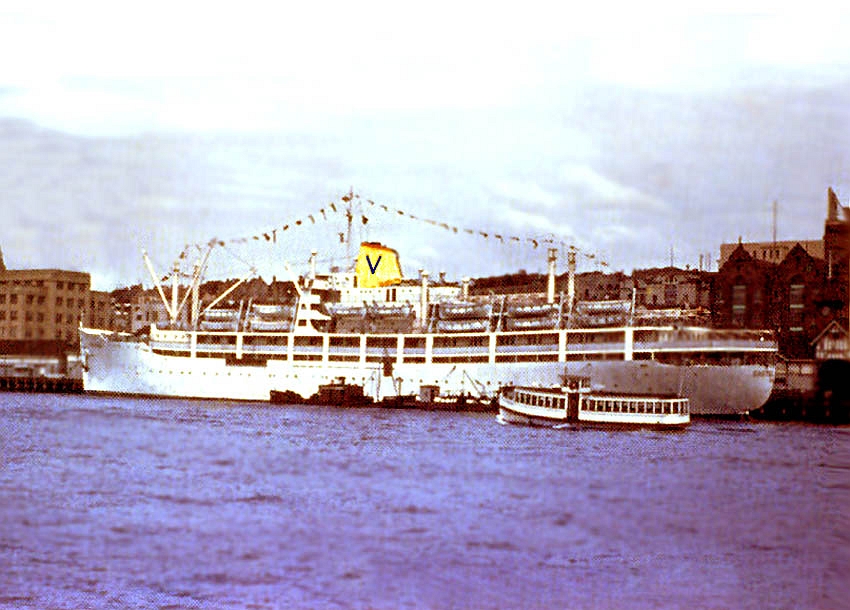 SS Castle Bianco seen in Sydney after her major refit in 1952/53
As SS Castlebianco had offloaded her passengers from Australia service on August 30, 1952, the very next day she arrived at Monfalcone Italy and the Cantieri Riuniti Dell'Adriatico Shipyards where she would undergo her very last major and most extensive rebuilding programme of her entire career! Topside there would be a new two deck superstructure, Boat and Sun Decks, surmounted by a central House, Added. The masts and cargo booms had been removed and the raised Bridge was given a new mast. A new Upper Shelter Deck or Saloon Deck was constructed in front of the original superstructure, thus extending the decks. In addition even more portholes were opened up in the hull allowing more new cabins to be fitted; as there were 111 with a porthole and 175 inside cabins. The dormitories were now reduced in size, as they were now either with 20 beds, or 42 beds. Total Accommodations was; 477 passengers in cabins, and 717 emigrants in dormitories.
B Deck: This being the lower deck is where the dormitories were located and these were segregated and all had their own facilities close by.
A Deck & Promenade Deck: This is where we find the vast majority of cabins for the full fare paying passengers, 56 cabins having private facilities.
Saloon Deck: contained the two Dining Rooms, the Reading and Writing Room, the Ladies Room, as well as the Children's Facilities and deck space, but outside this deck was encircled by the Promenade!
Boat Deck: had eight cabins forward, but aft of these was the Ballroom, Lounge with a Bar and aft a Lido Deck with an open Swimming Pool.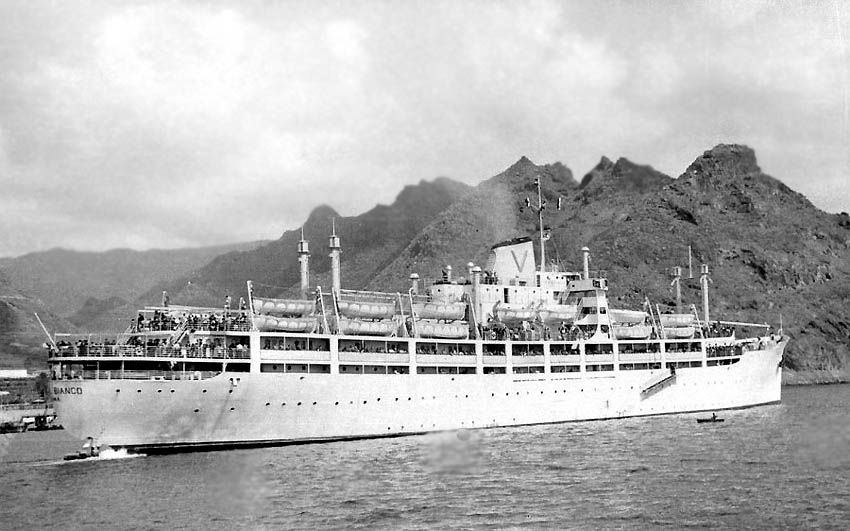 Castel Bianco seen in the mid 50's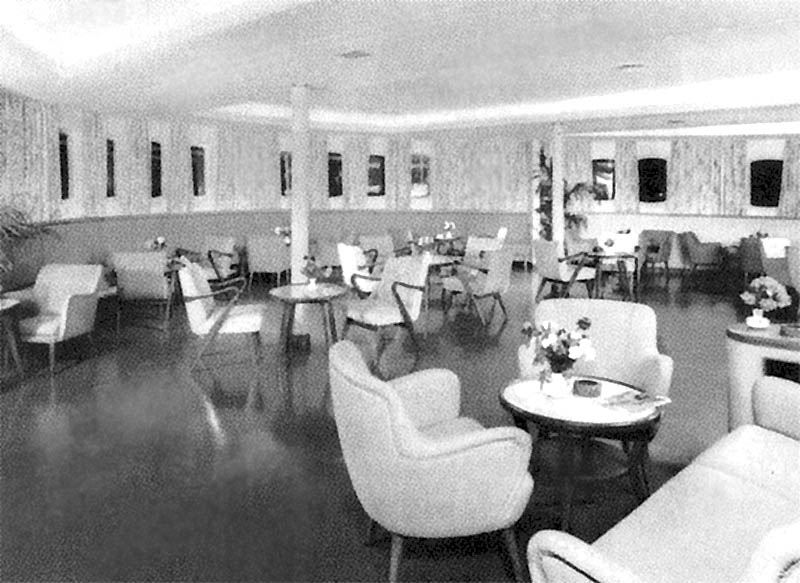 Her main Lounge & her interiors had that typical Italian flare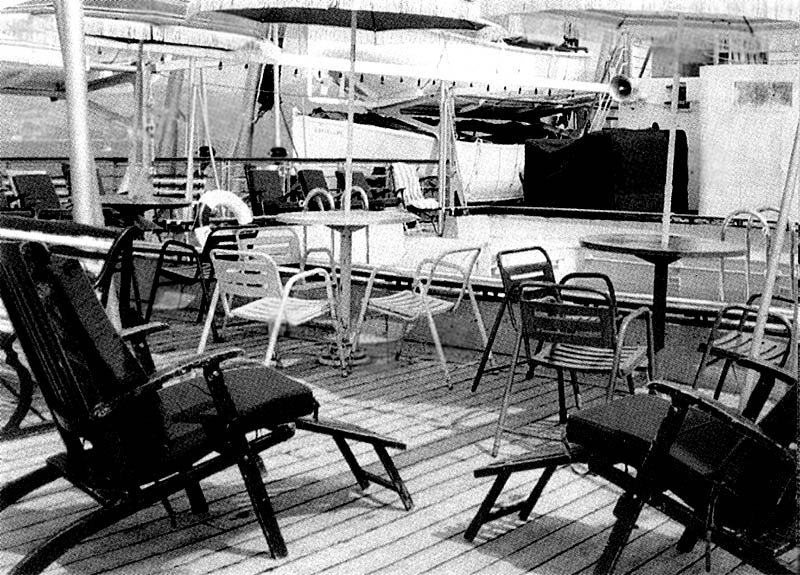 There was a pleasant Lido Deck and Swimming Pool

Upon completion her name was officially altered to Castel Bianco and she departed

Monfalcone and arrived in Genoa late on March 3, 1953 after her six-month massive overhaul and she looked superb. Many said that this ship was just no longer recognisable from what she was, and there is no doubt about the huge changes made to the old Victory ship! Although there was just one problem, she was simply top heavy and thus the Castel Bianco became known as one of the "Worst of all the Sitmar rollers" for she would roll even in smooth seas! Thus it was no wonder when they rebuilt her sister ship in 1953, they did not build her up as high!

She departed Genoa on March 7, 1953, but she inaugurated a new service for Sitmar sailing from Genoa via the Canary Islands to Willemstad in Curacao and La Guaira in Venezuela and return. She was very successful and soon the company's flagship SS Castel Felice joined became her running mate! Although during this time she did make several sailings to Canada with Hungarian migrants in the autumn of 1953. She continued the South American service until she was transferred to the Italy to New York service.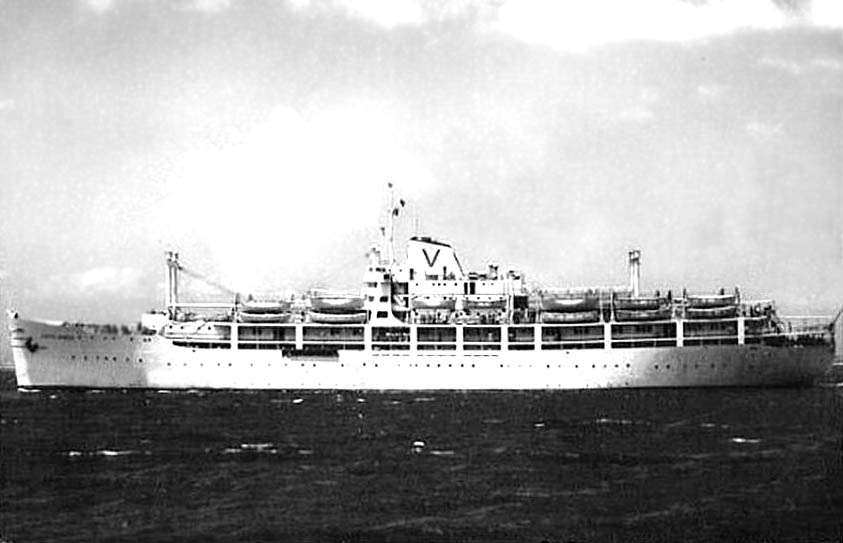 SS Castel Bianco seen heading for Sydney November 1956
In 1956 the SS Castel Verde made her very visit to Australia Australian sailed into Sydney Harbour on Thursday November 15, 1956 although unlike other final visits no one was aware, thus no crowds to see her arrive, except for family members dockside and the same for those returning to Europe.
Although, the Castel Bianco was the last of these two remarkable ships to visit Australia under the Sitmar Line banner, for her sister the Castle Verde made her last call to Sydney in 1954. Yet both ships would return to Australia in their next guises!
Considering the slowing down of the South American trade and the age of these ships, Sitmar decided to dispose of the Castel Bianco as well as her sister for Sitmar was still operating three fine ships the SS Castel Felice, MS Fairsea (1) and the SS Fairsky the new flagship on the Australian service, with occasional Trans-Atlantic voyages to New York and/or Canada.
Thus the SS Castel Bianco was laid up on February 17, 1957 and placed on the market. However within weeks a Spanish buyer came to inspect the ship and decided that she would be perfect for The Spanish Line as Cruise ships!
SS Begona: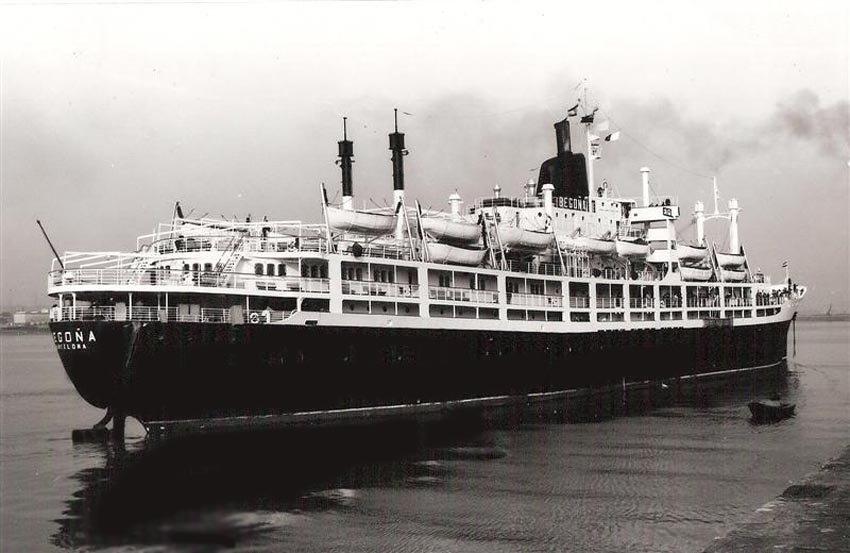 The Spanish Line Cruise Ship SS Begona
Thus, SS Castel Bianco was officially sold to "The Spanish Line" on March 17, 1957 who renamed her "Begona" and she departed for Barcelona where she would receive refit of not only improving her public facilities, but also deleting all dormitories and construction new and superior cabins thus reducing her passenger capacity 830 accommodated in comfortable cabins. It would be a month later that The Spanish Line would also obtain the Castel Verde and convert her.
In May 1957 the refit on the SS Begona had been completed and her inaugural voyages under the Spanish flag voyage would take her as far as Sydney Australia where she arrived on June 20, and she returned to Europe on July 19, 1957.
After her Australian voyage she operated on the Canary Islands, Caribbean and Venezuela service based mostly in Southampton, with occasional voyages commencing and ending in Spain.
Tragically, October 4, 1974 she suffered a massive engine failure and she drifted for a several days, until the German tug "Oceanic" took her in tow to Bridgetown, Barbados. There she remained laid up there and it was considered that it was not worthwhile repairing her and thus she would be sold for scrap. She finally departed the next year for Castellon in Spain where she was broken up in 1975.
Specifications:
Built:                           1945 Bethlehem-Fairfield, Baltimore, USA.
Hull No:                       818.
Tonnage:                     7,223 GRT (1947).
.                                 10,139 GRT (1954).
Length:                        138,7m.
Beam:                         18,9m.
Draught:                      10,49m.
.                                 1 H.P. & L.P. DR geared turbines 6,600 SHP.
Propeller:                     Single.
Speed:                         17 knots.
Operator:                     Sitmar Line (1947 - 1957).
..                                The Spanish Line 1957 - 1973).
Speed:                         17 knots.
Passengers:                  480 (1947 - 1950).
.                                 1,132 (1950 - 1953).
.                                 1,194 (1953 - 1957).
Names:                        Vassar Victory (1945).
Sold to become:            Begona (1957-73).
Passengers:                  830 One Class (No cargo).
Broken Up:……………………Castellon, Spain 1975.
Also Read:………….………..The Karlsson family sail to Canada on the Castel Bianco.
Or Return to:………………..The Sitmar Ships - INDEX.
"Blue Water Liners sailing to the distant shores.
I watched them come, I watched them go and I watched them die."
****************************
Return to the ssMaritime Main INDEX
Where you will discover around 690 Classic Passenger & Passenger-Cargo Liners!
ssMaritime.com & ssMaritime.net
Where the ships of the past make history & the 1914 built MV Doulos Story
Please Note: ssmaritime and associated sites are 100% non-commercial and the author seeks no funding or favours of any shape or form, never have and never will!
Photographs on ssmaritime and associate pages are by the author or from the author's private collection. In addition there are some images that have been provided by Shipping Companies and private photographers or collectors. Credit is given to all contributors. However, there are some photographs provided to me without details regarding the photographer/owner concerned. I hereby invite if owners of these images would be so kind to make them-selves known to me (my email address may be found on www.ssmaritime.com only), in order that due credit may be given.
This notice covers all pages, although, and I have done my best to ensure that all photographs are duly credited and that this notice is displaced on each page, that is, when a page is updated!
ssMaritime is owned & © Copyright by Reuben Goossens - All Rights Reserved