Sitmar Line - TSS Castel Felice
Please Note: Firefox and some other search engines are not suitable – Use "Internet Explorer" for this page to load perfectly!

Click the logo above to reach the ssMaritime FrontPage for News Updates & "Ship of the Month"
With Reuben Goossens
Maritime Historian, Cruise'n'Ship Reviewer & Author
Please Note: All ssMaritime and other related maritime/cruise sites are 100% non-commercial and privately owned. Be assured that I am NOT associated with any shipping or cruise companies or any travel/cruise agencies or any other organisations! Although the author has been in the passenger shipping industry since 1960, although is now retired but having completed around 690 Classic Liners and Cargo-Passengers Ships features I trust these will continue to provide classic ship enthusiasts the information the are seeking, but above all a great deal of pleasure! Reuben Goossens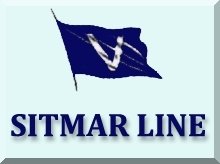 The Sitmar Ships
Part Two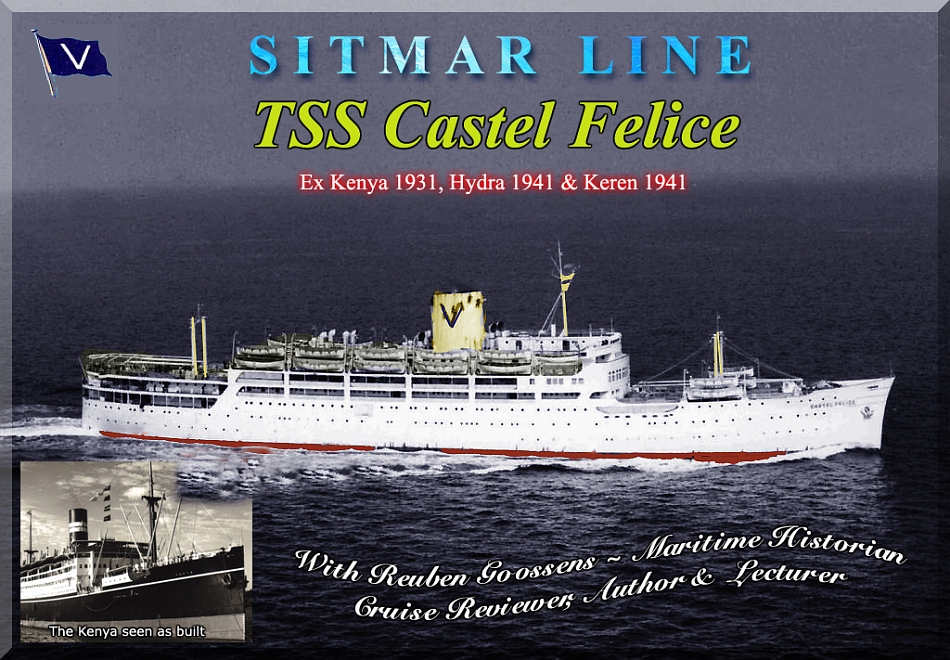 Please Note: Unless marked otherwise, photographs and images on this page are from the authors' private collection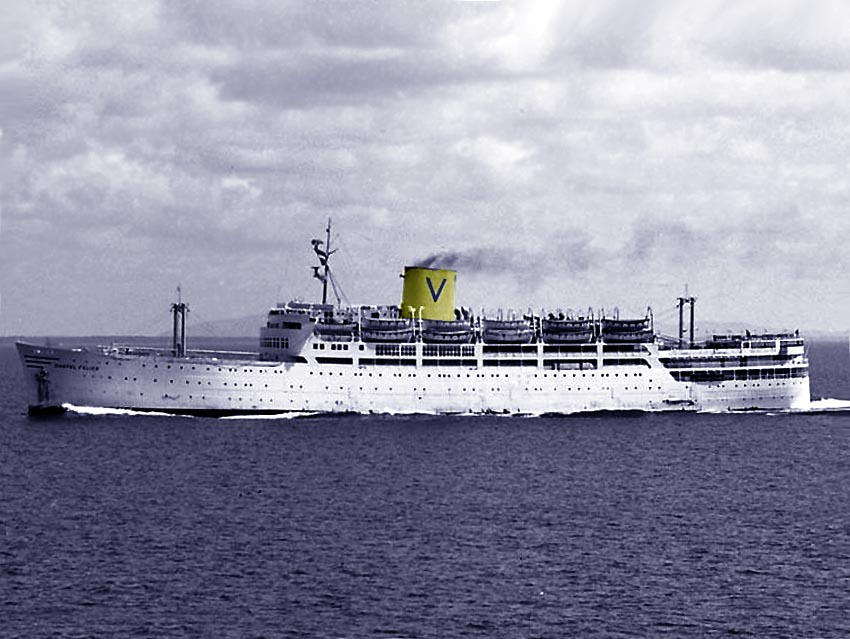 TSS Castel Felice seen off the coast of New Zealand

Robert Brinkhuis sails on TSS Castel Felice in 1965

Please Note

: All images on this page (except the two above) were provided by Robert Brinkhuis of the Netherland's. Some were taken directly from the TSS/TV Castel Felice Brochure/Cabin Plan, Passenger List, and photographs part of Robert's collection, and there are some photographs that were taken by the ships photographer. I hereby sincerely thank him for his delightful story and the wonderful memories!

(TSS = Turbine Steam Ship – TV = Turbine Vessel).

Reuben Goossens.

"My Father and Mother, Michiel and Jonna, my sister Regina and myself sailed on the TSS Castle Felice from Auckland New Zealand, via Australia and the Suez Canal to Naples Italy which departed Auckland on Wednesday January 29, 1965. From Auckland to Sydney we were accommodated in cabin 424 on C Deck right in front of the Main Stairwell.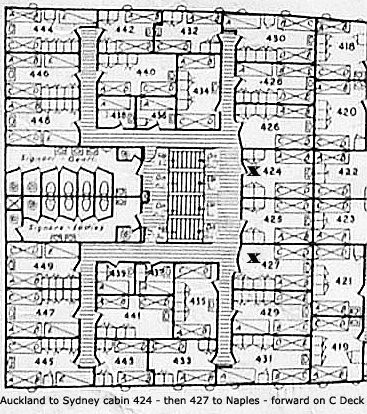 We departed Auckland just after midnight and as the ship was departing from the harbour they played the song "Now is the hour" and hearing this beautiful Maori farewell song and seeing the lights of Auckland slowly fading away gave me shivers down my spine. Even now back in Holland so many years later, whenever I hear this song I get the shivers and some tears often appear, such was the memory of this event! It's strange, but even at just 13 years of age New Zealand left an enormous impression on my life as did the departure late that night.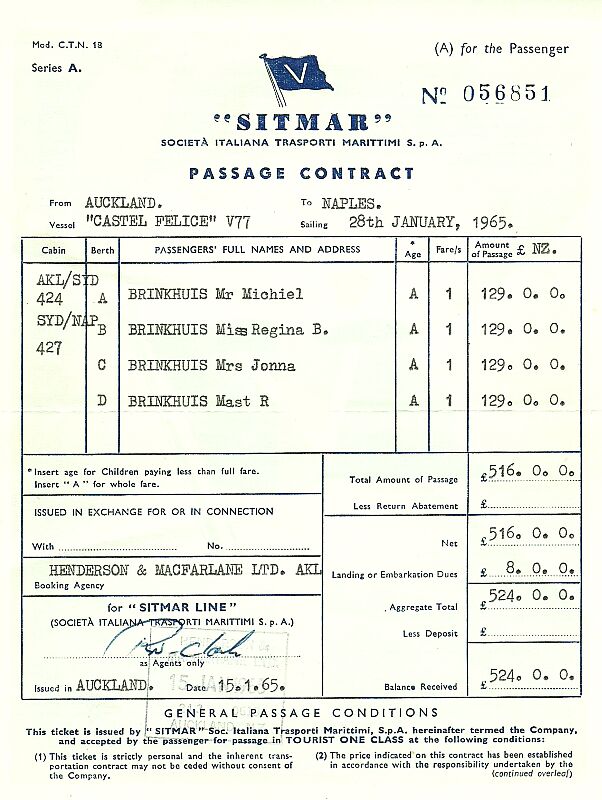 Our passage ticket Not bad, just NZ£129 per person for almost eight weeks at sea!
However, our voyage across the Tasman proved to be a rather rough one as this is the cyclone season in the region and we seemed to be heading into the edge of one and Captain Avolio Matarese who had been on board this ship for almost 13 years, said that he had never experienced such rough seas. But we got through it. When we reached Sydney we had to change our room to cabin number 427 just two down from the one we had been in. They were both very much the same, an inside four berth cabin, with my Father and Mother occupying the lower berths and my sister and me the top bunks. The bathrooms with showers and everything were just a few meters away, just behind the main stairs, the ladies on the starboard side and the gents on the portside.
Having left Sydney, which was sort of the beginning of the ships homeward voyage, there was the Captains welcome aboard party, where we were welcomed by the Captain and the officers. It was a great night with canapés and drinks and a lot of fun.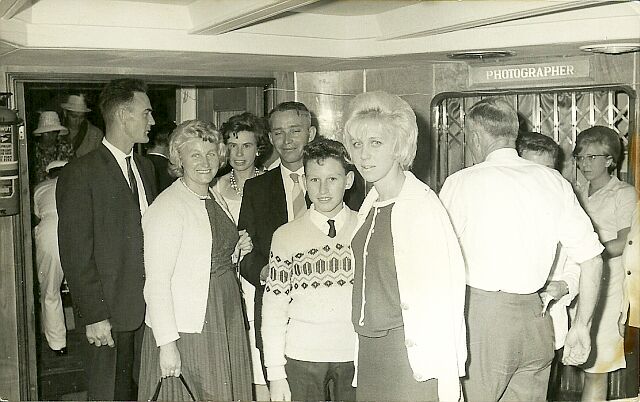 Here is our family arriving at the Captains welcome aboard part in the "Belvedere Lounge"
The Castel Felice was a really a nice and quite a modern ship with an excellent range of lounges on Saloon Deck with the swimming pool located aft, and I really enjoyed the voyage all the way.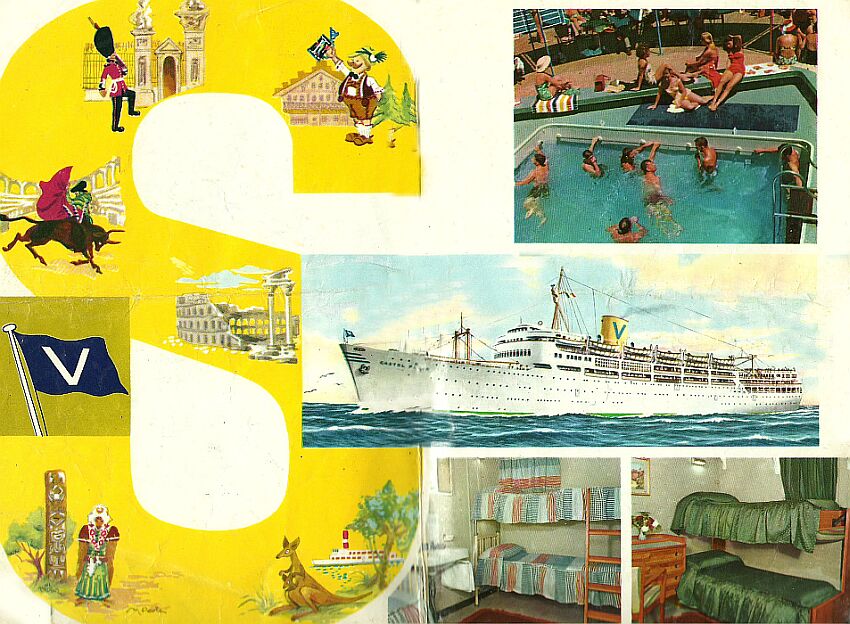 Opening page of the cabin plan & brochure
The crew and the service on board were excellent and it was a friendly ship. The entertainment was basic compared to the cruise ships of today, but certainly most enjoyable, for the Italian band played all the most popular songs and there was dancing every night, and other events, such as playing table tennis, the horse races was always really very exiting to watch, then there were those great big pillow fights in the swimming pool and all the deck games.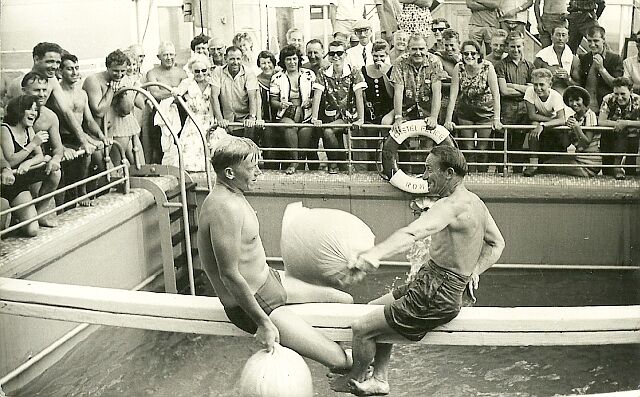 These games at the pool were always a lot of fun and laughter
I really enjoyed the Crossing of the Equator Ceremony on February 13. This event was a great deal of fun and the Italian's certainly know how to put on a show and a party, although it was the passengers who participated. My sister Regina was selected to be one of the victims and she was covered in all that slop and spaghetti they cover you with. Such fun!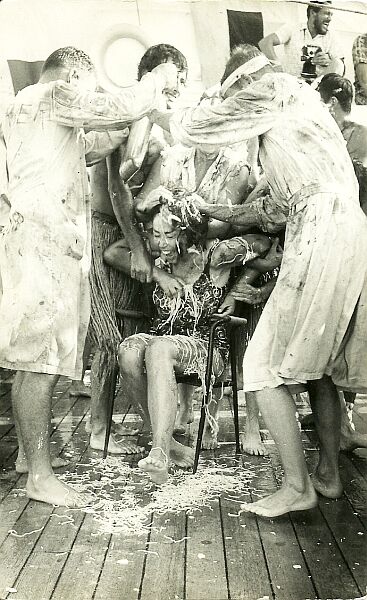 Spaghetti and sauce going everywhere, now is this not fun>
Travelling through the Suez Canal a magician who was said to be the brother of the well known Fred Kaps, gave a great show on board and we certainly enjoyed that. The crew were very friendly and nothing was ever too much to ask!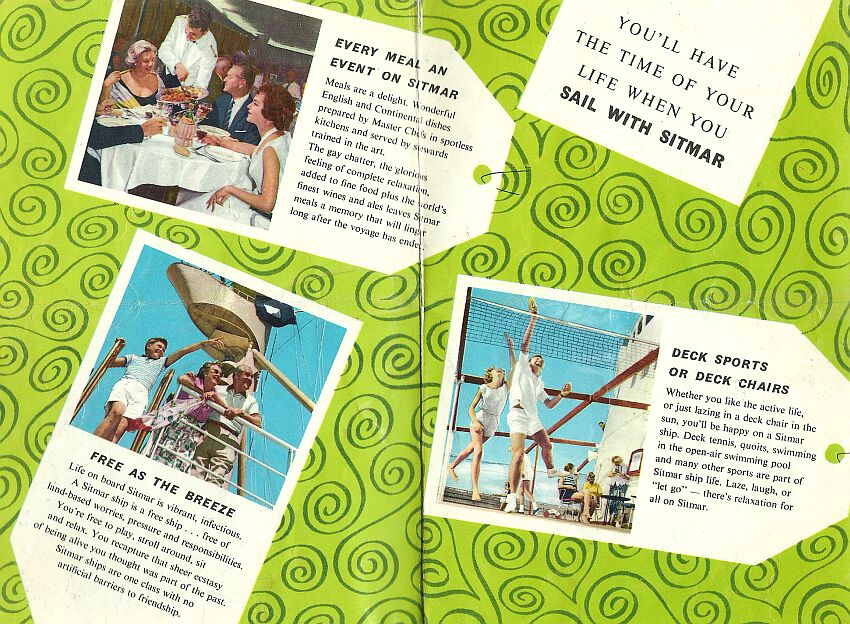 Introduction page of the cabin plan & brochure
I also remember the fancy dress balls, and being able to visit the Bridge of the ship and talking to some of the officers there. It was a great time, for I was young and really enjoyed the ship and the voyage as did my parents!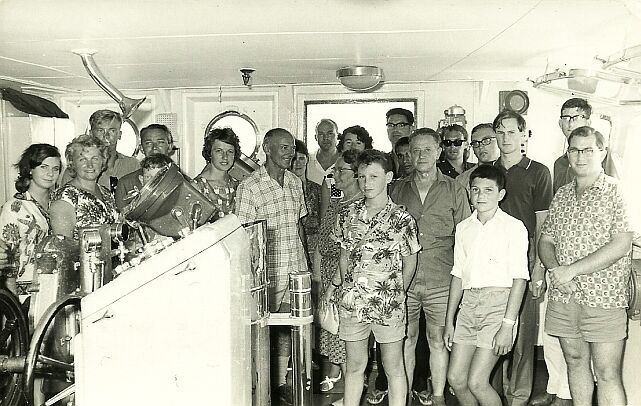 That's me in the middle on the Bridge with a whole group of people
But finally this delightful voyage came to an end as we arrived in Naples.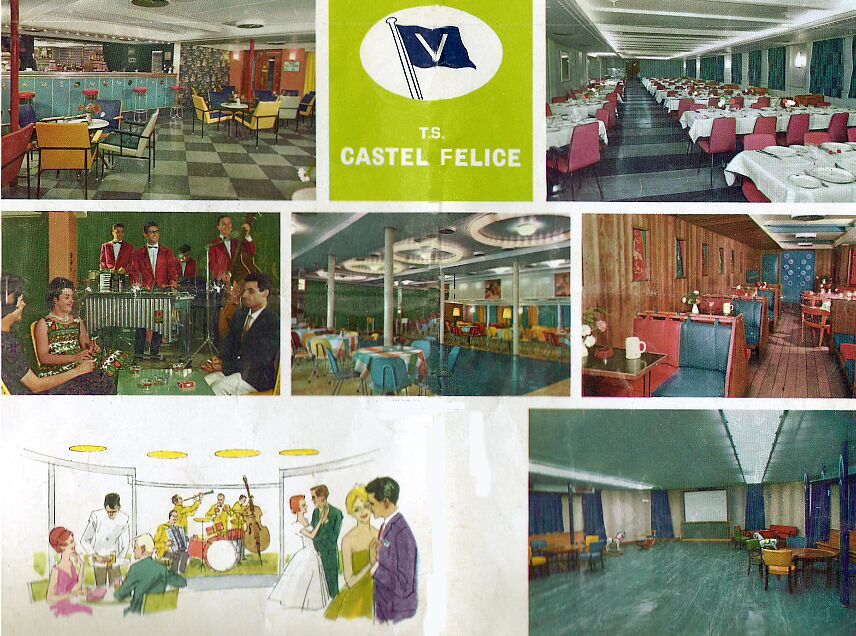 Images of TSS Castle Felice's excellent facilities
We had decided in advance get off the ship in Naples and to take a train from there to Arnhem in The Netherlands. Why? Because it was cheaper and so much faster than continuing with the ship all the way to Southampton, for then we would have had to transfer from Southampton to the ferry terminal, which is quite a distance by train and take an overnight ferry and then yet another train ride. Thus, by going from Naples by train meant only having to change once in Rome and this was by far a better and a much cheaper option, because we saved on the additional nights on board!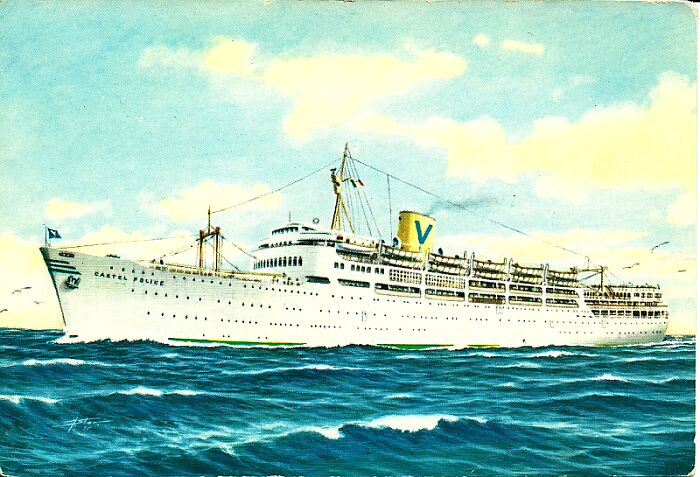 We have always kept this postcard of the ship safe, for we have so many wonderful memories of her!
Sadly, only recently I discovered that after we had left the Castle Felice in Naples, that our delightful Captain had died of a heart attack just after the ship departed Naples, thus Castle Felice had to return to the wharf to take on another Captain before recommencing her voyage to Southampton. Thus having learned this, I am so glad that we had left the ship, for it would have been so sad had we remained onboard!
My memories of the Castle Felice will always remain, for what a wonderful ship she was, for those were the days when there were real ships at sea, ships that felt like ships! In addition, the Italian's I have to say has a knack of making you feel at home and they did that with lots of good food and simple fun and good humour!
Thank you Sitmar Line!
Robert Brinkhuis - The Netherlands.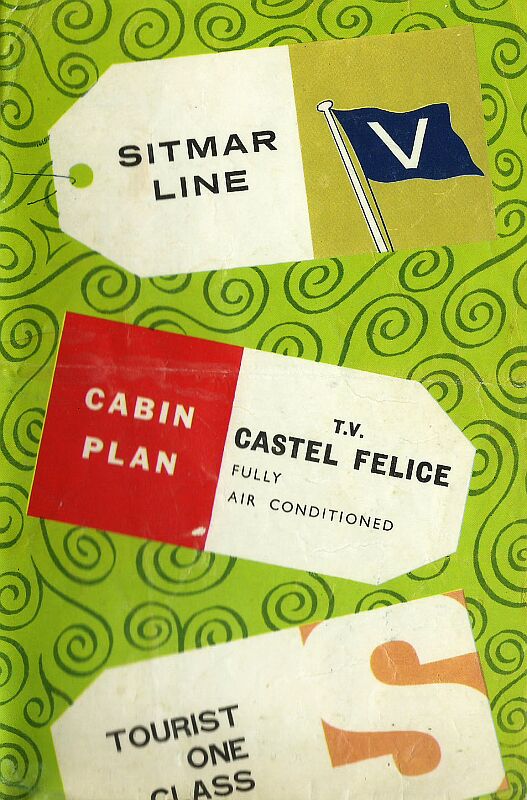 Front cover of the Cabin Plan & brochure
The Cabin Plan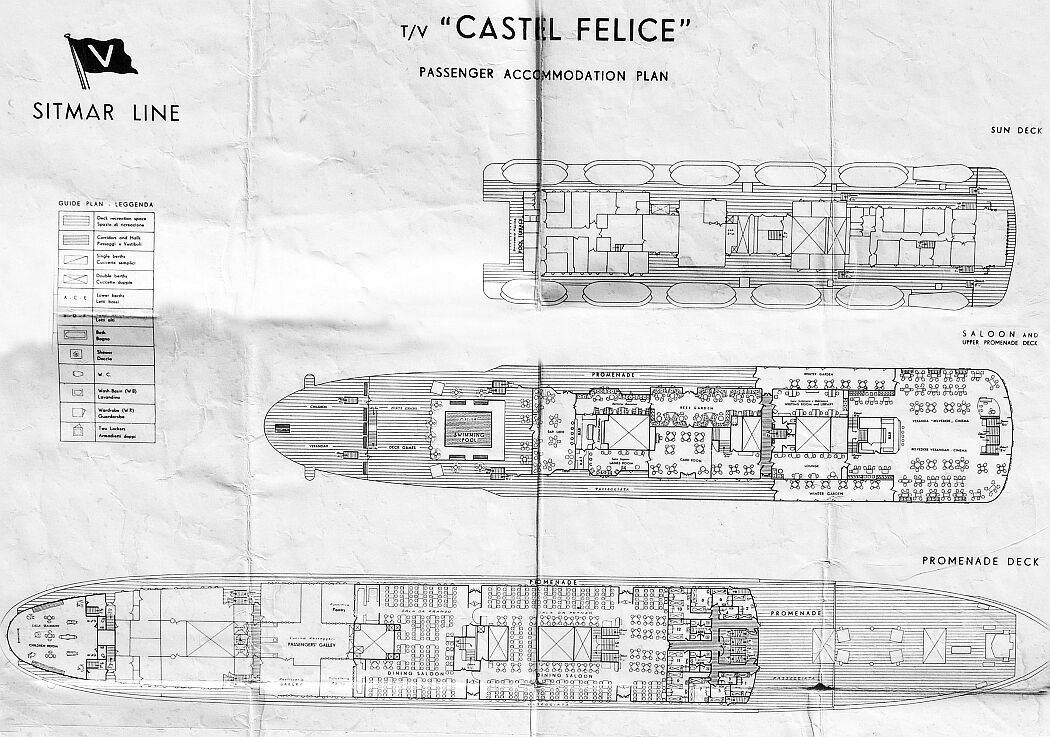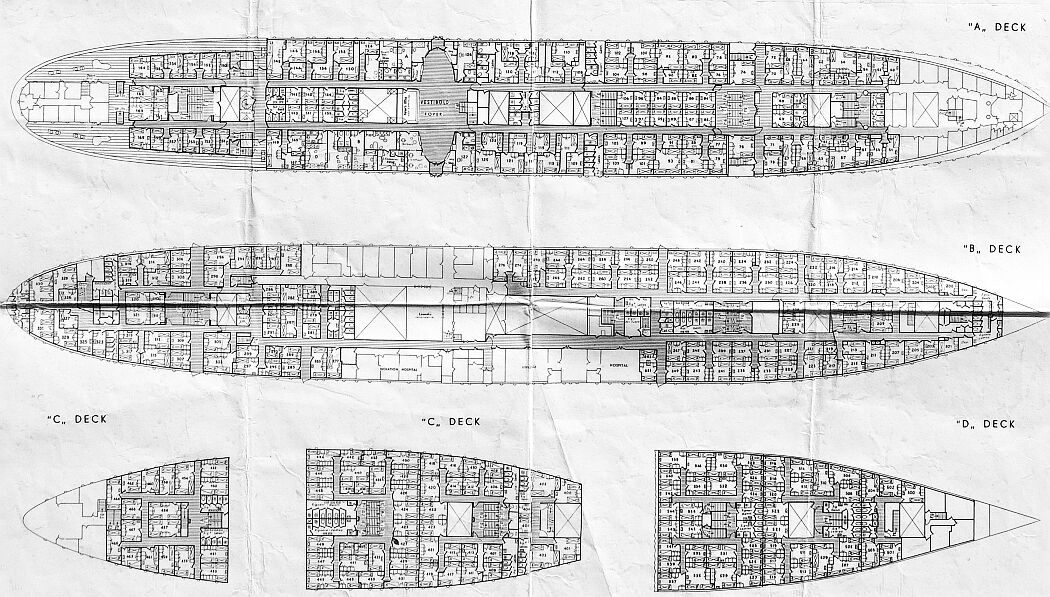 TSS Castel Felice Passenger Accommodation Plan

Visit this page for our Passenger List (to come online soon).

**********************************

The Castel Felice

INDEX:

Castel Felice-1 - History Page.

Castel Felice-2 - Cabin Plan & the Robert Brinkhuis story 1965 - This Page.

Castel Felice-3 - My 1957 voyage to Canada by W. D. Hempel.

Castel Felice-4 - The Williams family sail to Australia in 1957.

Castel Felice-4 - A family's voyage to Australia - on another site!

Or Return to:……The Sitmar Ships - INDEX - For all the Other Sitmar Ships!

"Blue Water Liners sailing to the distant shores.
I watched them come, I watched them go and I watched them die."

****************************

Return to the ssMaritime Main INDEX

Where you will discover around 690 Classic Passenger & Passenger-Cargo Liners!

ssMaritime.com & ssMaritime.net

Where the ships of the past make history & the 1914 built MV Doulos Story

Please Note: ssmaritime and associated sites are 100% non-commercial and the author seeks no funding or favours of any shape or form, never have and never will!

Photographs on ssmaritime and associate pages are by the author or from the author's private collection. In addition there are some images that have been provided by Shipping Companies and private photographers or collectors. Credit is given to all contributors. However, there are some photographs provided to me without details regarding the photographer/owner concerned. I hereby invite if owners of these images would be so kind to make them-selves known to me (my email address may be found on www.ssmaritime.com only), in order that due credit may be given.

This notice covers all pages, although, and I have done my best to ensure that all photographs are duly credited and that this notice is displaced on each page, that is, when a page is updated!

ssMaritime is owned & © Copyright by Reuben Goossens - All Rights Reserved