Sitmar Line - TSS Fairsky (2) 1957-1977
Please Note: Firefox and some other search engines are not suitable – Use "Internet Explorer" for this page to load perfectly!

Click the logo above to reach the ssMaritime FrontPage for News Updates & "Ship of the Month"
With Reuben Goossens
Maritime Historian, Cruise'n'Ship Reviewer & Author
Please Note: All ssMaritime and other related maritime/cruise sites are 100% non-commercial and privately owned. Be assured that I am NOT associated with any shipping or cruise companies or any travel/cruise agencies or any other organisations! Although the author has been in the passenger shipping industry since 1960, although is now retired but having completed around 690 Classic Liners and Cargo-Passengers Ships features I trust these will continue to provide classic ship enthusiasts the information the are seeking, but above all a great deal of pleasure! Reuben Goossens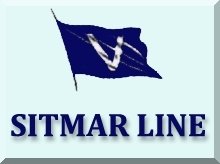 The Sitmar Ships
Part Four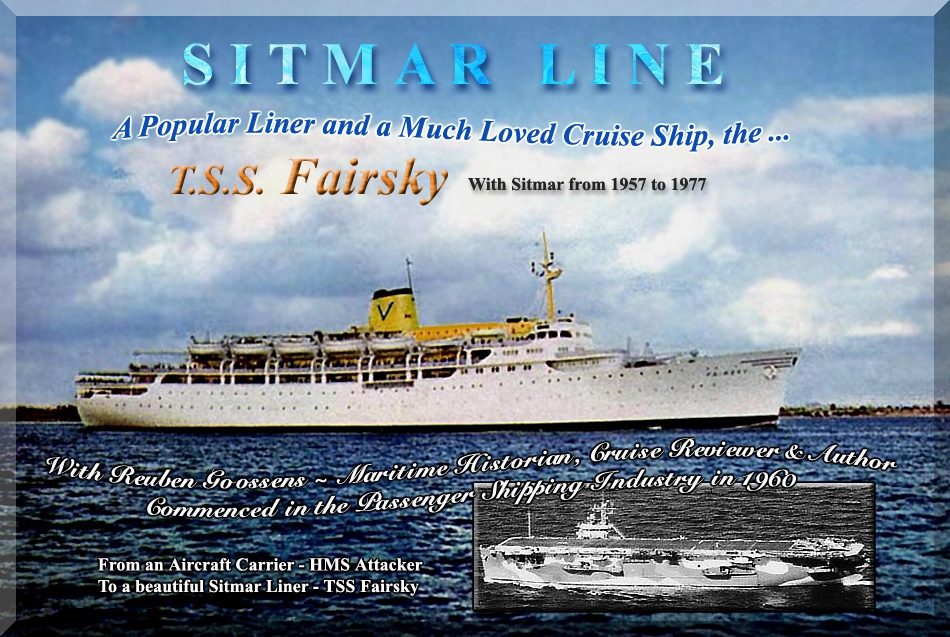 PLEASE NOTE: Photographs on this page are from the author's collection or as noted
Introduction to "The Sitmar Ships":

Over the years I have received unbelievable numbers of requests to add a feature on all the Sitmar Liners and Cruise Ships. Well, it has taken a considerable time, but in this work, I will present a short history on each ship, together with a number of photographs. Therefore, I hope and pray that the following pages will have you reliving your Sitmar experience or possibly experiences, be it sailing to or from Europe/UK to New Zealand or Australia or the America's on a line voyage or later as a passenger on one of their many cruises!

I certainly have enjoyed writing and compiling this very special feature on a company that I greatly love and have sailed with many times!

Thus now go and read all about … The Sitmar Ships.

Reuben Goossens

.
The Beginnings of the Ship that became TSS Fairsky 2:
The ship that would become the TSS Fairsky did have a rather amazing life before her remarkable transformation, for she served during World War II as an "Attack Class Aircraft Carrier" with great distinction, and it is for that reason, I believe that we should know a little of her earlier life, which was an heroic one!
The ship had been laid down on April 17, 1941 as a C3 Class freighter, the Steel Artisan, or "hull 160" under Maritime Commission contract by "Western Pipe and Steel Company," San Francisco, California for the "Ithanian Steamship Company" and she was launched late September. Upon completion in December 1941, she was requisitioned for to be converted into an aircraft carrier and she was renamed USS Barnes, but she was quickly selected to be transferred under the "Lend-Lease" agreement to the British Royal Navy.
HMS Attacker (DO2) was the lead ship in the Attacker Class of eight Escort Carriers and just one of the 38 escort carriers built in the United States for the Royal Navy during the Second World War. Western Pipe & Steel shipyards also built three other ships in the Attacker Class. Once completed the Attacker was headed to Britain and was handed over to the Royal Navy under the agreement. HMS Attacker had a ships complement of 646 men, who lived in crew accommodation that was significantly different from the old Royal Navy arrangements for the time. No longer would separate messes have to prepare their own food, for on Attacker there was just a single Galley where everything was cooked and served food was served in a cafeteria style in partaken off in a central dining area. She was also equipped with an all-electric modern laundry as well as a Hairdresser. Finally, gone were those dreaded traditional hammocks, which were replaced by three-tier bunk-beds, 18 to a cabin, the beds were hinged and could be tied up to provide more space when they were not in use.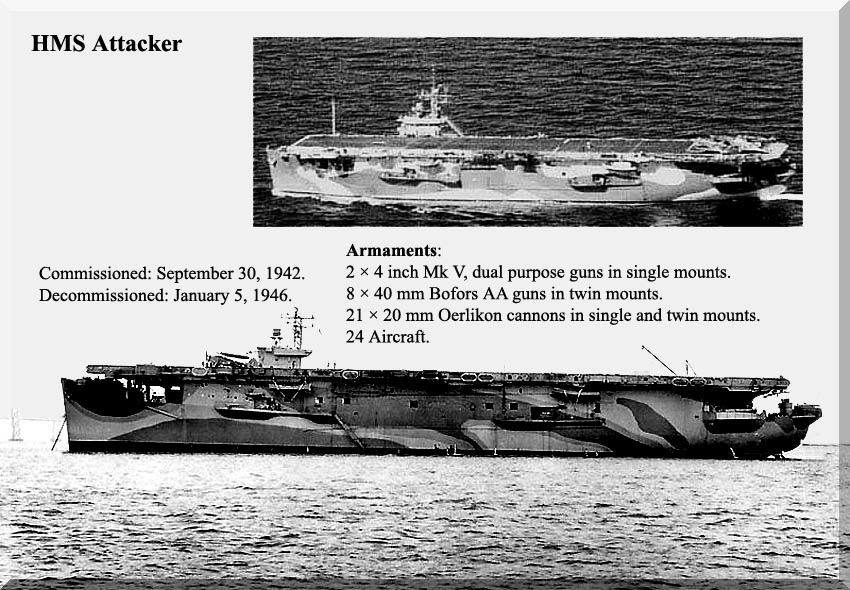 Before entering service with the Royal Navy she was sent to Burrards shipbuilders in British Columbia for one hundred and fifty modifications. These were paid for by the Canadian government. Further modifications to turn her into an assault carrier were undertaken by the Caledon Shipbuilding & Engineering Company in Dundee, Scotland. This work included the installation of an operational telephone system with over 100 telephones, as well as a new briefing room and additional cabins providing an additional 140 bunks.
HMS Attacker's dimensions were as follows: she had an overall length of 492.25 feet (150.04 m), a beam of 69.5 feet (21.2 m) and a height of 23.25 ft (7.09 m). She displaced 11,420 long tons or 11,600 tons at deep load. Propulsion was provided by four diesel engines connected to single shaft giving 8,500 brake horsepower (6,300 kW), giving the ship a speed of 17 knots (31 km/h; 20 mph), was could do 17.5 if required.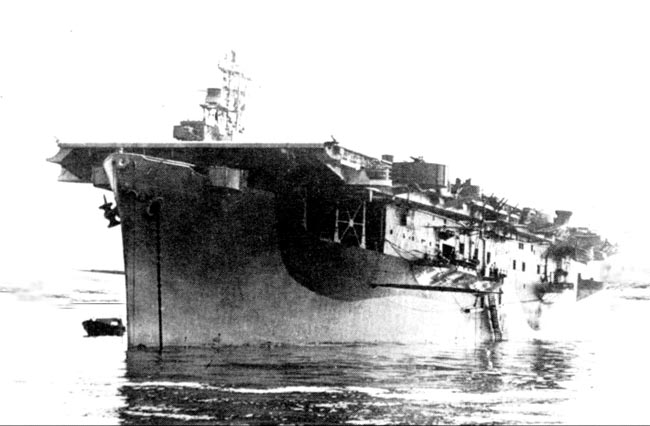 The Attacker Class Escort Carrier - HMS Attacker DO2
In her Hanger, she had the capacity for up to 24 anti-submarine or fighter aircraft, which could be made up of a mixture of the British Hawker Sea Hurricane, Supermarine Seafire, Fairey Swordfish or the American Grumman Wildcat, Vought F4U Corsair or Grumman Avenger aircraft. The composition of aircraft would depend on the squadrons that had embarked, and thus it depended on the mission. Some squadrons were composite squadrons for convoy defence and would be equipped with anti-submarine and fighter aircraft, while other squadrons working in a strike carrier role would only be equipped with fighter aircraft. Aircraft facilities were a relatively small combined Bridge–Flight Control on the starboard side and above the 450 feet (140 m) x 120 feet (37 m) flight deck, two Aircraft Lifts 42 feet (13 m) by 34 feet (10 m), and nine Arrestor Wires. Aircraft could be housed in the 260 feet (79 m) by 62 feet (19 m) Hangar below the flight deck. The ships armament concentrated on anti-aircraft (AA) defence and comprised Two × 4 inch Mk V dual purpose guns in single mounts, eight × 40 mm Bofors AA guns in twin mounts and twenty one × 20 mm Oerlikon cannons in single and twin mounts..
Attacker was designed to accompany other ships forming the escort for convoys. The anti-submarine aircraft employed were initially the Fairey Swordfish and later the Grumman Avenger, which could be armed with torpedoes, depth charges, 250 pounds (110 kg) bombs or the RP-3 rocket projectile. As well as carrying out their own attacks on U-Boats, these aircraft identified their locations for the convoy's escorts to mount an attack. Typically anti-submarine patrols would be flown between dawn and dusk. One aircraft would fly about 10 miles (16 km) ahead of the convoy, while another patrolled astern. Patrols would last between two and three hours, using both Radar and visual observation in their search for U-Boats. Attacker also had a secondary role, providing oil and provisions for her accompanying destroyers. This could be a lengthy process and was done on the move. It took 40 minutes from firing a line across to the destroyer to start pumping oil, while it took another two hours to pump 98 tons of oil and a further 35 minutes to disconnect the hosepipe and secure the equipment.
HMS Attacker received special Honours and Awards for services when in the following fields of Battle: Salerno 1943 … Atlantic 1943–1944 … South France 1944 and the Aegean 1944. During her wartime duties she also served in the waters of France as well as the Pacific. There is no doubt that she had a notable wartime career and thus her many honours! After she had completed her duties she was returned to the USA in January 1946 and was duly laid up and placed on the market.
TSS Castelforte:
It was not until October 28, 1948 that the ship was sold to "National Bulk Carriers" of New York and she was intended to be converted as a cargo ship and soon her flight deck and other fittings were due to be removed. However work was soon halted because she had been purchased in 1950 by Navcot Corporation, being one of the companies set up by Alexander Vlasov, the founder of Sitmar Lines. She was renamed Castelforte and registered under the Panamanian flag. As was the custom, foreign countries had to request permission for conversion works to be undertaken by an US shipyard from the "American Maritime Commission before removing an American ship overseas. Then in 1952 she entered the Newport News Shipbuilding and Drydock Co, where a plan was drawn up for her to become a reefer ship to transport meat from Argentina to Europe. However, the reefer plan was soon halted and she was placed into a four-year lay-up during which time she received general maintenance to keep the ship in good order.
TSS Castel Forte:
During her lay up in 1954, her name was altered from Castelforte to Castel Forte.
But finally, in February 1957 she was back in the shipyard and workers came back on board and commenced necessary work to make her fit to sail again as well as other major modifications. In Dry Dock her hull had been modified as she was given a new extended beautifully raked bow! In addition, her engine plant had been completely overhauled and air-conditioning compressors had been installed on board, at the time she certainly did not look much of a passenger ship, having only a small central housing, which was mounted by the Bridge and a basic cylindrical smokestack, but the end result was going to be stunning!
With the required hull and machinery work completed, the Castle Forte sailed to Italy and arrived in Genoa with a crew of 43 under the command of Captain Jorge Petrescu on January 28, 1958. She berthed at the T. Marotti shipyards fit-out berth, where the company worked together with 120 other Italian firms in the mammoth task transforming this vessel into a remarkable modern Passenger Liner!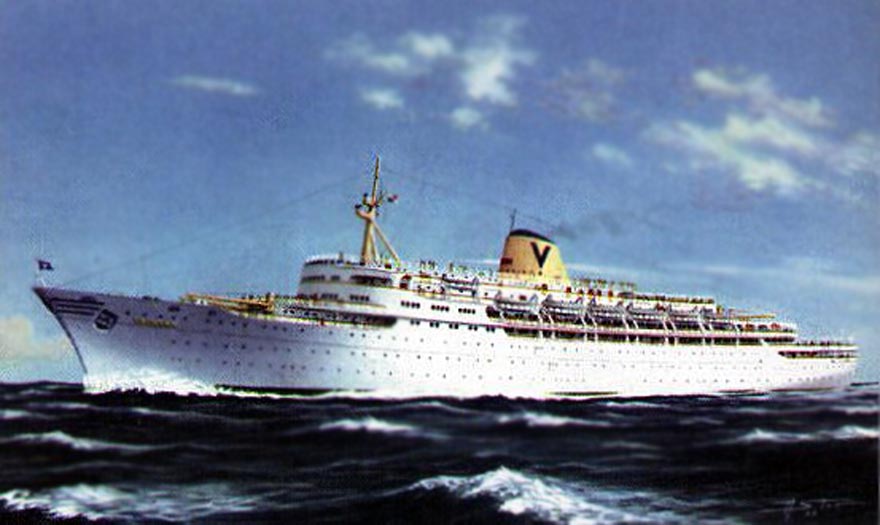 At the time the TSS that had would have four decks; Promenade, Boat, Sun and Navigation Decks, and the forward part of her superstructure was gently and perfectly rounded and atop of her bridge was a well-designed tall tripod radar mast. Amidships, there was her delightfully modern shapely funnel, which was rather reminiscent of recent "Ansaldo" Trans-Atlantic Liners as some said at the time. It was obvious that this new Sitmar liner was being carefully designed by some of Italy's and Europe's very best designers!
Her interiors were designed by some of Italy's greatest interiors designers, one of thee being the great German designer Mr Störmer from Bremen, yet the Fairsky still had that modern Italian feel throughout! She offered accommodations in 441 cabins located over five Decks, being: D, C. B, A and Sun Decks, which provided a total of 1,461 berths in a One Class configuration.
Staterooms with private facilities: Up on Sun Deck Outside "Deluxe Staterooms" A, B, C, D and Inside "Stateroom" E all had a spacious bathroom with a full bath with an overhead shower, washbasin and WC. The four Deluxe Staterooms were outside and all had a sofa that converted into a bed, as well as two berths along, thus these staterooms could be sold for two or three persons as required.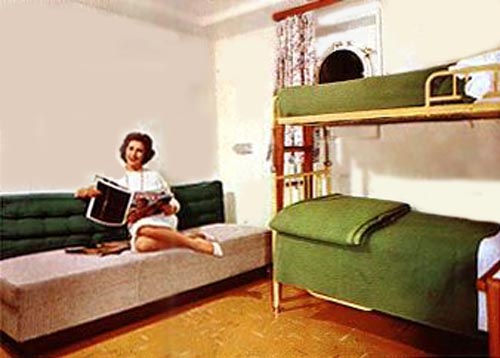 Outside Stateroom D having the sofa bed along the wall and the two berths along the outside
A, B and C had their sofa beds along the outside wall and the berths along the inside wall, next to the bathroom
From a Sitmar brochure
However, the fifth "Stateroom" E was located inside thus without a porthole, but it did not have a sofa bed, but instead there two sets of two bunk beds, thus it could be sold as a twin, three or a four berth cabin, as required and it had the same bathroom as the first four Deluxe Staterooms. In addition cabins numbers 2 and 4 had and an interconnecting bathroom between the two cabins, and this was a small bathroom that had just a shower and a WC, whilst wash basins was located in each cabin. When one cabin was in the bathroom, they just locked the inside door to the other cabin and a red sign would show in that cabin! Cabin numbers 6 and 8 had their own bathrooms consisting of a shower and a WC. Thus in all, only seven staterooms/cabins on board had private facilities, whilst two having interconnecting facilities. The SS Fairsky was fully air-conditioned and that also included the crew quarters!
Public Rooms and other Facilities: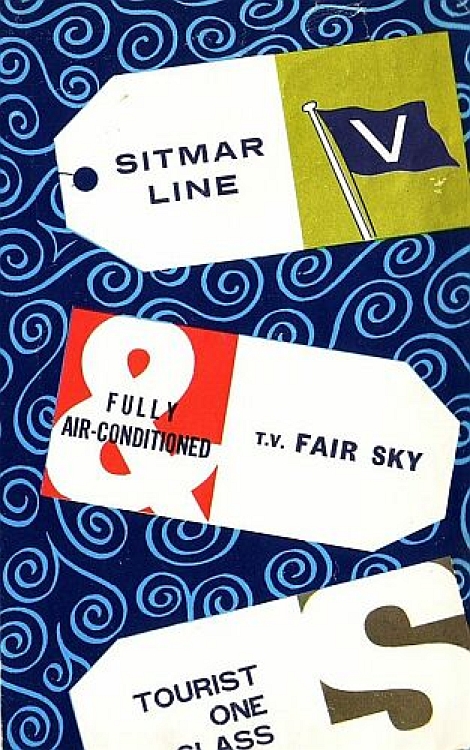 Please Note: images below are from a Sitmar brochure, unless mentioned otherwise

Elevators or Lifts: SS Fairsky had six lifts; two amidships lifts which operated between E and Sun Deck, whilst the four aft lifts operated between C to Sun decks.

B Deck: There were two secondary entrance halls amidships and aft on the starboard side, whilst aft was the baggage room that would be open at various times. On the portside aft was the ships Medical Centre and a Hospital. Balance of deck had cabins.

A Deck: Amidships was the heart of the ship, being the "Main Foyer" and Entrance Hall. Located forward on port and starboard sides were offices related to the main Pursers Office, being located in the middle of the Foyer. Whilst on the two sides aft of the Foyer was the ships Shop on the Portside and the Ladies Beauty and Hairdressing Salon and the Barber Shop on the starboard side.

Promenade Deck

: This Deck offered three main Dining Rooms, with two forward being Dining Rooms C and B, from forward to aft, with A being located far aft, behind a massive Galley!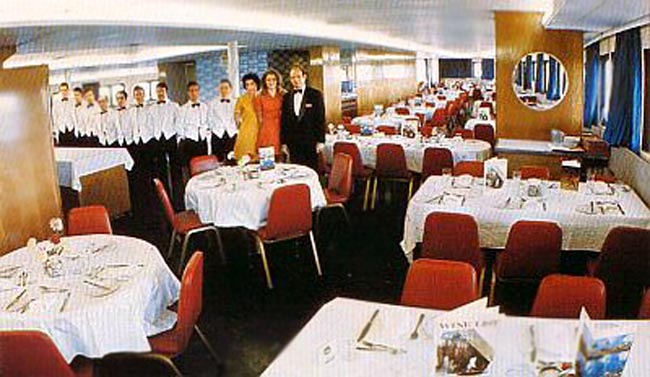 Although far forward, just ahead of Dining Room C were two small VIP dining Rooms, which were divided by a stairwell. Outside there was a long sheltered teak promenade with an excellent deck space far aft!
Boat Deck: This is the deck for all the ships main Lounges, for forward was the "Grand Social Hall," and the word "Grand" said it all, for it was really huge for a ship of her size! Far forward there were two doors to small passages, which led to doors onto a wonderful deck forward of her superstructure, which would be available at special times! Between these doors was a special stage and bandstand and a large dance floor that was the length of the front section of the Lounge, and that was considerable! Far aft of the room, but centred was the Bar that serviced the venue. The vast majority of the venue was furnished with round tables each with four comfortable armchairs, whilst others were located with curved, in L or S shaped long settees. In the aft section along the two sidewalls there were comfortable back-to-back bench seating giving a warm feel of a cosy bar!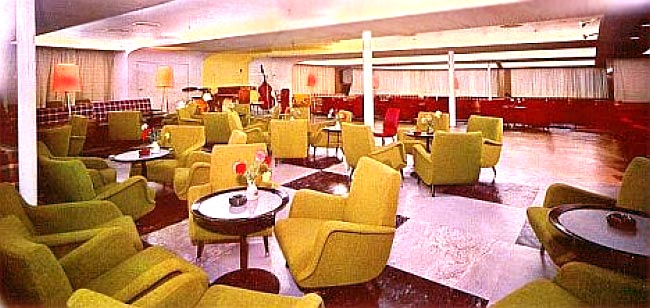 The Grand Social Hall
Walking out you entered the Lobby and on the starboard side was the "Children's Playroom" whilst on the portside was the delightful "Writing Room and Library." It was a beautifully timbered room, with the forward and aft walls containing bookcases with sliding timber doors. Along the windows here were 4 x 2, being eight writing tables with seating for eight, perfect for those who whish to write a letter or a post card, or even some may wish to read a book there? In addition there was seating for 17 persons per chairs and the long bench style sofa.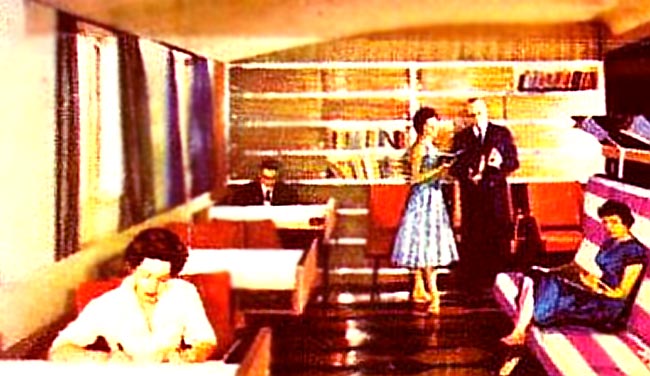 The Writing Room and Library looking forward, the door is on the right, there is another aft
that enters the Beer Hall and there is a walkway behind the white and pink striped bench sofa
You would need to walk through Writing Room and Library to reach the next Venue, alternatively use the aft lifts or stairwell, but you will have reached one of the most popular venues on board and that is the "Bavarian Beer Hall." Which was a venue that had a timbered look with a long U shape bar located on the starboard side and I am sure, far too many headaches resulted from a good time in this venue!
Then the final venue aft was the delightful "Lido Bar" which was a spacious venue that featured an aft wall of eleven floor to ceiling glass windows and doors overlooking the ships swimming pool and her aft decks. The venue was obviously an attractive one and thus popular at sunset time, when Happy Hour would be a busy time!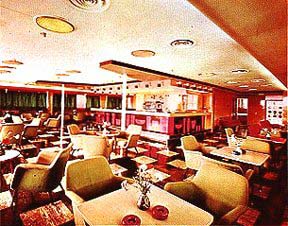 The Lido Lounge & Bar
Boat Deck also offered a spacious teak deck for walking, or relaxation, under the ships lifeboats, whilst aft was her salt water Swimming Pool and a spacious sun deck, which offered ample seating around the pool and bar service, for soft drinks, milk shakes, alcohol or coffee came from the Lido bar!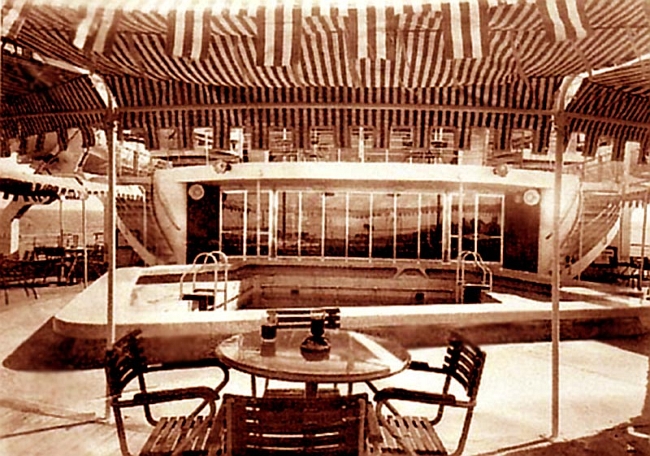 A great photo of the Pool and looking towards the Lido Bar windows
Photographed by & © Mr. Piet Mulder
Sun Deck: There was only one public venue and this was located far aft and could be reached via the aft stairs or lifts. This was the delightfully intimate "Verandah Bar." This small venue seated just 26 persons, 3 of these being on the bar stools, the bar was located along the starboard wall and like the Lido downstairs, this venue, except for two solid doors, also had floor to ceiling windows the full width along her aft wall over looking the deck outside and below. This room was especially colour full, with the bar front featuring multi toned horizontal timber slats, and deep blues are featured throughout, including in the furnishings, as well as grey and yellow lampshades for contrasts! Combine this with ample greenery and you have the perfect venue that has a great view outdoors!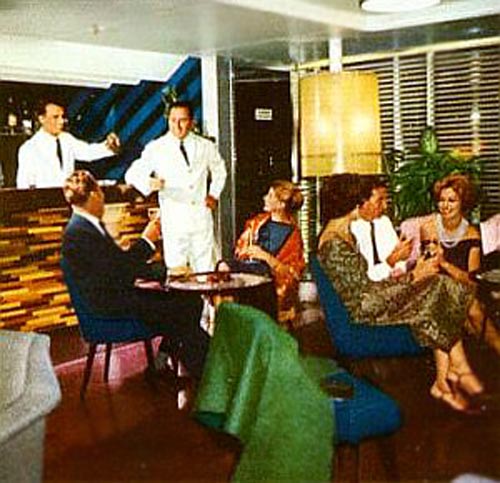 Navigation Deck: Along the aft section there was a huge Games Deck, ideal for a host of sports and activities to be played.
A Deck Plan can be found via the Index at the bottom of the page!
SS Fairsky (2):
From May 6 and 13, 1958 the Castel Forte was in Drydock giving time to remove all the old signage on board, as well as removing the name Castle Forte from her hull and add the ships official new Sitmar name the Fairsky on her bow and stern as well throughout the ship, etc! TSS Fairsky was registered in Monrovia on behalf of the "Fairline Shipping Corp," being a Sitmar Company! Once she came out of dry dock she was close to ready to commence her new career, except for her sea trials, which proved to be successful. She was fully manned and stocked, thus made ready for her maiden voyage in June!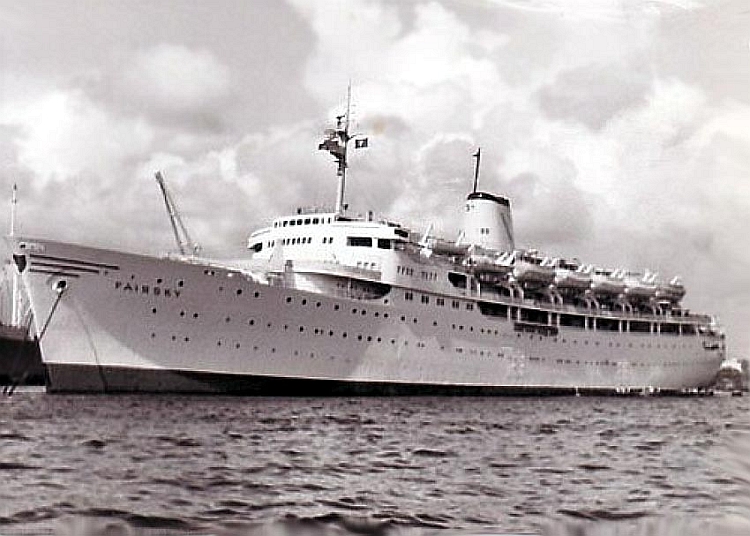 The beautiful Fairsky is seen on her way to Australia at anchor in Port Said
Photograph by & © Piet Mulder
By now Sitmar had obtained the lucrative migrant contract to take British migrants to Australia, the famed "Ten Pound POMs" and it is for this reason she departed from Southampton on Thursday June 26, 1958 at 2.20 pm almost full with 1,430 passengers bound for Brisbane Australia. She sailed via Le Havre and the Suez Canal, Colombo to Fremantle (Perth, Western Australia), where she arrived on Monday July 21. She then headed for Melbourne (Victoria), arriving on Sunday July 27, departing for Sydney (New South Wales) arriving on Tuesday July 29, where the Fairsky remained overnight. She then sailed north to her last official outbound destination being the City of Brisbane (Queensland) where she arrived on Friday August 1.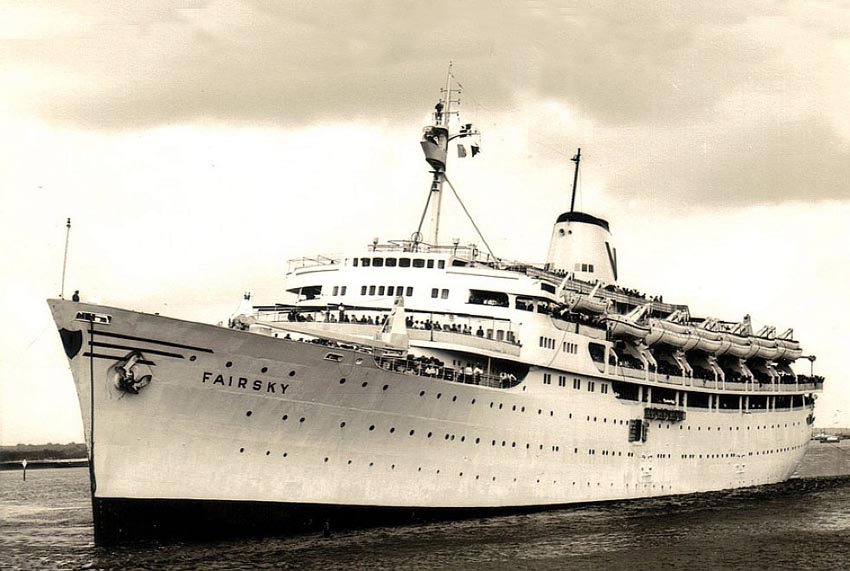 TSS Fairsky in the Brisbane River heading for the Hamilton Wharves
The SS Fairsky then returned to Southampton via the same ports of call.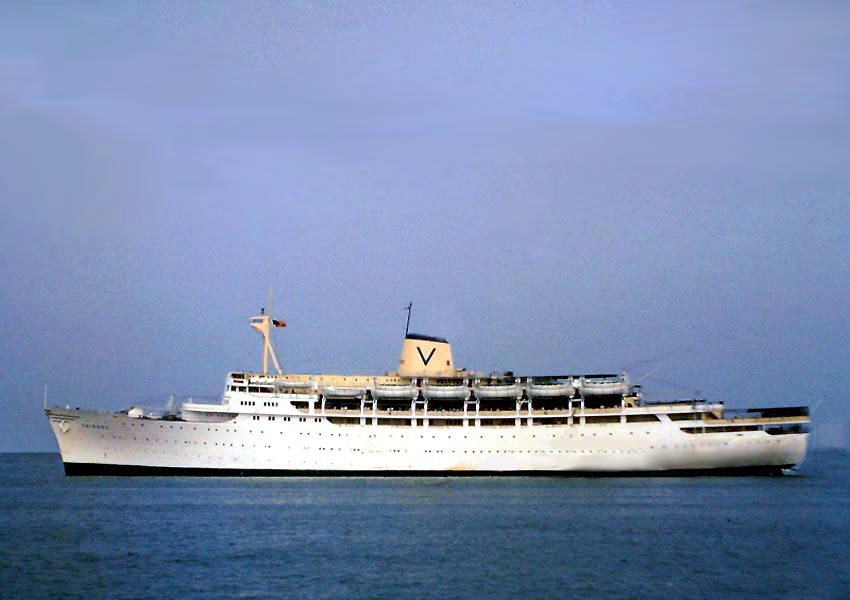 The Fairsky was certainly one of the best conversions of a C3 Class Freighter into a fine looking Passenger Liner
The TSS Fairsky continued on a regular Australian service and in December 1961 she made her very first call to Auckland New Zealand. This was her very first of her Firsts, but there was another first to come, for the very next year in 1962 she would undertake her very first cruise!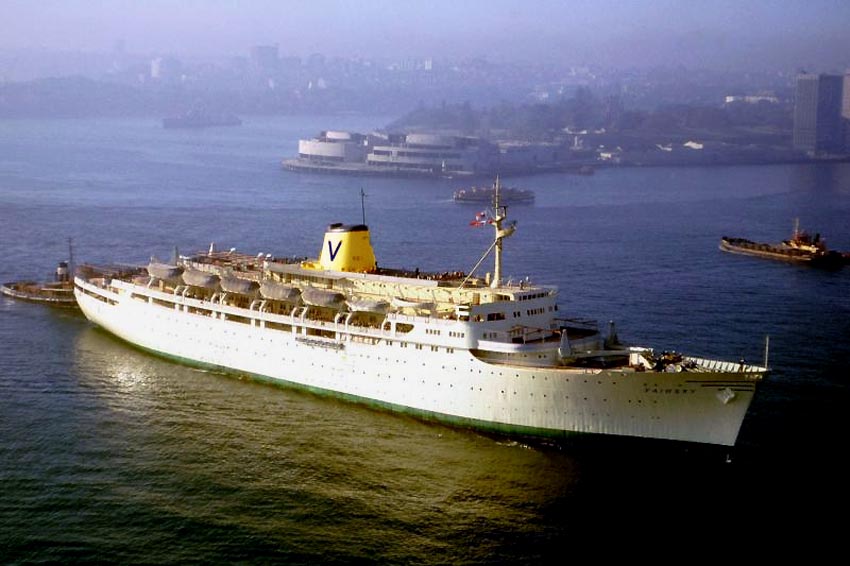 The Fairsky seen arriving whilst the Sydney Opera House is still in construction around 1962
Photographer unknown - Please photo notes at bottom of page
On June 5, 1967 Egypt imposed a blockade and closed the Suez Canal to all shipping, and it remained closed until the very same date on June 5, 1975.
Then on June 5, 1967 the Suez Canal was closed due to an Arab attack against Israel, which commenced the Six Day War and this cost world shipping dearly, for suddenly cargo ships and liners alike would have to sail all the way around the "Cape of Good Hope" in order to reach, India and Asia in General or Australia. However, the Fairsky continued to operate the Australian migrant service until 1970, and she became a regular and a popular sight in Australian and also New Zealand ports.
During the closure of the Canal it was decided to change her schedule as follows: Rotterdam, Southampton, Lisbon, Casablanca, Tenerife, Cape Town, Durban, Fremantle, Adelaide, Melbourne, Sydney, Brisbane, Auckland, Wellington, Rarotonga, Suva, Pago Pago, Papeete, Acapulco, Balboa, Curaçao, and Azores back to Rotterdam. The Suez Canal remained closed until the very same date, eight years later on June 5, 1975.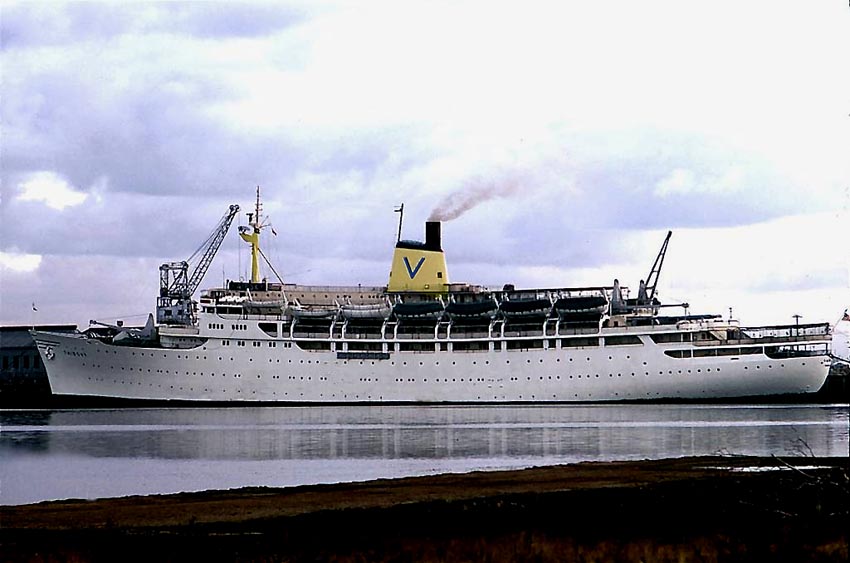 The SS Fairsky is berthed at the Hamilton Wharves Brisbane around 1966
                                                                Photograph by & © John Wilson                                                                                                     
During a voyage to Australia in November 1969 the Fairsky suddenly suffered engine problems, whilst she was sailing between Southampton and Cape Town. Upon arrival, she had to remain there for several days in order to undergo repairs, which was fine for the passengers, having additional shore leave, but she then slowly limped, still not quite right to Fremantle, arriving twelve days late. Thus further works were undertaken and passengers were transported to their destinations.
However, Sitmar lost their Migrant contract to the new Giant in passenger shipping the Greek Chandris Line, who operated the ex Matson liners now named the RHMS Ellinis, Britanis and the ex SS America, now named the SS Australis.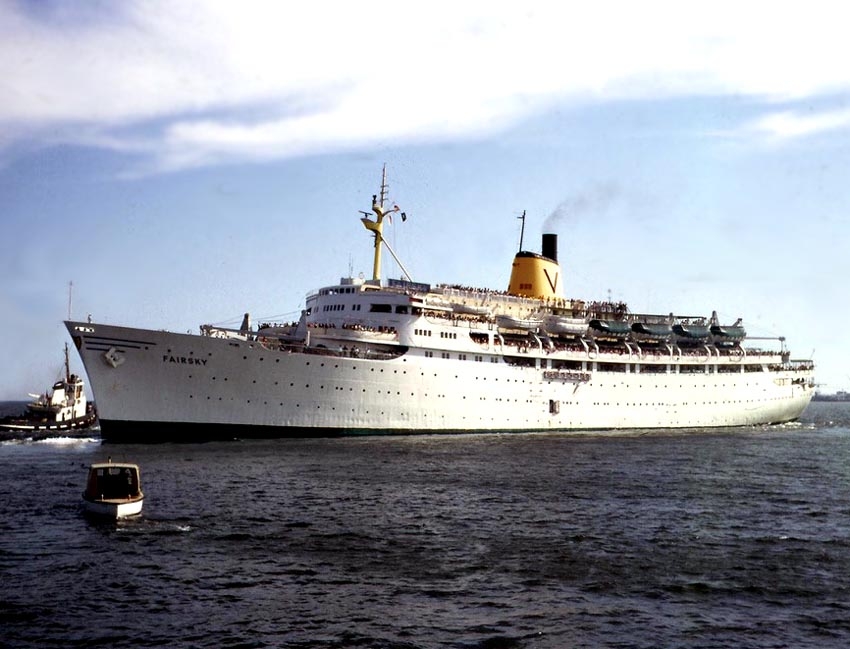 The Fairsky is seen departing Melbourne on January 21, 1971
Photographer unknown - Please photo notes at bottom of page
However Sitmar continued regular passenger serviced from Southampton to Australia and New Zealand and did so until February 1972, for she was then laid up in Southampton.
The main reason for the SS Fairsky being laid up was that Sitmar had to magnificent newly rebuilt liners ready to enter service, the TSS Fairsea and the TSS Fairwind, ex Cunard ships, the Carinthia and Sylvania, and Sitmar intended to use them on the Australian service. Thus the future for the Fairsky was rather bleak at that time. The new twins were placed on the lucrative American luxury cruise market and were met with huge success cruising the Caribbean and Mexico and Alaska.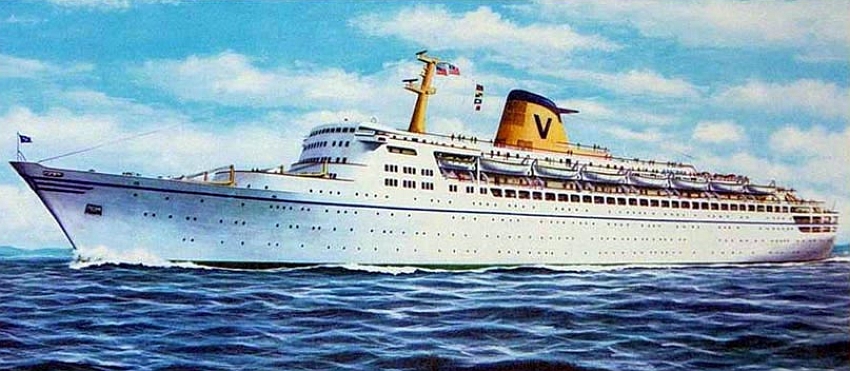 Sitmar Lines artist impression of the new 22,000-ton TSS Fairsea and Fairwind
TSS Fairsky the Cruise Ship:
Thankfully, well over a year and a half the TSS Fairsky had received a refit and she finally resumed her duties and she departed Southampton on November 8, 1973 bound for Australia.
But then on June 2, 1974 TSS Fairsky departed Southampton what would be her very last time ever and she headed for Sydney arriving in July and made Sydney her homeport, for she had become a full time cruise ship! It was a wise move to use her as a cruise ship for she was already well known and she had an excellent reputation from her past cruises she had operated, and as she continued she enjoyed huge success!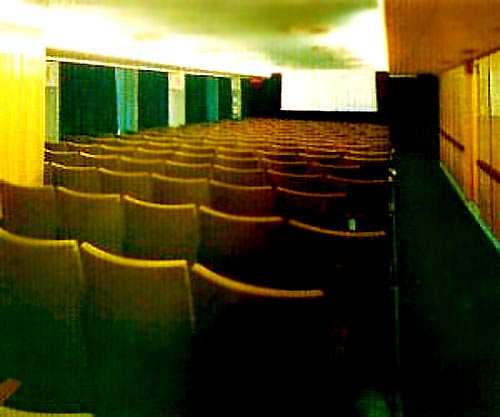 The starboard side of the forward Dining Room was converted to become the ships Cinema
being a must on the full time Cruise Ship and it showed a host of latest release movies!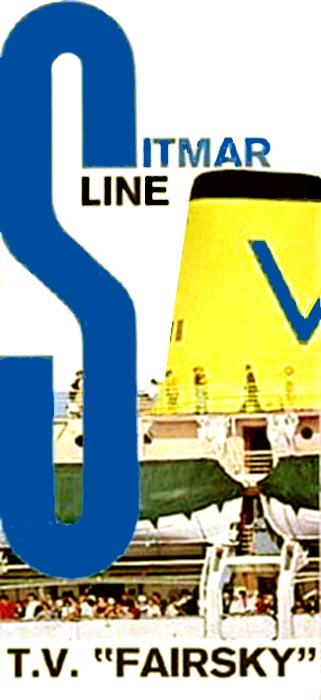 This is a Fairsky brochure released in the 1970's.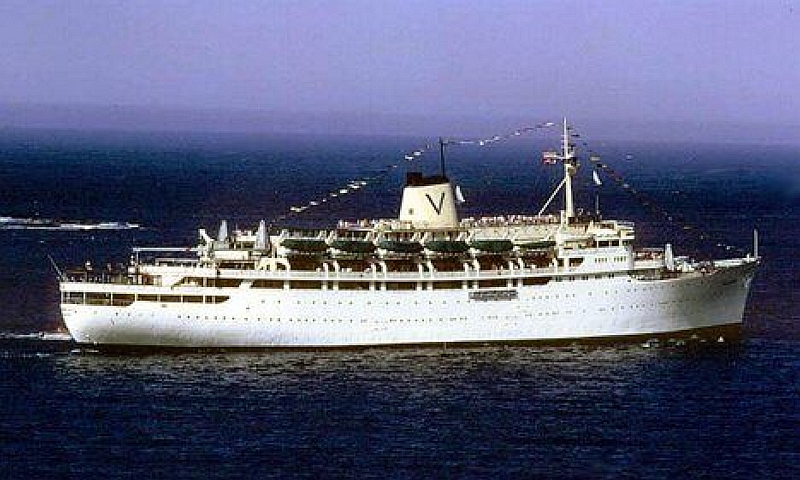 Here we see a flag bedecked cruise ship Fairsky on a cruise
The author also enjoyed an excellent cruise on the Fairsky, for we certainly had the most wonderful time as we had one of the better cabins with private facilities up on Sun Deck, but then again I have sailed on a number of Sitmar liners and cruise ships, and all have been most enjoyable!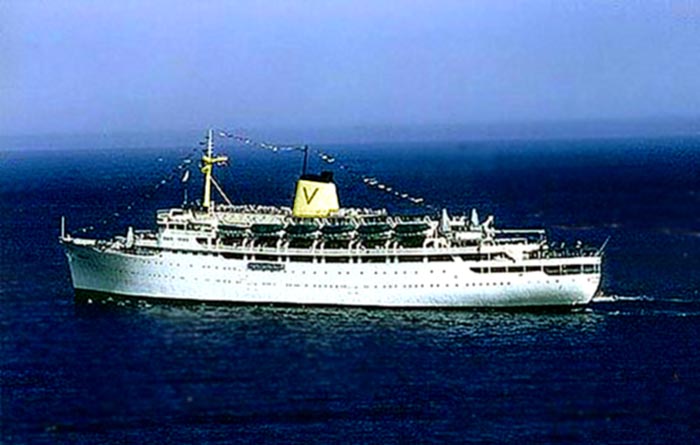 The Fairsky was remained a good as well as a beautiful cruise ship!
Tragedy in Djakarta:
Having become a fulltime cruise ship based in Sydney, the Fairsky departed on a cruise to Singapore and Indonesia and she left the last Australian port of Darwin on June 12, 1977 and she for Singapore for her port call and her happy passengers could have their excursions ashore. Thereafter the ship sailed for Djakarta and another fine day's outing was had by all.
However, upon departing Djakarta on June 23, the Fairsky struck the sunken the submerged wreck of an Indonesian Combi-ship the "Klingi", which saw the Fairsky's hull badly holed. The captain decided that he would beach her on a nearby sandbank to save her from sinking. All passengers were taken ashore with great efficiency, as passenger Mrs. Pamela Hanson writes; see the Link to her story on the Index below.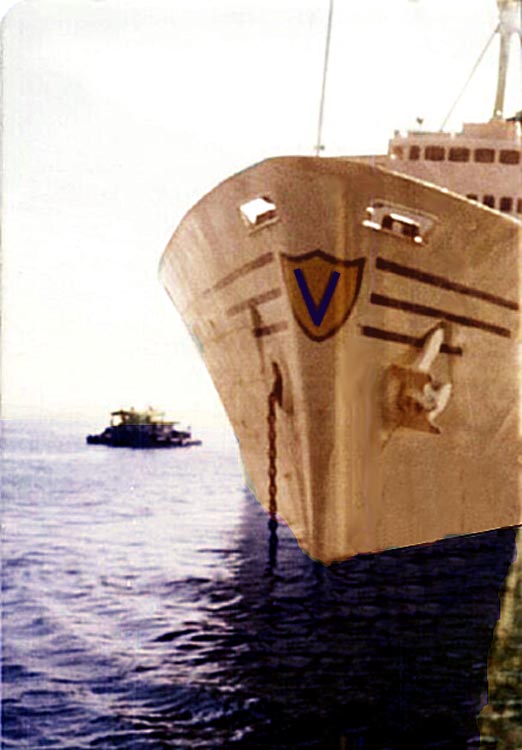 The partially sunken bow of the Fairsky as photographed by Mrs. Hansen
Photograph by & ©Pamela Hanson
The hole was rapidly filled with a concrete pad on the 29th,and she was then refloated and able to proceed under her own power to a Singapore dry-dock where a temporarily repair was made to the damage, being a patch placed over the hole, the reason being that Sitmar had decided not to go ahead and repair the ship, and therefore they placed her on the market.
The Fairsky was purchased by Fuiji Marden & Co and on December 11, 1977 she departed Singapore bound for Hong Kong where she would be broken up. Amazingly, the Fairsky operated this voyage under her own steam power and sadly, it would be the very last time she would ever do so!
Whilst the Fairsky was laid up awaiting demolition; she was suddenly purchased by a Filipino firm the "Peninsula Tourist Shipping Corp" in March 1978, and she was renamed the "Philippine Tourist." The ship was taken under tow to the Bataan Shipyard and Engineering yards in Manila, where she would be converted into a floating hotel and casino based in Manila.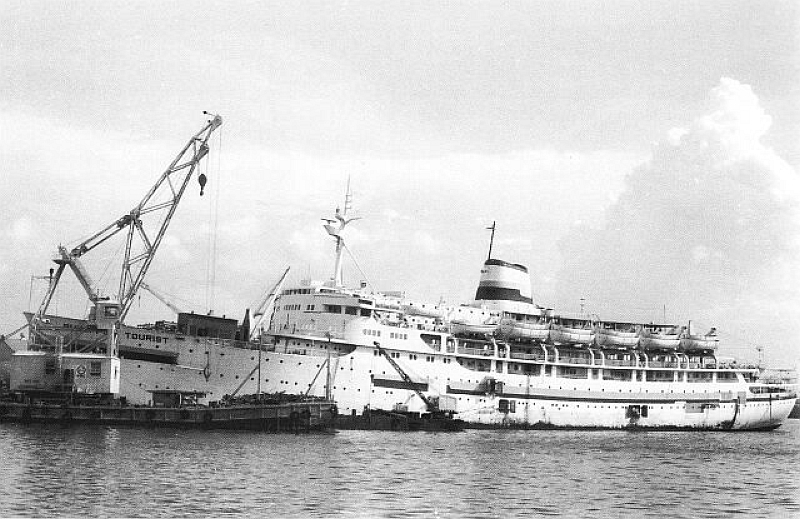 Above & below: The Philippine Tourist is seen close to completion - including a fine bowshot of her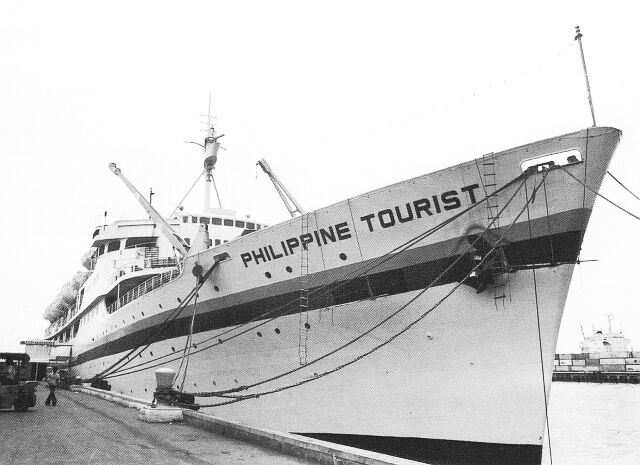 However this venture would be short relatively short lived, for the project was doomed, it seemed almost if the honourable War Hero, much loved Passenger Liner and Cruise Ship the Fairsky refused to be humiliated into be reduced to becoming a hotel/casino ship, for on November 4, 1979 with her being close to completed, she caught fire and the ship was completely gutted.
The wreck was sold back to Fuiji Marden & Co, her previous owner, who renamed her "Fair Sky" for the tow back to Hong Kong where she arrived on May 24, 1979, and breaking up commenced the very next day by the very same company who was going to break her up two years earlier!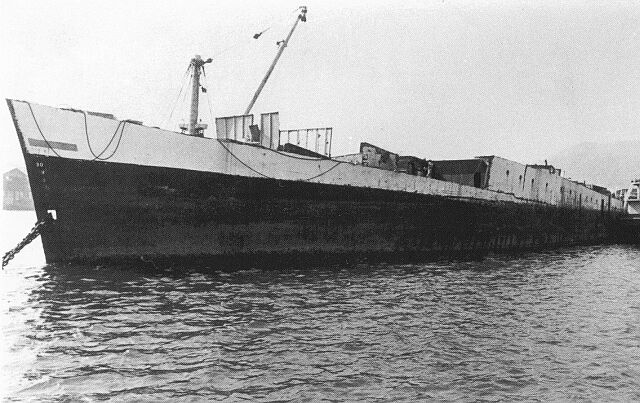 A tragic sight, the Fair Sky almost gone as seen at the Hong Kong breakers
Remembering the beloved TSS Fairsky - 1957 ~ 1977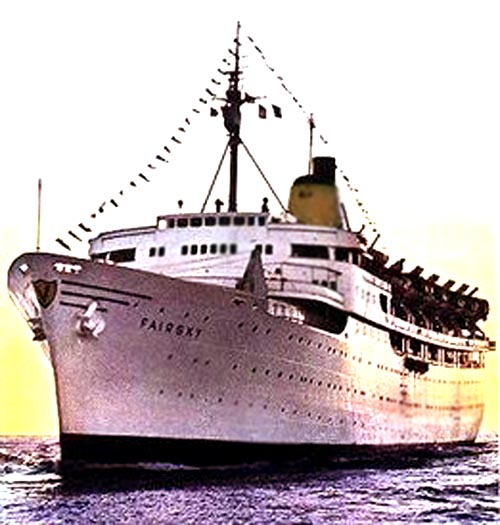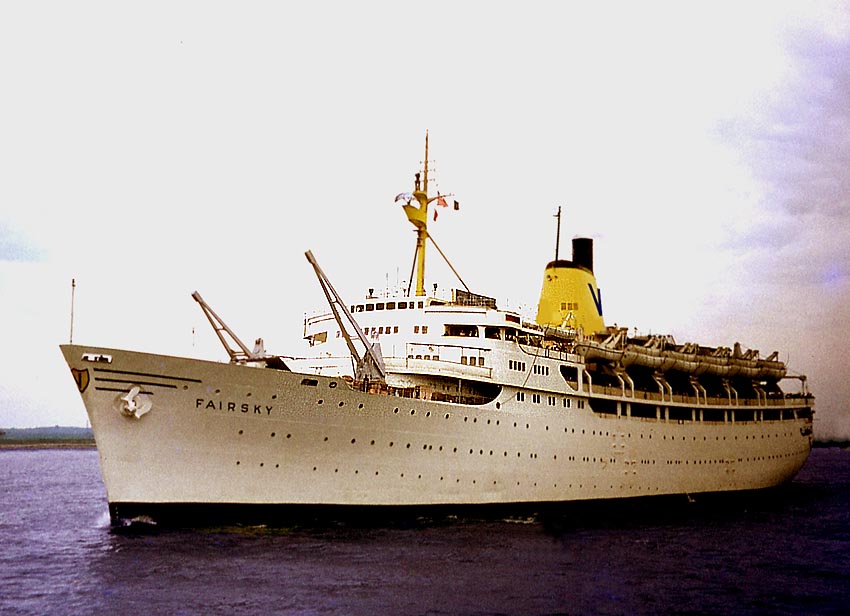 The Fairsky always looked wonderful, as she was a beautiful ship!
Whilst cruising out of Australia, Sitmar had become very popular with holidaymakers and cruises became more and more popular. Fairsky and her sisters had changed the trend in cruising for it offered a new trend and a style that was different to the traditional British ships. The truth is that Italian ships were simply great fun and offered excellent food and good entertainment, which surpassed all the others! With the Fairsky gone, came Sitmar new flagship, the 21,600-ton TSS Fairstar that later became so lovingly known as the "Funship!" Sitmar was so popular with not just the Australian cruise public, but it was huge with the American and British and European market, thus in June 1988 Sitmar was taken over by P&O - Princess Cruises, who took over all their ships the brand new SS Fairsky, the ship in building the Sitmar FairMajesty, which was rechristened the Star Princess, currently P&O Cruises Australia Pacific Pearl. And the two new ships designed by Sitmar and ready to be built, that became the Regal and Crown Princess, currently P&O's Pacific Dawn and Jewel.
Fairsky, the ugly duckling when built, became an attractive and popular ship for all who sailed on her, and she will be fondly remembered by past passengers and those who admired her from ashore!
Specifications:
IMO:   5111622.
Built by:                                    Western Pipe & Steel Co, San Francisco.
Laid Down:                                April 17, 1941.
Hull No:                                     160.
Launched:   September, 1941.
Delivered:   December 1941.
Obtained by Sitmar:                    1950.
Refit completed:                         June 1958
Tonnage:                                   12,464 GRT.
Length:                                     153m.
Beam:                                       21.2m.
Built:                                        1942 - Western Pipe & Steel Co. San Francisco.
Machinery:                                 GE - Geared Steam Turbines 8,500 BHP.
Boilers:                                     2.
Screws:                                     Single.
Speed:                                      17.5 knots.
Passengers:                                1,461 One Class.
Crew:                                        248.
Previous names:                         Castel Forte, Attacker, Barnes, Steel Artisan.
Last names:      Philippine Tourist, Fair Sky.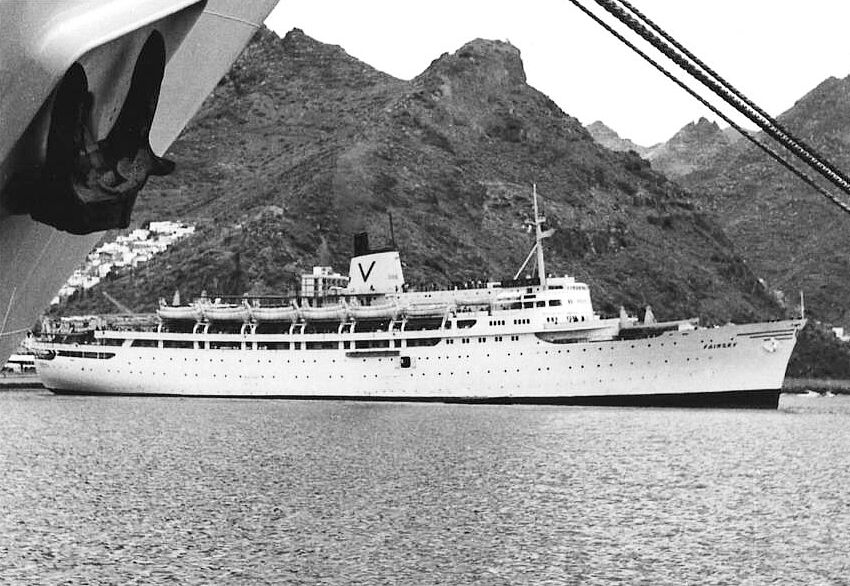 The Fairsky seen at Tenerife in the early 1970s
Photographer unknown - Please photo notes at bottom of page
The Fairsky
INDEX:
TSS Fairsky - Built as a C3 class freighter, the History page - This Page.
TSS Fairsky – Contains two Deck Plans 1958 & 1970s.
TSS Fairsky - Piet Mulder sails on SS Fairsky.
TSS Fairsky - Fairsky wrecked near Djakarta - The Pamela Hansen story.
Or Return to: The Sitmar Ships - INDEX - For all the Other Sitmar Ships!
"Blue Water Liners sailing to the distant shores.
I watched them come, I watched them go and I watched them die."
****************************
Return to the ssMaritime Main INDEX
Where you will discover around 690 Classic Passenger & Passenger-Cargo Liners!
ssMaritime.com & ssMaritime.net
Where the ships of the past make history & the 1914 built MV Doulos Story
Please Note: ssmaritime and associated sites are 100% non-commercial and the author seeks no funding or favours of any shape or form, never have and never will!
Photographs on ssmaritime and associate pages are by the author or from the author's private collection. In addition there are some images that have been provided by Shipping Companies and private photographers or collectors. Credit is given to all contributors. However, there are some photographs provided to me without details regarding the photographer/owner concerned. I hereby invite if owners of these images would be so kind to make them-selves known to me (my email address may be found on www.ssmaritime.com only), in order that due credit may be given.
This notice covers all pages, although, and I have done my best to ensure that all photographs are duly credited and that this notice is displaced on each page, that is, when a page is updated!
ssMaritime is owned & © Copyright by Reuben Goossens - All Rights Reserved