Please Note: Firefox and some other search engines are not suitable – Use "Internet Explorer" for this page to load perfectly!
Click the logo above to reach the ssMaritime FrontPage for News Updates & "Ship of the Month"
With Reuben Goossens
Maritime Historian, Cruise'n'Ship Reviewer & Author
The Sitmar Ships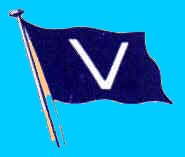 The Photo Album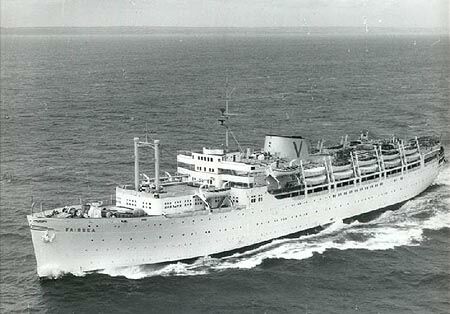 Fairsea seen in her latter years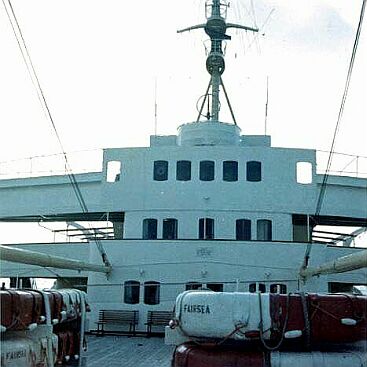 Looking aft towards the Main Lounge below, original first class Dinning Room and the Bridge
Photo taken & © Roelf Shrick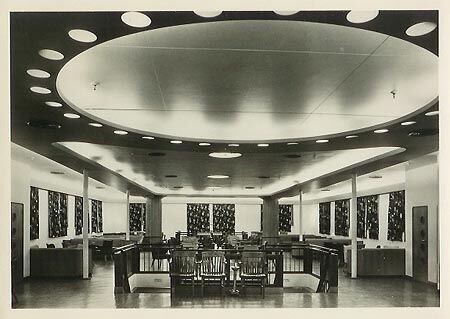 Main Lounge (Promenade forward)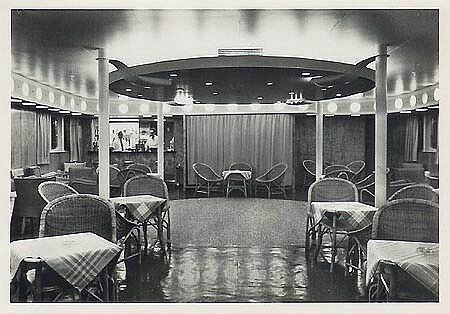 Lounge & Bar - Boat deck amidships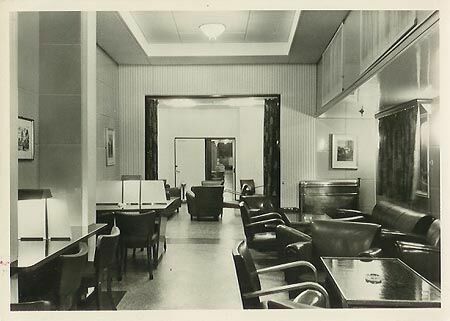 Writing Room/Ladies Room - Promenade deck starboard aft
Public rooms & cabins in colour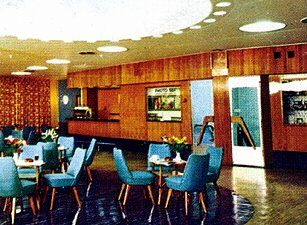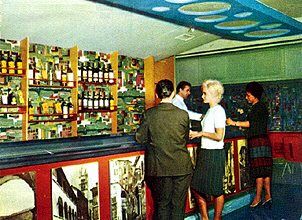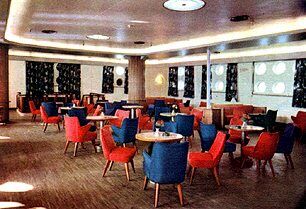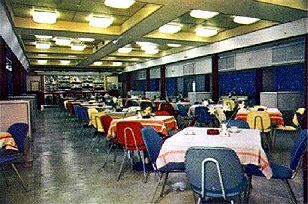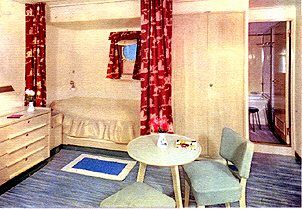 Suite - Boat deck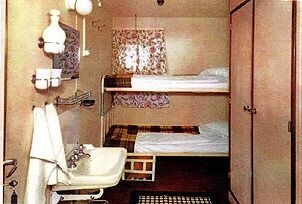 Outside two berth cabin – A deck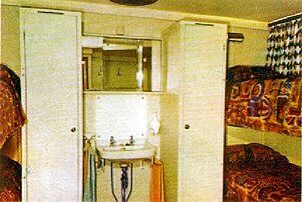 Outside four berth cabin - A deck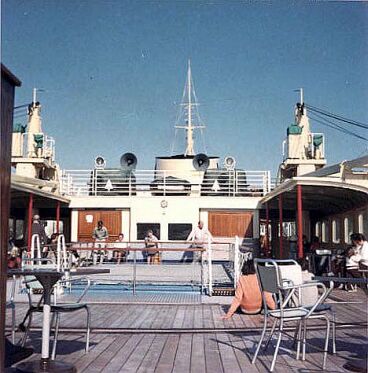 Pool and Sun deck (Boat deck)
Photo taken & © Roelf Shrick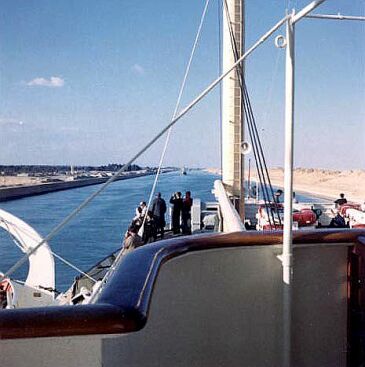 Transiting Suez Canal
Photo taken & © Roelf Shrick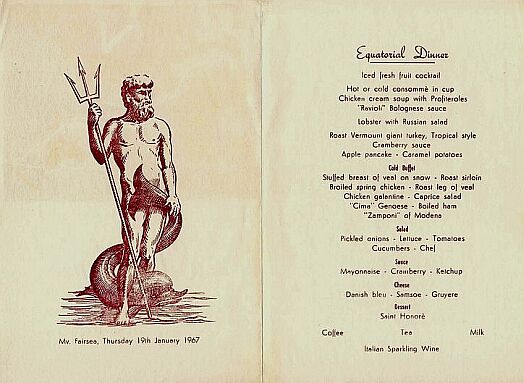 Menu card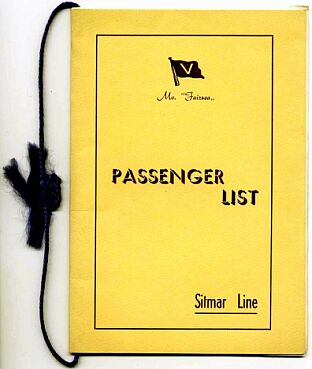 Passenger list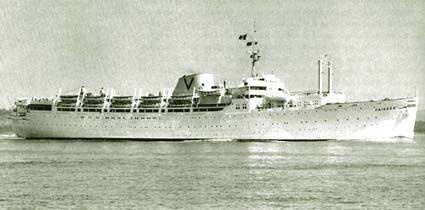 MS Fairsea
The Early Sitmar Liners …
Part One …      Castel Bianco & Castel Verde - Built as a Victory VC2-S-AP2 class of freighters.
                     Castle Bianco - The Karlsson family's voyage.
Part Two …     Castel Felice - ex SS Kenya.
                     Castel Felice - Cabin Plan & the Robert Brinkhuis story 1965.
                     Castel Felice - My 1957 voyage to Canada by W. D. Hempel.
                     Castel Felice - The Williams family sail to Australia in 1957.
                     Castel Felice - Three articles about a family's voyage on the Castel Felice and arrival in Australia.
Part Three …   Fairsea (1) - Built as a C3 class freighter.
                     Fairsea - Photo Page.
                     Fairsea - Deck Plan.
                     Fairsea - The Strachan family migrates from the UK to Melbourne in December 1957.
Part Four …     Fairsky (1) - Built as a C3 class freighter.
                     Fairsky – Deck Plan.
                     Fairsky – Piet Mulder sails on SS Fairsky.
                     Fairsky – Fairsky hits a wreck out of Djakarta – The Pamela Joyce Hansen story. 
The last Sitmar Liner and Cruise Ships …
Fairstar - ex Oxfordshire.
Oxfordshire – Built as a Bibby Line troop ship.
Fair Princess - ex P&O & Princess, also Sitmar Fairsea (2), Fairland, Cunard Line Carinthia.
China Sea Discovery - ex Fair Princess - broken up.
****************************************
Return to the ssMaritime Main INDEX
ssMaritime.com & ssMaritime.net
Where the ships of the past make history & the 1914 built MV Doulos Story
Also visit my
"Save The Classic Liners Campaign"
Please Note: ssmaritime and associated sites are 100% non-commercial and the author seeks no funding or favours of any shape or form, never have and never will!
Photographs on ssmaritime and associate pages are by the author or from the author's private collection. In addition there are some images that have been provided by Shipping Companies and private photographers or collectors. Credit is given to all contributors. However, there are some photographs provided to me without details regarding the photographer/owner concerned. I hereby invite if owners of these images would be so kind to make them-selves known to me (my email address may be found on www.ssmaritime.com only), in order that due credit may be given.
This notice covers all pages, although, and I have done my best to ensure that all photographs are duly credited and that this notice is displaced on each page, that is, when a page is updated!
ssMaritime is owned & © Copyright by Reuben Goossens - All Rights Reserved