Click the logo above to reach the ssMaritime FrontPage for News Updates & "Ship of the Month"

With Reuben Goossens

Maritime Historian, Cruise'n'Ship Reviewer & Author

SS America / SS Australis

Later:

America – Italis – Noga – Alferdoss – American Star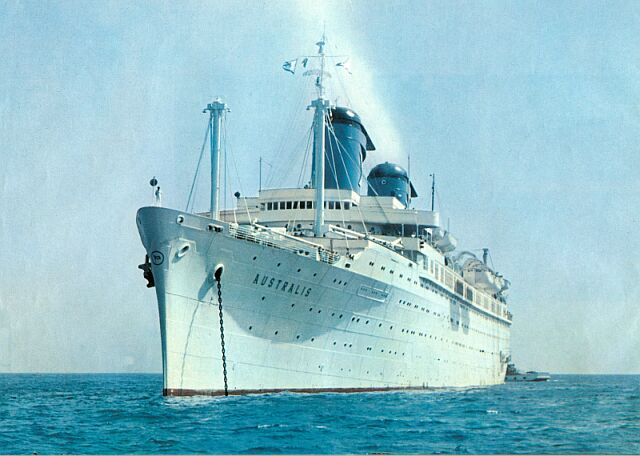 Inside front cover photo of SS Australis found in

her official 1967 brochure

Author's private collection

This Page covers a great American liner, the SS America, (renamed West Point for five year during her wartime service) later to become the much loved Chandris Liner SS Australis. It covers her glory years as the America, West Point and Australis. However, her final years were tragic to say the least.

This page has five parts. 1, SS America & West Point. 2, SS Australis. 3, SS America. 4, SS Italis. 5, Her final years as the Alferdoss, Noga and American Star.

Part One

United States Lines

SS America

West Point during wartime service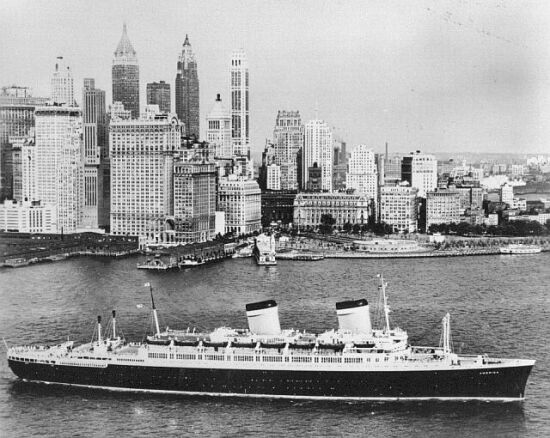 SS America departs New York for Southampton

Langsdale Library

SS America predates a ship that became America's greatest maritime achievement the SS United States. The America was designed by William Francis Gibbs, who also designed the United States (lovingly known as the "Big U") which obviously looked similar to the America, but the Big U was larger and became the fastest liner ever built. Architects chosen to design her interiors were Eggers & Higgins NY, and Smyth, Urquart and Marcwald NY was commissioned to complete her décor.

America's keel was laid on August 22, 1938 at the Newport-News Shipbuilding and Dry-dock Company. At 11.45a.m, on August 31, 1939, hull #1 was launched by Franklin Roosevelt, which just happens to be one day before Hitler invaded Poland. She was completed in July 1940, but she was unable to operate a Trans-Atlantic service as World War II had already commenced. The United States Line decided to place her on cruise duties. SS America departed New York on August 10, 1940 for her maiden voyage (cruise) to the Caribbean a service she continues over the next twelve months. During her first few cruises it became quite clear that there was a design problem relating to her aft funnel, as volumes of smut was falling on her afterdecks. Although her forward funnel was a dummy, United States Line decided to raise both funnels by 5m (15ft), giving her a well balanced look.

As built SS America accommodated 543 passengers in Cabin Class, 418 in Tourist Class, and 241 in Third Class making a total of 1,202 passengers.

SS America was built with a partial US government subsidy which meant that the Government take her for wartime duties should it be needed. In July 1941 this became a reality as she was handed over to the US Navy. Renamed West Point and was converted as a troopship, which was completed in November. For her first war time voyage she joined a convoy from Halifax which was due to go to Egypt, but, was rerouted to Singapore sailing via Cape Town. West Point had an eventful war service having been attacked from the air many times.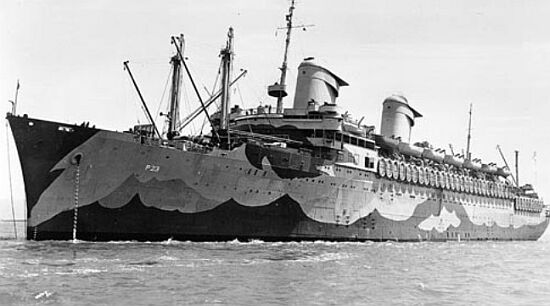 SS West Point

Author's private collection

As a troopship she called on Australia to collect Australian soldiers

bound for Singapore. West Point also called on New Zealand to collect American troops bound for Noumea. This great ship covered much of the world, Europe, South America, the Pacific, Australasia, Asia, and Africa. In fact she sailed well over 550,000 miles having transported over 500,000 persons.

SS West Point was returned to the United States Line on July 22, 1946 and she was sent back to Newport-News Shipbuilding and Dry-dock Co to be refitted. Upon completion SS America was able to accommodate 516 First Class passengers, 371 Cabin Class, and 159 Tourist Class, reducing her original passenger capacity by 156.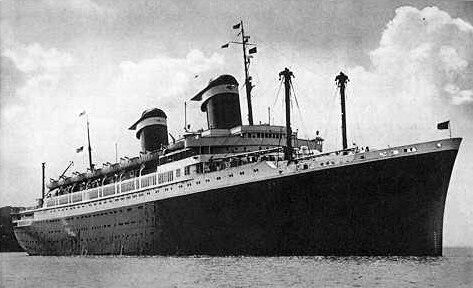 SS United States seen after the war
Author's private collection
On November 14, 1946, she departed New York for her maiden Trans-Atlantic crossing as a passenger liner with 972 passengers on board. She called at Cobh, Southampton and Le Havre, a service she continued until October 1951 when Bremen was included as an occasional port of call. She was the company's flagship until July 1952, when the great 44,893-ton SS United States entered service. Together they operated the Atlantic for the next 12 years.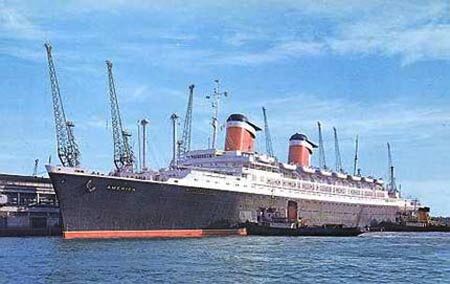 America seen at Southampton
Author's private collection
With declining loadings it was decided in 1961 to convert the America into a two class liner combining Cabin and Tourist Class into a single class which could offer a new level of lower fares to encourage sea travel. In this new configuration she now accommodated 530 Tourist Class passengers.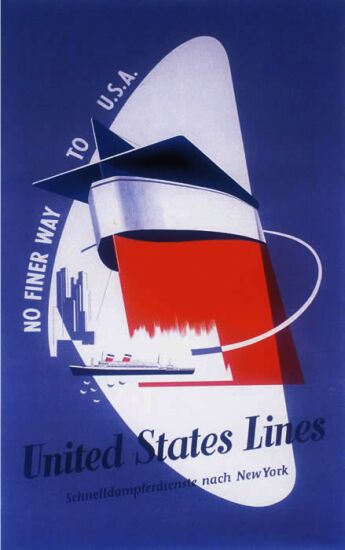 A German United States Lines poster
Author's private collection
On September 14, 1963, a union dispute stopped the ships departure from New York and there were no signs of her departing in the near future. The United States Line had her towed to Hoboken where she was laid up until February 1964. She recommenced her Trans-Atlantic service on February 7, and was to operate a regular service and summer cruises; however, the inevitable happened as the SS America became unprofitable to operate with a host of newer ships competing on the Atlantic. She departed New York on October 9, 1964, for her final return voyage to Europe and she returned to New York on October 27, and returned to Newport-News Shipbuilding Yards.
During her commercial service she made 288 voyages carrying a remarkable 476,462 passengers.
ddddddddddddddddddddddd
Part Two
Chandris Lines
SS Australis
Ex America, West Point, America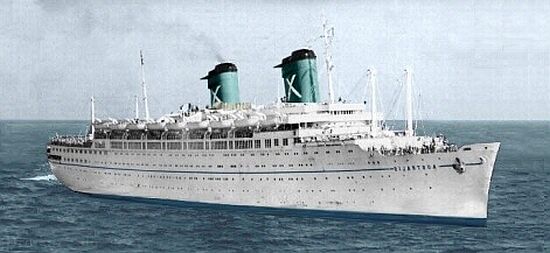 SS Australis takes to sea
Author's private collection
SS America was sold to Chandris Lines on October 5, 1964, and was handed over 12 days later when she was transformed externally with her funnels pained blue emblazoned with the famed Chandris large white –X-. On the same day SS America was renamed Australis. With the Greek flag flying from her stern, she departed New York on November 18, to the Chandris Shipyards at Piraeus to be converted to a liner for the UK to Australia and New Zealand service. Her accommodations were substantially increased now accommodating 2258 passengers in an all Tourist Class configuration. In addition both Upper and Main Decks were extended aft, replacing several Tourist Class lounges with cabins. In addition her hull was pained white with a blue ribbon.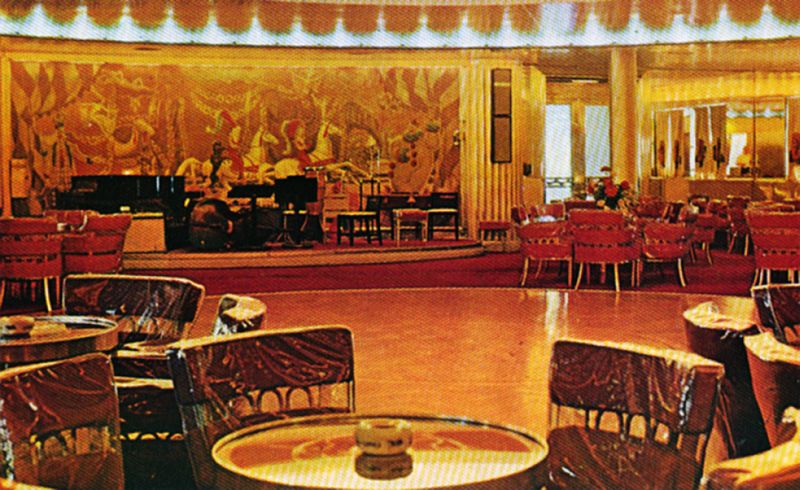 The superb grand Ballroom
A postcard provided by ex steward Amos Ramponi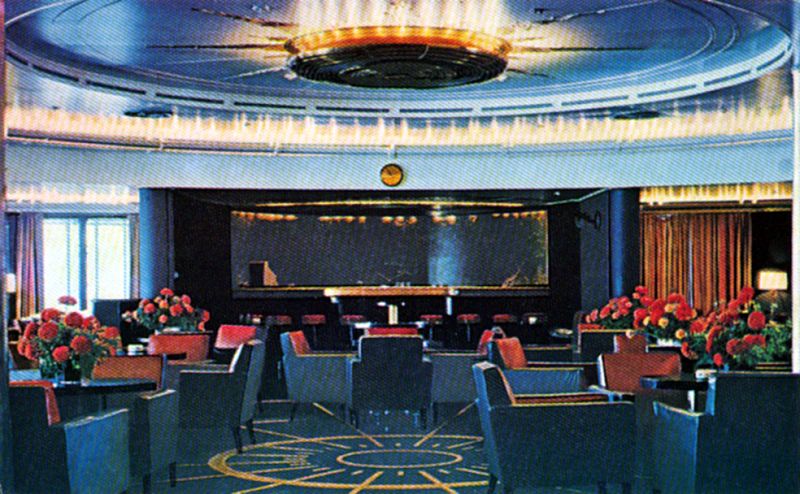 The Smoke Room
A postcard provided by ex steward Amos Ramponi
SS Australis departed Piraeus for her maiden voyage to Australia on August 21, 1965, sailing via the Suez Canal, and arriving at her destination, Sydney on September 15. She departed Sydney heading for Southampton, sailing via New Zealand and Tahiti, the Panama Canal, and Port Everglades. Her next voyage from Southampton to Australia was in reverse, sailing via the Panama Canal and returning to Southampton via the Suez Canal. Thereafter she sailed mostly to and from Australia via the Suez Canal until it was closed in 1967 due to the Middle East war and began sailing via Cape Town and Durban. SS Australis was the largest of all Chandris liner and she became a popular ship with Australians and New Zealanders. For this reason Chandris decided to commence operating cruises out of Australia during the summer of 1967.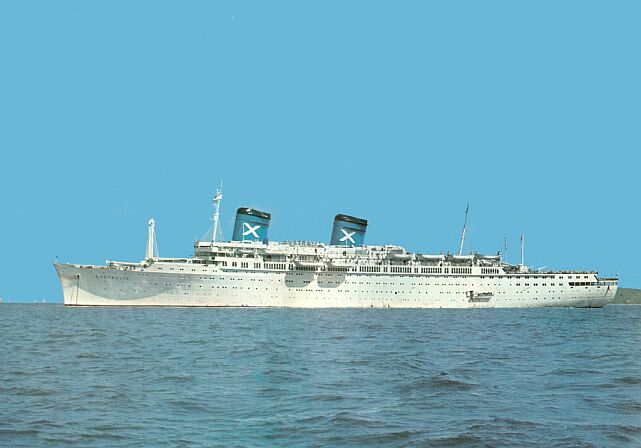 A wonderful photograph from her official 1967 brochure
Author's private collection
In 1968 several exterior changes were made, with her hull being painted a light grey, and her mainmast was removed. In 1967 she was reregistered in Panama, however, one year later Chandris Lines returned her to Greek registry.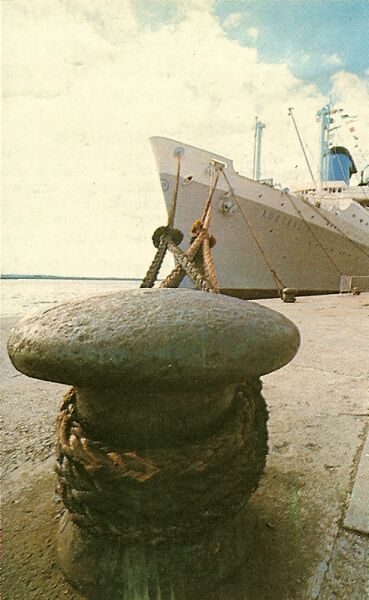 SS Australis seen after the 1968 refit
Author's private collection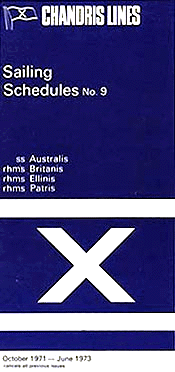 1971 Chandris schedule

Author's private collection

In 1970 Chandris obtained the much sought after contract to bring British migrants to Australia. But on October 22, 1970, whilst sailing between Auckland and Suva, a fire broke out which damaged some 40 cabins as well as the famed red and gold Ballroom. In Suva minor repairs were made and she was able to continue eight days later. She continued on her Southampton to Australia service

(as well as cruise duties) from both Brotain and her popular cruises from Australia of the Pacific and New Zealand.

One of ssMasritime staunch supporters Stan Evans under took a cruise on the Australis and provided the following photographs of the ships taken during his cruise.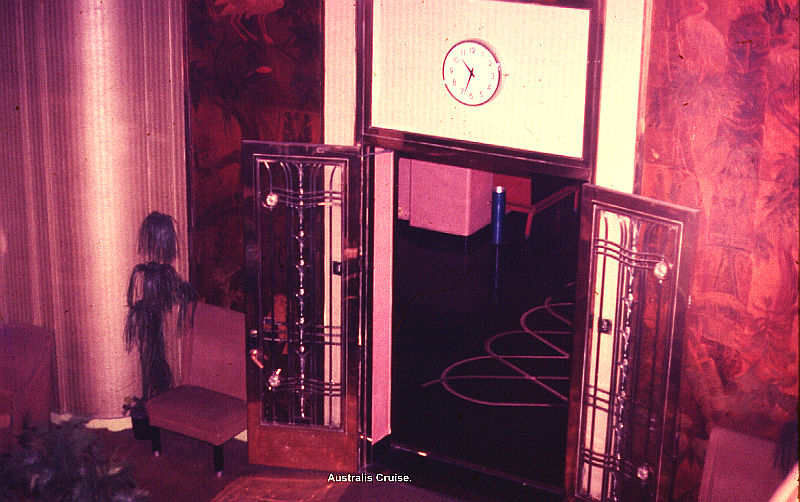 The brass and glass doors of the main Lounge as seen from the Mezzanine level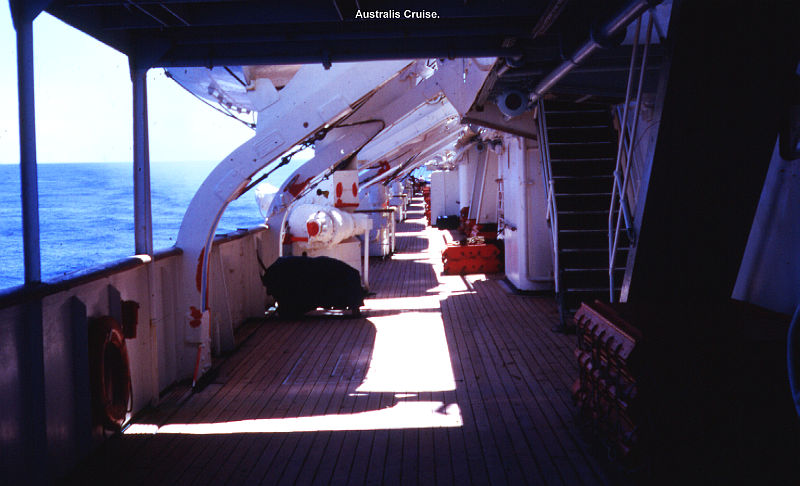 Boat Deck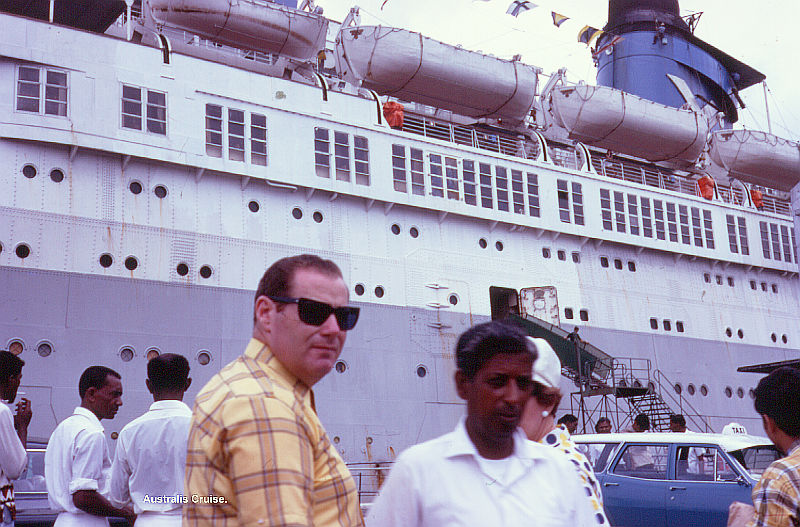 Here we Stan alongside the SS Australis at Suva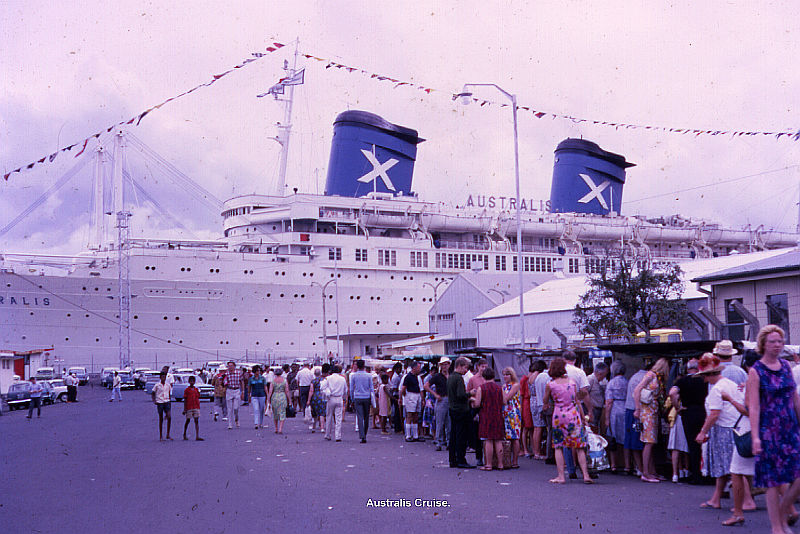 Passengers exploring the market stalls
The four photographs above are all © Stan Evans Newcastle Australia
She continued her voyages and cruises until she arrived in Sydney on December 17, 1977. She was scheduled to undertake another cruise, however this was suddenly cancelled, and she sailed for Auckland where she arrived on December 20. After her arrival she was laid up at Timaru, New Zealand.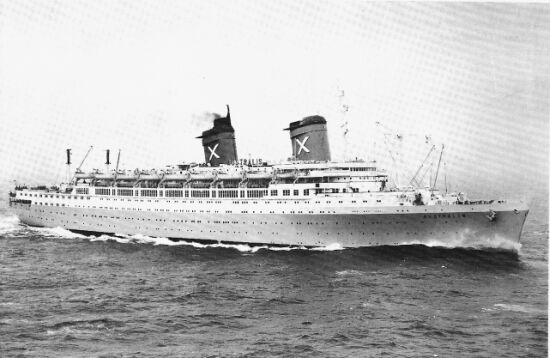 Note her aft funnel smoke uptake
Author's private collection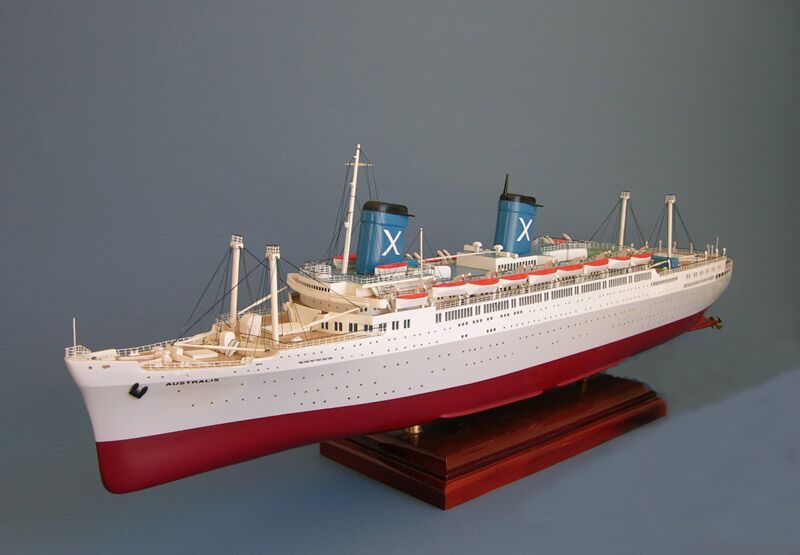 A superb model of the SS Australis
An unknown source
ddddddddddddddddddddddd
Part Three
Venture Cruise Line
SS America
Chandris sold her America Cruise Lines, thus, four months after her lay up SS Australis departed New Zealand for New York, arriving there on May 19, 1978. Her new owners placed her in dry-dock, where her hull was painted dark blue, as were her funnels but her band atop was pained red. Externally she looked a little like her original self. America Cruise Lines decided to rename her America once again, hoping to cash in on patriotism. Due to some confusion regarding the company's name, they changed it to Venture Cruise Line.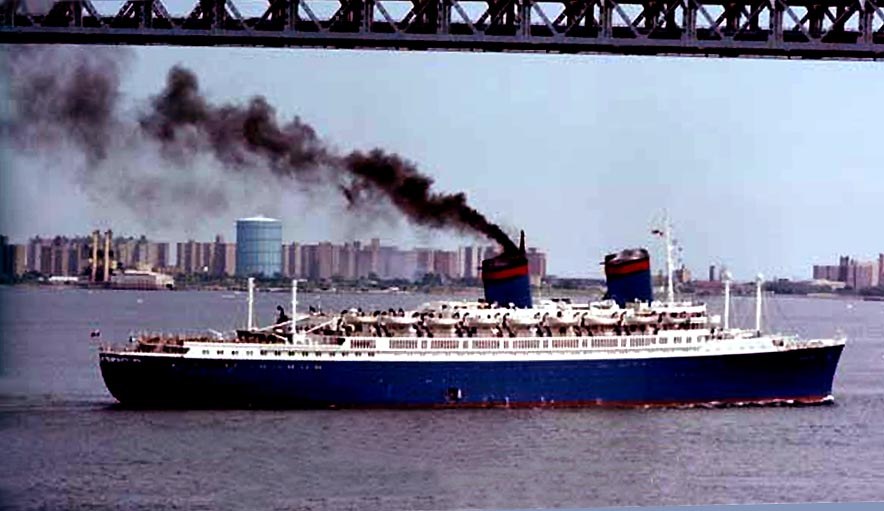 SS America, looking good, but only for a few months
On June 30, 1978, SS America departed New York for a mini cruise with 950 passengers on board. However, as renovations had not been completed, a large team of workers remained on board to make her - well the only word I can use is "habitable." Many passengers rebelled due to the ships poor condition and soon there was chaos on board. It was a bad start, as passengers from the moment they boarded did not feel like this was a cruise ship ready to sail. Six hours after her departure she turned back to New York and anchored off Staten Island where 250 unhappy passengers disembarked and taken ashore in lifeboats.
Passengers stated that she was filthy and rubbish was scattered around the ship, this included old mattresses, linen and bags full of rubbish etc. But, they stated the worst was a stench that filled the ship. The bad odour was apparently due to a large blocked toilets on the lower decks, but worse still much of it came from the ships galley.
There was no doubt, when Australis was sold she was in a run down state as Chandris had kept maintenance to a minimum during her last year. Tragically her decks were suffering, as no corking or sanding had been done for a number of years. Rust was to be found everywhere, especially in her forward "dummy" funnel. The list was endless. It is sad to say, but this was not exactly Chandris' highpoint considering their past record. Obviously, Venture Shipping Line should have given her an extended refit and a complete maintenance regime at a major shipyard before commencing cruising.
Upon her return three days later, she departed for her second cruise with 640 passengers on board, but it was decided during this cruise that due to the ongoing problems, all future cruises would be cancelled. Sadly the revival of the SS America proved to be a total disaster for Venture Cruise lines who soon filed for bankruptcy.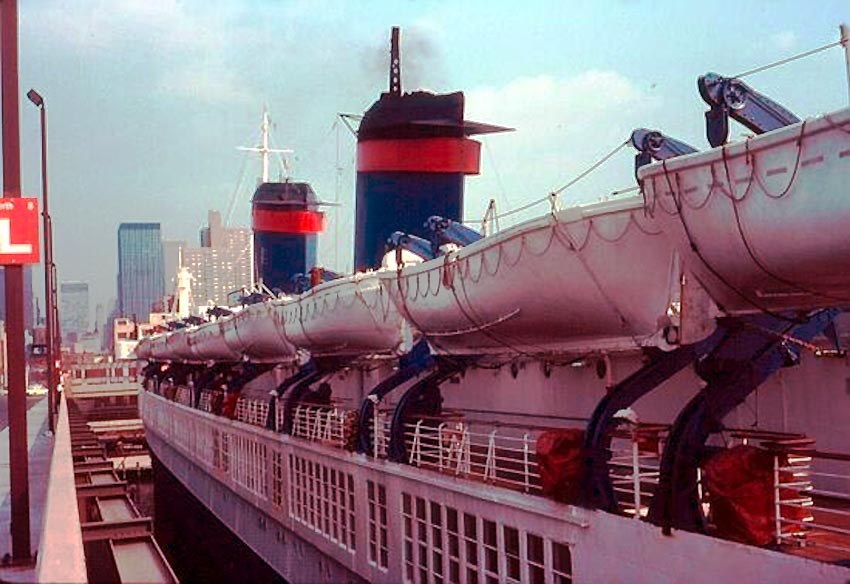 From ashore SS America seemed to look fine
Photograph from an unknown source
ddddddddddddddddddddddd
Part Four
Chandris Cruises
SS Italis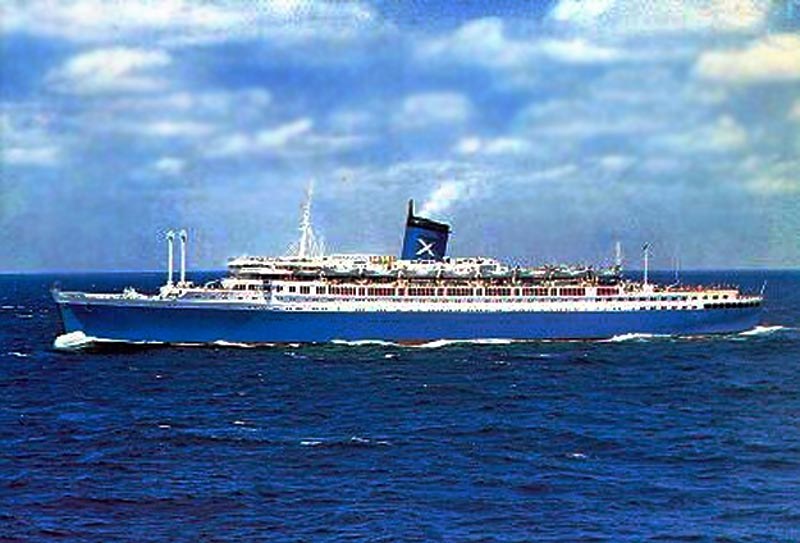 SS Italis looking somewhat sad without her forward funnel
Author's private collection
SS America was sold at auction back to Chandris who purchased her for just $1 million, being 4 million less then what they had sold her for just four months earlier. With a small number of crew on board she departed New York on September 6, 1978, bound for Piraeus, where Chandris gave her an extensive a refit making her ready to become a full time cruise ship. Her hull was repainted in a lighter shade of blue, which suited her, but sadly, this refit saw one other change to her well balanced external appearance, her badly rusted forward "dummy" funnel had to be removed, as it had become a danger due to the massive corrosion that had taken place over the past years, something Chandris knew very well before they sold her. No, not all things about Chandris Lines in their latter years could be considered as great. In the past I greatly respected Chandris as a company, having worked closely with hem, having been the Queensland (Australia) General sales Agent!
Upon completion, she was renamed Italis and she was now ready to commence Mediterranean cruises out of Genoa. She was marketed as the "Italian lady." SS Italis departed Genoa on July 28, 1979, for her first cruise, but just two months later she was permanently withdrawn from service. She was laid up at Eleusis Greece. Her 1980 cruise schedule was transferred to her ex running mate, RHMS Ellinis.
After her second, very short career with Chandris, this once great liner would never carry passenger again, however, unlike other vintage ships in her position, amazingly she remained afloat for well over a decade, but it has to be said, throughout those years she was in a disgusting condition.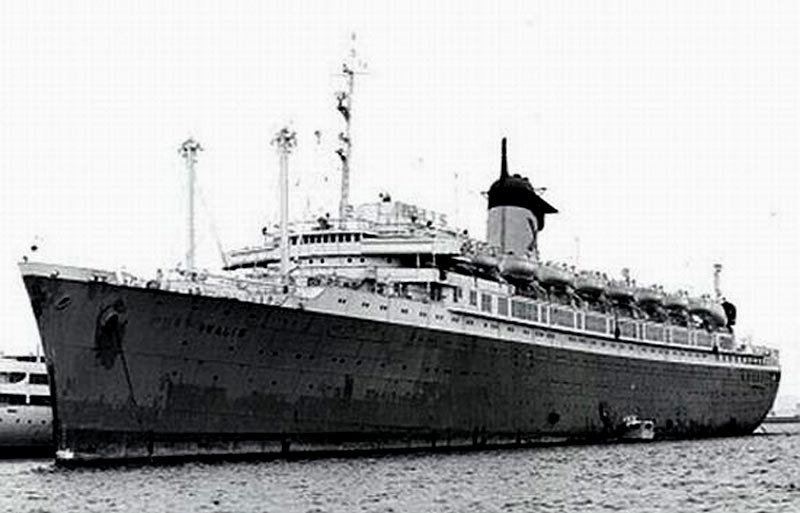 Italis seen laid up at Eleusis Greece
Author's private collection
ddddddddddddddddddddddd
Part Five
The final years
In May 1980, she was sold to the "Inter Commerce Corporation" for "Noga d'Importation et d'Exportation," who renamed her Noga. But again she remained idle. In 1984 Silver Moon Ferries Ltd purchased her and she was given an Arabic name Alferdoss, meaning "paradise." Well, she may have been named "paradise," but onboard it was more like hell remaining laid up. Then in October 1988, one of her bilge pumps had rusted so badly her engine room flooded resulting in her listing to port. It was decided to beach her and pump her dry.
Eventually a ship breaker purchased her for $2 million, placing half as a deposit. As soon as they could they began to partially dismantle her, but soon it became clear with the breakers defaulting with the final payment, demolition work was immediately halted. The question is, was this great liner fighting back?
The end of the old girl
There was a move in Australia to purchase her and have her permanently berthed on Melbourne as a tourist facility. This would have been ideal as she brought countless thousands of European and British migrants to Melbourne and had become much loved ship by all. However, before a deal could be completed another company entered the scene as the Alferdoss was purchased by a Thai company in 1992.
The intention was to renovate her to become a floating hotel in Phuket. In order to prepare her to be towed to Asia she was dry-docked for two months, after which she was to be towed by the Ukrainian tug Neftegaz 67 for the 100 day voyage to Asia.
Renamed American Star she departed Piraeus on December 24, 1993, however due to extreme weather conditions Alferdoss had to return to port the next day. Six days later on New Years Eve she recommenced her journey and passed Gibraltar on January 12, 1994.
But trouble struck the ill-fated ship. On January 15, during a severe storm she broke loose and remained adrift with four salvage crew still on board. Several attempts were made to take her under tow again, but this failed. The four crew members were winched off the ship by helicopter, and she was left adrift. On January 17 American Star ran aground on the west coast off Fuerteventura in the Canary Islands. Then 48 hours later with massive waves pounding her she broke in two. American Star was officially declared a total loss six months later in June. Eventually due to the elements, her stern section collapsed into the sea. Today her bow, part of her forward superstructure and the lower section of her funnel (the top having fallen into the sea recently) remains. As can be seen from the photograph below, the bridge is also slowly collapsing, and soon the sea will finally claim her.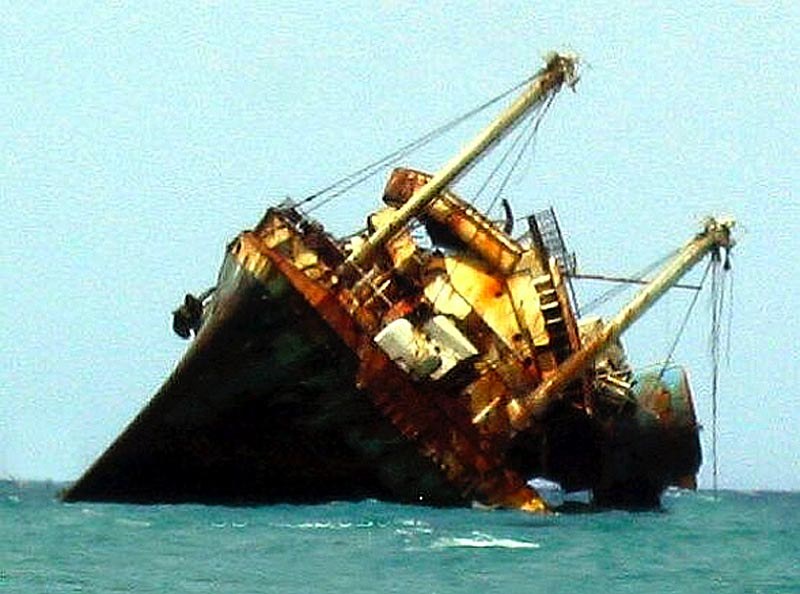 The end of a great liner - American Star is slowly disappearing into the sea
Update:
It is now 67 years (October 2006) since SS America was launched, and for 39 years she faithfully transported passengers on line voyages and on cruises, as well as carrying troops during the war. In addition she was laid up in Greece for 14 years and she has sat defiantly on the beach for another 13 years. This old girl certainly has not given up easily, but, I have to say that her end is now close as stated earlier, she is deteriorating rapidly. All this proves that she was a strong and a well built ship, one America can be proud off, and I hope that Americans will take a stand, and prove their pride in remembering the great shipbuilding days of the Unites States. SS America has gone, but the SS United States remains and she should be retained by America and place in New York as a reminder of America's great maritime history!
March 2009: As can be seen from the photo below the American Star has slowly succumbed to the sea and will soon disappear altogether. It is amazing how she has stood the forces of the ocean for this long!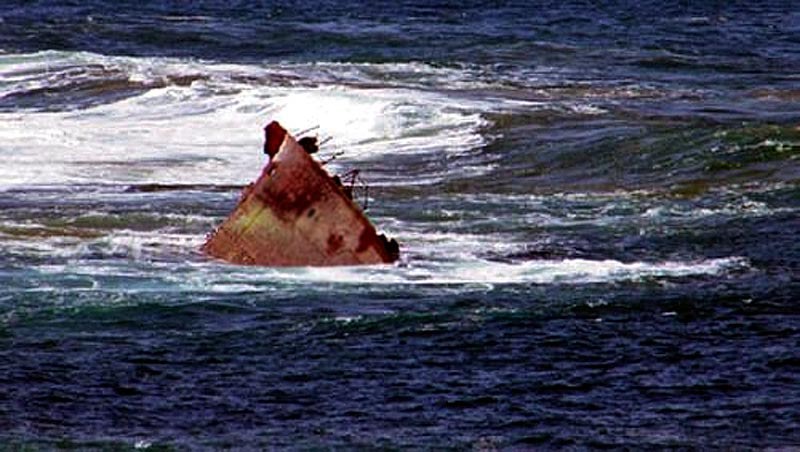 The American Star, once the much loved Australis & America is arriving at her final hours!
Photograph from an unknown source
I am well aware that the once great SS America will remain in our memories, as thousands of Americans, English and Europeans have sailed her. Then, as the beloved Chandris flagship SS Australis she provided a service countless thousands will never forget, be it as passengers that came to Australia and New Zealand as migrants, or as holiday makers to and from the UK as well as on Pacific cruises. For 39 years she served the United States Line and Chandris Line well.
I trust that ex passengers and those who admired her whilst she was in port have enjoyed this feature on the great SS America and SS Australis, a ship that will not be forgotten by all who sailed on her!
As stated earlier, I was the General Sales Agent (GSA) of Chandris in Queensland Australia and was fortunate to sail on all the Chandris liners more than once. My company (Australian Express) operated the annual "Round the World Tours," sailing to and from the UK, and touring the UK and Europe. Each departure saw around 800 passengers depart Sydney heading for the UK, and believe me at times this was a logistical nightmare.
My memories of the Australis, as well as the Patris, Ellinis and Britanis are memorable, especially the many friendships made with the always happy Greek crew!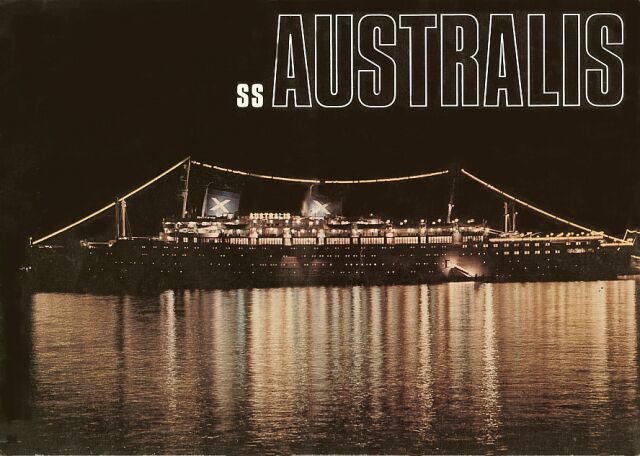 Cover of the official 1967 Chandris brochure
Author's private collection
INDEX
SS America – Australis Main Page
SS Australis 1967 brochure and photo page 1
SS Australis 1967 brochure and photo page 2
Also visit the following Chandris features online
**************************************************
Use the Back button on your browser or Close the Page to return to the previous page
or go to our
INDEX
Who is the Author of ssMaritime?
Commenced in the passenger Shipping Industry in May 1960
ssMaritime.com & ssMaritime.net
Where the ships of the past make history & the 1914 built MV Doulos Story
Also visit my …
"Save The Classic Liners Campaign" & "Classic Ocean Voyages" pages
Photographs on ssmaritime and associate pages are by the author or from the author's private collection. In addition there are some images that have been provided by Shipping Companies and private photographers or collectors. Credit is given to all contributors. However, there are some photographs provided to me without details regarding the photographer/owner concerned. I hereby invite if owners of these images would be so kind to make them-selves known to me (my email address may be found on www.ssmaritime.com only), in order that due credit may be given. I know what it is like, I have seen a multitude of my own photographs on other sites, yet these individuals either refuse to provide credit or remove them when asked, knowing full well that there is no legal comeback when it comes to the net. However, let us show these charlatans up and do the right thing at all times and give credit where credit is due!
This notice covers all pages, although, and I have done my best to ensure that all photographs are duly credited and that this notice is displaced on each page, that is, when a page is updated!
ssMaritime is owned and © Copyright by Reuben Goossens - All Rights Reserved