SS Badger Mariner 1953-1957, SS Atlantic 1957-1971. Then SS Universe Campus 1971-1976, SS Universe 1976-1996
Please Note: iPhones, Tablets & Firefox and other search engines may not suitable
Please use Internet Explorer & Google Chrome for this page to load perfectly!

Click the logo above to reach the ssMaritime FrontPage for News Updates & "Ship of the Month"
With Reuben Goossens
Maritime Historian, Cruise'n'Ship Reviewer & Author
Commenced in the Passenger Shipping and Cruise Industry in 1960
American Export Lines
SS Atlantic
Built as: SS Badger Mariner 1953-1957, then: SS Atlantic 1957-1971.
Next: SS Universe Campus 1971-1976 & SS Universe 1976-1996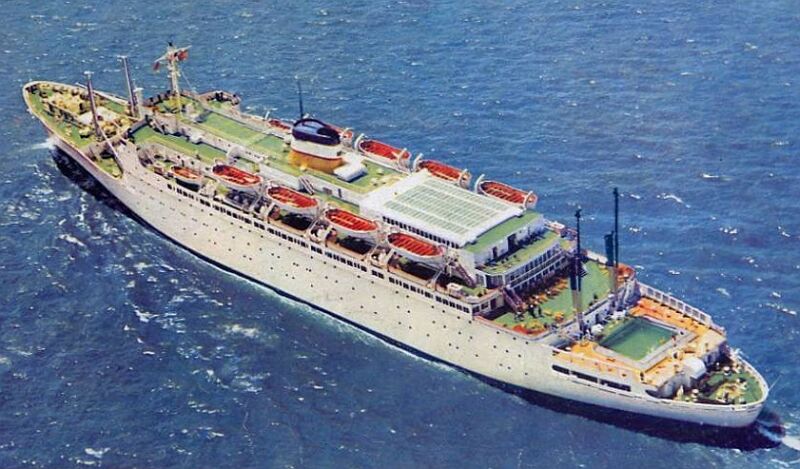 American Export Lines - SS Atlantic, sporting what was then the largest swimming pool at sea!
Please Note: Photographs & postcards are from the author's private collection, unless stated otherwise.
PART ONE: SS Badger Mariner.
SS Atlantic was originally built as a 9,700 GRT (Gross Registered Ton) or a 13,400 Dead weight; post war C4 Class, "Break Bulk Cargo Ship" for the "US Maritime Commission" in 1953. She was built by Sun Ship Building & Dry Dock Co., Chester, Pennsylvania and was named the Badger Mariner, having been launched on July 1, 1953 and delivered on October 29, the same year.

For those who have a special love for C4 Class ships, here are just a few further details; Between 1952 to 1982 some 351 MARAD hull designs C 3 & 4 Class ships were built as well as some assorted other ships that fitted within the category. The Badger Mariner was officially designated a C4-S-1a design and the 24th.ship to be built by Sun Shipbuilding. Her official hull number was 586 and her cost is estimated to have been around U$9.5 million.
The SS Badger Mariner commenced her freighter duties early in November of 1953 and she operated for the next three and a half years and was placed on the market and was soon sold in 1957.
PART TWO: SS Atlantic - American Banner Lines.
Mr. Bernstein was a very successful German-Jewish ship owner before he was arrested by the Nazis and had his ships confiscated in 1937. However he was released owing to his high international profile and was allowed to immigrate to the United States where he restarted his love for shipping and created the American Banner Lines. Mr. Bernstein chartered a number of ships between 1948 and 1951 operating passenger voyages from New York to Plymouth and Antwerp.
Finally he decided that he would operate a passenger liner between New York, Belgium and the Netherlands. SS Badger Mariner being one of the many the C4 class ships up for sale was acquired to fill this role in 1957 and she would be extensively rebuilt into a passenger liner. Accommodations on his new ship would differ from many ships sailing on the Atlantic, except for the three Holland America Line ships who pioneered the idea and Bernstein obtained the idea from them, therefore 85% of his new ship would be dedicated to Tourist Class, with a small but superbly elegant First Class section being located up on Boat Deck.
Having obtained the 9,700 GRT SS Badger Mariner in 1957, American Banner Lines sent her to the Ingalis Ship Building Corporation at Pascagoula in Mississippi in order to give this ship an extensive rebuild and conversion into a major passenger liner, but still having a considerable cargo capacity. Although her linear dimensions obviously remained the same, but she had received additional passenger decks as well them all having been lengthened forward and aft, her tonnage increased to 14,138 GRT. In addition, she received a new name, the SS Atlantic.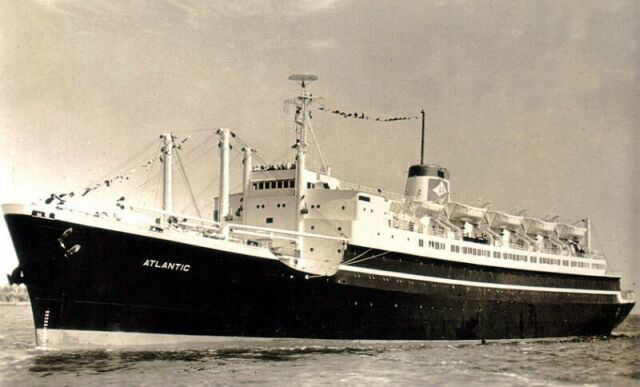 SS Atlantic was rebuilt from a simple C4 Class freighter into a fine passenger liner by Mr. Bernstein
The extensive rebuilding did a fine job of masking the ship's freighter's origins and she now had a relatively modern and a well proportioned, be it a somewhat boxy forward profile. Yet, she looked much like other passenger ships built of those years. She was given a livery of a black hull and strangely the black was raised up high to below the Promenade Deck overhang and there was a white stripe one deck down from Promenade Deck to balance the appearance. Her upper superstructure was white and was topped by a squat blue funnel with the "AB" logo on it that stood for "American Banner Lines."
She had a long glass-enclosed Promenade Deck that except for the forward part covered the length of both sides of Promenade Deck, inside a superb range of glamorous and spacious public rooms.
Upon completion her passenger accommodations were as follows; First Class 40 passengers, and Tourist Class 860 passengers. She had a crew of 320. She was 564ft - 169m long, 76ft - 23m wide, and had a draught of 28ft - 7.9m Steam DR Geared Turbine engines, single screw sailing at 20 knots, fully air-conditioned and stabilised. She was completed and delivered in June 1958, and she departed on her maiden voyage from New York to Antwerp and Amsterdam on June 11.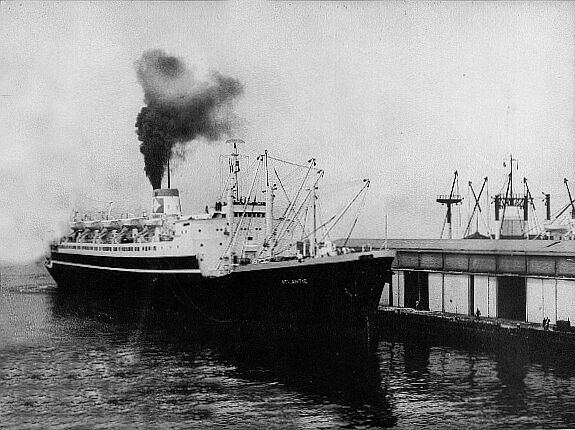 SS Atlantic departs on her maiden voyage from New York to Antwerp and Amsterdam - June 11, 1958

Originally - Associated Press

However Bernstein timing was a poor one due to it being the beginning of the passenger jet age and his new liner service did not prove to be profitable and all too soon the SS Atlantic departed Amsterdam on October 25, 1959 for her final voyage for the company. Upon her return home she was sold and transferred to her new owners in November. Not long after having sold the Atlantic Arnold Bernstein decided to retire from the shipping industry. He died on March 6, 1971 aged 83.

American Banner Lines – Brochure

:

<![if !vml]>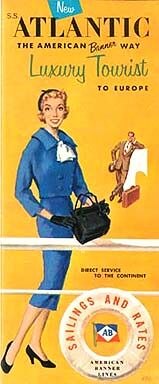 <![endif]>

An American Banner Line brochure
The above brochure was kindly provided by Björn Larsson of …
www.timetableimages.com/maritime/index.htm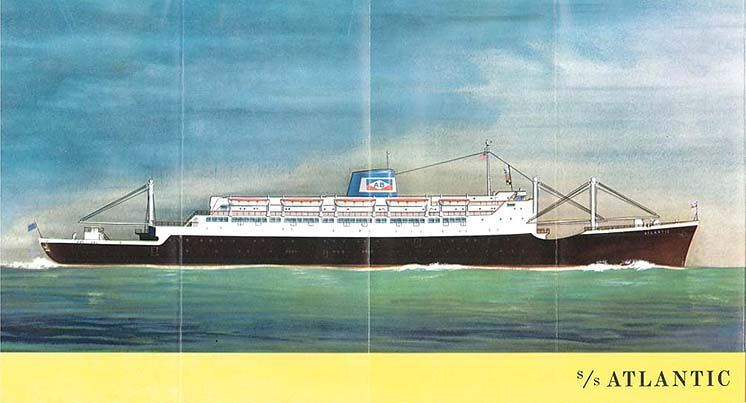 An artist impression of the SS Atlantic from inside the brochure
The above brochure was kindly provided by Björn Larsson of …
www.timetableimages.com/maritime/index.htm
The Tourist Class Dinning Room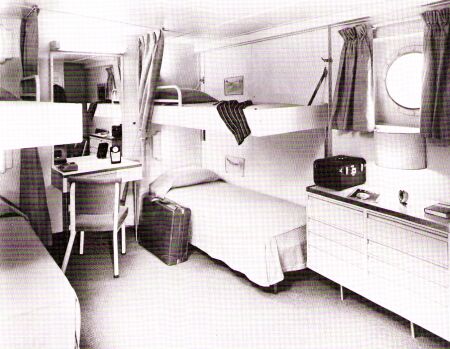 A typical Tourist Class four berth outside Cabin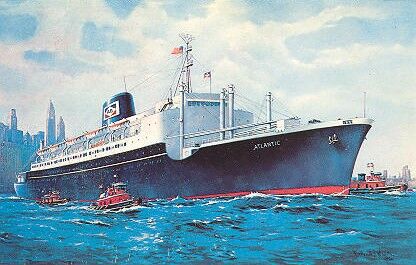 A postcard of the American Banner Lines SS Atlantic
PART THREE: SS Atlantic – American Export Lines.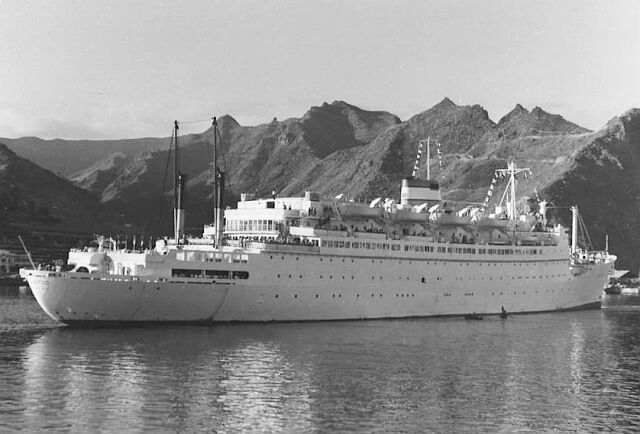 SS Atlantic seen in her all white in her new Mediterranean livery - Tenerife around 1960
Photographer unknown - *Please see photo notes at bottom of page
American Export Lines took delivery of the SS Atlantic in November 1959 and decided to retain her name. She would be given a refit in order to make her a "Top-Flight" Tourist (cruise) Ship sailing to the Mediterranean and this work was done by her original builders the great Sun Shipbuilding & Dry Dock Co., Chester. All Cabins were carpeted and tourist class beds became sofas during the day turning these cabins into comfortable day lounges. In addition every cabin on board had private facilities. On Promenade Deck there were 16 First Class Cabins, with all their Lounges and Dining Room and deck space up on Boat Deck. The rest of the ship was exclusively Tourist Class! The all-new all white SS Atlantic was completed in May 1960 and was now registered at being 18,100 GRT.
She departed on her maiden voyage from New York to Haifa on May 16, 1960. Five years later, in 1965 it was decided for the Atlantic to become an all One-Class ship, now operating with just 840 passengers. It is worthy to note that the SS Atlantic was just one of a Trio of Ships operating for "American Export Lines" between the USA to the Mediterranean. The SS Atlantic operated with the two delightful sisters, the SS Constitution and Independence.
In 1965 Bob Griffin joined her as the ships Athletic and Sports Director and he was kind enough to provide the following photographs for which I am most grateful! We are able to see her in her glory days. Later he also sailed on her running mates the SS Constitution and Independence.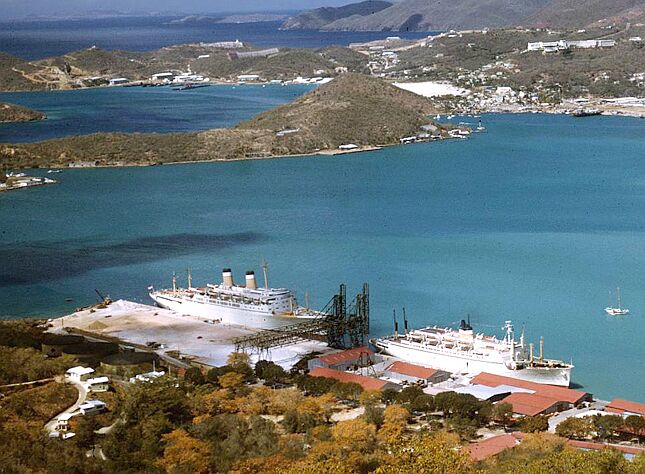 SS Atlantic seen in St Thomas in 1965 with her running mate SS Independence at her stern
Photograph by past SS Atlantic Sports Director Bob Griffin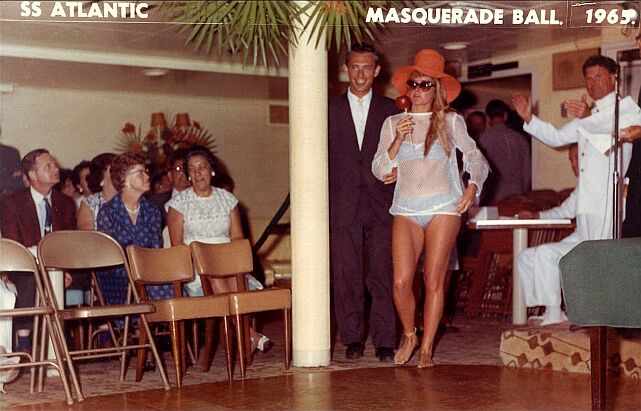 Sports Director Bob Griffin escorting "Lolita" to the floor during Fancy Dress
How does it happen that this rather skimpy clad girl won! Is it that only the men voted?
Photograph by SS Atlantic ships photographer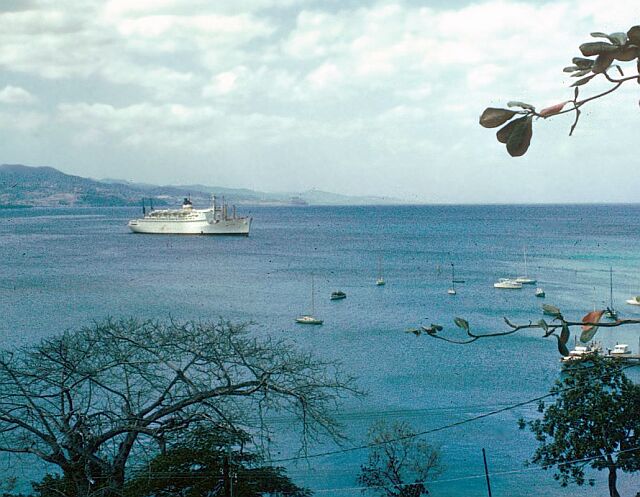 SS Atlantic seen in Montego Bay, Jamaica in 1965
Photograph by SS Atlantic's ex Sports Director Bob Griffin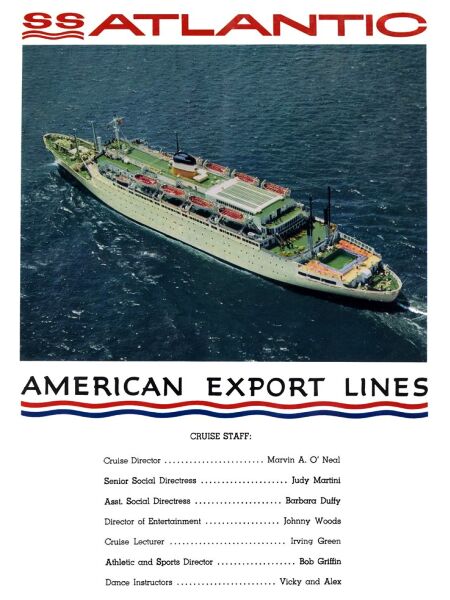 A list of the Cruise Staff left in all cabins of SS Atlantic inn 1965
From Bob Griffin's private collection
With the eventual decline in sea travel SS Atlantic was laid up in New York in October 1967 and was moved to Baltimore during March 1969 and she remained idle. It was not until 1971 that a buyer was found for her, and would be to a company who after a fire had destroyed one of their ships in Hong Kong and they urgently needed to replace her.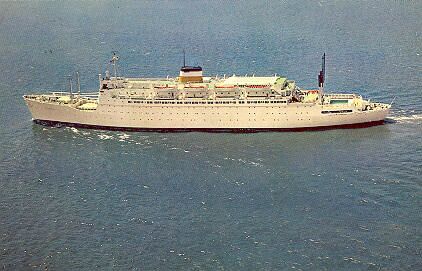 A popular postcard of the Atlantic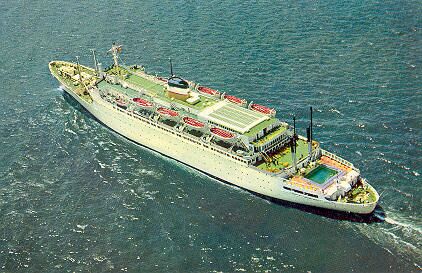 The second postcard of the series
PART FOUR: SS Universe Campus - Orient Overseas Line.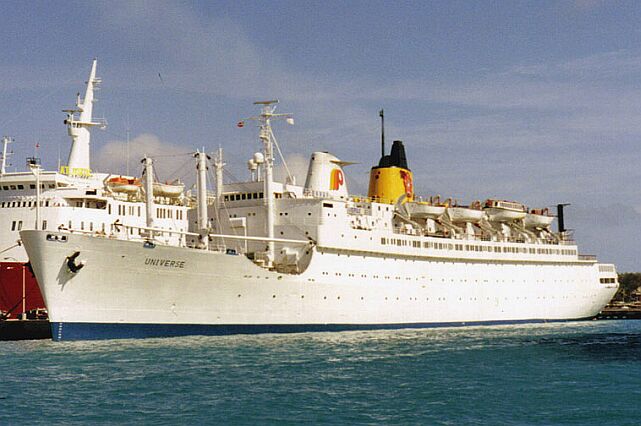 SS Universe is seen here after she had her name shortened in 1976
Photographer unknown - *Please see photo notes at bottom of page
SS Atlantic was sold in 1971 to C.Y. Tung and renamed Universe Campus and registered in Monrovia at 13,950 GRT for Seawise Foundation Inc. One of the main reasons for Tung's purchasing her was the loss of the ex RMS Queen Elizabeth which had been destroyed by fire in Hong Kong harbour in January whilst her conversion as the Seawise University was almost complete, and he needed a ship that would need little work done to it to operate as an at-sea college and the Atlantic proved to be perfect! Externally she received a funnel extension; her funnel was painted yellow and the traditional C.Y. Tung/Orient Overseas Line red Lotus flower emblem.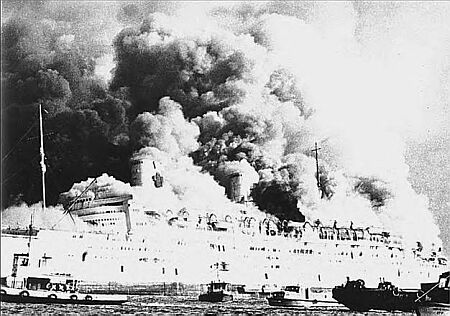 Ex RMS Queen Elizabeth, renamed Seawise University ablaze in January 1971
Originally a Press photo
The SS Universe Campus departed on her first cruise on September 4, 1971 and she commenced a very successful career for the next 20 years plying the world. While sailing as a university at sea, it would be during the summer months she would operate cruises to Alaska for vacationing passengers but always with an emphasis on education regarding the environment.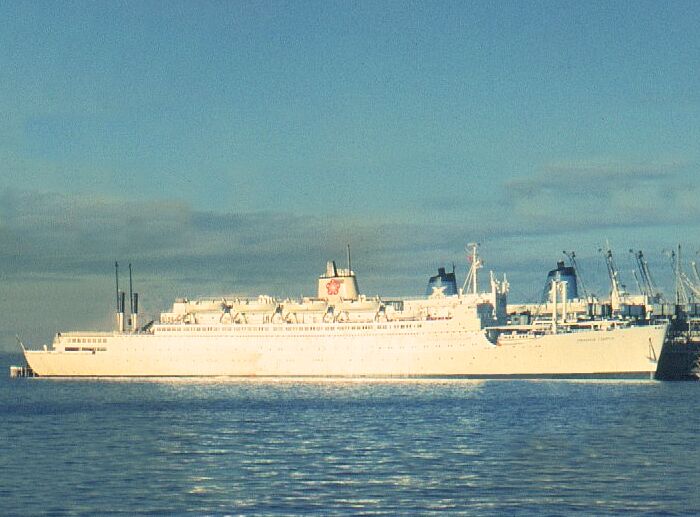 A fine shot of the SS Universe Campus with the Chandris liner RHMS Ellinis behind her

Photographer unknown - *Please see photo notes at bottom of page

PART FIVE

: Postcards of the SS Universe with a both her original white & her later blue hull.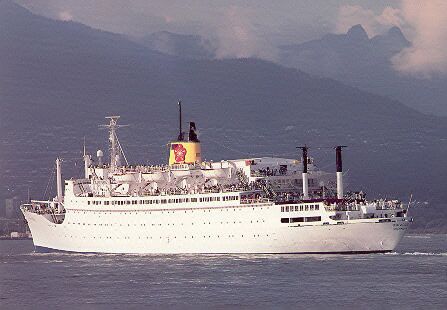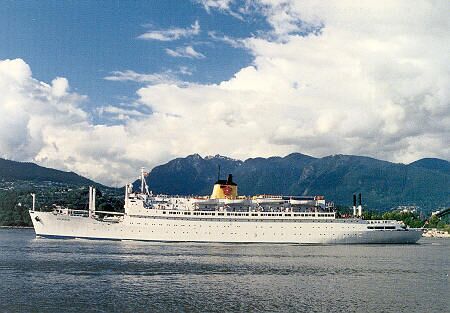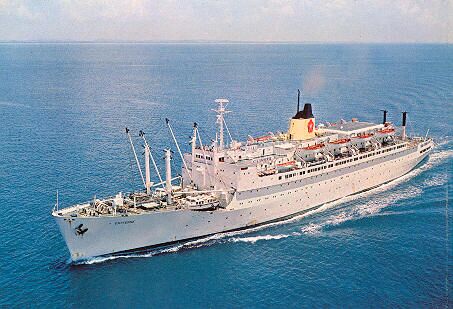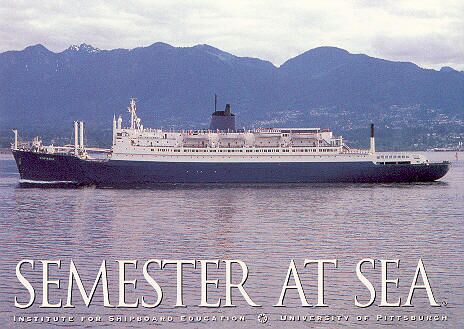 A postcard of the SS Universe sporting her new livery with a blue hull and funnel
In this image the red Lotus flower seems to be missing, I do not know why, but it did return
In 1976 her name was shortened to Universe and she continued her usual duties. Over the years reports came in and they always said how superbly she was maintained and that she was simply beautiful.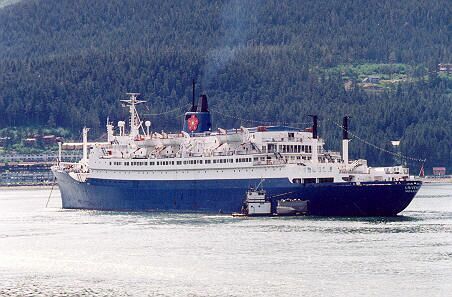 SS Universe is seen here towards the very end of her days

However, in her latter years her boilers became her major problem and it was the reason why she was finally retired in December 1995, as there had been major boiler failure.

SS Universe was sold in 1996 to an Indian ship breaker and she was taken undertow to India, arriving at the breakers beach at Alang on April, 6 and she was soon broken up.

From the ships original maiden voyage in 1953 to her being laid up with her broken down boiler, this fine ship gave 42 years of excellent service, it was only during her last months she became a troubled ship, thus being sold to the breakers. However, thousands have sailed on her and she will always be remembered for the wonderful days she has given so many passengers and students alike! For so many will have countless wonderful memories of their days aboard her!

Also read about American Export Lines …

SS Constitution & SS Independence

*********************************

Use the Back button on your browser or Close the Page to return to the previous page
or go to our

INDEX

ssMaritime.com

& ssMaritime.net

Where you will discover over 1,125 Classic Liners & the 1914 built MV Doulos Feature

Also visit my …

"Save The Classic Liners Campaign"

Photographs on ssmaritime and associate pages are by the author or from the author's private collection. In addition there are some images that have been provided by Shipping Companies and private photographers or collectors. Credit is given to all contributors. However, there are some photographs provided to me without details regarding the photographer/owner concerned. I hereby invite if owners of these images would be so kind to make them-selves known to me (my email address may be found on www.ssmaritime.com only), in order that due credit may be given.

This notice covers all pages, although, and I have done my best to ensure that all photographs are duly credited and that this notice is displaced on each page, that is, when a page is updated!

ssMaritime is owned and © Copyright by Reuben Goossens - All Rights Reserved