SS Independence 1951-2001 and SS Constitution 1951-1995
Please Note: Firefox and some other search engines are not suitable – Use "Internet Explorer" for this page to load perfectly!
Click the logo above to reach the ssMaritime FrontPage for News Updates & "Ship of the Month"
With Reuben Goossens
Maritime Historian, Cruise'n'Ship Reviewer & Author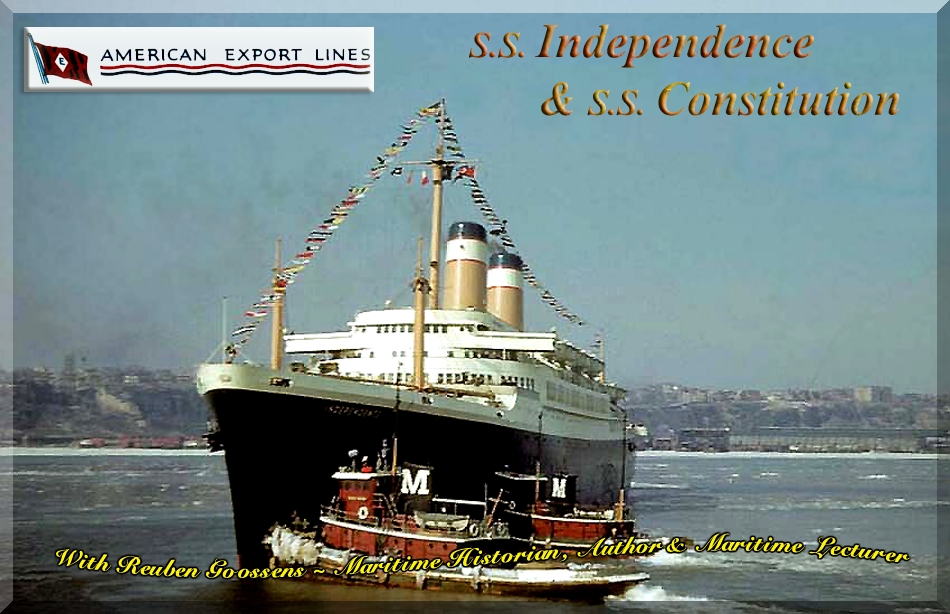 The start of a new Trans-Atlantic Era
SS Independence, 23,719 GRT, and the 23,754 GRT, SS Constitution where built for the American Export Lines to operate on the US Mediterranean service. She was constructed in yard 1618 of the Bethlehem Steel Corporation, Quincy Mass USA. She was launched on June 3, 1950 and completed January 1951.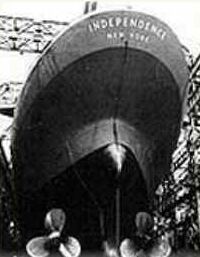 Her superb slightly modified counter stern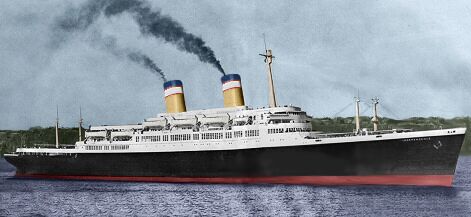 Above: SS Independence seen in the mid fifties prior the rebuild
From the author's collection
1 - SS Independence:
SS Independence departed on her maiden voyage, being a cruise to the Mediterranean, on February 11. On April 12 she departed her first liner voyage from New York to Genoa, later the route was changed to New York to Naples.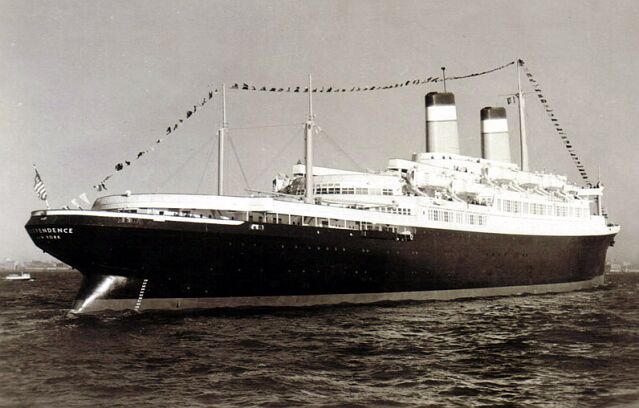 SS Independence is seen here departing New York on her maiden voyage
Authors' private collection
Item & Photograph © 2008 Marco Farr
The envelope above and below was sent to Joe Farr who was the Chief Engineer for American Export Lines for many years 1951. It was mailed at sea from the maiden voyage of the SS Independence. The signature, Hugh Switzer, is that of the first captain of the Independence, a close friend of my parents. Joe Farr eventually became Secretary-Treasurer of the Brotherhood of Marine Officers, the officers' union of American Export Lines. This item and images were kindly provided by his daughter, Margo Farr.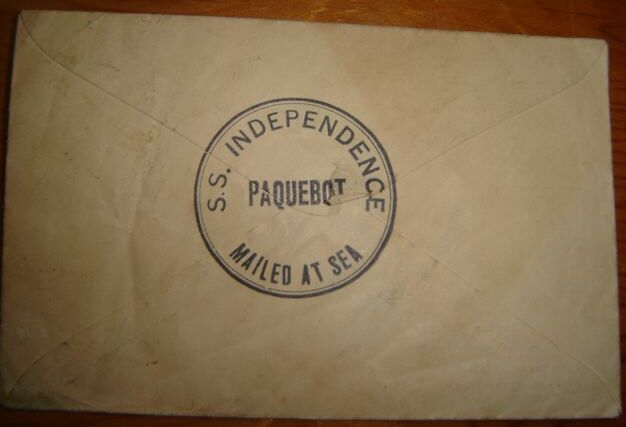 Item & Photograph © 2008 Marco Farr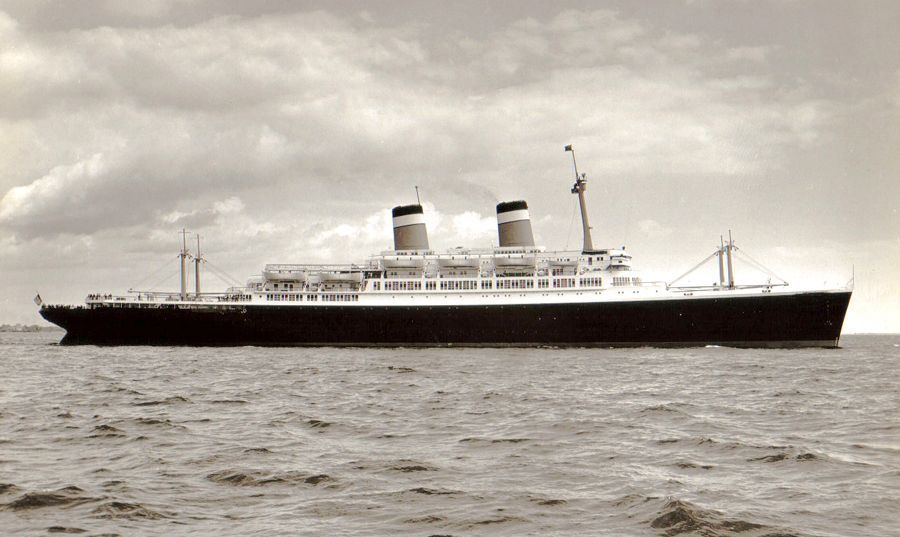 The sleek SS Independence seen later in 1951
From the author's collection
2 - SS Constitution
.
Launched on September 16, 1950, SS Constitution was built in yard 1619 next to her sister. She was completed in June 1951 and departed one her maiden voyage on June 25. Passenger accommodations consisted of 295 First Class, 375 Cabin Class, and 330 Tourist Class passengers.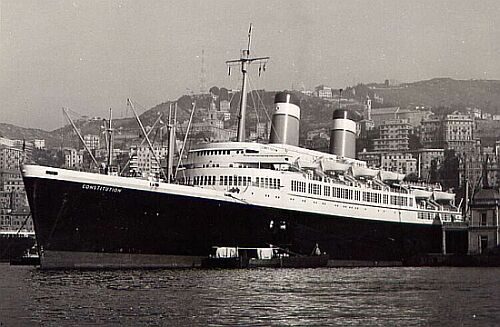 SS Constitution looking simply stunning,
From the author's collection
Dimensions: Length: 208m – 682ft. Width: 27.2m – 89.2ft. Draught: 30.2ft. Propulsion: Two sets of DR Geared Steam Turbines. Twin Screw. Service Speed 22.5 knots.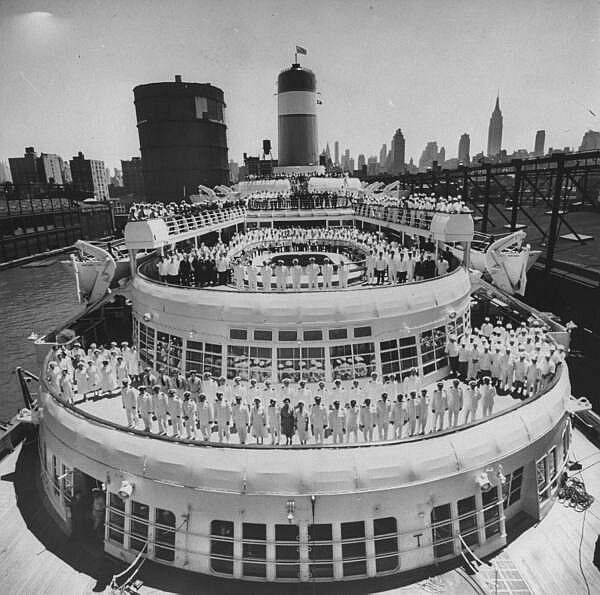 The crew of the SS Constitution
From the author's private collection
Grace Kelly Sails on the SS Constitution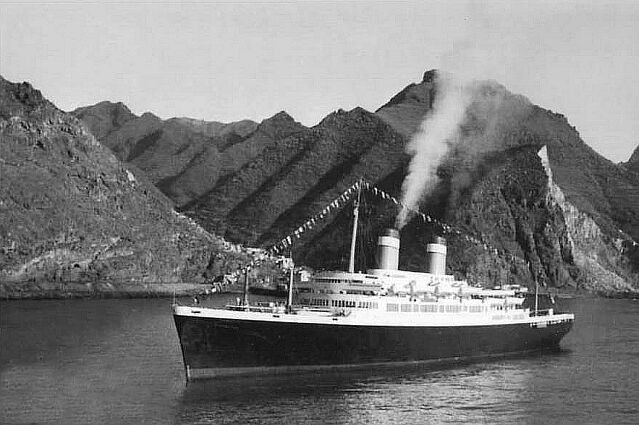 The elegant looking SS Constitution seen at Tenerife in the early 50's
Photo: Tenerife Port Authorities
On April 4, 1956, Grace Kelly and fifty of her family, bridesmaids, and her poodle boarded the SS Constitution at New York's Pier 84 for her voyage to her Prince and new homeland. In addition it is said that she had over eighty pieces of luggage. Even though around 400 reported applied to sail on this voyage the vast majority was turned away and only a few were permitted to join the ship. Thousands of people saw the ship off as she sailed for eight days across the Atlantic to Monaco where she had to anchor just outside of the harbour. Prince Rainiers yacht the "Deo Juvante II" was sent out to the ship to bring Grace ashore. As Grace Kelly stepped ashore from Rainier's yacht well over 20,000 local's and tourists were there to welcome Grace Kelly ashore!
Eight days later Prince Rainier the 3rdiand Grace Patricia Kelly were married in a civil ceremony in the throne room at the Palace in Monaco, which was a requirement by law of the land. However the very next day the grand ceremonial wedding took place in the Cathedral. In her "Helen Rose" wedding gown made with twenty-five yards of silk taffeta and one hundred yards of silk net, and some 125-year-old lace and thousands of pearls, Grace and Rainier married in Monaco's grand Cathedral. Her wedding ring had a huge 10 Karat diamond, Princess Grace's wedding was considered one of the most a spectacular events and was shown in movie real's around the world. After the wedding there was a garden party at the Royal Palace, which was attended by Grace's family and many Hollywood friends. To welcome their new Princess the people of Monaco gave her a Rolls Royce, a diamond necklace with earrings to match. By 5PM Grace and Rainier had left for their honeymoon on Rainier's luxurious yacht. Actress Grace Kelly was now officially - Her Serene Highness Princess Grace of Monaco!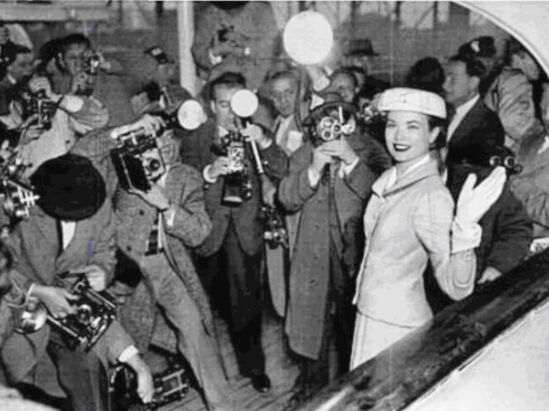 Grace on board the Constitution just prior departure with the media taking their final photographs
Media photo – source unknown *See Photo Notice at bottom of the page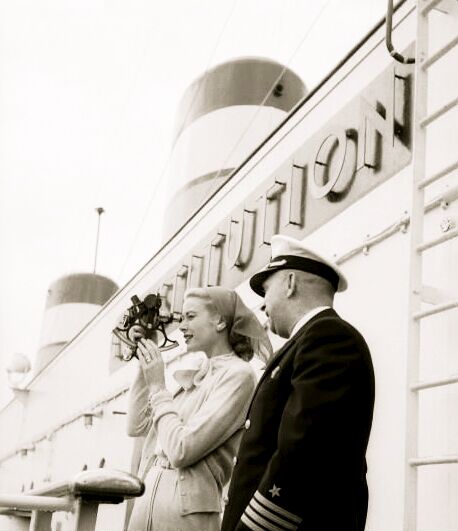 Grace Kelly and the Captain whilst the ship is at sea
Media photo – source unknown *See Photo Notice at bottom of the page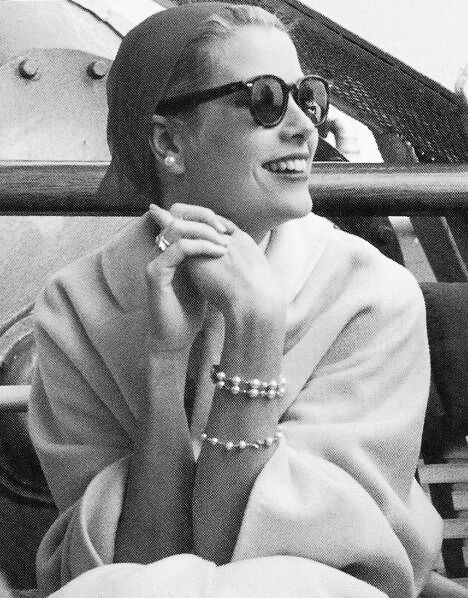 Grace Kelly on board SS Constitution
Media photo – source unknown *See Photo Notice at bottom of the page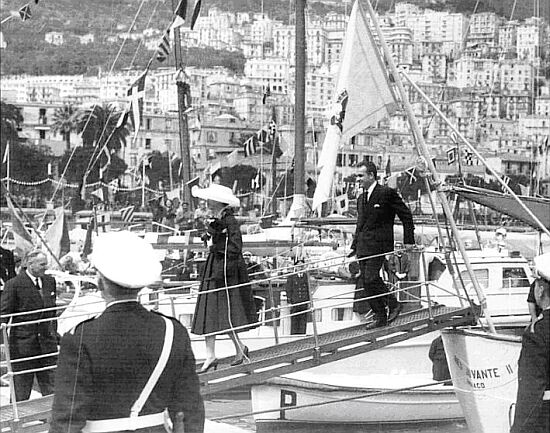 Having arrived in Monaco, Grace and Prince Rainer leave his private yacht and come ashore
Media photo – source unknown *See Photo Notice at bottom of the page
In honour of Grace Kelly's voyage on the Constitution, later a room on Promenade Deck was named the "Princess Grace Room," and it was located between the Lounge and Showroom.
The rebuilding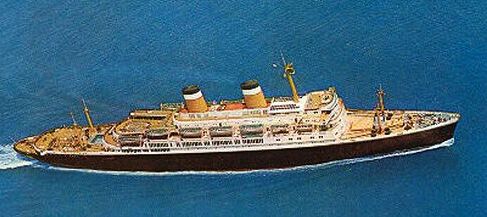 SS Constitution seen after the rebuild of 1959
From the author's collection
In 1959, both ships were sent to Newport New, where their forward superstructure was moved 22 feet forward and lifted up by one deck, in order to increase First Class passenger capacity by more than 100 berths. Sadly, the reconstruction changed the previously well-balanced, graceful look, especially with the loss of half of the glass enclosed promenade deck and the added height forward. Accommodations were now listed as 484 First Class, 350 Cabin Class, and 254 Tourist Class passengers.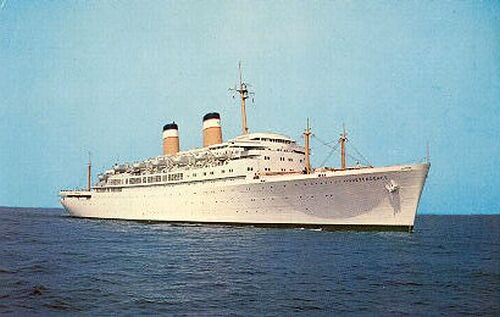 SS Independence is seen here after the Isbrandtsen Company acquired both ships in 1960
From the author's collection
In 1960 the controlling interest was acquired by Isbrandtsen Co. Inc New York. During their Hey-Day's they movies were made onboard, with such stars as Cary Grant and Deborah Kerr, and many others for that matter. They also carried high profile passengers such as President Harry Truman, Alfred Hitchcock, Walt Disney, even King Saud. Both ships continued on the Mediterranean run, however, like most Trans-Atlantic liners of the day, passenger numbers dropped and the service was suspended in 1967.
Two fine photographs by Robert (Bob) Griffin
Robert (Bob) was the Athletics & Sports Director on the SS Independence on one cruise in 1962 and again later on the SS Atlantic in 1965/66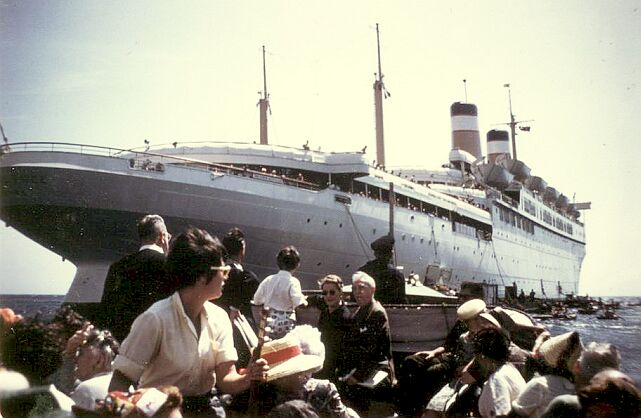 SS Independence at anchor off Madeira as tenders takes passengers ashore
Photo by & © Bob Griffin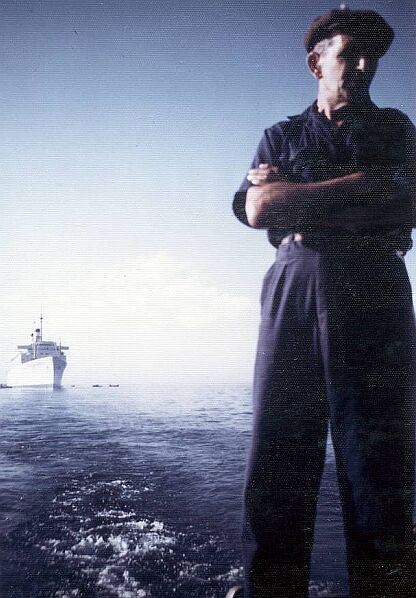 SS Independence – No this man does not walk on water, he is standing on a tender heading for Madeira
Photo by & © Bob Griffin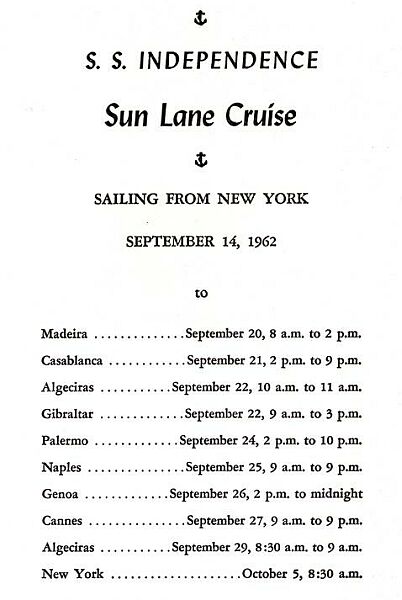 Itinerary of the SS Independence cruise ex New York - September 14 to October 5, 1962
Provided by & © Bob Griffin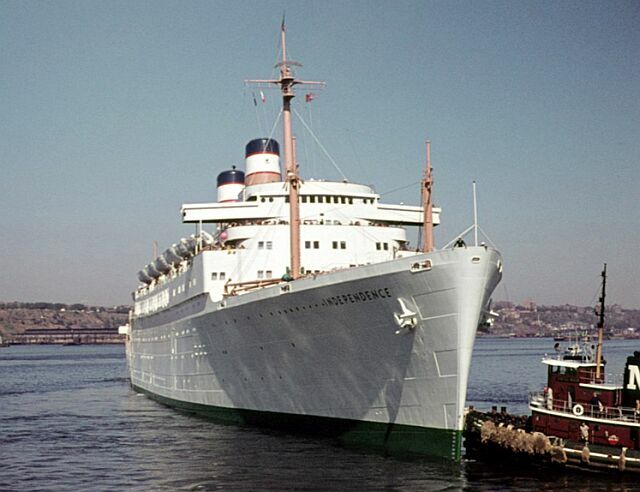 The SS Independence is seen here backing away from her New York pier on October 5, 1963
Photograph taken by Herb Frank - From the Rich Turnwald collection
On March 12, 2009 I received an interesting email from Tracey Oliver from Orlando, Fl, in regard to her voyage on the SS Independence and I thought it was interesting enough to place online!
"I was online trying to get some information about the SS Independence when I found your website. I have enjoyed reading all of it. I wanted to share with you a story that happened to me when I sailed on the ship in 1965. I was a little girl (8 yrs. old) travelling with my parents and three younger sisters in the summer of 1965. My father was an Army Captain in the US Army and had been transferred to Athens, Greece and we sailed on the SS Independence for his transfer to Greece. I remember our voyage fondly and really enjoyed most of our trip. We caught the tail end of a hurricane that made a few days of our cruise very rough. I remember trying to walk down hallways while keeping my arms out so I wouldn't slam into the walls. Also at our dinner table the chairs would be sliding to and fro as the ship rocked back and forth. My Mom and I were seasick for a few days until the seas quieted down.
There was one particular memorable occasion that happened to me whilst on the cruise when mother allowed me to take two of my sisters to see a movie while on the ship. Before the movie started there was a Disney cartoon shown. When the cartoon was first starting they showed a little round picture of Mr. Walt Disney. We watched the cartoon and then the movie. When it was over the lights came back on and everyone stood up to exit the theatre. In the row in front of us was a man and a lady and I was so surprised when I recognized him as Mr. Walt Disney since I had just seen his picture in the cartoon. I was too shy to say anything to him and I whispered to my little sisters to "look that is Mr. Walt Disney." They just laughed at me and didn't believe me. I later told my mother and I think she thought I was confused or crazy. To my delight my mother found out before our cruise ended that indeed Mr. Walt Disney and his wife were on our cruise taking a vacation to Italy. I then happily told my sisters "I told you it was him."
I read in your information about him being one of the famous people to have travelled on the SS Independence. I gladly verify that he was on that ship. Ironically, for the last 8 years I have lived in Orlando, Florida and have told lots of people my story about seeing Mr. Disney in person.
I believe he died of lung cancer within 1-2 years of my seeing him. That time on the SS Independence was very exciting and the start of my love of travel and of a life of travel for the next 40+ years. Thanks for your info about such a great ship."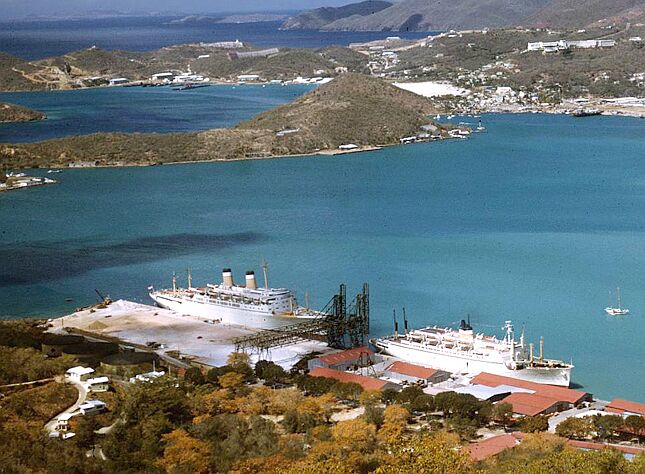 SS Independence is seen at St Thomas in 1965 together with another ship of the fleet - SS Atlantic
Photo by & © Robert (Bob) Griffin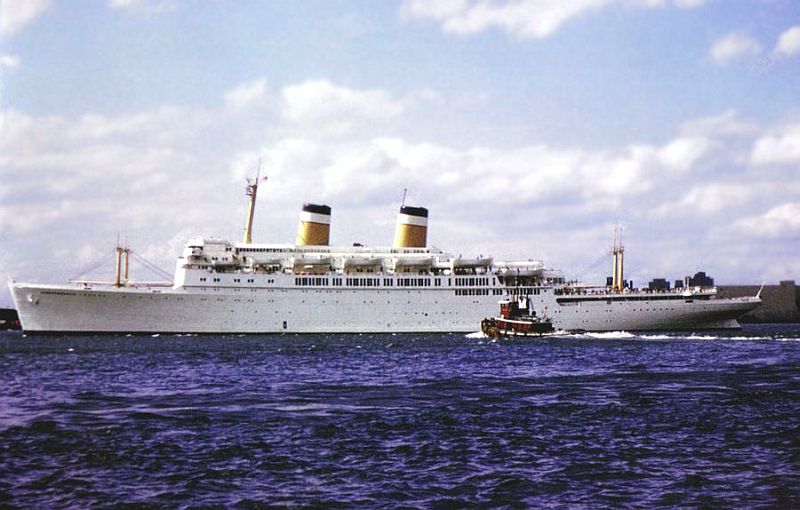 The Independence seen in her last year, before the failed "Fugazi" venture, and was then laid up
Photographer unknown – Please see photo notes at bottom of page
In 1968, both ships were placed on full time cruise duties … But times were changing!
1 - SS Independence was chartered to the American Travel Agency, Diner's Club/Fugazi who was going to operate her under the name of "Go-Go Cruises" describing her as a one class FunShip. She was repainted white with a massive sun burst, with Jean Harlow's eyes in the centre, and the long sunbursts, stretched along the hull, as well as pointing up to the funnels. This look according to many was hardly suitable for a ship of her standing, and it was considered rather unbecoming for the old girl. However, this venture soon failed and she was laid up in Baltimore on March 13, 1969.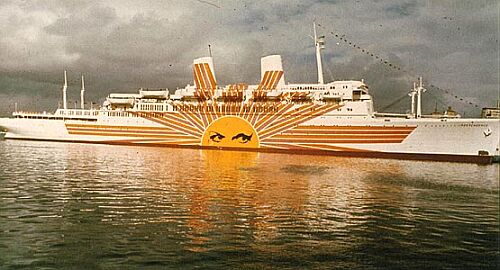 SS Independence seen during her Fugazi "Funship" months in 1968
Photographer © MR. Bill Chefalas AIBD
Please Note: To read more about transformation of the SS Independence into the "FunShip" by Mr. Bill Chefalas, please click "Page Six" via the Index at the bottom of the page.
2 - SS Constitution cruised on for just a few more months before she was laid up on September 9, 1968 at Jacksonville. Isbrandtsen decided to place both ships on the market.
Atlantic Far East Line
In January 1974, both the Independence and Constitution were sold to the Atlantic Far East Line Inc., Monrovia, being part of the massive C.Y. Tung group. The Independence was renamed Oceanic Independence and after a refit she commenced cruising, with a new passenger capacity of 950 passengers. However, the Constitution, renamed Oceanic Constitution, was laid up at Hong Kong on August 4, 1974. Oceanic Independence continued to cruise until she was also laid up at Hong Kong on January 17, 1976. In November that year there were rumours that she was to be sold to Shannon SA, of Panama, but, this did not eventuate. Oceanic Independence remained laid up and was renamed Sea Luck I.
American Hawaii Cruises
As they were no longer American flagged ships, C.Y. Tung was not able to operate them within American waters. However, in 1979 both the U.S. Senate and House of Representatives approved their return to the States. In 1980, C.Y. Tung transferred the Oceanic Independence to their newly established; US based American Hawaii Cruises Inc. After extensive repairs and a refit at the Kawasaki Dockyard Co. Ltd, Kobe Japan, Oceanic Independence now accommodated 750 one-class passengers, and she was listed as being 20,220 GRT.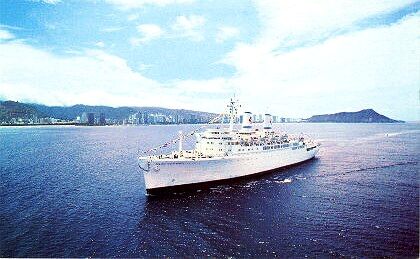 CY Tung's American Hawaii Cruises SS Oceanic Independence seen in 1981
Photographer unknown – *See Photo Notice at bottom of the page
Oceanic Independence departed on her maiden cruise in June, 1980, operating 7-Day cruises around the Hawaiian Islands of Honolulu. On September 24, 1981, she sustained minor damage off the coast of Nawiliwili, however passengers were safely taken from the ship and flown home. In October she was taken to San Francisco for repairs and soon returned to service. In 1982, American Hawaii Cruises Inc became part of the American Global Line, Inc, and to the joy of American's she became the SS Independence once again.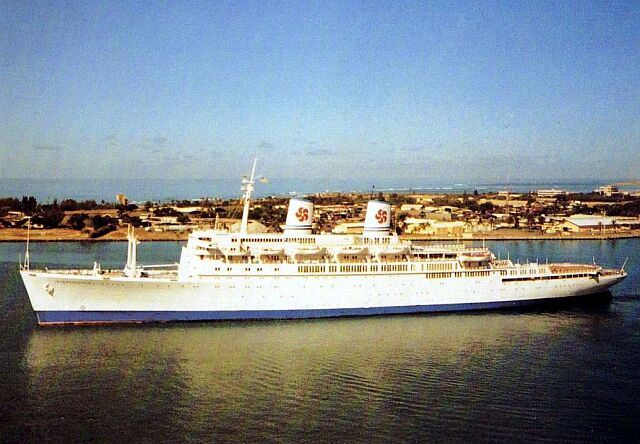 In 1983 this postcard was released after her name was changed back to SS Independence
Author's private collection
With Oceanic Independence having been successful in 1980, SS Oceanic Constitution was refitted in Taiwan and departed for Honolulu with a passenger capacity of 1,088, and was listed at 20,199 GRT.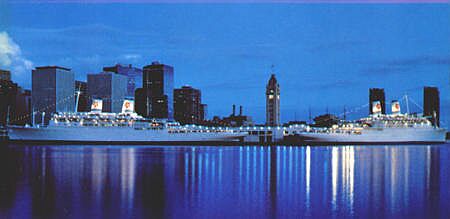 SS Independence and Constitution seen berthed together in Honolulu
From the author's collection
Oceanic Constitution was transferred to the American Global Line, Inc, and was re-christened by Princess Grace of Monaco under her original name. SS Constitution commenced cruising out of Honolulu in June 1982. In 1984, her passenger numbers was reduced to 800. Both ships were officially reregistered in Honolulu in 1987.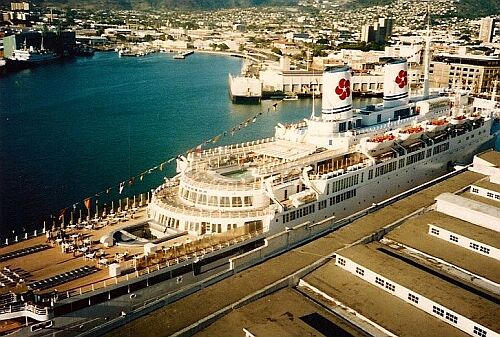 SS Constitution in Honolulu
Photograph by Steven Bingman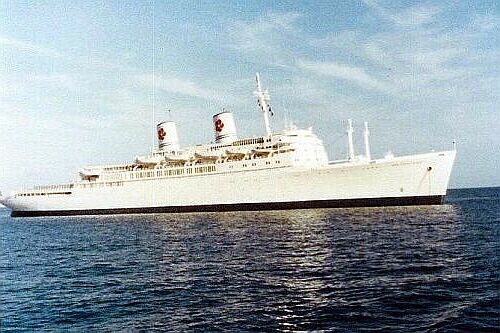 SS Constitution at anchor
Photograph by Steven Bingman
In 1994 Independence was withdrawn from service and she headed to Newport News Shipbuilding and Dry dock Company for an extensive refit. However, in April 1996 American Hawaii Cruises decided to retire the forty six year old SS Constitution, which they said was due to her high running costs and renovations required. She was finally laid up due the company's financial problems. During her lay-up many of her parts were taken and were used on Independence.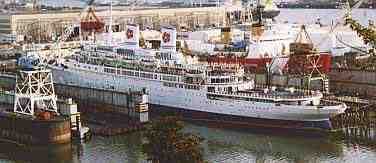 SS Constitution seen laid up at Portland in 1996
Photographer unknown – *See Photo Notice at bottom of the page
On November 5, 1997, Constitution departed Portland where she had been laid up, under tow by the Chinese Ocean going tug De Da. Twelve days after departure, Whilst under tow heading for an Asian breakers yard, located about 700 miles north of Hawaii, Constitution started to take on water, and due to he imminent sinking the tug cut her loose. On November 17, 1997, the once magnificent Constitution slipped beneath the waves and into history. I personally feel that seemed a better end for this fine ship than hundreds of blowtorches cutting her up!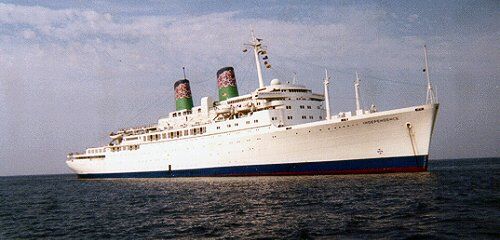 SS Independence seen after her last refit
From the author's collection
SS Independence Sails on
After her demise of the SS Constitution, her older sister SS Independence became the last US built ocean liner to sail under the American flag. Celebrations were held on board during Independence's 1,000th voyage in August 1999. A section of her mahogany handrail was especially removed and sliced into sections as a "commemorative souvenir." This unique relic from one of America's great ships measures 2 +" by 7" and was fitted with a brass plaque which reads, "Voyage 1000, S.S. INDEPENDENCE, August 14, 1999" and the author is the proud owner of one of these rare items.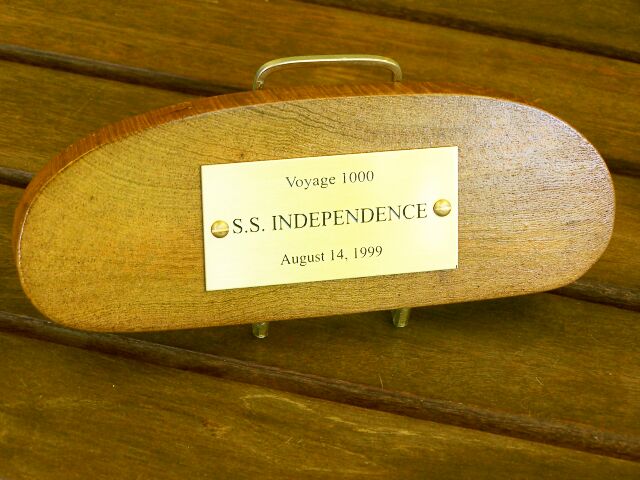 A piece of SS Independence mahogany handrail removed on August 14, 1999 and provided to the author
Owned by author
Bankruptcy - The end of an era & What of the Ship?
On October 19, 2001, American Global Line, owners of the American Hawaii Line declared bankruptcy. On October 30, 2001 the grand lady SS Independence departed Honolulu at 1300 hrs sailing for San Francisco. On November 8, she sailed past San Francisco's Pier 39 at . American Maritime Historian Peter Knego noted; that "the fireboat Phoenix greeted and accompanied Independence from the Golden Gate Bridge to the San Francisco-Oakland Bay Bridge." The SS Independence was now the property of the US Maritime Administration, docked was at the former Alameda Naval Station. On January 25, 2002: she was moved to San Francisco's pier 50.
On March 5, 2002, SS Independence departed assisted by two tugs heading for Suisun Bay, where the US reserve fleet is located. However, she was returned to her San Francisco berth due to her mast was damaged whilst going under the Carquinez Bridge. The top of the mast snapped off just above the radar. Finally on April 12, the Independence was finally laid up in Suisuin Bay together with other US mothballed vessels of the reserve fleet.
Asian (Malaysian Genting) Casino Lords, owners of Star Cruises & NCL
Slow destruction of the SS Independence & the SS United States!
In February 2003, came the announcement that the Independence had been sold at auction for US$4 million to Norwegian Cruise Line NCL, owned by the Malaysian casino/shipping giant, Genting/Star Cruises.
Then came the great promise that the SS Independence would be refitted, and the mighty SS United States rebuilt after which both ships would then sail for the Asian owned Norwegian Cruise Line's new American company, to be known as NCL America IF the US Senate and Government would permit NCL an American Cruise Company, well they did and the built and soon operated a fleet of four German built ships in Hawaii, but both American ships were neglected and rusting away!
NCL's Press release at the time also stated: "NCL purchased the vessel (SS Independence) at federal auction from the US Maritime Administration saving her from almost certain scrapping. The potential addition of the SS Independence as a fifth vessel in NCL's US flag operation is being evaluated."
Obviously the key word there was the word "evaluated," which almost certainly meant that the Independence was never going to be suitable for NCL America, but she was there to serve the purpose of obtaining the American flag on the stern of their ships! After the announcement, SS Independence was moved on April 11 to the former Mare Island Naval Base in Vallejo and she was badly neglected.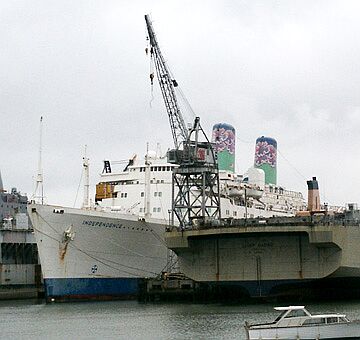 SS Independence laid up at Pier 70
Photo by Larry Vanerwegen
On July 26, 2004, she was returned to San Francisco from Mare Island undertow, and was taken Pier 70. Obviously, she will be laid up for an indefinite period of time, as no work has was ever to be scheduled to done on her.
Mid 2006 Independence was quietly renamed Oceanic, for what reason was anyone's guess? But NCL's CEO Colin Veitch announced some time earlier that "she had deteriorated considerably" and hinted that "she could be sold for scrap," which he later dismissed to me via an email on August 18, 2006.
Obviously, we now all know of NCL's desire of creating a highly profitable American based cruise company has now become a reality and NCL America is in full operation, however, whilst they may have achieved their goals, the great SS United States remains laid up and is rapidly deteriorating, whilst they have now sold the SS Oceanic, ex Independence to an Indian who only buys ships for the breakers. Like the SS Norway, NCL has again betrayed America for the second time and most likely will do so again when it comes to the great SS United States.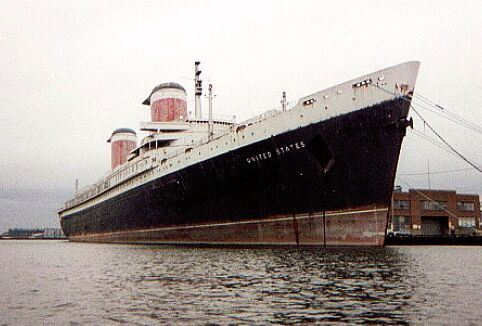 SS United States
From the author's collection
July 2008, I have been advised that the SS Oceanic is laid up in Dubai, but her fate is unknown. I have been told that her owners are laying low as there have been warrants out for the ship, and her owners have been talking up the idea of restoration and selling her, but personally, I do not believe a word of it, sound too much like the fables NCL told us about the Norway and she is almost gone, cut to pieces on the beach at Alang. Remember, NCL first sold the Independence having renamed her Oceanic to an in-house company, it was only then that they sold her to this Indian, who took the ship undertow and she ended up at Dubai. Her next stop can still be the beach at Alang or Chittagong! PS: That company NCL sold the ship to was in reality an NCL arm, for their offices just happened to be right at the NCL Head Office!
January 29: The owners of the SS Oceanic have been fined for illegally exporting the SS Oceanic, ex Independence as she contains substantial amounts of toxic waste. The two related companies were fines US$518,500. As you will read below from an article written by the EPA - Environmental Protection Agency, "Save the Classic Liners Campaign was heavily involved with warning the authorities and our American coordinator Corey Abelove and Erik James did a splendid job! Parts of the article may be read below. However, it can be read in full and a link is provided on the News Updates pages.
"In February of last year, Basel Action Network (BAN) and the "Save the Classic Liners Campaign" tipped-off the United States Environmental Protection Agency when they discovered that Global Marketing Systems, Inc. (GMS), headed up by a world famous cash-buyer of obsolete ships, Mr. Anil Sharma, had taken ownership of the SS Oceanic (former SS Independence) and had the old passenger liner towed out of San Francisco Bay with the intent of scrapping the vessel on the beaches of South Asia. BAN demanded that the U.S. government take action to have the ship returned to a U.S. port, but the EPA claimed they lacked the authority to have the ship recalled. Nevertheless, the EPA took legal action against GMS for violations of the Toxic Substances Control Act (TSCA), the law which prohibits the exportation of polychlorinated biphenyls (PCBs), a persistent toxic pollutant used in the paints, insulation and gasketry in older ships."
"The toxic trade watchdog group BAN declared victory today after a U.S business involved in sending hundreds of ships to the infamous ship breaking beaches of Bangladesh and India was forced to pay $518,500 and certify that they would not undertake such actions again. BAN warned, however, that there was still ample opportunity for unscrupulous operators to exploit loopholes to export very toxic U.S. ships to the South Asian beaches where some of the world's poorest labourers are forced to toil without adequate protections against toxic substances, asbestos, explosions and accidents. BAN is a member organization of the NGO Platform on Ship breaking, an international coalition seeking to ban beaching and unsustainable ship scrapping."
"Soon after EPA initiated its enforcement action against Global and its sister organization Global Shipping LLC, GMS requested a new application to the Maritime Administration seeking approval to sell the vessel but changing the purpose of export from disposal to continued use of the vessel to accommodate labour workers in the Arabian Gulf area. Today, the whereabouts of the Oceanic remains uncertain at this time but so far it has not been seen in the breaking yards."
*The above is from the EPA Environmental Protection Agency News release. For full details
visit: www.ban.org/ban_news/2009/090129_victory_declared.html
It is thought that she is currently somewhere in the Dubai area, or at least in the Arabian Gulf region, and it is said that she is being used as a workers accommodation facility. However, her future does remain uncertain, for her owners in the past have only obtained ships mostly for Bangladeshi breakers and we are absolutely sure that NCL knew that!
An earlier piece by myself re NCL.
Sadly, there are many who believe the promises made by NCL's chairman Colin Veitch; however, I feel that neither ship will ever sail as part of the NCL America fleet. NCL now have what they want, the cynical would say that these ships were simply a means to obtain what NCL wanted, and the last thing NCL America really needs today is two old, rusting steamships. Sadly, to date nothing has been heard of the fate of the SS Independence, a ship that was in good condition and in full operation when the company went bankrupt in 2001. To refurbish her and place her back in service would not have cost a fortune. Thus if NCL could not even do this, what hope is there for the United States, which indeed would have cost a fortune to restore and return to service. It is interesting, 1. The author received information from the US that NCL only has the United States under a lease agreement and do not actually own her, thus, she would still be owned by the Cantor Estate. 2. Several shipbrokers have the SS United States listed as being for sale, yet NCL continues with their overtures of having her, and SS Independence restored. If only! All we need to do is look at the disgraceful way Star Cruises/NCL disposed of SS Norway, as they bypassed international toxic waste laws, by continually stating she was going to Germany for repairs and that she would return to Miami. Then, having conveniently served as an accommodation ship for workers of the Pride of America, she was sent to Port Klang Malaysia, with Star Cruises announcing that she would return to service in one form or another. Then after having been sold for scrap, but the ships being returned to Star Cruises due to an outcry in Bangladesh re her toxic waste, Star announced to the Malaysian Maritime board that she was heading for Dubai to be repaired, whilst she had already been sold to Bridgend Shipping and she was heading to a breakers yard at Alang India.
I believe that the Chinese Malaysian "Genting Casino Group" operators of Star Cruises, who also own NCL, who have treated the SS Independence with contempt and will treat America's greatest liner ever built the SS United States, in a similar way. Do not trust an Asian Casino operator, NO WAY! And do not cruise with NCL, they are loosing money faster that oil prices are going up and down these days. NCL America has lost all but one of their German built ships, and now only the "Shame (sorry Pride) of America" continues to sail for them. However, I predict that this company will cease to exist within twelve months!
Later addition:
In mid-2006, Independence was renamed "Oceanic" amid speculation that our beloved classic liner would most likely be scrapped. Then in July 2007, NCL announced that the ship had been sold, and a little later we heard that the Oceanic had been purchased by an American company. However, there was a very strange fact when it came to this Textile Company, for they just happened to have its offices in the NCL Head Office in Florida, now would you not find this very suspicious? On February 8, 2008 the Oceanic was towed out of San Francisco Bay it was said bound for Singapore, but we all knew that her destination would soon be changed while she was enroute and she headed for to Dubai instead. Rumours had been swirling that the ship was ultimately destined for a scrap yard in India or Bangladesh, but had been stopped due to a complaint filed by the United States Environmental Protection Agency that the ship was being towed to an overseas scrap yard,
Global Marketing Systems, the last owner of Oceanic, was fined $518,500 for exporting the ship for scrap without prior removal of toxins such as asbestos and PCBs.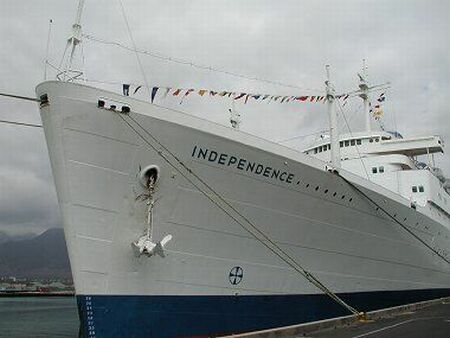 SS Independence's classic bow – renamed Oceanic – she is most likely bound for the breakers?
Author's private collection
In 2009 Oceanic was renamed the Platinum II and she departed Dubai bound for Alang under tow by a very old tug Barakhoda. As it turned out the tug lost all power and setting the Platinum II adrift some 25 km off Alang. Then another tug was sent to assist Barakhoda with its crew of nine.
It was reported in October 2009 that a ship "claiming to be the SS Platinum-II was turned away from an Alang breakers yard" but it was soon discovered that the ship was in fact the former SS Oceanic/Independence. Indian authorities alleged that she had been renamed and was supplied with falsified papers in order to evade regulations on toxic matters.
She ran aground in February 2010. In due course news came from India stated that the ship had been abandoned at Gopnath around ten miles south of Alang and that she was beginning to suffer structural cracks and would never be able to be moved. Then in March 2010 the vessel's hull cracked aft of the accommodation (roughly at one third of the length from the stern) and the entire hull was lying at an angle of about 35 degrees and soon enough mud made it into ships interior. It was decided to scrap the ship on the spot throughout 2010 and it is said that the wreck was gone by January 2011.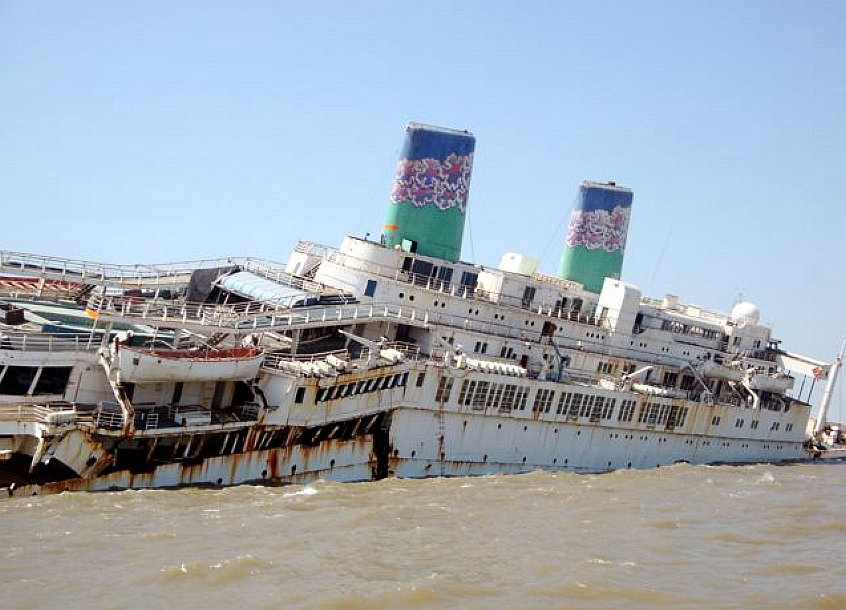 The Platinum II – A tragic photograph of what was once a great ship, but now this tragic vessel is close to her end

Photograph with thanks to my dear friend Peter Knego and: http://maritimematters.com/2010/06/sad-endependence/

We sincerely thank Steve Bingman for his contribution to these pages

Index

Page One:           History of SS Independence and her sister the SS Constitution

Page Two:           Photo Page – From beginning to End

Page Three:         Deck Plans - American Export Lines

Page Four:           Deck Plan – American Hawaii Cruises

Page Five:           Photo Page of Independence/Oceanic at Pier 70 San Francisco

                           Photographs by Patrick Race & Jonathan Haeber

Page Six:             The amazing story of SS Independence's transformation to become the

                                      Fugasi - "Go-Go Cruises" FunShip. A story by the designer Bill Chefalas.

SS Atlantic:         This delightful ship sailed with the SS Independence & Constitution from 1960 to 1967.

*********************************

Use the Back button on your browser or Close the Page to return to the previous page
or go to our

INDEX

ssMaritime.com

& ssMaritime.net

Where the ships of the past make history & the 1914 built MV Doulos Story

Also visit my …

"Save The Classic Liners Campaign"

Photographs on ssmaritime and associate pages are by the author or from the author's private collection. In addition there are some images that have been provided by Shipping Companies and private photographers or collectors. Credit is given to all contributors. However, there are some photographs provided to me without details regarding the photographer/owner concerned. I hereby invite if owners of these images would be so kind to make them-selves known to me (my email address may be found on www.ssmaritime.com only), in order that due credit may be given.

This notice covers all pages, although, and I have done my best to ensure that all photographs are duly credited and that this notice is displaced on each page, that is, when a page is updated!

ssMaritime is owned and © Copyright by Reuben Goossens - All Rights Reserved