Please Note: Firefox & Google Chrome other search engines may not suitable
Please use Internet Explorer or Google for this page to load perfectly!
Click the logo above to reach ssMaritime Frontpage & "Ship of the Month"
With Reuben Goossens
Maritime Historian, Author, Cruise'n'Ship Reviewer and Maritime Lecturer
Please Note: All ssMaritime and other related maritime/cruise sites are 100% non-commercial and privately owned. Be assured that I am NOT associated with any shipping or cruise companies or any travel/cruise agencies or any other organisations! Although the author has been in the passenger shipping industry since 1960, although is now retired but having completed well over 700 Classic Liners and Cargo-Passengers Ships features I trust these will continue to provide classic ship enthusiasts the information the are seeking, but above all a great deal of pleasure!
Orient Line / P&O Lines
S.S. Oronsay
Rick's 1962 World Voyage
Sailing Westward from San Francisco to London
With Rick Danley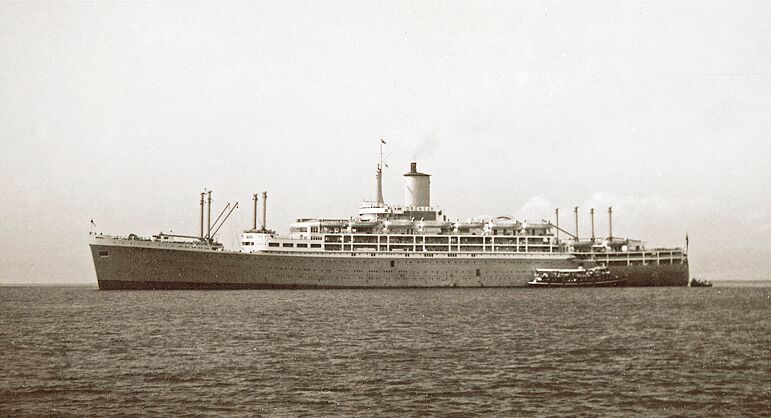 SS Oronsay at anchor
This page contains Rick's story regarding his seven-week long voyage on the SS Oronsay. He compiled it some time back and is it based he tells me from his memories combined with Oronsay's daily "Good Morning Today Events" sheets and the vast amount of memorabilia that he has retained from this memorable voyage. I am sure that we will not only enjoy Rick's story, but also savour the many photographs, menus and other items of memorabilia to be found on this and the following pages.
Please Note: All photographs and images on this and associated pages related to this story were taken by or provided to ssMaritime by Rick Danley. They are protected by © and may not be copied for any use, personal or media without prior written consent.
Reuben Goossens
Maritime Historian.
*******************************
Page One
Across America / San Francisco to Hong Kong
My Father Joe was very creative with family vacations. Every other year, my Dad, Mom and I would go on a long journey to far away places.  This summer would be the grandest of all.
"Landfall and departure mark the rhythmical swing of a Seaman's life and of a ship's career.
From land to land is the most concise definition of a ship's earthly fate."
Conrad, The Mirror of the Sea - Printed on SS Oronsay's "Landfall Dinner" menu on July 9, 1962.
Thursday June 21.
An overnight on Pennsylvania Railroad's "The General" - the first leg of our 2,500-plus miles westward trek to San Francisco where we will join SS Oronsay. This was another of my long train trips, and second on "The General."
Friday June 22.
Arrive Union Station, Chicago in the morning and depart at 3:10 PM aboard the spectacular "California Zephyr" for our three day cross country journey.

Follow this grand cross USA journey by rail on the "California Zephyr"
Monday June 25.
After three days with sweeping Vista-Dome views of the snow-capped Rockies and Feather River Canyon, we arrive at 3rd and Townsend Streets, San Francisco in late afternoon. My first glimpse of the Oronsay is during the cab ride to the hotel. She has been in port since the 23rd. We make a brief stop to drop off luggage. Though the bulk of the Oronsay is hidden from sight, her funnel with name emblazoned beneath seems to tower overhead. This is certainly not an insignificant ship, I thought.
Our tickets and boarding pass are all ready for tomorrow.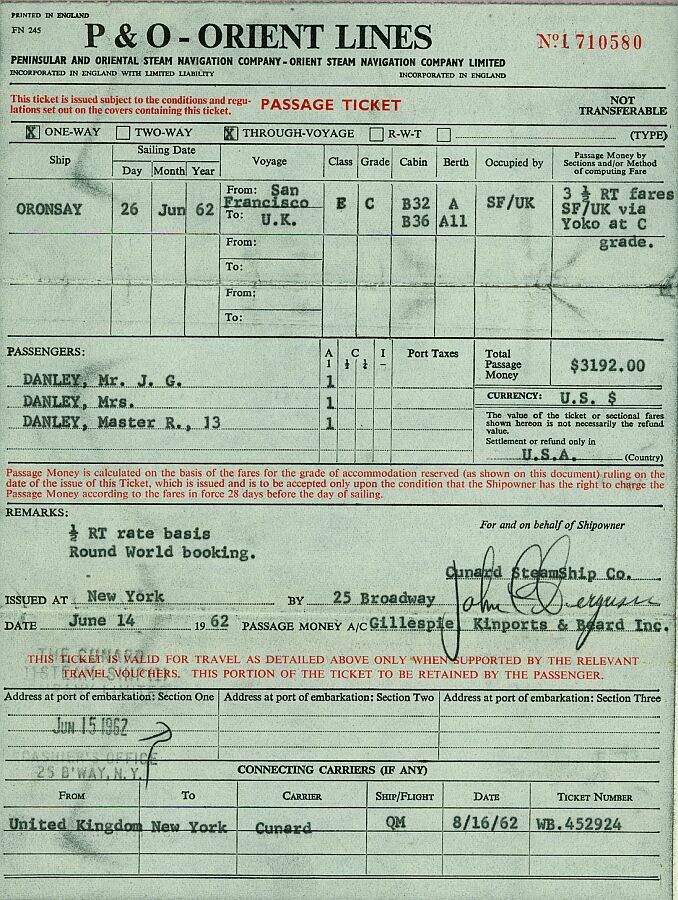 The Danley Family P&O ticket
Tuesday June 26.
We board the ship around ten in the morning. For the next seven weeks, cabin B-32 on Oronsay will be my home. I have a small cabin to myself as my Mom 'n' Dad have chosen cabin B-36 that is a little more spacious and it has a private toilet! Their cabin is located down the next hall. My First Class room is pleasant, inside, no window or porthole, nor a toilet and shower. Still, it is mine and the toilets and showers are just forward up the hallway. But my cabin does have, in addition to the bed, a chair, telephone, a bureau, closet and a sink. A small rug covers some of the linoleum. The full room lighting is rather unflattering, but the reading lamp above the bed is much nicer. The lights in the hallways are also very clinical as it reflects off the linoleum floors.


Just aft is the large central and main First Class foyer on B-deck and it is home to the Purser's Bureau and the famed Cabin B-61, that is known as "The Flat, being a very special Suite, it is Oronsay's most celebrated accommodation. Happily my cabin is well forward of the often congested foyer.
I store my two suitcases beneath the bed. I had a rather meagre wardrobe to unpack. Much unused space in the bureau drawers remains.  But, my Mom had urged me to leave room for souvenirs, and especially a new sport coat from Hong Kong.  So I took her advice to heart and scrimped. Enough shirts, but not so many pants or shorts. A couple pair of deck pants - some might call them clam diggers - make a nice compromise. I also had two new pairs of swimming trunks which I had anticipated putting to heavy use. Footwear takes minimal space as I bring only what I wear at the moment – a decent rubber-soled pair, comfortable for walking, passable for dress-up; and, in my suitcase, my favorite sneakers – a low-cut pair that could challenge at an ugly sneaker contest. These are, regrettably, not beloved by my parents, who will be especially irked since I included them at the expense of a newer pair of high-tops. In fairness to Mom 'n' Dad, you can see a few of my toes through the frayed holes.
Additionally, there are rubber flip-flops which I absolutely hate and which I don't count as footwear. I put them in only because my Mom insisted I wouldn't want to go barefoot much - something I felt very differently about.  I may throw them overboard to avoid any temptation to actually wear them.
My favorite personal item is my camera, an aging Kodak folding rangefinder model. My Father had acquired it shortly after World War 2.  It uses a 620 roll film that is not much different from 120 and produces negatives 2 1/4 by 3 1/4 inches, eight images to a roll. I had to set both exposure and shutter speed and I had become adept at it. I'd not scrimped on film and had with me many rolls of color as well as a few of black and white. I carry it all in a small leather case which is never far from my sight.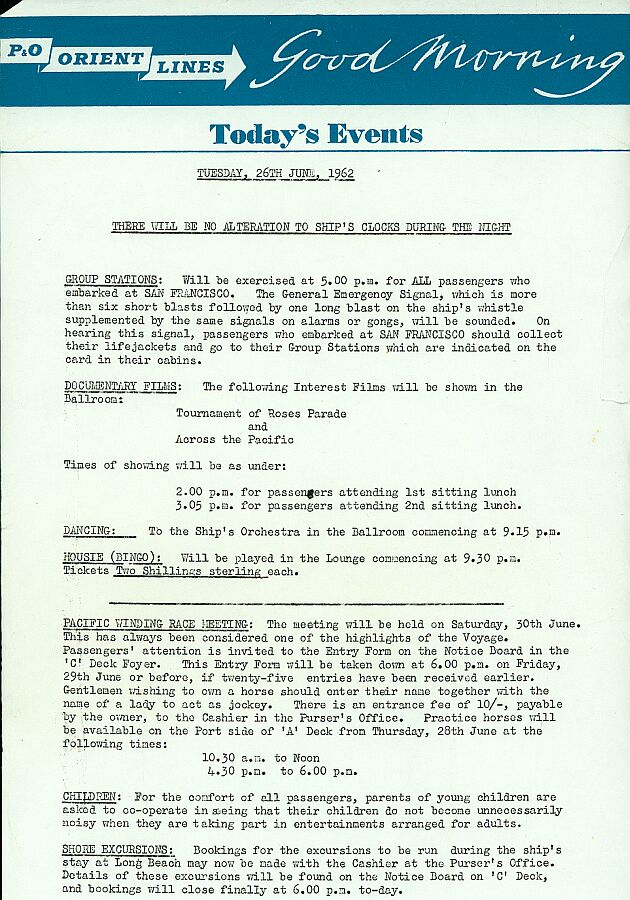 Oronsay's daily planner
Having read "Today's Events" I head up on deck for the noontime departure. One awaits the supreme moment. The lines are away and the tugs are churning, the whistles are bellowing. Uncertainty dominates. Like the huge machine that she is, Oronsay's power awakens slowly. One feels first motion as fulfilment rather than euphoria, sensing it before seeing it. Now is the true beginning.
Thereafter, movement becomes more and more pronounced until finally the tugs back off and the ship sails. The already distant Oakland Bay Bridge recedes further behind…er, aft; Alcatraz slides by on the right…er, starboard; in front…er, forward is the Golden Gate Bridge looming ever larger. I have shipboard terminology to master now.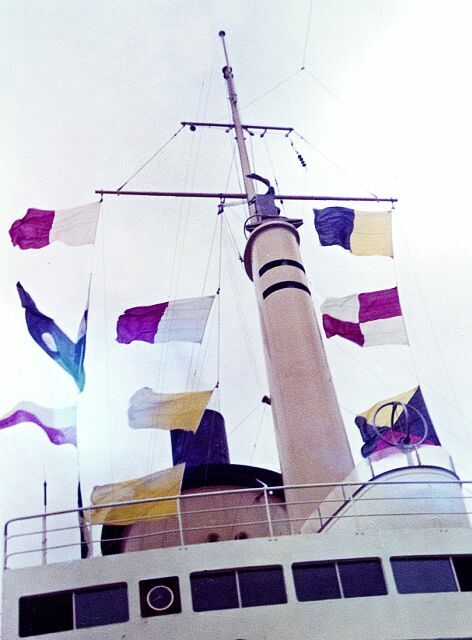 SS Oronsay is seen here decked with flags, looking festive!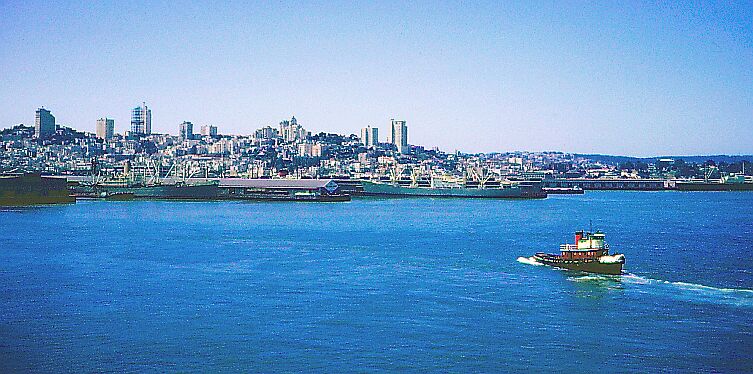 Looking towards San Francisco as we depart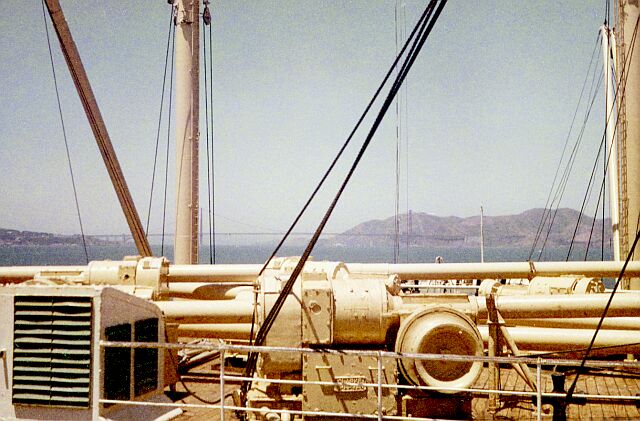 I am up forward taking this shot of her fore decks with the Golden gate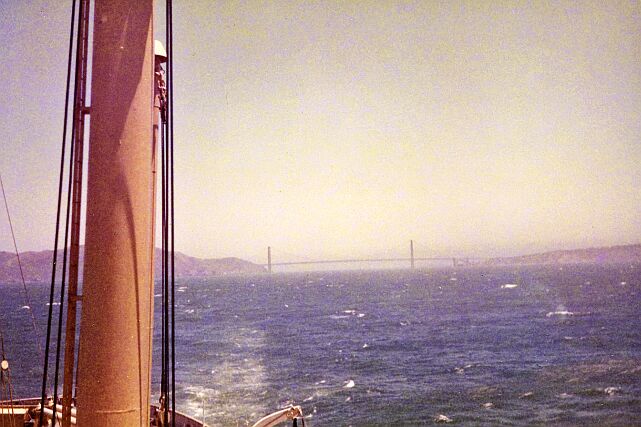 We are heading into the open sea as we leave the Golden Gate behind us

People who saw passengers off at the wharf have raced to the Golden Gate to wave a final farewell. Even though none of them are there to see me, I vigorously wave back from the Sun Deck, Oronsay's uppermost. Her funnel, capped by its distinctive "Welsh Bonnet", clears the span with room to spare. Ahead lies the open sea. It's a beautiful breezy day. Whitecaps are prevalent.

Although only 13 years old, I had already sailed on four ships, the SS Queen of Bermuda (Furness), SS Media (Cunard), SS Augustus ( Italia), and SS Del Sud (Delta and what a ship!). And now, Oronsay (P&O-Orient) at 28,000 tons and 708 feet she was the largest of the group, although she is due to be well topped during our voyage home from England to New York on the Cunard liner RMS Queen Mary.

Despite the mid-day sailing, passengers are not left wanting for shipboard events. Two "Interest Films" on southern California are shown in the ballroom at 2 and 3:05; lifeboat stations are at 5. There will be dancing to the ship's orchestra in the ballroom at 9:15 and Housie (Bingo) will be played in the Lounge at 9:30. Bingo/Housie Cards are two Shillings each. Besides port and starboard, I also have to get used to shipboard currency, as well as the currency of every country we are about to visit.

In the Dinning room we were seated at a table with a Mr. Peartree who was the 3rd officer. Also on the table that evening were a few people who had boarded in Vancouver and who are leaving tomorrow morning in Long Beach. I immediately thought of Mr. Peartree years later when watching Ioan Gruffudd portray Horatio Hornblower. Our table steward is named Phillip, a very personable and conscientious young man. He seems way too young to have been at sea for long. In retrospect, I wished I'd talked to him more.

Wednesday June 27 - Long Beach (Los Angeles).

This is our first port of call and the Queen Mary is still a quite few years away from becoming a harbor fixture here. Mom 'n' Dad and I choose an Oronsay featured excursion to Disneyland costing $4.00 each for the tour with an extra $1.60 each for admission to the park. This is my second visit to the Magic Kingdom and if I'm not mistaken, the Matterhorn and the submarine trip are new features since my earlier visit.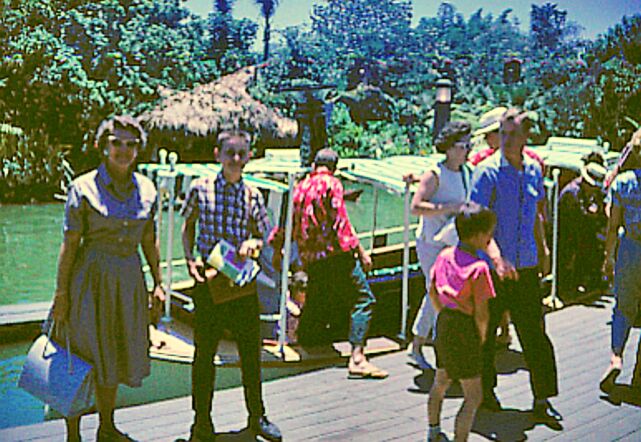 My Mom, Mary Ellen, and I seen at Disneyland and we all have just been on the Jungle cruise
Oronsay sails for Honolulu at midnight. When I awake the next morning, I am truly at sea for a full day!
Thursday June 28.
My life, certainly within wide and enjoyable parameters, is within the hands of the P&O-Orient Line. Not just where the ship takes me, but what I eat and what will occupy my time aboard. The crew is a well-practiced one. They have an Orient Line style and discipline and they are all British. However, some discipline is expected of the passengers above and beyond getting to the ship on time.
Around seven each morning, my cabin steward, Trevor, in one fluid motion knocks on my door, opens it, switches on the overhead  light, takes three steps and serves me a tray of tea and biscuits. On the tray is my copy of "Today's Events", Oronsay's daily planner.
Getting passengers up and primed for breakfast is not merely a P&O courtesy, although turning on that light to rouse one from sleep hardly seems to be courteous. Trevor has much to do in the early morning, and he needs you out of bed and around. The ship's cabins are inspected by senior officers between eleven and noon. A cabin steward cannot afford to slack off. Not many days later, I was in my cabin during the inspection. Afterwards, I was sternly admonished by Trevor about this faux pas. Maybe it was because I was a kid.
Our dining table is now complete with folk that we would dine with all the way to England. An elderly couple and a Russian lady joined us and Mr. Peartree of course. The Russian lady acts embarrassed to be from Russia, the Cold War never being far below the surface. The elderly wife brushes it aside, "It's the government…" Nonetheless, the Russian lady keeps very much to herself. She often has her head down. She seems very mysterious and I don't pry. We will all be aboard for a while and the food is excellent.
The menus, themselves, are most interesting. There are two sets. One features handsome watercolor images of the various local sea craft the Oronsay encounters. The other, has whimsical depictions and descriptions of the different events such as horse racing, fancy dress ball, etc, as they occur aboard the ship. We are at the first sittings for meals:  breakfast is at 8:15, lunch at 12:30, and dinner at seven. Tonight is the Captains official Welcome Aboard party before dinner.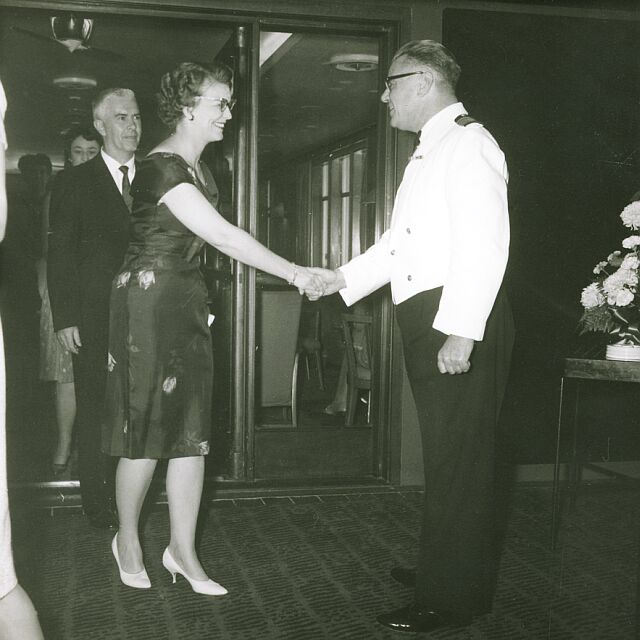 Joe and Mary Ellen Danley meet Captain Ayles
The movie tonight is Alfred Hitchcock's "Rear Window". Though it is already around a decade old, I was unfamiliar with the film (quite possibly because it didn't feature a werewolf). Consequently, I found it thrilling despite it being in black and white. Some years later, I saw this same film again, but in its original color version and realized how out of date Oronsay's copy had been.
Friday June 29.  
Oronsay, unlike the great trans-Atlantic liners, is not laden with expensive art though there are some pleasant murals here and there. The furniture in the public rooms is most comfortable, but hardly plush. I find the ship easy to navigate. I was finished with exploring after departing Long Beach. I already know my way around while my parents remain confused.
There is ample room, and everything is light and airy. One rarely feels crowded, an obvious advantage to sailing First Class. Also it is relatively informal. I do wear a jacket and tie for dinner, but I can't think of when else. There are some adult events such as the Captain's Cocktail Party where formality reigns. Everything else seems very un-stuffy although, that night, I was curtly advised that the continued lack of footwear in the lounge, especially after dinner, was not acceptable.  Someone had brought the matter to the attention to one of the stewards.
I was taken aback. On the SS Del Sud to South America two years earlier, no one cared. Why should Oronsay? (Author's Note: P&OP is British, that's why). My Father acts insulted that the steward found it necessary to issue me "a reprimand". Footwear, or the absence of same, would an issue rearing its head from time to time throughout the voyage.
Competitions in deck quoits and table tennis commence this morning. The pre-recorded 'Interest Talk' is on (yawn, so boring) "Stabilizers" (and they were really coming into vogue on ships at this time). There is cricket and Mr. Peartree is a champ and tonight in the ballroom the film "Roman Holiday" is shown with Audrey Hepburn and Gregory Peck.  Post-film, I note a female resident of "The Flat" return to her rooms emotionally bawling her eyes out. I'd have gone to comfort her, but at 15, she was way too old for me.
I actually got to visit "The Flat" several times. There were three kids in the family. Though their Mom was there from the beginning, the Father wasn't joining them until Hong Kong. As I recall, the adjacent cabin, B-63, was incorporated into The Flat for this trip. This provided a second bedroom and bath for the kids. I loved the many large rectangular windows in the sitting area. The view of the sea was marvellous - a perfect height above the water. I imagined spending hours watching the ocean.
But, it would probably have not been peaceful viewing amongst this clan. The Flat always seemed a mess. Strewn clothes, open magazines, displaced cushions and unmade beds were all part of the landscape. I am sure it must appear pristine after the steward had been in, but the kids and their friends quickly give it that 'lived-in' look.
As opulent as "The Flat" is, its location isn't particularly desirable. The entrance is in the large central foyer of B-deck, across from the Purser's Bureau. Additionally, there is a large bank of telephones not far from the door. The foyer is frequently congested. While few ever see me coming and going from my little cabin, there is no privacy at all outside "The Flat."
Saturday June 30.
More deck competitions; today, Deck Quoit Tennis is joined. Tonight, there is a gala event: The "Pacific Winding Race Meeting." On other ships, horse racing was a common pastime, but on Oronsay, it happens only twice during our seven weeks. "This has always been considered one of the highlights of the voyage" emphasizes Today's Events. The large glass-enclosed, but open-roofed, Arena, forward on the Stadium Deck is the locale. Most ships use a simple six-horse field and then roll a half-dozen dice. Oronsay is far more complicated. Skill is vital. Horses are bought in advance and the owner, usually a husband chooses the jockey that is usually his wife. The wooden thoroughbreds are pulled the length of the Arena by way of a large fishing reel held by the jockey, hence the name "Winding Race Meeting." Several turns will only move a jockey's horse a few inches and it is easy to get the line twisted causing a falter. My Father is the starter for each race. There are five races and then one grand finale featuring the winners. The horses are named, for example, "Stung" by Bee out of Hive, "Old Story" by Motor Car out of Petrol, "Blondie" by Bleach out of Bottle. The list goes on.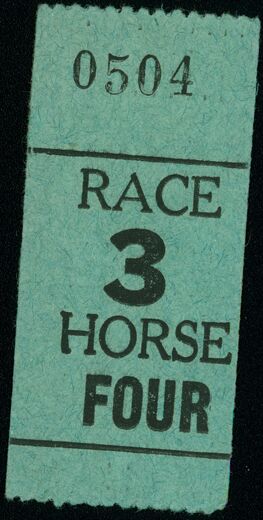 A horse race ticket purchased on June 30
Sunday July 1.
There will be an inter-denominational service in the Ballroom at 10:45. Recorded music of Beethoven's "Emperor" piano concerto as well as some Tchaikovsky is played at five in the starboard gallery.  
I recall spending the bulk of the day, as I have done every day, by the pool with regular forays to the Sun Deck or Arena for games.  The pool is many sizes smaller than an Olympic pool (though barely large enough not to be compared to a bathtub) and is filled with ocean water (opening one's eyes beneath the surface was a courageous act). But, it is a magnetic locale during the day. Neither do I have to change for lunch either as a terrific buffet is set up under the verandah next to the pool. This is much better than the dining room. In fact, the routine has become so intoxicating that the stop tomorrow in Honolulu seems almost an intrusion.
Monday July 2 – Honolulu.
The approach is most memorable. The pilot boards about seven as Oronsay rounds Diamondhead. Thick clouds obscure the inland mountains.  Waves of warm, humid air drift across the decks. Land does have a smell, but I think Hawaii's is probably very special.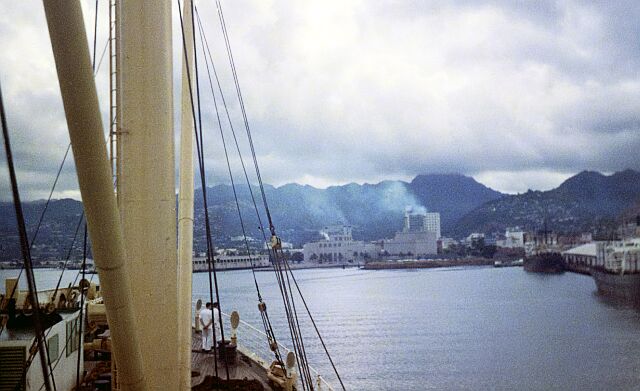 SS Oronsay arrives in Honolulu
I watch the scene unfold with two friends, brothers who live in Hawaii and are soon to debark. We are all barefoot. They were impressed I had gone to the movies without shoes, and I didn't want to ruin my image with them. They told me of being allowed to go to school barefoot.  Fascinated, I try to envision how different school would be for me. I think I might like it a lot more. Of course, where I live, during winter, it snows; where they live, more orchids drop their petals. Still, I wish very much I could experience what it would be like. For now, the big difference is merely that when they go ashore, they get to remain barefoot. I, on the other hand, to satisfy parental decree, must obediently put shoes and socks on. We will be guests of friends during the day. I need to look my best.
We dock at Pier 11 not far from the Aloha Tower at eight. Oronsay will depart at midnight. Upon docking, we are greeted by our friends, a U.S. Navy couple. A terrific day is spent seeing the sights including a visit to the USS Arizona Memorial (with the aircraft carrier "Kitty Hawk" docked nearby), Punchbowl Cemetery, Pali, Waikiki Beach, and some stellar views of Honolulu from mountain roads. Rain squalls, some heavy, are frequent, but short-lived. I have this bad habit of not getting out of the rain. As long as my camera stays dry, I don't care. Besides, the Hawaiian rain is inviting. Sometimes it's more of a mist. Once it passes, a rainbow follows in the warm sun. The process then repeats itself, perhaps, a mile away. We spend the late afternoon and evening at our friends' idyllic navy-issue house in Pearl City on the shore of Pearl Harbor. Swimming in their freshwater pool after Oronsay's salt water is a breathtaking sensation. After dinner, I lie back in the pool and watch a sunset over Pearl Harbor which I'll never forget. Didn't all 13 year-olds get to do this? Oronsay is nice, but this is truly the good life. We hate to leave and are forced to break some local speed limits to get back aboard Oronsay before the midnight sailing.
Upon sailing, I accompany my parents below and, after wishing them a good night, go to my cabin. It is pushing one in the morning.  However, I lie awake. I don't want to sleep. I think of my friends going to school barefoot. I really would rather go to their school.  
A wave of confidence surges through me. I don't have to be in my cabin. Mom 'n' Dad won't know and it wouldn't matter if they did. I don't have to lie awake in bed and be bored. After a further appropriate wait, just to be on the safe side, I arise and venture up to the Sun Deck. I am not the only one up and around – not even the only kid.    
I wander Oronsay's decks, stopping now and then to gaze over the railing, occasionally being acknowledged by other night roamers, even having friendly conversations: Do my parents know I am up so late? How long am I aboard for? Have I ever been on a ship before? I sound very confident. I am a lot more experienced with ship travel than most everyone I meet. Still, I avoid the Lounge, the Ballroom, the Bar, all on the Verandah Deck. I know this ship. I know the quiet places. I know where the wind howls. I know where I won't run into stewards.  
Eventually I come to rest in the Forward Observation Lounge on the Stadium Deck. Few remain above deck now. The lounge, in front, is all glass providing a spectacular forward view over the bow. Its back opens onto The Arena, Oronsay's outdoor amphitheatre.  
To tell the truth, I really need to get below. But, I am settled too comfortably in a wicker chair. With my legs propped up on another, I keep dozing off. It is nice here. Sometime around three, I'm awakened by warm breezes and a sound encountered earlier in the day but not yet on Oronsay: rain. Its patter becomes hypnotic. Finally, I force myself from the trance. I stare through the darkness at the puddles forming on The Arena's deck. Once the rain beats down in earnest, I can't resist. I have no camera to protect now. I fling my shirt over a chair back and do a hop, skip and jump to the middle of The Arena. I feel a shock at getting wet. I think I may have screamed. The rain isn't cold, but neither is it the warm mist of the afternoon storms. This drenches with big drops. It continues ever harder. But, once I'm soaked, it matters not.  Irun around the Arena a few times and lie down in the middle. Had this been snow, I'd be making a snow angel. The rain is pelting down so hard, it stings. I open my mouth to scream, but rain fills it within seconds. I can't open my eyes. I jump up and run around some more.  When I feel the drops begin to lessen, I stop. I feel enormously tired. I also have a nervous feeling that maybe I've been making a fool of myself. I hadn't looked, I'd just assumed no one was there. The Bridge, though, looks right down onto The Arena. I always hoped the rain obscured their view. Waterlogged as I now was, the air wasn't feeling so warm any more. I better get to my cabin and a towel.
Tuesday July 3.
Back to sea for the longest stretch of our voyage as we had seven days at sea before arriving at Yokohama. Coincidently, "North By Northwest" is tonight's film. Thank God for the pool as the sun really beats down.
Wednesday July 4.
America's Independence Day is celebrated by two significant events. During the day, there will be aquatic sports at the pool: diving for spoons, pillow fighting, obstacle races, and a "pyjama race" ("entrants have to be in possession of a pair of pyjamas to take part"). I do the pillow fighting. The two combatants straddle a slippery horizontal pole placed a few feet above the pool and whack each other with pillows until one falls in. Since I am but a teenager, the ship won't let us use real pillows. Instead, we use balloons inside a cloth bag. I win once and then lose (he was much bigger!) and am eliminated.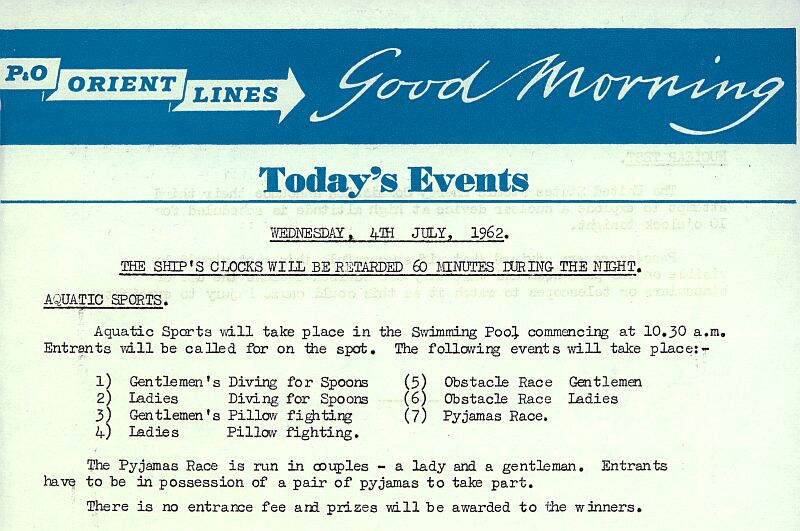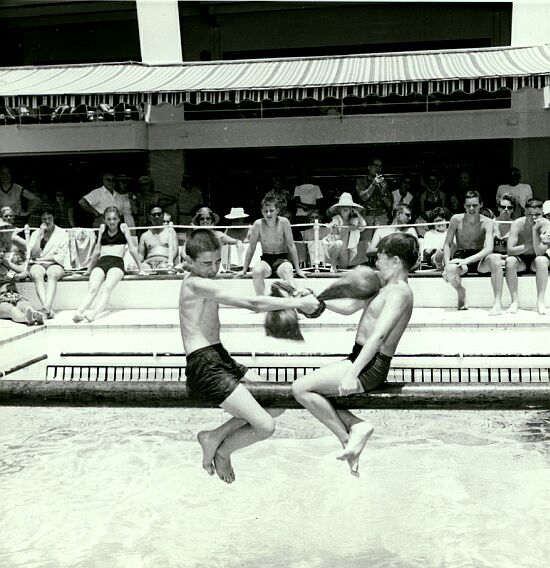 Rick is on the left and he won this pillow fight, but lost the next
The other celebration is summed up in "Today's Events."
"The United States Atomic Energy Commission" announced their third attempt to explode a nuclear device at high altitude is scheduled for 10 o'clock tonight.
"Passengers are advised that, if successful, this shot should be visible on the port beam and that they are advised against the use of binoculars or telescopes to watch it as this could cause injury to eyesight."
It may have gone off as planned. I was surely awake and out on deck at ten and beyond. But, I recall no great flashes in the heavens and my eyesight remains intact to this day.
The 4th of July Dinner offered a choice of:  
Broiled Mahimahi
Sauté of Duck
Pork Hawaiian Style
Tom Turkey
Baked Sugar Cured Ham (w/candied yams)
Sirloin Steak
Lamb Chops
Thursday July 5.
A game of Progressive Housie is currently underway in "Today's Events" with 20 numbers published each morning. Emergency boat stations for the crew at 10:30: the Stadium Deck and Purser's office will be closed during the exercise. Deck sports' competitions continue; 4 travelogue films on Japan are shown in the Ballroom in the afternoon and Housie is played in the Lounge at 9:30.
"Children 11 and under are advised that they may use the pool ONLY(!) from 9:30 to 10:30 and 2:30 to 3:30". Fortunately, I am 13. An hour of pool time in the morning and afternoon would not do it for me. Besides, the water level is lowered for them. There's a wading pool in the Children's' Play Area. Why don't they just use that one, anyway?
I should mention the Housie which, along with films and dancing, are the staple evening entertainments. Housie, of course, is Bingo without the B-I-N-G-O in front of the number. In other words B-11 becomes "Betty Grable's legs – 11", N-57 becomes "All the varieties – 57". Our host is THE perfect English gentleman with a fabulous moustache. He places a quaint little phrase before each number: "The Downing Street number – 10"; "Life begins at – 40". As the game progresses, he calls out numbers with an increasing sense of drama. "ALL the sixes".  He pauses expectantly. "66", he hisses, drawing out each syllable. Additionally, he holds the tiles in a small bag and periodically announces, "And, we'll…".  "…Shake the bag!!!" respond the obedient Housie-players (with gusto!). And then he…shakes the bag (with gusto!).
No Friday July 6.
There is no July 6th as we have crossed the International Dateline.  I go to bed on the night of Thursday July 5th and awake the morning of Saturday…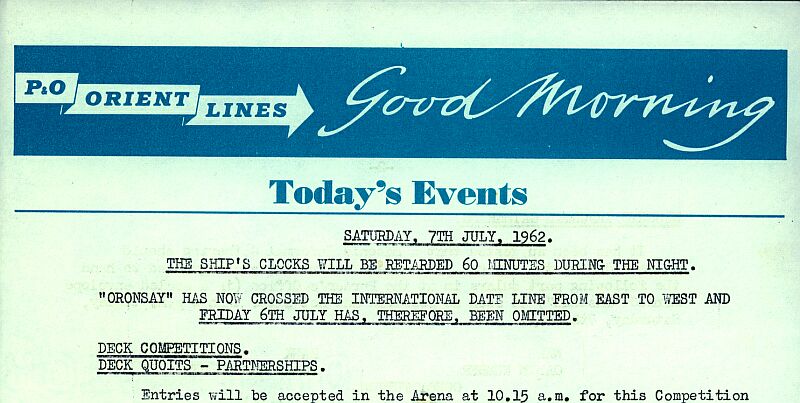 Did I loose a day of my life?
Saturday July 7.  
Today's talk is about "Freak Ships". There is bridge in the Ballroom during the afternoon, and at night "Lover Come Back" with Rock Hudson, Doris Day and Tony Randall.
By this point, clever 13 year old that I was, I had learned how to keep parental contact to a minimum. There wasn't much I could do about breakfast and dinner. We all went to the Housie games and other lounge events. But, otherwise, I saw little of Mom 'n' Dad. They were not swimmers. They didn't play strenuous games (my Mom played Bridge). They liked to sit on deck or in the lounges and go to bed not long after the evening's entertainment.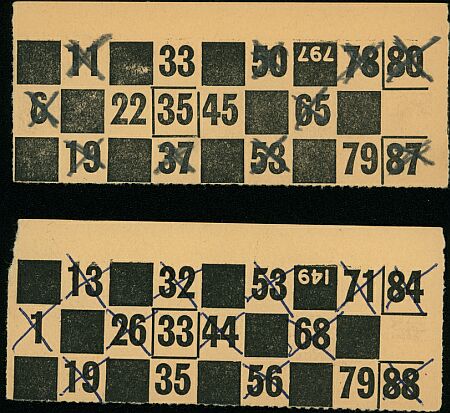 Housie/Bingo cards – But they did not win!
I was part of a cadre of kids that ran rampant throughout the ship. There were a lot of us. Deck Quoit Tennis on the Sun Deck was fantastic.  Most adults found it too strenuous a game especially up there in all that sun. My friends and I would play a few games, then run down to splash in the pool after the kiddies had their hour, then go play ping pong, go back to the pool, go up to the Sun Deck, ad infinitum. At lunch, we'd stuff ourselves at the buffet by the pool. Maybe I'd run into my parents for a few minutes then. But, I'd be off soon to some place they weren't. Oronsay was a big ship.    
If there was a movie after dinner, I'd sit with friends and wave to Mom 'n' Dad if they came in. As long as I joined them for regular lounge events specifically wearing the shoes, not the flip-flops, nor the sneakers, and as long as I was in my cabin when they retired, all was calm.  
Of course, I was rarely ready for sleep when they were. This was too early. Still, their predictability made my life easy. Once they went to their cabin, they were out until morning (my Mom might read for a while).  
Not having their own cabins, most of my friends would not be up late. There was one sharing a cabin with a younger sister who I might run into. Otherwise roaming the decks at night was a very solitary activity. Most people on deck then wanted it that way. Yet, I was usually back in my cabin before one. Over time, however, I would become obsessive about the vastness of the night time sea. Even midnight would find the decks too crowded for my tastes.
Sunday July 8.
Today they had that "Stabilizer" talk once again, cricket, and Tchaikovsky's First Piano Concerto on tape. The entertainment in the Lounge tonight is the "Syndicate Quiz," a trivial pursuit type of event. Each syndicate consists of 4-6 persons, and there will be 40 or more syndicates competing. "This is NOT a serious quiz", declares Today's Events. Indeed? My Father gets irked because a question is asked about Winston Churchill's hobby. He answers "artist" for our group, as do many other syndicates. But, the answer is not accepted as correct. Churchill was a "painter", "artist" being too broad. My dad still rails about this injustice the next day. Other questions are, for example: "Name the Seven Seas" (most are stumped not realizing that the North Atlantic, South Atlantic, North Pacific, and South Pacific are considered separate oceans); and "Who originated the saying 'Chop and Change'?". This was my chance to shine. It was suggested that as a strategy each syndicate appoint a "listener" to eavesdrop on discussions by nearby syndicates. It's all very stealthy as knowing that there are listeners around and thus each syndicate discuss their answers in hushed tones. Nonetheless, when I hear someone in another group whisper "Henry the Eighth", I dutifully report this which, to my delight, turns out to be the correct answer.
Monday July 9.
Tomorrow begins the serious shore excursions as our week at sea comes to an end in Yokohama. The Landfall dinner that evening offers a choice of:
Poached Halibut
Fricassee of Chicken
Prime Rib
Rump Steak
Lamb Chops
Tuesday July 10 – Yokohama.
My third week on board begins in Japan. Oronsay arrives at quarantine around 6 AM. Yokohama necessitates an early morning cattle call to go through customs.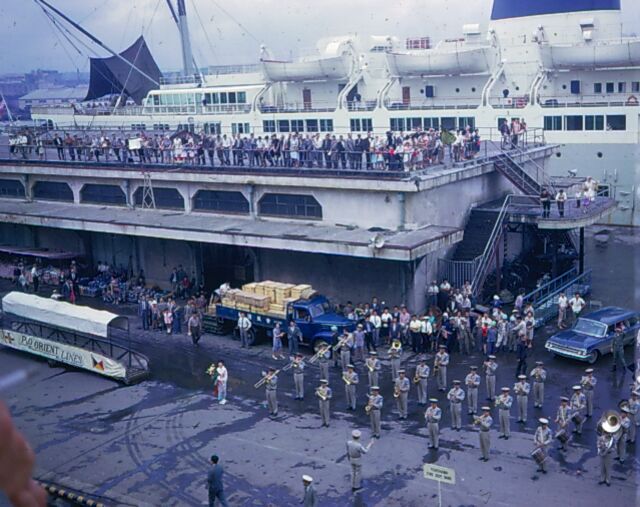 The band plays as we arrive at Yokohama
Japanese Immigration is "required to interview all passengers" before the Oronsay can dock. This trip was exciting because, for the first time abroad, I had my own passport. At the pier, the sleek President Roosevelt of the American President Lines is berthed beside us. A band greets our arrival and the Lord Mayor of Yokohama and Miss Yokohama come aboard to welcome the passengers. Oronsay will not sail until 1:00 PM tomorrow, thus we have sufficient time to visit Tokyo.
Although the ship offers a number of excursions in Japan, but at the suggestion of two Japanese gentlemen who were aboard ship we decided to make our own way around both here in Tokyo and when we are in Kobe. Today, we immediately set out for Tokyo by train. World War Two had ended a decade and a half earlier, yet the Japanese citizens on the train intently scrutinize us. Westerners apparently were still uncommon travelling in anything but large groups. I feel their eyes the entire trip.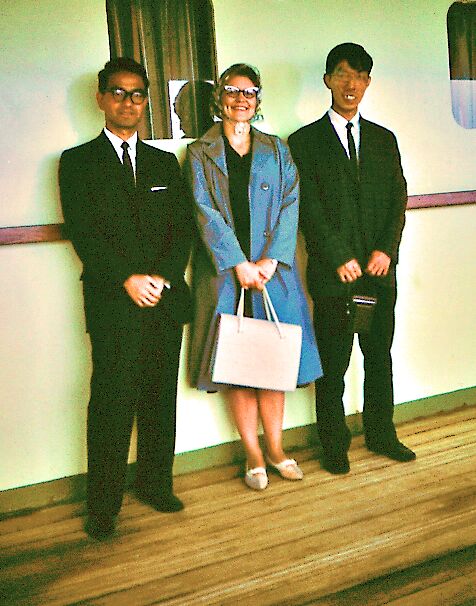 Mom and the two Japanese chap's who gave us good advise on how to discover Tokyo
Tokyo, itself is sprawled about. Naturally, the best view was had from the Tokyo Tower. The Diet, the Imperial Palace, and Frank Lloyd Wright's Imperial Hotel were all on our itinerary. In fact, I recall lunch at the hotel.  
I buy a transistor radio, a Sony as my souvenir of Japan. It was slightly smaller than a pack of cigarettes, this was real cutting edge technology at the time. Something like this wouldn't be available in the US yet and not for under $25 as here. It became a prized possession.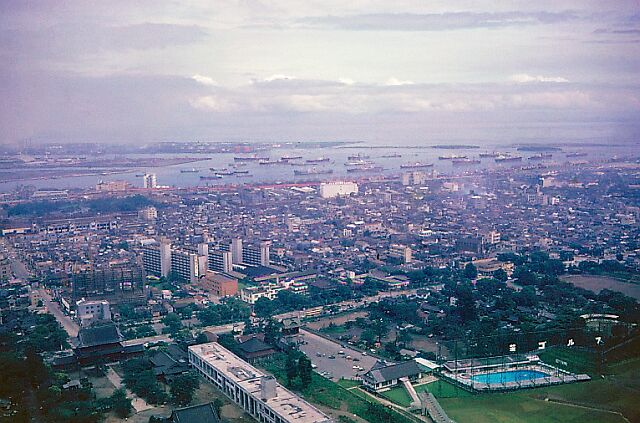 The view from Tokyo Tower
Our Japanese-style dinner was at the well-known Chinzan-so and the grounds appeared to be magnificent, but it is dark. I suppose the food was fine, but I am certainly not too adventurous when it comes to eating.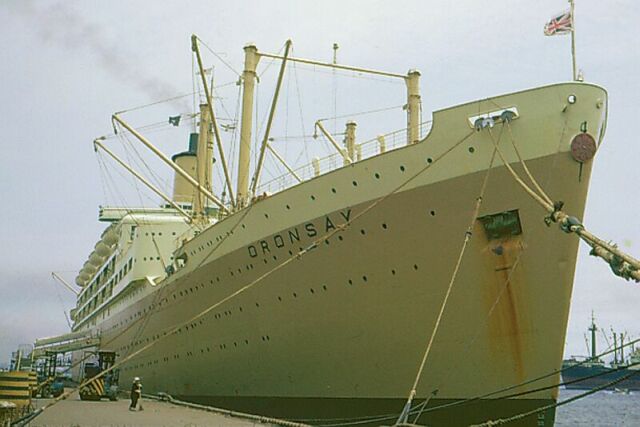 A fine view of Oronsay's bow in Yokohama
Wednesday July 11.
Since Oronsay sails at one, we take the ship's shore excursion to Kamakura and the Great Buddha costing $4.00 each again. A tiny bowl of fruit sits at the base of the huge figure. I have yet to come to grips with this contrast.
Shortly before we sail, I witness a hair-raising performance in Oronsay's Arena: "The Art of Sword and Japanese Sword dancing". At first, I was puzzled why this "master" swordsman never seemed to quite cut clean through objects, a fruit or vegetable  with his razor-sharp blade.  There was always just a tiny bit uncut.  Then, I learn why. The Master puts a banana on his bare forearm and brings the sword robustly down cutting the fruit in two except for a few fibres. The sword leaves nary a mark on his arm. Then, he does the same thing on a man's bare stomach. Again, only a few strands of banana separate the man from the blade. I am very glad The Master brought his own volunteers.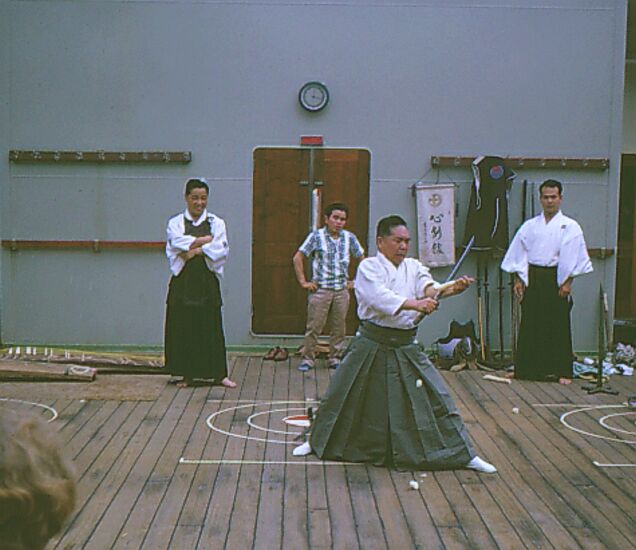 Above and below: The Japanese Sword and Dance performers out on Arena deck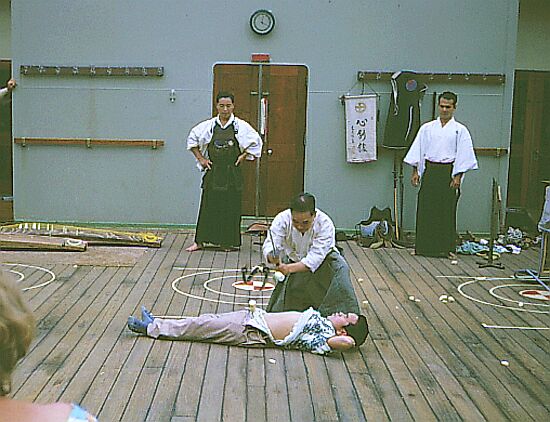 And, shortly after sailing, I take advantage of my new radio as islands and Japanese shoreline glide past on our way to Kobe: high on the Sun Deck, I pick up the Major League Baseball All-star game via Armed Forces radio. The National League wins 3-1. What a treat!
The day is capped by a showing of "Pillow Talk" with Rock Hudson and Doris Day.
Thursday July 12 – Kobe.
Oronsay docks in Kobe around eight and we are soon on our way by train to Kyoto. The trip takes little more than an hour. I visit the Golden Pavilion and numerous shrines. What stands out, however, is the kindness of a young Japanese man of whom we asked directions. Rather than attempt to explain in non-existent English, he walked with us four blocks until he was sure we had found our destination.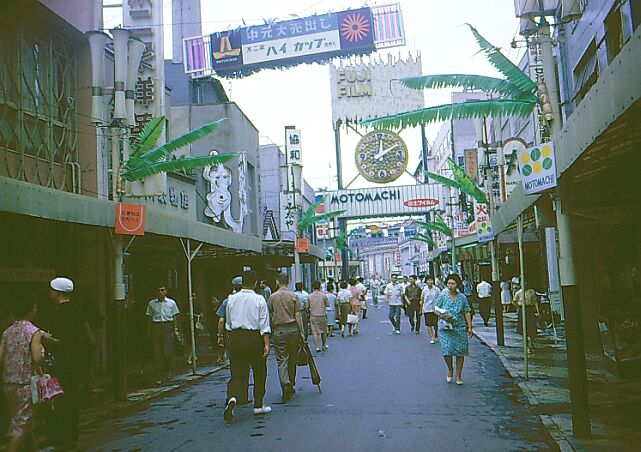 This is a typical Kobe Street scene
At the age of 13 all those gardens and shrines are a bit much to comprehend. Meditation and contemplation have proven to be foreign concepts. Perhaps if "Shogun" had been a mini-series in the early 60s instead of later. On the train back to Kobe, I feel exhausted. and I am glad the day is over. I no longer care if the Japanese wish to stare at me.
Friday July 13.
Oronsay sails at five P.M., so we spend the day around Kobe sightseeing and shopping. It rained most of the night and morning anyway. For myself, just before the ship sails, I get a decent pair of 7x35 binoculars from a pier side merchant for less than $10.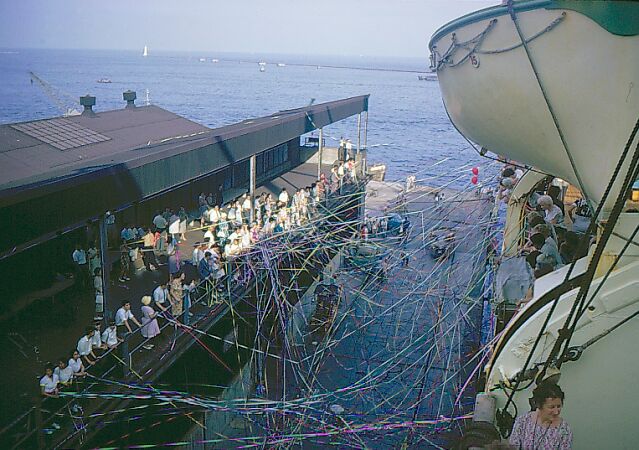 SS Oronsay departs Kobe and sets sail for Hong Kong
Saturday July 14.
Two days to Hong Kong. Two more wonderful days lazing on deck. We can still see land as we sail through the Osuni Strait in the morning.  Deck competitions begin anew. "Tonnage" is day's recorded Interest Talk. Is it possible they have finally found a subject as moribound as "Stabilizers"? There's also documentary films on Hong Kong, Beethoven's Pastoral Symphony, and yes "Housie."
Sunday July 15.
A Divine Service in the Ballroom at 10:45 for the 4th Sunday after Trinity. I attend with my Mom. It's rather short so I don't miss too much pool time. We sing "New Every Morning is the Love" among other hymns. During the last, a collection is taken "in aid of Marine Charities". The service ends with 'God Save the Queen".
On today's schedule there is Bridge, cricket and tonight the film "The Absent-Minded Professor" with Fred MacMurray and Tommy Kirk (Tommy had been a favorite Mouseketeer).
Tonight's dinner menu offers:
Grilled Suprême of Turbot, Cecilia
Leg and Shoulder of Lamb with Anna Potatoes and Mint Sauce
Chic-Chicken with Bacon and Bread Sauce
Steak Diane (cooked to order)
Calf's Sweetbreads  
Potatoes roasted or boiled.
Arrival notice for Hong Kong
Monday July 16 - Hong Kong.
Oronsay's "major" port-of-call. I am on deck before six to experience the arrival.  Ships of all types and sizes ply the channel.  Lush green hills on either side glide past as Oronsay sails at a stately pace. Onshore civilization increases in density. I know we have reached Hong Kong when I see the airport jutting out into the water. Oronsay berths at Pier 5 on the Kowloon side about 9 AM.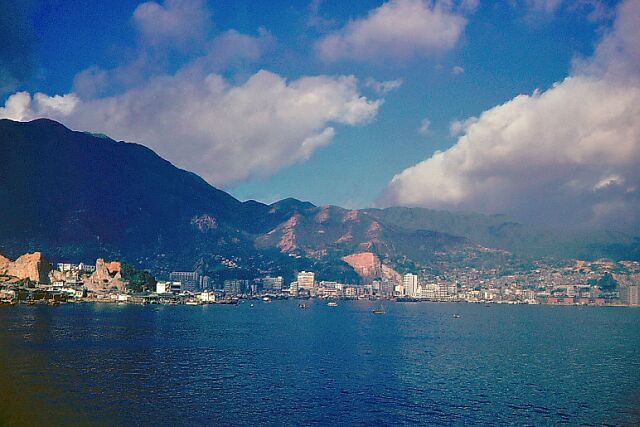 A wonderful view awaits us as we enter Hong Kong harbor
I have never seen so many ships. The harbor teems with craft. It is like nothing I could ever have imagined. President Roosevelt is just down the way and soon we will be joined by P&O's SS Arcadia and Royal Interocean Lines almost yacht like ship the MS Tjiluwah that serves between Australia and Asia. The Oronsay has barely tied up when painters swarm all over her hull giving the ship a new coat of its distinctive "corn" color. Personally, "corn" doesn't seem particularly accurate. Nonetheless, she looked far more distinctive than when her hull was painted white a few years later.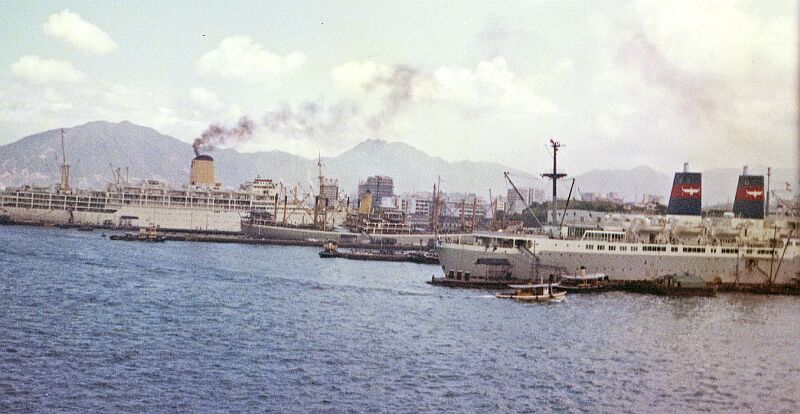 SS Arcadia and the SS President Roosevelt are also both in port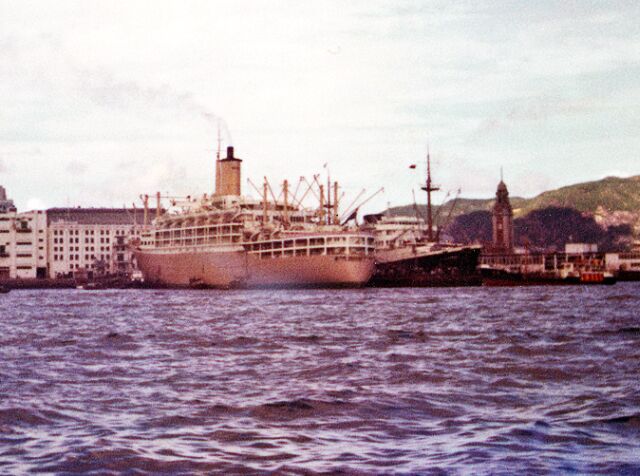 Oronsay is docked beside the RIL ship MS Tjiluwah
Even after a half century, Hong Kong remains vivid. The poverty: "Don't give the beggar-children any money. They will tear each other apart to get it, if you do", we are told while viewing a literal river of small rotting boats floating atop nothing more than an overflowing cesspool.  However, not far away from this acute impoverishment are two swank floating restaurants charging, we are told with obvious pride, exorbitant prices for meals. At Lok Ma Chou frontier, I can look into distant Red China with my new binoculars and see people in the fields beating rice. "You can bet they are watching us, too," warns my Father enhancing the moment with cold war drama. Just to be on the safe side, I return my binoculars to their case. Tiger Balm Gardens is colorful though quite unlike any western park. From The Peak, the vast expanse of the harbor with its hundreds of ships is mesmerizing. Beautiful resorts dot the coasts. "Heyyy…Reek-shaw".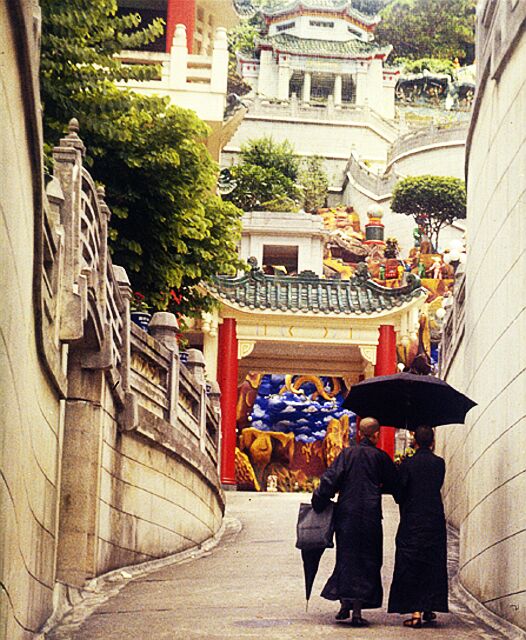 A rather nice view of the Tiger Balm Gardens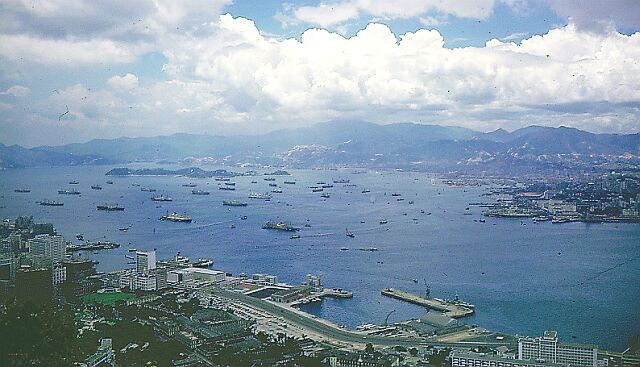 A superb view from Hong Kong Island toward Kowloon
Oronsay's yellow funnel can just be seen where the ships are berthed on the right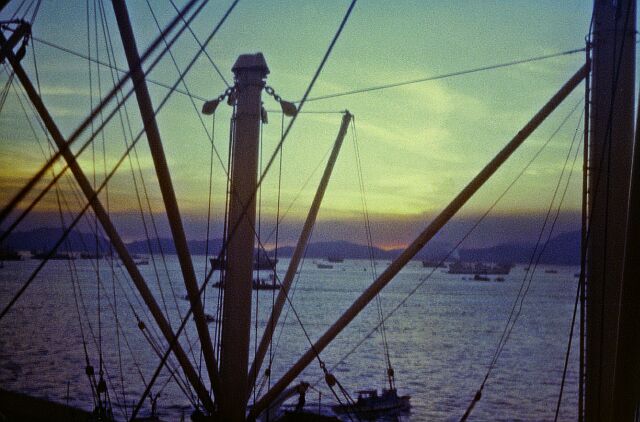 A Hong Kong sunset as seen from the ship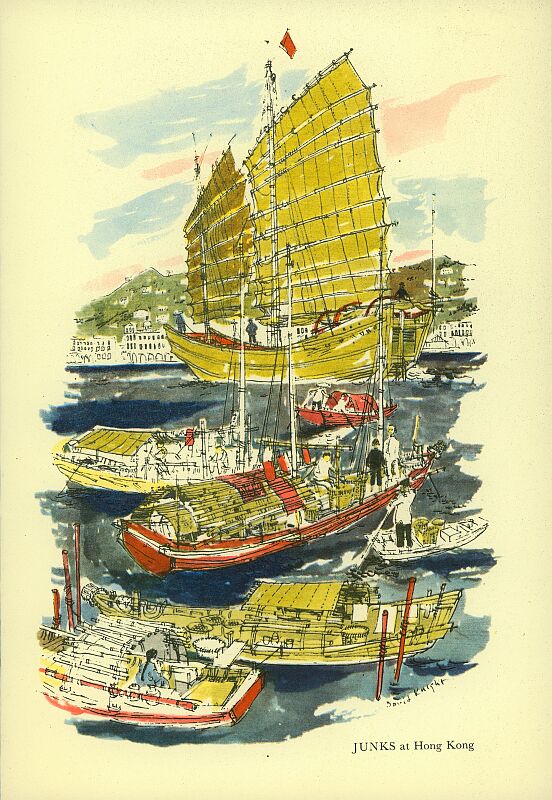 Above and below: Dinner menu for 18 July whilst in Hong Kong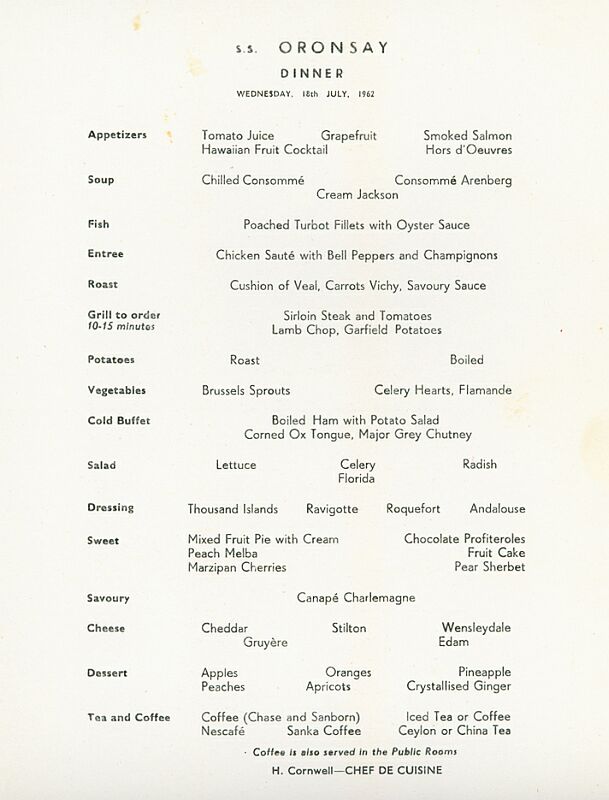 Thursday July 19.
Sailing time is noon.  The painters have finished and Oronsay gleams.  Perhaps the British produce a different color corn from that in North America. All the rust streaks have disappeared until the next time the anchor is raised and the bilges emptied.  Alone, I walk a few short blocks to a tailor shop to pick up a nice sports coat for which I had been fitted soon after Monday's arrival (and which I will quickly outgrow).  I was not tuned into this at the time, but 'Hong Kong tailors' seemed a magic phrase to westerners.  It was also important that I wear it as that made a difference in the duty upon arrival back in the U.S.  Nonetheless, it was from Hong Kong and didn't cost anywhere near what it would have in the U.S.  Yet, while returning to Oronsay, I marvel at the fact that I am walking alone through the streets of Kowloon at the age of 13.  None of my friends back home would ever be able to claim such an experience.  The jacket and a chess set (another $10 item) both require a certificate of authenticity testifying that they were made in Hong Kong and not communist China.  At the time, items made in China were strictly forbidden in the U.S.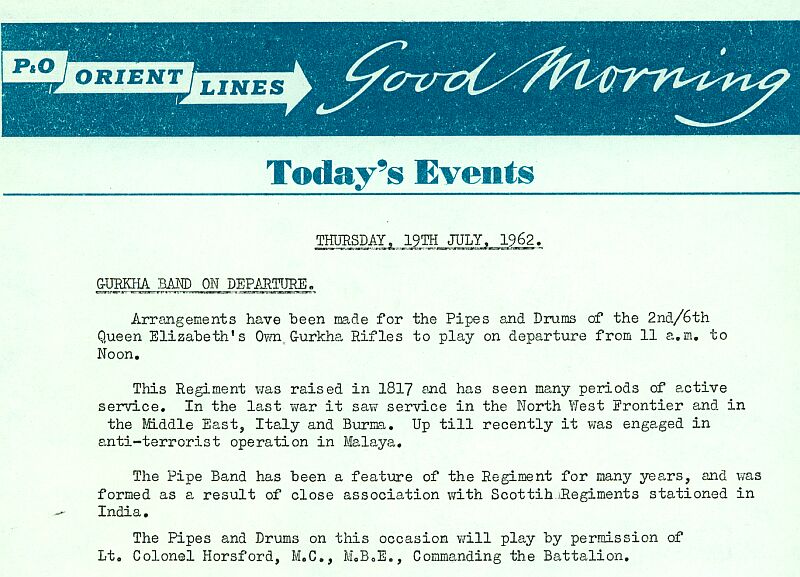 19 July Hong Kong departure notice
An hour before Oronsay sails, we are serenaded by the Pipes and Drums of the 2nd/6th Queen Elizabeth's Own Gurkha Rifles.  I learn about the Gurkha's reputation as ferocious soldiers, though the ones in the band seem very nice.  I am becoming rather impressed by the arrivals and send-offs accorded Oronsay.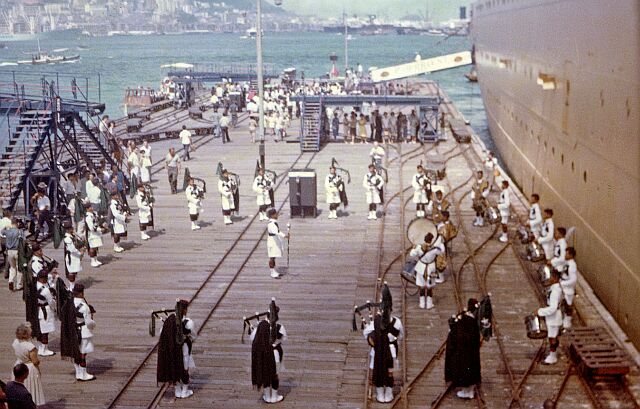 Above and below: The famed Ghurkas perform dockside as we ready ourselves to depart this fascinating port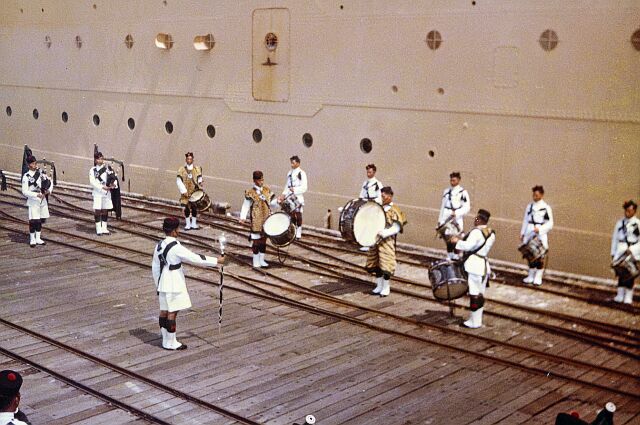 An hour after sailing, Oronsay enters the China Sea with the knowledge that we will be in Manila tomorrow evening. But tonight there is Housie (Bingo) and a British film entitled: "On The Fiddle" with Stanley Holloway.
In Page Two: Manila to Port Said and visiting Cairo.
**********************************
INDEX:
Part One:
SS Oronsay:        This Page covers RMS Oronsay's complete history.
SS Oronsay:        Page Two contains this fine ships complete Deck Plan!
Part Two:…………….Rick Danley sails on SS Oronsay's World Voyage in 1962.
Page One:           Across America / San Francisco to Hong Kong.
Page Two:           Manila to Port Said.
Page Three:        Port Said to London & Epilogue – RMS Queen Mary Trans Atlantic crossing
Page Four:          Voyage memorabilia, menus and other items – further items to come online soon!
Watch the following Pathe films:
www.britishpathe.com/record.php?id=74942
This film shows SS ORONSAY during her very early days!
www.britishpathe.com/record.php?id=74947
This is the continuation of the above film
I highly recommend this superb Book …
"Orient Line – A Fleet History"
It is available for £23.50 plus p&p from "Ships in Focus"
Email: sales@shipsinfocus.co.uk
*******************************
Also Visit our Features on the following Orient Lines & P&O Liners
Orient Lines: RMS Orcades – SS Oronsay - SS Oriana - RMS Orion
P&O: RMS Strathaird -

SS Iberia

- SS Canberra
"Blue Water Liners sailing to the distant shores.
I watched them come, I watched them go and I watched them die."
ENTER OUR …
ssMaritime
Main INDEX
Where you will discover well over 700 Classic Passenger & Passenger-Cargo Liners!
ssMaritime.com

& ssMaritime.net
Where the ships of the past make history & the story of the 1914 built MV Doulos
If requesting Passenger or Crew Lists or Sailing Schedules, I am sorry your email will be Deleted!
I receive hundreds of requests and I simply do not have any lists or schedules available.
Please Note: ssmaritime and associated sites are 100% non-commercial and the author does not seek funding or favours and never have and never will.
Photographs on ssmaritime and associate pages are either by the author or from the author's private collection. In addition there are some images and photographs that have been provided by Shipping Companies or private photographers or collectors. Credit is given to all contributors, however, there are some photographs provided to me without details regarding the photographer or owner concerned. Therefore, I hereby invite if owners of these images would be so kind to make them-selves known to me; my email address can be only be found at www.ssmaritime.com in order that due credit may be given.
ssMaritime is owned & © Copyright by Reuben Goossens - All Rights Reserved