Please Note: Firefox & Google Chrome other search engines may not suitable
Please use Internet Explorer or Google for this page! to load perfectly
Click the logo above to reach ssMaritime Frontpage & "Ship of the Month"
With Reuben Goossens
Maritime Historian, Author, Cruise'n'Ship Reviewer and Maritime Lecturer
Please Note: All ssMaritime and other related maritime/cruise sites are 100% non-commercial and privately owned. Be assured that I am NOT associated with any shipping or cruise companies or any travel/cruise agencies or any other organisations! Although the author has been in the passenger shipping industry since 1960, although is now retired but having completed well over 700 Classic Liners and Cargo-Passengers Ships features I trust these will continue to provide classic ship enthusiasts the information the are seeking, but above all a great deal of pleasure!
Orient Line / P&O Lines
S.S. Oronsay
Rick's 1962 World Voyage
Sailing Westward from San Francisco to London
With Rick Danley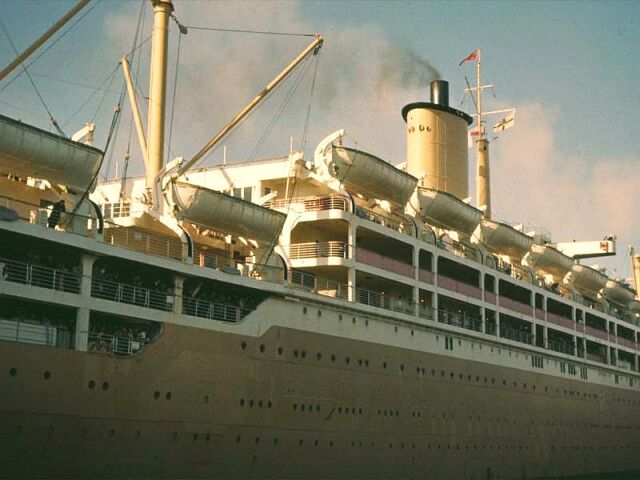 SS Oronsay-Rick-Danley-ship-starboard

Sent in by a supporter but believed to have been taken by a Mr. Broughton

Page Three

Port Said to Tilbury UK

Monday August 6 -

Port Said.

As I recall, Oronsay had not bothered to tie up at a pier. In addition she has only arrived an hour or so before us. We must cross a shaky makeshift gangway placed atop several rocking barges to reach the ship and enter through a door in D-deck of Tourist Class. Not the most elegant of returns, my Mom still recalls her nervousness. We had passed Oronsay during her transit though I don't quite remember at what point. Mr. Fez had been at the wheel. She was easy to spot. I am reminded of the moment every time I see the Suez Canal scene in Lawrence of Arabia. If I were ever to make such a trip again, I think my earlier instinct of staying aboard to experience the canal would be well worth it.

"Refreshments" are offered in the Dining Room. I go just to be polite, but don't stay to listen to my Father rail about Mr. Fez. Just two flights of stairs up and I am through my cabin door. A walk down the hall finds me an empty shower where I stand for a long time. A real long time. I may even have tried sleeping on my feet. While already late, Oronsay won't sail until a couple of hours after midnight. So, I am in no hurry to leave the cascading water. It doesn't rejuvenate, it only washes away the layers of sand and sweat (though that certainly will do for now).  Upon returning to my cabin, I switch off the lights, flop on the bed and fall immediately asleep.  

But, not for long. My parents, before retiring, check on me. I could do without them awakening me or seeing me sprawled naked on my bed.  However, they are comforted to find I am there and can rest themselves.  

Of course, now I can't sleep. I lie back in my darkened cabin thinking about the day. Already, I am having conflicting emotions over Mr. Fez.  Everything is always so complicated. Egypt was by no means ruined. I had seen the Pyramids. I had seen King Tut's treasures. I had seen the royal mummies and much, much more. We had bought some great souvenirs (still displayed today). Indeed, my few hours there have grown in stature ever since.  All of it was worth every penny Mr. Fez leeched out of us and more. But, I could have done without the memory of that contempt. We should have just have given the man a proper tip.

Even though my energy level remains low, that short nap puts off any real sleep for now. I force myself not to miss the sailing. Tonight, this morning, I put on only deck pants and my dopey hat. I find Joey on his side of A-deck. The heat here is so different than that of Bombay and Colombo. I actually like it. I want to be out in it.

Ashore, the atmosphere is raucous. There are strings of lights and lots of people. Everyone seems to be having a good time. It's almost a carnival of sorts. Oronsay is moored right at the mouth of the canal. Smells and sounds intermingle. I try to imagine what it might be like. I fight an impulse to go down and see. It's not too late to go ashore for a few minutes. Joey laughs at my idea. For some reason, he thinks it's dangerous.

After Oronsay sails, Joey goes to bed and I climb to the Sun Deck. From there I watch the stars, the ships, Port Said's receding lights.  Oronsay picks up speed as she begins sailing the Mediterranean Sea. The Mediterranean – I have come a long way.

Tuesday August 7.   

It is still hot. The Mediterranean sun glares as brightly as all the other suns. There's a Table Tennis competition, light music, children's sports (not for me!), an Interest Talk on "Early Ships of the Mediterranean", dancing and Housie. There is also a "Teenage Get-together" in the Ballroom between 4:30 and 6:00. In retrospect, perhaps such a "Get-together" earlier in the voyage might have been nice, since there were always a fair number of teens aboard. However, I don't recall anything of this event. Chances are I didn't attend. I probably was no longer anxious to make any more friends who would disappear in a week.

The big news of the day, though?  Word reached us that Marilyn Monroe had died.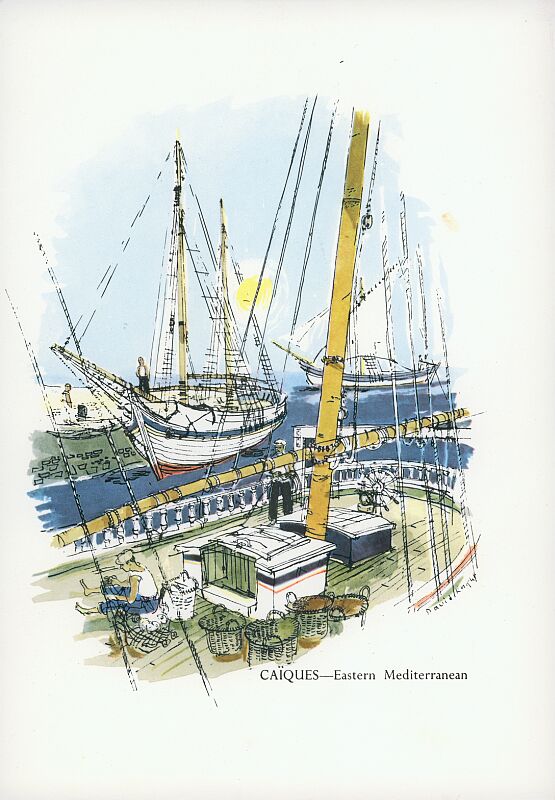 Today's Dinner Menu cover
The highlights of tonight's menu:
Boiled ham - Boiled potatoes - Cauliflower in cream sauce. All a good reason for eating heartily at the Verandah luncheon buffet.
Wednesday August 8.   
One week from today, my barefoot life ends. I rather dread its coming and not just because I will have to get used to wearing shoes again (although I am now having serious difficulty imagining how I will survive that part. How I wish I could go to school in Hawaii!).
The Sun Deck is my new favorite place during the day as the pool is populated by people I hardly know. It's a grand viewpoint overlooking the aft third of the ship. It gets more sun than anywhere. I'm always ready for a game of deck tennis though it's often against adults now.  Periodically, I run down to the pool, but don't stay long. By and large, I'm on my own. Everyone my age who I've known well is gone, except, of course, for Joey who is spending the day preparing to debark. I'm sure I appear standoffish to the remaining kids aboard. But, there are factors they do not understand.
The film tonight is Make Mine Mink "with Marilyn Monroe". Of course, the recently deceased Miss Monroe wasn't in Make Mine Mink. I imagined whoever typed Today's Events had a bad case of wishful thinking in an attempt to honor her.
I don't attend the film anyway as there are fireworks portside as Mt. Stromboli is erupting. A dull red glow will suddenly explode into a brilliant display of streamers. My dad is thrilled; I am mildly interested. The air is balmy. I promise my Mom I will be down to bed soon. But, I go to Tourist Class to wish Joey good bye. I don't anticipate spending much time, but, of course, I do. We go up on deck and look over the stern.  Oronsay's wake explodes with ferocity. I hate to leave. This is the last time I would see Joey. This is the last time I would see any of my good friends from Oronsay. I was bitter about this whole process of bidding farewell. When I return to my cabin, I swear to spend the remainder of the voyage as a hermit.

A notice placed in Today's Events
Thursday  August 9 - Naples.
Oronsay is just docking when I get up. She will sail at midnight. I had been to Naples four years earlier so the city wasn't completely new to me. At that time we had visited Pompeii, though I remember being barred from visiting some "special" rooms in the villas. This time we visit the ruins of Herculaneum on the Naples side of Vesuvius. I'm not sure I appreciated differences between Pompeii and Herculaneum though I don't recall any rooms or buildings being off limits.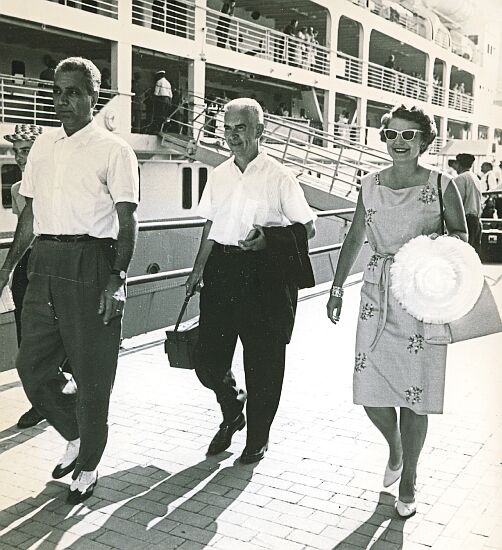 Mom seen heading off for our first tour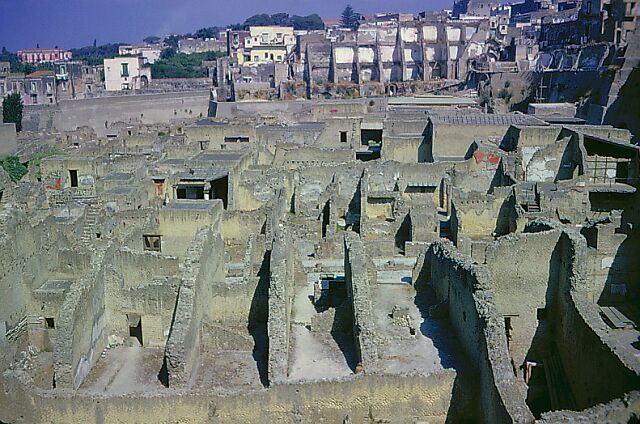 A view of the Herculaneum ruins
In the afternoon, we go west of Naples to Solfatara, described as "a semi-extinct" volcano. I remember the smell of sulphur and the harsh yellow and white color of the terrain. Our guide sets the end of a rolled up newspaper alight and waves it over a vent. Immediately, a plume of vapors shoots out of the hole. He repeats the process over other vents with similar results. At one, he holds the flame over one hole as the vapor escapes from another. Solfatara is a fascinating, though largely unpleasant, place.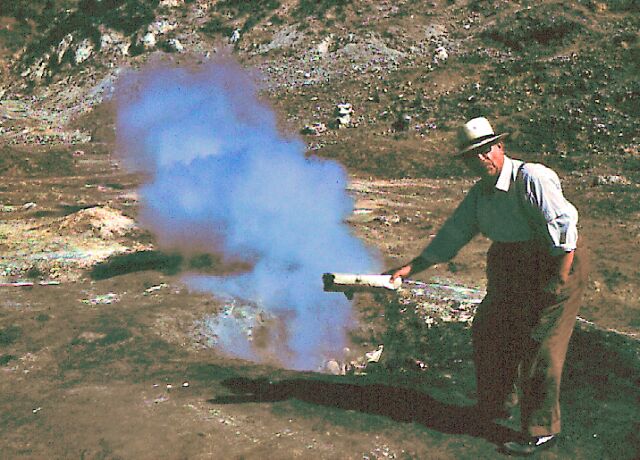 At the top of Solfarara and one of the "hot" holes
I remember eating a snack at some tree shaded picnic tables. However, this was no idyllic spot. The sun was hot, the ground was hot, the smell unappetizing, the view hideous. Perhaps, Oronsay's dining room wasn't so bad after all. For once, I am glad to be wearing shoes.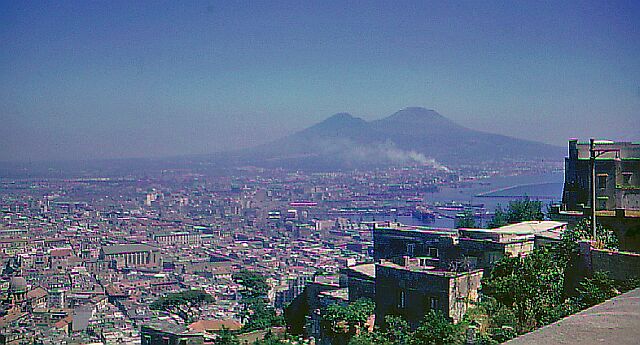 This wonderful view makes Naples looks nice from a distance!
We return to the ship for dinner and await the midnight sailing.  With little to do until then, I watch the harbor and Vesuvius from above deck.  A U.S. Navy destroyer departs at sunset to the strains of "Sentimental Journey" played by a brass band.  My dad recognizes the song, and finds it a humorous choice.  The wit, however, goes over my head.
Midnight is Oronsay's last true departure from a port. I have not missed one yet. I am rather mournful. I wonder when I might ever see such a sight again. All departures until now have been exciting. But, tonight's is different. Instead of seeing the lights of Naples drift ever more distant, I imagine the sun shinning. I look up and wave again to people on the Golden Gate Bridge. I look forward to my day at Disneyland.  The wonder of it all comes back. I want to know all I know now and start over: visit places I'd missed; visit places again with a new understanding; get better at Deck Quoit Tennis; run away in Hawaii.
Sitting in the shelter on the Sun Deck, I listen to Oronsay. The sound of the sea is neutralized by a mechanical hum, or even, whoosh, originating from deep within the ship. Glumness weighs heavily. For seven weeks, I had escaped the rigidity of the real world. Now, I had to prepare myself for the return.
Friday August 10.  
There are still a few days left to enjoy. Today's Interest Talk is on "Marine Monsters". "Mozart's Four Overtures" (which "Four" are not noted)  and "Scherazade" are the day's recorded pieces. There's Housie at 5:00, and party games followed by dancing in the Ballroom commencing at 9:15.  The "Marine Monsters" talk perks up some curiosity.
An unpleasant incident between myself and my dad puts a damper on the day.  Without going into details, I had participated in one of the deck competitions barefoot.
Later during dinner, when a competitor stops at our table to compliment me on my effort and my "leather feet", my dad is less than amused.  Later, he lectures me about this impropriety; about how I could cripple myself for life.  He was actually nicer to Mr. Fez than to me.
I don't bother with the Party Games. There's a lot of reasons I don't care. I think I may have gone to Tourist Class for a bit even though I no longer knew anyone.  I would be out of the way there.
At an appropriate hour, I don a pair of white socks and my sneakers and pay a quick visit to the lounge to say good night to my parents.  Apparently, my dad has felt remorse about his earlier comments and actually compliments me on wearing my sneakers. I guess they don't look quite so hapless with socks.
I can hear Mom 'n' Dad come down the stairs. I am under the covers just in case they decide to look in. After waiting a bit, I recall returning to Tourist Class. I don't want to be bothered with anyone I knew. When I return to my cabin, I sit on the edge of the bed for quite a while contemplating the voyage. I am far from unhappy. I'm just tired. There is little to look forward to now. Yet, what had started out so wonderfully is now ending up in petty squabbles. Most people would have a good laugh about "leather feet"; instead, I get scorn.
In retrospect, I imagine my dad was feeling a similar anxiety about the trip ending. He had to return to work the day after the Queen Mary docked in New York. A harsh comedown from a trip around the world. At least I have a buffer of ten days before I am off to school.
Maybe seven weeks, even on a ship the size of Oronsay, was too long for a 60 year-old Father and his 13 year-old son to co-exist. For him, it was the trip of a lifetime. For me... For me, it was the trip of a lifetime. I just didn't know it yet.
Saturday August 11.   
Cricket: "the fourth in the series 'Passengers versus Ship's Officers" at 2:45. Travelogues: three on the UK, including one about British Railways.  Interest Talk: the Mystery of the Marie Celeste. I think I went to this one. It was in the Ballroom. I had heard of the Marie Celeste and that it was creepy. So, I'm pretty sure I was there.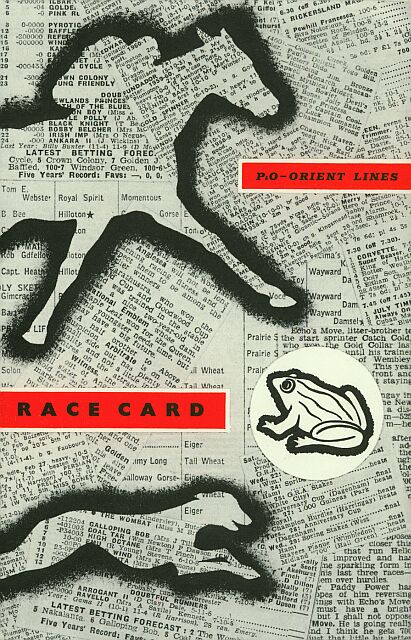 Horse Race programme cover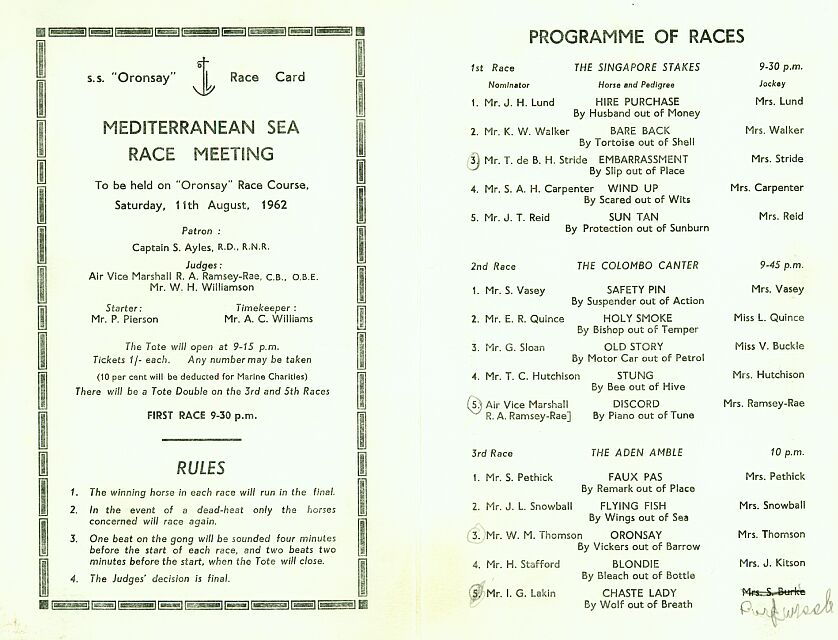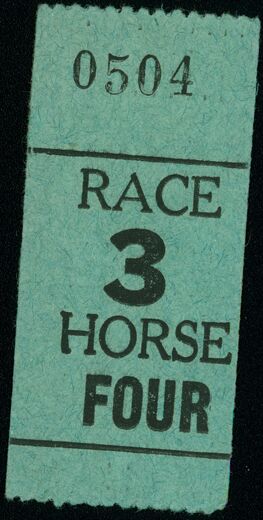 Our Horse Race ticket
After dinner is the Mediterranean Winding Race Meeting. It was little different to the one from six weeks ago. Then, everything was still so new. Tonight, however, I wander around the Forward Observation Lounge rather than paying close attention to the races. The pari-mutual "windows" were set up in here also.  At times, it seemed surreal.  All these colored lights glittering above The Arena.  Hundreds of people milling about, then cheering for their horses. And just a few steps away from the frivolity was the vastness of the Mediterranean - far more interesting than the horses.  As the races had begun, the flashing beacon from the lighthouse at Cape De Gata, Spain could be seen. Today's Events stated that the distance between the lighthouse and Gibraltar " is 159 nautical miles". The light flashes every four seconds and is visible for 20 miles. I watch for over an hour until the last flicker from the lighthouse disappears into the sea.
Sunday August 12 – Gibraltar.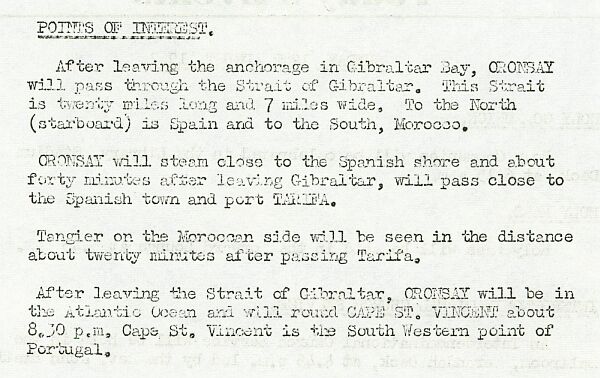 A notice found in Today's Events
As with Naples, I had been four years prior. Mom 'n' Dad and I had boarded the MS Augustus here late at night. Today, we go ashore for a short tour.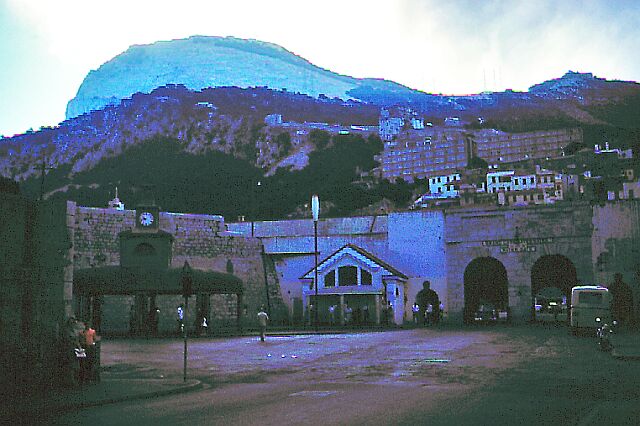 The old center of Gibraltar – This is also the bus station
Oronsay will sail at noon. I remember seeing those damned dirty apes again.
Everything aboard Oronsay is slowing down. There's no longer deck competitions. Borrowed games are to be returned. Books must go back to the library.  Tonight's movie is a rerun of "Roman Holiday".
While I am secretly pining over the upcoming end of the voyage, I can tell the crew can't wait. During the voyage, it was their job to be cheery and bright, but now the cheeriness and brightness is fueled by anticipation of their return to England. I suppose I will never quite know how they feel.
Monday August 13.
The fifth "Passengers versus Ship's Officers" cricket match takes place. There's light music, and tonight, a gala Landfall Carnival Dance.  Tickets for the special "boat train" from Tilbury to London go on sale. Though the weather is no longer tropical, it is still pleasant enough.  Oronsay spends much of the day sailing the Bay of Biscay.
Tonight, I have the deck largely to myself as most all are attending the dance. Oronsay has turned eastward as she enters the English Channel. Looking to port, I view a most astonishing sight. A substantial part of the horizon is ablaze with lights, and the lights are moving. I know it is a liner, but not which one. Though several miles away, it is obvious she is big very big. Delicate strings of shining portholes above the waterline give way to more robust lighting from the upper decks. Her reflection on the water makes her appear an oblong orb. The magnificent lights catch up to Oronsay and then fly swiftly past. I know for a few moments, I have witnessed another world not altogether different from Oronsay. People there are doing the same as here, sitting in lounges, dancing, enjoying a movie, playing games.  Maybe on their deck is someone much like me watching Oronsay's lights, wondering who she is, where she has come from, where she is going.  It's as if the one galaxy passes close to another before returning to the blackness of space.
Tuesday August 14.
The last day: Mr. Peartree informs me that the lights I saw last night belonged to the S.S. United States. "We were doing 24 knots and they were doing 34," he says, rather ruefully.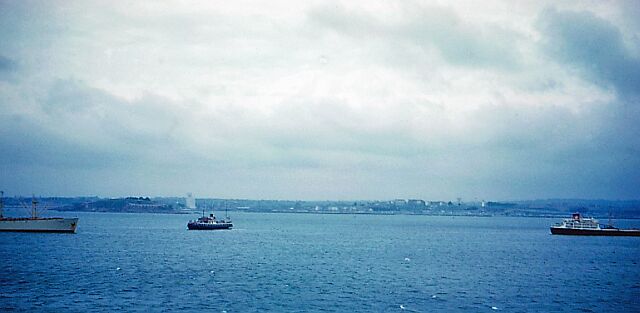 Oronsay-Rick-Danley-Plymouth-14 Aug
Oronsay makes a brief stop at Plymouth around eleven. It lasts only long enough to debark by tender a number of passengers and their luggage. An English friend who is returning after growing up in Singapore is quite excited to see his country again. Needless to say, it is chilly and rainy, just as when he left.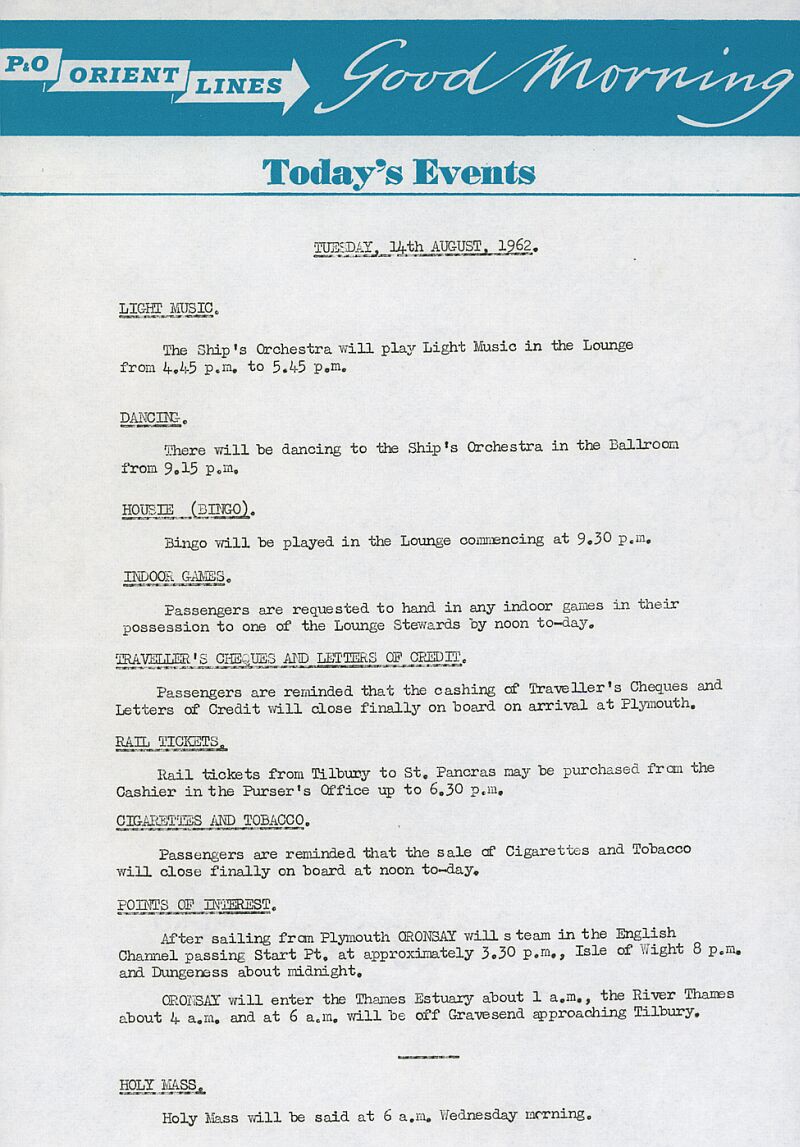 It is a sad Day - Today's Events for our final Day on the Oronsay!
There is light music by the ship's orchestra and Housie. I know I went just to hear "sweeeet 16" called out one more time, or "Jack Benny's age - 39" or "Crazy eights - 88". Even though I hadn't played much lately, I knew I would miss it.
I went up on deck, but didn't stay long. I realized that none of the magical sensations from earlier in the voyage were present tonight. Those experiences were now in the past. Oronsay's speed has slackened. She passed the Isle of Wight around eight.  It's all gliding to an end.
Wednesday August 15 - Tilbury England
SS Oronsay has already berthed at the Tilbury docks when I awaken. After breakfast, I wish Lionel and Mr. Peartree goodbye. I go to the Stadium Deck and take some pictures of the funnel. A half century later, the conflicting feeling that when I leave Oronsay this time, it will be forever, remains.
After stepping from the gangway, I'm sure I looked back one last time though that memory no longer exists. I was so deflated.
We spend our night in London at the Park Lane Hotel and we go and see Lionel Bart's "Oliver". David Jones plays the Artful Dodger. A few years later, I would laugh at this memory when Davy Jones becomes the most popular member of The Monkees.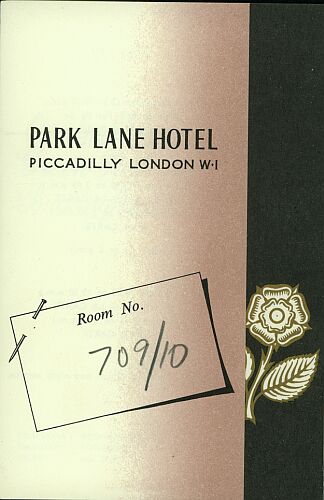 Our Room folder for our London Hotel
Rick's Voyage Home on the RMS Queen Mary!
Thursday August 16 to Tuesday August 21 - Southampton to New York  
Another boat train, this time to Southampton to board the RMS Queen Mary. I never do get a memorable view of The Mary, just a very brief bow-on look from the train which pulls up onto the dock.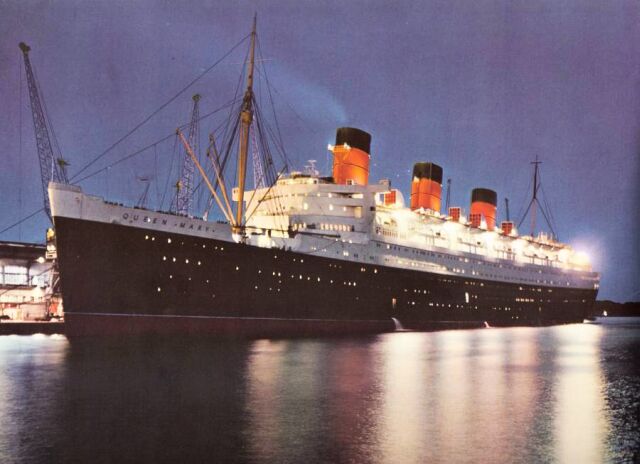 RMS Queen Mary seen at the Cunard berth in Southampton
From the ssMaritime collection
Southampton is a treasure-trove of liners, but with different names than one would be accustomed to in New York. From The Mary's deck, I see the familiar Caronia. But. I also see new Orient Line flagship Oriana, her hull the same color as Oronsay's. There's also Windsor Castle, Capetown Castle, and Nevasa. We had seen Nevasa, described as a troopship, around the Suez Canal. Still, she looks like an ocean liner.  
After a brief stop at Cherburg, the Queen Mary is on to New York.  
50 years after the fact, people are most impressed that I sailed on Queen Mary. These same people become rather confused when they learn I think of the ship in somewhat dismissive terms. But, indeed, sailing on The Mary has become only an afterthought; a footnote to the trip.    
Of course, she was much faster than Oronsay. I saw the ocean careening by one afternoon through an open gangway door. Her speed was immense. The Mary really moved. It made me think of the S.S. United States a few nights earlier.
There is also a porthole in the stateroom I share with my parents. After seven weeks with my own cabin, this high occupancy is tough to take. I can't come and go as I once did. There are no late night sojourns to open decks. The Mary is also much more formal. I only go barefoot when in bed, and then I can't sleep with Mom 'n' Dad in the room.
Oronsay, however, won't let go of us. On Sunday August 19th, we are summoned to Queen Mary's physician "... with reference to Oronsay".  Apparently, a child picked up in Bombay landed in Tilbury showing symptoms of smallpox.  We are re-vaccinated by the doctor, who assures us that the re-vaccination makes no health difference.  But, it will look good to any authorities who might raise questions.  (As it turned out, the child did not have smallpox).
I remember evening entertainments to the extent that I thought little of them. Twice there are "Cinema Races". I now experience the third and most tacky form of shipboard horse racing. It seems races from Hialeah and Santa Anita have been filmed and are then shown on a screen. As the horses move to the starting gate, a voiceover supplies banal comments such as "There's number four" or "Number seven looks frisky". More than once, I hear a steward tell passengers who to bet on. It's all dreadfully dull.
Then there is a Fancy Headdress Ball. Unlike Oronsay, some of the concoctions are elaborate. These people care if they win. One of the judges is the Commodore (or, was he just the captain? The Mary had a more complex hierarchy of officers than Oronsay). As each contestant approaches the judging station, the Commodore breaks out in a wide, toothy, smile. The very instant the contestant turns their back, the smile is replaced by an exasperated frown. Here is an officer who truly wishes he were on the bridge.
My grandfather is at the pier in New York to pick us up. "Too big," he complains after dealing with all the congestion. I look up at The Mary's bow. I remembered Oronsay's. This was hugely more massive. But, I still don't get my good view of the ship. Maybe some day I will re-visit Long Beach to actually see what Queen Mary looks like.
Epilogue.
I have often heard people say something to the effect that it is good to implant the "travel bug" at an early age. At the age of 13 after sailing on a half dozen fine liners, and wishing relatives off on a few others, one would think I was hooked. I certainly thought I was.
Four years later, when I graduated from high school, Mom 'n' Dad and I were booked on P&O's Orsova for a voyage around the Pacific (the Orient Line name having now been discarded). We would be in Hawaii twice, Fiji, New Zealand, Australia, Hong Kong, Japan. A friend from school was joining us, as was my aunt and cousin. This was going to be fantastic. I was going to experience the wonderful nights at sea again. Orsova was not hugely different from Oronsay in configuration. I dreamed again of the great moment when I would feel the ship's power come alive.
Unfortunately, it never happened. The British Seaman's Union called a general strike and Orsova was laid up at Tilbury for the duration.  Perhaps, the walkout had something to do with the "dilapidated shit and diarrhea".
We still went to Australia and New Zealand. But, by air. 17 hours from L.A. to Auckland; and then constant flights for the next five hectic weeks.
I had longed to sail under the Sydney Harbor Bridge, rather than to fly over it. Somehow, I thought I had missed something. I felt that I had been cheated. After that, the "travel bug" died. I just wasn't interested any more.
I made one final sea voyage. In the 70s, I made a westbound Atlantic journey on the QE2. While Queen Mary could legitimately be compared to a grand European hotel, the QE2 was more like a luxury motel.
Neither was in the class of Oronsay (or delightfully intimate SS Del Sud, for that matter). Memories are strange. Even though details might be lacking, an overall glow remains. Of course, ships like the Oronsay and Del Sud have a big advantage over the other ships I sailed on, they were home. I was on both for a very long time.  
And, today, both are long gone. But, I understand. There is a little sadness. Conrad's "From land to land" quote now makes sense. It is the way of the sea!
Rick Danley.
A Special addition by - Pat Savary Hallsworth:
"Thank you so very much to you and Rick Danley for writing about his voyage on the SS Oronsay. You sparked all kinds of memories and I spent yesterday absolutely immersed in Rick's narration and my memories of the same trip. I, too, was thirteen years old but was a girl and in Tourist class with my sister and parents. We boarded the ship that summer in Kobe. We were in a four berth cabin located on one of the lower decks aft.
I wonder if Rick was aware that there were two "burials at sea" during that voyage. I knew about them because my Dad officiated at these services. Heavy canvas tarps were hung on one of the lower decks to block off an area away from the public. I wa not allowed to go to the service, but did hover nearby for a short time. Afterwards our family was invited up to the Captain's cabin where Mom and Dad were served sherry. That too made an impression on me as I had never seen them drink before. In any case, that lead to my foray into first class. Having been reading some Agatha Christie books during that time, I thought that one death was explainable but two? Where was Poirot when we needed him? My friend and I thought we would sleuth out the murderer and, of course, that meant sneaking into first class. We opened the door and started down the corridor. It was so plush and silent and such a rarefied atmosphere that after fifteen to twenty feet down the corridor, afraid of being found out and of the murderer stepping out of one of the cabins, we dashed back to the safety of tourist class and decided we weren't cut out to be sleuths after all.
Another memory that I have was of the sand storm as the ship left Port Said. That made an impression on me as our cabin was an inside one and thus did not have a porthole and I was never sure when lying in my bunk which direction the ship was going. As a result, when an announcement was made that, in order to keep the sand from getting into the lower areas of the ship, most stairways would be closed off by the heavy metal sliding walls and that we should use particular stairs, and here the directions given included port or starboard, I was completely disoriented as I couldn't remember which direction the ship was moving in relation to the stairs that we normally used. When I did get up on deck, the sky behind us had a weird yellowish tinge.
After we disembarked in the UK, we didn't hear about the sick boy until, I believe, the evening before we boarded Cunard's Carinthia, which was heading from Liverpool down the St. Lawrence River to Montreal. As we had booked a hotel room, the public health officials found us there. The rest of the previous week, we had spent travelling in a rented car from London to Liverpool and had stayed at bread and breakfasts so they had been unable to locate us. When we boarded the Carinthia, we were taken aside immediately and told that we had to have our health checked on a daily basis, first thing in the morning, by the nurse on board ship. In my memory, the disease that the boy had had was typhoid. As, I believe, we visited every single cathedral between London and Liverpool, all the public health officials would have had to do was sit in a cathedral and wait until we trooped in."
Anyway, thank you so much for all the memories of that trip. I loved the Oronsay more than any other ship that we were on during my childhood. It was just the right size. I can't even imagine what it would be like on the new ships that are just so huge these days!" Pat Savary Hallsworth.
*********************************
INDEX:
Part One:
SS Oronsay

:        This Page covers RMS Oronsay's complete history.
SS Oronsay:        Page Two contains this fine ships complete Deck Plan!
Part Two:            Rick Danley sails on SS Oronsay's World Voyage in 1962.
Page One

:           Across America / San Francisco to Hong Kong.
Page Two:           Manila to Port Said.
Page Three:        Port Said to London & Epilogue – RMS Queen Mary Trans Atlantic crossing
Page Four:          Voyage memorabilia, menus and other items – further items to come online soon!
Watch the following Pathe films:
www.britishpathe.com/record.php?id=74942
This film shows RMS ORONSAY during her very early days!
www.britishpathe.com/record.php?id=74947
This is the continuation of the above film
I highly recommend this superb Book …
"Orient Line – A Fleet History"
It is available for £23.50 plus p&p from "Ships in Focus"
Email: sales@shipsinfocus.co.uk
*******************************
Also Visit our Features on the following Orient Lines & P&O Liners
Orient Lines: RMS Orcades – SS Oronsay - SS Oriana - RMS Orion
P&O: RMS Strathaird -

SS Iberia

- SS Canberra
"Blue Water Liners sailing to the distant shores.
I watched them come, I watched them go and I watched them die."
ENTER OUR …
ssMaritime
Main INDEX
Where you will discover well over 700 Classic Passenger & Passenger-Cargo Liners!
ssMaritime.com

& ssMaritime.net
Where the ships of the past make history & the story of the 1914 built MV Doulos
If requesting Passenger or Crew Lists or Sailing Schedules, I am sorry your email will be Deleted!
I receive hundreds of requests and I simply do not have any lists or schedules available.
Please Note: ssmaritime and associated sites are 100% non-commercial and the author does not seek funding or favours and never have and never will.
Photographs on ssmaritime and associate pages are either by the author or from the author's private collection. In addition there are some images and photographs that have been provided by Shipping Companies or private photographers or collectors. Credit is given to all contributors, however, there are some photographs provided to me without details regarding the photographer or owner concerned. Therefore, I hereby invite if owners of these images would be so kind to make them-selves known to me; my email address can be only be found at www.ssmaritime.com in order that due credit may be given.
ssMaritime is owned & © Copyright by Reuben Goossens - All Rights Reserved