Orient Line / P&O's - SS Oronsay
Please Note: Firefox & Google Chrome other search engines may not suitable
Please use Internet Explorer - Google for this page to load perfectly!
Click the logo above to reach ssMaritime Frontpage & "Ship of the Month"
With Reuben Goossens
Maritime Historian, Author, Cruise'n'Ship Reviewer and Maritime Lecturer
Please Note: All ssMaritime and other related maritime/cruise sites are 100% non-commercial and privately owned. Be assured that I am NOT associated with any shipping or cruise companies or any travel/cruise agencies or any other organisations! Although the author has been in the passenger shipping industry since 1960, although is now retired but having completed well over 700 Classic Liners and Cargo-Passengers Ships features I trust these will continue to provide classic ship enthusiasts the information the are seeking, but above all a great deal of pleasure!
Orient Line / P&O Lines
R.M.S.
Oronsay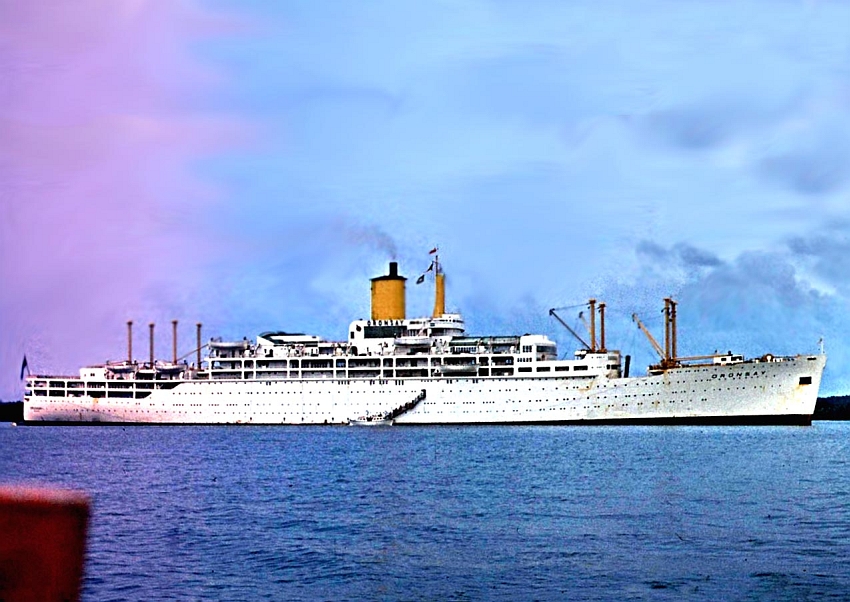 SS Oronsay is seen at anchor whilst on a Cruise in the 1970's
Page Two - Deck Plans
Having read the comprehensive history of the *R.M.S., which in 1960 she became the *S.S. Oronsay on Page One, now on Page Two I am delighted to present the ships Deck Plan of her days when she was still a Two Class Liner. Although there were some interior changes made over the years, but it was in 1960, when she was converted into a One Class ship. Therefore this Deck Plan depicts her as she was built!
*R.M.S. stands for "Royal Mail Ship" and S.S. stands for "Steam Ship."
First Class
Sun Deck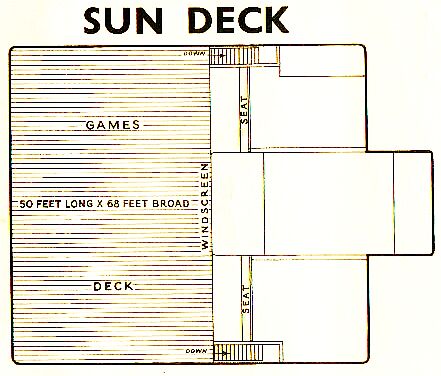 A Deck

B Deck (Upper Promenade Deck)

C Deck (Promenade Deck)

D Deck

E Deck

F Deck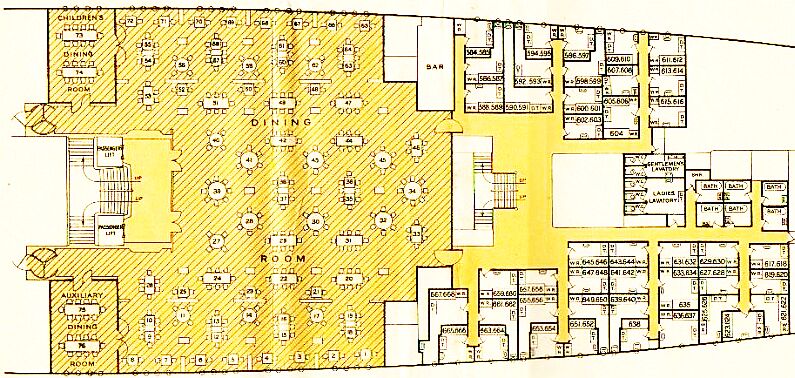 Tourist Class
A Deck (Pool Deck)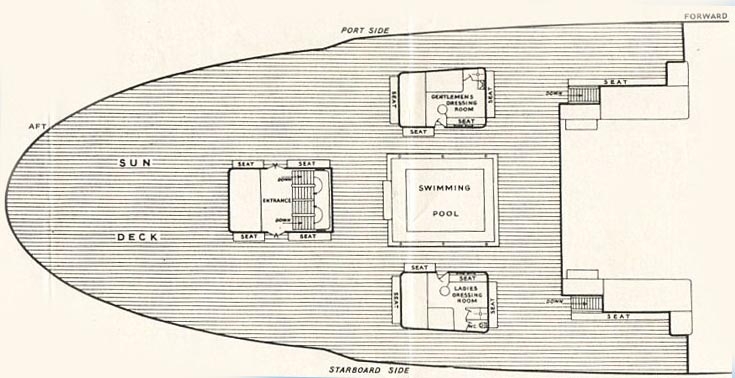 B Deck (Upper Promenade Deck)

C Deck (Promenade Deck)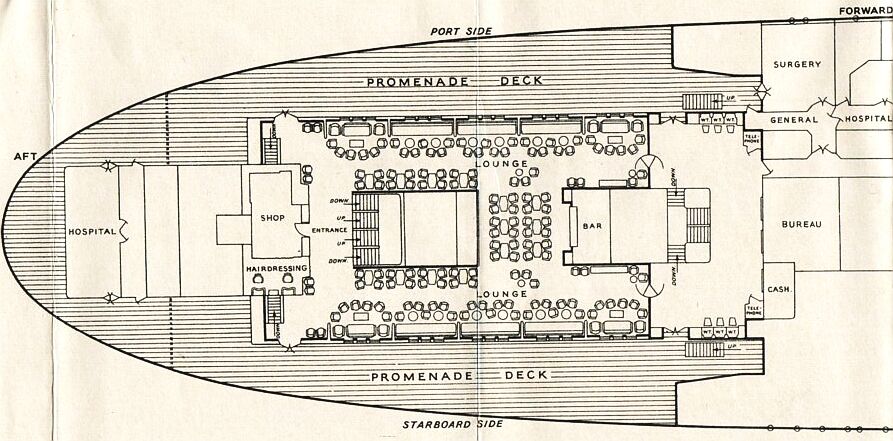 D Deck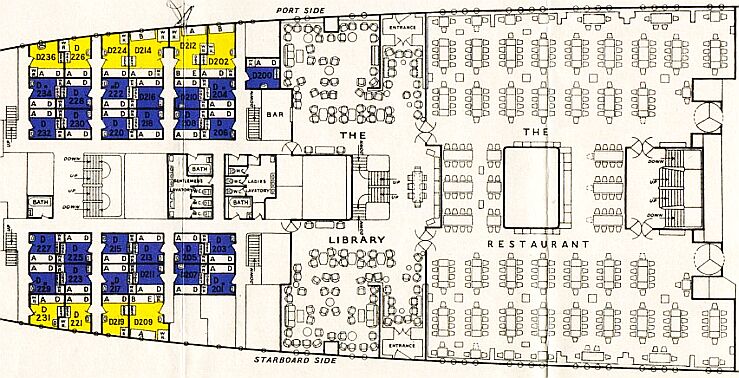 E Deck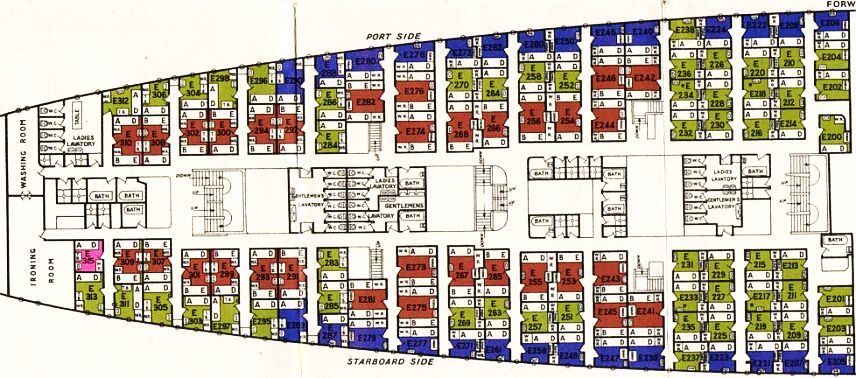 F Deck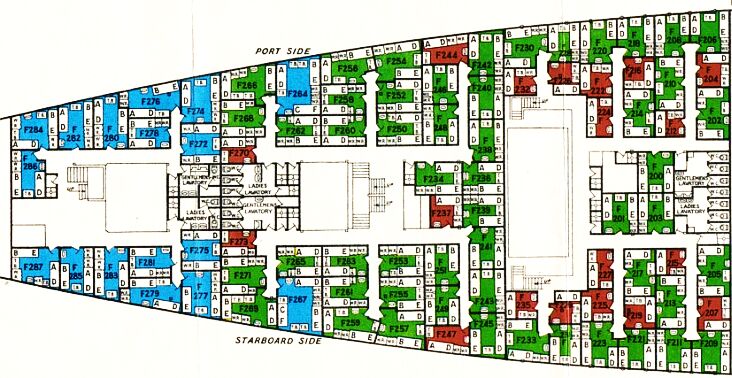 *********************************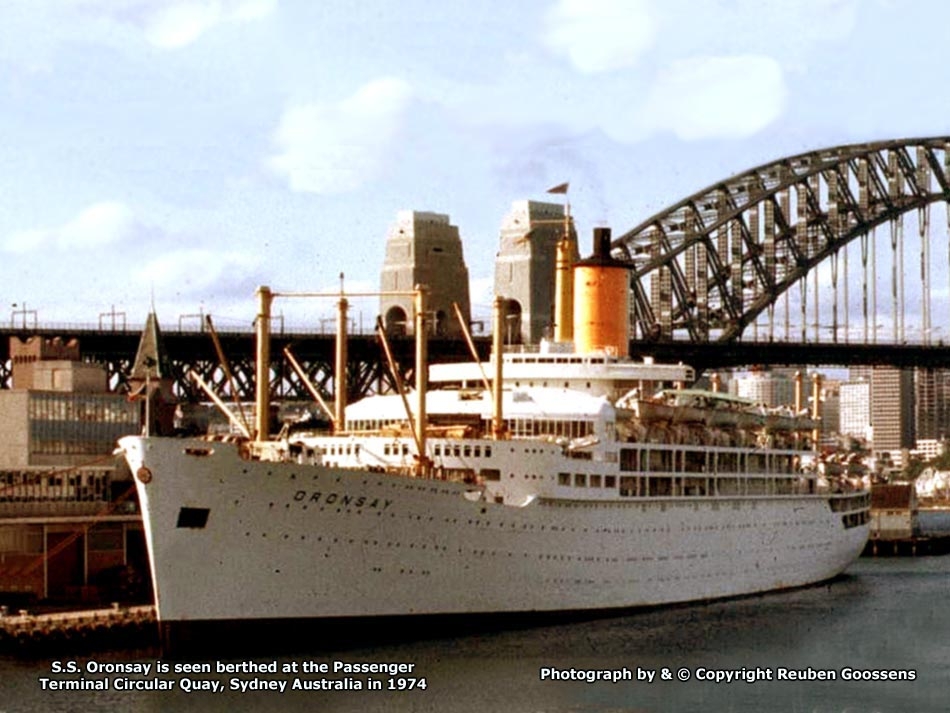 *********************************
INDEX:
Part One:
SS Oronsay

:        This Page covers RMS Oronsay's complete history.
SS Oronsay:        Page Two contains this fine ships complete Deck Plan!
Part Two:            Rick Danley sails on SS Oronsay's World Voyage in 1962.
Page One

:           Across America / San Francisco to Hong Kong.
Page Two:           Manila to Port Said.
Page Three:        Port Said to London & Epilogue – RMS Queen Mary Trans Atlantic crossing
Page Four:          Voyage memorabilia, menus and other items – further items to come online soon!
Watch the following Pathe films:
www.britishpathe.com/record.php?id=74942
This film shows RMS ORONSAY during her very early days!
www.britishpathe.com/record.php?id=74947
This is the continuation of the above film
I highly recommend this superb Book …
"Orient Line – A Fleet History"
It is available for £23.50 plus p&p from "Ships in Focus"
Email: sales@shipsinfocus.co.uk
*******************************
Also Visit our Features on the following Orient Lines & P&O Liners
Orient Lines: RMS Orcades – SS Oronsay - SS Oriana - RMS Orion
P&O: RMS Strathaird -

SS Iberia

- SS Canberra
"Blue Water Liners sailing to the distant shores.
I watched them come, I watched them go and I watched them die."
ENTER OUR …
ssMaritime
Main INDEX
Where you will discover well over 700 Classic Passenger & Passenger-Cargo Liners!
ssMaritime.com

& ssMaritime.net
Where the ships of the past make history & the story of the 1914 built MV Doulos
If requesting Passenger or Crew Lists or Sailing Schedules, I am sorry your email will be Deleted!
I receive hundreds of requests and I simply do not have any lists or schedules available.
Please Note: ssmaritime and associated sites are 100% non-commercial and the author does not seek funding or favours and never have and never will.
Photographs on ssmaritime and associate pages are either by the author or from the author's private collection. In addition there are some images and photographs that have been provided by Shipping Companies or private photographers or collectors. Credit is given to all contributors, however, there are some photographs provided to me without details regarding the photographer or owner concerned. Therefore, I hereby invite if owners of these images would be so kind to make them-selves known to me; my email address can be only be found at www.ssmaritime.com in order that due credit may be given.
ssMaritime is owned & © Copyright by Reuben Goossens - All Rights Reserved