Orient Line / P&O RMS / SS Oronsay 1951 - 1975
Please Note: Firefox & Google Chrome other search engines may not suitable
Please use Internet Explorer - Google for this page to load perfectly!
Click the logo above to reach ssMaritime FrontPage & "Ship of the Month"
With Reuben Goossens
Maritime Historian, Author, Cruise'n'Ship Reviewer and Maritime Lecturer
Please Note: All ssMaritime and other related maritime/cruise sites are 100% non-commercial and privately owned. Be assured that I am NOT associated with any shipping or cruise companies or any travel/cruise agencies or any other organisations! Although the author has been in the passenger shipping industry since 1960, although is now retired but having completed well over 700 Classic Liners and Cargo-Passengers Ships features I trust these will continue to provide classic ship enthusiasts the information the are seeking, but above all a great deal of pleasure!
Orient Line / P&O Lines
R.M.S.
Oronsay
NEW Features - Fully updated with additional pages
See the New INDEX at the bottom of the page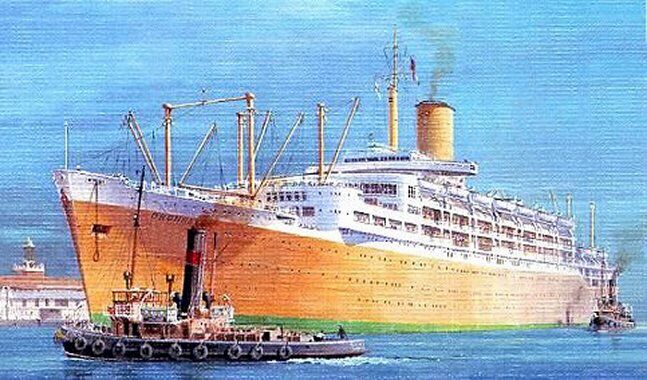 A painting of the Oronsay
A delightful painting by an unknown artist
RMS (later SS) Oronsay was the second Orient Line ship built after World War II, her earlier sister RMS Orcades was built in 1948. She was named after an island off the West coast of Scotland, which also influenced her décor. To enhance her Scottish identity she had a "Targe and Broadsword" insignia located aft of her funnel and on her bow. She had the typical Orient livery of a Corn coloured hull, white superstructure and a black topped yellow.
Built by Vickers-Armstrong Ltd at Barrow-in-Furness, especially for the Australasian service, her accommodations set a new standard, both in first and tourist class. With the final cost of building coming in at £4,228,000, she was considered the epitome of post-war British shipbuilding. Her decor was by Brian O'Rourke who was also the interior designer for what was called the "new look" of the Orion, as well as the Orcades. However, her exterior differed from the earlier Orcades (and the newer SS Orsova and the last Orient Line ship ever built, the SS Oriana) having been fitted with a thick mast set atop her Bridge. Like other passenger liners, Oronsay had considerable cargo facilities, with space for 370,000 cubic feet, accommodating both dry and refrigerated cargoes.
Please Note: Photographs and images on this page are from the author's private collection unless otherwise stated!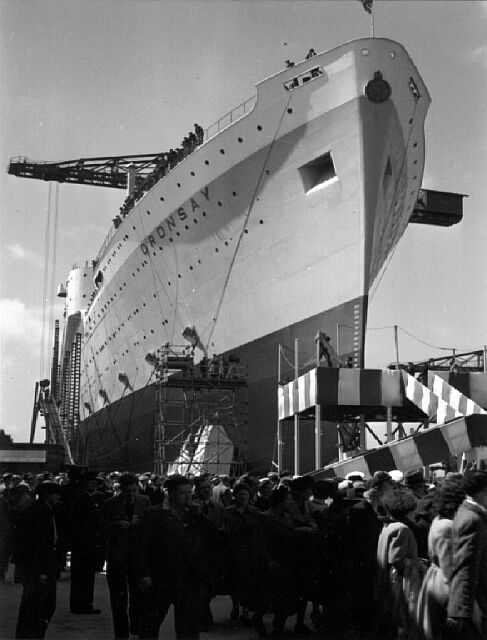 Above and below: The launching of the Oronsay
Originally issued by Orient Line – From the author's private collection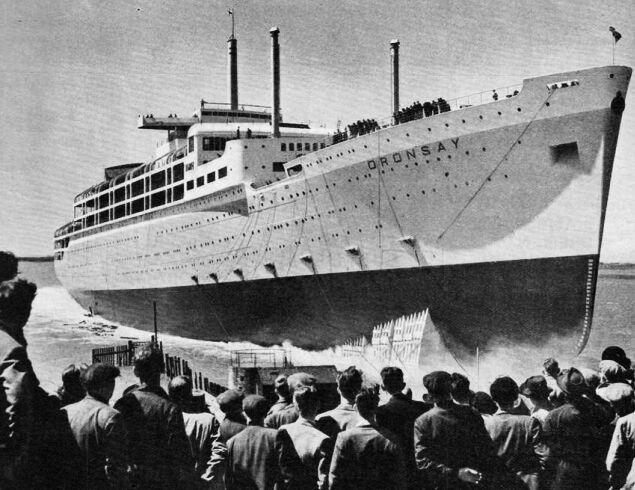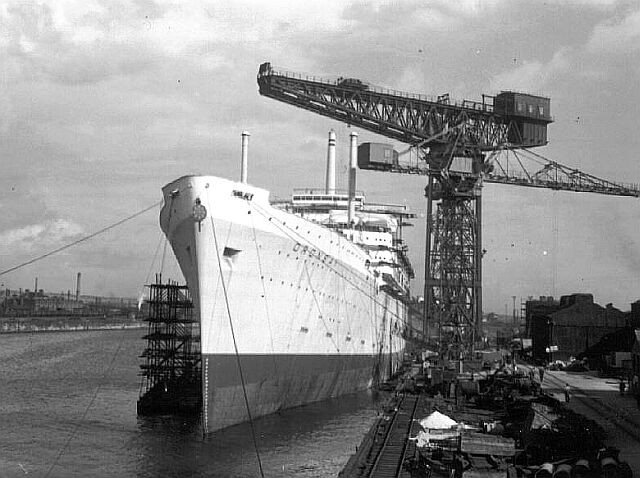 See during the fitting out process
Originally issued by Orient Line - From the author's private collection
Her keel was laid down in 1949 and was launched of Friday June 30, 1950 by Mrs A. Anderson, the wife of the Companies Chairman. However, during her fitting out, on October 28, at 9 pm a fire started in the cork insulation in the No. 2 hold and it burned for three days. The ship developed a 20-degree list. As there was a fear of her capsizing, a hole was cut into the side of her hull to let the water flow out.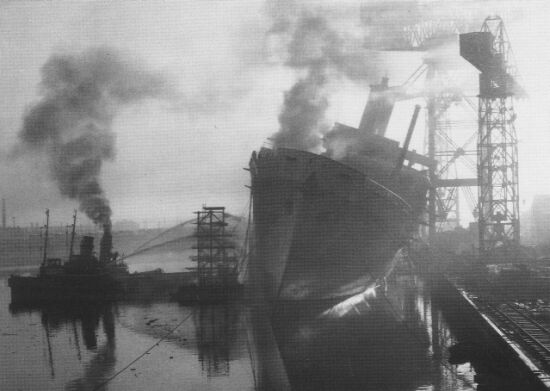 Oronsay seen on fire and listing to port
From the P&O archives
In spite of the mishap, her completion was only delayed by only eight weeks. On April 29 and 30, 1951, she ran her speed trails on the Clyde reaching a respectable 23.23 knots. She was officially delivered to Orient Line at Tilbury on May 3, 1951 and she was made ready for her maiden voyage to Australia.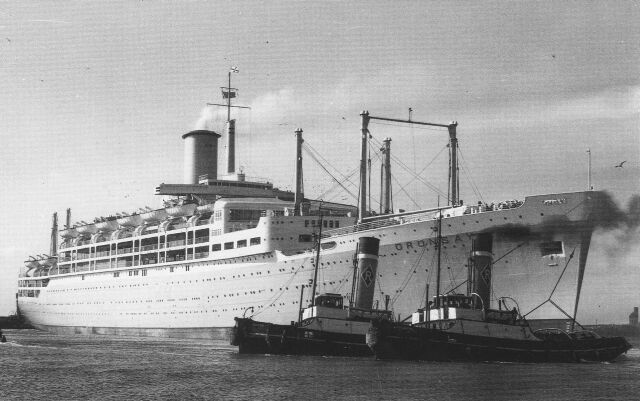 RMS Oronsay being delivered to Orient Line on May 3, 1951
RMS Oronsay set sail for her maiden voyage to Australia on May 16, under the command of Captain Shurrock and sailed via the Suez Canal, to Fremantle (Perth), Adelaide, Melbourne, arriving in Sydney on June 18, 1951
Follow the rest of her career after her deck by deck as built description.
SS Oronsay Deck by Deck Description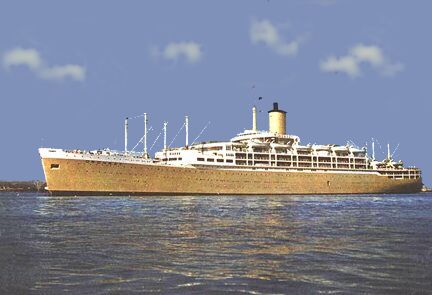 Official Orient Line Postcard
First Class
Description of Deck layout starting from forward to aft
First Class passenger accommodations occupied seven decks forward/amidships. These were named Bridge, Sun, A, B, C, D, E and F decks. Please Note; her Two Class Deck Plan is now online. See the links at the bottom of the page.
Bridge Deck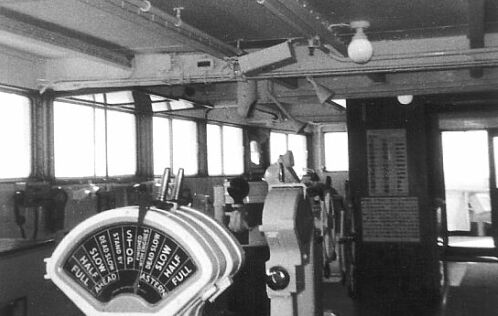 The Bridge
Sun Deck
This was a popular area for both games and enjoying the sun protected by a screen located forward. This deck could only be reached by stairs port and starboard.
A Deck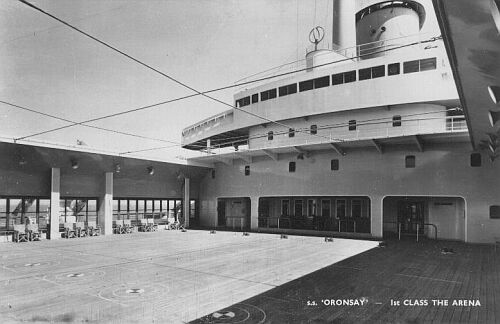 The Arena
Forward was the popular fully enclosed "Arena" Lookout, which was surrounded by floor to ceiling windows. This was followed by the Arena, then the Lobby and Library. Amidships was taken up by the spacious Games deck. Located aft was a lounge and as well as the Grill Restaurant, overlooking the pool down on A deck.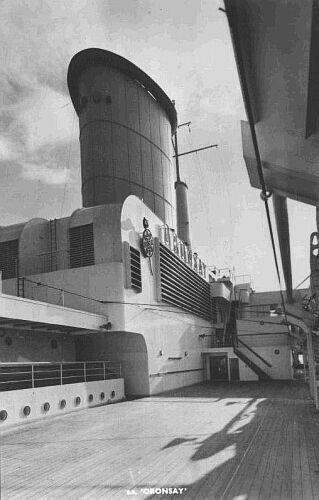 Games Deck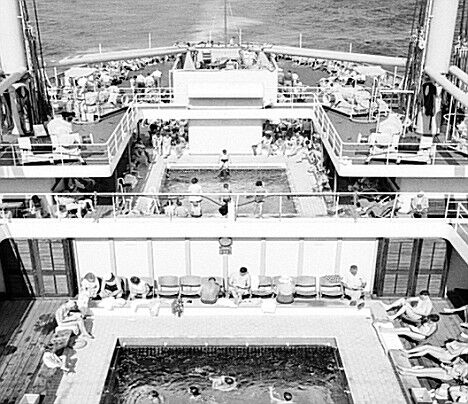 The aft decks with the First and Tourist Class Pools in view
B deck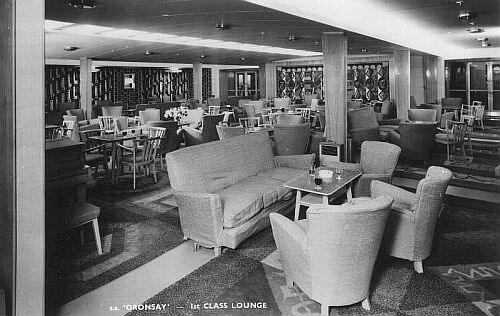 The Main Lounge
This deck had one of the two walk around promenades. Far forward was the Children's Playroom and play deck, followed by the forward Lobby and the Main Lounge. Next the Main Lobby and side Galleries, with the Verandah Bar aft.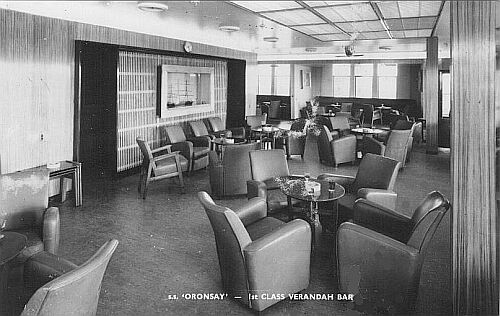 Verandah Cafe
C Deck
The forward section was taken up by cabins, the Shop, Hairdressing Salon, with the Tavern and pool far aft. There was also a full walk around promenade deck.
D Deck
This deck, except for the Pursers Office was dedicated to cabins and suites, the most famous of these being The Flat. Other cabins were one and two berth cabins, most with private facilities.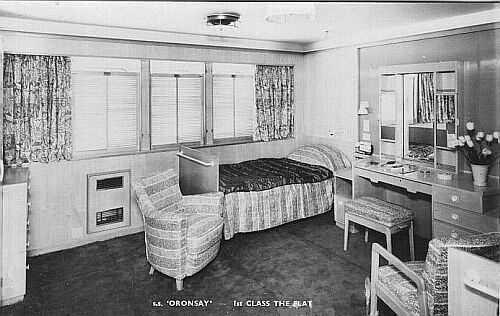 The ships finest accommodation was known as "The Flat" - being the deluxe Suite
The Flat had two bedrooms, a large Lounge and bathroom, a separate WC, suitable for visitors, even a pantry!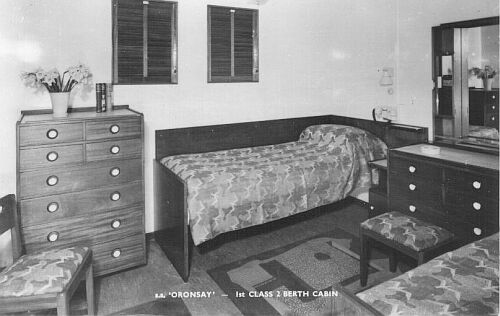 A twin bedded cabin with two windows
E Deck
This deck was fully occupied by cabins, and the Main (First Class) entrance Foyer and the Doctor's Surgery.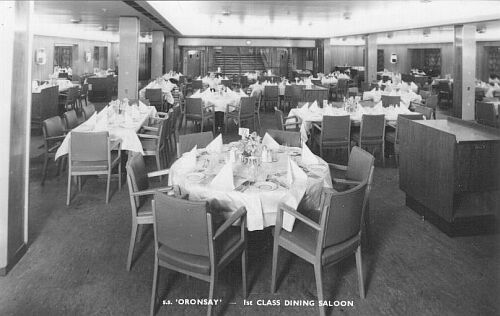 Dining Room
F Deck
Forward section was occupied by cabins followed by the Main Dinning Saloon, a separate Children's Dinning Room (port) and a small Auxiliary Dinning Room (starboard).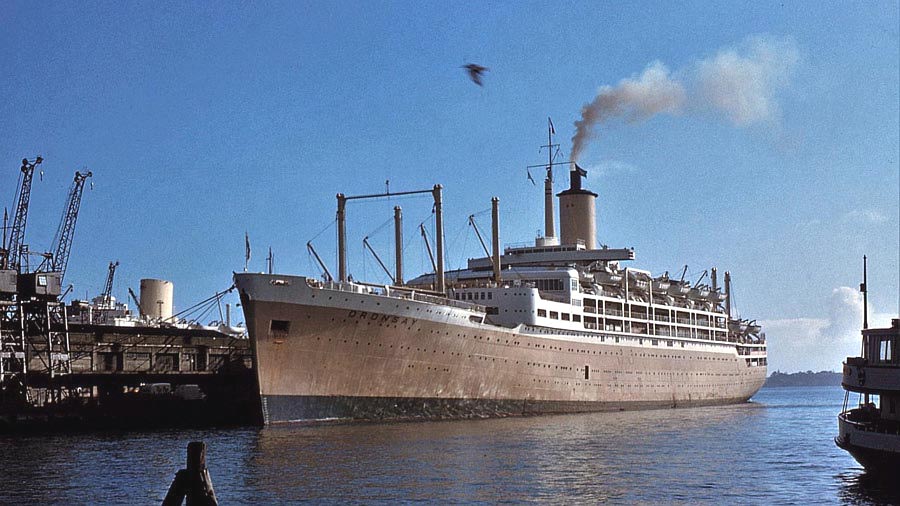 RMS Oronsay seen at Princess Wharf Auckland New Zealand in August 1958
Photograph was kindly provided by Geoff Eastwood, but was taken by his Father Roger Eastwood
Tourist Class
A Deck
With First Class occupying the forward section of the ship, Tourist was located aft, sharing a number of decks A to E decks. This deck contained the pool, changing room with showers, sun bathing deck and sports facilities.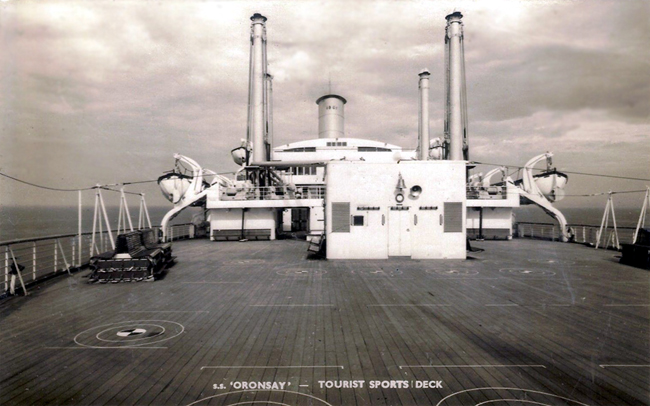 Games Deck aft
B Deck
Forward was occupied with two and four berth cabins, a few with private facilities. These were followed the main stairwell, and a fully covered spacious screened Verandah deck with the Upper Promenade on either side. A Bar located forward on the starboard side. Aft was the Children's Play Room and deck.
C Deck
Forward started with the Pursers office, Surgery, Lobby and Main stairwell. This was followed by the Main Lounge and Bar as well as the shop aft. On both sides were the lower Promenade decks.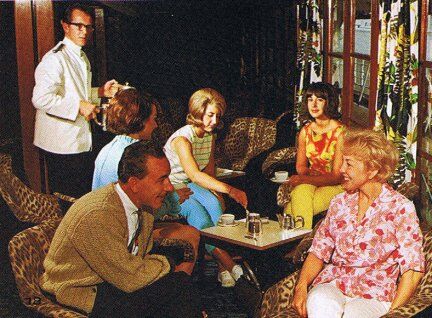 Main Tourist Class Lounge and Ballroom
D Deck
Aft of the Galley, was the Tourist Class Dinning Room, followed by the Lobby and a very large Library. Aft of this were further cabins, most being two berths, with some having four berths. None had private facilities.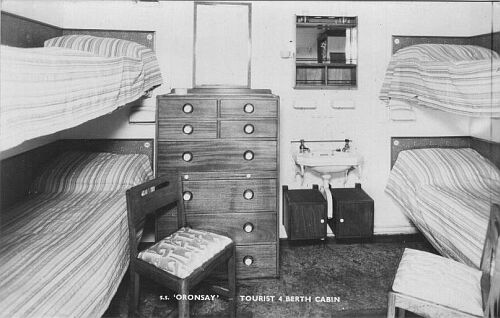 Inside twin/three or four-berth cabin
E & F Decks
These two decks were fully occupied by cabins. Most of these were four berths; however there were some two and six berth cabins. None had private facilities.
Please Note: As you will have seen, I have no photos/postcards of the Tourist Class public rooms. If you have some, I would greatly appreciate some!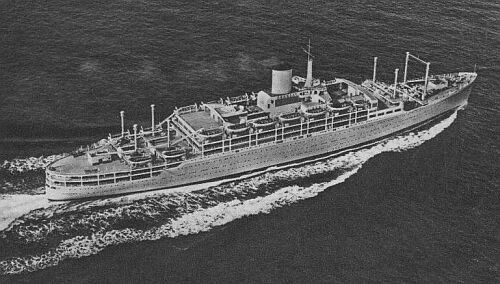 SS Oronsay at full speed
Speciation's as Built
Built by:…………..Vickers Armstrong shipyard at Barrow-in-Furness
Call Sign:……….GCNB
Tonnage:………….27,632 GRT (gross registered tons) – 28,136 GRT in 1970
Length:…………….708ft – 216m
Beam:………………93.5ft – 28.5m
Draught:………….31ft - 9.4 m
Propulsion:……..Parsons marine steam geared turbines - 42,500 SHP
Screws:……………two
Service speed:…22 knots.
Passengers:……..668 First - 883 Tourist Class - 1,400 One Class in 1972
Crew:……………….622
Air-conditioning:Fitted in 1959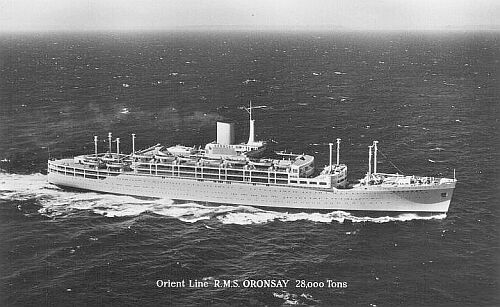 RMS Oronsay and early Orient Line postcard
RMS Oronsay Fine Career
Oronsay operated the UK to Australasia service sailing via the Suez Canal. However, on February 14, 1954 for on January 1, 1954, she would become the first Orient Line liner to cross the Pacific sailing to San Francisco via Auckland, Suva, Honolulu, and Vancouver. After returning to Sydney, she made two further Pacific crossings. In 1960 she transited the Panama Canal completing her first round the world voyage.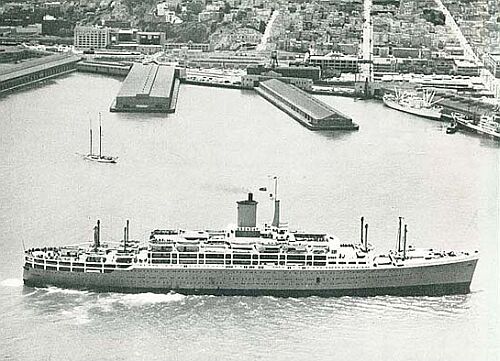 In San Francisco Harbour
On May 2, 1960, P&O (Peninsular Orient Line) absorbed Orient Line however Oronsay retained her traditional Orient Line corn coloured hull for another four years, until 1964, when in April the hull was finally painted white and she was the first of the Orient Line ships to change livery. She departed Southampton gleaming white on April 18, 1964.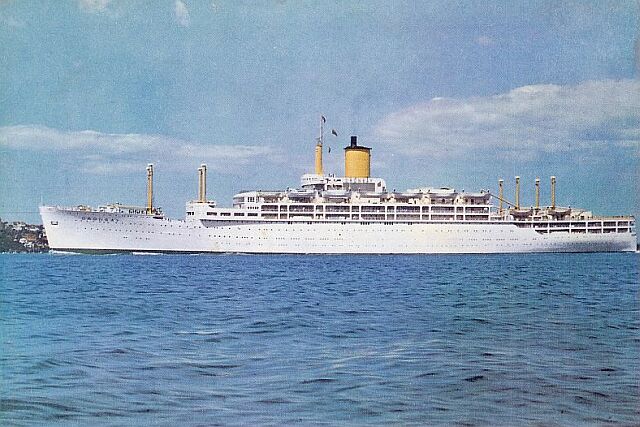 P&O Postcard of a gleaming white SS Oronsay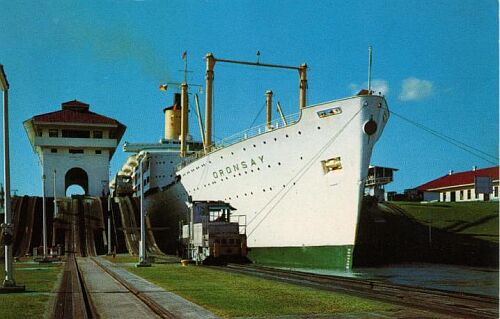 Postcard of her transiting the Panama Canal after her hull was painted white in1964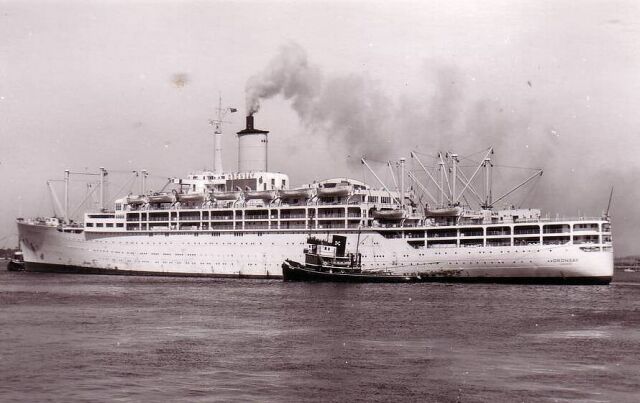 Above and below: Two fine stern views of the SS Oronsay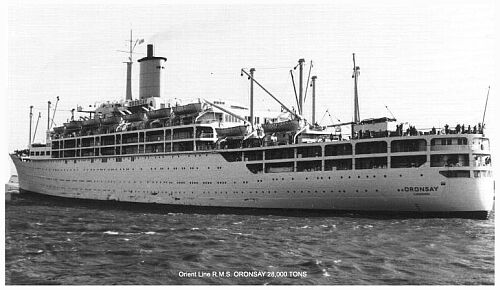 SS Orcades as seen on an Orient Line postcard
On January 14, 1970 Oronsay arrived in Vancouver but somehow it was said that there was Typhoid onboard, which meant that the health authorities had the ship quarantined and anchored out in the harbour. She remained there until February 4 when she was cleared and was free to depart. The outbreak was traced down to sewerage pipes that had been wrongly installed during a recent refit. She continued operating both Line Voyages and cruises; however from 1973 she spent most of her time as a cruise ship.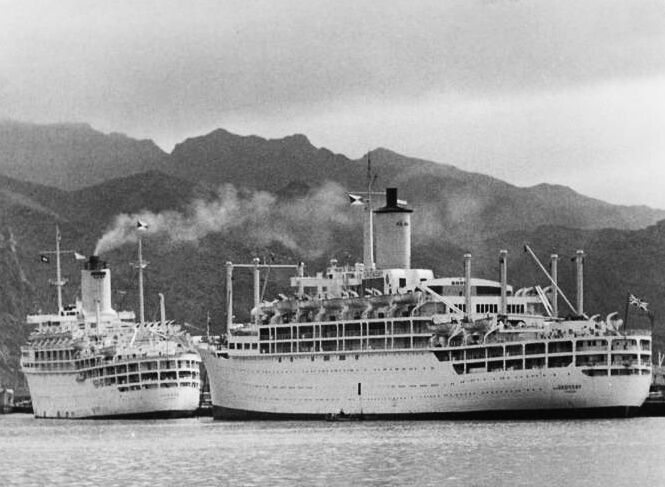 Oronsay and P&O liner Chusan meet up in Tenerife in the 1970's
*Photographer unknown – Please read special photo note at bottom of page
In 1972 Oronsay was converted into a One-Class Liner, like most of the fleet, now capable of accommodating 1,400 passengers and she becomes reasonable success, although it was short lived. There is one event that many passengers on one voyage will remember is in March/April 1973 when Rock star David Bowie sailed on the Oronsay from San Francisco to Yokohama. During the voyage he gave an impromptu solo acoustic performance for the passengers and crew. The ship arrived in Yokohama on April 5 to great media fanfare.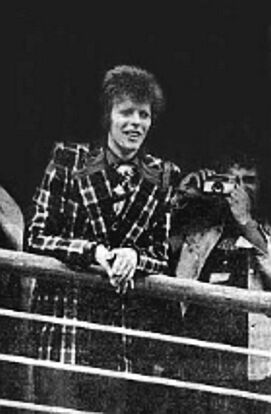 David Bowie out on deck upon arrival at Yokohama
*Photographer unknown – Please read special photo note at bottom of page
However, she was mostly based in Australia and by 1974 it had become obvious that passenger numbers was in a severe decline with either superior ships on the horizon, including the SS Oriana as well as the foreign invasion such as Chandris Lines, Lloyd Triestino, Sitmar Lines, Flotta Lauro and TSS Fedor Shalyapin of "Celebrity Club Cruises' operated by the author" as well as other Soviet ships operated by CTC, which offered cruises at more favourable fares.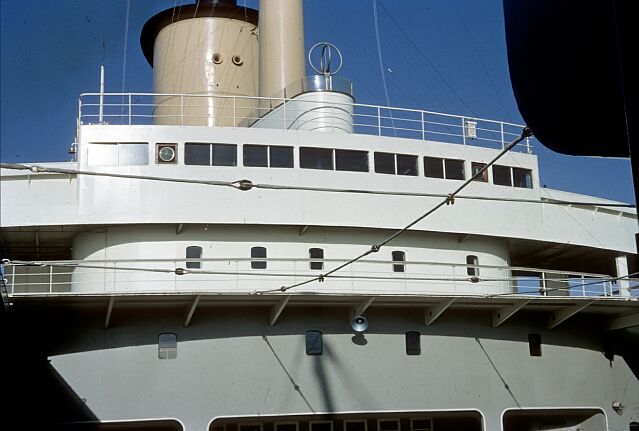 Looking up to the Bridge from the forward Sports Arena
Photograph by Pam Franklin – provided by Stephen Moore
Thus, P&O decided to sell Oronsay and sold her to Nan Feng Steel Enterprise Company of Kaohsiung, Taiwan. She departed Southampton for Australia on August 4, 1975 under the command of Captain Jack Lefevre, sailing to Sydney via Hamilton (Bermuda), Port Everglades, Nassau, Cristobal, Balboa, Acapulco, San Francisco, Honolulu, Suva and Auckland, arriving in Sydney on September 15.
Then on September 16 she departed Sydney with some 700 passengers for her final one way Fly/Cruise to Hong Kong, sailing via Brisbane and Manila, arriving in Hong Kong on September 28. Her passengers had a farewell party and left her feeling very sad for she was a fine ship and many had sailed on her many times, but as soon as they disembarked, workers came onboard to remove all that had not been sold (destore) to the breakers and the ship was left looking much like a lonely and an empty shell.
On October 7, 1975 SS Oronsay arrived in Kaohsiung Taiwan and on the 9th the transfer papers were officially completed, and she was soon broken up.
This fine liner that became known as a ship with a Scottish heritage had called in total at some 150 ports and had completed 64 world (line) voyages and 37 cruises and that in her 25 years of operation. But with her disposal, the sad fact was, that in a little over three years P&O had disposed of six fine liners; these being the Iberia, Orcades, Chusan, Orsova, Himalaya, and the now the Oronsay. That left P&O with just three ships for the Australian trade, the Arcadia, Oriana, and Canberra.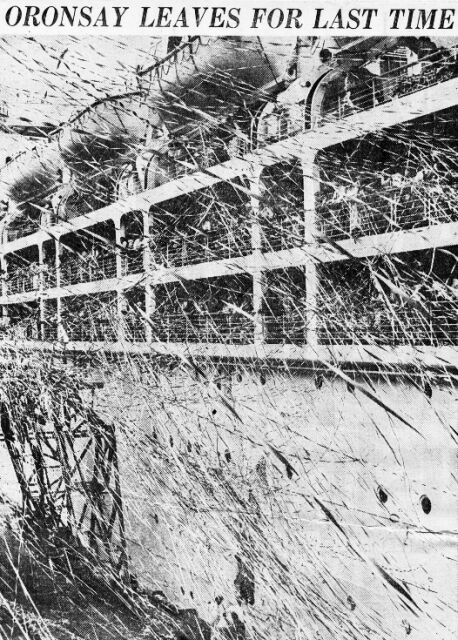 Oronsay seen on September 16 1975, departing Sydney for her final cruise to Asia and then to the breakers yard in Taiwan
From the Sydney Telegraph published the next day - 17 September – provided by Stan Evans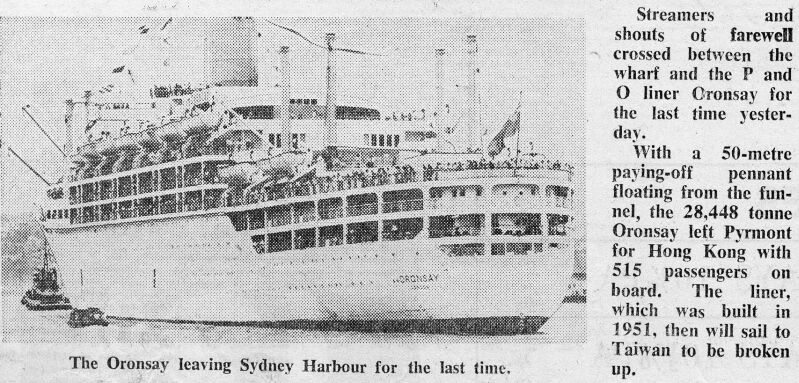 Sydney Telegraph article and photograph – published on September 17
Provided by Stan Evans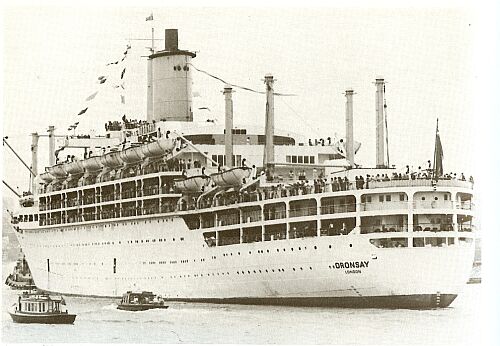 Oronsay seen departing Sydney for the very last time, bound for Hong Kong and then Kaohsiung Taiwan
Photographs and Oronsay Memorabilia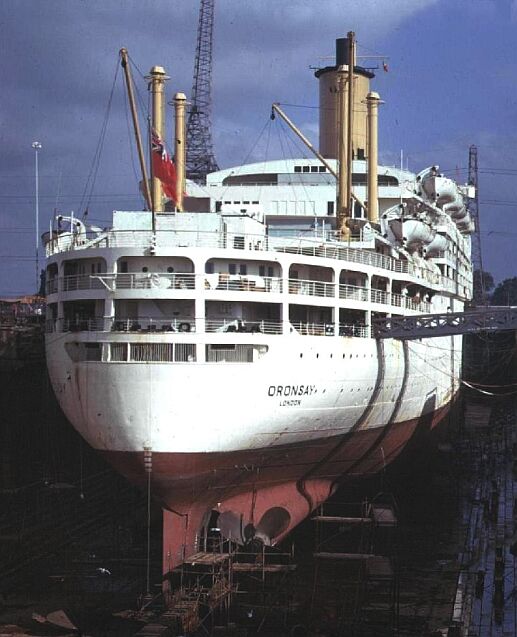 Oronsay seen in her final dry-dock in Sydney
Photograph sent in by Peter Thurlow, but believed to be taken by Chris-Benham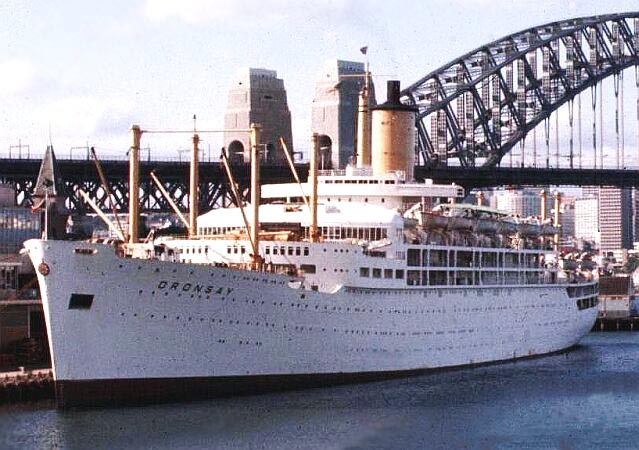 A wonderful memory of the Oronsay berthed at Circular Quay Sydney in her latter days
SS Oronsay Memorabilia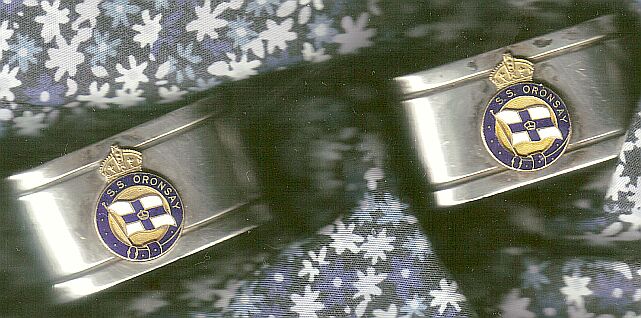 A fine pair of First Class Silver Napkin Rings
Part of the author's memorabilia collection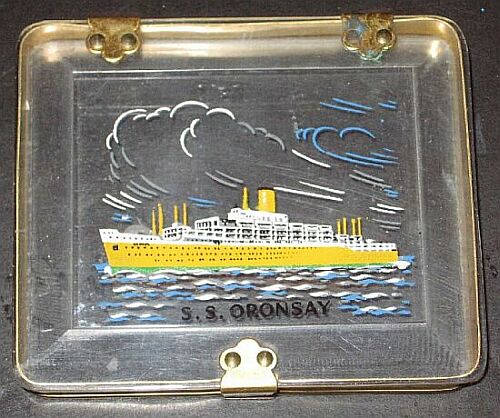 Above & below: This is a decorative Oronsay cigarette box
Part of the author's memorabilia collection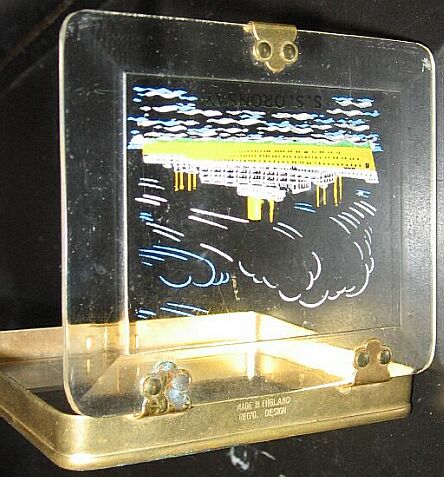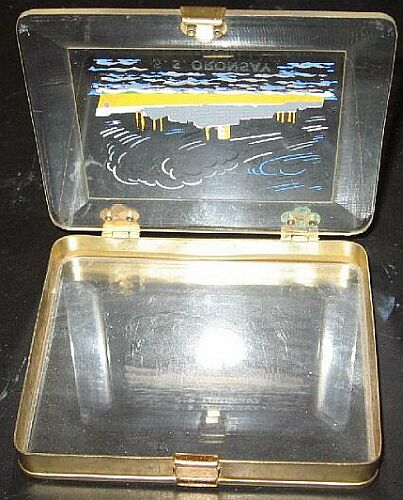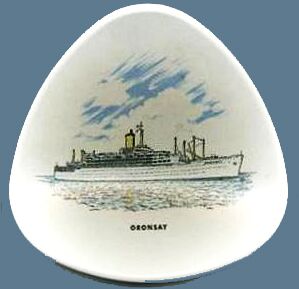 A typical souvenir dish of the ship
Part of the author's memorabilia collection
the author has a complete set of Orient Line & P&O dishes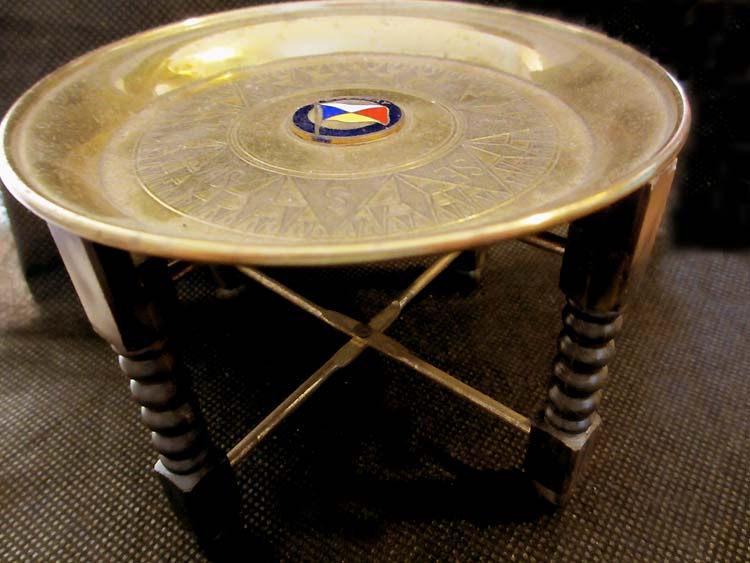 Above & below: An Oronsay miniature Arab style table, a souvenir from the mid sixties
Part of the author's memorabilia collection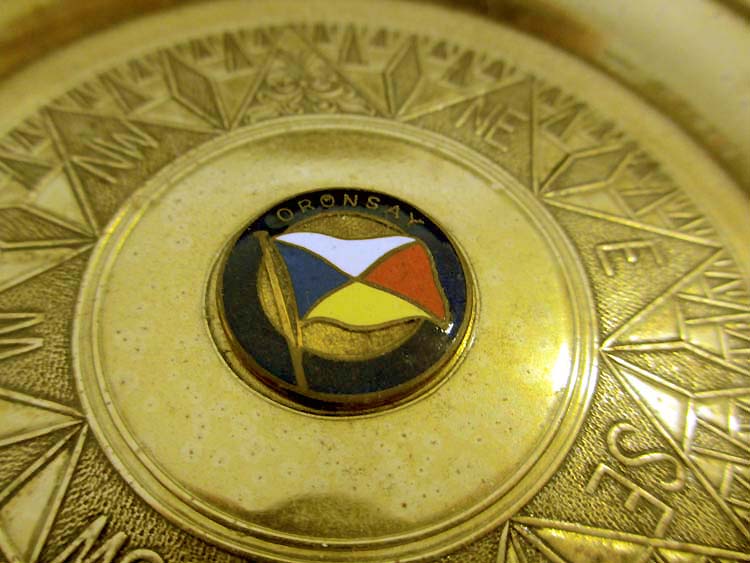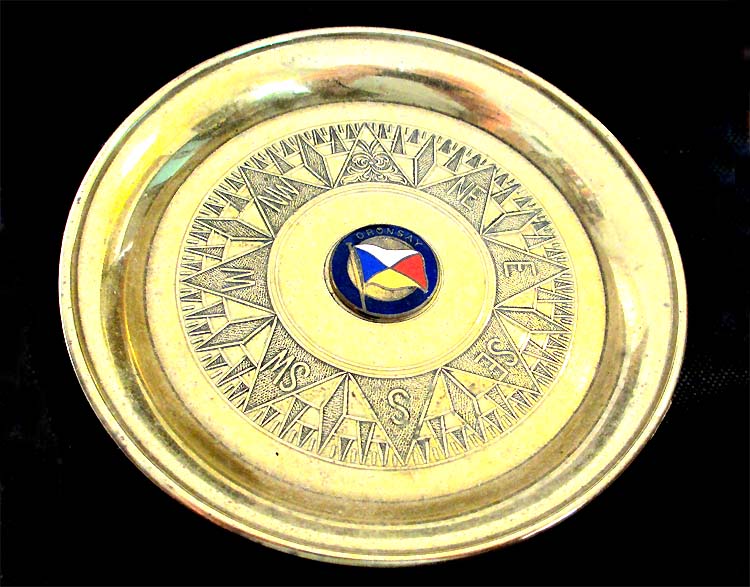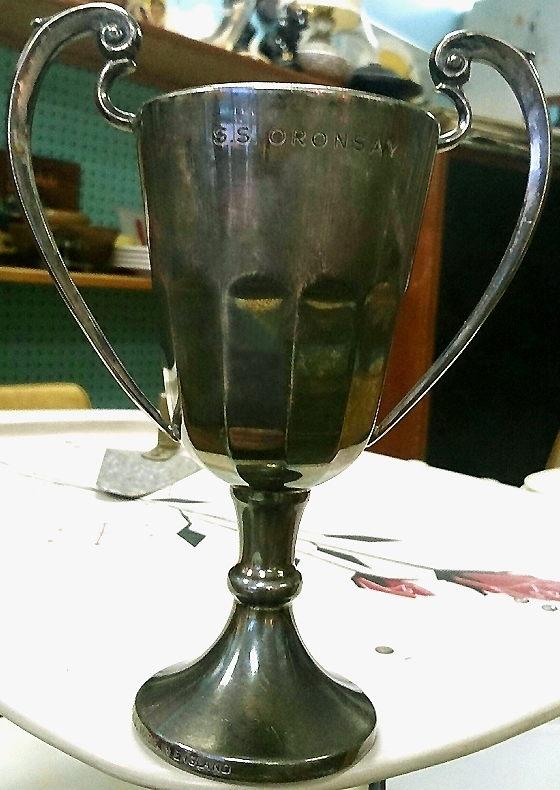 A beautifully English made silver (EPNS) 7" tall Oronsay sports Trophy from between 1964 to 1970
Photograph provided and trophy owned by Steve Tingle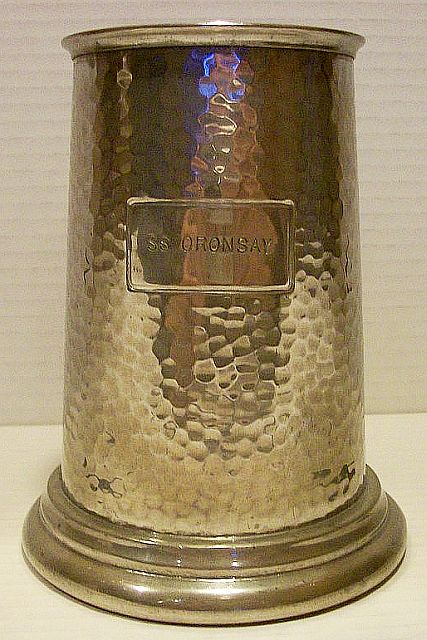 A delightful SS Oronsay pewter tankard is stamped on the bottom - "Pewter" and was "Made in Sheffield, England."
Owned and provided by George Boys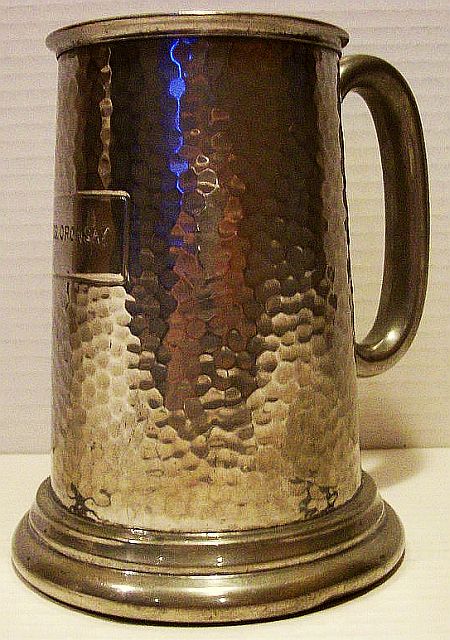 A side view of the tankard
Owned and provided by George Boys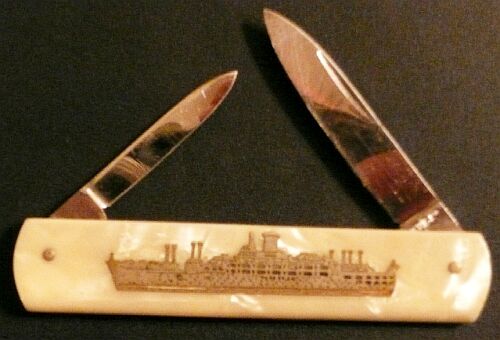 Above and below: An attractive "pearlite" handle souvenir folding SS Oronsay knife
Provided by Ralph-Dellor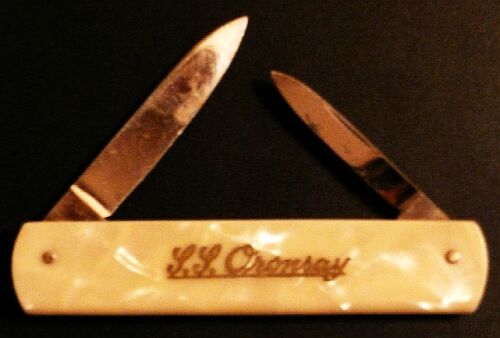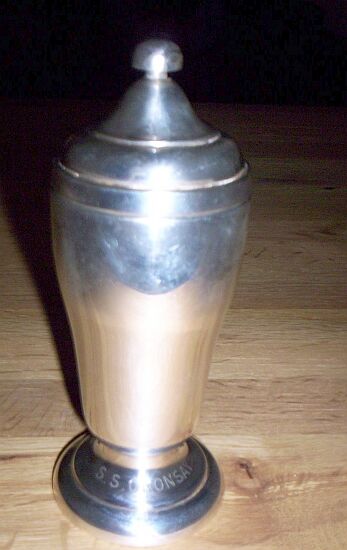 A silver SS Oronsay cream jar
Provided by Jan Paulussen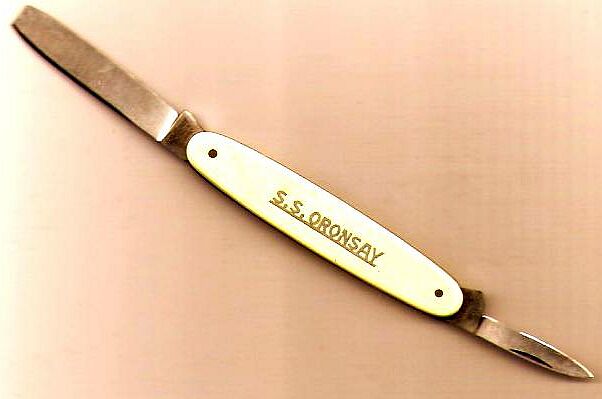 Above and below: A stainless souvenir steel SS Oronsay folding knife
Provided by Peter Harris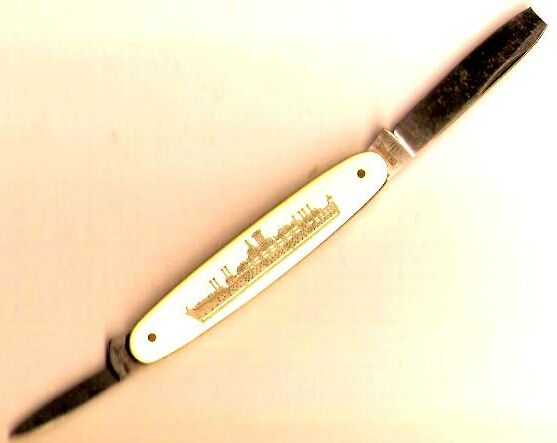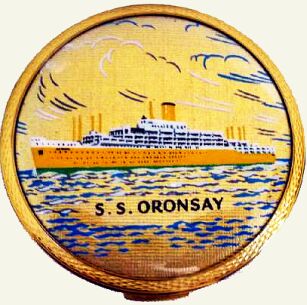 A SS Oronsay powder compact from the mid 1950's
From the author's memorabilia collection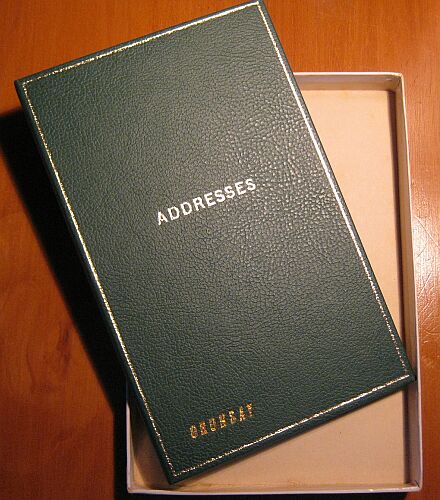 Here is an SS Oronsay Address Book in original condition, which was obtained in 1969
Owned and provided by Vince Lowden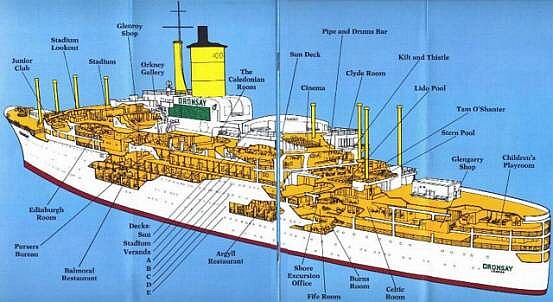 Upon boarding this fold-up of the SS Oronsay's new One-Class layout was given to passengers
Click on the image for an enlargement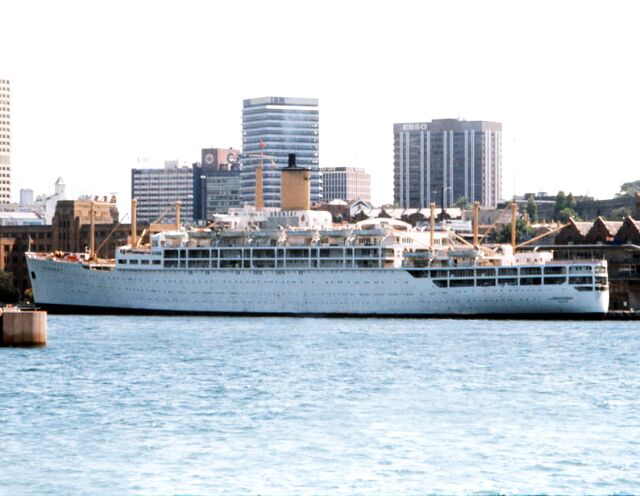 SS Oronsay seen in Sydney in the early 70's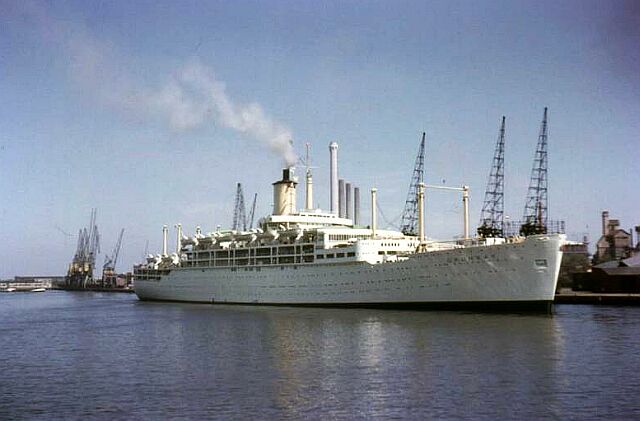 SS Oronsay seen in Southampton for the very last time

*Photographer unknown – Please read special photo note at bottom of page

****************************

INDEX

:

Part One:

SS Oronsay: This Page covers RMS Oronsay's complete history - This Page.

SS Oronsay: Page Two contains this fine ships complete Deck Plan!

Part Two:…………… Rick Danley sails on SS Oronsay's World Voyage in 1962.

Page One: Across America / San Francisco to Hong Kong.

Page Two: Manila to Port Said.

Page Three: Port Said to London & Epilogue – RMS Queen Mary Trans Atlantic crossing

Page Four: Voyage memorabilia, menus and other items – further items to come online soon!

Watch the following Pathe films:

www.britishpathe.com/record.php?id=74942

This film shows SS ORONSAY during her very early days!

www.britishpathe.com/record.php?id=74947

This is the continuation of the above film

I highly recommend this superb Book …

"Orient Line – A Fleet History"

It is available for £23.50 plus p&p from "Ships in Focus"

Email: sales@shipsinfocus.co.uk

****************************

Also Visit our Features on the following Orient Lines & P&O Liners

Orient Lines: RMS Orcades - SS Oronsay - SS Oriana - RMS Orion

P&O: RMS Strathaird - SS Iberia - SS Canberra

"Blue Water Liners sailing to the distant shores.
I watched them come, I watched them go and I watched them die."

ENTER OUR … ssMaritime Main INDEX

Where you will discover well over 700 Classic Passenger & Passenger-Cargo Liners!

ssMaritime.com

& ssMaritime.net

Where the ships of the past make history & the story of the 1914 built MV Doulos

If requesting Passenger or Crew Lists or Sailing Schedules, I am sorry your email will be Deleted!

I receive hundreds of requests and I simply do not have any lists or schedules available.

Please Note: ssmaritime and associated sites are 100% non-commercial and the author does not seek funding or favours and never have and never will.

Photographs on ssmaritime and associate pages are either by the author or from the author's private collection. In addition there are some images and photographs that have been provided by Shipping Companies or private photographers or collectors. Credit is given to all contributors, however, there are some photographs provided to me without details regarding the photographer or owner concerned. Therefore, I hereby invite if owners of these images would be so kind to make them-selves known to me; my email address can be only be found at www.ssmaritime.com in order that due credit may be given.

ssMaritime is owned & © Copyright by Reuben Goossens - All Rights Reserved