Click the logo above to reach the ssMaritime FrontPage for News Updates & "Ship of the Month"
With Reuben Goossens
Maritime Historian, Cruise'n'Ship Reviewer & Author
MV Stella Maris II
Built as MV Bremerhaven, then renamed: Stella Maris II, Viking Bordeaux, Viking Bordeaux, Bordeaux and MV Madagascar
MV Stella Maris memorabilia is available from: www.midshipcentury.com/vikingbordeaux.shtml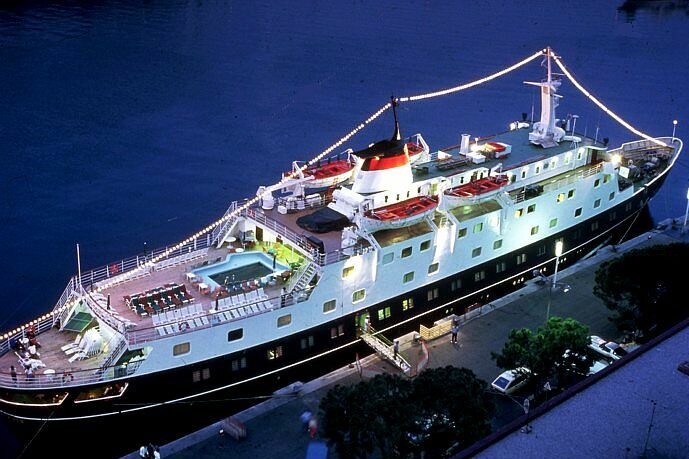 The ship that pioneered the industry in the region, Sun Lines Yacht-Like Cruise Ship MV Stella Maris II
From the author's private collection
Part One – Ships History
A Ship with a remarkable background
Having been in the cruise/maritime industry for forty seven and a half years I have followed the career of this delightful ship since 1966, when she became Sun Lines MS Stella Maris II. Many readers of ssMaritime may argue that she is not the type of traditional classic liner that I would normally write about and this would normally be true, however, having said this, she is certainly a worthy classic ship, a ship that has proved the test of time, and she is a "Thoroughbred of the Sea." When built she set a new standard in design, then as the Stella Maris she commenced a brand new standard of luxury in the cruise industry, especially in the Mediterranean! MS Stella Maris II became a ship to which others were had to measure up to!
MV Bremerhaven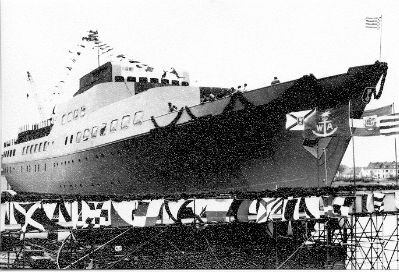 MV Bremerhaven about to be launched on April 2, 1960
From the author's private collection

When built she was considered as modern as tomorrow, with her unusual slim tall funnel
From the author's private collection
MV Bremerhaven is a sturdy German built ship built for Argo Reederei to operate the Bremen to Helgoland Island. She was built by "Adler Werft" and was launched on April 2, 1960. This fine looking white ship had one unusual feature, being a tall slim funnel that looked more like an oversized mast located amidships. Her cruising speed is 15.5 knots.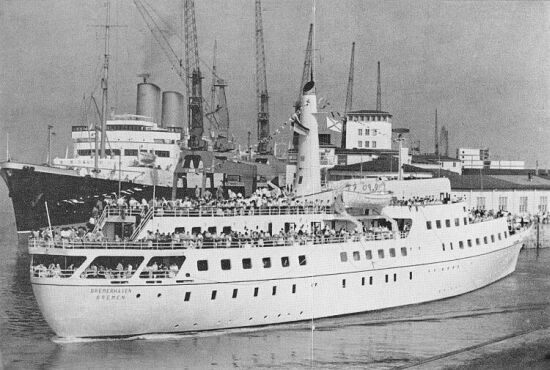 MV Bremerhaven showing off her unique slim line tall funnel
From the author's private collection
In 1965 was in Bremerhaven and was involved in an accident that caused her to partially sink in shallow water. She was soon refloated and made seaworthy after which and was placed on the market.
MV Stella Maris II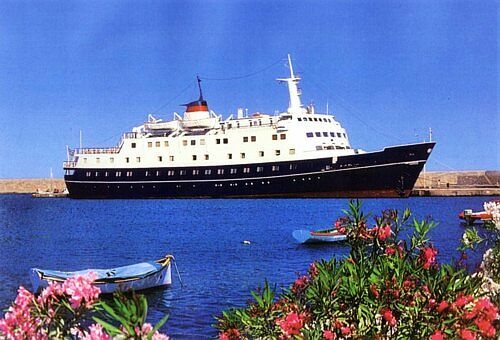 Sun Lines much loved Yacht-Like Cruise Ship the Stella Maris II
From the author's private collection
Soon, in 1966, the founder of the Greek Sun Line, Charalambos Keusseoglou saw her and realised her potential to become the ideal luxury cruise ship. Her superstructure was extensively rebuilt giving her a new look. When completed she had spacious cabins and Dining Room that catered for all passengers to dine in one sitting. Forward on Promenade Deck is the Main Lounge superbly decorated with fine murals that were located between each window. There were larger murals in both the forward and aft stairwells. The Aft "Belvedere" Lounge was a bright casual venue that overlooked the pool located aft.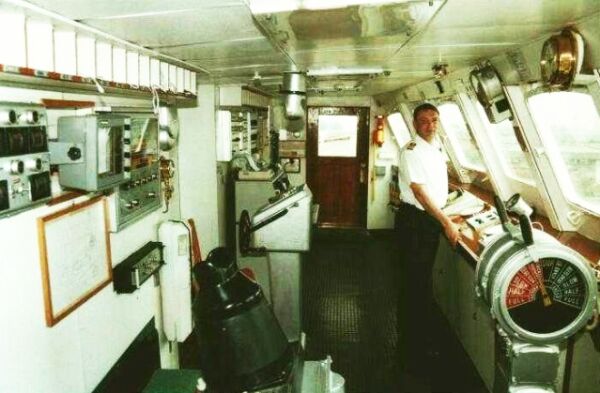 The Bridge
Provided by Indian Ocean Cruises
She was renamed Stella Maris II, and soon this fine Yacht-Like cruise ship pioneered the way in an ever expending Mediterranean cruise market. Stella Maris is famed for setting the standard of luxury cruising in the sixties and seventies. Stella Maris II became one of the most sought after cruise ships in the Mediterranean. Even as larger ships arrived on the market the demand for the Stella Maris II increased due to loyalty of past passengers, in addition cruise passengers and vacationers were seeking a more intimate cruise vacation, as well being able to do so on a ship that was able enter ports that larger ships could not enter. Eventually Sun Line merged with Epirotiki Cruise Line to become Royal Olympic Cruises (ROC).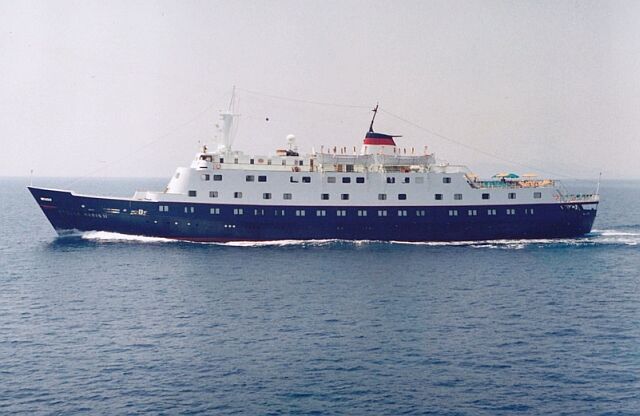 Stella Maris seen towards the end of her Sun Lines days as the new company was about to be formed
Please Note: I have been advised by Christos Chatzaras of Greece that this photograph was taken by him when he was just 8 years old
His Father was the captain of another ship and he was on the bridge and he took a number of excellent photographs including the Odysseus later
Therefore this image is © Christos Chatzaras and MUST NOT be copied for any purpose whatsoever!
Soon the new directors of ROC decided they needed to update their fleet and commenced to dispose of their smaller vessels and build two large Super-Fast Mono Hull cruise ships. This decision proved to be a massive error of judgement and their past passengers judged this by not returning and soon ROC made massive losses and collapsed. I recall when the Stella Maris II was sold, I received countless emails from saddened past passengers.
MV Viking Bordeaux / Bordeaux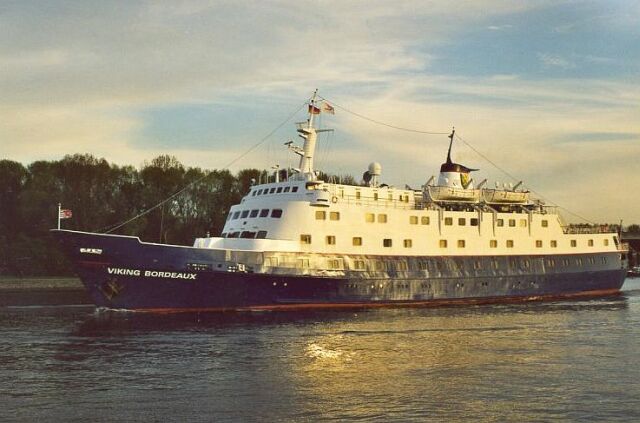 MV Viking Bordeaux under Belgium ownership, but registered in the Ukraine
From the author's private collection
After 32 years of faithful service and still being in perfect condition ROC decided to dispose of the Stella Maris II in 1998 and was sold to ShatiekSHPG SA. She was operated by Viking Cruises who was renamed her Viking Bordeaux. Being a solid seaworthy ocean-going ship, she crossed the Atlantic on a number of occasions, visiting South America and the Falkland Islands in 2000 and 2001. In addition she operated 8-day wine cruises between Bordeaux and Nantes, France.We continue to receive emails from past passengers singing her praises; one of these is located down the page. On November 1, 2004she was laid up in Eemshaven The Netherlands under the name of Boudreaux. During her lay-up she continued to be meticulously maintained.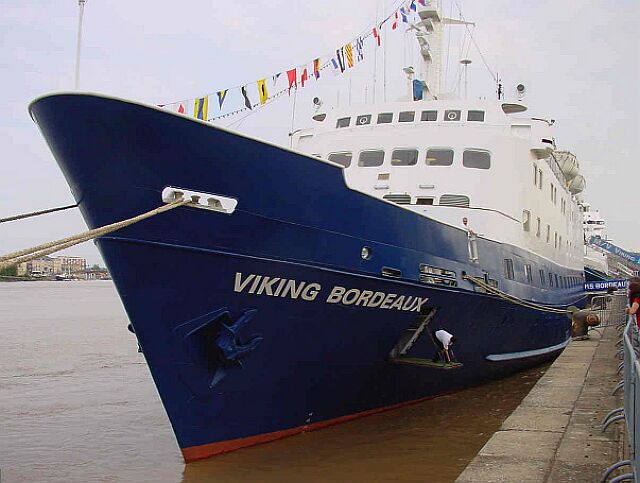 Comment about her owners, which is a Belgium company. This company proved over the years, and again later in South Africa that they had no idea how to run a shipping company and although the ship chartered to various companies she was never a success again. The new owners did little to ensure her future success, which was due to sheer inexperience and other certain reasons not worth mentioning here. Take it from one who has owned a cruise company, they failed miserably and even destroyed others from operating this fine little ship in later years! But that is another story and not for this page!
MV Madagascar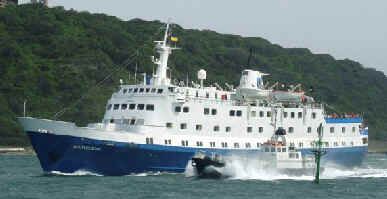 MV Madagascar seen during first cruises
Photograph Indian Ocean Cruises
In April 14, 2005 she was obtained by the South African "Indian Ocean Cruises" who gave her an extensive overhaul and refit and renamed her Madagascar. Sadly she only enjoyed limited success, mostly due to her owner's lack of experience in the passenger shipping industry. She was laid up in Durban in March 2006 and she was placed on the market by Shatiek SHPG SA.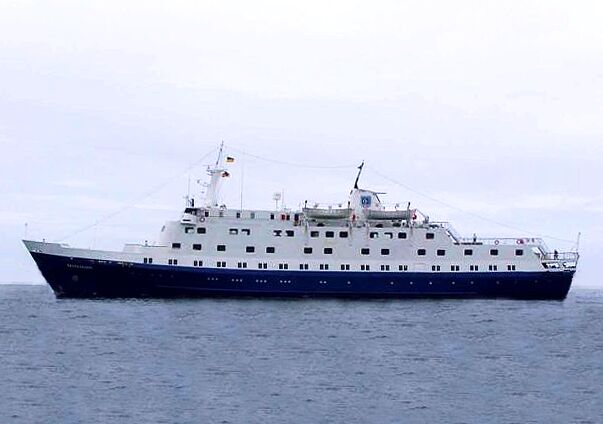 A fine photograph of MV Madagascar, yet her days were numbered!
Photographer unknown – Please read our photographic details at the bottom of the page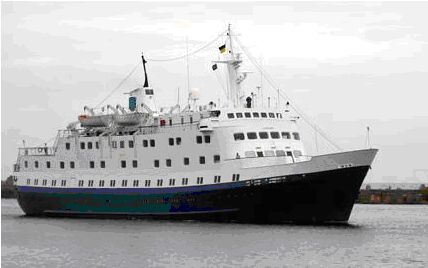 Sadly she did not operate many cruises and soon was laid up again inn Durban
Photograph Indian Ocean Cruises
MV Razzmatazz

There is no doubt that this delightful ship still looks great and that with GOOD management she could have had a good future
Photograph - Ian Powel of "Razzmatazz Ocean Cruises"
In March 2007 I was contacted by a Ian Powel of South Africa, who advised me that he was had purchased the Madagascar and would rename her MV Razzmatazz. She was to be handed over on May 1, to his new company "Razzmatazz Ocean Cruises". She was going to operate regular three and four night cruises from Durban as well as some extended cruises. However, as time went by Mr. Powell encountered massive difficulties with the ships Belgium owners "Shantiek" who were to say the least the most difficult and were eventually sued by the port authorities for unpaid fees, for they had reneged on their sale, and payments. Thus this fine little once deluxe cruise ship remained laid up in Durban. Originally it had been planned for MV Razzmatazz to commence cruising in August after her extensive refit, but these cruises were continually setback as never ending problems and broken promises that arose with the proprietors of Shantiek. Then finally it was announced that a special "Bird lovers" charter had been arranged for the MV Razzmatazz and this special cruise would depart on November 17. This cruise was a special arrangement that had been signed and sealed with Shantiek. However, This company simply cannot be trusted and on November 13/14 the cruise was suddenly cancelled as Shantiek pulled out at the last minute and the ship was arrested due to unpaid depts. Unpaid by Shantiek.
MV Madagascar was finally sold at auction on Tuesday 15 April 2008. Although Powel was here to buy the ship, his bids, as I was advised, were apparently "blocked and an agreement was made for her sale behind closed doors between the owners and a breaker." Thus the famed MV Stella Maris was sailed in September to Indian breakers at Alang to be broken up and sadly she has now been fully demolished. Farewell to a fine little ship!
*************************************
Part Two - The ill-fated plans for MV Razzmatazz
The Cruise Ship that never was
As the MV Razzmatazz she was due to receive an extensive refit and refurbishment, giving her a bright new look and countless improved facilities, such as LCD TV, DVD/CD players, a mini bar, new soft furnishings in each cabin. The Restaurant and lounges were to be updated as well as a new Casino and a Night Club and Disco. Her main lobby and reception was also going to be enlarged and greatly modernised. Upon completion, she was scheduled to commence cruising out of Durban in November 2007.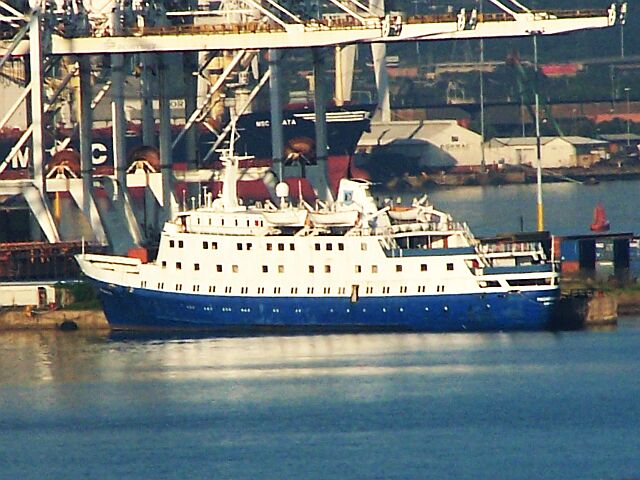 Photo © 2008 Reuben Goossens
Above and below: Two photographs of MV Madagascar seen laid up in Durban and both were taken by the author from the decks of MV Oriana on March 28, 2008, I was to collected at the dock and inspect her that day, but Ian Powel who was technically still purchasing her, was a "No Show" and I noted later that evening that the ship was a "Dead ship" without any power.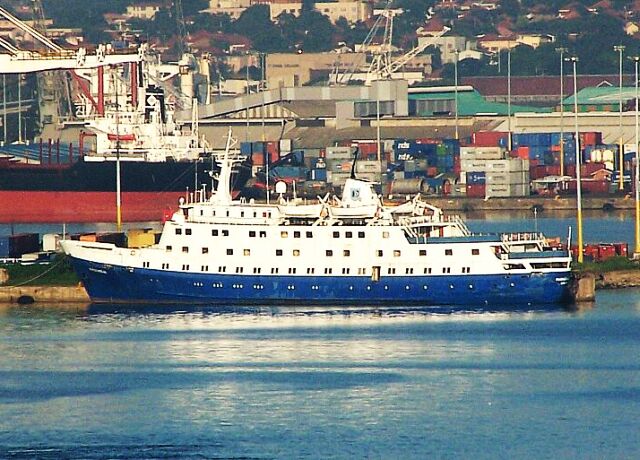 Photo © 2008 Reuben Goossens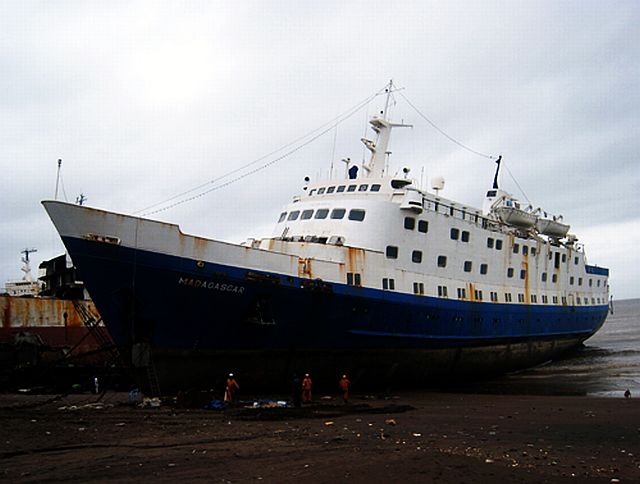 A tragic looking Madagascar see on the beach at Alang being made ready for breaking up in 2008
Photograph by & © Peter Knego - www.midshipcentury.com
MV Stella Maris memorabilia is available from: www.midshipcentury.com/vikingbordeaux.shtml
The section below has been taken from my original Cruise Page, now long removed:
Below is part of our promotional material from our cruise site as I dearly wished to support this new South African venture and support this greatly loved ship! Of course we now all know she was never refitted, nor did she ever cruise named as the Razzmatazz, but, the story sums up the ship very well as she used to be – as the Madagascar, but more-so the Stella Maris.
Photo Album & general promo material for MV Razzmatazz:
As soon as you board her you will be captivated by the charm of this delightful 3,008 GRT boutique like ship that has cruised the Mediterranean, North Sea ports as well as a number of Trans-Atlantic crossings to South America. This Yacht-like cruise ship accommodates only up to 225 passengers yet she has all the amenities and refinements of larger cruise ships, yet retains the intimacy and friendliness of a smaller ocean-going ship.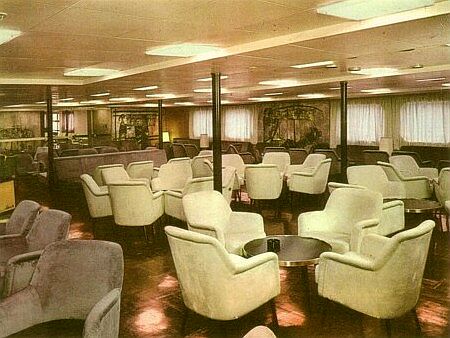 The Main Lounge

– This superb room features murals that hail from her luxury MV Stella Maris days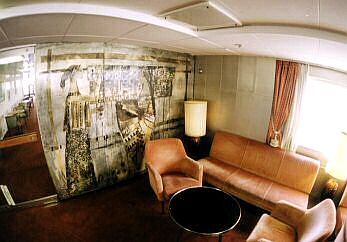 Main Lounge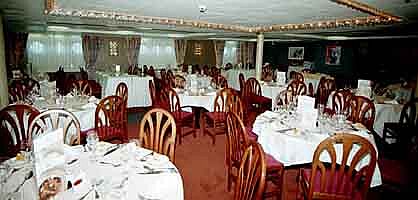 The Restaurant
The spacious Main (forward) lounge and bar is the perfect place to read a book in a quiet corner. In the afternoon, the Main Lounge becomes the venue for activities such as quizzes, games, dancing and not to forget the ever popular game of bingo. At night, you will be entertained by talented musicians, vocalists, dancers and comedians. The Main lounge is also the perfect place to enjoy a dance before and after dinner.
Each night, after the show, the Main lounge takes on a completely new feel, as it is transformed into the Night Club and Disco. It's time to let your hair down and dance the night away. Early in the cruise, the Captain will have the pleasure of inviting all guests to the Main lounge for a welcome aboard party. Here you will meet the Captain and his officers, whilst enjoying a drink and snacks, whilst the band will entertain you.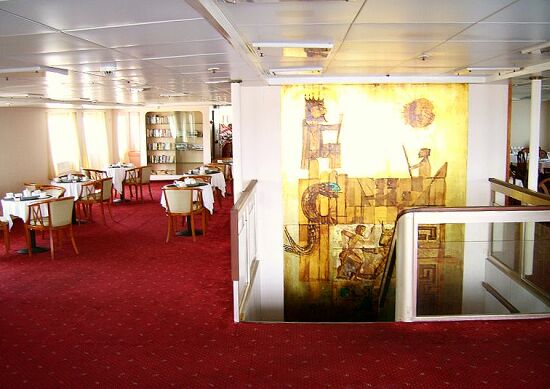 Aft Stairwell with one of the many superb murals to be found on the ship!
Author's private collection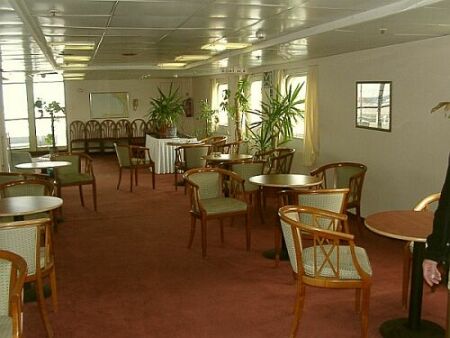 Aft Lounge & Buffet
Author's private collection
During the day, the Aft Lounge has a Library, which is stocked with a fine range of books. Here also is the place to enjoy cards and a board game or two. On the starboard side there is a large TV screen turning this part of the Lounge into an intimate cinema.
The Cruise Director and his staff will ensure your enjoyment, as they will plan a host of activities for you to enjoy. Join the exercise class out on deck, or play shuffleboard, ping-pong, pool games. You will never be bored on this ship as there is so much to do. However, if you simply wish to relax? There are ample quiet corners in the lounges or out on deck.
Enjoy the sun and take a splash in the pool, or laze in one of the many deckchairs found up on Boat Deck, around the pool and on A Deck.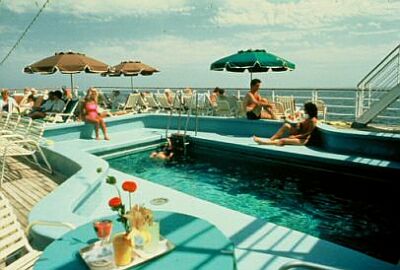 Pool and sun deck

Image from a brochure - Author's private collection

Accommodation

Cabins are spacious and provide every possible comfort with ample wardrobe and drawer space. With many grades on offer there is a cabin to suit your purse and need.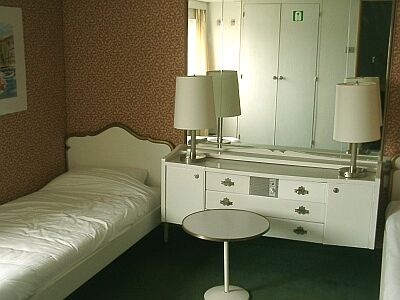 The ship has sixteen spacious deluxe staterooms on A (upper) Deck, all with bath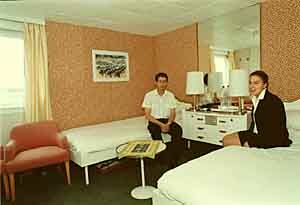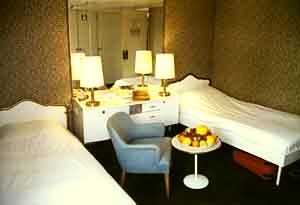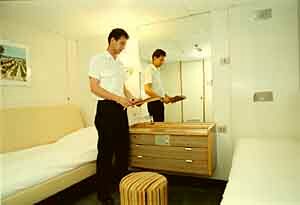 There is a wide range of outside, or economical inside single, two, three and four bedded cabins
Images from a brochure - Author's private collection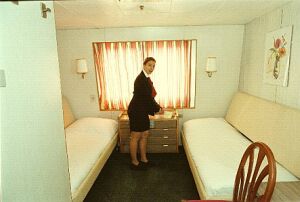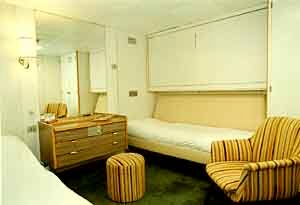 Outside cabins on A (upper) and B (Middle) decks have a picture window, whilst those on C (lower) Deck have portholes. There are twelve well appointed value for money inside cabins. All cabins have private facilities, a hair dryer and individual climate control. Except for deluxe staterooms, lower beds in all other grades convert into daytime sofas turning them into a comfy lounge.

Amenities on board include two spacious lounges and bars, a restaurant seating all passengers, library, games room, compact cinema, swimming pool and three sun and sports decks. There is also a gift shop, hair salon and medical facilities.

This fine cruise ship is a gem of a ship and she is kept in top condition. A past Stella Maris passenger stated;

"I'm here to tell you, this ship is as classy, if not classier than ever." He continues … "What a friendly little ship! She's small, cosy, intimate and thoroughly charming. She is welcoming, warm and has quite a lot of sedate fun. I don't only love her for that, I love her for what she is not, one of those gigantic resort hotels cum shopping malls so prevalent today. She is pure and simple a real winner for sophisticated travellers in no need of overpaying for a cruise. I don't want to say too much, because I don't want to have her so full that I can't get on her! She's a winner in my book!"

It is sad that she never sailed again as a cruise ship, her final voyage was to the breakers late in 2008!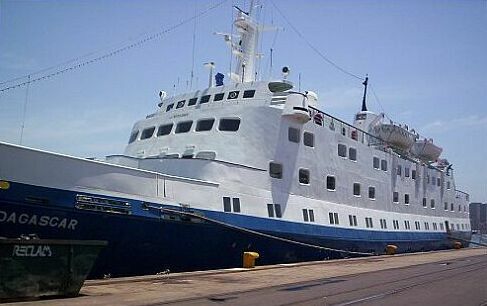 A spotless MV Madagascar is seen here seen laid up in Durban
Photograph by Jason Prismall
Photographs taken on board in 2007 by the proposed new ship owner Ian Powel:
The photographs were taken as a preview to the upcoming refit of the ship by Powel. Much was going to be done to her as described earlier.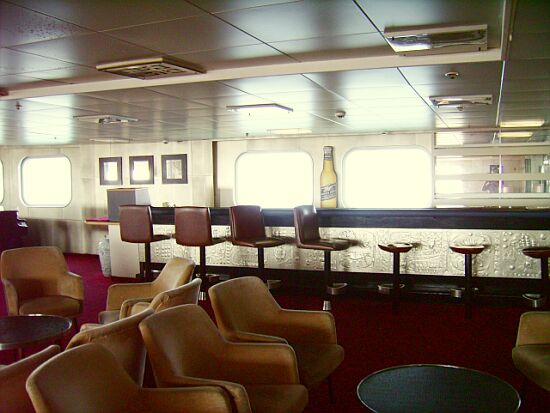 The Main Lounge and Bar – There was going to be a major refit to this venue
The copper art work, we hope this has been saved and sold to a dealer!
Photo © 2007 Ian Powel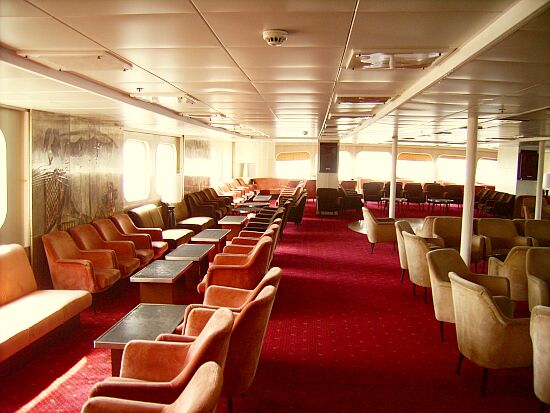 A bright and cheerful venue which would have vastly improved had the refit gone ahead
Note the original murals between the windows – these are priceless!
Photo © 2007 Ian Powel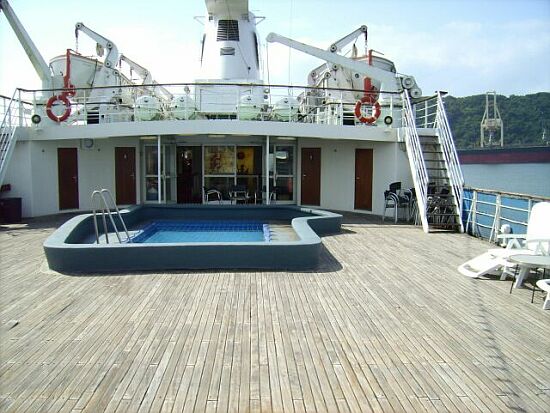 She had spacious Pool and Sun Decks on various levels
Photo © 2007 Ian Powel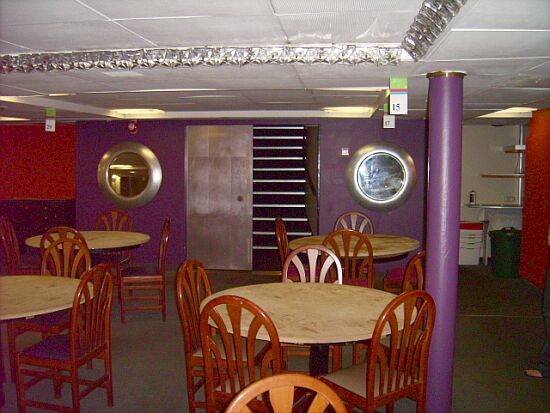 One of the biggest overhauls was to be the Dinning Room, as Indian Ocean Cruises painted the
room in hideous colours as can be seen here. New furnishings and carpets were to be added
Photo © 2007 Ian Powel
MV Stella Maris II – INDEX:
Page One …         Stella Maris - History Page - Including her final days as the Razzmatazz
Page Two …         Stella Maris - Deck Plan – Covering MV Stella Maris to Madagascar
Page Three …      Madagascar - the 2005 refit – Including the ship she never was - the MV Razzmatazz!
Also Read …        SS Stella Maris I – The ship that started it all!
**************************************************
Use the Back button on your browser or Close the Page to return to the previous page
or go to our
INDEX
Who is the Author of ssMaritime?
Commenced in the passenger Shipping Industry in May 1960
ssMaritime.com & ssMaritime.net
Where the ships of the past make history & the 1914 built MV Doulos Story
Also visit my …
"Save The Classic Liners Campaign" & "Classic Ocean Voyages" pages
Photographs on ssmaritime and associate pages are by the author or from the author's private collection. In addition there are some images that have been provided by Shipping Companies and private photographers or collectors. Credit is given to all contributors. However, there are some photographs provided to me without details regarding the photographer/owner concerned. I hereby invite if owners of these images would be so kind to make them-selves known to me (my email address may be found on www.ssmaritime.com only), in order that due credit may be given. I know what it is like, I have seen a multitude of my own photographs on other sites, yet these individuals either refuse to provide credit or remove them when asked, knowing full well that there is no legal comeback when it comes to the net. However, let us show these charlatans up and do the right thing at all times and give credit where credit is due!
This notice covers all pages, although, and I have done my best to ensure that all photographs are duly credited and that this notice is displaced on each page, that is, when a page is updated!
ssMaritime is owned and © Copyright by Reuben Goossens - All Rights Reserved