Please Note: Firefox and some other search engines are not suitable – Use "Internet Explorer" for this page to load perfectly!

Click the logo above to reach the ssMaritime FrontPage for News Updates & "Ship of the Month"
With Reuben Goossens
Maritime Historian, Cruise'n'Ship Reviewer & Author
The Peninsular and Oriental Steam Navigation Company
P&O Line
RMS Strathaird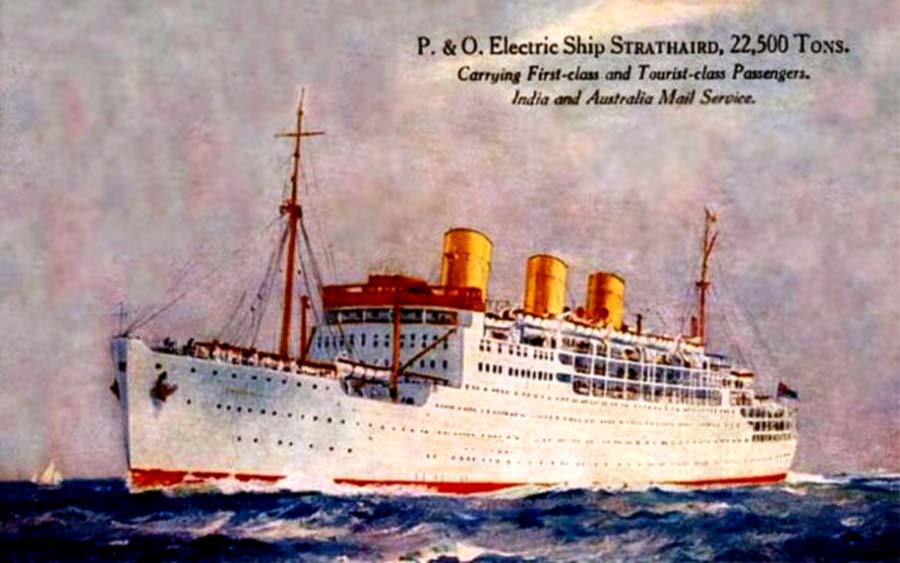 An early P&O postcard of the Strathaird seen as built in 1932
From the Author's private collection
Page One
The Ships History
Introduction:
RMS Strathnaver was the first of the pair to be built and was completed on September 2, 1931 and she was followed by her identical sister the RMS Strathaird on January 10, 1932 when she was completed. They were built by Vickers-Armstrong Ltd, in Barrow-in-Furness, England.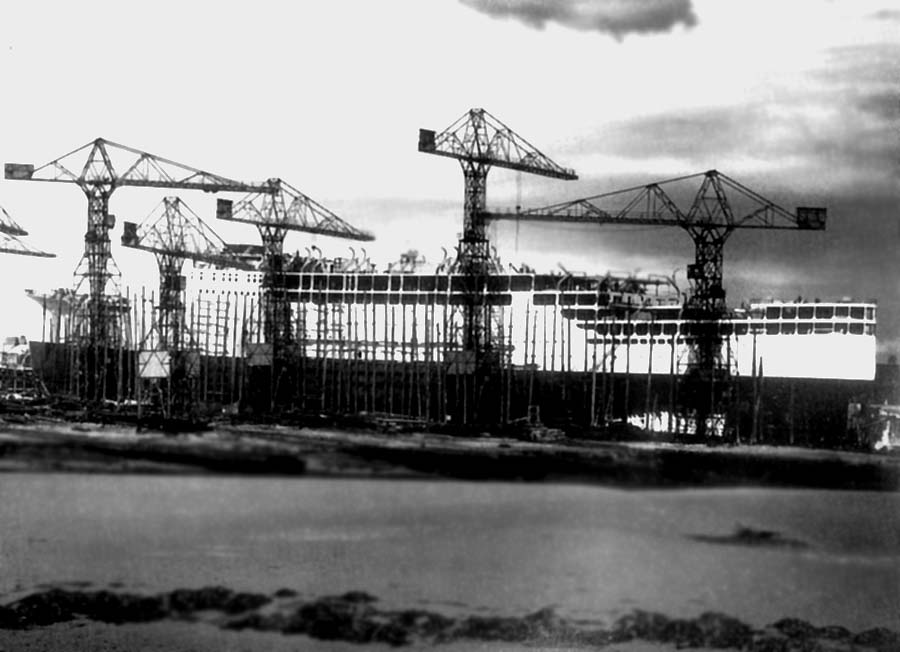 The Strathaird is seen on the slipway at the builder's yards, just prior to her launching
Photograph Vickers Armstrong Burrow – Author's Private Collection
The Strathaird was launched on July 18, 1931 and during her trials the Strathaird attained a respectable 23 knots maximum. Both ships were built with three funnels, although the forward and the aft funnels were dummies and these were removed during their refit after the war. RMS Strathaird and her sister were the first of the P&O liners ever to feature a white hull and yellow/buff funnels. This colour scheme would to be applied to all future P&O liners.
It was said that the P&O board were more than proud of their new liner and advertised her luxury style and speed at every opportunity. In regard to her interior decor, they stated: "While any tendency to elaboration or ornateness has been obviated, the styles of decoration and furnishing are always pleasing and effective …"
Her Maiden Voyage:
RMS Strathaird, with Captain W.P. Townshend RD RNR in command, departed Tilbury on her maiden voyage on February 12 1932, bound for Brisbane Australia sailing via Port Said, Aden, Bombay, Colombo, Fremantle, Adelaide, Melbourne, Sydney and Brisbane, a service she would remain on until the war would put an end to her passenger's service for six long years!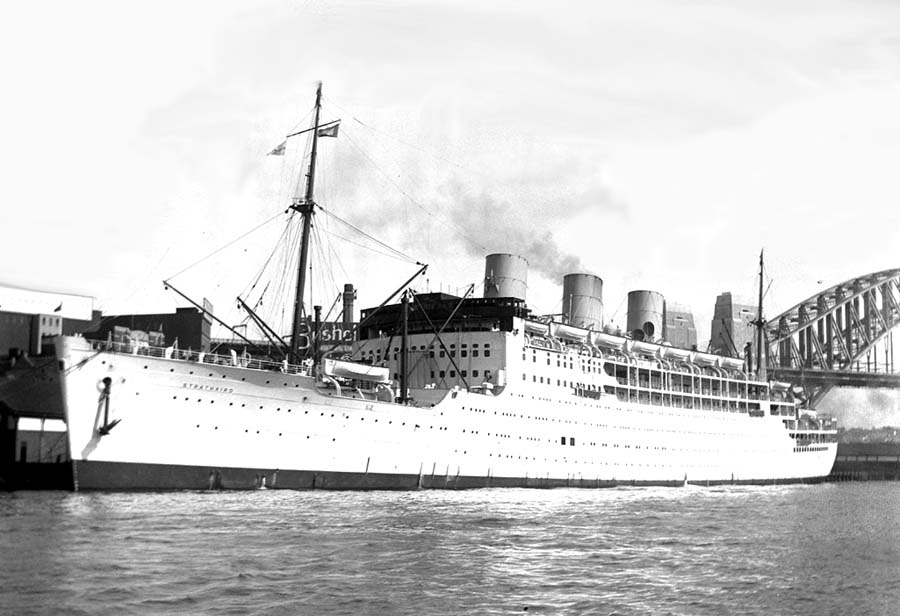 RMS Strathaird is seen here in Sydney during her maiden call
From the Author's private collection
Australia
's First Ever Cruise Ship:
On December 23 1932, Strathaird became the first P&O liner to undertake a cruise. This cruise five-day cruise to Norfolk Island was the forerunner of P&O Cruises Australia which now operates three ships cruising Down under. Ever since 1932, Australians (and New Zealanders) have had an ongoing love affair cruising with P&O until this day.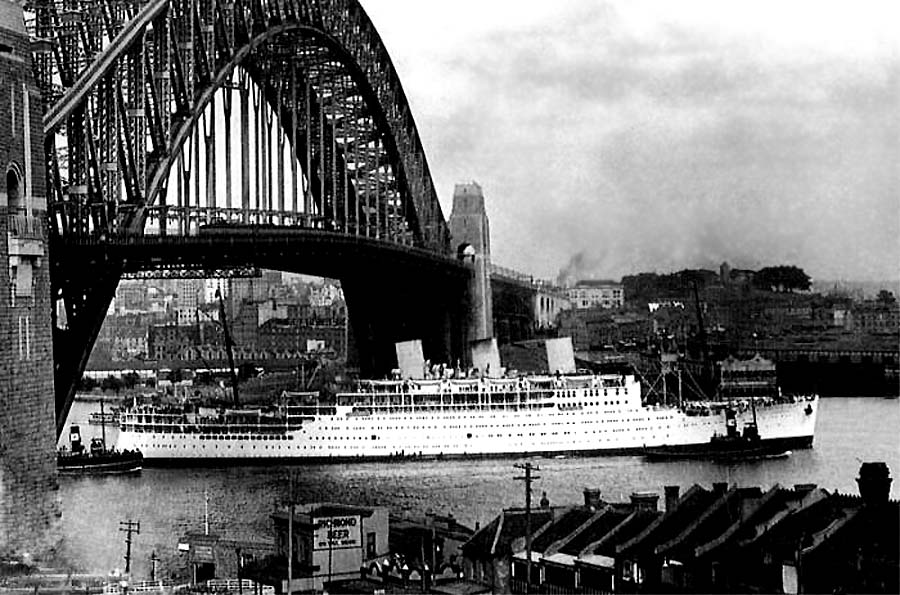 Here we see the Strathaird departing Sydney on the very first Australian cruise, on December 23, 1932
From the Author's private collection
However, the very next day on December 24, the RMS Oronsay departed Sydney, being the first cruise for Orient Lines., thus for the first time ever for Australia there were two great liners operate pleasure cruises, which was the start of something that would grow into a multi billion industry.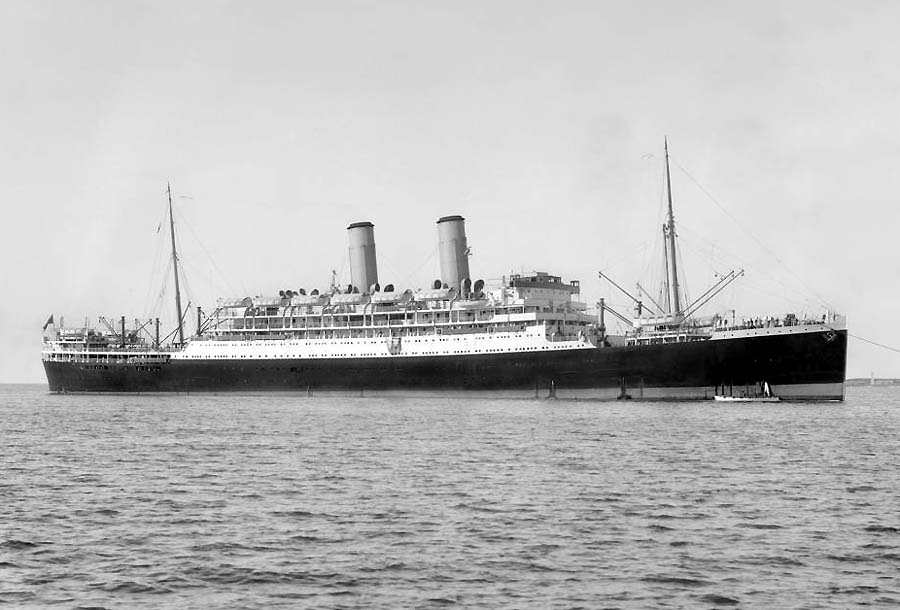 This is the Orient Line RMS Oronsay
From the Author's private collection
Although the main deployment was the Mail service from the UK to Australia, both the Strathaird and her sister would operate occasional cruises out of Britain throughout the 30's. In 1935 and 1937, the third and fourth of the famous "Strath" sisters, Strathmore and Stratheden, joined the Strathaird and Strathnaver on the Australian run. P&O decided that these slightly larger sisters would be built with just one funnel.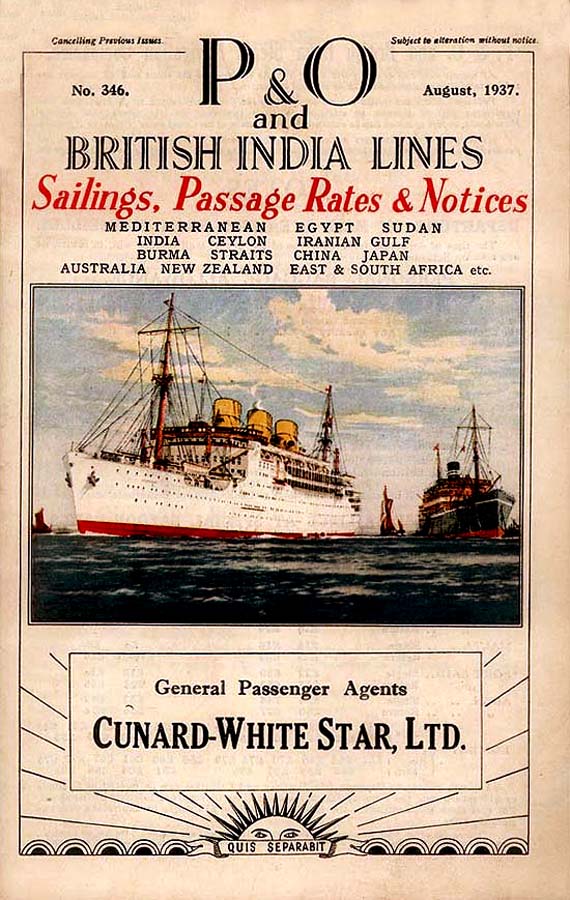 Departures and fares for 1937 & 1938

From the Author's private collection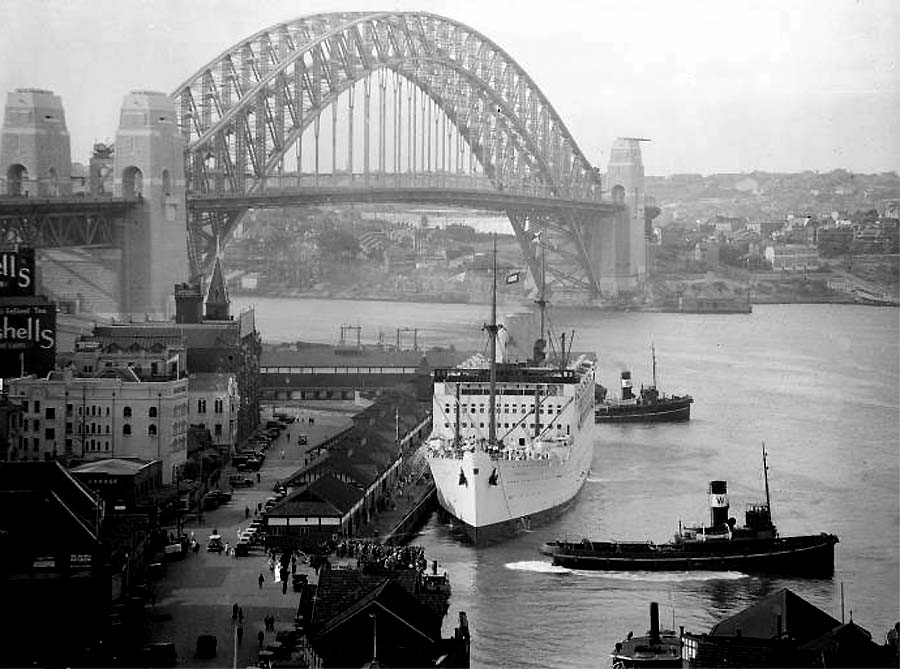 The Strathaird is seen departing Sydney around 1938 bound for Brisbane
From the Author's private collection
Wartime Approaches:
In July 1939 Europe was becoming more and more tense, considering that Hitler had already decided that he would attack and invade Poland and of course both Britain and France had state that they would give … "unqualified support to Poland in the event of any action, which clearly threatened Polish independence and which the Polish government accordingly considered it vital to resist with their national forces." It was wholly due to this agreement that Hitler decided to delay his invasion, but things would soon enough boil over!
The RMS Strathaird departed Tilbury on May 12, 1939 for a regular voyage to Brisbane where she arrived on June 25. She departed Brisbane on June 27, and arrived back in Tilbury on August 18, 1939.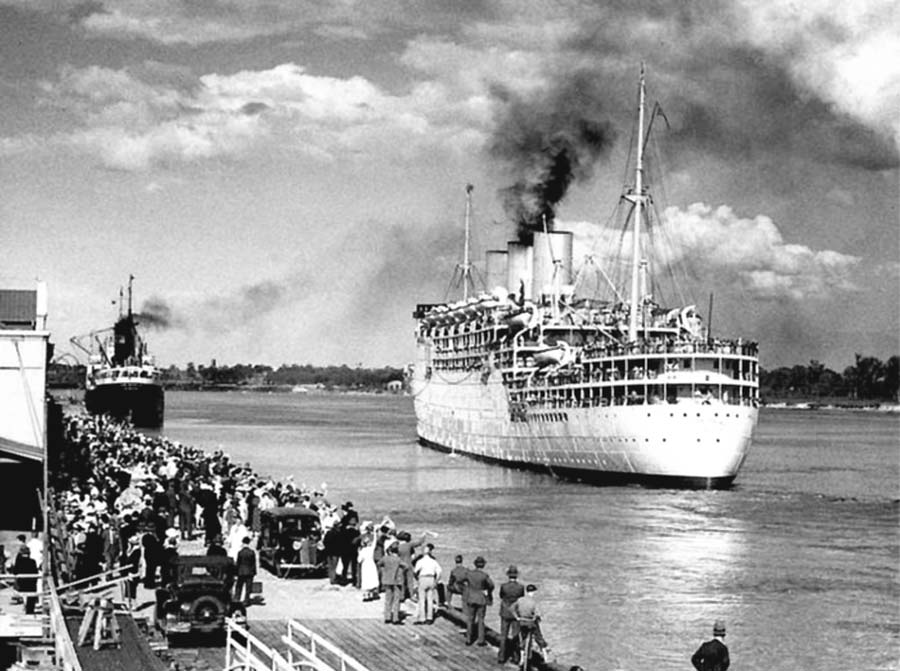 And here she is departing the Hamilton wharves and sailing down the Brisbane river for her return last pre war passenger voyage to the UK
Photographer/source unknown – Please see photo notes at bottom of page
Although she was due to sail again some ten days later for Australia, but this voyage was cancelled, as she was requisitioned by the government and like her sister, the Strathnaver the Strathaird was converted into a troopship in Liverpool and fitted out with two Bofor 6-inch guns as well as other artillery.
However, whilst the Strathaird was still having her refit at Liverpool with the work incomplete, she was ordered to Brest where she embarked 6,000 troops, hundreds of civilians, 200 children and the gold from British banks in Paris and she brought them all safely home to Plymouth.
She was completed by late in 1939 and now had a black hull and funnels, making her better in blackouts at night. She departed Tilbury on August 29, under the command of Captain D.M. Stuart and she headed for the Clyde where she embarked troops and then sailed via the Mediterranean for Suez, then to Aden and Cape Town, returning to Tilbury on November 11, 1939 having first called at two West African ports.
By the end of 1939 troop convoys from New Zealand and Australia had already been planned and the Strathaird was sent Down Under as well as a good number of other ships that were part of the first extensive convoy that would be carrying New Zealand and Australian troops, or just Australian troops to Suez. She departed Wellington on January 10, 1940 and she then proceeded to Fremantle where she boarded the Australian's later that month, and met up with this large convoy to cross the Indian Ocean.
In the middle of April 1939 a further convoy brought further reinforcements from Australia and New Zealand to the Middle East. This convoy, consisting of the Neuralia, Nevasa, Dunera, Strathaird and Ettrick and they arrived at Suez on May 17.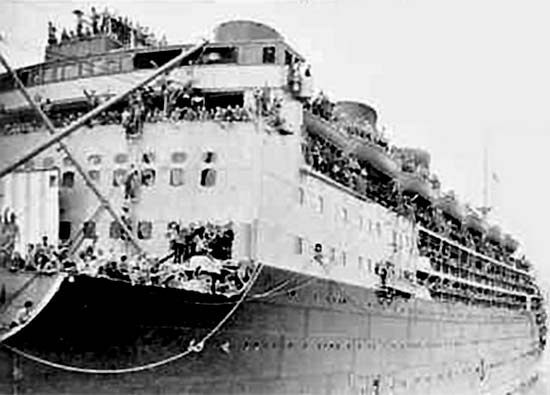 Above & Below: The Strathaird is seen departing Wellington New Zealand January 10, 1940
Troops on board were the 2nd NZEF soldiers of the 1st echelon
Photos provided by Anthony Williamson Dunedin New Zealand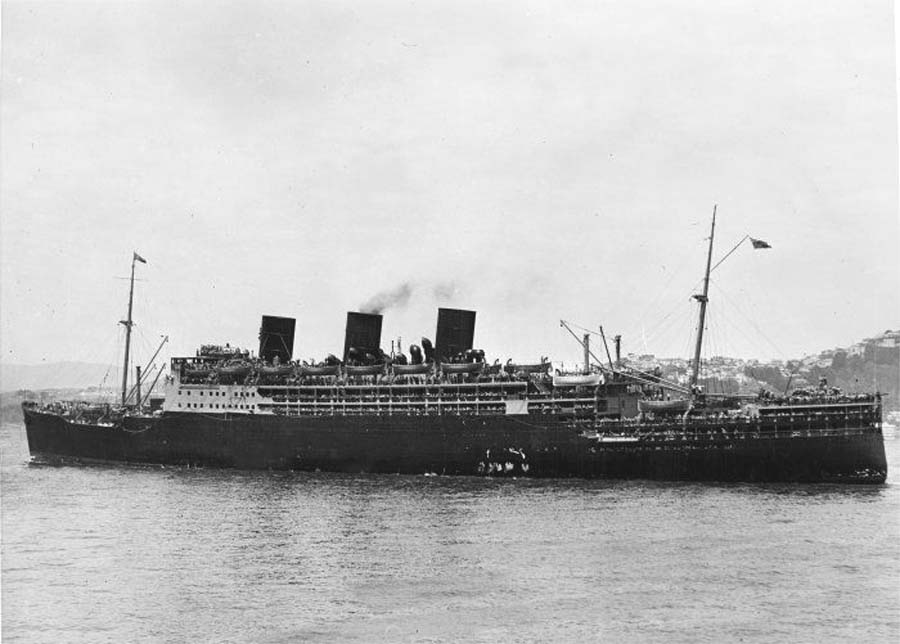 After the Mediterranean had been declared safe late in 1943 the Strathaird led the first troop convoy south through the Suez Canal.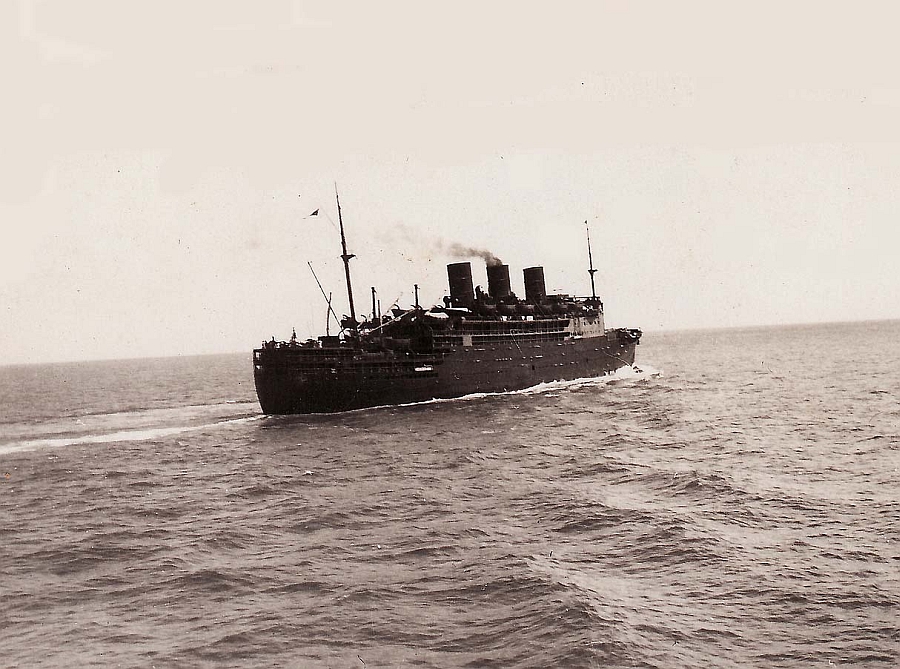 A superb of the trooper Strathaird at sea
Photo provided by Anthony Williamson Dunedin New Zealand
The Strathaird departed the Clyde on February 25, 1943 for a nine-month voyage, spending most of her time with in the Indian Ocean region transporting troops between South Africa, Suez, Aden and India, then sailing homeward she called in at Pointe Noire in the Belgian Congo being one of the more unusual ports for a P&O liner! After the Mediterranean had been declared safe, amazingly the Strathaird was the very first ship to sail through the Suez Canal in 1943. In 1945 saw her return to Australia and New Zealand with their troops heading home.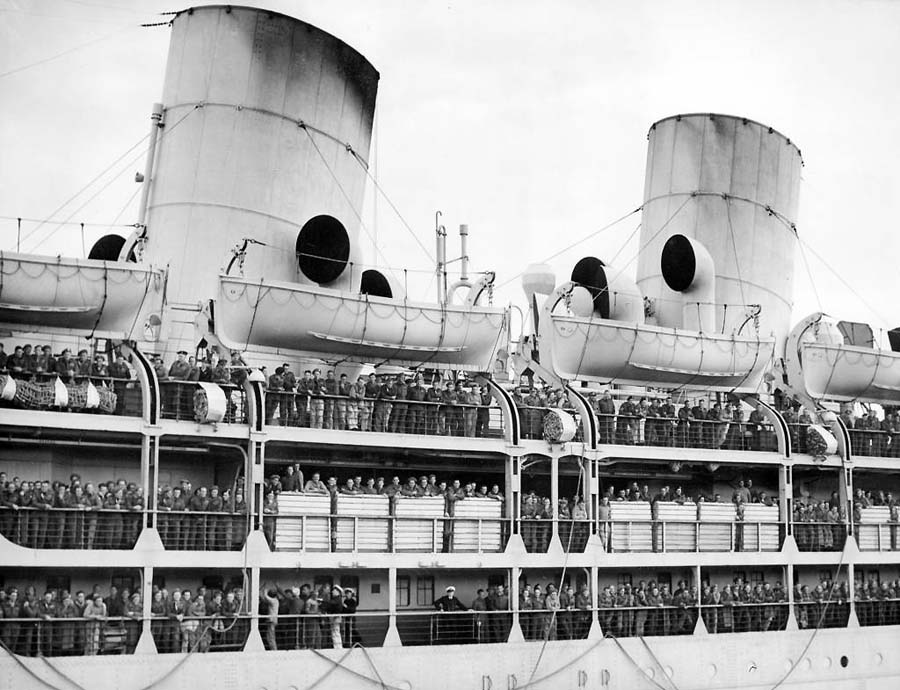 Strathaird is in Melbourne, where Australian troops have disembarked and the New Zealand troops at the railing heading home!
Source unknown – Please see photo notes at bottom of page
After the War, the Strathaird made three further voyages as follows; on the first two voyages she sailed to Bombay, however during the second voyage she also called at Mombasa, Karachi and returning via Piraeus and Salonika. The third voyage saw her heading for Singapore and calling into Port Swettenham and Madras and she arrived home in Tilbury on August 20, 1946. On September 21 she would head for Newcastle upon Tyne where she arrived the next day and she entered the Vickers Armstrong shipyards to be fully restored into a passenger liner!
There are no doubts that the TSS Strathaird served her country well, but amazingly she came through unscathed, unlike so many other liners of that time! During these troubled times she carried some 128,961 persons and covered 387,745 miles. The RMS Strathaird was handed back to P&O in December 1947.
Peacetime and a Return to Service: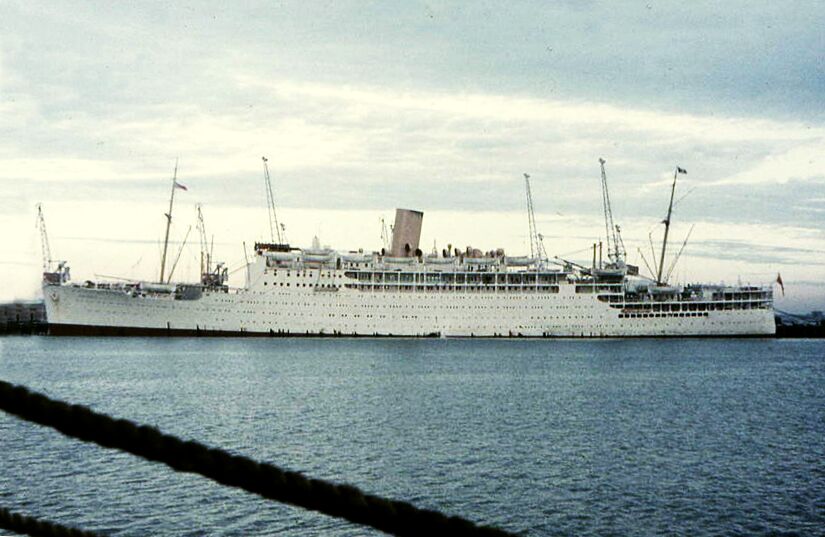 She is seen here in Melbourne in the 1947
Sent in by a supporter, photographer unknown – Please see photo notes at bottom of page
During her 1946/47 refit, she received a complete overhaul at the Vickers-Armstrong yard, which was completed in December 1947. During this refit she was painted white once again and her forward and aft dummy funnels were removed whilst her remaining funnel was slightly lengthened, giving her a more streamlined look. The now TSS Strathaird accommodated 573 First Class and 496 Tourist Class passengers, whilst her tonnage was now listed as 22,568 GRT.
Departing Tilbury on January 5, 1948, Strathaird returned to her regular Australian service, although she continued to operate the occasional cruises.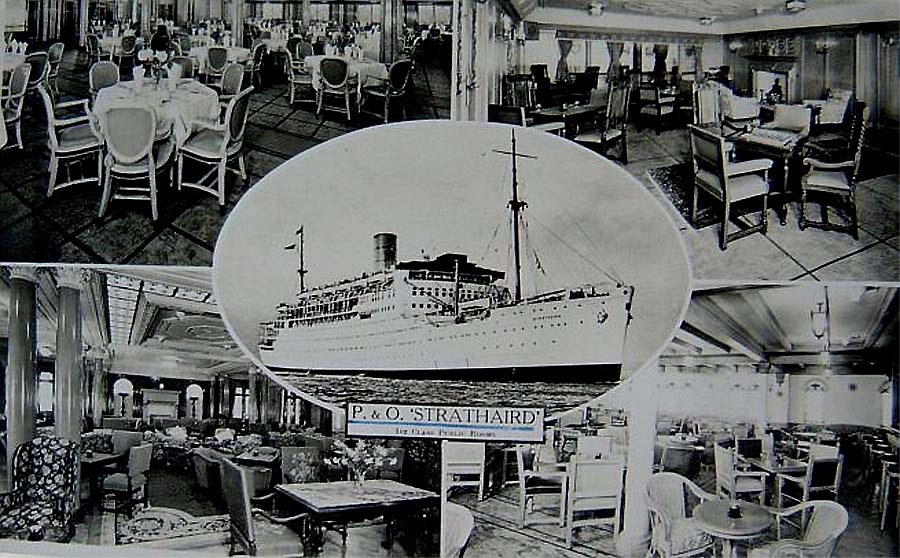 A postcard with some views of the ship with her single funnel and her First Class interiors seen after her 1954 refit
Please Note: Interior and other photographs of the RMS Strathaird can be found on Page Two
From the Author's private collection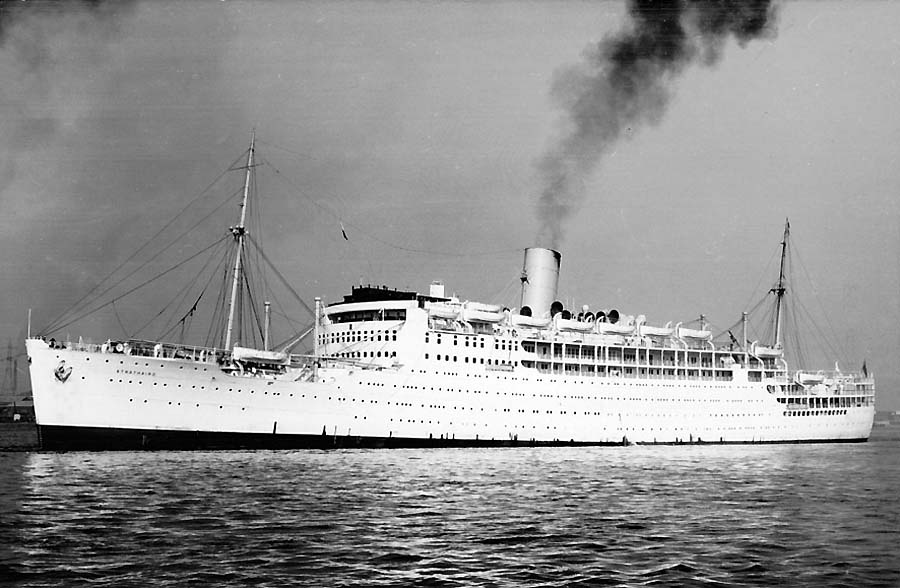 A beautiful photograph of the Strathaird
Photo by A. Duncan, from the Rich Turnwald collection
Another Refit in 1954:
Due to demand and the migrant trade, in 1954 the Strathaird was converted to become a one-class liner, accommodating a good 1,252 passengers. Upon completion she departed Tilbury for her first voyage on April 8, 1954.
Due to demand and the migrant trade, in 1954 the Strathaird was converted to become a one-class liner, accommodating a good 1,252 passengers. Upon completion she departed Tilbury for her first voyage on April 8, 1954. She sailed on and she was quite popular, sailing full out of the UK to Australia and New Zealand filled with migrants as well as tourists and returning to England with more and younger tourists heading for "Mother England" seeking adventure! In addition she continued the occasional cruise during the summer seasons.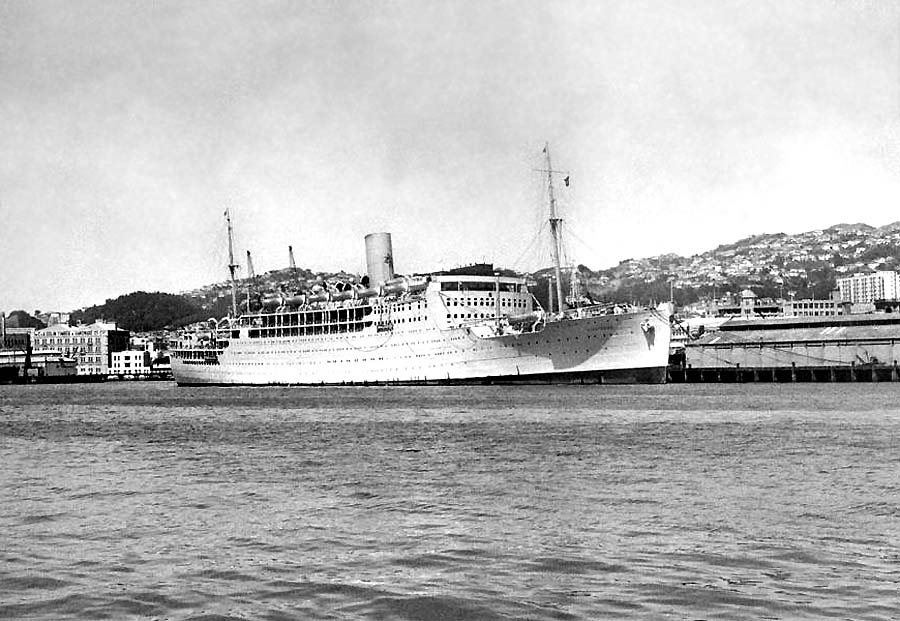 TSS Strathaird is seen berthed at Wellington New Zealand around 1958 or 1959
Photo by Evening Post, from the Alexander Turnbull Collection
With a number of newer "Strath" ships in service, in addition to several new built liners, such as the more modern; RMS Arcadia and Iberia thus now both the Strathnaver and Strathaird had become the elders of the fleet.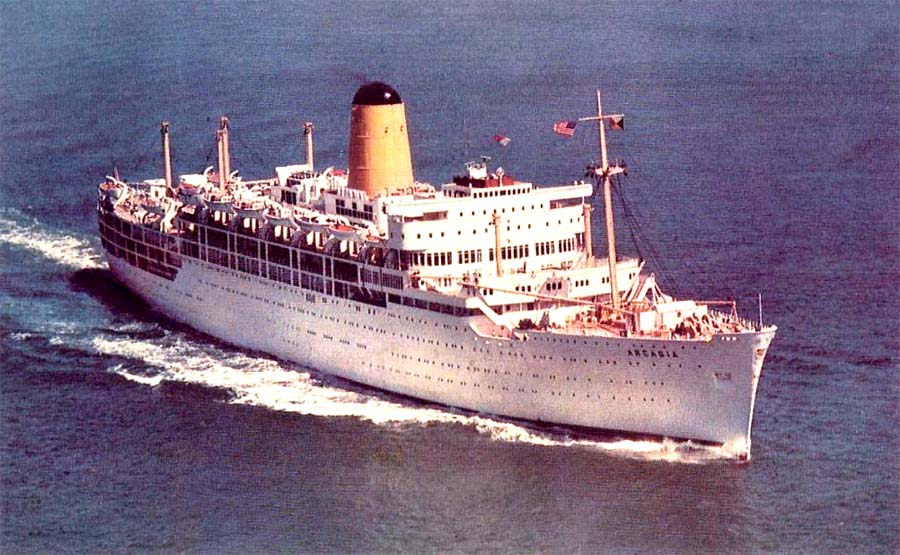 SS Arcadia postcard
From the Author's private collection
Her Final Days:
Sadly slowly the Strathaird began to suffer a range of mechanical problems, which meant the occasional delays and even having to return to port. Thus P&O decided to build a brand new, but a much larger and by far a superior and a more modern liner to replace both of the old "Strath's" sisters! This new ship would certainly prove to be one of P&O's most popular liner's of the modern age, especially during her latter days as a cruise ship, for this would be the wonderful SS Canberra!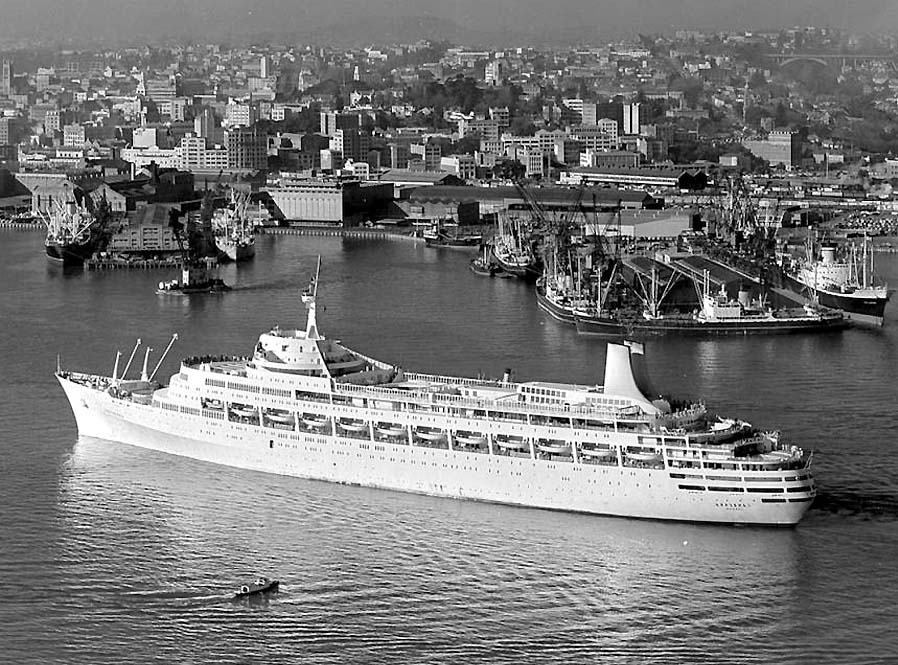 SS Canberra is seen in Auckland New Zealand on July 6, 1961
Photo by Whites Aviation Photos NZ
TSS Strathaird departed Tilbury for Australia on March 28, 1961 and she then departed Sydney on May 9, with her very last port in Australia being Fremantle (Perth) and there again, as she had done in all ports in Australia since Brisbane, she would fly her extra "Long Service Pendant" from her aft mast as she departed for what was her very last ever voyage home to Britain.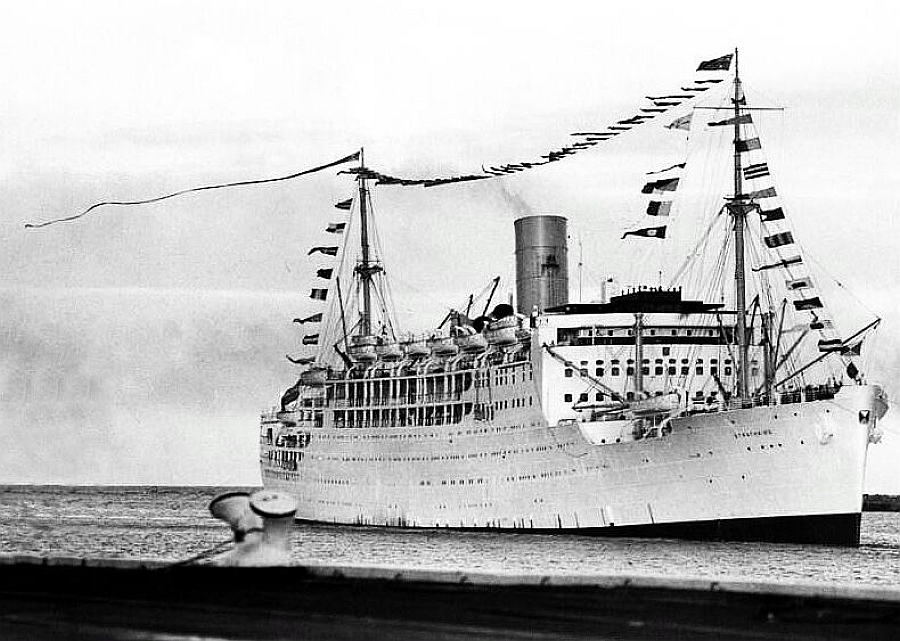 TSS Strathaird seen departing on her final voyage, with her long service pendant flying from her aft mast
But she left behind so many wonderful memories!
Sent in by a supporter, photographer unknown – Please see photo notes at bottom of page
As the Strathaird sailed from Australia and had passed through the Suez Canal and was now in the Mediterranean she passed P&O's newest superliner, the 42,570 GRT SS Canberra that had departed the UK on June 2, for Australia and New Zealand.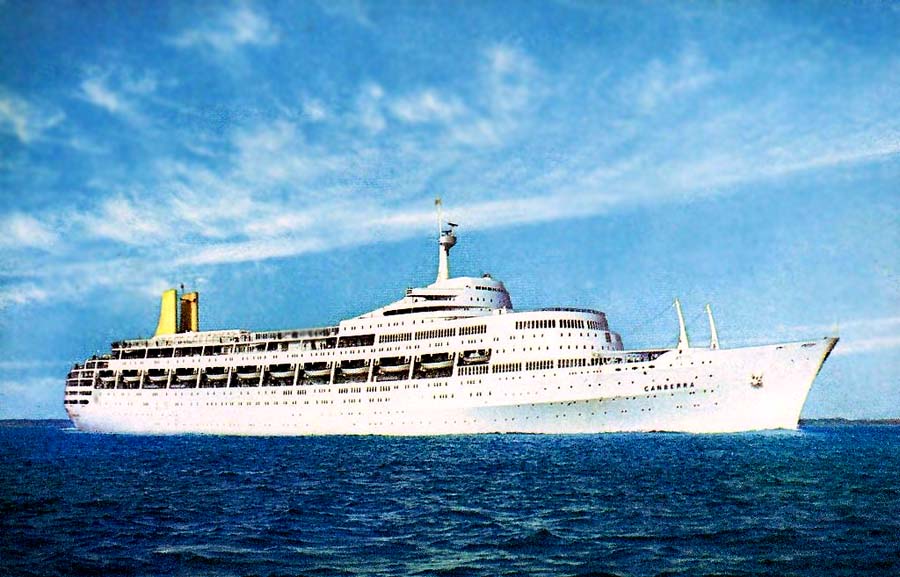 A 1961 P&O postcard of the SS Canberra
From the Author's private collection
The TSS Strathaird arrived in Tilbury, once again fully dressed and her "Long Service Pendant" flying from her aft mast, on June 17, 1961.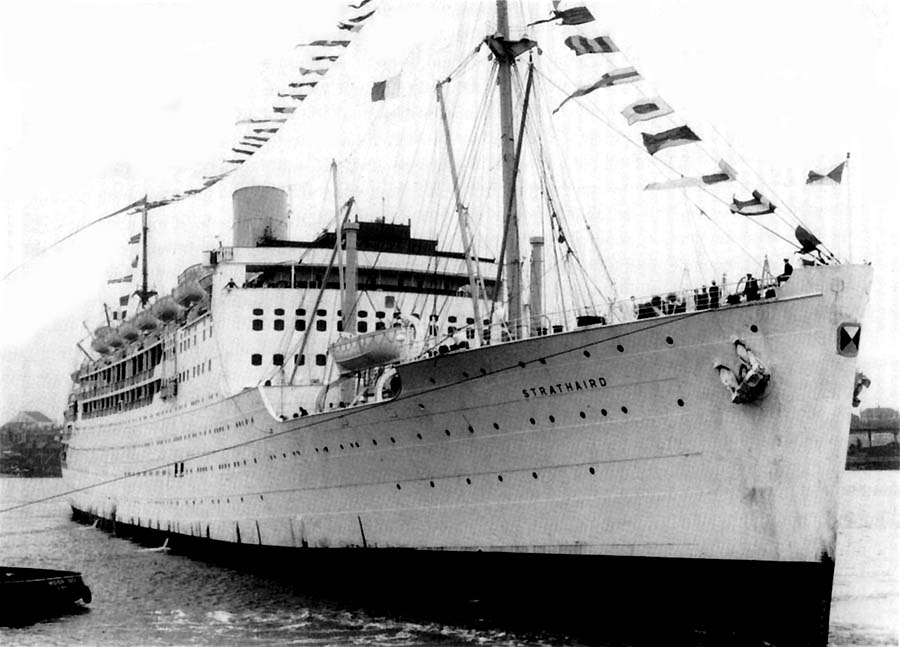 The Strathaird arrives home for the very last time and soon will depart to the breakers yard in Hong Kong!
Sent in by a supporter, photographer unknown – Please see photo notes at bottom of page
As she returned to Tilbury and she had already been sold to Shun Fung Iron works of Hong Kong for £382,500. She had been sold with certain strict conditions, that breaking up of the ship had to commence within two months of delivery to Shun Fung in Hong Kong and that breaking up had to be completed within one year.
The thirty one year old (from launching) P&O liner departed Tilbury on June 24, 1961 in ballast, with Captain West in command and a crew of 84. The P&O house-flag was proudly flying high from her mast as she sailed for Hong Kong. The much-loved liner arrived at the Shun Fung Iron Works ship Yards on July 27 and on the same day she was officially handed over to the Managing Director, Mr. L.Y. Leung for the company to ready her for demolition.
The P&O house-flag was officially lowered and Captain West and his crew left the fine old Strath! As it turned out she would be the largest ship ever to be broken up in Hong Kong.
In conclusion, the Strathaird was the first of the "Strath" twins originally built to be broken up. And apparently, a great deal of her excellent steel was used in the construction of some of Hong Kong's new skyscrapers as well as the passenger terminal of Kai Tak International Airport, thus in some way she did lived on for a long time thereafter!
Specifications:    
Name……………………………...RMS Strathaird – Sistership RMS Strathnaver (1931).
Built by……………………………Vickers-Armstrongs at Barrow England.
Yard…………………………………664.
Keel Laid…………………………April 23, 1930.
Launched…………………….July 18, 1931 by Lady Margaret Shaw.
Completed…………………..January 10, 1932.
Maiden Voyage……………February 12, 1932 to Australia.
Tonnage………………………22,544 GRT (Gross Registered Tons).
Refit 1947……………………22,568 GRT.
...............................13,365 Net Tons.
Length………………………….664ft - 202.4m.
Breadth……………………….80.1ft - 24.4m.
Draught……………………….33.1ft - 10.1m.
Engines……………………….Turbo electric steam turbine motors – 28,000 SHP.
Screws…………………………..Two.
Speed…………………………….22 knots service speed, 23 knots maximum.
Passengers…………………….498 First Class, 668 Tourist Class.
Refit in 1947………………….573 First Class, 496 Tourist Class.
Refit in 1954………………….1,252 One Class.
Crew……………………………….490.
Wonderful Memories of one of the "Strath" Sisters!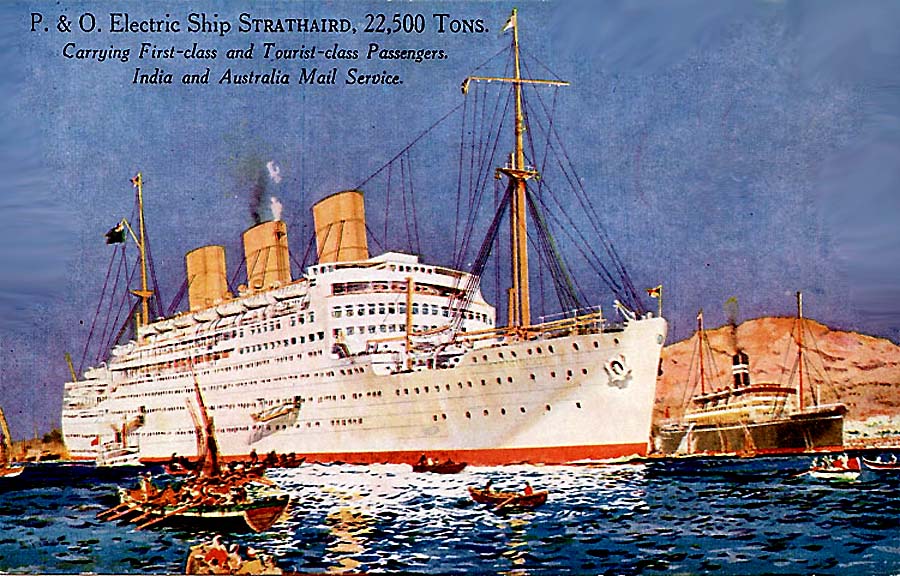 An early P&O postcard with an painting of the RMS Strathaird
From the Author's private collection
**********************************
Enter the all NEW - Strathaird - Page Two the Photo Page
Also view the NEW - Strathaird – Page Three the Ships Deck Plans
***********************************
Who is the Author of ssMaritime?
Commenced in the passenger Shipping Industry in May 1960
Return to the ssMaritime MAIN INDEX
ssMaritime.com & ssMaritime.net
Where the ships of the past make history & the 1914 built MV Doulos Story
Also visit the …
"Save The Classic Liners Campaign"
Please Note that ssmaritime and associated sites are 100% non commercial and the author seeks no funding or favours of any shape or form!
Photographs on ssmaritime and associate pages are by the author or from the author's private collection. In addition there are some images that have been provided by Shipping Companies and private photographers or collectors. Credit is given to all contributors. However, there are some photographs provided to me without details regarding the photographer/owner concerned. I hereby invite if owners of these images would be so kind to make them-selves known to me in order that due credit may be given.
This notice covers all pages, although, and I have done my best to ensure that all photographs are duly credited and that this notice is displaced on each page, that is, when a page is updated!
ssMaritime.com is owned and © Copyright by Reuben Goossens - All Rights Reserved.