'Royal Interocean Lines' - M.S. Tjiwangi of 1949 & M.S. Tjiluwah of 1950
Please Note: Firefox and some other Search Engines may not be suitable
Use Google Chrome for this Web Page to load perfectly!

Please Note: All ssMaritime and other related maritime sites are 100% non-commercial and privately owned, thus ssmaritime is NOT associated with any shipping company or any other organisation! Although the author has worked and been involved in the passenger shipping industry for well over 60 years, but due to his old age and poor health, he was forced to retire. Yet, he has completed well over 1,435 Classic Liners, Passenger-Cargo Liners as well as humble converted C3 converted Migrant Liners, which has transported countless thousands of folk to the new world, as well on vacations'. Amazingly, ssmaritime.com has received 573.4 million visitors to date I trust the features online will continue to provide Classic Liner and Ship enthusiasts both the information they are seeking, but more so provide a great deal of pleasure and relive many happy memories!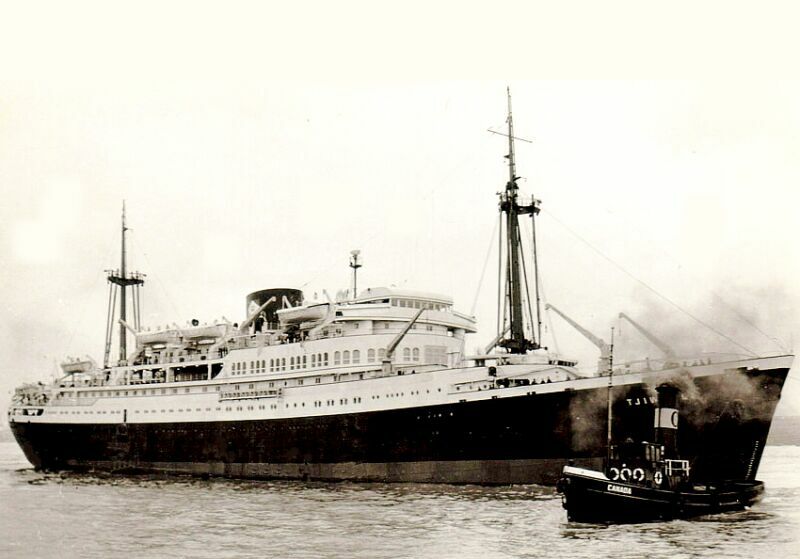 M.S. Tjiwangi was the first of an identical pair of ships to enter service
Please Note: All images are from the author's private collection, unless stated otherwise
Page One
History of the two Remarkable Ships
With RIL from 1950 to 1974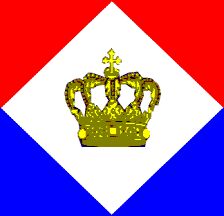 The "Royal Interocean Lines" RIL flag
Introduction:
These two compact liners were considered the most beautifully proportioned passenger-cargo liners ever seen in Australian waters and they became the most popular ships to sail between Australia and Asia.
The long established Dutch shipping company "Java-China Line" and the "Koninklijke Java-China Paketvaart Lijnen" - (KJCPL), which from the late 1950's merged to become the "Royal Interocean Lines" - (RIL) but they always had their headquarters in Hong Kong.
Company background: After the turn of the century the Koninklijke Java-China Paketvaart Lijnen (KJCPL) was founded in Amsterdam in 1902 and worked closely with the other Dutch Asian based shipping company "Java-China Line". KJCPL retained their operational head quarters in Hong Kong being the heart of its trading area. In the 1950's they merged to become the "Royal Interocean Lines" (RIL) and the company had a considerable fleet of ships operating within the region.
Construction:
In 1948 KJCPL decided to build two intimate 9,000 GRT passenger cargo liners, and these ships were built by Van der Giessen at Krimpen. Their keels were laid as follows: M.S. Tjiwangi in 1949 and M.S. Tjiluwah in 1950, and they were launched April 29, 1950 & April 28, 1951 respectively.
Mini Photo Album of M.S.

Tjiwangi's

launching and Sea Trials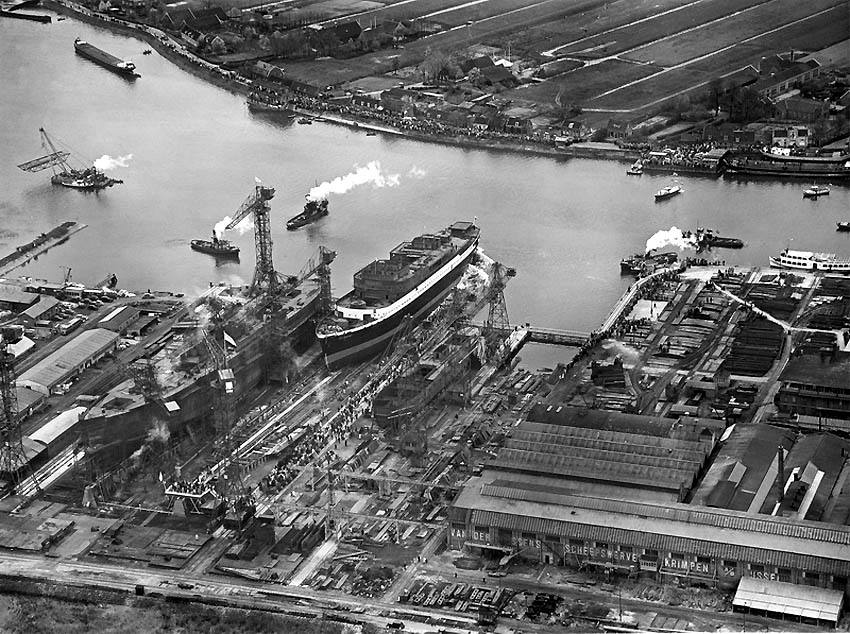 Above & below: M.S. Tjiwangi is seen during her launching on April 29, 1950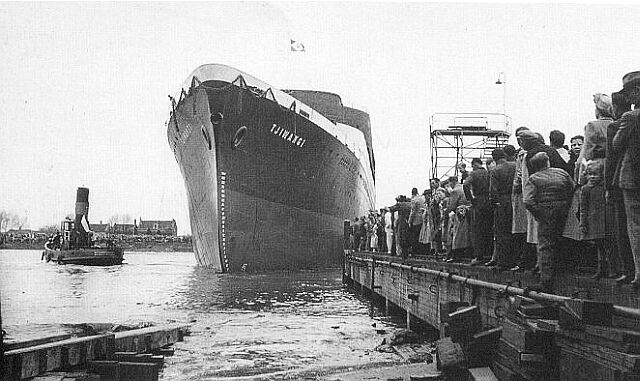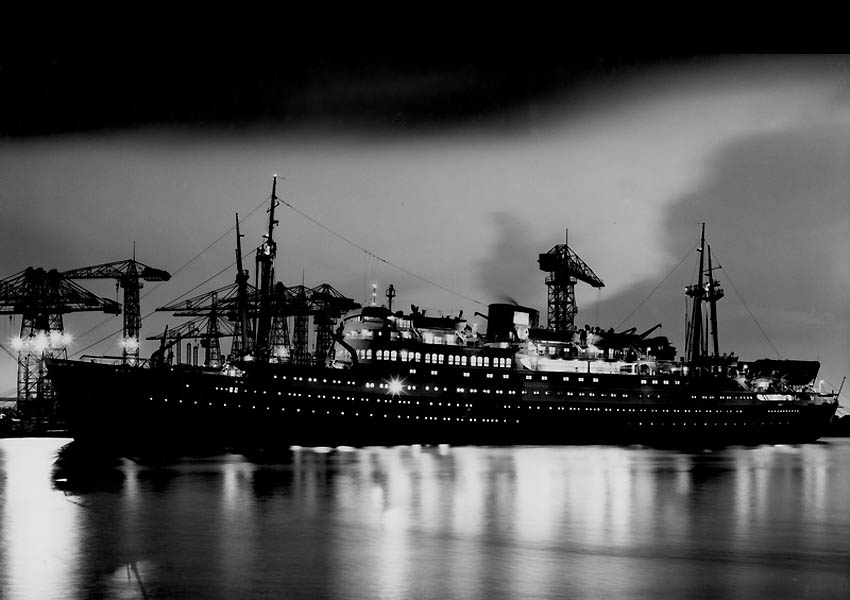 Here we see a superb photograph of the Tjiwangi at her Fit-Out berth fully lit at night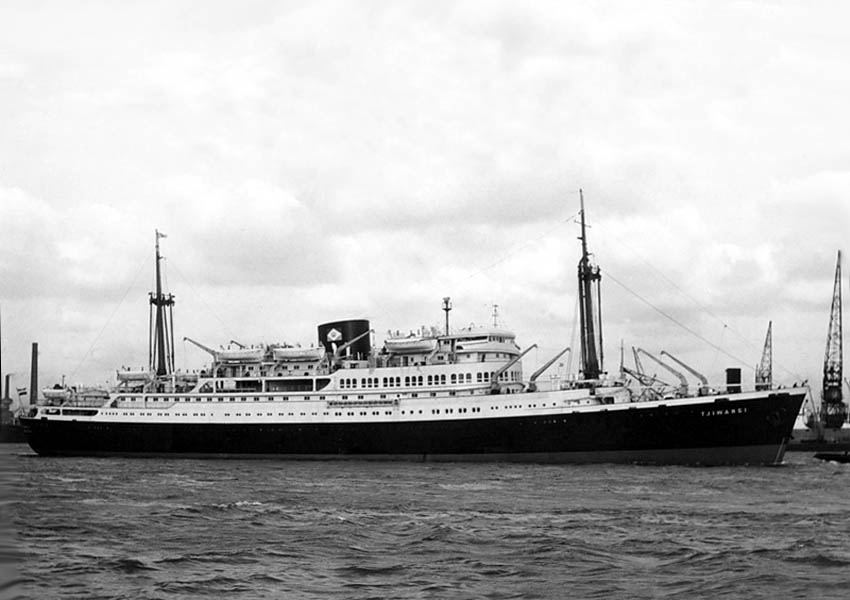 The Tjiwangi is seen here heading off on her Sea Trials which were successful!
With the M.S. Tjiwangi having undertaken her sea trails she was delivered on December 24, 1950.
Her Maiden Voyage:
After her sea trials the Tjiwangi was delivered to her owners in Rotterdam and soon there after she departed for her long voyage to Hong Kong where she would be based.
Her sister the M.S. Tjiwangi was delivered on November 9, 1951 and likewise she also headed from Rotterdam for her delivery voyage to Hong Kong arriving there on December 21, 1951. Both ships operated under the "Royal Interocean Lines" banner, as did the following the ships already in service such as the three very popular larger liners, M.S. Boissevain, Ruys and the Tegelberg, each being approximately 14,280-tons each with 435 passengers in two classes. These three delightful identical ships were built in 1937/38, sailed between Japan, Hong Kong, Singapore via South Africa and South America & return.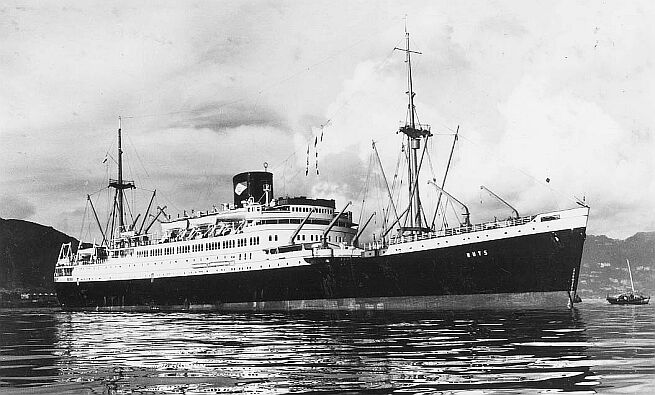 M.S. Ruys, built for KJCPL, but now operating for RIL, one of their larger passenger liners Ruys
For the next ten years, Tjiwangi and Tjiluwah operated on the Dutch East Indies to Hong Kong service.
New Australian Service:
In 1960 a decision was made to change these sister services and place them on the Australia, Hong Kong and Japan service, which commenced in July that year and they were now under full "Royal Interocean Lines" management.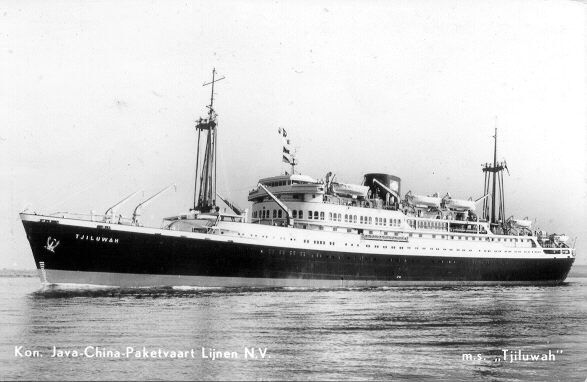 M.S. Tjiluwah a beautifully proportioned small passenger liner - a KJCPL postcard from 1956
The M.S. Tjiwangi arrived in Australia in July and soon she departed Melbourne for her first return voyage to Japan, with the Tjiluwah following a month later. This service became the ultimate cruise for countless Australians over the years and these two ships proved to be extremely successful! It was during this time I spent the first of my most memorable times on these two amazing small ships, first being when these ships had their original black hulls and again later after 1973 when they were refurbished and were painted all white, and became known as the "Elegant White Yachts." I had the most wonderful times on them, and the service as well as the cuisine was simply outstanding!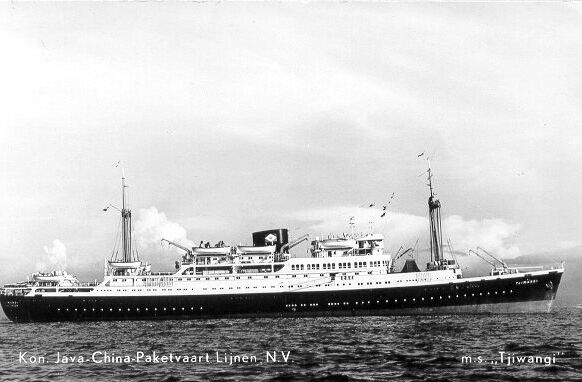 A KJCPL postcard of the M.S. Tjiwangi - 1958
Ports of call: Melbourne, Sydney, Brisbane, Yokkaichi, Nagoya, Tokyo, Yokohama, Osaka, Kobe, Hong Kong, Sydney, Melbourne.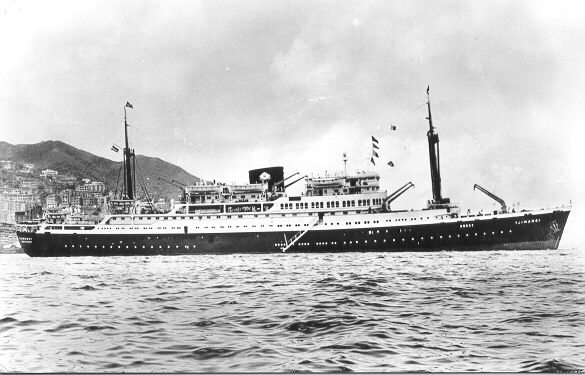 RIL Postcard of the Tjiwangi after 1960
Accommodations on the Tjiwangi and Tjiluwah as built: All cabins were outside with one or two portholes.
First Class cabins were located on B Deck, which had 2 single cabins with private facilities. 17 Twin bedded cabins all with private facilities, and 20 Twin bedded cabins that offered a sofa that converted into a third bed if required, as well as 1 two-berth cabin, but the 20 Twins with the sofas and the two berth cabin had share facilities. First Class was fully air-conditioned throughout.
Tourist Class cabins were located on C Deck and comprised of 40 four berth cabins all having shared facilities. Tourist Class had Gyro fan-forced air-cooling.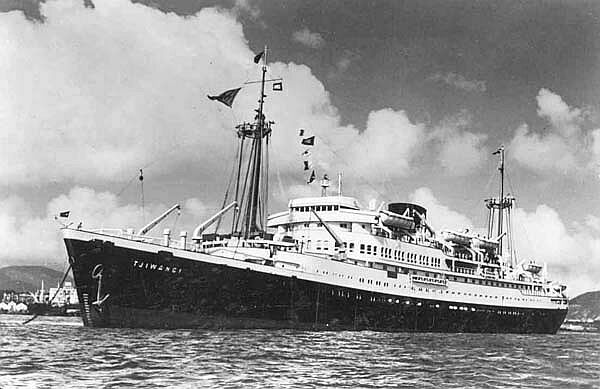 First Class Public Facilities was simply opulent, with the Main Lounge located forward on Promenade (A) Deck and it was surrounded by my much loved, the wonderful Wintergarden. The Lounge was sumptuously furnished and the walls covered with the finest of timbers, masking it a warm and a stylish venue. Just aft on the portside was a delightful Bar, and on the starboard side was the Library and Writing Room. Outside further aft was the exterior Verandah out on the deck, which was popular at night as an entertainment venue where we would dance as well enjoying other entertainments, although the main lounge also had a more intimate dance floor! One deck up, on Boat Deck was the First Class Swimming Pool!
In addition, these fine ships had a traditional ocean liner style Promenade Deck, lined with comfortable deck chairs with stewards constantly at your call. Then there was one very special and an unusual feature for a ship of this intimate size, for both these ships featured a magnificent Restaurant being a full two stories in height with a fine balustrade on the upper deck looking down on the Restaurant below, each having a fine grand sweeping staircase down into the restaurant just like the great ocean liners of yesteryear!
The Tourist Class public rooms were equally decorative but having a more modest restaurant. Both classes offered ample deck space for relaxing, sun baking and sports activities, and each class had their own swimming pool.
Photo Gallery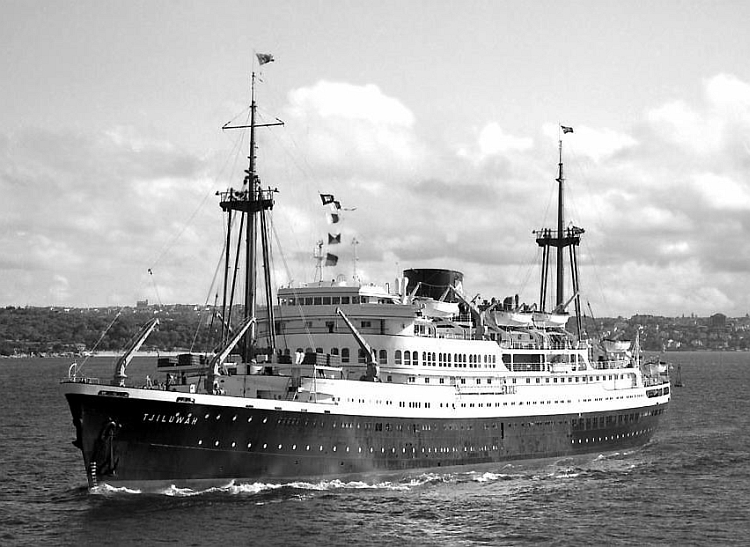 The delightful Tjiluwah is seen arriving in Sydney for the first time in July 1960s
First Class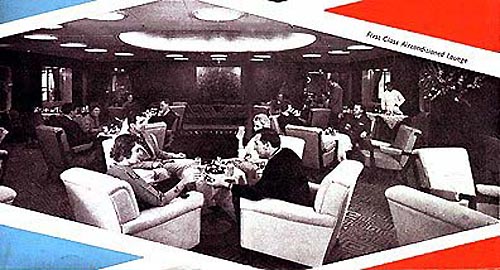 Above & Below: The elegant Main Lounge of both ships, as they
were different each having their own style and decor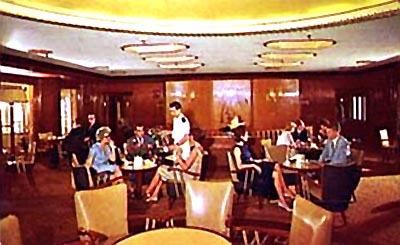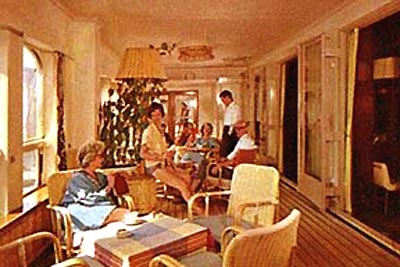 The wonderful Wintergarden surrounded the Main Lounge - starboard looking aft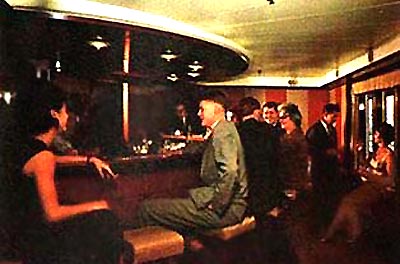 The Bar was located on the Portside just aft of the lobby
(At the same location starboard was the library/card/games room)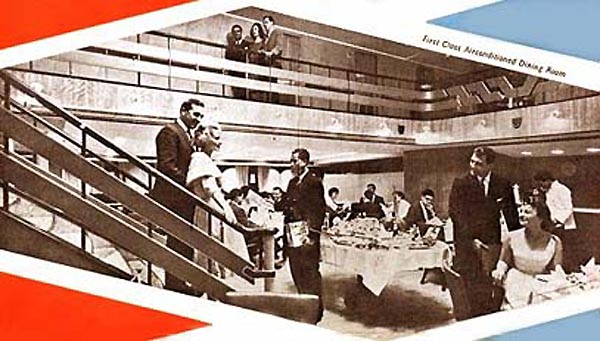 The First Class Restaurant was for a small ship, quite extravagant
Note the differences between the décor above and below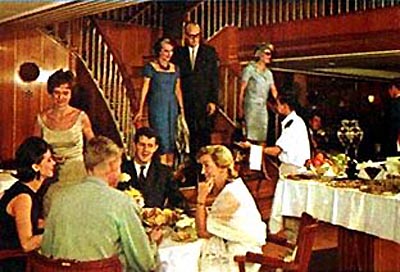 The staircases differed on the two ships as one was placed forward & the other aft of the Dinning Room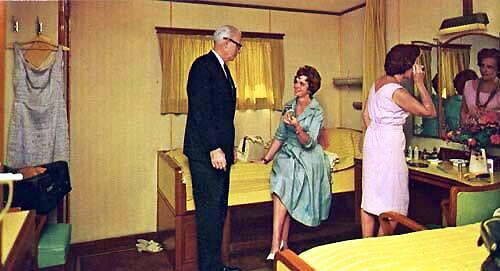 Twin bedded cabin with a sofa that converted to a third bed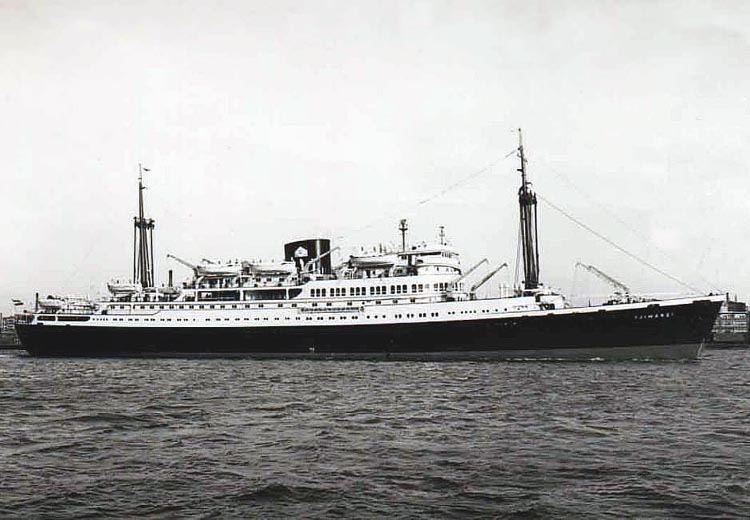 And here is the wonderful M.S. Tjiwangi in the early 1960s
Tourist Class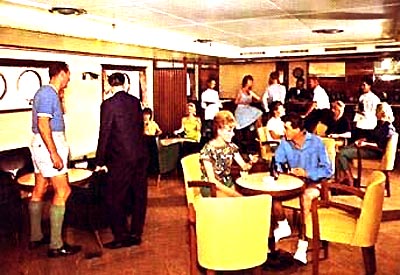 The delightful Main Lounge and Bar was located within the hull of the ship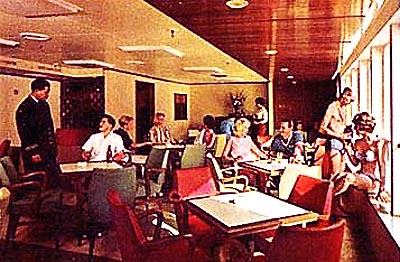 Later a comfortable and more casual Tourist Class Verandah
Lounge was installed on the starboard side of Promenade Deck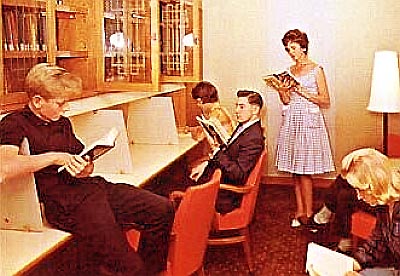 The Library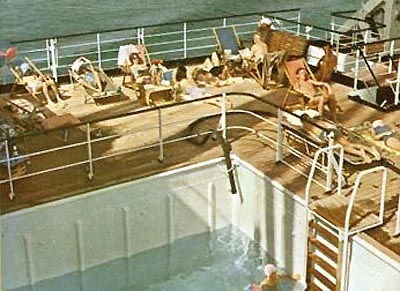 The swimming pool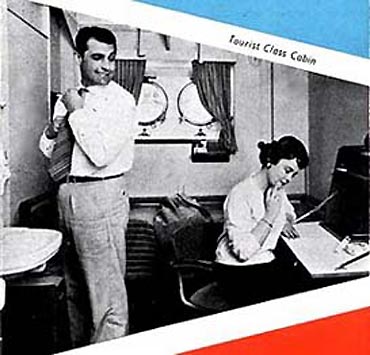 Outside Twin Tourist Class Cabin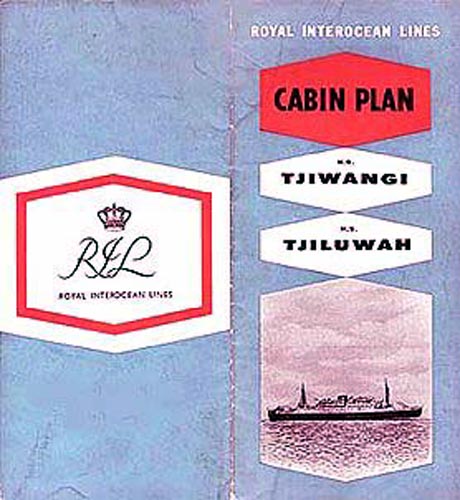 Cover of a Cabin Plan
See the official Deck Plan link at the bottom of the page
Specifications:
Tonnage:
Tjiwangi:                                8,679 GRT - Number 751.
Tjiluwah:                                8,675 GRT - Number 752.
Length:                                  479 ft – 146m.
Beam:                                    63 ft – 19.2m.
Draught:                                23.7 ft – 7m.
Engines:                                 Werkspoor Diesels.
Screws:                                  Two.
Service speed:                        16 knots.
Passenger Decks:                    Four.
Passengers:                           
1950/1963:                            98-First Class – 160-Tourist Class.
1963:                                    104-First Class – 118-Tourist Class.
.                                            First Class only was fully Air-Conditioned.
1963:                                    Ships refitted & now fully air-conditioned.
Crew:                                    200.
Livery 1950/1963:                   Black hull / white superstructure with red boot topping.
.                                            black funnel Dutch flag with white triangle & gold crown.
Livery 1963/1972/74:              White hull & superstructure.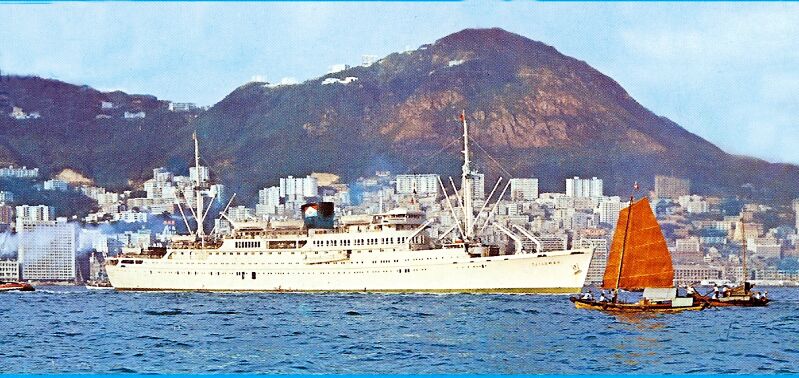 M.S. Tjiluwah seen in 1963 after her refit – Such a graceful and intimate liner
In 1962/63, both ships received a refit, and had their hulls painted white, after which they became known as the "Elegant White Yachts." The after end of the starboard Promenade Deck was glass enclosed creating the delightful Tourist Class Verandah Lounge.
Even though Tjiwangi and Tjiluwah had considerable competition from the well established Dominion Lines George Anson and Francis Drake, later the Chitral, Aramac and other vessels, however, the two Dutch flagged RIL ships were the more favoured, for they were renowned for their refined atmosphere and superb service.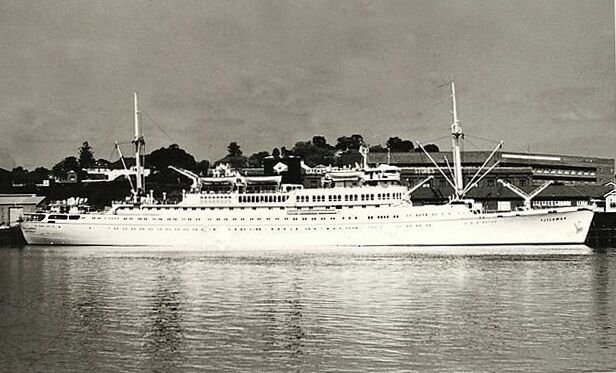 Tjiluwah, seen here in Brisbane in 1971 just prior her last few voyages
Today these wharves have now been rebuilt as upmarket apartments, boutiques, cafes
and restaurants, whilst the famed historic wool stores have been converted into luxury apartments
Photograph by Reuben Goossens & © ssmaritime.com
The Australia to Asia service lasted thirteen years, but sadly due to the air-war and rising costs and the ever cheaper air-charter fares, RIL sadly was forced to sell their much loved ships, and they placed one of their remarkable small liners on the market in 1971 and the M.S. Tjiluwah was sold to a Singaporean Company. But then, in January 1972 the M.S. Tjiluwah was resold, to 'Pacific International Lines' (PIL) and they renamed her 'Kota Singapura.
To replace the Tjiluwah, RIL had obtained another Dutch ship the 13,568 GRT M.S. Randfontein and they renamed her 'Nieuw Holland'. After an extensive refit she departed Hong Kong for her first voyage to Melbourne on January 21, 1972.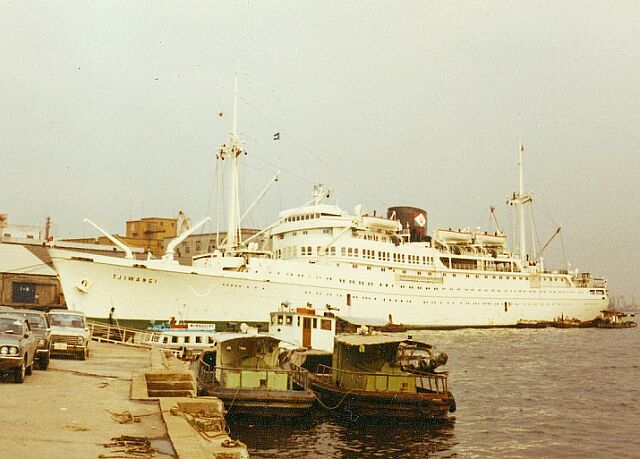 M.S. Tjiwangi seen in Yokkaichi Japan on June 3, 1972
Photograph by & © Graham-Emery
In November 1973 RIL finally decided to sell the Tjiwangi as well, she was sold to Singaporean PIL, and she was handed over at the end of January 1974 and was duly renamed 'Kota Bali' and she joined her sister Kota Singapura.
With the sale of the two popular "Elegant White Yachts" as ship lovers called the 'Tjiluwah' and 'Tjiwangi', Nieuw Holland's days were rather short. For: 1. Cargo loadings where changing to containers, and 2. Many tourists were choosing vacations by air, thus the Nieuw Holland was also sold just three years later due to declining loadings.

M.S. Nieuw Holland, ex Randfontein operated for just over three years
In Conclusion:
M.S. Tjiluwah and Tjiwangi offered the very best in traditional cruising with an emphasis on comfort, service, and excellent food. Entertainment was minimal to today's standards, but both ships had a small band and a pianist. The emphasis was very much a voyage of quiet relaxation, enjoying the ships excellent facilities, comfortable lounges, two pools and the spacious decks. It was a time where we enjoyed a drink on the promenade, reading a book in the Wintergarden or enjoying a drink in the bar and the main lounge engaging in interesting conversations with those who had cruised the world, or on their very first ocean voyage. Tjiluwah and Tjiwangi offered the very best in traditional cruising. I certainly will never forget my days aboard these elegant small liners!
Many of today's vacationers would not enjoy this style of elegant cruising as the preference these days is to be entertained all day and night, private balconies, towering atriums, rock climbing walls, ice skating rinks, etc, etc, and sailing with a herd of 2,000 to 6,500 passengers on a floating hotel/resort which can hardly be described as ships.
Two fine photographs of

Tjiwangi

in Newcastle © by Mr. Stan Evans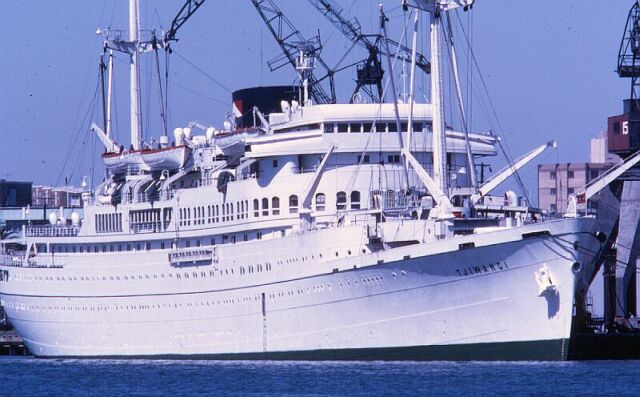 A superb looking M.S. Tjiwangi seen on one of her rare visit's to Newcastle - NSW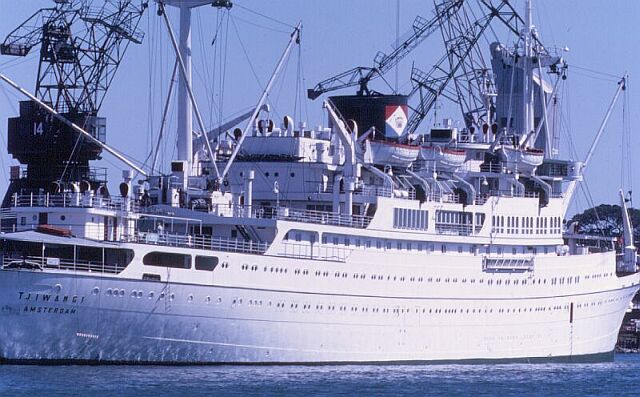 A stern view of the pristine M.S. Tjiwangi in Newcastle
I trust that you have enjoyed this article on these two remarkable small and elegant ships, and that is just what ssmaritime is all about, bringing back happy memories!
M.S. Tjiwangi and Tjiluwah will always be
… remembered as the "Elegant White Yachts"
Page One:     Tjiluwah – Tjiwangi History Page (This Page).
Deck Plan:    Tjiluwah – Tjiwangi.
Page Two:    Kota Singapura, ex Tjiluwah - Kota Bali, ex Tjiwangi.
Page Three:  RIL Memorabilia – A host of RIL memorabilia items.
"Blue Water Liners sailing to the distant shores.
I watched them come, I watched them go and I watched them die."

Featuring over 1,435 Classic Passenger Liners, Passenger-Cargo Liners & Classic Cruise Ships!
Or ENTER HERE
For interest: Sadly an email service to ssMaritime is no longer available, due to the author's old age and chronic illness as well as being disabled, etc. In the past ssMaritime received well over 120 emails per day, but Mr. Goossens can no longer handle same. He sincerely regrets this!
*********************
ssMaritime.com & ssMaritime.net
Where the ships of the past make history & the 1914 built M.S. Doulos Story.
The Author has been in Passenger Shipping & the Cruise Industry for well over 60 years
In addition he was the founder of "Save the Classic Liners Campaign" in 1990.
Please Note: ssmaritime and associated sites are 100% non-commercial and the author seeks no funding or favours of any shape or form, never have and never will!
Photographs on ssmaritime and associate pages are by; the author or from the author's private collection. In addition there are some images that have been provided by Shipping Companies and private photographers or collectors. Credit is given to all contributors. However, there are some photographs provided to me without details regarding the photographer/owner concerned.
This notice covers all pages; although, and I have done my best to ensure that all photographs are duly credited and that this notice is displaced on each page, that is, when a page is updated!
ssMaritime is owned & © Copyright by Reuben Goossens - All Rights Reserved