Royal Interocean Lines; MS Tjiwangi and MS Tjiluwah later known as the "The Elegant White Yachts"
Please Note: Firefox and some other search engines are not suitable – Use "Internet Explorer" for this page to load perfectly!

Click the logo above to reach the ssMaritime FrontPage for News Updates & "Ship of the Month"
With Reuben Goossens
Maritime Historian, Cruise'n'Ship Reviewer, Author & Maritime Lecturer
Please Note: All ssMaritime and other related maritime/cruise sites are 100% non-commercial and privately owned. Be assured that I am NOT associated with any shipping or cruise companies or any travel/cruise agencies or any other organisations! Although the author has been in the passenger shipping industry since 1960, although is now retired but having completed around 680 Classic Liners and Cargo-Passengers Ships features I trust these will continue to provide classic ship enthusiasts the information the are seeking, but above all a great deal of pleasure! Reuben Goossens.
--
Royal
Interocean
Lines
--
MS
Tjiwangi
&
MS
Tjiluwah
RIL Memorabilia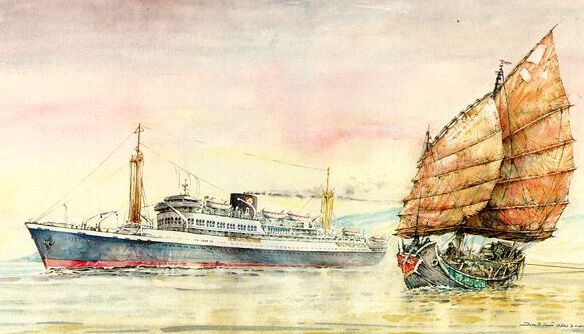 A fine artist impression of these fine liners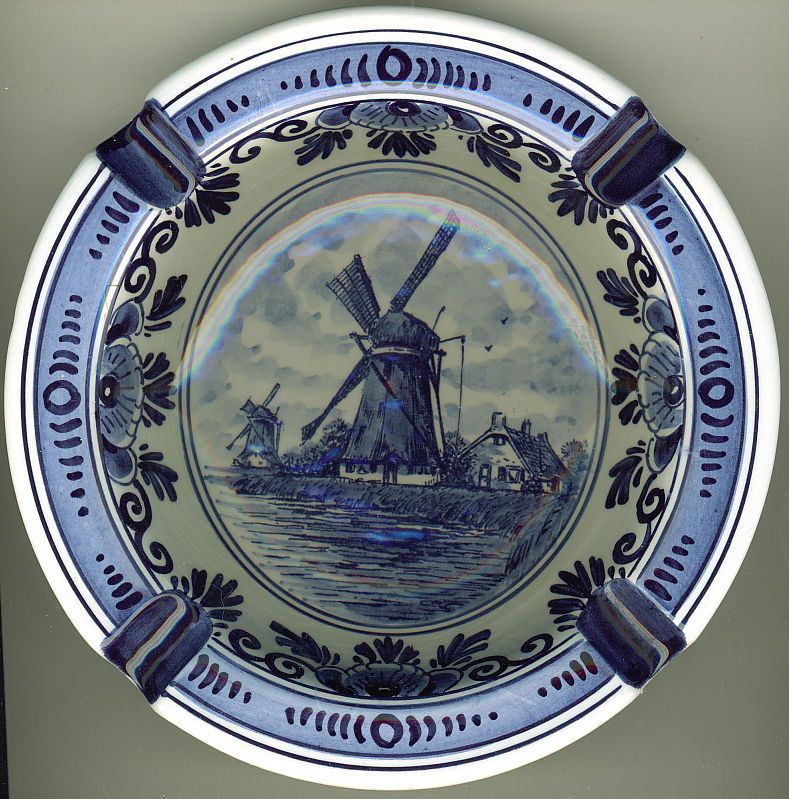 Above & below: Here we see a beautiful Delft Blue ashtray from the RIL ships Tjiluwah & Tjiwangi
This item was kindly gifted to the author by Mrs. Del Nickols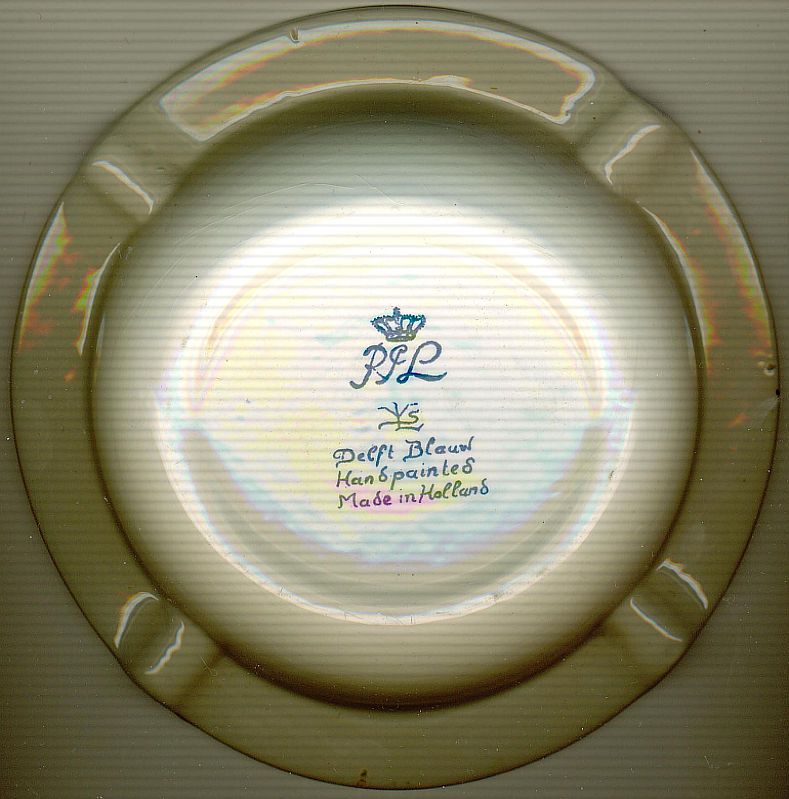 On the bottom it features the official RIL – Royal Interocean Lines logo, with the Crown atop as always. Then there is the official Delft Blue stamp
Used by the maker in Delft, proving it the real thing and not an imitation. The rest being self-explanatory!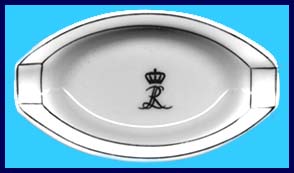 Royal Interocean Lines ashtray from the Tjiluwah – author's collection

These were made by the famed Petrus Regout & Cr, Maastricht Porcelain Manufacturers

Author's private collection

(Authors private collection)
The author also has a K.P.M. dinner plate and a coffee cup in his collection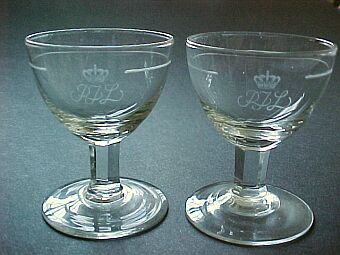 Above & below: A pair of RIL lasses and a fork & knife
From the private collection of Evelyn Leung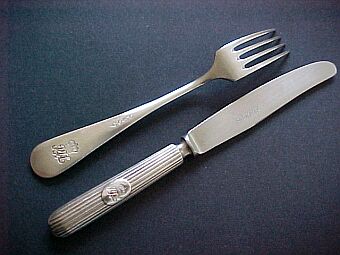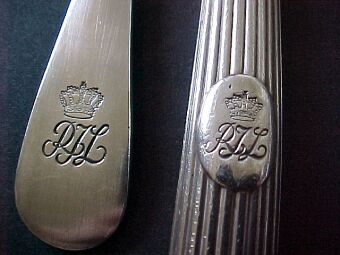 Fork & Knife was made by the Dutch "GERO" Stainless Steel Company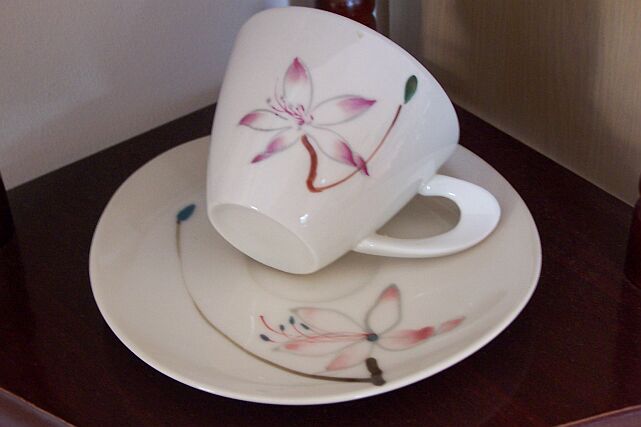 Above & below: This cup and saucer set is part of a set of eight I own, it has the RIL logo on the bottom
Author's private collection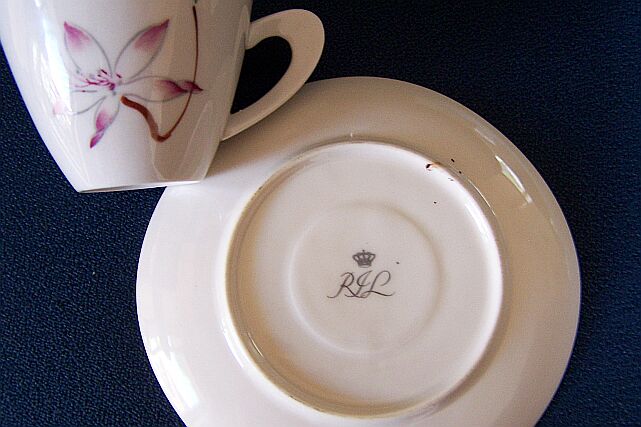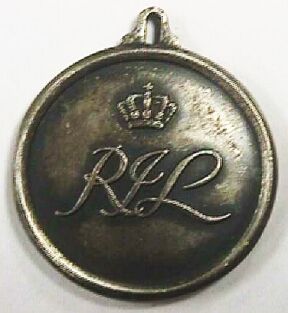 Above & below: Medal from the RIL/KPN days
Author's private collection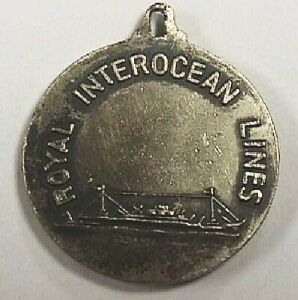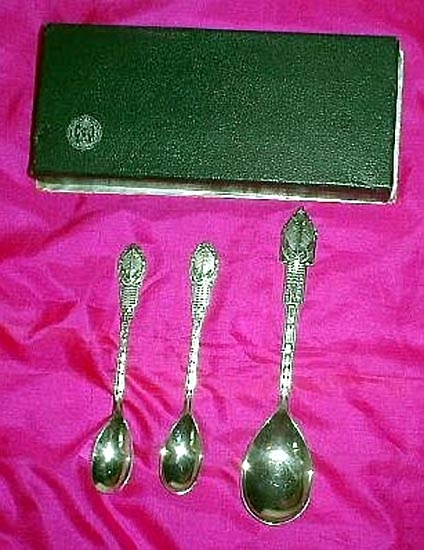 A set of fine silver spoons
Sent to the author, but I have lost details of the sender – So sorry!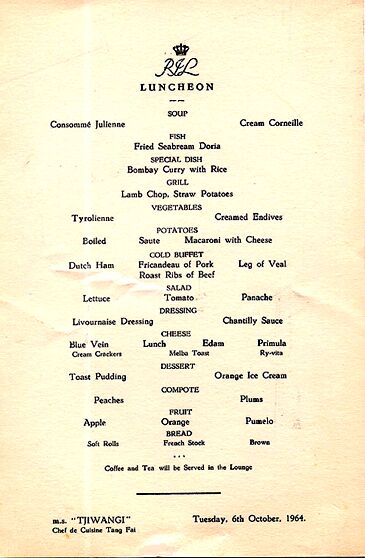 Lunch Menu dated October 6, 1964
Kindly Provided by Mr. David Newcastle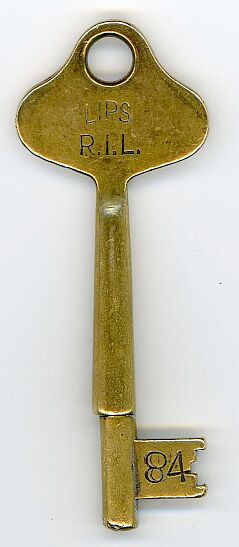 © 2008 - Matt Bockel
Above & below: A key from the Tjiluwah owned, and sent to the author by Matt Bockol from Minnesota, USA.
This key would have been from the crew area or a store as the inscription below has the ships name
in an Indonesian pronunciation rather than the one on the hull – "Tjiloewah"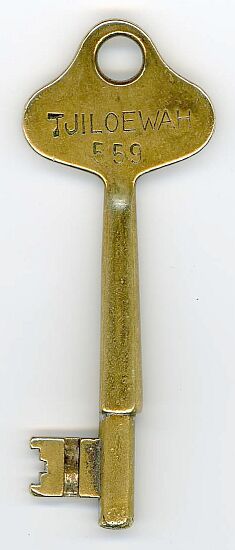 © 2008 - Matt Bockel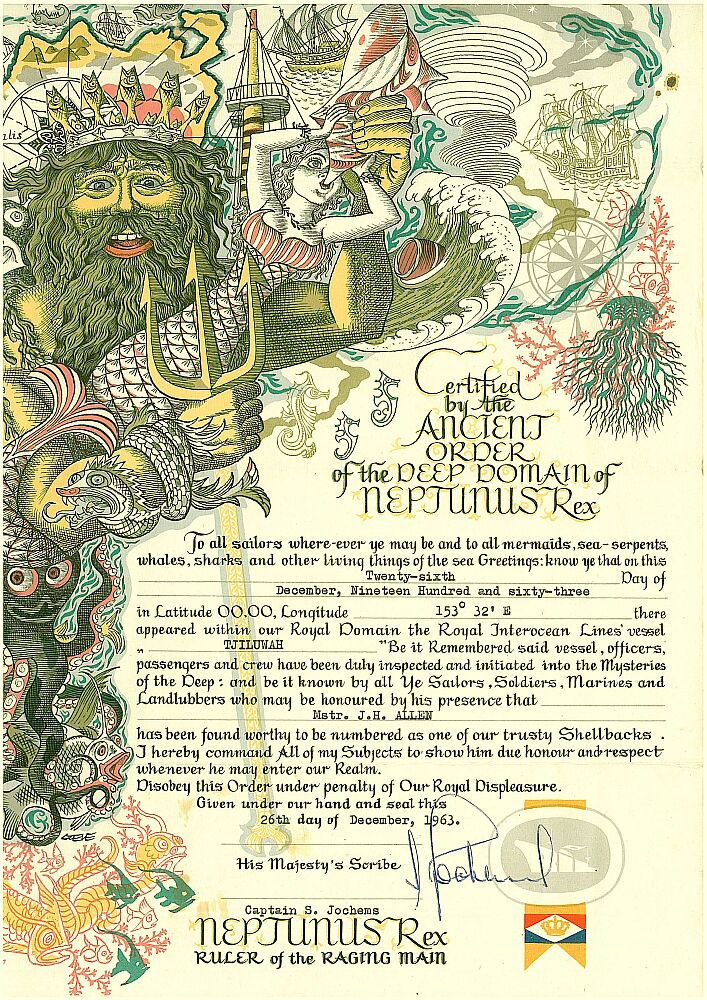 The crossing of the Equator Certificate above was sent to me by John Allen who sailed from Brisbane to Japan in December 1963
and he obviously had a wonderful time. PS: They do not print certificates like that on cruises ships these days anymore!
Provided by John Allen
Fan Menus
Fan menus were very popular on these fine ships and throughout the voyage they would appear and they became collector items!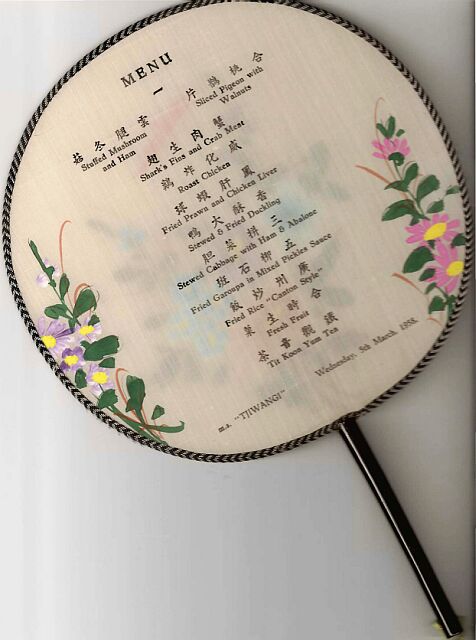 Above and below: MS Tjiwangi silk fan menu dated - March 5, 1958
Provided by Mr. John C. Row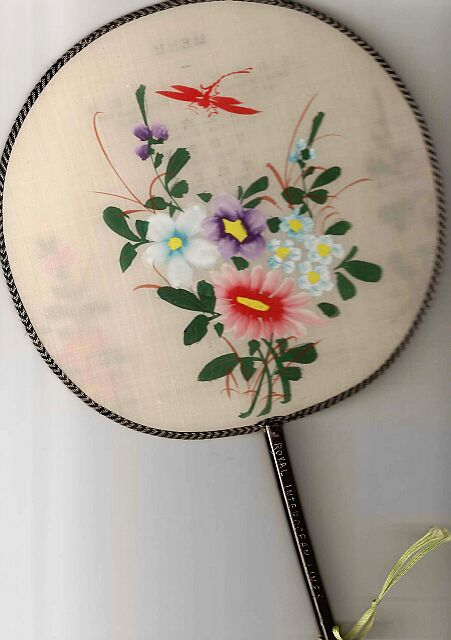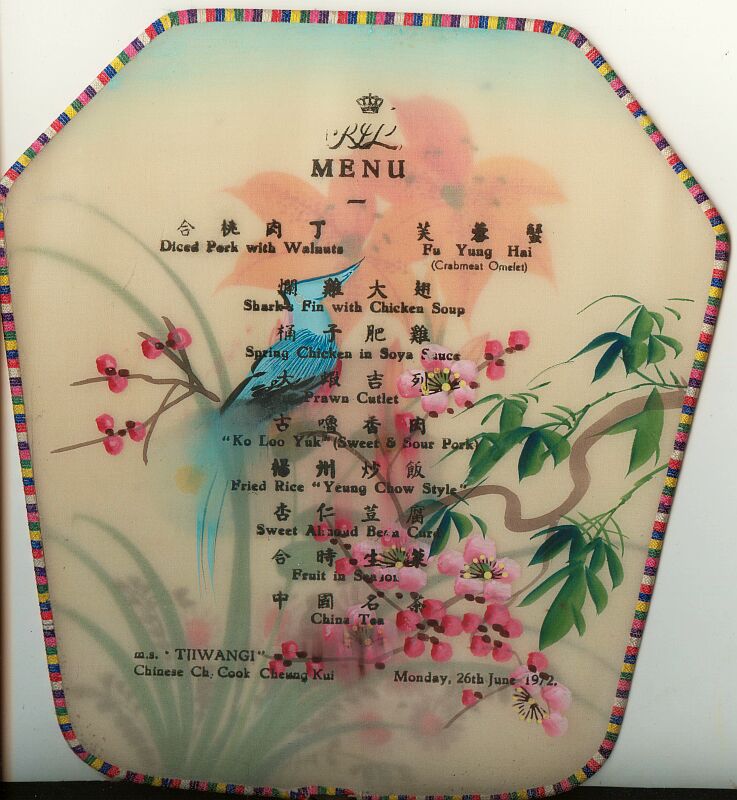 Above and below: Silk fan menu from the Tjiwangi dated June 26, 1972
Provided by Shane Sawer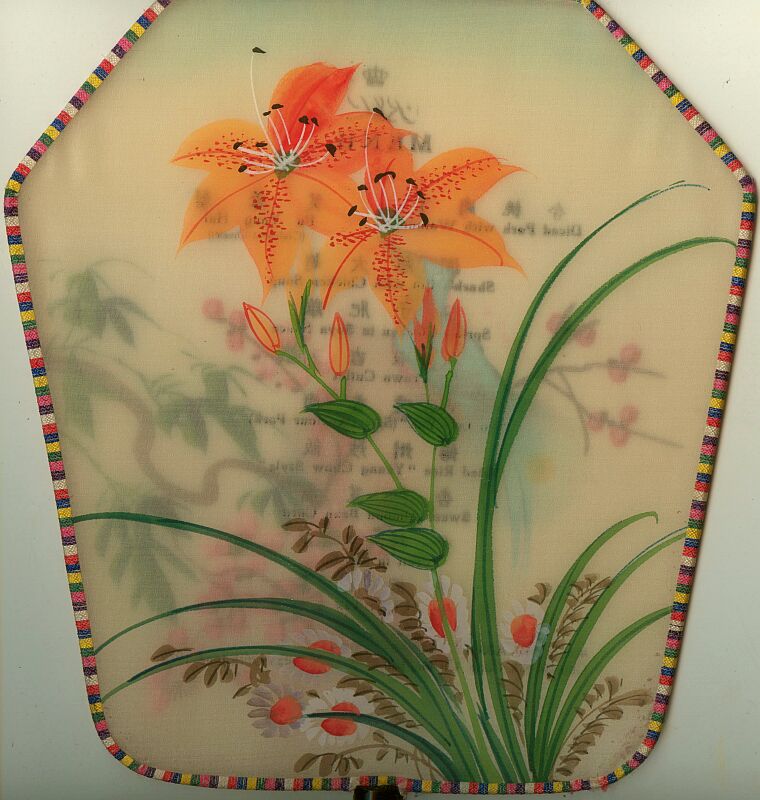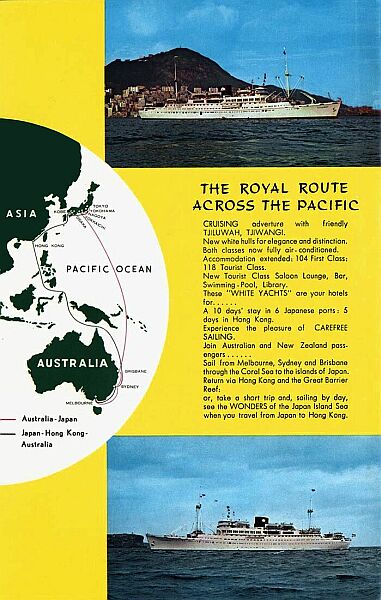 Part of a brochure showing the ships route
Author's private collection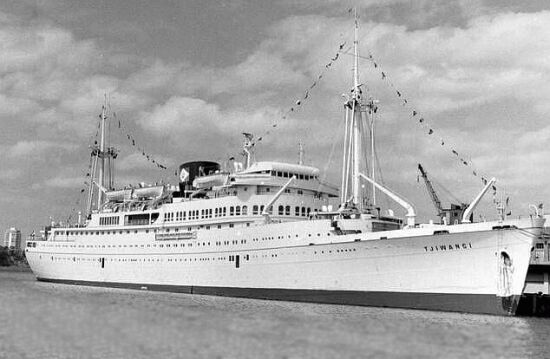 These where indeed the most beautiful and elegant motor yachts ever built for the Australian to Asia service
Author's private collection
MS Tjiwangi
and Tjiluwah will always be remembered as the "Elegant White Yachts"
Page One:      Tjiluwah – Tjiwangi History Page.
.                    Tjiluwah – Tjiwangi - RIL - Deck Plan.
Page Two:      Kota Singapura, ex Tjiluwah – Kota Bali, ex Tjiwangi.
Page Three:    RIL Memorabilia – A host of RIL memorabilia items.
"Blue Water Liners sailing to the distant shores.
I watched them come, I watched them go and I watched them die."
****************************
Visit our ssMaritime Main INDEX
Where you will discover more than 680 Classic Passenger & Passenger-Cargo Liners!
ssMaritime.com & ssMaritime.net
Where the ships of the past make history & the 1914 built MV Doulos Story
Please Note: ssmaritime and associated sites are 100% non-commercial and the author seek's no funding or favours of any shape or form, never have and never will!
Photographs on ssmaritime and associate pages are by the author or from the author's private collection. In addition there are some images that have been provided by Shipping Companies and private photographers or collectors. Credit is given to all contributors. However, there are some photographs provided to me without details regarding the photographer/owner concerned. I hereby invite if owners of these images would be so kind to make them-selves known to me (my email address may be found on www.ssmaritime.com only), in order that due credit may be given.
ssMaritime is owned & © Copyright by Reuben Goossens - All Rights Reserved