ssMaritime.com & ssMaritime.net
With Reuben Goossens
Maritime Historian
The Topaz
Ex Empress of Britain III - An Elegant Survivor from the Fifties

By: Barry Evetts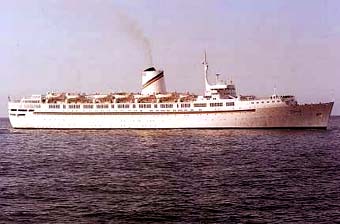 The Topaz seen whist under charter to Thompson Cruises
With more and more of the last generation of classic passenger liners ending up under the blow torch on the mudflats of Alang, India, or gently rotting away in lay-up in the backwaters of Eleusis Bay near the Greek port of Piraeus, it is comforting to know that this fine 1956 built vessel has at least two and a bit more years to run under charter to the Japanese Peace Boat organisation and with luck – and the ingenuity that her present owners have displayed so far – several years more in service after that - until SOLAS 2010 comes into force.
Perhaps by then the funds will be around from somewhere to ensure a life thereafter as a permanently moored hotel ship - cum conference and exhibition venue.
I won't go into too much historical detail here. Peter Knego's excellent pictorial biography of this fine lady at www.maritimematters.com covers that only too well, but suffice to say that the one-time 'Empress of Britain' - later metomorphsised in to Greek Lines 'Queen Anna Maria' - was lucky enough when her owners went into bankruptcy in the mid 1970's to be saved from the blow torch then - unlike her less fortunate sister, Shaw Savill's Ocean Monarch ex Empress of England.
As 'Carnivale' she was plucked from the mortgagee bank's hands by Ted Arison's then upstart Carnival Cruise Lines for something less than US$3,000,000 and pressed into service running inexpensive Caribbean cruises from Miami. For the next 18-years or so she remained under their ownership as Carnival grew from a bit player with two former Canadian Pacific liners and one converted former Union Castle mailship to a fleet of a dozen or more ever larger – ever more dazzling – purpose built cruise ships.
Unable to match the dazzle of Carnival's new 'Inspiration' class and others – and after an unsuccessful attempt to rebrand her for the Spanish speaking market out of Puerto Rico as the 'Fiesta Marina', she was traded-off as the 'Olympic' to Carnival's one-time suitor Epirotiki Lines, following Carnival's first attempt to secure a foothold in the European cruise market. Never really suitable for 3 and 4 day Greek Island cruising, in 1997 she passed into the hands of Paris Katsoufis' Kyma Ship Management, a company which enjoyed an existing close relationship with both Carnival and Epirotiki.
It was an ideal match. Renamed 'The Topaz', she went to a team who knew how to get the best out of a classic vessel. Katsoufis cut his teeth operating such ships as 'Dolphin 1V' (ex 'Zion'), 'SeaBreeze 1' (ex 'Federico C') and Ocean Breeze (ex 'Southern Cross'). You can find more about Kyma on their website at www.kymaship.com
On the hotel and catering side, Kyma teamed up with Austrian based Maritime Hotel Management (a company whose ability to produce a value-for-money product on a tight budget I had previously experienced first hand when I was involved some years ago in the setting-up of the Crucero Express cruise ferry operation between Cristobal, Panama and Cartagena, Colombia).
'The Topaz' began her first season under charter to Britain's Thomson Holidays in 1998. Intrigued by the chance to catch up with this piece of floating history – which I had once spent a couple of hours on board as a visitor while she was berthed at Piraeus as the 'Queen Anna Maria' in 1969 - I enjoyed a week aboard her cruising the Canaries, Morocco and Madeira during her final season with Thompson in late 2002.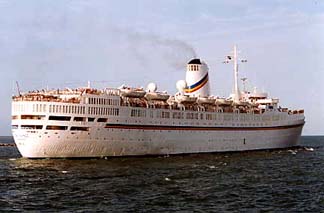 When converted to a cruise ship her aft decks were greatly extended [PK]
With accommodation for my wife and I in an outside cabin on the Bolero Deck – a modular job installed into what had once been part of the first class dining room - at some ?550 per head - including air travel from Bristol and transfers to the vessel at Teneriffe – to say nothing of drinks being included as well (which is something of a Maritime Hotel Management speciality it seems), it sounded like bargain.
Having realistic expectations we were not disappointed. With her present configuration of some 1050 berths – and we were told she was a full ship – she never seemed crowded, other than when trying to get a table in the informal topside dining area – The Yacht Club - at peak meal times. And that being the case, we had the alternative of the slightly more formal Topaz Dining Room four decks below anyway.
Food was adequate and plentiful, house wine flowed freely, and service with a mostly Filipino or East European smile – and sometimes even a joke – was generally attentive. Entertainment consisted of the usual floorshows, dance bands, etc, but this aspect of cruising has never been a high point for me.
The profile of 'The Topaz' had changed a little from her earlier incarnations, with cargo derricks forward dismantled during a 1997 refit and cabins built into a forward extension of the promenade deck. At her stern, the Yacht Club had been built above the Broadway Show Lounge, itself an addition made by Greek Line when the ship was first refitted in 1964. Original wood panelling from her Canadian Pacific days can be found in some of the public rooms. There's an extensive observation area at boat deck level, forward of the bridge housing and above the newly (1997) added cabins. And most of the extended lido area aft, a prominent feature of her refit/rebuilding as 'Queen Anna Maria' - when she switched from a North European to Mediterranean route across the Atlantic in the mid 1960's –remains, with two pools plus a Jacuzzi.
It's a pity though that her indoor swimming pool, in use as I understand it until just a few years ago, had been converted into a storage area.
After a summer season in the Western Mediterranean, based out of Palma de Majorca, 'The Topaz' had, when we joined her, recently repositioned to a seven-day itinerary from Las Palmas and Teneriffe (with fly/cruise and cruise-and-stay passengers embarking and disembarking at either port), with calls on the following two days at Lanzarote and Agadir, Morocco, followed by a full day at sea, a day in Madeira, a day at the island of La Palma in the Western Canaries, thence back to Las Palmas and Teneriffe.
Most of the sea passages were gentle overnight affairs in relatively sheltered Canarian waters. But these mid-Atlantic latitudes can still put on a display of autumnal weather in late November and both our arrival at, and departure from, Agadir, in a heavy swell - and a full day at sea in similar conditions between there and Madeira - gave 'The Topaz' a chance to show off her deep-sea pedigree in conditions that I would not particularly like to experience in a top-heavy balconied behemoth drawing a mere twenty-eight feet six inches!
The perceived wisdom in the cruise industry – as in any other industry - is that progress comes in the form of a bigger, better, newer product – even if it is a 1984 built hand-me –down instead of a 1957 built hand-me –down. So Thompson have now replaced 'The Topaz' with the 'Thompson Spirit', ex 'Patriot' ex 'Niew Amsterdam', and 'The Topaz' has – since June 2003 - moved on to her new role with the Peace Boat Organisation.
It is certainly a role that will see her continue to show off her deep-sea pedigree, with a variety of round-the-world itineraries that include long hauls across the Indian, Atlantic, and Pacific oceans at a variety of latitudes - as a glance at the maps on their website will show you.
And what comes after her current charter expires in 2006? A renewal with Peace Boat perhaps, if she still suits their <![if !vml]>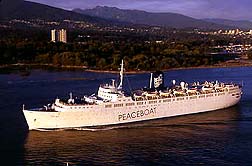 <![endif]>needs – or will Kyma have to look out for imaginative alternative employment?
In theory, she can cruise on right up until 2010, but will there still be a market for her? She had a large following in the UK as a popular budget cruise ship with Thompson. But would she still draw the numbers given the amount of competition that is out there now - dropping fares almost by the week - as a quick scan through the travel pages of any British newspaper will attest?
Under Charter to the

Peaceboat

Organisation [PK]
Could she be a starter for budget cruising from Australia for a four to six month summer season with a couple of months of positioning voyages between the UK and Australia/New Zealand and a summer season based in British waters?
Could she be a starter for budget cruising from Australia for a four to six month southern summer season with a couple of months of positioning voyages between the UK and Australia/New Zealand and a northern summer season based in British waters?
I certainly wish her luck!
Barry Evetts
Empress of Britain / The Topaz – Index:
Page One …?????????????????? Empress of Britain – History Page
Page Two …????????????????? SS The Topaz
Page Three …??????????????? Topaz Photo Album
**************************************
Use the Back button on your browser or Close the Page to return to the previous page
or go to our INDEX
Who is the Author of ssMaritime?
Commenced in the passenger Shipping Industry in May 1960
ssMaritime.com & ssMaritime.net
Where the ships of the past make history & the 1914 built MV Doulos Story
Also visit my …
"Save The Classic Liners Campaign" & "Classic Ocean Voyages" pages
Photographs on ssmaritime and associate pages are by the author or from the author's private collection. In addition there are some images that have been provided by Shipping Companies and private photographers or collectors. Credit is given to all contributors. However, there are some photographs provided to me without details regarding the photographer/owner concerned. I hereby invite if owners of these images would be so kind to make them-selves known to me (my email address may be found on www.ssmaritime.com only), in order that due credit may be given. I know what it is like, I have seen a multitude of my own photographs on other sites, yet these individuals either refuse to provide credit or remove them when asked, knowing full well that there is no legal comeback when it comes to the net. However, let us show these charlatans up and do the right thing at all times and give credit where credit is due!
This notice covers all pages, although, and I have done my best to ensure that all photographs are duly credited and that this notice is displaced on each page, that is, when a page is updated!
ssMaritime is owned and ? Copyright 2010/12 - by Reuben Goossens - All Rights Reserved