MS Willem Ruys 1947 to 1965 then sold to Flotta Lauro Lines
Note: iPhones, iPads, Firefox & some other Search Engines may not be suitable
Use Google Chrome for this Web Page to load perfectly!
Click the logo above to reach the ssMaritime FrontPage for News Updates & "Ship of the Month"
With Reuben Goossens
Maritime Historian, Author, Lecturer & Cruise'n'Ship Reviewer
Please Note: All ssmaritime as well as my other related maritime & cruise sites are 100% non-commercial and privately owned sites. Be assured that I am NOT associated with any shipping or cruise companies or agencies or any other organisations! The author has been in the passenger shipping industry since May 1960, but although retired and unwell, I occasionally attempt to write an article now and then, in order to bring enjoyment and pleasure to ship enthusiasts past passengers and crew!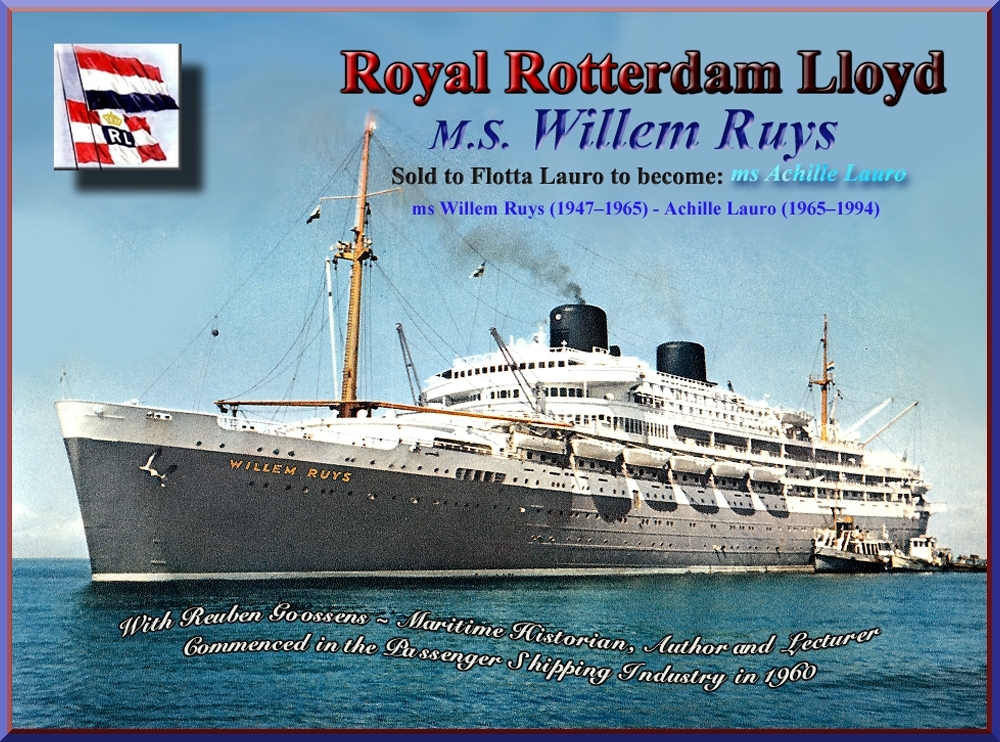 Part One
-
MS Willem Ruys
Introduction:
Having spent many happy hours on the Dutch liner MS Willem Ruys it is with much joy that I am adding this wonderful and much loved liner to ssMaritime. In early years in shipping, I was employed by the General Sales Agents for the "Royal Dutch Mails" in Wellington, New Zealand; being the Royal Rotterdam Lloyd, Netherland Line and Holland America Line. Therefore, whenever any Dutch or the Dutch managed German liner the Seven Seas was in port, and of course the wonderful Willem Ruys, I would go onboard and have lunch and a drink up in the lounge, as I knew many of the officers as well as other staff! Later when she was sold and was given an amazing rebuild to become a modern sleek looking Italian liner, the Achille Lauro I also spent time on board her on many occasions, but that is another story!
Part One of this feature covers the Willem Ruys' days as an elegant and a much loved and very popular Dutch passenger liner, whilst Part Two continues her story, but now with her in a completely new role as the modern Italian liner, the MS Achille Lauro, which did not always had a perfect record on board, like the ship in the super efficient Dutch hands!
I trust that this Willem Ruys feature will delight those who have sailed on her be it to Indonesia, a service she was designed and built for, or from 1959 when she was placed on the Australia and New Zealand around the world service. However, whenever you may have sailed on her I am sure that there will be many happy memories that linger as you rediscover this fine ship all over again as you explore these pages. She was indeed a ship that was so beautifully designed and she was what many called "A ship of simple perfection," and this was true in many more ways than one!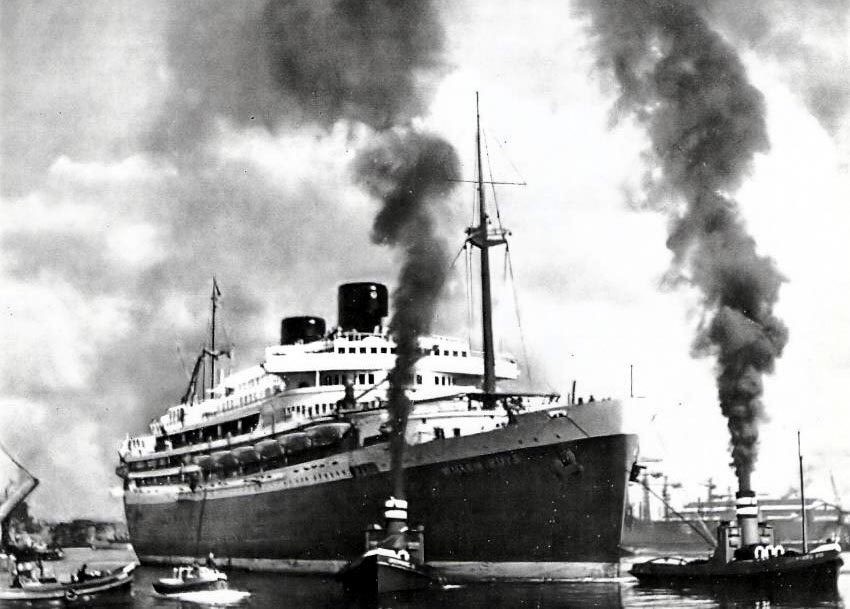 The elegant 1947 built MS Willem Ruys seen at sea as she sails for Batavia - The Dutch East Indies (Indonesia)
I trust that you will enjoy the many photographs of her, especially her interiors, be it the First Class or Tourist Class, for both had wonderful and beautifully appointed public venues and ample deck spaces and excellent cabins! For those who later sailed on the completely rebuilt Italian liner and cruise ship the MS Achille Lauro, you will also be delighted seeing her again, as she was certainly an amazingly stylish ultra modern liner as well as  the Star Lauro cruise ship, but sadly she was not a lucky ship, but that will all be on her page in Part Two!
Rotterdam Lloyd's Earlier Ships:
Before World War Two, both the Netherland Line and Rotterdam Lloyd operated regular services on the East Indies (Indonesia) route. The Rotterdam Lloyd had such ships as the elegant trio of liners - the MS Slamat, MS Indrapoera and the popular MS Sibajak, each being around 12,000 GRT and these were followed by the larger 17,000-ton MS Baloeran and sister Dempo in 1930 & 1931, but sadly both were lost during WW2. However, prior to the war, regardless of their amazing elegance all these ships had become rather antiquated with their heavy dark carved timbers and the Sibajak would the longest of these ships to survive and continued in service until 1959, a year after the author sailed on her from the Netherlands to New Zealand.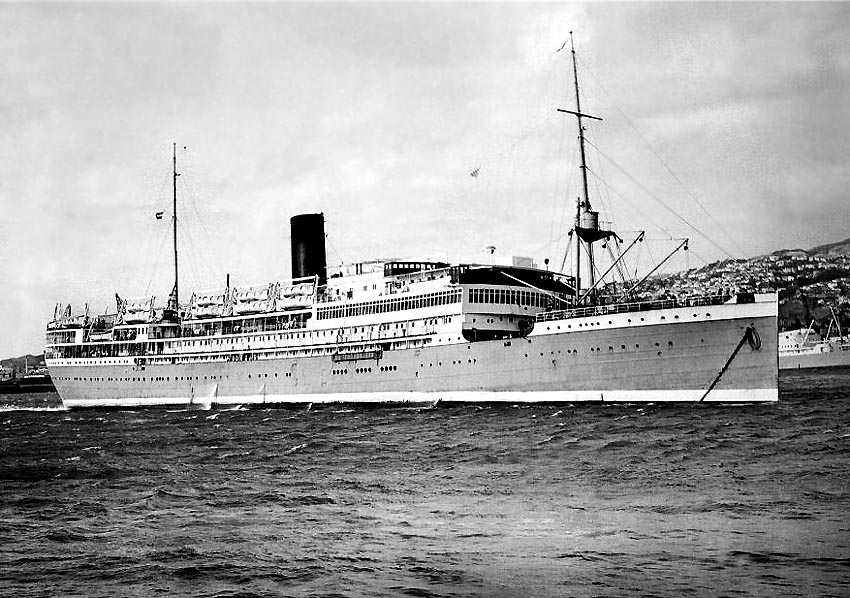 Rotterdam Lloyd's MS Sibajak - launched 1928 - the author sailed on her from Rotterdam on May 17, 1958 to Wellington, New Zealand
In addition, the Netherland Line had a number of luxurious ships, but many were lost during the war, but surviving the war was the elegant and the much loved MS Johan van Oldenbarnevelt (JVO), which commenced her East Indies service in 1930, but sailed on until 1963 when she was sold to the Greek Line to become the ill-fated TSMS Lakonia.
MS Johan van Oldenbarnevelt - launched 1929 - the author sailed on her on a good number of occasions,
but mostly on cruises from Down Under
Then the Netherland Line introduced their revolutionary and at the time the world's fastest motor ship in the world the MS Oranje. She was launched on September 8, 1938 and she commenced sailing ten months later. Besides her new and modern design, she had a beautifully raked bow and featured the Netherland Lines new livery. However, far more noticeable on the exterior was her hull, for it featured her unique "tumblehome" hull that offered additional interior space. However, when WW2 broke out she transformed into a fully operating Hospital  Ship and was stationed in Australia and became a much loved ship Down Under as she was seen many times with wounded soldiers from African regions, the Pacific and Asia, etc.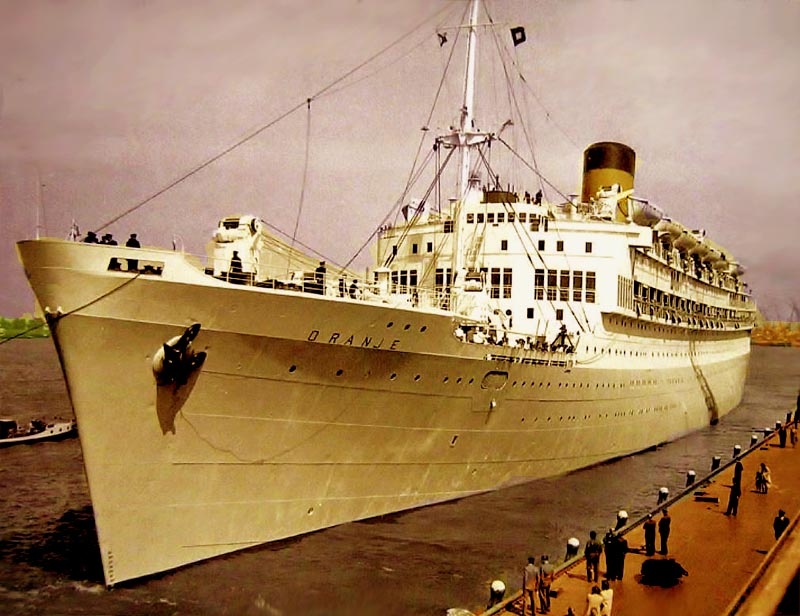 This photograph clearly reveals the MS Oranje's tumblehome hull because of the shore-side crane's shadow on it
MS Willem Ruys in Construction:
It made sense that the Netherland Lines biggest competitor before the War and "Rotterdam Lloyd" had already decided to design a ship that would more than match every level of luxury, comfort, and offers the very best of facilities and speed by building a new liner. Thus, with plans laid down, an order for a ship was placed with the "Koninklijke Maatschappij de Schelde Scheepswerf" being Dutch for "Royal de Shelde Shipyards" located in Vlissingen at Rotterdam, the Netherlands on May 7, 1938. She was designated as being construction number '214.' Her keel was officially laid on January 25, 1939.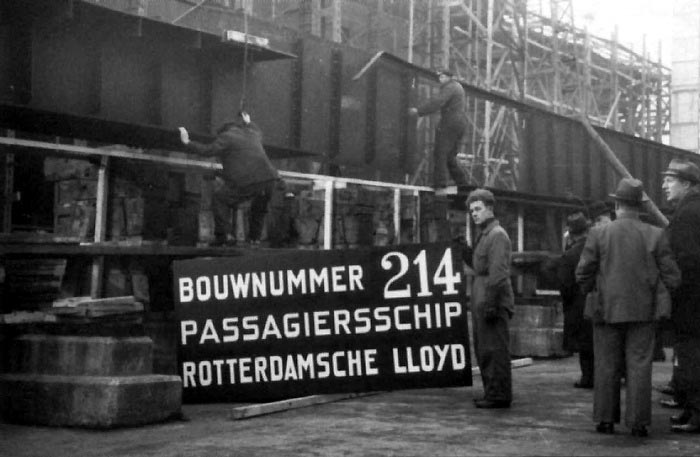 The sign reads: "Build (Construction) Number 214, Passenger Ship, Rotterdam Lloyd
However, as construction was well on the way, but then came the sudden onslaught and bombing of the great Port City of Rotterdam on May 14, 1940 and all construction was very rapidly halted as the air raid continued. The massive bombing attack seemed to hit all the neighbouring yards around the uncompleted Willem Ruys, which at this time was just known as "Yard 214," and although the damage all around the various yards and throughout the City, But 214 was so fortunate and came out of this untouched and she remained on the slipway throughout the war.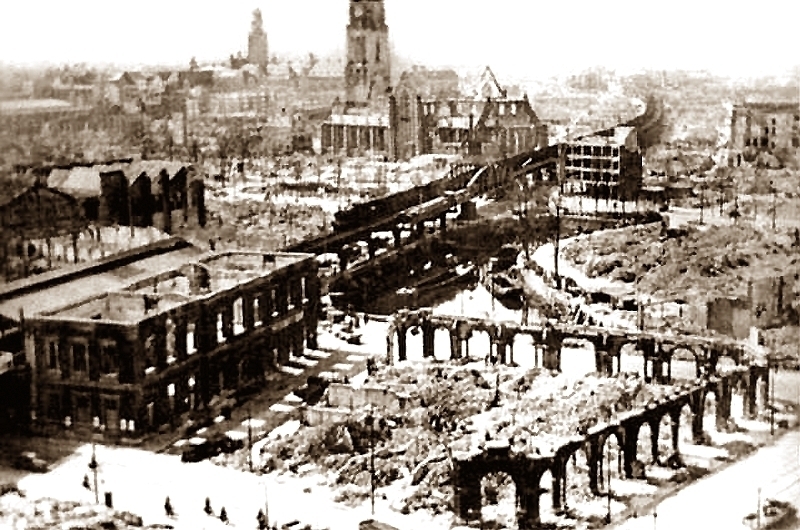 The City Center after the German air attack and bombing on May 14
Whilst the Germans were in the motion of invading the Netherlands, as I said, they attempted to bomb the ship (214) on several occasion on that dreadful day, yet, Thank God, they failed miserably! After the country was in Nazi hands, they did attempt to continue the ships construction, however, Yard 214 was continually sabotaged by the Dutch Resistance Movement to ensure that the Germans could not achieve any further work to be completed. Indeed nothing was in fact achieved for in due course the Germans just gave up the idea and left Yard 214 alone, and it is for this reason that the Willem Ruys came through the war and she became lovingly known as the; "Lucky ship" for she survived the war completely unscathed!
As it now had become part of National Pride to complete the "Rotterdam Lloyd Miracle Ship," for she defied the hated Nazis. Work continued as men worked with great pride, and considering that the Dutch had used only the very best of materials, the hull only showed signs of slight rust!
A Man of Great Bravery Willem Ruys:
It is important to note that the MS Willem Ruys was not named after the founder of the company Mr Willem Ruys Snr, but after his great-grandson Willem Ruys, who had been named after him. However, Willem was tragically executed by the Nazis on together with two other prominent citizens of the City of Rotterdam after they were taken hostage by the Nazi hierarchy in retaliation for an attack that had taken place on a German troop train near Rotterdam by the Dutch Resistance. Please Note: This information was provided to me by Gabrielle van Heuven-Ruys, being a direct family (Ruys) relative, and I am most grateful to her for correcting me, as I did have it incorrect on my original edition of this feature, which is now being updated!

As work headed toward completion she was finally heading towards the day of launching, and she had already become known as; "Het Vrede Schip" - "The Peace Ship" and everyone was awaiting that great and exciting day, which arrived on July 1, 1946 being the day she would be launched.

The population of Rotterdam turned out and lined every available spot around the shipyard, in order to have a view of this great new ship! The honour of naming and launching the great new liner was given to

E.E. Ruys-van Houten, being the widow of Willem Ruys and thus the ship was officially named the "Willem Ruys" and then she cut the ribbon for the bottle of Champagne and the great ship was launched!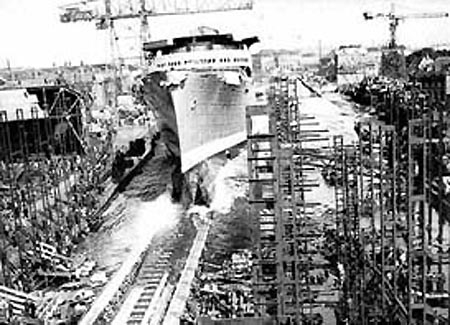 ---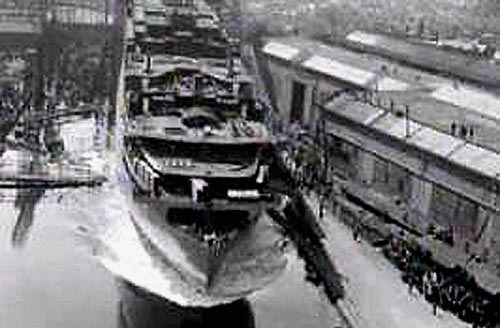 Two views of the launching of the Willem Ruys on July 1, 1946
She gently slipped down the slipway, making a considerable noise and then she entered the water considering she had been on the stocks since 1939 a long seven years. Having been launched she was taken under tow and she headed for her Royal de Schelde Fit-Out berth where she would be completed.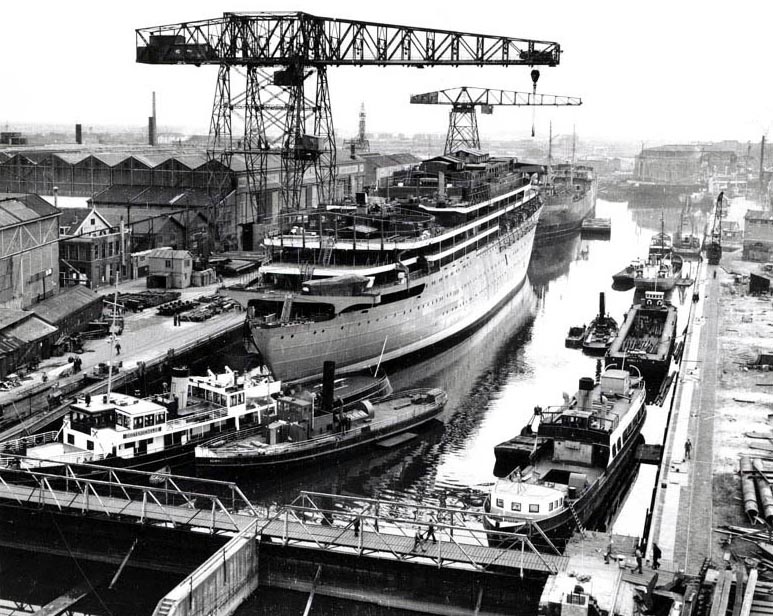 Much of her upper decks and interior work will be done here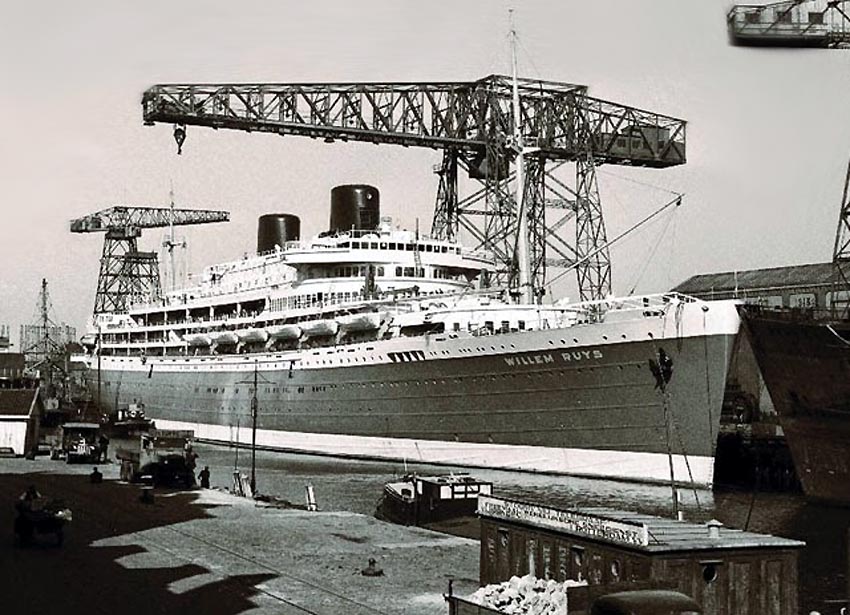 It is at the fit-out be where she is completed, which included finishing her
superstructure, fitting of her two black squat funnels and a complete painting of the ship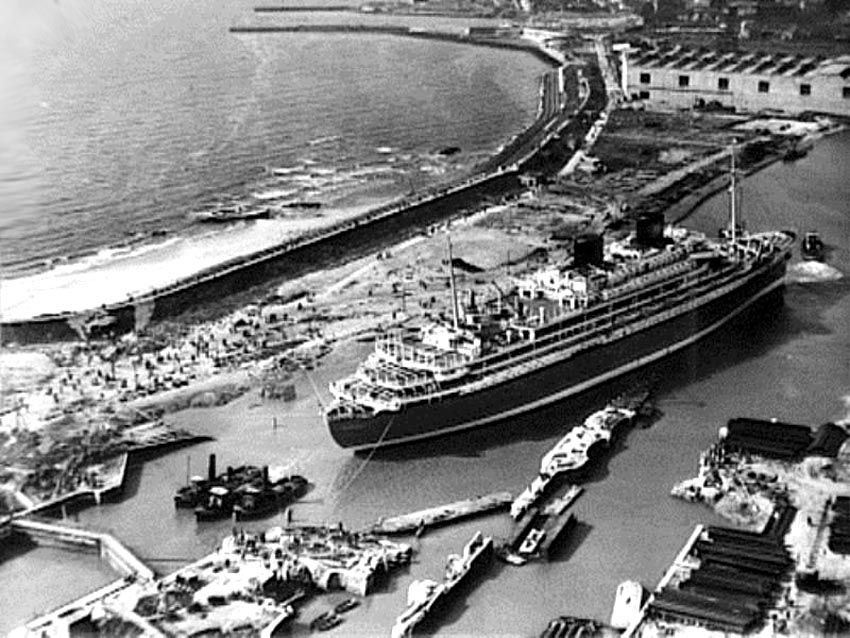 Here we see her depart the Royal de Schelde Shipyards as she manoeuvres the Vlissingen Canals to the
Maas River as she heads for the large Schiedam floating dry-dock for her final touches before her trials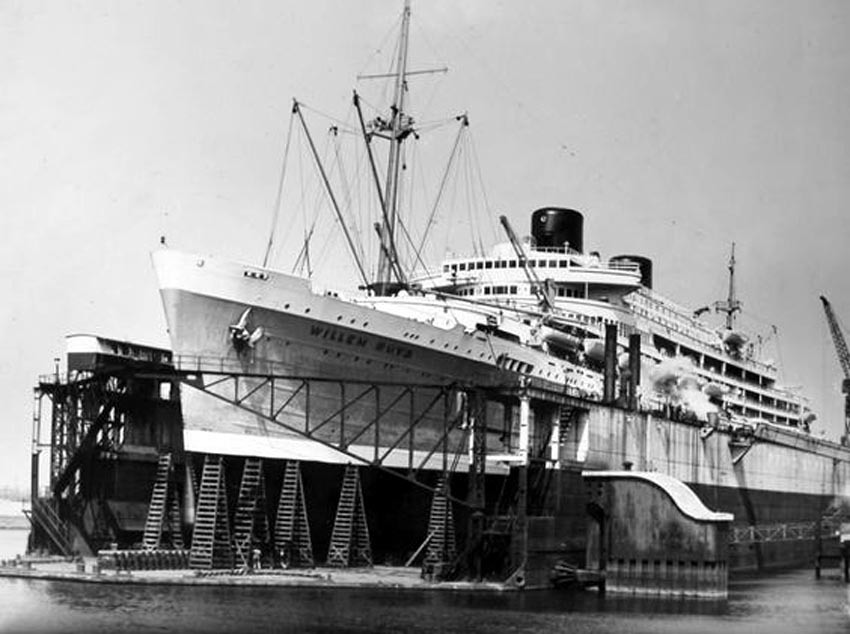 The Willem Ruys is seen here when all the work is close to being completed and she
had her final paint touch-up and has been washed down and will soon return to the
water and head off for her deep sea trials and she will be delivered to her owners
MS Willem Ruys' Special Features:
As a special honour, Queen Wilhelmina had granted the company a Royal prefix for the company in honour of her namesake and all those others who did so much during the World War II and fighting underground in the Netherland's! Thus the company was officially renamed "Royal Rotterdam Lloyd" (RRL). The Willem Ruys had some very special features, which were a first ever for a passenger liner, as she featured a superstructure that was very different to any other liner that was ever built for she pioneered the first ever low-slung aluminium lifeboats, that hung within the upper-works' flanks. The next ship to adopt this unique arrangement would do this a good twelve years later, and that was the Orient Lines very last liner the SS Oriana of 1959, and this was followed up two years later by P&O's SS Canberra of 1961. Today, all cruise ships follow this layout, which was pioneered by the revolutionary MS Willem Ruys back in 1947.

Here we see the SS Oriana of 1959
Compared to Oranje her then rival, the Willem Ruys was the more luxurious ship of the two as she set new and higher standards in comfort offering new innovations throughout the ship.
Her Sea Trials:
During her sea trials held between November 15 and 18, 1947 the Willem Ruys obtained maximum speeds of 24.64 knots. The ship had been fitted with eight geared diesel motors. Six of these were built and supplied by Sulzer manufacturers; whilst two were built by Royal de Schelde themselves. Her eight engines could produce 38,000 b.h.p., however she was able to comfortably maintain 22 knots with just six engines in operation.
With the Willem Ruys being fully certified she was registered in Rotterdam and given the call sign off 'PIQF,' and she was delivered to the Royal Rotterdam Lloyd (RRL) at Lloydkade Rotterdam on November 21, giving the company time to make her ready for her maiden voyage and fully man and stock her!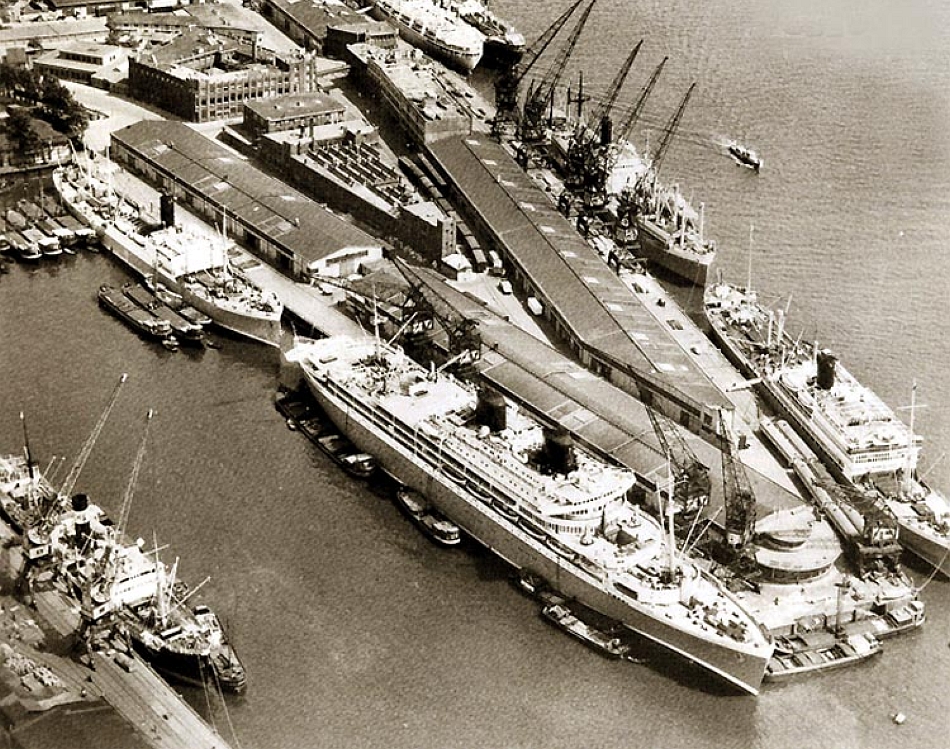 An aerial view of the Willem Ruys seen berthed at her home berth "Lloydkade" in Rotterdam being made ready for her maiden voyage
Prior to her launching there had already been s a great deal of advance advertising describing the Willem Ruys as being a worthy successor to the popular liners the MS Dempo and the Baloeran, and without doubt she proved to be a great success considering that she was one of the most luxurious ships on the service.
Her Maiden Voyage:
On December 2, 1947, the 21,119 GRT Willem Ruys a spotless liner that was completely ready to sail and head off on her Maiden Voyage, ashore there were 779 eager passengers waiting to board the brand new ship. All who boarded her were amazed by the magnificent surroundings, and that was regardless of the class they booked in, for the facilities in third and even the small fourth class was very high standard indeed, compared to some international companies!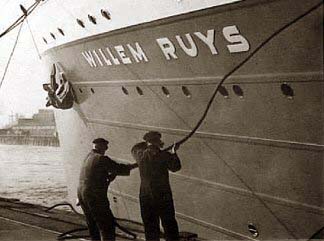 Hull is being touched up before her maiden voyage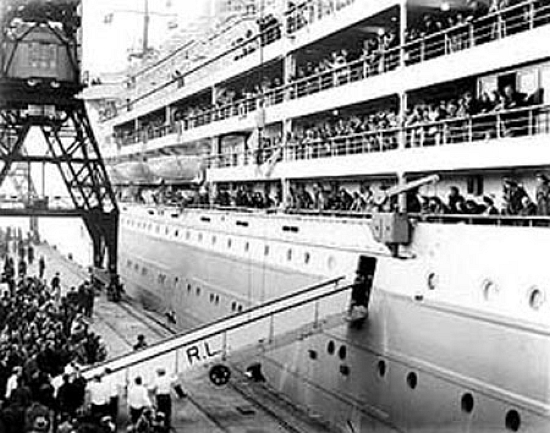 Willem Ruys seen ready to depart for her maiden voyage on December 2, 1947
With all passengers aboard and the gangplanks having been removed, Captain C H Vellenga had her lines slipped away and he gently took the Willem Ruys from her berth, as she departed on her maiden voyage from Rotterdam to Batavia the East Indies (Indonesia) with her delighted passengers onboard.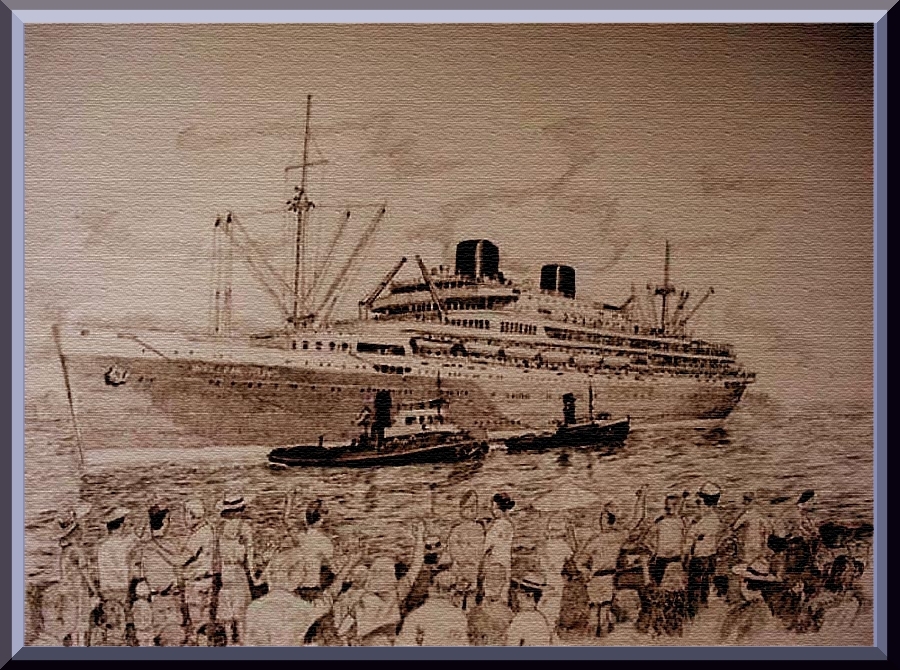 An artist's impression of the Willem Ruys' Maiden Voyage departure on December 2, 1947 to Java
Her first port of call was Southampton on December 4, and then it was onto the Port Said on December 10 and through Suez Canal the next day. Then it was via Colombo to Singapore arriving on December 22, where 108 passengers disembarked. The Willem Ruys arrived at Tandjong-Priok, being the port of Batavia on Christmas Eve with almost 700 passengers still onboard. However, whilst at Batavia the Willem Ruys undertook an overnight cruise with members of the Dutch Delegation considering terms for a Cease-fire and the eventual Independence for Indonesia. The return voyage commenced January 3, 1948 and she arrived back in Rotterdam on January 23. Additional ports of call for the return voyage were Naples and Gibraltar. However, during the voyage she made a call to Malta, where ship's doctor was required to perform an appendectomy on an eight-year-old boy.
Her passengers were undoubtedly delighted with her beautiful and comfortable Lounges and facilities as can be seen in the photographs below!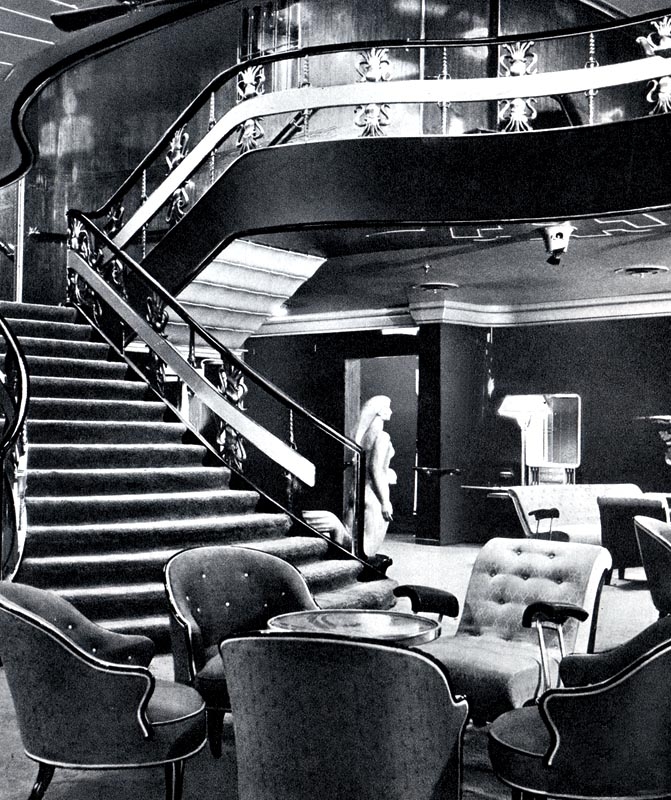 The luxurious two deck high First Class Social Hall. This is simply a wonderful venue
It is surrounded by a glass enclosed Wintergarden, complete with plants, etc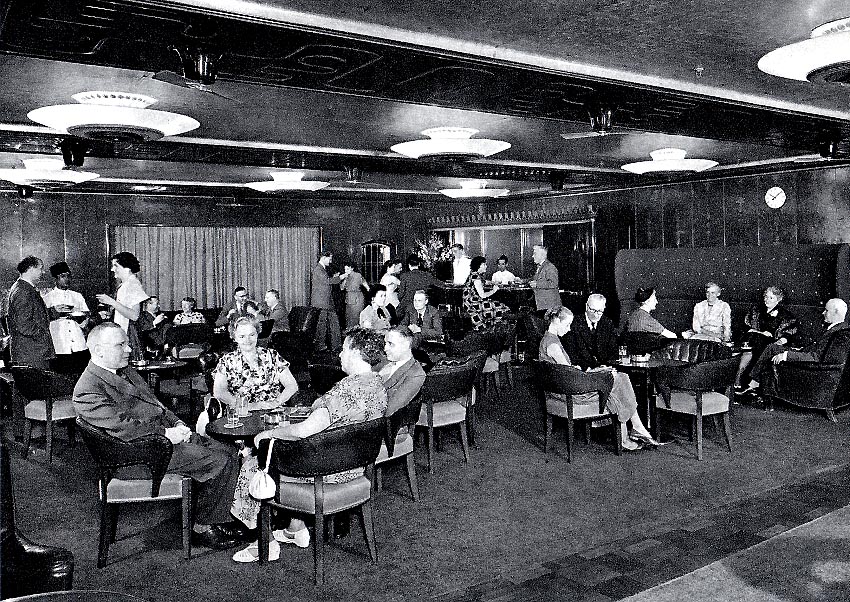 The First class Smoking Room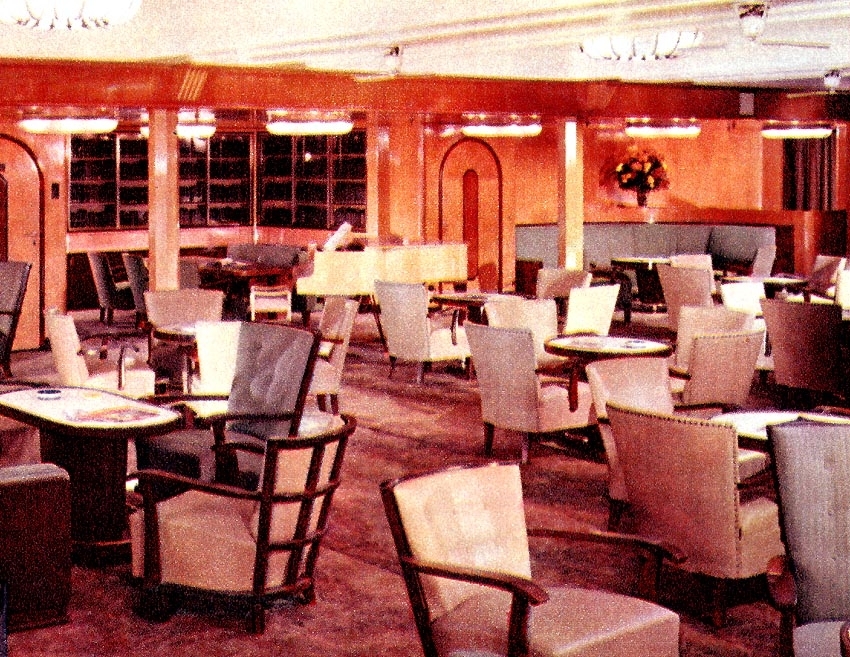 Second Class Social Hall (Main Lounge)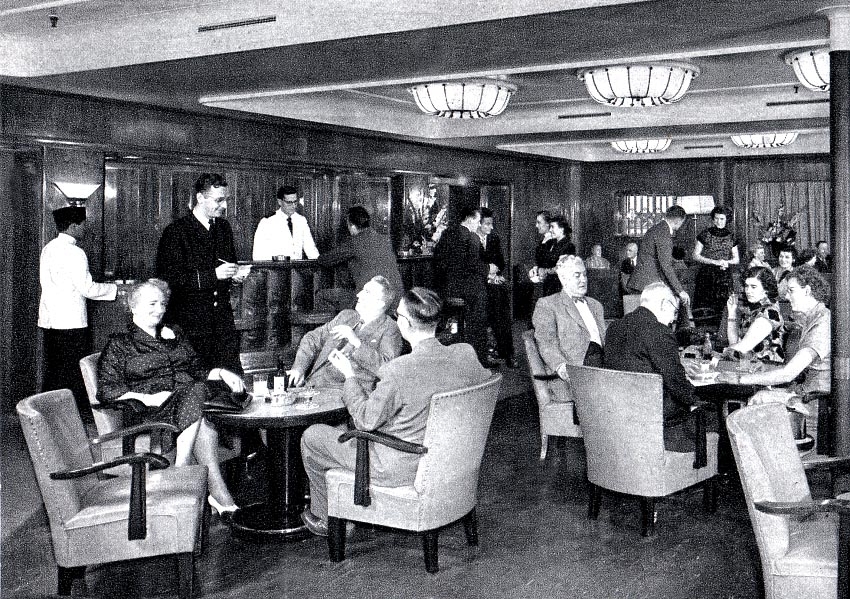 Second Class Smoking Room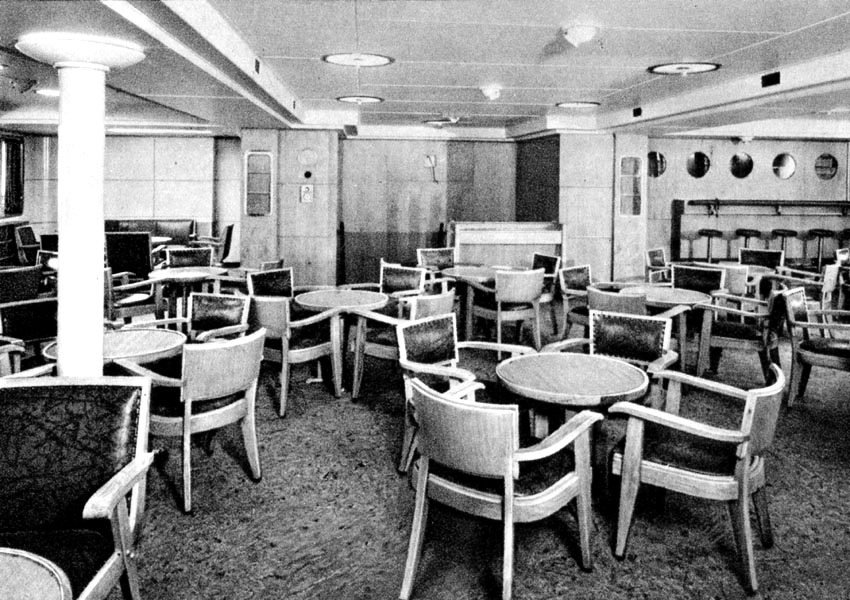 The Third Class Smoking Room features pale timbered walls with marble touches, leather seats, and
plush carpets although somewhat simpler in style, yet most comfortable and complete with a fine bar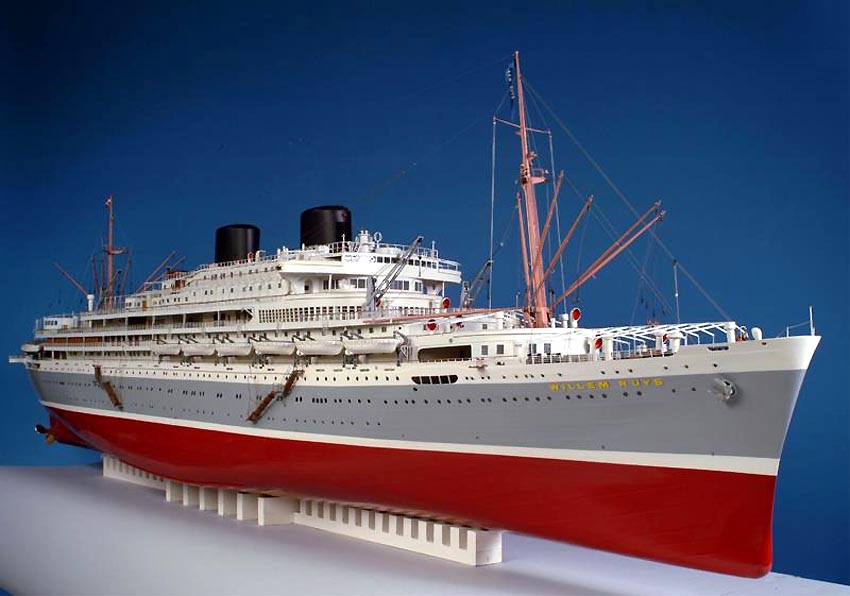 A excellent model built of the MS Willem Ruys
Provided by http://www.maritiemdigitaal.nl
Please Note: Above you will have seen just a few photographs; however there are three comprehensive pages that will take you throughout the ship covering all her classes; 1. as she was built and; 2. After her comprehensive rebuilding and refit in 1958 to mid 1959.
The Willem Ruys continued her voyages, with great regularity, although she did have a number of special events and occasions. For example on May 1, 1949 the Willem Ruys departed Southampton and one of her guests was HRH Queen Rhambal Barni of Siam who had lived for fourteen years in England, and she was now sailing on the Willem Ruys with the ashes of the late King of Siam. As the Willem Ruys arrived at Singapore on May 18, the ship because of the Queen and her bringing the ashes of the late King of Siam, she was given a 21-gun Royal salute from the Battery at "Biakan Mati."
The Royal party and the King's ashes left the ship and then boarded the waiting 685-ton Siam Steam Navigation Co, ship, the MS Bhanurangsi and she would sail and take the party to Siam where there was a multitude awaiting them.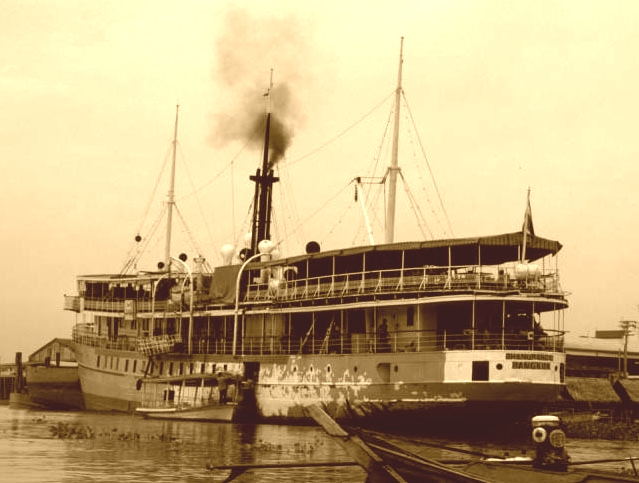 This is a sepia photo of the MS Bhanurangsi and she served in the Gulf of Siam and other nearby ports
Although, this photo was taken very much later in her career and at this point she was laid up
Photographer is unknown - Please see Photo Notes at the bottom of the page
When the ship returned to Rotterdam, Captain C H Vellenga who had been Captain of the Willem Ruys since having taken delivery of her late in 1946, left the ship, and it was Captain G.H. Visser who officially took over command as Captain of the RRL's magnificent flagship.
However at some time during 1949, although the actual date is unknown, be it prior May or after, but the Willem Ruys struck the "Meandes Shoals" just out of Singapore and it caused some slight damage to her propellers. It did require some time in dry-dock to undertake repairs. But soon she was underway again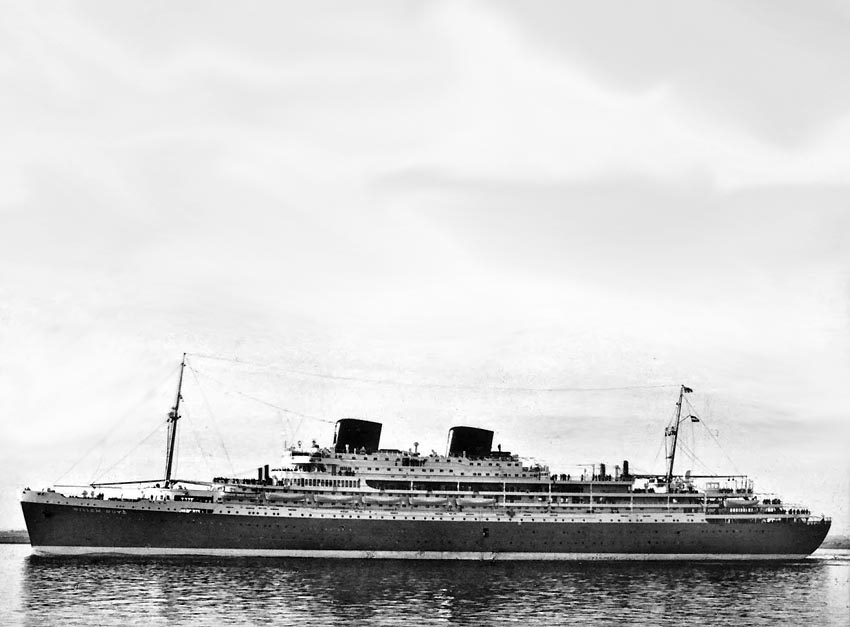 A fine portside view of the MS Willem Ruys seen prior her rebuilding & refit in 1958 to mid 1959
In December 27, 1952 the Willem Ruys departed Singapore bound for Rotterdam, now being under the command of Captain Carel Geedewaggan. It was ironic that on this voyage the Willem Ruys sustained damage in a collision with her archrival the MS Oranje just off Port Sudan in the Red Sea on January 6, 1953 at close to 2200 hours (10pm) local time. Although both ships managed to continue their scheduled voyages, with the Oranje bound for Indonesia, but now sailing non-stop, missing the ports of call at Colombo & Singapore with passengers being flown from Djakarta to the ports that had to be bypassed. The Willem Ruys headed home to Rotterdam Holland having had six days of repairs at Port Said. Whilst there, she had three holes repaired above the waterline, some cargo in the forward holds had been damaged by seawater.
However, after the collision the ship reduced her speed to just 15.5 knots until the pumping out of the water was under control at which point speed was increased to 18 knots. Passengers could either remain on the ship or choose to fly on to London at company expense. Southampton was reached on January 21. The Willem Ruys was then taken out of service for further repairs and the next scheduled sailing was taken over by the MS Johan Van Oldenbarnevelt of the Nederland Line. Estimated cost of repairs to both ships was said to have been between US$1,609,900 and US$2,415,000.
May 1953: Whilst en-route the Willem Ruys was diverted from its normal route across the Arabian Sea after a message from the Oranje warned of a powerful southwesterly monsoon. However, despite having taken a detour the Willem Ruys still encountered exceedingly rough seas for three days. The Oranje suffered damage due to this violent monsoon, thus she had to head for Aden where she required repairs, delaying the ship, thankfully, for just one day.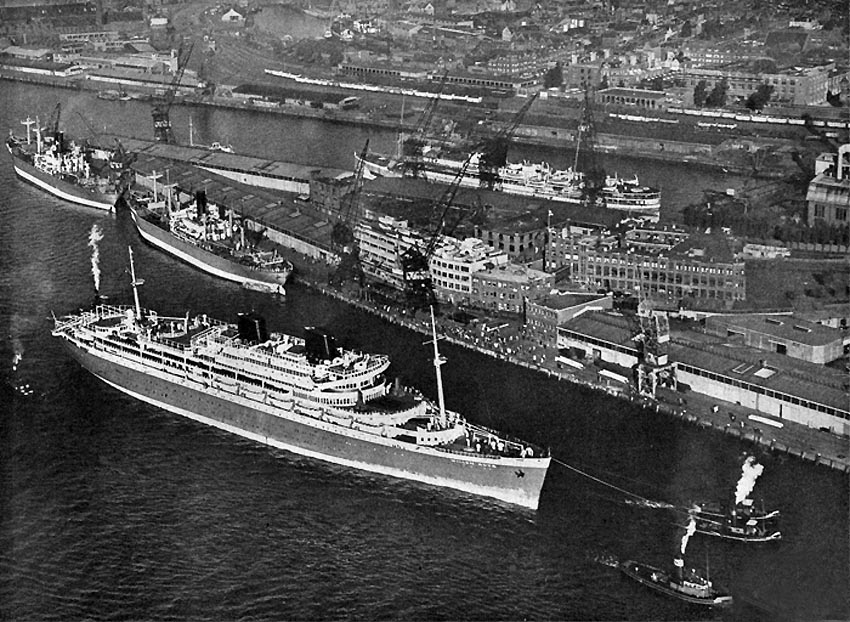 The Willem Ruys arrives in Rotterdam and we can see the MS Sibajak on the other side of the wharf
Times

Are'a
'Changing

:

The beautiful and spacious Willem Ruys, became the most popular liner on the Dutch East Indies service, or as we would call it these days, the Indonesia service, and with the Willem Ruys, Royal Rotterdam Lloyd had become a worthy rival to their major opposition, being the Netherland Lines' ships the MS Johan van Oldenbarnevelt and MS Oranje. Dutch ships sailed back and forth to Indonesia, until an event that was about to change the Dutch shipping industry so completely if not - dramatically.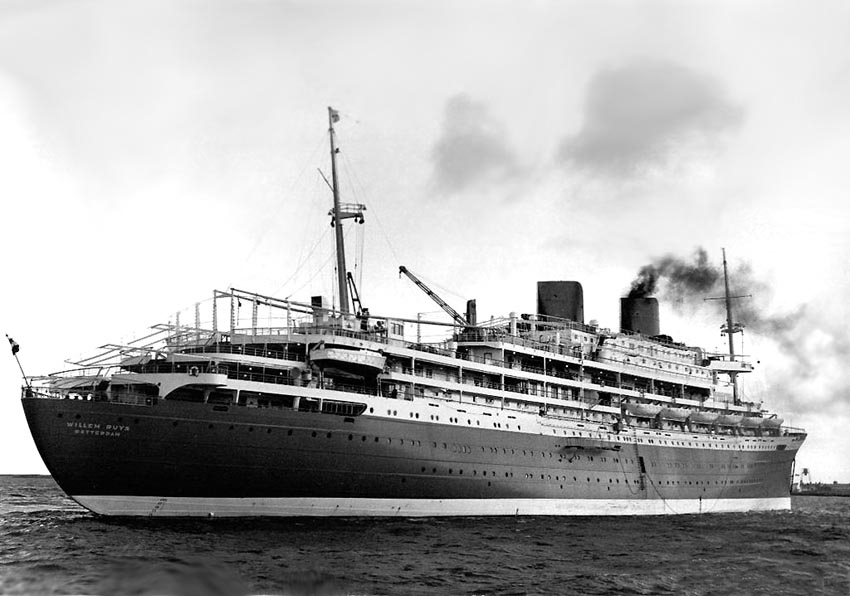 An excellent stern view of the Willem Ruys seen as built, but this view would soon change
The East Indies, group of islands, having been a Dutch colony since the 17th.century, gained its Independence in 1949, and therefore the flow of traffic between the Netherlands and the Dutch East Indies suffered a complete meltdown to the point that by 1958 the two companies, the Netherland Line and Royal Rotterdam Lloyd decided on a complete change of direction!
Her departures from Southampton on March 19, 1958 and Rotterdam on March 20 would mark the end of Chapter One for the MS Willem Ruys, as it would be her last official scheduled return voyage to Indonesia. She arrived at Singapore on April 14, and continued to Djakarta before starting her last westbound voyage on this service, calling at Singapore on April 21. All her remaining departures for 1958 were cancelled due to falling demand being the cause of the removal of the Willem Ruys from the Indonesian service it had serviced so well for just over a decade.
Trans-Atlantic Voyages:
In May 1958 Holland America Line chartered the Willem Ruys for two return voyages to New York and when this charter was completed, she was chartered to operate two return Trans-Atlantic voyages by the Europe Canada Line on the Canadian service.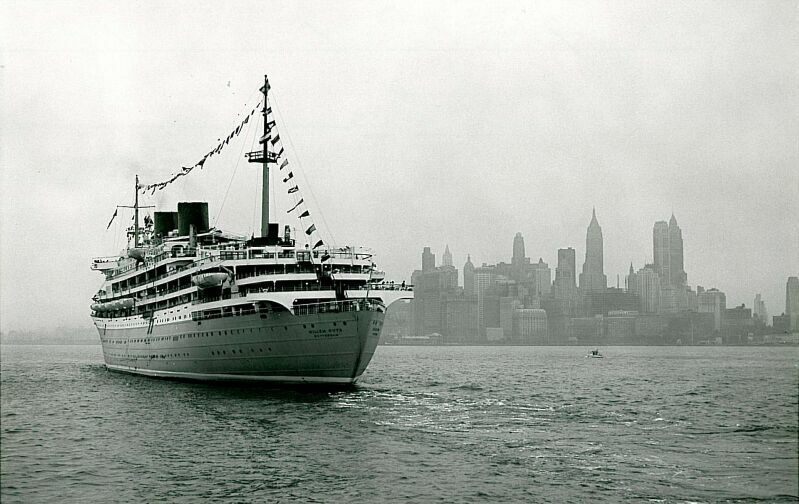 The MS Willem Ruys arrives at New York for the very first time
Photograph by & © Noelle Hollander
1958-59 Rebuild & Refit:
After the four Trans-Atlantic voyages the Willem Ruys entered the Wilton-Fijenoord shipyards where she would undergo a major refit and a rebuilding program to make her more suitable to operate an Immigrant and Tourist service sailing Around the Word to Australia & New Zealand.
The comprehensive work undertaken at the shipyard, her aft hold was removed and in its place brand new 100 Tourist Class cabins were installed, increasing 170 berths. Although originally the ship only had air-conditioning that was functional in the First Class Lounges and Dinning Room, but now she became a fully air-conditioned Liner as well as having Stabilizers fitted. In addition her crew quarters were substantially upgraded.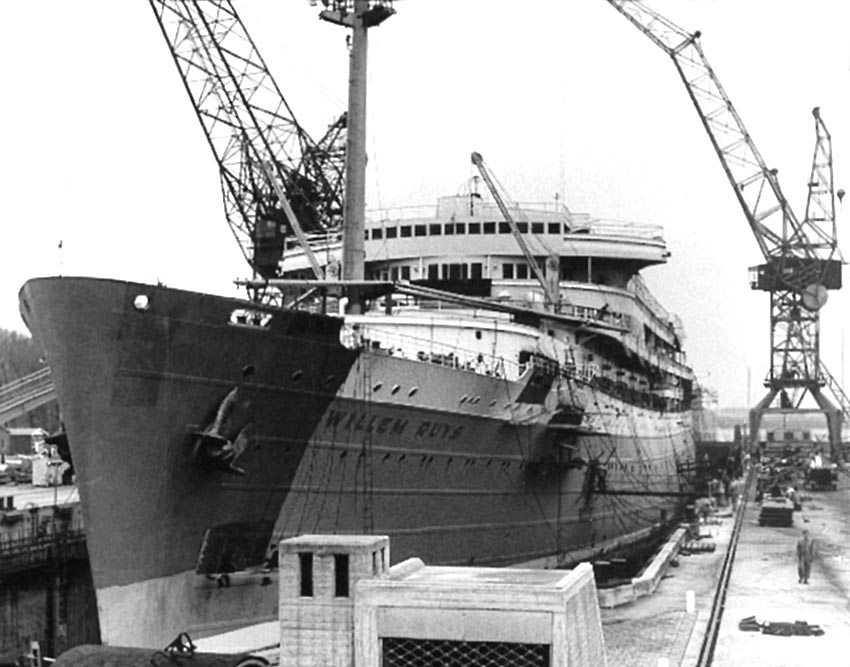 The Willem Ruys is seen in 1958 in the Wilton-Fijenoord Dry-Dock during her transformation into a Two Class Liner
Lounges were comprehensively renovated as were her accommodations upgraded, especially those in Tourist Class. Externally, she was given a delightful new glazed in Tourist Class Wintergarden on both sides of the ship, whilst her funnel had been heightened, giving her a more balanced look. Tourist Class was given a Swimming Pool on the new Deck as her aft decks had been lengthened further aft.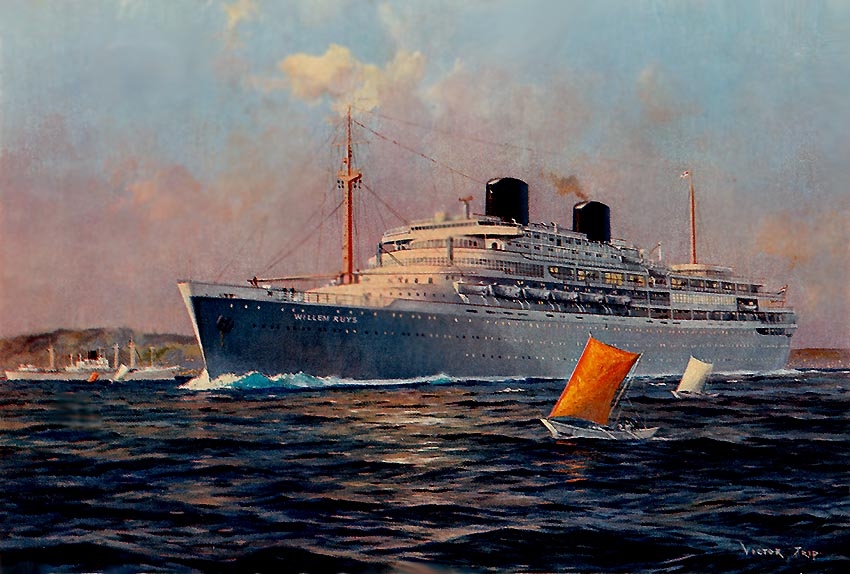 A postcard released by Royal Rotterdam Lloyd (RRL) based on the painting by Dutch
maritime painter Victor Trip and we see her in her brand 1959 new refitted guise
The MS Willem Ruys would now accommodate 275-First Class, and 770-Tourist Class passengers, although there were a good number of interchangeable cabins and some of these had additional berths fitted, thus when required, RRL could increase the maximum loading to 1,167, thus there were an additional 122 berths for emergencies, or when required. Her new specifications would see her tonnage increase to 23,114 GRT. Her overall look did certainly improve and she was a far more balanced looking ship!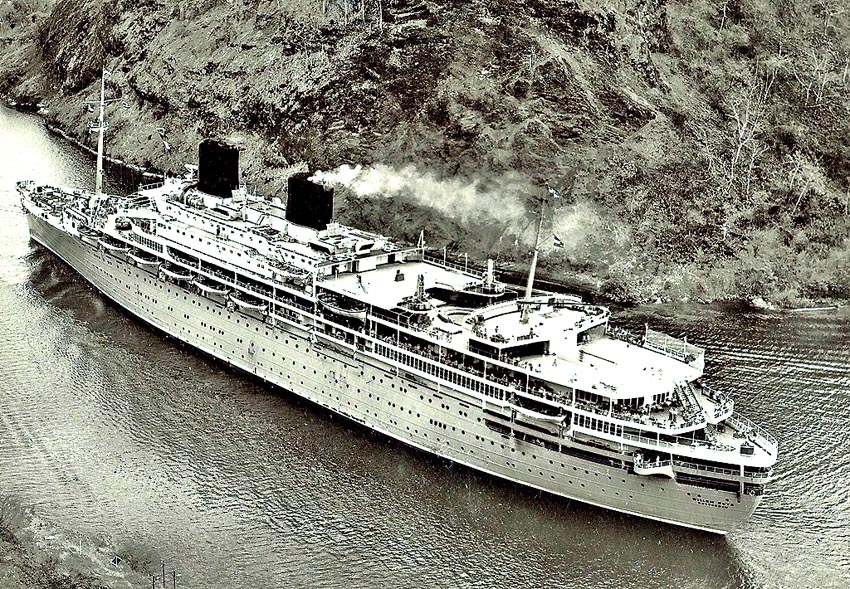 RRL released this post card after her refit at Wilton-Fijenoord Shipyards that saw
her sailing through the Panama Canal - Note the new glazing aft of the lifeboats
as well as new aft lifeboats fittings
Her New Service:
The Willem Ruys would commence sailing Around the World Voyages taking on average 63 days commencing at Rotterdam, sailing via Southampton, Port Sais, the Suez Canal, Colombo, Singapore, Melbourne, Sydney, Wellington, Balboa, transit the Panama Canal, Miami, Southampton, and back to Rotterdam. She would manage five round the world voyages each year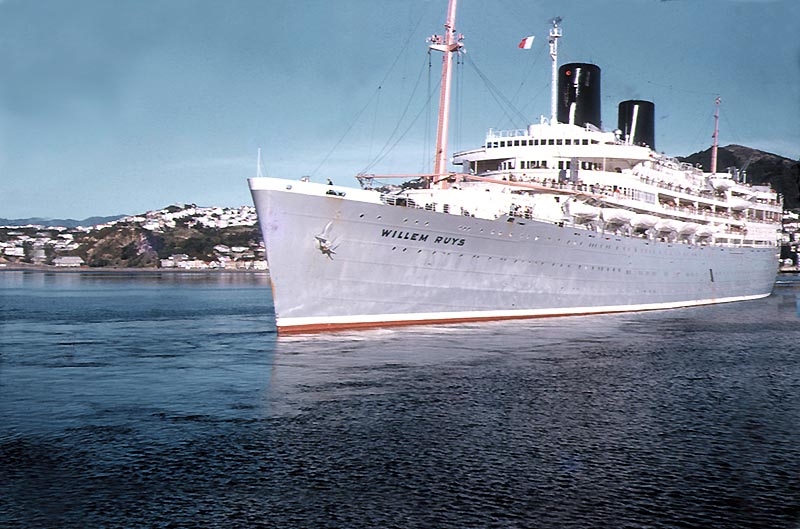 The refitted MS Willem Ruys seen departing Wellington
The wonderful almost new looking Liner departed on her new route departing from Rotterdam on March 7, 1959, and she and her two Dutch comrades at sea at that time, the MS Johan van Oldenbarnevelt and the MS Oranje became very popular alternatives to the British liners and together they certainly enjoyed excellent loadings, due to the superb service and sublime cuisine on offer!
The two companies Royal Rotterdam Lloyd and the Netherland Line collectively operated under the popular banner of; ships of the "Royal Dutch Mail." as they together with Greek and Italian companies operated on the migrant services to Australia, and with the holiday full fare paying passengers on the return passage, some of these being migrants visiting their families back home. In February 1963, the 33-year old JVO was sold to the Greek Line, to become the ill-fated Lakonia, which after a partial rebuild and a refit took up cruise duties from the UK to the Mediterranean, but sadly her days with them was very short.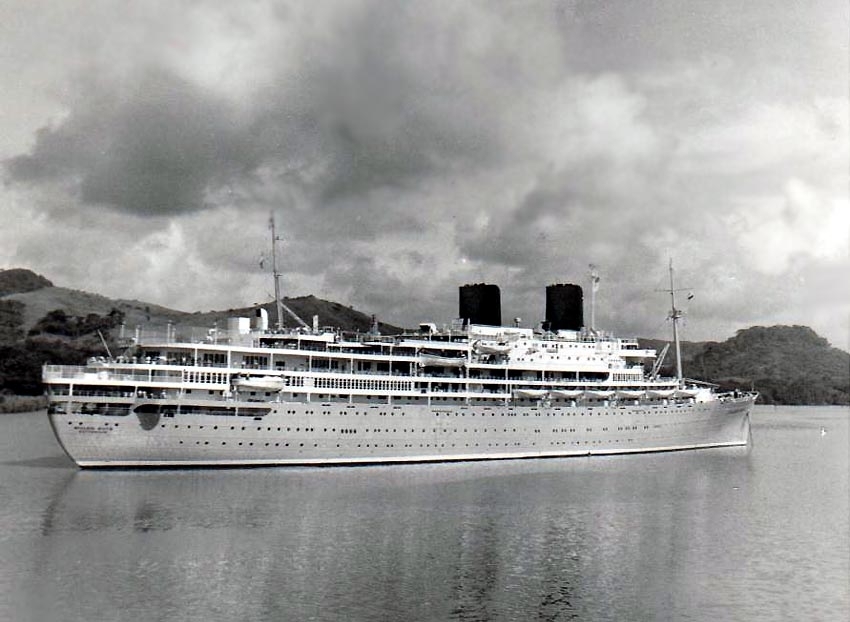 A wonderful stern view of the Willem Ruys in her final days!
However, like every single shipping company in the world these two Dutch Companies suffered the same fate, and that being, direct "airline competition" for the Jetliners had arrived as had inexpensive return charter flights! Thus due to the popularity of cheap air-fares and soon the Australian and New Zealand Government's signed agreements with airlines to operate charter flights to transport migrants and therefore passengers numbers were slowly dropping, but still sufficient to continue. However, soon the time came that loadings were dropping so much that they were simply becoming less and less, and both the Willem Ruys and Oranje had been competing for passengers, as were the Greek, Italian and the host of British ships, but they were all in the "same boat" so to say, thus in trouble financially, and all had to make dramatic changes, or sell all or some of their ships!
Therefore, sadly towards the end of 1964, due to the poor passenger loadings the superb MS Willem Ruys was laid up in Rotterdam, whilst her running mate the Oranje had had already been laid up in Amsterdam. Both were placed on the market and they were soon obtained by the well-known Italian shipping company, "Flotta Lauro Lines."
In January 1965, the Willem Ruys was officially handed over and she was officially renamed "Achille Lauro," whilst the Oranje was renamed "Angelina Lauro" being the names of Mr. Achille Lauro, the company's owner and Mr. Lauro's wife Angelina Lauro.
The story of the MS Achille Lauro will be fully told in Part Two, via the LINK at the bottom of this page.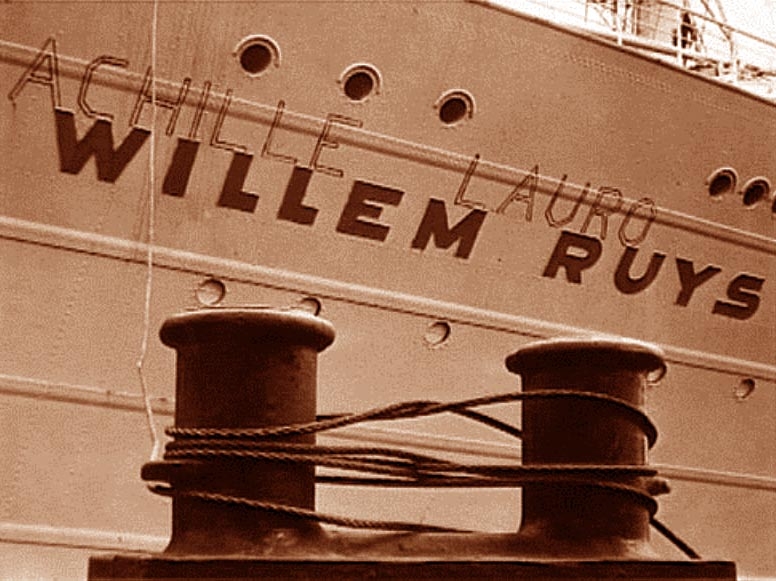 Here we see the bow of the Willem Ruys having been sold to Flotta Lauro Lines and
a stencil was used to add the name 'Achille Lauro' above the ships original name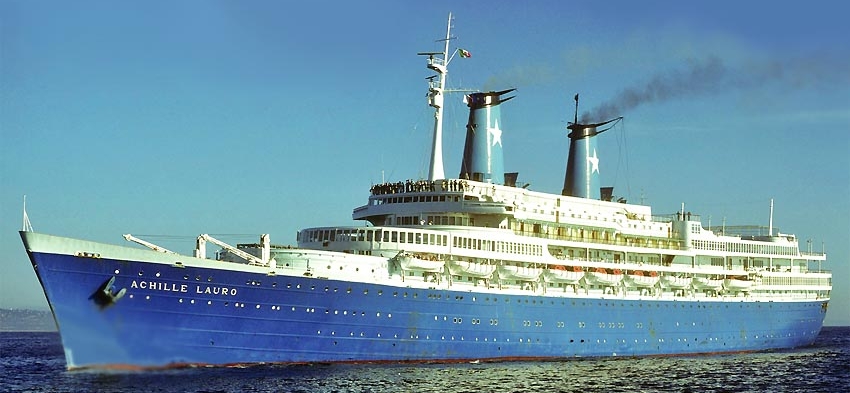 The Flotta Lauro Liner MS Achille Lauro is seen with her new lengthened sleek bow and her tall slender
funnels together with her new deck extensions the rebuilding gave the ship a longer and sleek profile

The MS Oranje/Angelina Lauro also received a massive rebuilding, with a new funnel a
lengthened shapely bow and she became a superb looking and an ultra modern looking liner
Specifications as Built:
Call Sign:                                         PIQF in 1947 - IBHE in 1959.
Registry:       Rotterdam, the Netherlands.
Built By:                                           Royal de Schelde Shipyards, Vlissingen, Rotterdam.
Hull Number:                                    214.
Length:                                            631ft - 192.8m.
Beam:                                              82.3ft - 25.1m.
Draught:                                           22.2ft - 6.75m.
Tonnage:       21,119 GRT Gross Registered Tons.
.       23,114 GRT in 1959.
Engines:                                           6 Sulzer (Winterthur) Diesel Engines.
.                                                      2 de Schelde Diesel Engines - total 38,000 BHP.
Propellers:                                        Twin.
Service Speed:                                  22 knots, Max 24.6 knots.
Passenger Capacity:
1. As built:                                       344 First, 320 Second & 131 Third Class.
2. After 1958/59 rebuild & refit:           275 First Class & 770 Tourist Class.
Passenger Decks:       Seven.
Crew:                                               400.
Livery:                                             Grey Hull, Black Funnels, Red boot topping with thick white band.
Stabilizers:                                       none - but fitted in 1958.
Air-conditioning:                               Partial as built - fully air-conditioned as off 1959.
****************************
MS Willem Ruys / MS Achille Lauro - INDEX:
MS Willem Ruys:               Part One.
Photo Page One:                  First Class.
Photo Page Two:                  Tourist Class.
Page Three:                         Brochures.
Page Four:                          Deck Plans. (Online Soon).
Achille Lauro:                    Part Two.
Page Two:                           Deck Plans.
Page Three:                         Brochures.
Also Read:                         MS Oranje / Angelina Lauro - Netherland Line.
.     "                                  MS Johan van Oldenbarnevelt - Netherland Line.
.     "                                  MS Sibajak - Royal Rotterdam Lloyd.
The Victory Trio of Ships:      SS Zuiderkruis Page One - Managed by; Holland America Line &
This is a 9 page feature, inc.  SS Groote Beer & Waterman - Royal Rotterdam Lloyd.
***********************************
"Blue Water Liners sailing to the distant shores.
I watched them come, I watched them go and I watched them die."
Return to the ssMaritime MAIN INDEX
ssMaritime.com & ssMaritime.net
Where you will discover over 1,350 Classic Liners & the 1914 built MV Doulos Story
The Author has been in Passenger Shipping & the Cruise Industry for some 60 years!
Also visit the …
"Save The Classic Liners Campaign"
Founded in the early 1990's - The author is the founder and president
Please Note: ssmaritime and associated sites are 100% non-commercial and the author seeks no funding or favours of any shape or form, never have and never will!
Photographs on ssmaritime and associate pages are by; the author or from the author's private collection. In addition there are some images that have been provided by Shipping Companies and private photographers or collectors. Credit is given to all contributors. However, there are some photographs provided to me without details regarding the photographer/owner concerned. I hereby invite if owners of these images would be so kind to make them-selves known to me (my email address may be found on www.ssmaritime.com only), in order that due credit may be given.
This notice covers all pages; although, and I have done my best to ensure that all photographs are duly credited and that this notice is displaced on each page, that is, when a page is updated!
ssMaritime is owned & © Copyright by Reuben Goossens - All Rights Reserved