Netherland Line MS Willem Ruys
Please Note: Firefox and some other search engines are not suitable – Use "Internet Explorer" for this page to load perfectly!

Click the logo above to reach the ssMaritime FrontPage for News Updates & "Ship of the Month"
With Reuben Goossens
Maritime Historian, Cruise'n'Ship Reviewer & Author
Please Note: All ssMaritime and other related maritime/cruise sites are 100% non-commercial and privately owned. Be assured that I am NOT associated with any shipping or cruise companies or any travel/cruise agencies or any other organisations! Although the author has been in the passenger shipping industry since 1960, although is now retired but having completed over 690 Classic Liners and Cargo-Passengers Ships features I trust these will continue to provide classic ship enthusiasts the information the are seeking, but above all a great deal of pleasure!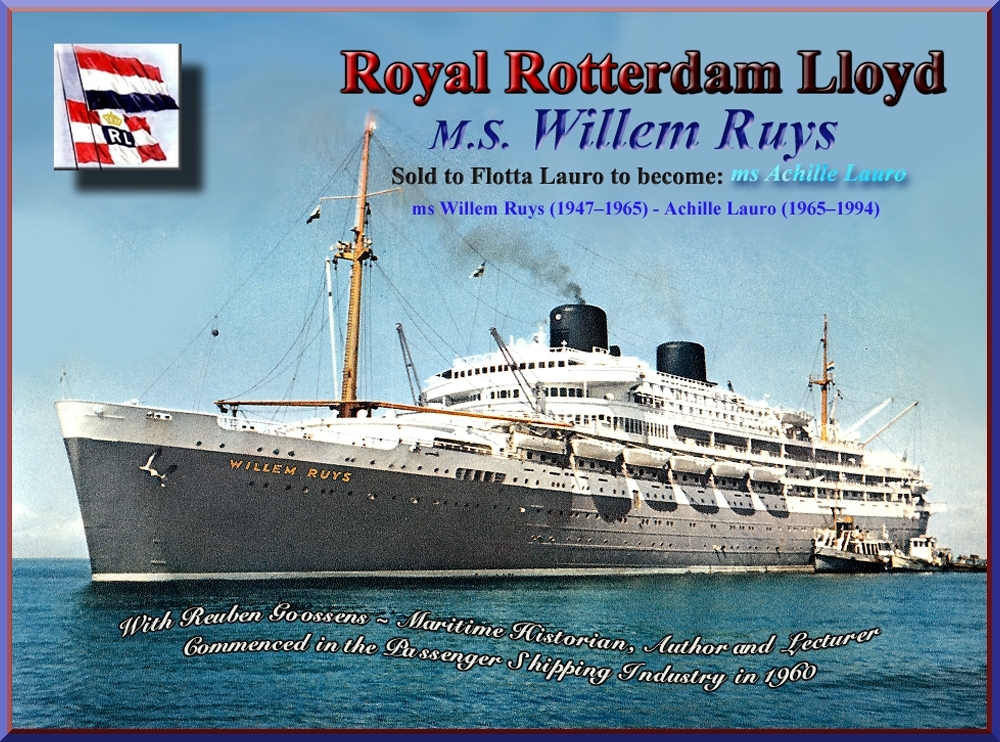 Part One - MS Willem Ruys
Photo Album - Page One First Class
This page features many photographs of the unique Liner Willem Ruys, which later became the ill-fated Achille Lauro.
Photographs on this page are from two different areas. 1; as built and 2; some photos may be from after she had her 1958/59 refit and exterior facelift at the Wilton-Fijenoord shipyard. This saw her decks extended far aft and had additional windows added aft of her lifeboats part of it being a Wintergarden for Tourist Class as well as a glass enclosed promenade deck! In addition her funnels were heightened.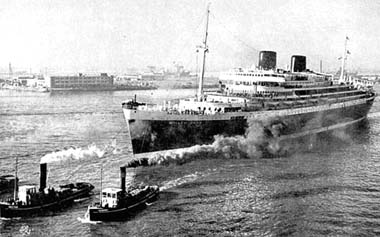 Having just been launched, the Willem Ruys is towed to her fitting out berth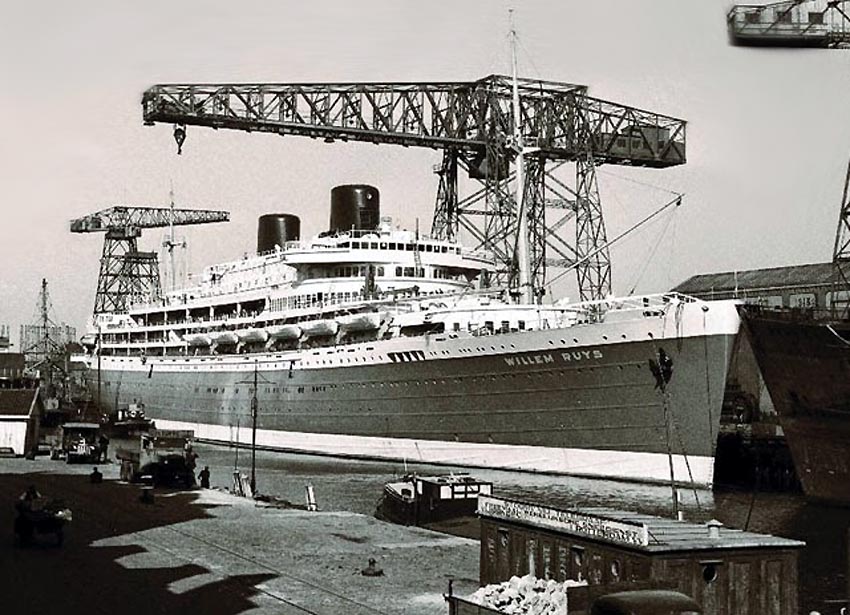 Willem Ruys is seen being fitted out, but is close to completion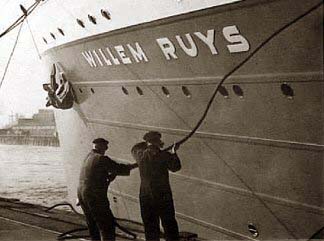 Hull is being touched up before her maiden voyage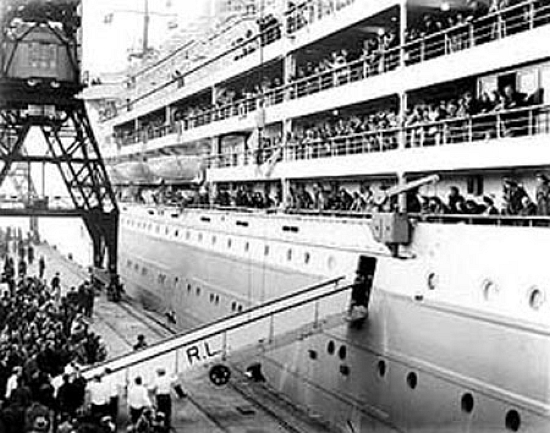 Willem Ruys seen ready to depart for her maiden voyage on December 2, 1947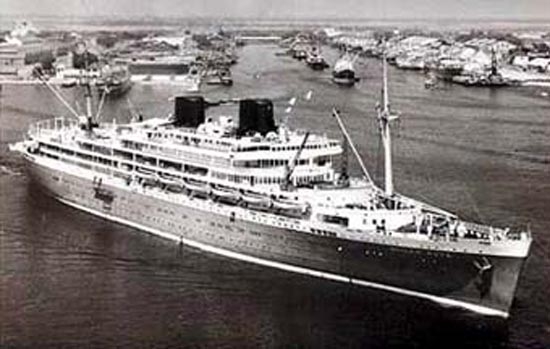 Here we see the Willem Ruys' maiden departure from Rotterdam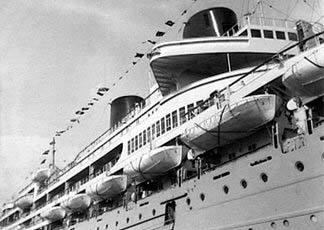 The first liner to have the lifeboats slung low between the hull and superstructure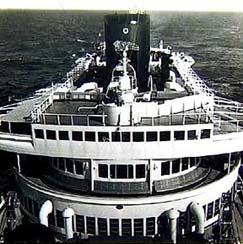 View from the lookout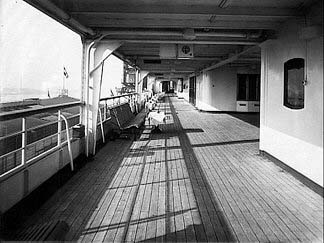 Above & Below: Willem Ruys had spacious Promenade Decks, both open and glass enclosed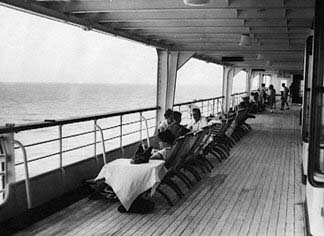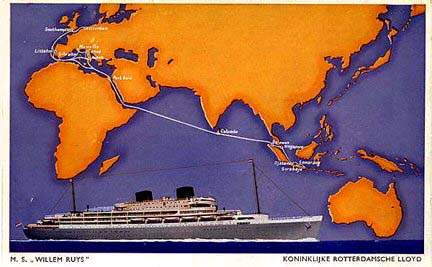 Postcard showing her voyage to the East Indies
First Class Photo Album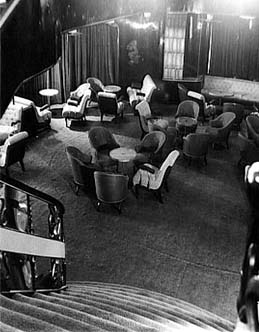 Above & Below: The Grand Social Hall and the Grand Stairwell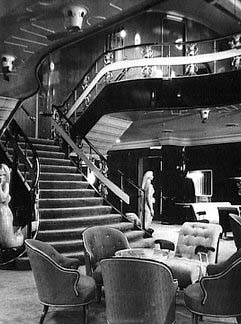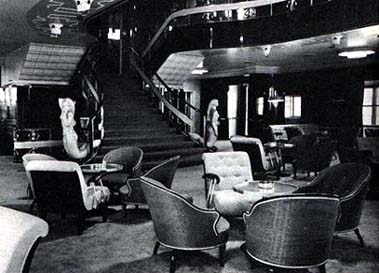 Grand Social Hall and the Grand Stairwell to the upper level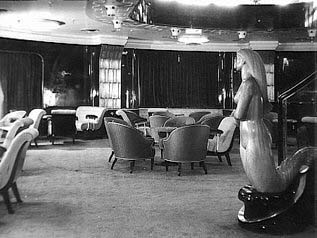 The Social Hall was always overlooked by the two mermaids!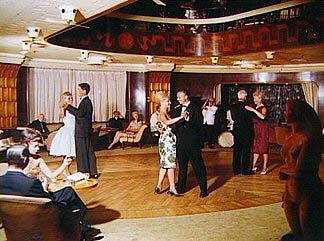 The Social Hall Dance Floor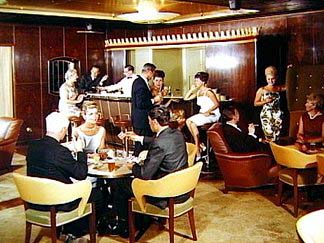 The upper level of the Social Hall and the Bar located port side aft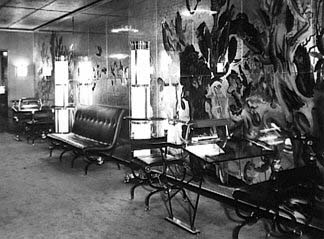 Above & Below: The Writing Room and Library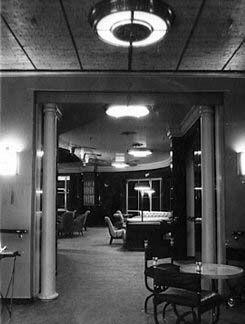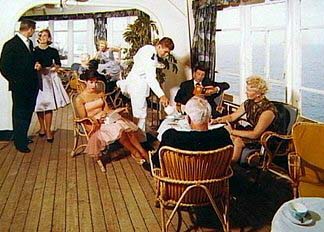 Wintergarden surrounded the Social Hall and it was the perfect place to meet friends for coffee or a drink!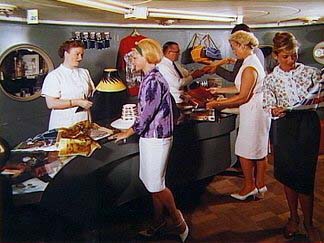 The Shop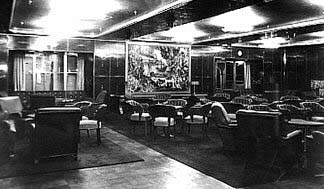 Above & Below: The elegant Smoking Room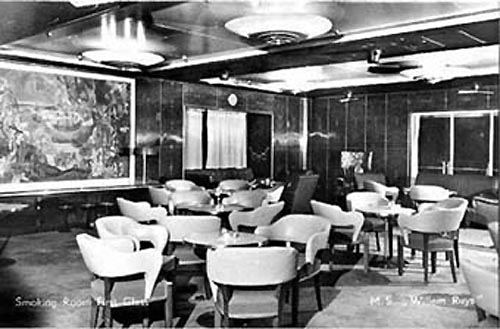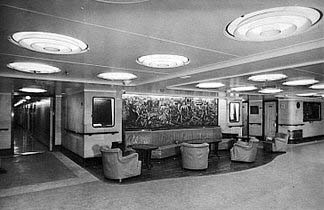 The Main Lobby had a comfortable seating area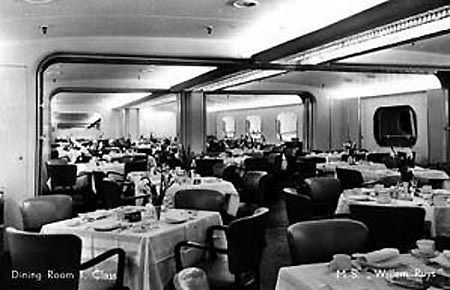 Here we see a part of the Dinning Room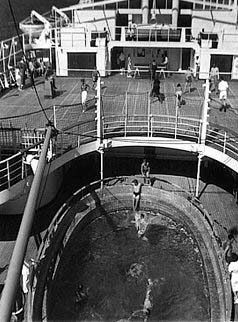 Above & Below: Swimming Pool & Sports Deck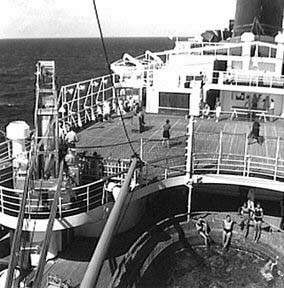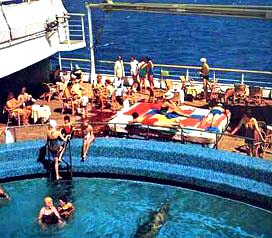 Above & below: Two fine colour images of the pool and her decks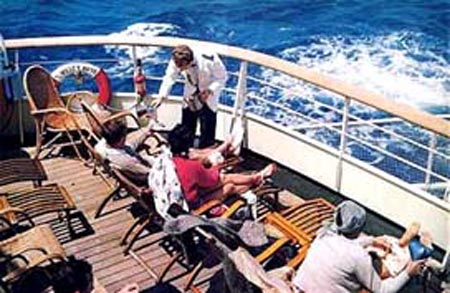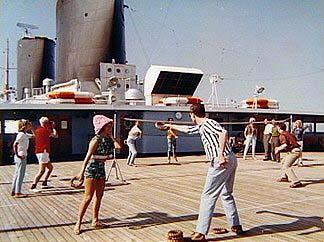 Sports deck - Note the heightened funnels, thus this photo was taken after the 1958/59 refit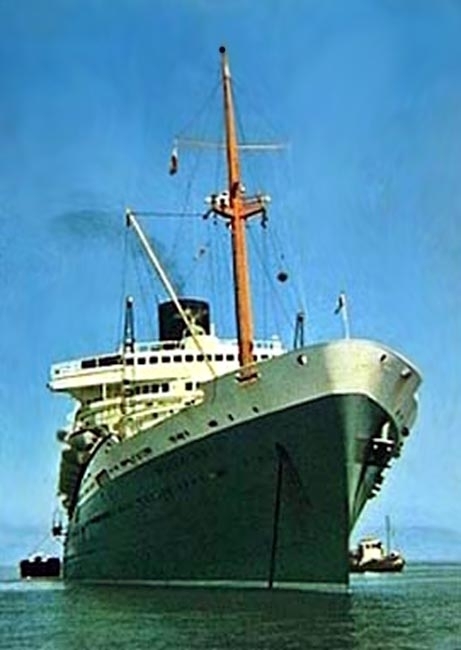 An Early Colour Photograph of the Willem Ruys with her original funnels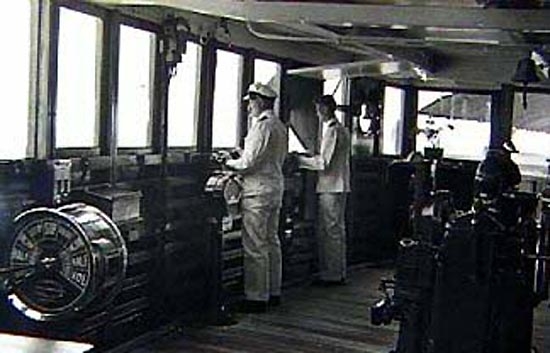 The ships Bridge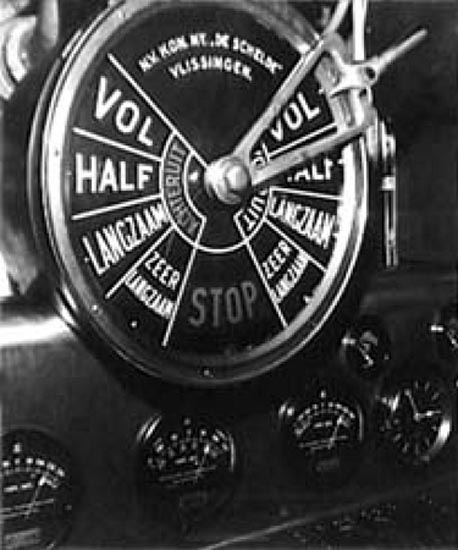 The Telegraph on the Engine Room Main Control Panel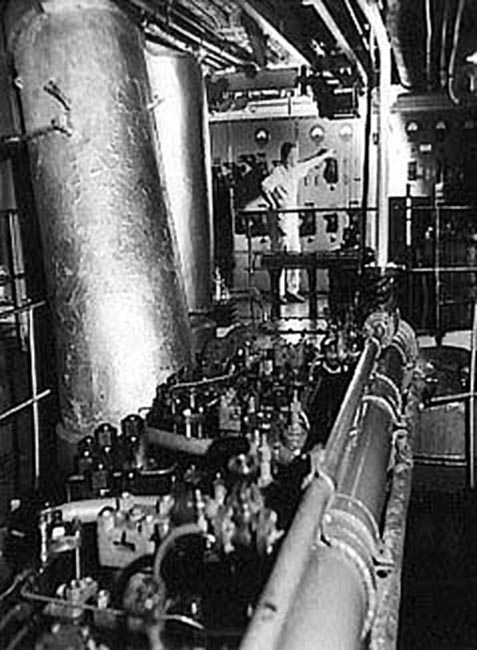 A view over part of the Engine Room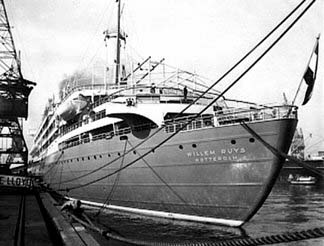 Here we see the Willem Ruys' very distinctive stern - see the photo below for the changes made to her stern section in 1958/59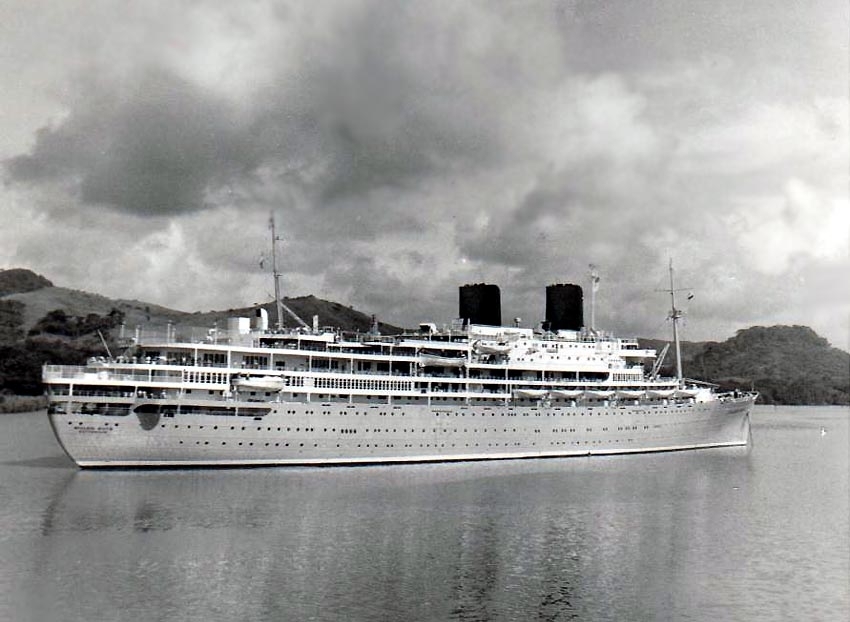 The MS Willem Ruys is seen after her 1959 refit with the new aft windows in Tourist Class
Also her aft decks were extended far aft and also her funnels had been heightened
****************************
MS Willem Ruys / MS Achille Lauro - INDEX:
MS Willem Ruys: ? Part One.
Photo Page One: ???? First Class.
Photo Page Two:????? Tourist Class.
Page Three:???????????? Brochures.
Achille Lauro:??????? Part Two.
Page Two:?????????????? Deck Plans.
Page Three:???????????? Brochures.
****************************
Also Read:???????????? MS Oranje / Angelina Lauro - Netherland Line.
.???? "????????????????????? MS Johan van Oldenbarnevelt - Netherland Line.
. ????"????????????????????? MS Sibajak - Royal Rotterdam Lloyd.
"Blue Water Liners sailing to the distant shores.


I watched them come, I watched them

go

and I watched them die."
****************************
Visit our ssMaritime Main INDEX
Where you will discover well over 700 Classic Passenger & Passenger-Cargo Liners!
ssMaritime.com & ssMaritime.net
Where the ships of the past make history
&
the 1914 built MV Doulos Story
Please Note: ssmaritime and associated sites are 100% non-commercial and the author seek's no funding or favours of any shape or form, never have and never will!
Photographs on ssmaritime and associate pages are by the author or from the author's private collection. In addition there are some images that have been provided by Shipping Companies and private photographers or collectors. Credit is given to all contributors. However,best replica watches there are some photographs provided to me without details regarding the photographer/owner concerned. I hereby invite if owners of these images would be so kind to make them-selves known to me (my email address may be found on www.ssmaritime.comonly), in order that due credit may be given.
ssMaritime is owned & ? Copyright by Reuben Goossens - All Rights Reserved