Netherland Line MS Willem Ruys
Please Note: Firefox and some other search engines are not suitable – Use "Internet Explorer" for this page to load perfectly!

Click the logo above to reach the ssMaritime FrontPage for News Updates & "Ship of the Month"
With Reuben Goossens
Maritime Historian, Cruise'n'Ship Reviewer & Author
Please Note: All ssMaritime and other related maritime/cruise sites are 100% non-commercial and privately owned. Be assured that I am NOT associated with any shipping or cruise companies or any travel/cruise agencies or any other organisations! Although the author has been in the passenger shipping industry since 1960, although is now retired but having completed over 690 Classic Liners and Cargo-Passengers Ships features I trust these will continue to provide classic ship enthusiasts the information the are seeking, but above all a great deal of pleasure!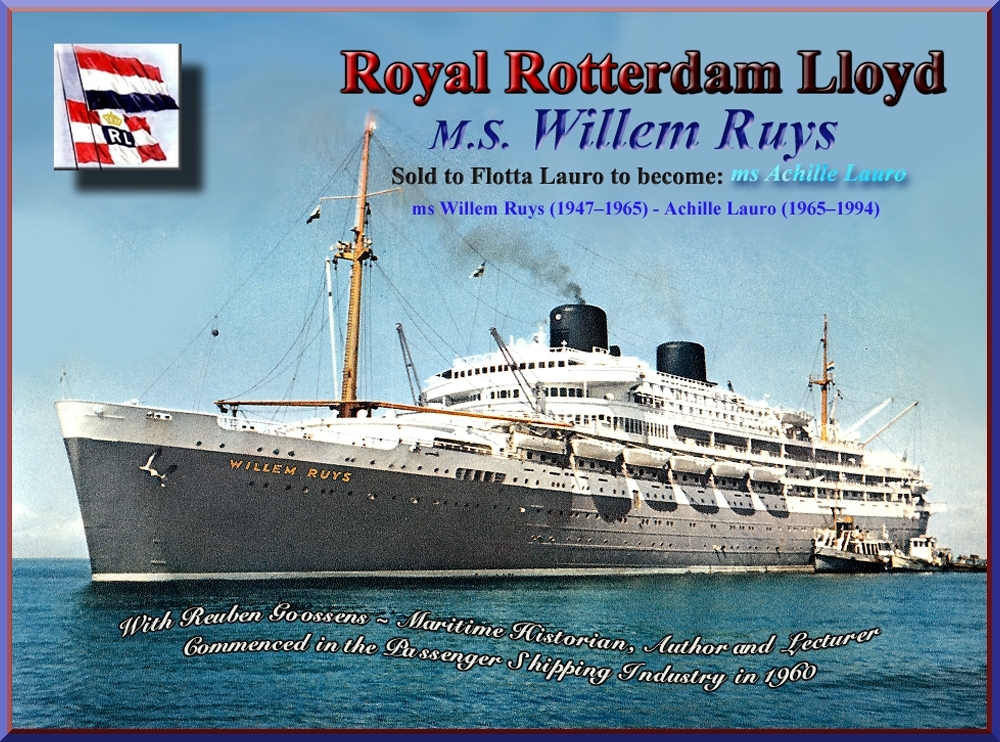 Part One - MS Willem Ruys
Photo Album - Page Two Other or Tourist Class
This page features many photographs of the unique Liner Willem Ruys, which later became the ill-fated Achille Lauro.
Photographs on this page are from two different areas. 1; as built and 2; some photos may be from after she had her 1958/59 refit and exterior facelift at the Wilton-Fijenoord shipyard. This saw her decks extended far aft and had additional windows added aft of her lifeboats part of it being a Wintergarden for Tourist Class as well as a glass enclosed promenade deck! In addition her funnels were heightened. Photographs may well be from her Second and Third classes, or Tourist class after her 1959 refit!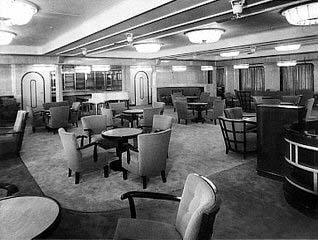 Above & below: Two views of the Main Lounge (Social Hall) looking forward & aft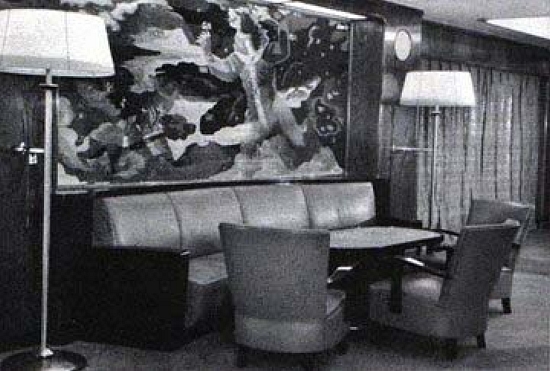 Above & below: Two views of the Verandah Caf?, the bar was located aft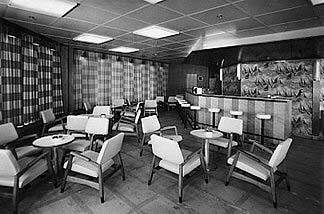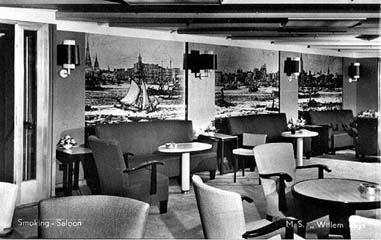 Above & below: the Smoking Room and its traditional Bar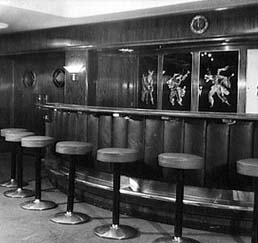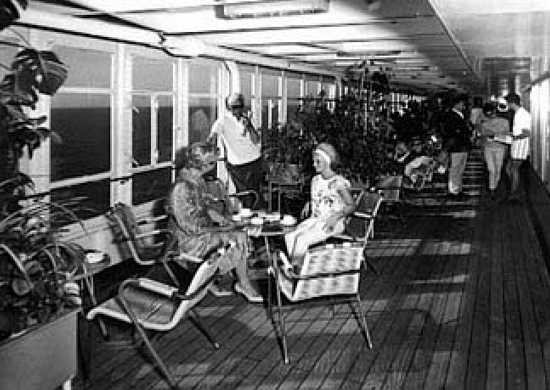 This is the Wintergarden that was installed in 1958/59 during the ships refit and a wonderful addition indeed to Tourist Class!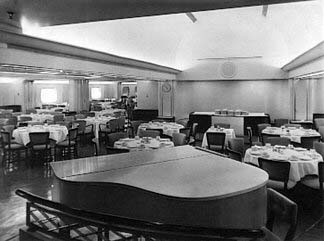 The Tourist Dining Room was most pleasant and like in First Class, soft music would be played during the evening meals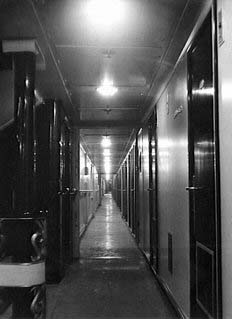 A long passageway to inside and outside cabins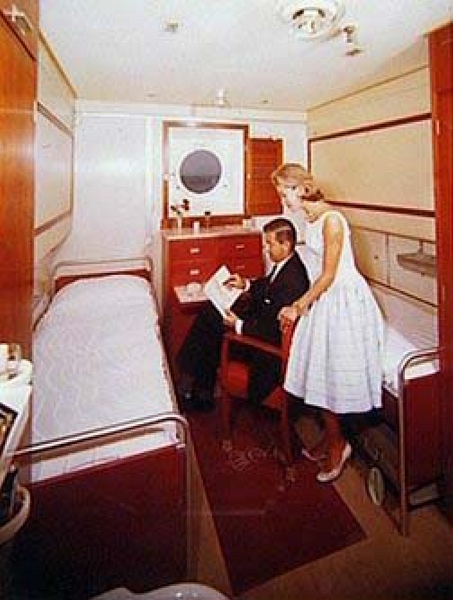 An outside twin bedded cabin, which can also be used as a three or a four berth cabin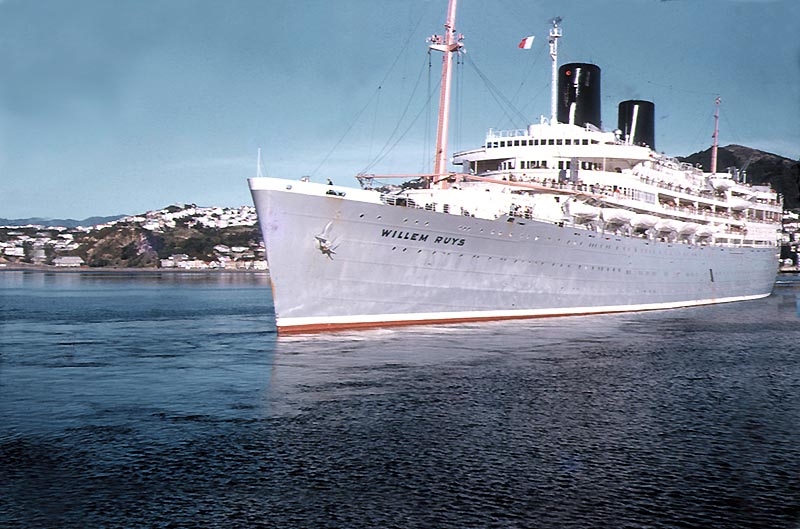 The MS Willem Ruys is seen departing Wellington New Zealand for the final time in November 1964
For when she arrived home in December she was out of service and in January 1965 sold to Lauro Lines
Who rebuilt her to become the ultra modern looking MS Achille Lauro! Her story will continue in Part Two!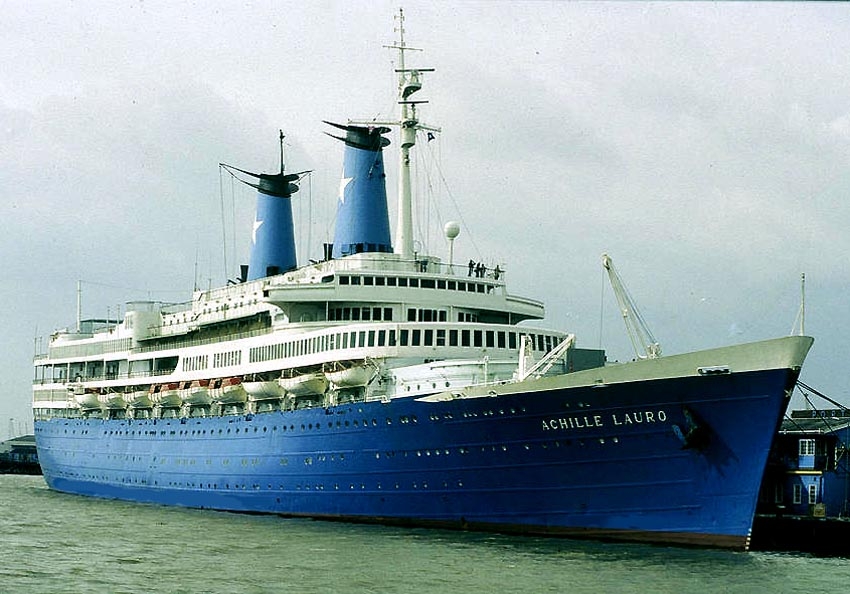 The MS Achille Lauro is seen in Tilbury UK
It is often said that the Achille Lauro was an unlucky ship and sadly this was indeed the case, but not when this great ship was the Dutch liner the MS Willem Ruys. Considering, her building commenced prior to the World War II and she remained on the stocks throughout the war, yet she survived all the massive bombardments in and around Rotterdam and over the harbour!
But sadly, her fortunes changed almost from the day she became the Achille Lauro for even when she was being rebuilt, a massive fire broke out, which halted her rebuilding for some time. In addition a fire also broke out on the other Dutch ship purchased, the Netherlands Lines MS Oranje that was also being rebuilt to become the MS Angelina Lauro.best replica watches Like the Achille Lauro, later the Angelina Lauro was also completely destroyed by fire.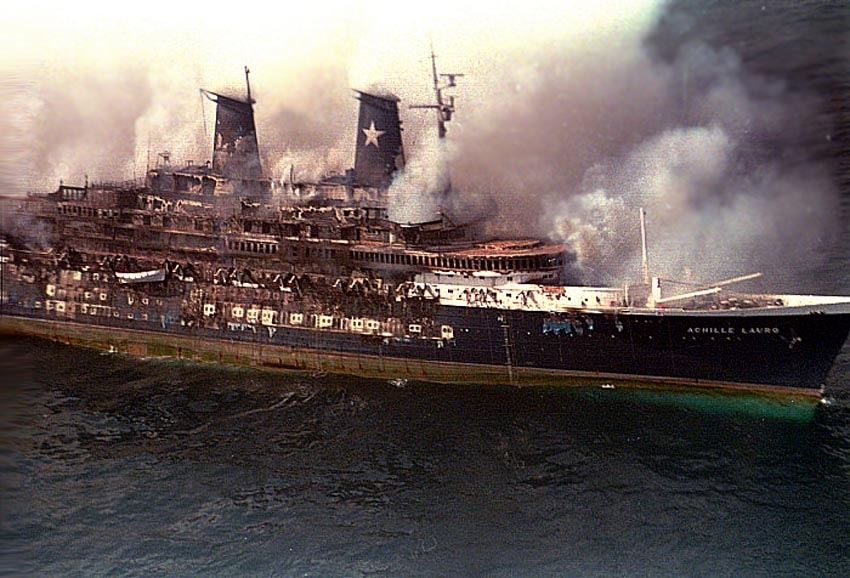 A tragic fire ended the distinguished career of a grand liner that was once the MS Willem Ruys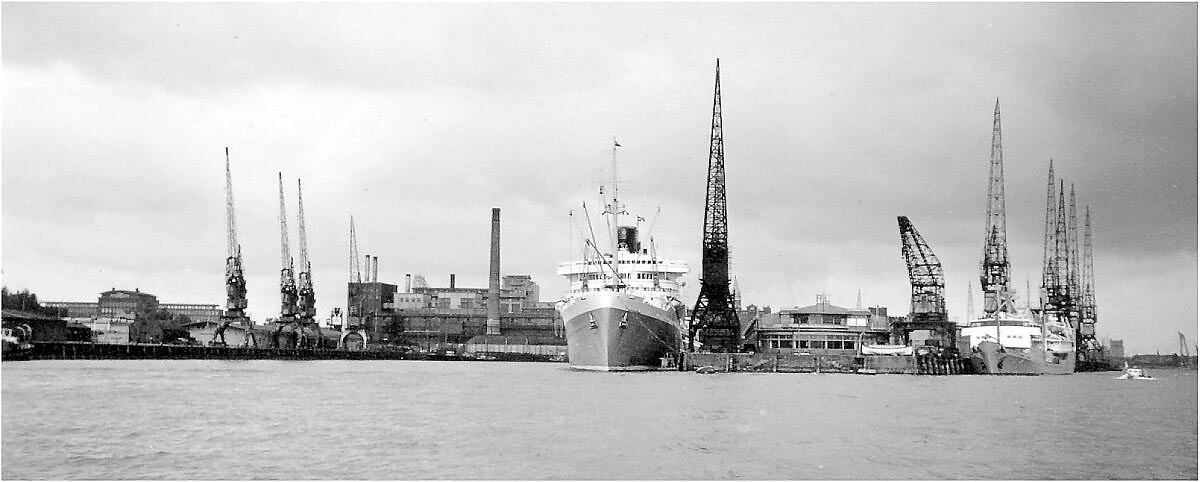 How wonderful to remember the Willem Ruys being berthed at her regular home berth, "Lloydkade" Rotterdam in 1952
****************************
MS Willem Ruys / MS Achille Lauro - INDEX:
MS Willem Ruys: ? Part One.
Photo Page One: ???? First Class.
Photo Page Two:????? Tourist Class.
Page Three:???????????? Brochures.
Achille Lauro:??????? Part Two.
Page Two:?????????????? Deck Plans.
Page Three:???????????? Brochures.
****************************
Also Read:???????????? MS Oranje / Angelina Lauro - Netherland Line.
.???? "????????????????????? MS Johan van Oldenbarnevelt - Netherland Line.
. ????"????????????????????? MS Sibajak - Royal Rotterdam Lloyd.
"Blue Water Liners sailing to the distant shores.


I watched them come, I watched them

go

and I watched them die."
****************************
Visit our ssMaritime Main INDEX
Where you will discover well over 700 Classic Passenger & Passenger-Cargo Liners!
ssMaritime.com & ssMaritime.net
Where the ships of the past make history
&
the 1914 built MV Doulos Story
Please Note: ssmaritime and associated sites are 100% non-commercial and the author seek's no funding or favours of any shape or form, never have and never will!
Photographs on ssmaritime and associate pages are by the author or from the author's private collection. In addition there are some images that have been provided by Shipping Companies and private photographers or collectors. Credit is given to all contributors. However, there are some photographs provided to me without details regarding the photographer/owner concerned. I hereby invite if owners of these images would be so kind to make them-selves known to me (my email address may be found on www.ssmaritime.comonly), in order that due credit may be given.
ssMaritime is owned & ? Copyright by Reuben Goossens - All Rights Reserved