Click the logo above to reach the ssMaritime FrontPage for News Updates & "Ship of the Month"
With Reuben Goossens
Maritime Historian, Cruise'n'Ship Reviewer & Author
RMS Windsor Castle
Later: SS Margarita L / Rita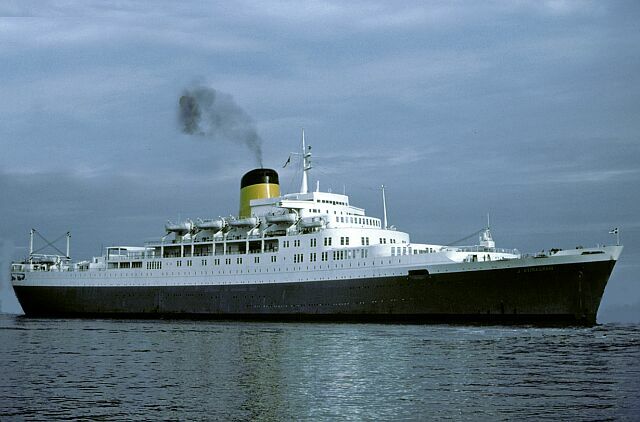 Ship of sheer beauty!
Author's collection
RMS Windsor Castle 1960 - 1977
Mid 1950's the Directors of Union Castle Line decided they needed a larger ship than those already in service. This ship would become the renowned 37,640-Gross ton RMS Windsor Castle, a ship that became Union Castle's flagship and the largest liner ever to operate on the South African route. Interestingly, previous Union Castle ships had been built by Harland & Wolff, in Belfast, but breaking with tradition, it was decided that the ?10 million Windsor Castle would be built at the Cammell Laird & Co Shipyards, Birkenhead. She also set a record for being the largest ship to be built Merceyside. Windsor Castle would accommodate 591 Tourist Class and 239 First Class passengers.
Her keel was laid in 1957 by Cammell Laird's Managing Director, Mr. Robert Johnson's son Robert jnr. Windsor Castle was launched in perfect weather on June 23, 1959, by Her Majesty Queen Elizabeth, the Queen Mother, before a crowd of some fifty thousand people and as the BBC covered the event live to air, it was watched by millions more on television. The Queen broke a bottle of South African Champagne on the bow of the ship and spoke the traditional words: "I name this ship Windsor Castle. May God bless her and all who sail in her."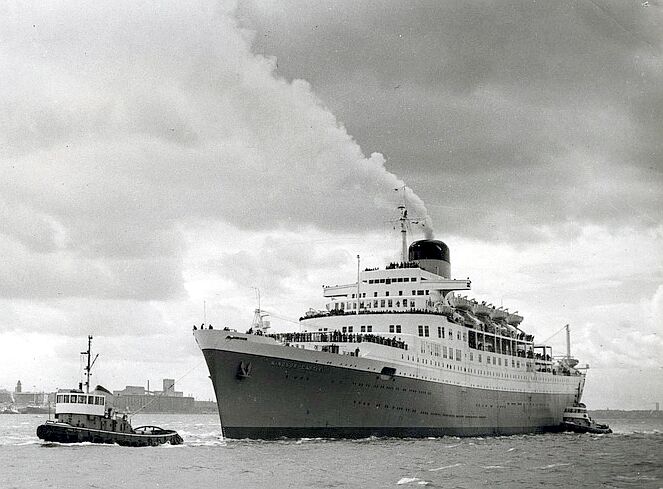 A brand new Windsor Castle is seen here departing Liverpool bound for Southampton for her maiden voyage
Author's collection
One year later she was completed and had her sea trials and duly departed on her maiden voyage from Southampton on August 18, 1960, arriving in Durban 13? days later.
Unlike most ships, both classes had the run of a full deck, forward to aft, as all Tourist Class public rooms, promenade and deck space was located on A Deck, Whilst First Class public rooms were located one deck higher on Promenade Deck. Both classes also had an outdoor pool. First class cabins had private facilities, with suites and deluxe cabins having a bath, all others a shower. Located amidships, the 250 seat Cinema was equipped with cinemascope.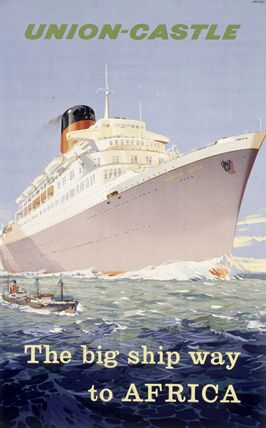 Union Castle poster
Author's collection
Popular with passengers was the fact that both First and Tourist Class had public facilities covering a full deck and having a lounge that overlooked the bow. The usual class separation on a liner would see Tourist Class located at the back of the ship, never being able to look forward as the ship would enter a harbour.
There was a garage for passengers to transport their cars. It was located at the forward end of the superstructure. Cargo capacity was 639,000 cu, ft, with just over half of it being refrigerated.
Windsor Castle's second voyage was an eventful one as she had to assist the crew of the Capetown Castle, which had an explosion in the engine room whilst in Las Palmas. Apart from this event, Windsor Castle steamed on reasonably successfully and without any mishaps. Mid 1965 she commenced a "rapid" service to the Cape, cutting two days of travelling time. In December 1967 Windsor Castle completed her 50th voyage, having steamed 700,000 plus miles and transported over 35,000 passengers, and she did this with remarkable efficiency not having had any breakdowns or delays. Best Replica Watches That same year she received a refit and upon completion she was registered at 36,123 GRT. In 1972, she received her final refit under Union Castle, and was registered as being 36,277 GRT.
However, with a changing world and with the demand of air travel, it soon became obvious that it was about to wrench passengers away from an 11 day voyage to the Cape. Thus, just five years after her second refit on August 12, 1977, RMS Windsor Castle departed Southampton for her final round trip to Durban, which also happened to be her 124thVoyage. On September 6 upon departure from Cape Town for her final voyage back to the UK, she received a massive farewell arranged by the City, which was attended by thousands of sad onlookers who came to wave this magnificent lady goodbye. She returned in Southampton on September 19.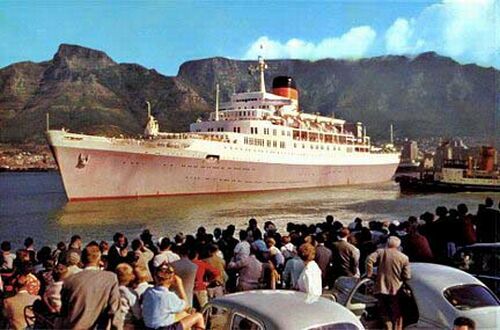 A sad departure

Windsor Castle was sold to Mr. Yiannis (John) S. Latsis (Santa Margarita Shipping & Trading Company) Panerai Replica a famed Greek oil and shipping tycoon. Within one month of her final homecoming, the great Union Castle liner departed Southampton on October 3, 1977, with a complement of Greek and Union Castle crew including electrician Jack Towler (see separate page on Jack's voyage) aboard bound for Greece where she would be refitted for a new role.

Interestingly, other offers made for her one was made by Sitmar Cruises and the other by Carnival. Looking back we will all agree that this would better option to see her become a cruise ship. However, that was not to be.

RMS Windsor Castle Specifications

Builder:?????????????????????????

Cammell Laird & Co Shipyards, Birkenhead

Yard #:????????????????????????? 1287

Tonnage:?????????????????????? 37,640 GRT – 16,252 DW

Length: ???????????????????????? 238.7m - 783ft

Beam:??????????????????????????? 27.5 – 90.2ft

Draft:??????????????????????????? 32ft -

Engines:???????????????????????? High pressure (of Naval standard) "Pametrada"

??????????????????????????????????? geared steam turbines by the builders

Service output:?????????????? 49,000 SHP

Screws:???????????????????????? Twin

Speed:????????????????????????? 2.5 knots (23.5 on trials)

Steering Gear:???????????????? electro-hydraulic by Brown Bros

Passengers:??????????????????? 239 first class

??????????????????????????????????? 591 tourist passengers

Crew:??????????????????????????? 475, including up to 30 women

Air-Conditioned:????????????? Yes

Livery:

Hull:????????????????????????????? Traditional Union Castle Lavender

Boot topping:????????????????? Red

Superstructure:?????????????? White

Funnel:????????????????????????? Orange and black

************************************************

SS Margarita L 1977 – 2004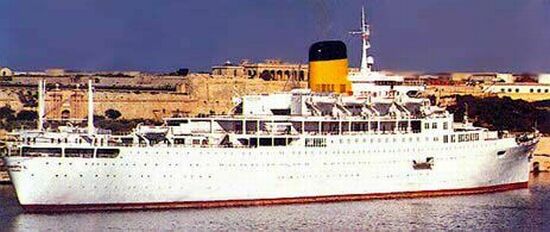 Margarita L seen at Valetta Malta
Author's collection
The relocation voyage was certainly eventful, as a member of the Greek personal for some reason switched off an oil pump, which caused one of her turbines to seize up. Luckily there were Union-Castle engineers aboard who knew this fine lady well, and they fitted her with new bearings and she was soon operational again.
The Windsor Castle was renamed Margarita L in honour of one of Latsis' daughters – Margarita Latsis. In Piraeus she was refitted to become a luxury accommodation ship offering 852 berths. Later she was relocated to Saudi Arabia where she employed as an accommodation ship from 1978 to 1990. Latsis ensured that ship had a suite of rooms and a lounge and dining room for his and his family's sole use.
Margarita L was berthed at the Jeddah docks, where the Latsis Group was building a new naval base for the Saudi Government. Whilst there, a helicopter pad added to her aft deck. A desalinisation plant was placed in the forward hold, which was able to produce around 600 tonnes of fresh water a day. She was later relocated another two locations. The first was where Latsis Group was building a Royal Palace for King Fahd of Saudi Arabia. The second to another Latsis project, an oil refinery at Rabegh. Whilst at Rabegh she was also used as an office and leisure centre, for staff of the Latsis Petrola Int. S.A. Construction Company. In 1983, Margarita L was dry-docked and received a refit, after which she returned to Saudi Arabia.
In 1990 her Saudi Arabian career as an accommodation ship had ended and was towed to Eleusis, Greece to be laid up. Latsis would often stay on board in his quarters, as he was a man who dearly loved this fine ship and he kept her well maintained. It was said that her interiors were immaculate and looked much like the days she sailed on the South African service, the only thing missing were passengers.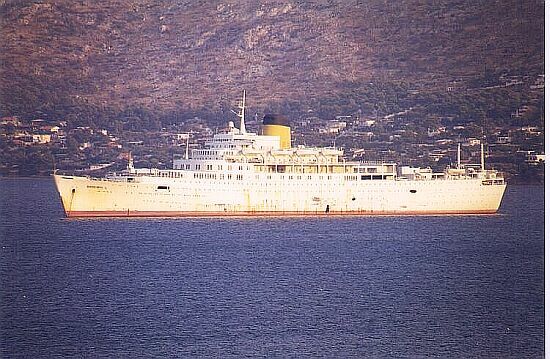 Margarita seen laid up at Eleusis near Piraeus
In 1998 Margarita L was laid up at Eleusis Greece and placed on the market with an asking price of ?5-6 million, which was later greatly reduced. With Latsis' health declining, he handed his empire over to his son Spiro in 1999.
A British campaign commenced in 2002, which was headed by Mr. Alex Naughton, with the intention to bring the great Windsor Castle back to Britain once again and restore her to her original beauty including the famed Union Castle lavender hull. She was the perfect ship for restoration as her external profile had never been altered, as 99% of other older tonnage had in the past. In addition, much of her interiors remained unaltered. The idea was for her to become a permanent reminder of the days of great British ship building as well offering many great tourist oriented features. However, as we will see a little later, this fine campaign was forced to conclude in December 2004, but certainly not for the lack of trying.
Sadly Mr. John Latsis, passed away on April 17, 2003, but even before his father's passing it became obvious that Spiro did not have the same interest in the Margarita L, a fact that al too soon became obvious as her exteriors was left to deteriorate mostly due to the total lack of maintenance. By late 2003, and inspection showed a great amount of rust and much of her teak planking was twisting and lifting showing the rusting steel deck below it. This was certainly no tribute to the son of the great ship lover, John Latsis who had owned and ensured excellent maintenance on all passenger liners he owned over the years.
Then there was almost a tragedy when on February 12, 2004, a severe storm struck the region, and Margarita L broke anchor and was set adrift and got firmly stuck in mud in shallow water off Salamis Island. There where no crew on board at the time. However, her well built hull was not damaged, and she was soon refloated, but sadly her end was on the horizon.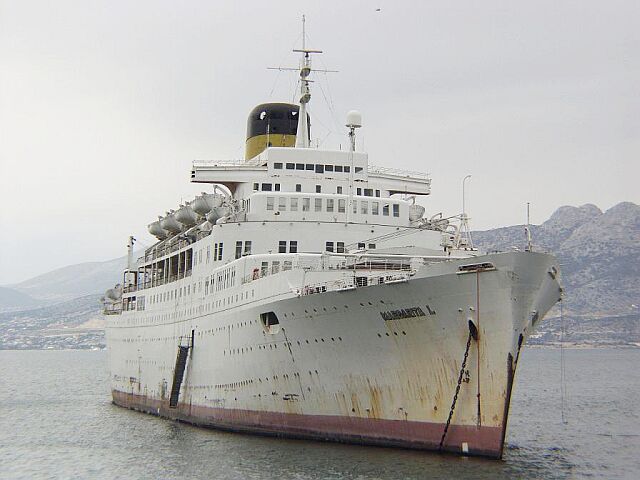 Margarita L after she drifted and was stuck in shallow waters

A campaign headed by Alex Naughton commenced in 2002 attempted to bring the Windsor Castle back to Britain, however, the attempt failed miserably as funds nor sites to dock her were just not available to him and in December 2004, her owners advised me that Margarita L had been sold to an intermediary company and was heading for a breakers yard at Alang India under the name of Rita.

************************************************

SS Rita 2005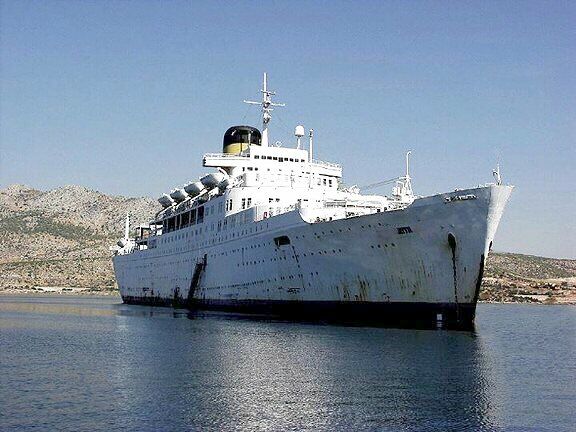 A photograph of

SS Rita taken several days before setting sail for India

Amazingly, the once great British Lady, having been renamed Rita, sailed under her own steam once more, departing Greece on April 14, 2005, and arrived at the Bhavnagar anchorage near Alang on May 11. However, due to scrap metal prices fluctuating she was sent back to sea and after circling the Indian Ocean, she took shelter near Kalba in United Arab Emirates. Late June, she again set sail for India, but she suffered a breakdown. A tug was sent out on July 7, but unbelievably the tug also broke down. Now both were adrift. It almost seemed like if the ex Windsor Castle was fighting for her life! After the tug had been repaired, on July 15, she with the Rita in tow they headed for Alang once again, where she arrived and was beached on the 20th of July 2005. What was so remarkable that breaking up began on August 18, being the day of her 45th anniversary of her maiden voyage from Southampton to Durban.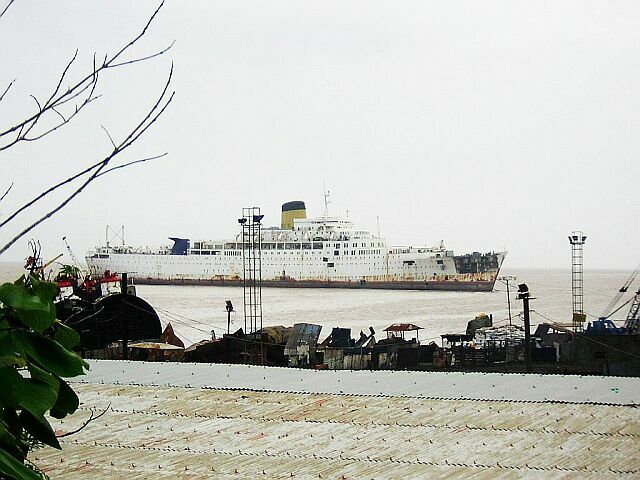 This photo of the SS Rita at the breakers yard is a tragic sight for all who love classic liners!

RMS Windsor Castle served her owners, Union Castle Line well, but sadly she was only an active liner for just 17 years. For the next 28 years as the Margarita L she served as an accommodation ship, but sadly 15 of those 28 years she laid idle, laid up in Greece.

Please Note: Our RMS Windsor Castle INDEX is located below the next photograph.

Looking for information on - Charles William Tingley:

Do any of our readers have any information or photos of Charles William Tingley who was the Chief Electrical Engineer on the RMS Windsor Castle and apparently he also served on the Cape Town and Pendennis Castle's as well. Although I do not have any set dates it is important that I locate some information about this man.

The reason I am making this request is as follow. Charles William Tingley died on May 27, 1980 and was buried at sea off the coast of Portugal, but not whilst on a Union Castle ship but on a Clan Line (Crayzer) ship. At the time his son Lloyd was but a boy and hardly knew his seagoing Father. Lloyd has contacted me asking if anyone can supply any information, for now aged 43 he has married just over one year ago and had a son in December 2009. Thus, he would like to tell this little Tingley a little more about his Father, which he knows very little about. He does recall one other name, a crew member with the nickname name of "Gibby", based on his surname Gibbs. He believed that his Christian name was Errol and that he moved to live in Australia.

If anyone has any information regarding Charles and possibly a photo of him or "Gibby" please email Lloyd at: lloydtingley@hotmail.com and Cc: rg@ssmaritime.com.

-----------------------------------

RMS Windsor Castle will be remembered by all who sailed on her, be it as a passenger or crew member, as well as those who gazed at this beautiful lavender hulled ship whenever she was in port. As for myself and those in the UK and South Africa, Windsor Castle will be remembered as a great liner for those 17 years of active duties, not certainly for the self indulgent owner who used her during her second and final incarnation, when during the end, after his death his son simply let the ship rot away and it was a disgrace to see her decks rusting so badly that holes were appearing and parts were a danger to walk on, and interiors in certain sections, as was reported to me was falling apart, due tpo sheer neglect! But, as a Union Castle liner she was the great Windsor Castle and that is how she will always be remembered!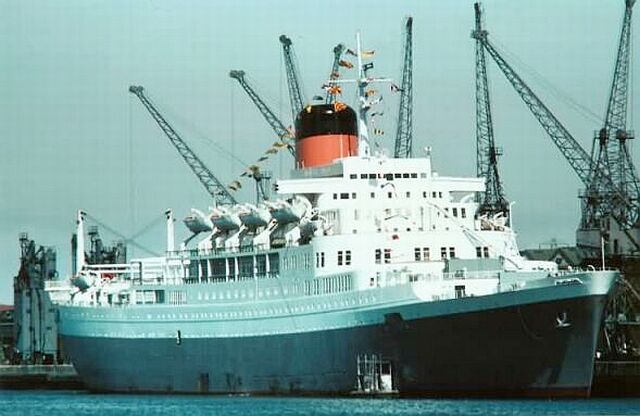 Memories of the great days of shipping

Author's collection

INDEX

Page One …??????????? Ships history

Page Two …??????????? Ships Interiors

Page Three …????????? Jack Towler - The final voyage from Africa & Southampton to Greece

Page Four …?????????? Maragrita L / Rita at Eleusis Bay Greece

Page Five …??????????? Rita beached at Alang India

Page Six ... ??????????? A model built by Andrew White

********************************************

Use the Back button on your browser or Close the Page to return to the previous page
or go to our SITE INDEX

Who is the Author of ssMaritime?

Commenced in the passenger Shipping Industry in May 1960

ssMaritime.com & ssMaritime.net

Where the ships of the past make history & the 1914 built MV Doulos Story

Also visit my …

"Save The Classic Liners Campaign" & "Classic Ocean Voyages" pages

Photographs on ssmaritime and associate pages are by the author or from the author's private collection. In addition there are some images that have been provided by Shipping Companies and private photographers or collectors. Credit is given to all contributors. However, there are some photographs provided to me without details regarding the photographer/owner concerned. I hereby invite if owners of these images would be so kind to make them-selves known to me (my email address may be found on www.ssmaritime.com only), in order that due credit may be given. I know what it is like, I have seen a multitude of my own photographs on other sites, yet these individuals either refuse to provide credit or remove them when asked, knowing full well that there is no legal comeback when it comes to the net. However, let us show these charlatans up and do the right thing at all times and give credit where credit is due!

This notice covers all pages, although, and I have done my best to ensure that all photographs are duly credited and that this notice is displaced on each page, that is, when a page is updated!

ssMaritime is owned and ? Copyright - by Reuben Goossens - All Rights Reserved