TSS Awatea (1936 to 1942) of the Union Steam Ship Co., of New Zealand
Note: iPhones, iPads, Firefox & some other Search Engines may not be suitable
Use Google Chrome for this Web Page to load perfectly!
Click the logo above to reach the ssMaritime FrontPage for News Updates & "Ship of the Month"
With Reuben Goossens
Maritime Historian, Author, Lecturer & Cruise'n'Ship Reviewer
Please Note: All ssmaritime as well as my other related maritime & cruise sites are 100% non-commercial and privately owned sites. Be assured that I am NOT associated with any shipping or cruise companies or agencies or any other organisations! The author has been in the passenger shipping industry since May 1960, but although retired and unwell, I occasionally attempt to write an article now and then, in order to bring enjoyment and pleasure to ship enthusiasts past passengers and crew.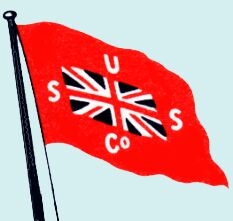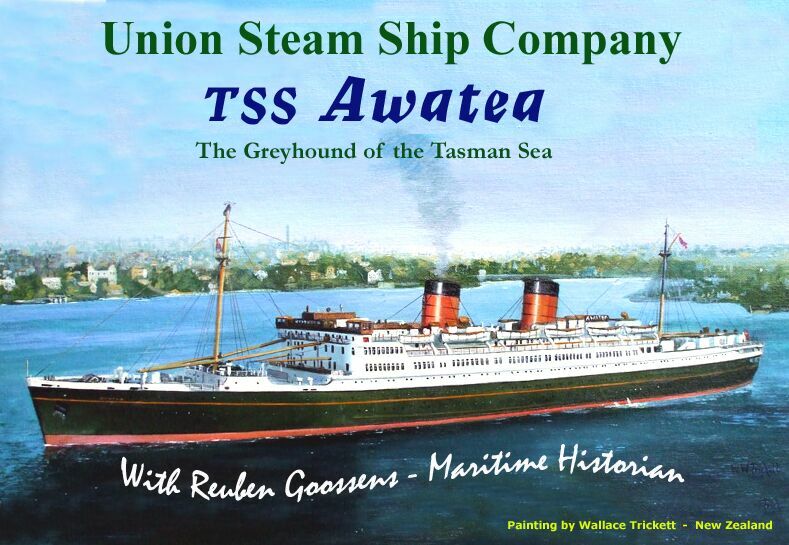 Please Note: Images on this page are from the author's private collection, unless stated otherwise. Some of my photographs were badly damaged when I came to Australia in the 1960's, when the box that transported them by sea was dropped and many were badly damaged. However, I have given many of these some Photoshop attention and restored them as much as is possible, and they look quite good again. I hope you will agree!
Introduction:
One of the most beautifully designed compact liners to be built in the mid thirties was without doubt a ship that became known as the most famous Trans-Tasman Express Liners, being the Union Steam Ship Company (USSCo) TSS Awatea (Maori for "Eye of the Dawn"). There was something special about this ship, for she had something in common with one of the great liners of her day, being the famed Holland America (HAL) Liner that was launched just a year after the Awatea. This HAL ship became known not only as being a revolutionary ship, but also as "The most beautiful passenger liner ever to be built", and some may ask "What was that ships name?" Many ship lovers will know it well, for it was the 36,287 GRT, SS Nieuw Amsterdam. Although the Nieuw Amsterdam was very much larger, what was the connection between these two ships?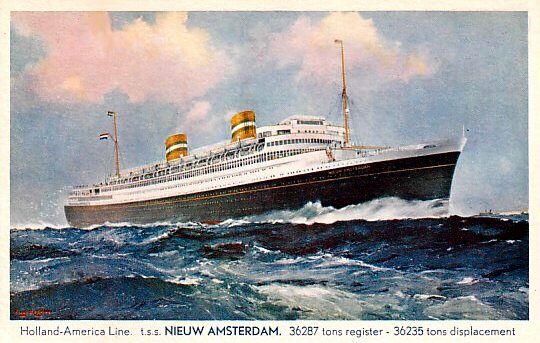 Original postcard of the SS Nieuw Amsterdam
The connection was very much in the ships design, for there were certain similarities. There is no doubt that Awatea's USSCo's designers had done a unique job and they had managed to design a ship that was pure maritime perfection! Her 545 ft long green hull, red boot topping with a thin gold band surrounding her slender and perfectly balanced hull was designed for speed and superior stability. In addition she had a rolled bow, which was gently raked (rather than the knife-edge bows such as the Monowai). Awatea's hull was in total balance with her elegant low slung long superstructure, topped with two perfectly raked red and black funnels, as well as her two tall raked masts, which made her look very much like a grand "Ocean Liner," be it on a smaller scale!
Another factor was that her public rooms certainly matched the perfection of her exterior. Awatea featured some of the finest lounges imaginable and many of these were built on a grand scale indeed, especially considering she was designed to operate a two and a half day Trans-Tasman Express service from New Zealand to Australia and return, a voyage that would be at least one day shorter than any of her competitors! The truth is Awatea would have been perfect as a Trans-Atlantic Liner. During her far too short commercial life the TSS Awatea operated all her services with great dignity, as well as being known for a ship that broke a few nautical records!
Reuben Goossens.
*************************************
Her Beginnings:
The Union Steam Ship Company (USSCo) canvassed idea of building a new super fast ship for the Trans-Tasman Express service in July 1930, mostly due to the fact that the American Oceanic Steam Ship Co, better known today as Matson Lines, had already ordered several grand 22 knot ships, being the 18,000 GRT, SS Mariposa (1931) and her sister the Monterey (1932) to operate on the South Pacific, and thus the Tasman service.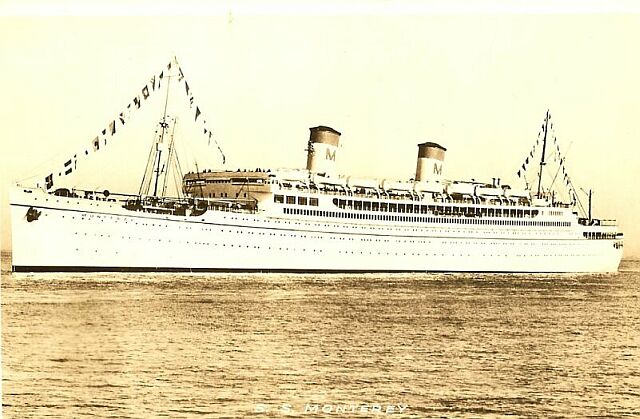 The Matson liner SS Monterey
In addition there was the soon arrival of the Australian Huddart Parker luxury liner, TSS Wanganella that would be competing with the USSCo liner that was already operating on the Tasman, the 11,000 GRT, SS Monowai. But the Monowai could hardly compete with ships of such a high calibre and thus a new superior ship was obviously in the minds of the executives of the USSCo. However, due financial restraints at the time the project was shelved until a year later when it gathered speed again, for the company realised there was an urgent need for a new vastly superior liner or they would simply loose the market, but their new ship would need to have a great deal of new thinking and technology behind it.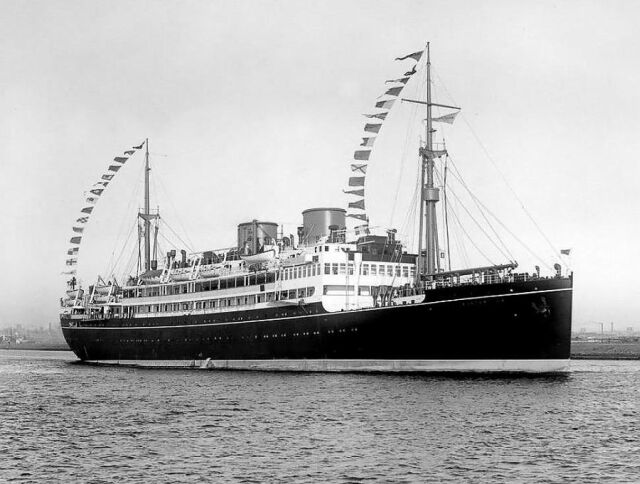 The Huddart Parker TSS Wanganella looking superb as she is seen here fully dressed with flags
Note: This ship has a "knife edge" bow
Union Steam Ship's own designers had commenced working on a new design whilst taking on board new and advanced influences from around the world. By now they had already decided that their new ship would be equipped with steam turbine engines as they needed a ship that was capable of high speeds and the more economical motor ships were just not up to the job at that time. What they conceived with was one of the most beautiful compact sized liners imaginable, and as I said earlier, she was very much in the style of a mini Nieuw Amsterdam.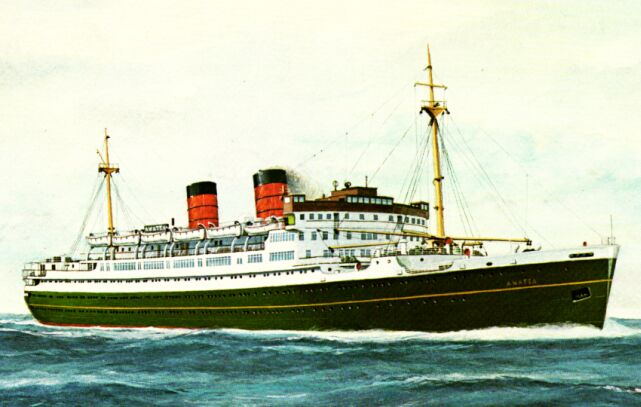 A painting of the Awatea
Artist unknown - *See Photo notes at the bottom of the page
Then in December 1933, USSCo officially announced that they had decided to build their new Trans-Tasman Express Liner and that this new ship would not only be their flagship, but that she would also be capable to make the Tasman crossing in just in two and a half days. Thus, combined with tight turnarounds at each port, the ship could do a complete round voyage to and from Australia each week. This would mean that she would require a minimum speed of 20 knots however she would end up with a greater speed available to her.
In November 1934, USSCo officially announced that their new ship would be named Awatea, being a Maori word meaning "Eye of the Dawn." Towards the end of the very next month a contract was handed to Vickers-Armstrong at Barrow-in-Furness for them to build the turbine steam ship and her keel was laid down at yard number 707 and building progressed until 1936.
Then came the big day for USSCo, for on a thick foggy morning on February 25, 1936, just after 11 AM, the Awatea was launched by the wife of the New Zealand Governor-General, Lady Elaine Bledisloe, and the ship was then moved to her fitting out berth at the Buccleuch Dock where her interiors and other fixtures would be worked on.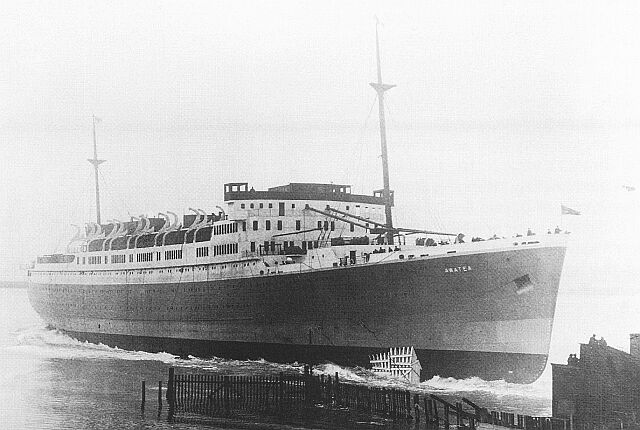 We see the Awatea going down the slips on a foggy morning, just after 11 AM
On July 22, 1936 with work as required finished the Awatea departed Barrow in Furness and sailed for the Mersey River where she would be dry docked at the Liverpool Cammell Laird shipyards at Birkenhead where her hull would be cleaned to be made ready for her voyage to New Zealand. On July 25, 1936, Awatea departed for the Firth of Clyde and undertook her sea trials. Two days later she reached 22.5 knots using only four of her boilers, thus the builders knew that she could do very much better. On July 28 she was officially handed over to her owners.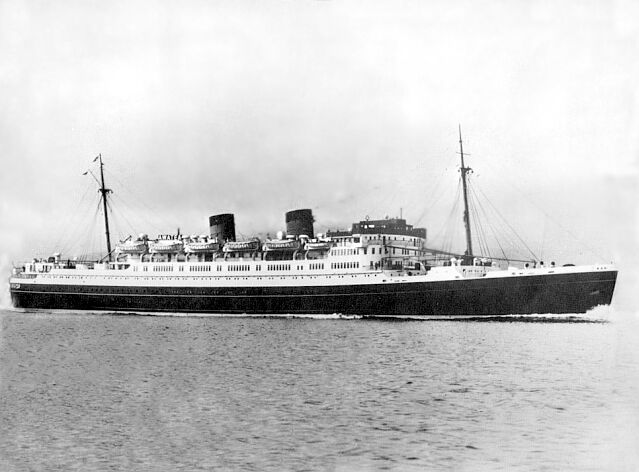 TSS

Awatea seen here during her sea trails
Awatea departed Greenock on August 5, 1936, for her voyage to her new home and sailed via the Panama Canal to Wellington New Zealand. Amazingly during her this voyage the Awatea broke the all-official records for a voyage from the United Kingdom to New Zealand sailing via the Panama Canal. It took her just 28 days, six hours and 33 minutes to be precise, and we need to note that this was achieved with her using only three of her six boilers throughout the voyage, making this an amazing record indeed! Awatea arrived in Wellington exactly to the minute as what Awatea's most famous Captain, Captain A.H. Davey's had predicted upon departure, on September 3, 1936.
Her arrival in Wellington proved to be a huge event with great fanfare, and soon enough this new liner became a much loved and a popular ship. The very first sight of her made a big impression on the people; as one of my readers (Geoff) wrote me:
"The Awatea was a sight to behold, for I had never seen a ship of such great beauty before. My wife and I had seen many fine overseas liners visiting Wellington before and we had sailed on several, and they were marvellous. But now the Awatea, as soon as we saw her, we knew that she was sheer perfection, and her design was in perfect harmony. I recall saying in the excitement to a person standing next to me, 'She is like the perfect woman, having all the shapes in all the right places!' Then I realised that person was my wife, but that is OK for she is beautiful and had a good laugh! Also we said, 'We can't wait to go to Australia.'"
Geoff

and his dear lady did go, and he continued …
"It was the experience of a lifetime, my wife and I had a spacious two bedded cabin with a bathroom on the portside on A deck two located just forward from the Pursers office, and it was simply superb having all the mod cons. The Lounges were wondrous and the Main lounge was two decks high and had a gallery on both sides. We loved the promenades, both the enclosed and the one above where we strolled under the lifeboats. The service and the meals could not be faulted, and we soon discovered that New Zealand finally had a ship that we could be proud off and could match the rest of the world! We intended to do a voyage across the Pacific, but, this became impossible as tragedy struck, for we all know that the war had come upon us and the Awatea had to become a troop ship and she would not ever come home and return to active duties. We finally had the ship we deserved, and we lost her to the German and Italian warplanes, a tragedy! But at least, we managed to spend two crossings on her to and from Sydney!" Geoff Spencer - Palmerston North, NZ.
On September 13, 1936, Awatea departed Wellington and sailed north to Auckland, and she departed in the afternoon of September 15 for her maiden Tasman crossing to Sydney, arriving there on the morning of September 18 and came in passing the Sydney Harbour Bridge as she headed for her berthed at a sundrenched berth at Circular Quay to yet another great fanfare as her arrival had been well publicised in the Newspapers and on radio.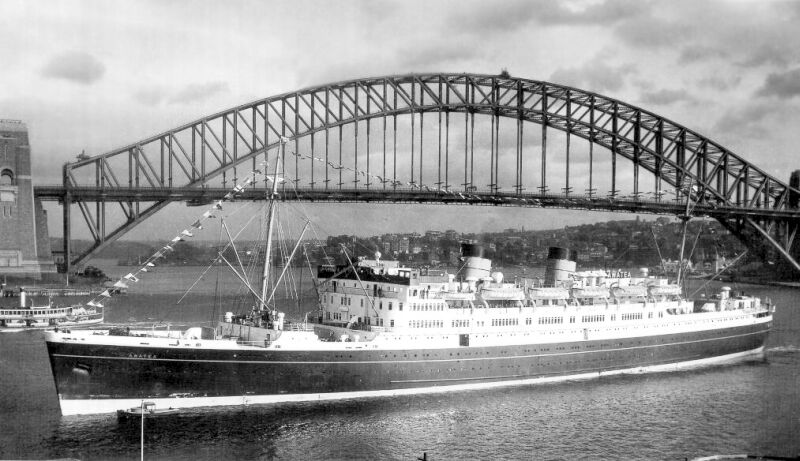 The sleek new liner TSS Awatea is seen arriving in Sydney on September 18, 1936
TSS Awatea accommodated a relatively small number of passengers, with 377 in First Class, 151 in Tourist Class and just 38 in the budget 3rd Class section; a total of 566 passengers in all, who were attended to by a crew of 242, Thus although not a large ship at 13,482 GRT, she was certainly a spacious ship and she offered fine meals and her reputation for service on board was of a very high standard!
*************************************
Engines, Tasman Crossings & Specifications:
Originally USSCo had thought build a modern motor ship, for at that time this seemed was the trend of many of the competitors, and it was common knowledge that motor ships were certainly far more economical.
However, USSCo realised that they could corner the market if they made their new ship a fast ship, and to accomplish this they needed her to have powerful engines, and thus they chose Vickers-Armstrong to build geared turbine steam engines, with twin screws operating at 22,500 SHP.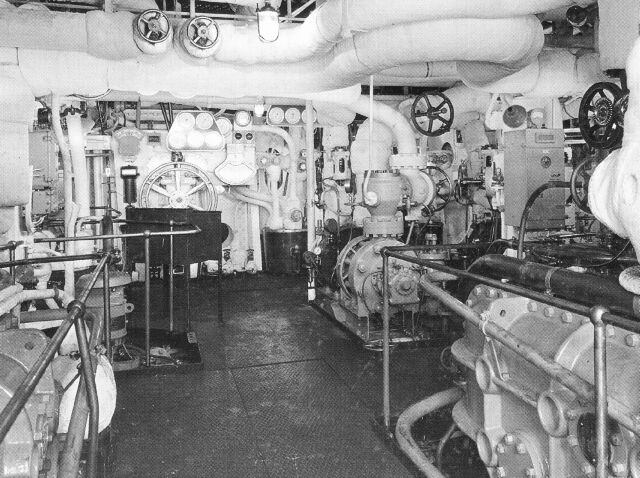 A view of the engine room looking towards the control section
During her trails she operated around 23 knots, but her service speed was generally 21 knots. Her local competitors were the two superb fast American liners as well as the new Huddart Parker TSMV Wanganella, which operated at 15 knots and the USSCo own ship, SS Monowai operating at a good 18 knots, they both operated a three and a half day crossing of the Tasman. Thus, the Awatea would cut a full day from their sailing time and save considerable time, whilst still providing a superb mini vacation on a luxury ship!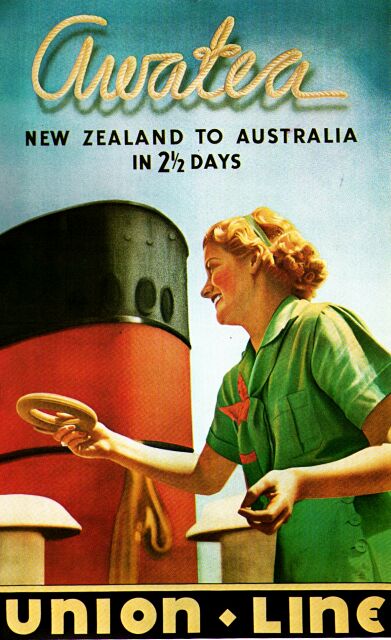 A bright and colourful USSCo brochure promoting the TSS Awatea
Combined with the ships fast crossings of the Tasman and the high standard of service and cuisine on board, this made her a popular very ship. During the summer of 1937 the Awatea made 11 Tasman crossings in just 41 days in addition she was able to bring the times for the Auckland to Sydney and Sydney to Wellington voyages to just under 56 hours. According to her record's, her best day's run was 576 miles, being an average speed of 23.35 knots.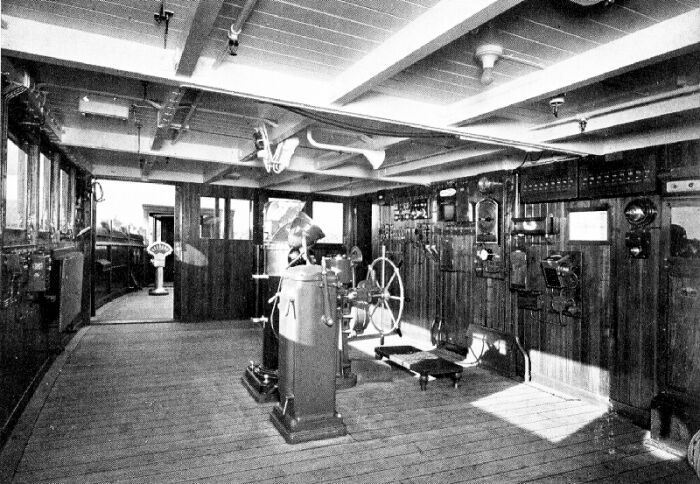 This was the heart and soul of the Awatea, where good men of the sea guided her on a good course
Captain Davey

was a remarkable seaman and he made the Awatea a name to be remembered and she became a ship to be well known to the entire maritime world. The reason for this was not just due to her excellent speed, but for the fact that he was able to manoeuvre the ship to her berth without the aid of any tugs in all ports, and did so with amazing accuracy! We need to consider that this was achieved long before side thrusters had come on the scene, but then again, those were the days when there was great some really seamanship around! Today, it is all automated and even computerised.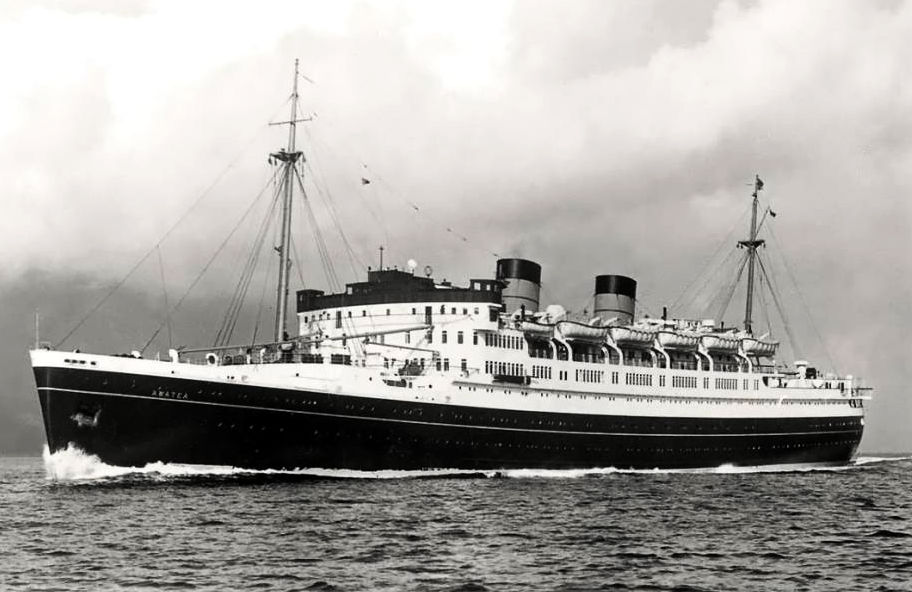 Looking grand as she is seen at full steam ahead at sea
There was no doubt that the Awatea was had become much loved and by this time she became known on both sides of the Tasman; "Queen of the Tasman Sea."
Having been in operation for just six months her engineers realised that there was a need to rectify her turbine gearing, and under the builders guarantee she was withdrawn from service between May and July 1937 and the work was undertaken at the Cockatoo Dockyards Sydney, whilst the company's older ship the SS Monowai took over her service on the Tasman.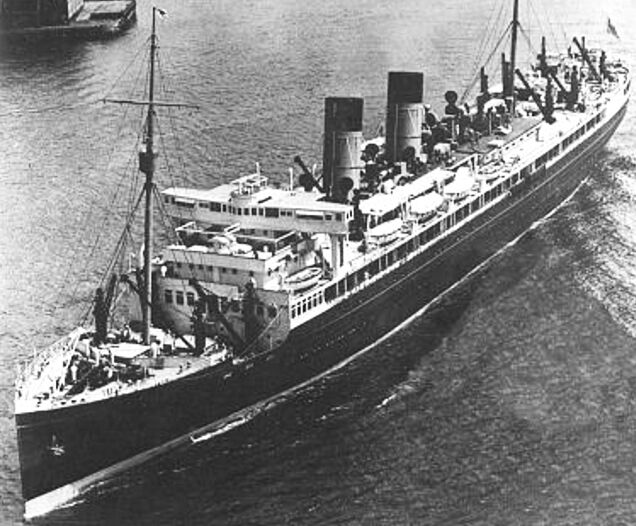 Union Steam Ships older liner, SS Monowai
Whilst at the Cockatoo Dockyards, her accommodations we also upgraded, and atop the ship her funnels were heightened by some nine feet. The reason for this was an obvious one; it would assist to better disperse the smoke away from her aft decks. She was completed and departed for her sea trails July 27, and during this trail she reached a remarkable speed of 26 knots.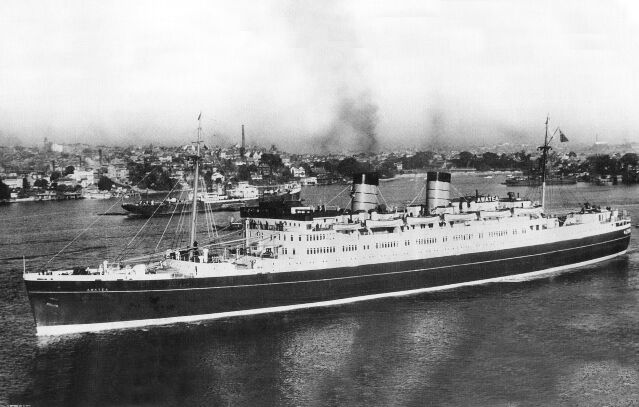 The Awatea is seen here leaving Sydney after her refit and the heightening of her funnels mid 1937
To this date the large Matson liners still were still the fastest ships on the Tasman by a small margin, however that was about to change very soon!
When the TSS Awatea arrived in Sydney on October 4, 1937, she had finally set a new Trans-Tasman record between Auckland and Sydney (1,281 Miles) of just 55 hours, 28 minutes, having sailed at an average speed of 23.1 knots, beating the SS Monterey by 2 hours and 44 minutes. In addition during this voyage, she again had not used all her boilers, making it even more remarkable!
For this special occasion Paramount Film Corporation presented the ship with a special framed certificate which was placed in Captain Davey's cabin, as well as an especially created 45-ft long blue pennant, representing the "Tasman Blue Riband." This pennant was flown from the main mast just above the Company House Flag.
In addition, USSCo commissioned a polished stainless steel greyhound shown in racing mode. It was 5ft, 7 inches long. After it was presented to the Captain, it was mounted high atop on the ships foremast as a symbol of the ship's new status as the "Greyhound of the Tasman Sea." When Captain Davey retired in 1941 due to health reasons, the greyhound was taken down and the USSCo presented it to him in appreciation of his long service with the company, and not just for establishing this ship on the Tasman, but also having achieved greatness for this superb liner! Captain Davey installed the greyhound above the door of his home in Auckland. In addition the pennant was given to the Captain as a memento. After his death in 1966, both the pennant and the greyhound were presented to the "Auckland Institute and Museum" but it was relocated to the new "National Maritime Museum" in 1993, when the new museum opened. Today you can visit it these precious memories and be reminded that the TSS Awatea was indeed - "The fastest ship in the Antipodes."
PS: Awatea's Trans-Tasman record was not be broken for another 21 years, but finally in 1960 the great and very last "Orient Line" liner ever to be built, the SS Oriana, sailed from Auckland to Sydney in a mere 47.5 hours, averaging at an incredible speed of 27 knots.
TSS Awatea operated a single cruise during her entire commercial career. She departed Auckland on January 19, 1937, for a four-day cruise visiting Whangaroa, the Bay of Islands, Port Fitzroy and Great Barrier Island.
TSS

Awatea
–Specifications:
Built:                           Vickers-Armstrong at Barrow-in-Furness 1936.
Yard:                           707.
Launched:                    February 25, 1936.
Completed:                  July 1936.
Tonnage:                     13,492 GRT.
Length:                        161.1.3m / 545ft.
Width:                         22.5m / 74ft.
Draft:                          7.9m / 26ft.
Engines:                      Six Steam Reduced Geared Turbines - by the builder.
Screws:                       Twin screws -
Speed:                         22 knots, Max 26 knots
Passenger Decks:          Six, all lift accessible.
Passengers:                  151 First Class, 151 Tourist Class & 38 Third Class.
Crew:                          242
*************************************
Awatea's
Facilities:
First Class Public Rooms & Sports Deck
The Awatea had six passenger decks, with First Class having two lifts, one forward and amidships, these serviced all passenger decks. Her public rooms were certainly the ultimate for the day. On Promenade Deck forward was the Glass enclosed Observation Deck that surrounded the elegant Music Room that had its walls panelled in superb timber veneers, fine furnishings and a grand mirror on the aft wall, luxuriant carpets and a grand piano, as well as subdued hidden lighting with one lighting fixture that was a central feature.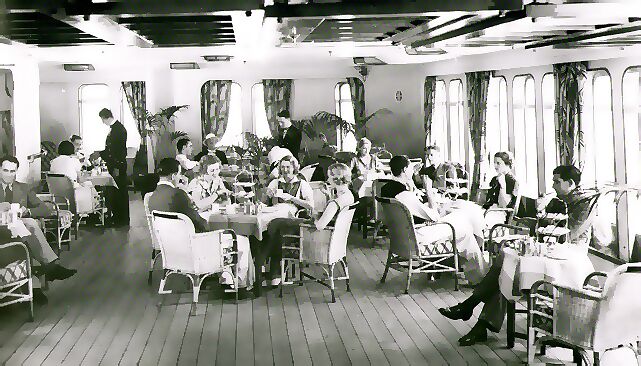 This is officially called the Observation Deck, but is also known as the Wintergarden forward on Promenade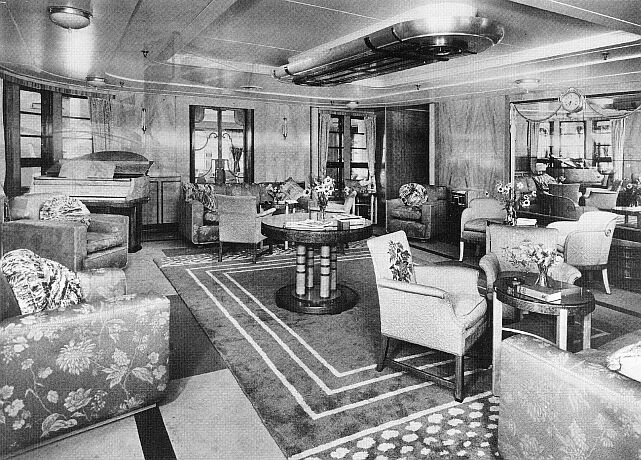 The Music Room forward on Promenade deck, followed by the Library and reading & Writing Room
The Music Room was followed by the combined Library and Writing Room, followed by the Main Lobby and then amidships one would read the Grandest venue on the ship, the towering two deck high Main Lounge. One of the features of this room was a large movie screen on her aft wall, which was covered by a series of decorative sliding panels, and up on the upper level on her two sides were Galleries with seating that had decorative stainless steel railings and rounded ends, that looked more like theatre balconies. The furnishings and fittings in this venue were of an international standard and would have been at home on the Queen Mary.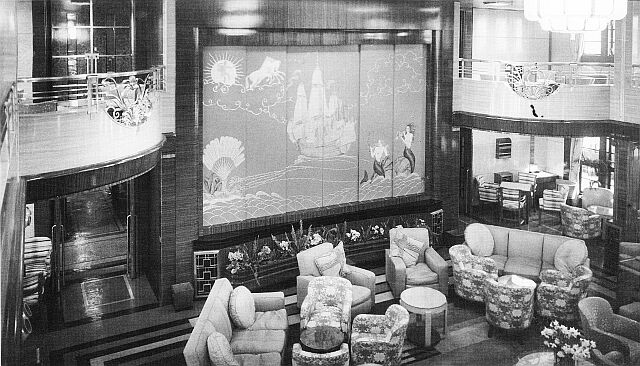 The Main Lounge looking down from the upper level with the lights dimmed to reveal a more demure feel
The Main Lounge furnishings were in rich floral tapestries, as well as a less bold style covering on the seating, which gave the room a sense of traditional style. Whilst the coffee tables in the room were in a light colour there were some dark timbers used in the lounge to embellish this room in a small way, such as the surround of the large forward mirror, the massive movie screen, the door surrounds, as well as the lower balcony edge surrounds. The rest of the room was much lighter than any of the other lounges in First Class and thus upon entering this room looked rather grand in every sense of the word, it was huge for a ship of this size! However, with all of its grandeur, this room's elegance was combined with a remarkable casual and a joyful ambience!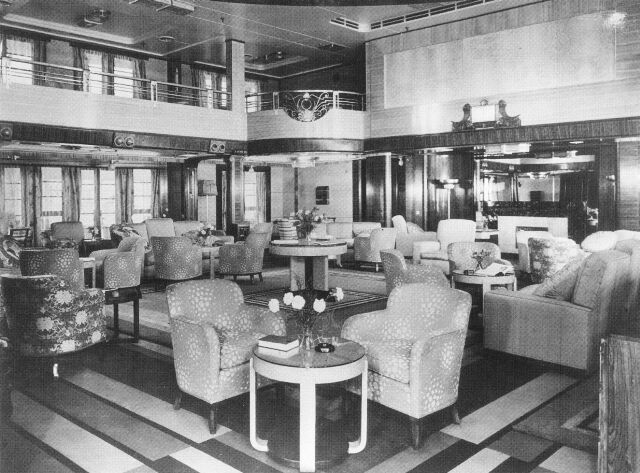 The two decks high Main Lounge had a Gallery on each side of the ship, this was a stunning venue indeed
And well befitting any great Trans Atlantic liner of her time
The Main Lounge was followed by two Club Rooms, one for Men (port) and the other for Ladies (starboard). Then came the superb and heavily timbered, very traditional Smoke Room and Bar, a venue that had the traditional English Fire place that was heated by electricity. Although not a big room it had that cosy and a very nautical feel, as in the window there were even portholes for effect!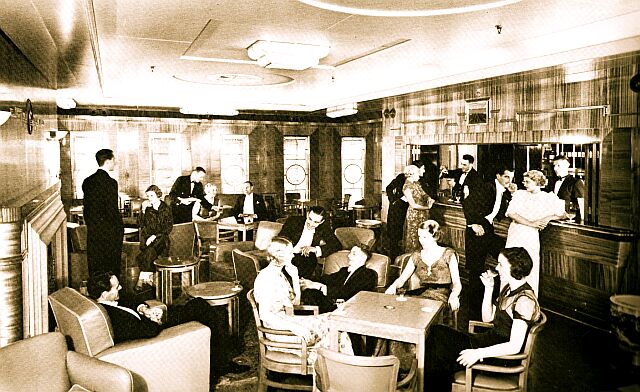 The Smoke Room with its Bar and a traditional - ever so British fireplace that was electric
The last room on Promenade Deck was the ever popular and delightful Verandah Café, also being the main dance venue and nightclub on board. The room was light and bright with large windows overlooking the aft decks and modern style murals on the forward walls. The flooring was teak decking, thus perfect for dancing, this combined with wicker chairs and small round tables the venue offered that casual and relaxed feel.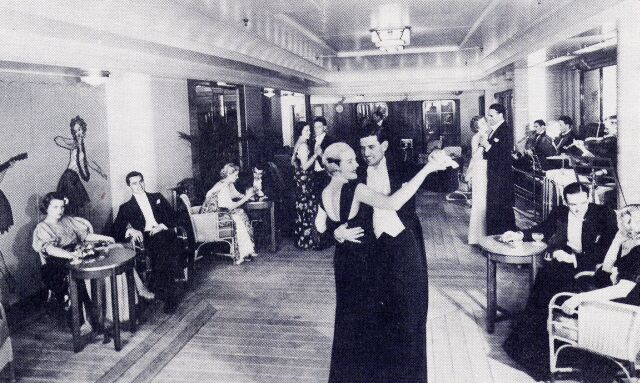 The Verandah Café and Night Club
Amidships on B Deck was the location of the large First Class Dinning Room that stretched the full width of the ship and was 80 ft in length. The middle section of the room was raised somewhat giving the Dinning Room a somewhat grander look, which worked well with the art deco style décor found around the room with silver metal finishing touches on the forward and aft walls, as well as the frosted glazed windows covering the portholes, which were also back-lit. The walls were covered in dark timbers, which was said to be Nigerian cherry wood. The middle raised section had a balcony (the stairs can be seen in this photo) on the forward wall where the ships orchestra would play. Although a very formal looking room, it had rather modern style furnishings as this photograph also shows.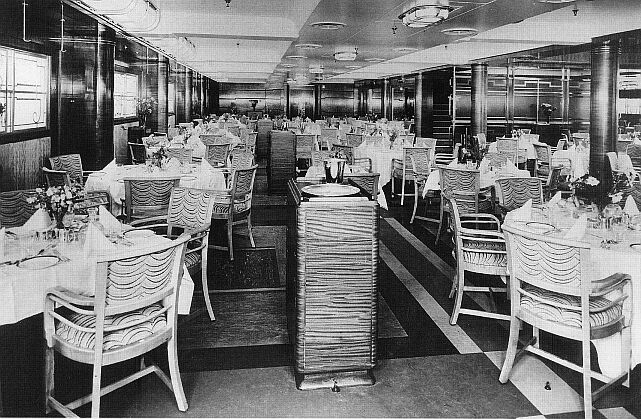 The magnificently panelled dinning Room had delightfully subdued lighting and at the main entrance
there were elegant silver metal polished steel and glass doors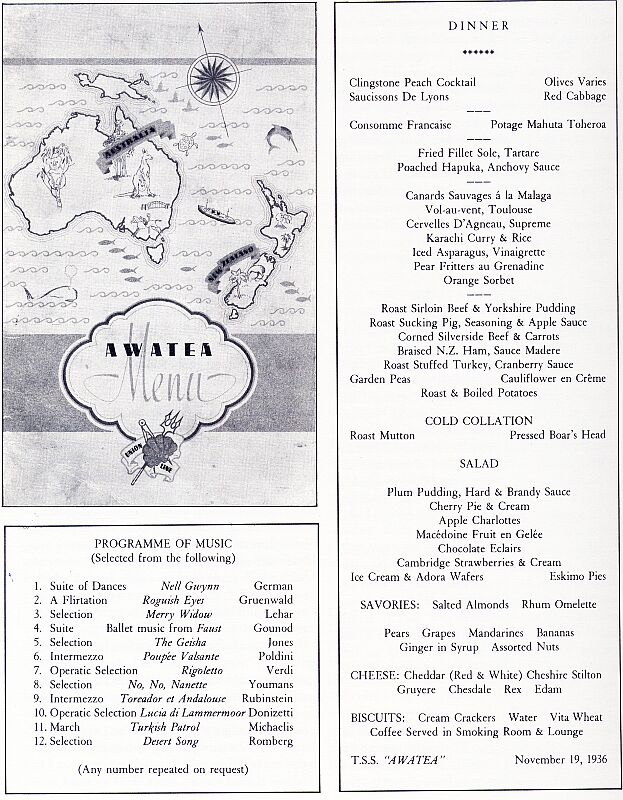 This is a 1936 menu & containing a programme of music to be played by the ships orchestra up in the balcony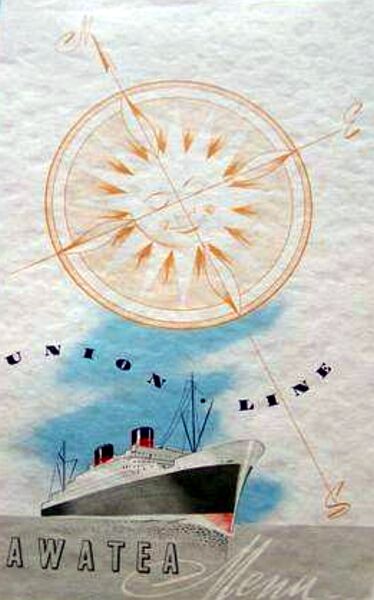 An Awatea Dinner Menu cover from 1939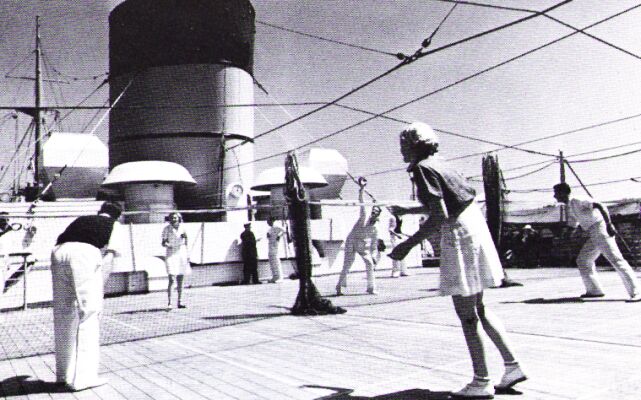 Sports Deck

Awatea's

First Class passengers were accommodated in luxury cabins, and all were equipped with telephones, hot and cold running water, heating and fan forced ventilation, dressing table, Table and chair, wardrobes, and many having private facilities.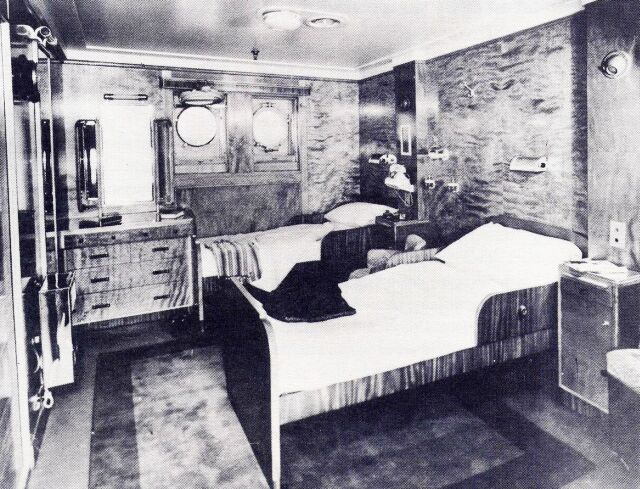 A twin bedded cabin - As can been seen these cabins were superbly appointed and richly panelled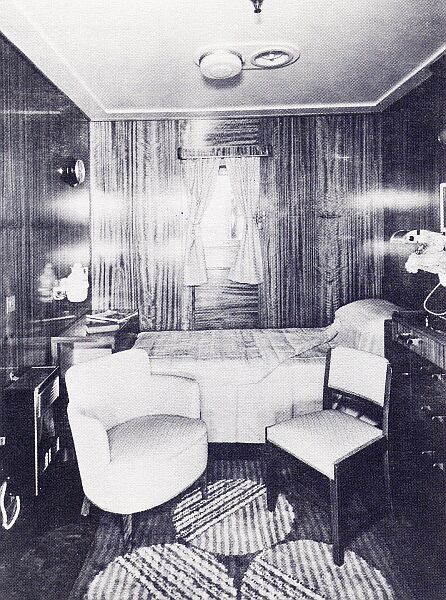 A singled bed cabin – Note the electric heater o the left wall

*************************************

Tourist Class Facilities

Awatea's

Tourist Class public rooms were all located on A Deck aft. The most forward one was the delightfully decorated Smoke Room that had all the traditional features of a room such as this with timber panelling and a bar. Next came the Writing room and the Library, followed by the elegant, but low key Main Lounge, which features a light colour scheme with dark oak timber columns, fire place surrounds panels next to the windows and the entrance doors, all giving this room a touch of elegance.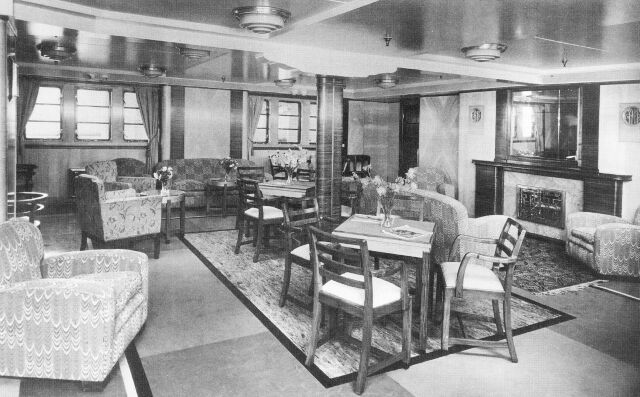 The Tourist Class Lounge was without doubt an elegant room and would have suited first class on many ships
The Tourist Class Dinning Room was located aft on B Deck as the large galley separated the two. This room was heavily panelled with dark timbers and it offered a variety of table sizes. Although not as grand as the one just forward, it still was quite elegant and it had a warm atmosphere.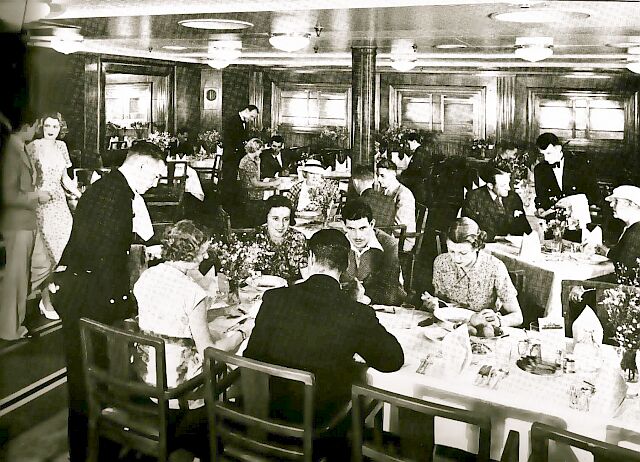 The Tourist Class Dinning room although quite elegant, but obviously more low key than first class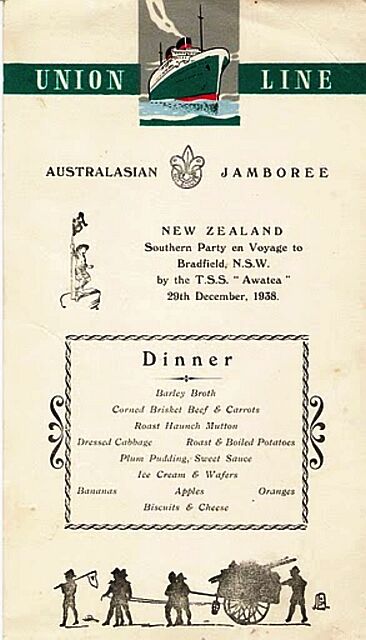 .
This was a special menu for the Jamboree voyage
Tourist Class offered comfortable accommodations, all having hot and cold water, heating and ample fan forced ventilation and ample wardrobes, seating and storage space, etc. I have no photographs available of Tourist Class accommodations.
Tourist had ample open and covered deck spaces as well as sports facilities, for both the Tasman crossings and the longer Pacific voyages.
*************************************
Third Class Facilities
Third Class was relatively small for just 38 budget passengers, and there was a main public facility, and dinning room on C Deck aft. Third Class had their open Promenade Deck aft on A Deck. Their cabins comprised of just three dormitories having 20, 10, and 8 bunks each.
I am sorry, but there are no images available for this class.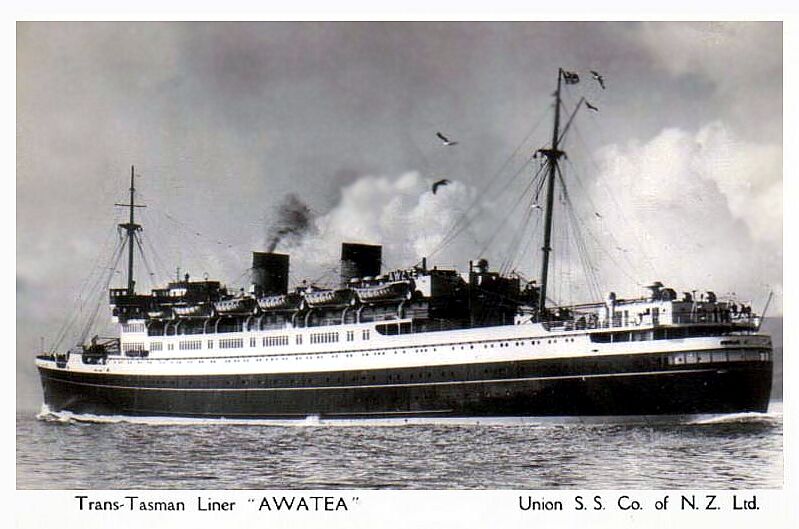 This id a beautiful postcard of the Awatea, which was badly damaged when the author moved from NZ to Australia in
the 60's, however it has received some love and it looks great again, as do some of my other images
*************************************
Awatea's

AWA Radio.
Prior to World War II, there were only two ships in Australasian waters that were well known in the international radio scene. One was the McIlwraith McEachern Ltd, TSMV Kanimbla, a famed and the very last Australian coastal liner, with its radio station "VK9MI." Whilst the other liner being the TSS Awatea, which had electronic equipment on board that had been made by AWA in Australia. This system had been installed during the time of her construction by Vickers-Armstrong. Transmitters on Awatea were licensed by the New Zealand authorities as "ZMBJ" and for long distance communication it operated with 400 watts on 8840 kHz. Yet Awatea did not have a Radio Studio as such and when the station was on the air with programme broadcasting, the communication equipment was diverted for this purpose.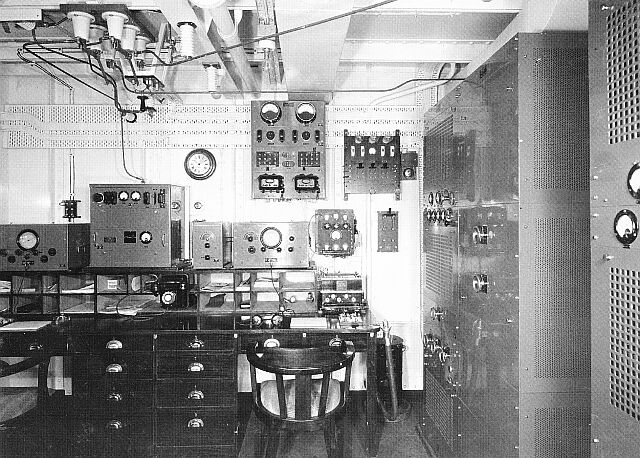 Awatea's

Radio Room

The Australian Prime Minister, Joseph Lyons was on board Awatea in September 1936, and he made a broadcast to the Australian public on "ZMBJ." This broadcast was relayed Australia-wide on the Australian "ABC" network by the medium wave station 3LO in Melbourne. Although with the outbreak of World War II broadcasting of general programmes from the Awatea came at an end.
Ham Radio enthusiast contacts the TSS Awatea:
However Ham Radio enthusiasts were able to contact the ship and on May 15, 1938,

Ted Serafin had radioed the TSS Awatea and he was sent a *QSL card in recognition, and this is his story.

On October 22, 2019, I received an email that contained the details re the above from …

"Hello! My fiancé's great grandfather was a ham radio enthusiast back in the late 1930's. We have in our possession hundreds of his QSL cards from across the world. A specific few of his QSL cards were framed by her father some 20 years ago.

One these framed QSL cards is from the TSS Awatea. I was interested in learning about the ship and Google perfectly landed me on your site. Your article and documents are perfect and thank you so much for your dedication to maritime history. 

Attached is the front side of the card. Being that the card is tightly pressed behind glass we cannot access the back side of the card. Regardless, if you have/or have not seen a TSS Awatea card, I hope you find use for and enjoy the attached one!"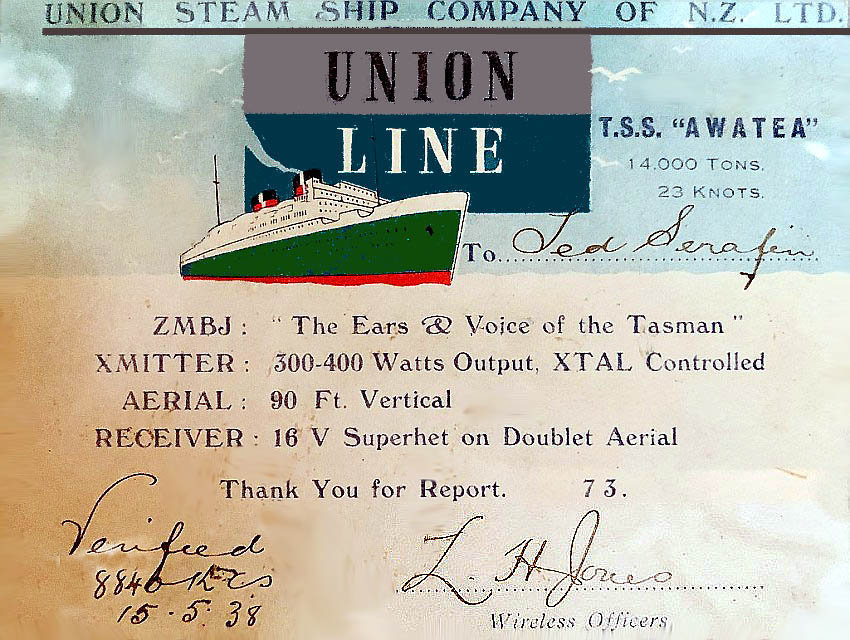 Above we see the front of the card, however as we were told, there is a message on the back, but due to it having been framed a very long time ago, it cannot be removed and viewed.
*QSL Cards are widely exchanged between ham radio operators to confirm contacts between two radio stations. The term QSL comes from the radio "Q" code meaning "I confirm reception", and the purpose of a QSL card is to confirm contact. The cards themselves are normally post card sized and many are colourful and most attractive. Quite a few have photographs or artwork by the ham radio operator.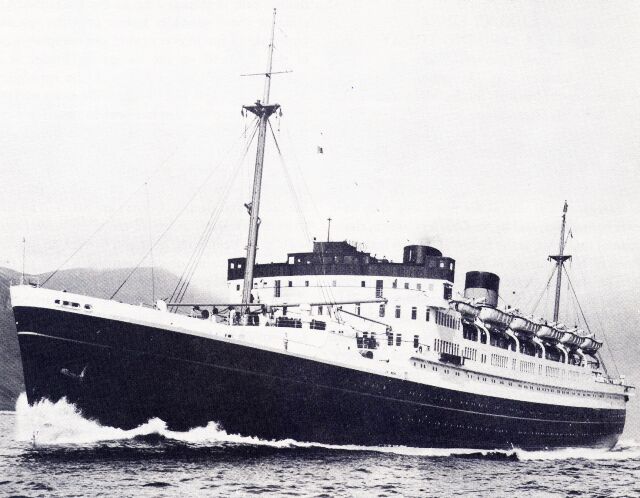 The sleek looking TSS Awatea is seen here at full speed ahead
Image Provided by Stan Evans
*************************************
World War II & the Pacific Service:
World War II commenced in September 1939 whilst the Awatea was under going a refit in Sydney. Whilst undergoing her annual refit it had been decided that a 4-inch gun would be placed on her aft deckhouse.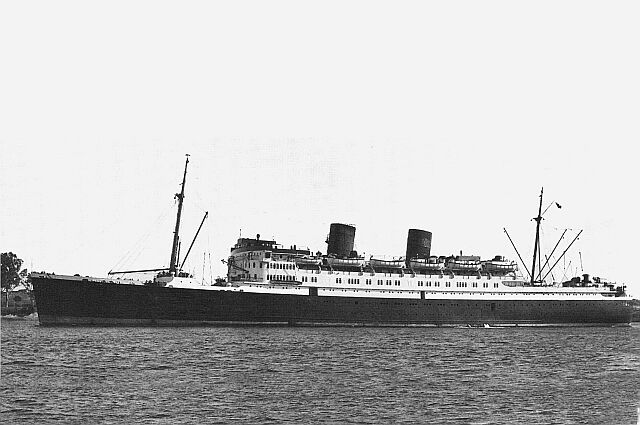 Above and below

: We can clearly see that after the 1939 refit the Awatea had her 4 inch gun fitted up on her deckhouse far aft. In addition we can see that many of her promenade windows had been covered in. Obviously this photograph was taken prior Captain Davey's retirement for the Greyhound can still be seen atop the forward mast. The story regarding the captain and the greyhound is located below under the heading "Trans-Pacific Details."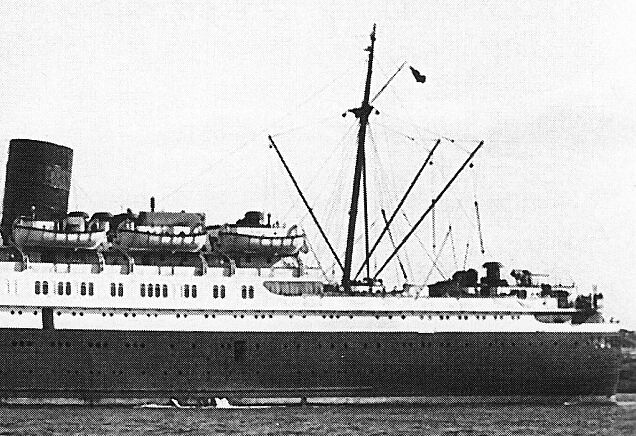 Note the gun aft
When completed she first returned to her regular Trans-Tasman services. Then with the loss of the USSCo Trans-Pacific liner SS Niagara on June 19, 1940, it was decided for the Awatea take over her Pacific service, sailing from Sydney, via Auckland and Hawaii to Vancouver Canada. However, before she headed for Canada she was first sent to Manila to transport a 1,000 women and children who had been evacuated from Hong Kong.
Trans-Pacific details: She finally departed on her first Trans-Pacific Voyage from Auckland on September 10, 1940, with Australian and New Zealand airmen all bound for Vancouver.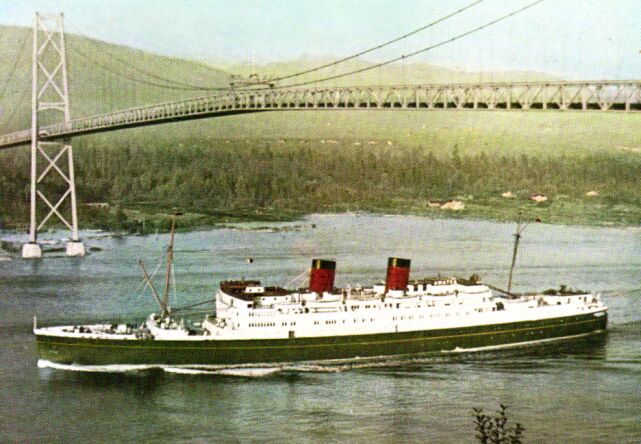 The TSS Awatea is seen passing under the relatively new Vancouver Gate Bridge
However, soon after commencing the Pacific service Captain Davey decided to retire, which was mostly due to health problems as he was suffering badly from arthritis in his legs. USSCo decided that the famed Greyhound would be presented to him at his farewell, and he placed it above his door of his home.
Awatea made two more return Pacific voyages, after which she made a voyage transporting with troops to Ceylon (today's Sri Lanka). This voyage was in a convoy that included a good number of famous ships, such as the grandest of all the "Grey Ghost", being the Cunard Liner, now the troopship Queen Mary, as well as the ultra luxury Shaw Savill liner Dominion Monarch and the superb Aquitania, thus the Awatea was in good company. Having completed this voyage she made two further voyages to Vancouver, with the last being a one way to Vancouver for she would remain there being requisitioned into the war officially.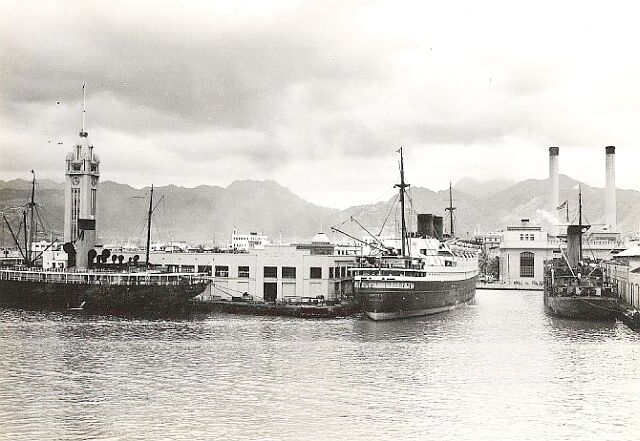 The Awatea (middle) is seen here in Honolulu in the shadow of Aloha Tower – but berthed at Pier 8
Note her aft gun
Whilst in Vancouver on September 1941, the TSS Awatea was officially requisitioned by the British Ministry of War & Transport and she was ordered to sail for Britain where she would be converted to become a troopship. Before departure she was repainted in the traditional wartime grey.
Having departed Vancouver on September 11, and only six hours after departure, she had the misfortune to suffer considerable damage to her portside when she was rammed very early in the morning by the 5,000-ton American tanker Lombardi just off the Victoria British Columbia. This collision cased three long gashes on her portside, one of which had quite a large hole, but all were thankfully above the waterline.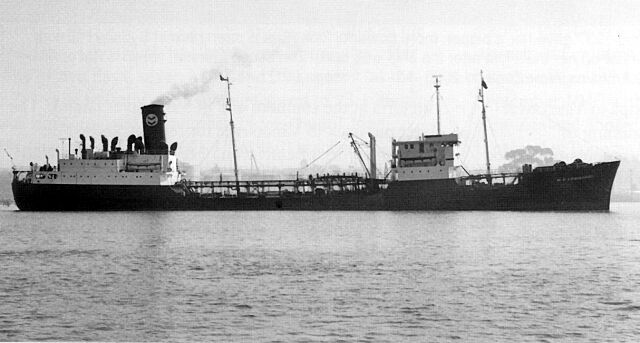 The American tanker Lombardi
Photographer unknown - *See photo notes at bottom of the page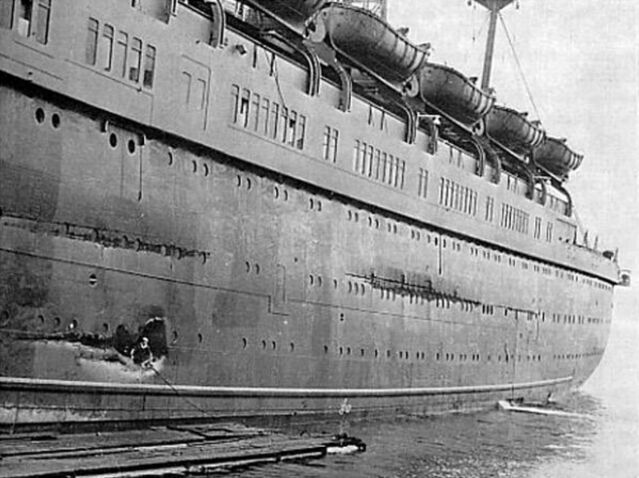 Damage can be seen along her portside after the collision
Photographer unknown - *See photo notes at bottom of the page
Awatea headed back to Vancouver in order to make repairs and it was decided by the Ministry of War to complete her conversion into a troopship in Vancouver in order to save time and obviously cost. Her New Zealand crew had already decided to remain on board their much-loved ship for the war effort.
It was announce that her first task would be to take two battalions of Canadian troops to join the British and Indian garrison which was based in Hong Kong, and with her conversion completed she departed Vancouver bound for Hong Kong on October 27, 1941, with troops of the Winnipeg Grenadiers and the Royal Rifles of Canada. For this voyage the Awatea was accompanied by another former liner that had been converted as an Armed Merchant Cruiser, the HMCS Prince Robert that in addition to other duties also transported a company of the "Royal Rifles." Both ships arrived safely, but sadly out of the 1,975 Canadian troops that disembarked in Hong Kong on November 16, 1941, some 250 would die in a horrific two week battle for the city, and another 300 more would lose their lives in the prisoner of war caps due to the extreme brutally that was experienced by the hands of the Japanese in the time of their captivity.
Awatea continued on a number of voyages, most of which were in convoy and considered unremarkable.
Sergeant Ronald Leslie Barton:
I received an email from Clive Barton who lives in Hertford in the UK, who told me that his late Father, Sergeant Ronald Leslie Barton from Wivenhoe in Essex, sailed on the HMNZS Awatea, which departed from the in UK in March 1942 and sailed via Cape Town and Durban to Bombay as he was to be stationed in Palam India for the next few years as a Military Policeman in the RAF.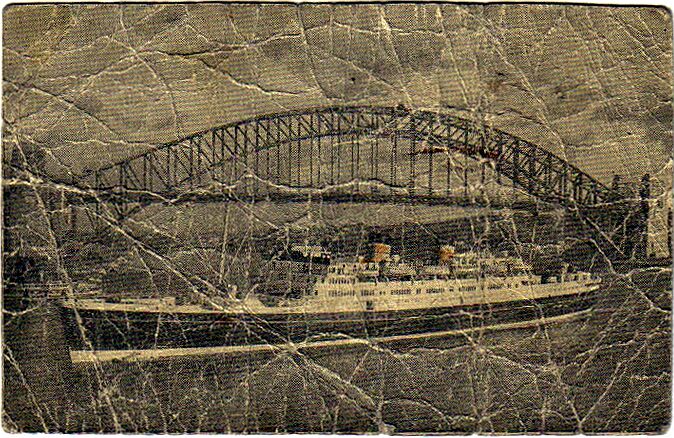 This (crumpled) postcard was sent home by Sergeant Ronald Leslie Barton on his way from the UK to Bombay in April 1942
Provided by his son Clive Barton
Whilst on the way to India, he sent home a colour postcard of the Awatea whilst the ship was in Durban. Written on the back of the card is "Awatea Durban, April 1942." Although when Clive discovered the card, it was terribly faded and very crumpled. Therefore upon receipt of the faded image I used Photoshop and restored some of the original colour, but left the crumpled effect, but I did remove some badly damaged sections at the bottom right corner of the card.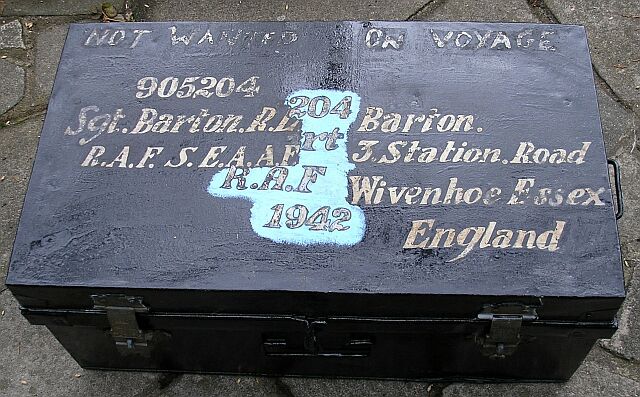 This is Sergeant Ronald Leslie Barton cabin trunk, which has been retained by the family to this day!
Provided by his son Clive Barton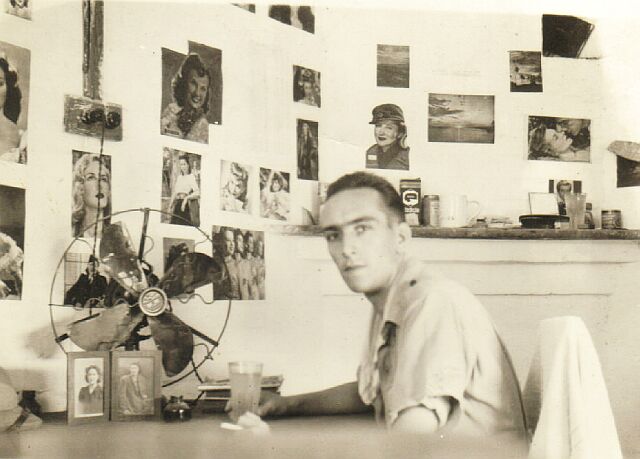 Sergeant Ronald Leslie Barton

having glass of cool lemonade made with limes
On the back of the photo it reads "Taken in my bunk (room) at Palam (India) Sept, 1944"
Provided by his son Clive Barton
Collisions at Sea:
On August 22, 1942, the Awatea was on her way to Greenock, Scotland from Halifax, Nova Scotia as part of Troop Convoy AT-20, when she was involved in a terrible accident. The convoy was proceeding in thick fog, when one of her escorts, the American destroyer the USS Buck, accidently crossed too closely in front of the Awatea, causing the USS Buck to be almost sliced in two. The American destroyer USS Ingraham was sought to come and assist and investigate, however, believe it or not, this ship also crossed in front of yet another ship, being the navy fleet fuel ship, USS Chemung causing her to be rammed and this accident cost hundreds of lives. All this certainly does not say much for US Navy efficiency, does it? God help us if we have to rely on the USA in a war situation?
The USS Ingraham capsized and exploded and tragically 250 of her crew were lost, with only 11 men surviving. Another 7 men died from the USS Buck died. Both the Awatea and the Chemung were damaged in the collisions, and the USS Chemung had also caught on fire, however her crew fought the fire valiantly during night and were able to control it.
The next morning, USS Chemung took the helpless USS Buck in tow and they headed back to Halifax in the company of two escorts, being the USS Bristol and the USS Edison. The New Zealand liner Awatea, although being damaged and with a hole in her side, the crew first emptied fresh water from their tanks to make her ride higher in the water, and she had to leave the scene as directed by the US Navy as Awatea had over 5,000 troops on board. However this meant that left the safety of the convoy in order to head back to Halifax, thus during the first stage of her voyage, Awatea was left completely alone, unlike the American ships, which were given escorts. Thus the Awatea became a "sitting duck" for any German U-boat that patrolled the Pacific. Thankfully, in due course the Royal Canadian Navy corvette, the HMCS Kamsack became the first escort to come to escort the Awatea, thank God for the Canadians! But even then Awatea's situation was still dangerous. All on board were very relieved when further escorts arrived and escorted this great New Zealand liner safely into port to be repaired, after her second collision at sea!
Awatea Final Days:
In November 1942, the Awatea was one of the troopships that took part in one of the most dangerous operations that was named: "Operation Torch." This would include landings in North Africa. The first two days of these extensive landing operations would be extremely risky for all the merchant ships involved, and this was due to insufficient Allied air cover to protect them. And this fact became very obvious when it came to the New Zealand liner Awatea, which received little to NO protection whatsoever! Tragically this once great liner Awatea was about to become one of Operation Torch's victims at sea on November 11 1942, being the first day of the landings at Bougie Algeria.
This story and photographs will cover her final days.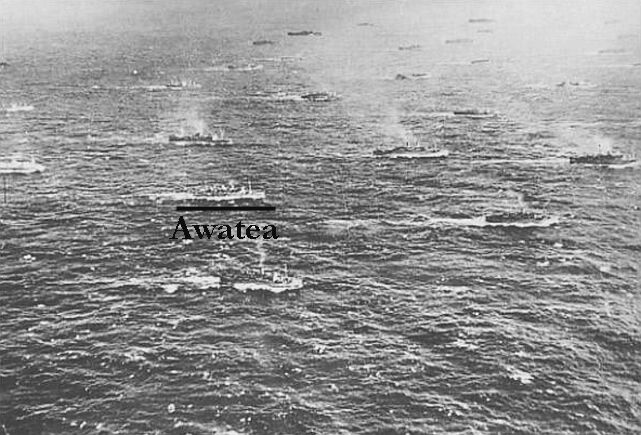 The final voyage of the Awatea
Photographer/source unknown - *See photo notes at bottom of the page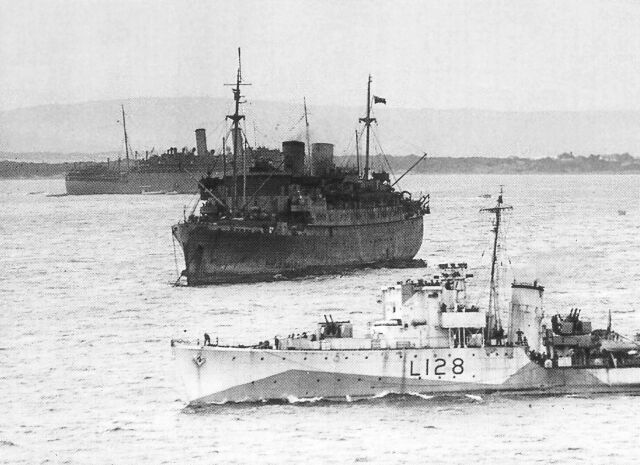 This is the very last photograph ever to be taken of the Awatea. It was taken three days

before

the tragic day, when she was bombed and torpedoed by the Germans and Italians

Photographer/source unknown - *See photo notes at bottom of the page

Regarding the photograph above

: In front of the Awatea we see the HMS Wilson, which is a "Hunt Class" type 2 Escort Destroyer. Behind Awatea we see the Orient Lines 20,000-ton RMS Oranto. Other ships that were close to her that day by were: HMS Keren, and the much-loved Australian liner, TSMV Bulolo, which by then had become the Royal Navy's first Landing Ship's Headquarters. All of these ships thankfully survived the war.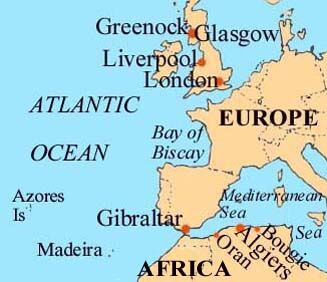 Map showing the port of Bougie

in Algiers

On November 8, 1942 the Awatea took part in Operation Torch, which was according to the war records, a successful Allied invasion of French North Africa. After landing some 3,000 commandoes near Algiers, the Awatea ferried more troops further east.

Then on the night of November 11, just off Bougie, the troops had disembarked and stores and equipment were being discharged when enemy aircraft attacked and dropped two bombs close by the Awatea. The attack was driven off by concentrated fire from the ships, but soon afterwards four bombers came in from seaward at low level. One aircraft was definitely shot down by gunners from the Awatea, and another was badly damaged by other ships. Having completed discharging, the Awatea was under heading for the sea when an attack by an unknown number of aircraft developed. With all her anti-aircraft armament firing the ship had proceeded about a mile when she was hit in Nos. 1 and 2 hatches by number of bombs which set the fore end of the ship ablaze.

The helm was ordered hard-to-port with the object of beaching the ship should it be necessary. But then came two hits by torpedoes on the port side caused damage and flooding to the after engine room and put the fire fighting appliances out of action. One bomb, thought to be a dud, went through the officers' dining room and another struck into the fire raging in No. 2 hatch. One bomber hit by the ship's gunners crashed into the face of a cliff and theft fell into the sea. Other aircraft were seen to have been hit, but did not crash. All guns continued in action till the attack ceased. By this time the flooding of the engine-room had caused a list of nearly 40 degrees. The ship carried her way for a considerable time, but not sufficiently long to reach shoal water. Before she finally stopped an explosion in the ship was felt. It was thought to have been caused by the believed dud bomb detonating. The Awatea was now well ablaze from under the bridge to the bows. When the first bombs hit the ship both the steel lids of Nos. 1 and 2 hatches were blown into the air, one landing on the starboard side of the bridge and. the other close to No. 4 hatch on the after deck. When this hatch lid was in flight one gunner mistook it for a dive-bomber and opened fire on it. Several near misses by bombs were observed, two of which shattered much of the forward first class passenger accommodation. The Awatea was stopped and blazing furiously when she was abandoned. The ship's medical staff evacuated the sick men from the hospital aft and the crew carried them and injured men to the boats.

The ship's company were taken off in the five remaining serviceable lifeboats, and a destroyer which placed herself alongside the starboard quarter. There was no sign next morning of the ship, as she had sunk in deep water. Everything possible for the comfort of the Awatea's personnel was done by the companies of several ships, but especially by those on board the Dutch liner MS Marnix van St Aldegonda that had been in the convoy.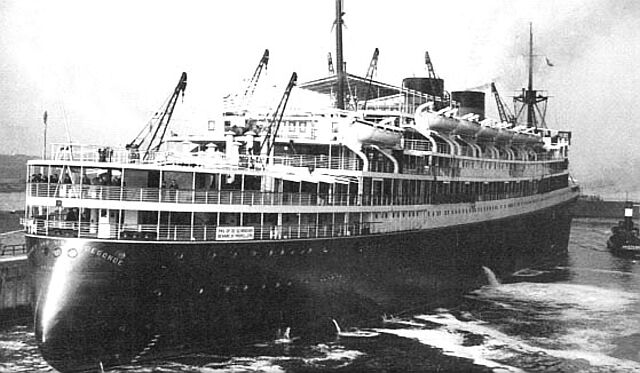 The Netherland Line - MS Marnix van St. Aldegonde, sister ship to the MS Johan van Oldenbarnevelt
The survivors taken aboard the Dutch ship who had been witnesses of another air attack which shook their ship with a number of near misses. The attack was beaten off by gunners. During the passage to England Captain G. B. Morgan, D.S.O., D.S.C., master of the Awatea, presented the master of the Netherlands ship with an illuminated address recording the appreciation of himself and his crew of the many courtesies and the great kindness shown them by the Dutch seamen in this the tercentenary year of the discovery of New Zealand by Abel Tasman.
Later Captain Morgan and a good number of his officers and crew were awarded decorations for their bravery and services, whilst others were mentioned in dispatches. It was certainly remarkable that all on board the Awatea managed to get off the ship safely, however, as the story is told by those who came home, the ships cat was killed by a bomb blast.
For all New Zealander's and Australian's alike it was a tragic end for a ship that so has often had been described as the finest liner ever to fly the New Zealand flag, and to this day, we can and will attest to this as being a fact!
Memories of the TSS Awatea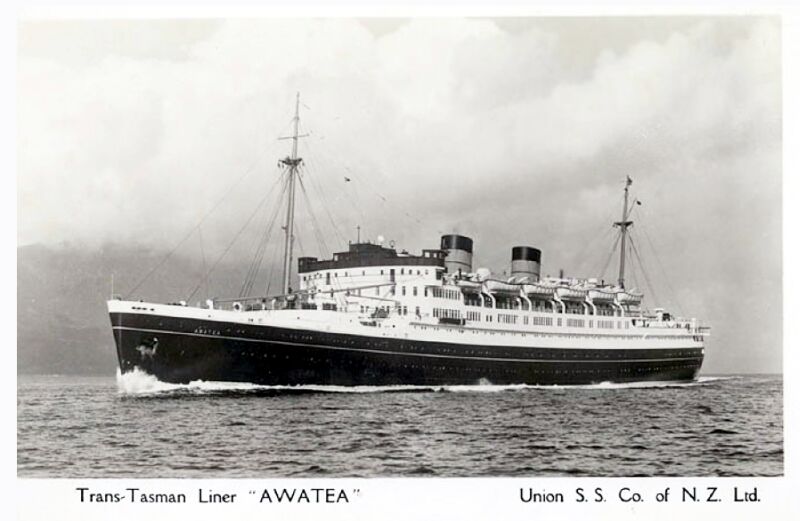 An excellent postcard of the TSS Awatea prior to 1937 and the heightening of her funnels
In Conclusion:
In all, I can honestly say that the TSS Awatea was indeed the finest New Zealand liner ever to be built. The Awatea successfully delivered countless New Zealand and Australian air trainees to Canada, as well as shipping some 2,000 Canadian troops to Hong Kong, and evacuated civilians from the Philippines and Singapore. In addition, she transported British airmen from the UK to India and carried several thousand Free Polish troops from India to South Africa and during these various missions the ship narrowly escaped German U-boat attacks in the North Atlantic. In addition she was involved in several collisions with other ships. Then finally came that dreaded air attack on November 11, 1942, when she was hit by four bombs, with one bomb causing a fire in holds No. 1 & 2, and other bombs and torpedoes that followed hit and flooding the engine-room, causing a list of 40 degrees that finally sunk her. But thankfully, there was no loss of life!
During her short of life at sea the Awatea steamed 576,132 miles, slightly more than half during peacetime, including 225 Tasman crossings. In her day the Awatea provided the "Acme of maritime speed and comfort" and she will always be remembered with these two quotations:
"Queen of the Tasman" & "The Greyhound of the Tasman Sea."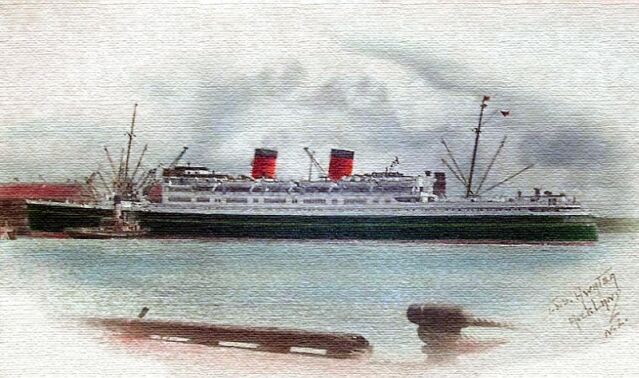 Awatea seen arriving in Auckland
From an unknown source - *See photo notes at bottom of the page
***********************************
Also view other USSCo Passenger Ships online, from oldest to the last ever built
SS Waitaki / SS Moeraki & Manuka / SS Marama & Maheno / SS Tofua
RMS Aorangi / TSS Monowai / TSS Awatea / MV Matua & MV Tofua
***********************************
Liners sailing to the distant shores.
I watched them come, I watched them go and I watched them die."
Return to the ssMaritime MAIN INDEX
ssMaritime.com & ssMaritime.net
Where you will discover over 1,350 Classic Liners & the 1914 built MV Doulos Story
The Author has been in Passenger Shipping & the Cruise Industry for over 60 years!
Please Note: ssmaritime and associated sites are 100% non-commercial and the author seeks no funding or favours of any shape or form, never have and never will!
Photographs on ssmaritime and associate pages are by; the author or from the author's private collection. In addition there are some images that have been provided by Shipping Companies and private photographers or collectors. Credit is given to all contributors. However, there are some photographs provided to me without details regarding the photographer/owner concerned. I hereby invite if owners of these images would be so kind to make them-selves known to me (my email address may be found on www.ssmaritime.com only), in order that due credit may be given.
This notice covers all pages; although, and I have done my best to ensure that all photographs are duly credited and that this notice is displaced on each page, that is, when a page is updated!
ssMaritime is owned & © Copyright by Reuben Goossens - All Rights Reserved