S.S. Tofua (1) 1908 to 1934 (Union Steam Ship Co, Ltd of New Zealand)
Note: iPhones, iPads, Firefox & some other Search Engines may not be suitable
Use Google Chrome for this Web Page to load perfectly!
Click the logo above to reach the ssMaritime FrontPage for News Updates & "Ship of the Month"
With Reuben Goossens
Maritime Historian, Author, Lecturer & Cruise'n'Ship Reviewer
Please Note: All ssmaritime and my other related ssmaritime sites are 100% non-commercial and privately owned sites. Be assured that I am NOT associated with any cruise or shipping companies or travel/cruise agencies or any other organisations! The author has been in the passenger shipping industry for over 60 years, but is now retired, but hopes that you will enjoy the articles on many classic liners and cruise ships that have been covered, all done for past passengers and classic ship enthusiasts to relive those wonderful days gone by!
S.S. Tofua I
1908 -1934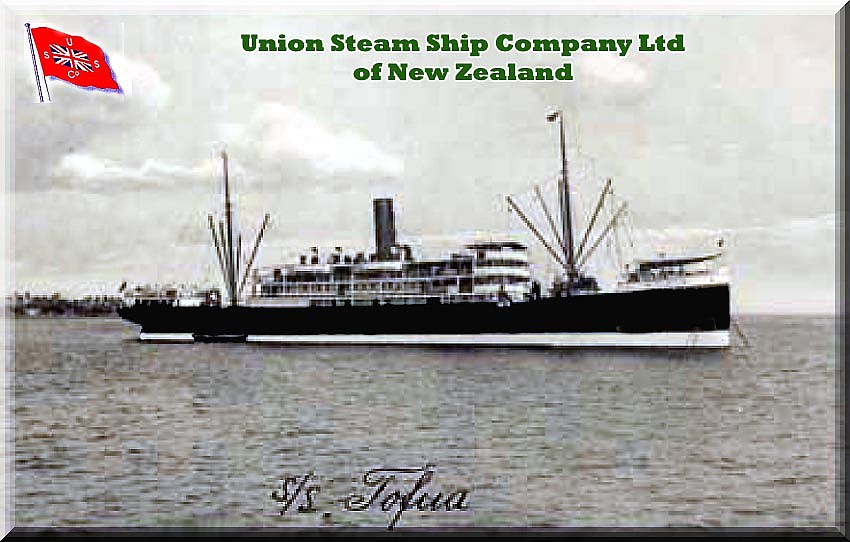 A fine postcard of the S.S. Tofua I
Please Note: Photographs are from the Author's private collection, and were obtained, when employed as a
manager at the Union Steam Ship Company in Wellington New Zealand in 1963, unless stated otherwise!
Introduction:
S.S. Tofua (I) became known as the very first "Union Steam Ship Company of New Zealand Ltd", (USSCo) ship that made a regular and a very important regular link with many of the Pacific Islands, which was greatly sought after by both the Polynesians and New Zealanders. Thus she was designed to exclusively operate as a Passenger-Cargo liner, with ample Cargo, with refrigerated space to transport meats, foods and general goods, as well as mail to the Islands, whilst bananas and other fruits, would be loaded from the Pacific Islands and were transported to New Zealand and Australia.
Tofua I was constructed by "William Denny & Brothers", at Dumbarton, Scotland, and early in 1908 she was launched, officially named Tofua and fitted out and when she was completed she undertook her deep sea trails. During her speed trials she proved to be very successful as she reached a fine 15.8 knots maximum speed, although she would sail at a service speed of 14.5 knots.
Having been delivered to Liverpool, the Tofua was made ready for her official delivery voyage to the USSCo in Auckland New Zealand.
The Tofua departed Liverpool on Sunday April 12, 1908, sailing via South Africa, and headed for Sydney Australia, where she received quite a big welcome and whilst there several functions were held on board, etc. She then departed Sydney on June 23 bound for New Zealand, and upon arrival in Auckland she spent some time, as she would be fully manned, as well as completely stored up, and made ready for her maiden Pacific voyage and her regular round trips.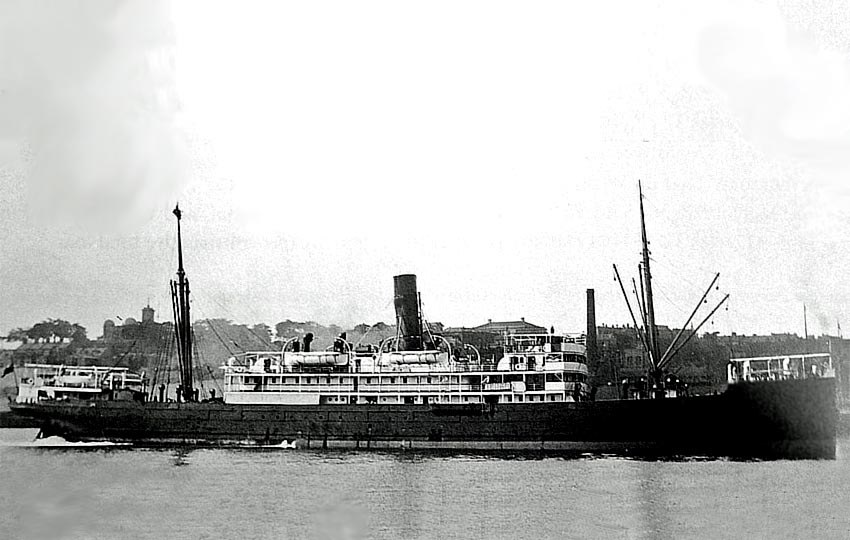 The Tofua is seen in Auckland and she had excellent accommodations for 100 First and 44 Second Class passengers
The 4,345 GRT (Gross Registered Ton) Passenger-Cargo Liner S.S. Tofua would be taking over services from the delightful 1904 built, smaller 2,930 GRT S.S. Navua, although this ship never called on the Island nations of Samoa and Tonga, which Tofua would now do on every single voyage as from now!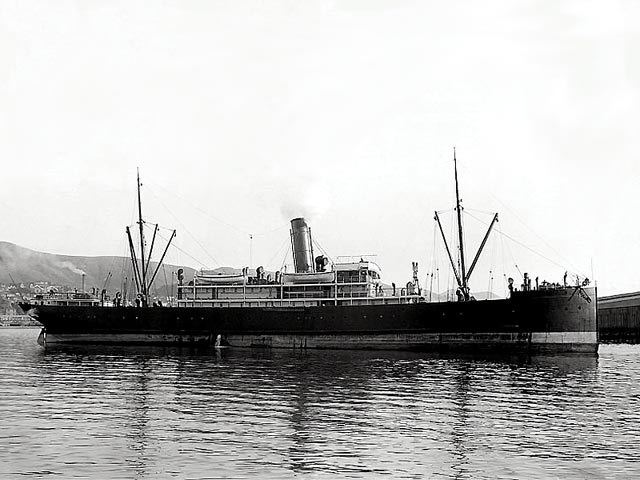 S.S. Navua the ship the Tofua replaced on the Pacific Service
S.S. Tofua (I) departed Auckland on July 22, 1908, and headed for Suva (Fiji), Nukualofa, Haapai and Vavau (all Tonga), concluding in the Capital of Samoa "Apia". Then her return voyage was direct to Auckland with just a single port of call, being the Fijian port of Suva once more.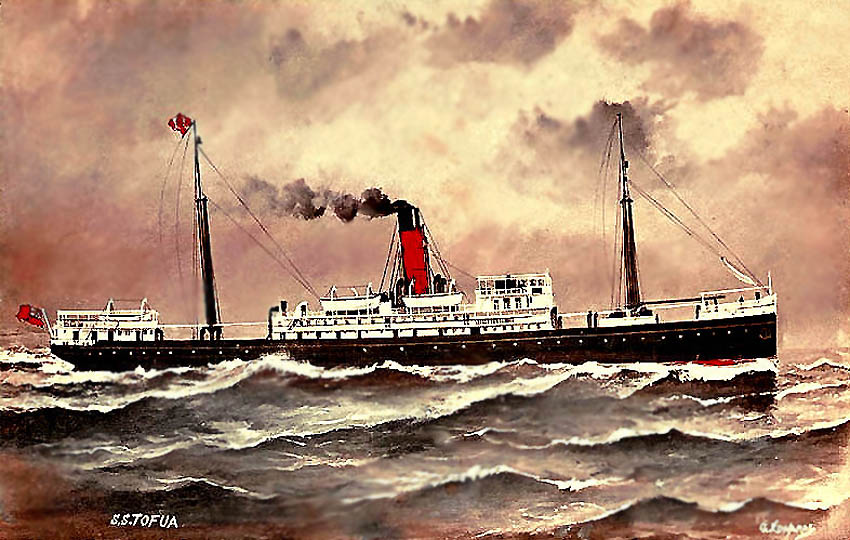 A delightful colour postcard with a painting of the Tofua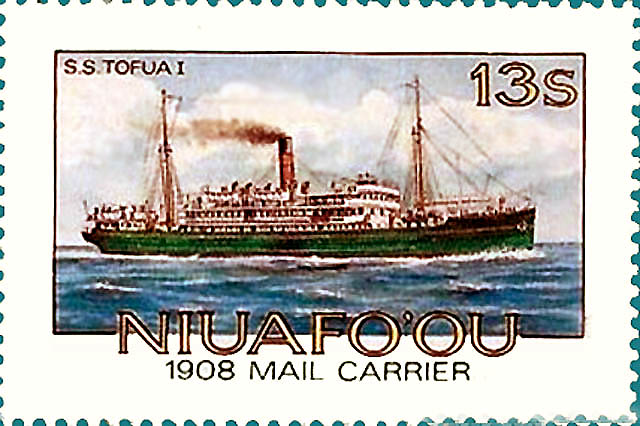 As seen above a special Stamp was issued honouring the Pacific Mail ship S.S. Tofua
The Tofua remained on this service until 1915, as time was about to change with a major war was about to commence.
HMNZT Tofua
1915 to 1919
The Tofua was taken over by the Admiralty (under orders of the British High Command) and she was given a refit, which saw most of her luxurious passenger fittings removed, and she was made suitable for the job to become being a WWI Troopship.
Upon completion she was given the prefix HMNZT (His Majesty New Zealand Troopship) Tofua.
A Record of HMNZT Tofua's Transport Voyages:
Below is a list of HMNZT Tofua's Wartime voyages, or "convoys", many of which were sailing with another ship and escorted by warships for protection. The list was obtained from official Government WWI files, even though they were not very complete with all the detail I wished for, but it was better than nothing!
You will note that all HMNZT Tofua's convoy's numbers are shown in bold, such as HMNZT Tofua #109.
August 14, 1915, as HMNZT Tofua #28 she was placed in convoy with the Australian ship HMNZT Willochra 27, and they departed New Zealand with the 6th reinforcements, New Zealand Expeditionary Force, being a total of 2,363 troops and persons and headed for Egypt, where the arrived on September 19, 1915.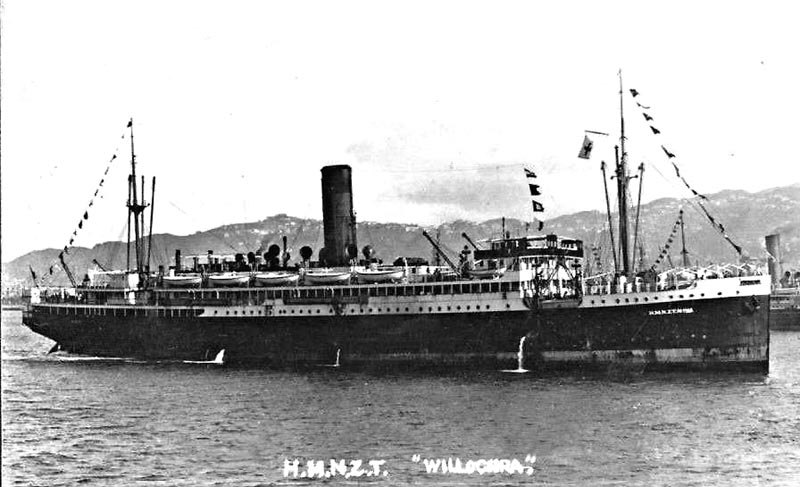 HMNZT Willochra 27 was an 'Adelaide Steamship Co, Ltd', an Australia ship on loan to New Zealand
November 13, 1915, HMNZT Tofua #36 and in convoy once again with HMNZT Willochra 35 departed New Zealand with the 8th Reinforcement & 2nd Reinforcements Infantry to NZ Rifle Brigade, a combined total of 2,585 troops commanded by Captain Armstrong who was on the Tofua and they were once again bound for Egypt, where they arrived on December 18.
March 4, 1916, HMNZT Tofua #48 and in convoy with HMNZT Willochra 47 departed New Zealand with 11th Reinforcements NZ Expeditionary Force, 5th Reinforcements 1st, 2nd Battalion NZ Rifle Brigade, 2nd Reinforcements 3rd & 4th Battalion. NZ Rifle Brigade, a combined total of 2,222 troops commandeered by Captain Shand on board the Tofua. They arrived in Egypt on May 3, 1916.
June 27, 1916, HMNZT Tofua #55 in convoy with HMNZT SS Willochra 54 departed New Zealand bound for Devonport the UK, with 13th Reinforcements NZ Expeditionary Force, 7th Reinforcements to the 1st & 2nd Battalion NZ Rifle Brigade & 4th Reinforcements to the 3rd & 4th Battalion NZ Rifle Brigade, a combined total of 2,123 troops. The convoy was commandeered by Major Hickey aboard Tofua. Just several days out from Albany (Western Australia) the Willochra was diverted to Plymouth England, whilst the Tofua arrived at Devonport July 27, 1916.
October 11, 1916, HMNZT Tofua #67 departed New Zealand with part of the 18th Reinforcements NZ Expeditionary Force the other part was carried by HMNZT Willochra 66 and the 9th Reinforcements Maori Contingent. They arrived on December 28, 1916 at Plymouth England.
April 26, 1917, HMNZT Tofua #83 in conjunction and convoy with HMNZT Turakina 84 departed New Zealand - with the 25th Reinforcements New Zealand Expeditionary Force. Troops aboard the Tofua were under the command of Captain F. Paterson. Both ships arrived at Plymouth England on July 19, 1917.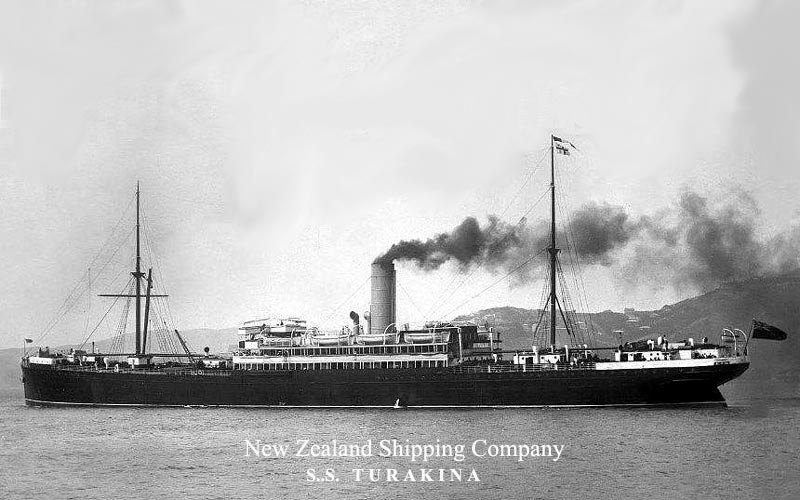 Sadly the Turakina was torpedoed and sank on August 13, 1917
November 13, 1917, HMNZT Tofua #98 departed New Zealand with 29th, 30th, 31st, 32nd, 33rd & 34th Field Ambulance as well as the Mounted Rifles Brigade. A total of 810 men were under command of Lieutenant W Ricketts. The Tofua arrived at Suez, Egypt December 21, 1917.
March 2 1918. HMNZT Tofua #101 departed New Zealand with the 35th Reinforcements NZ Expeditionary Force and the 27th Reinforcements Maori Contingent, a total of 932 troops under command of Capt. R.J. Seddon. She arrived in England on April 8, 1918, having made calls at Suez, Marseilles and Le Havre.
August 1, 1918, HMNZT Tofua #109 departed New Zealand with the 42nd Reinforcements NZ Expeditionary Force. There were a total of 856 troops on board all under the command of Capt. M. Urquart, and the ship was bound for the UK. She arrived in London on October 4, 1918.
During the years she served convoy #109 was her final troop transport duty, and she had served her country and this hideous war well, having transported countless of thousands Troops, Medical Staff, Military Bands and others to the Middle East and the United Kingdom. Finally the time had come for her to be returned to the "Union Steam Ship Company" late in October 1918.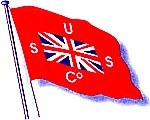 Tofua was returned to the USSCo:
She headed back to New Zealand where she was given a comprehensive refit, bringing back all her wonderful fittings and furnishings returning the ship as she was before the war, as well as adding some fine new improvements. Upon completion she recommenced her regular Pacific service in 1919. However, after just several return voyages, she was called on to operate on the prestigious Trans-Pacific service; sailing from Sydney (Australia), via Wellington (New Zealand), Rarotonga (Cook Islands), Papeete (Tahiti), to San Francisco (U.S.A.) and return via the same Pacific ports to Wellington and Sydney.
The reason the Tofua was chosen was due to another liner having been taken out of service for an overhaul, and the Tofua was considered to be a passenger ship with such high passenger standards and luxuries, that she was perfect for the job!
Her First Class was without a doubt sheer luxury to say the least, and even her Second Class Passengers sailed in considerable style, so much so that her Second Class was closely compared to First Class on most other ships!
I regret that I have no photographs of her lounges or cabins. If anyone has any on board images they would be most welcome, and if used, they will be credited!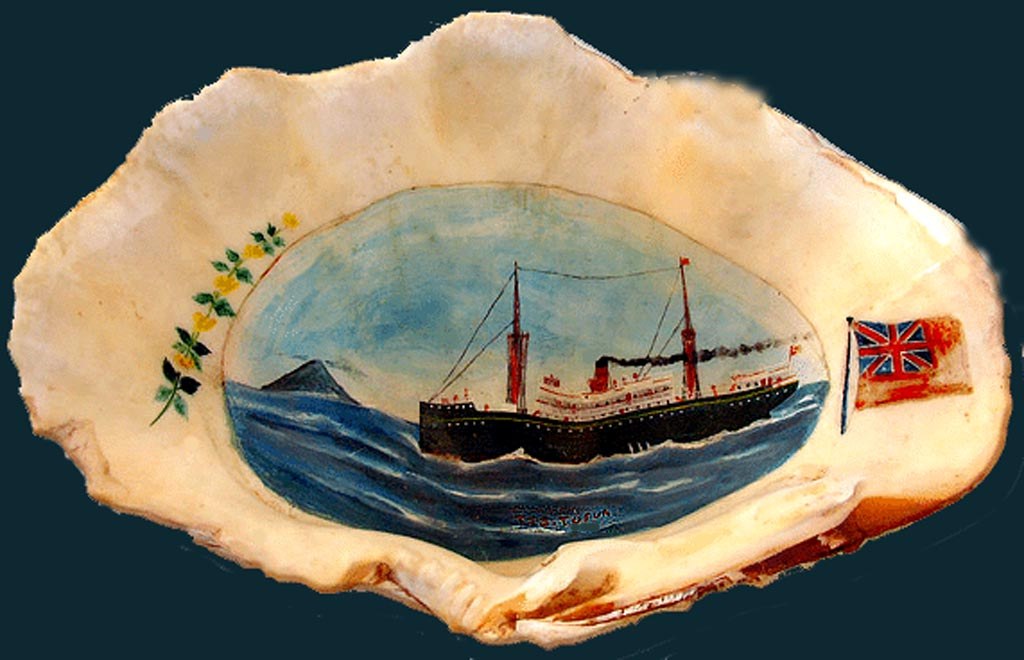 Above: Here we see a Clam Shell containing a remarkable painting of the S.S. Tofua (I) by the late Frank Barnes, who was a maritime artist during the late 19th and early 20th Century in Wellington, New Zealand. I obtained this image in 1963 whilst I was working at the HQ of the "Union Steam Ship Company" in Wellington.
There is no doubt that the Tofua (I) became an extremely popular ship for those who sought a relaxing vacation, and many Australian's and New Zealander's booked a full Round Voyage on her, thus enjoying what we call today a luxury cruise!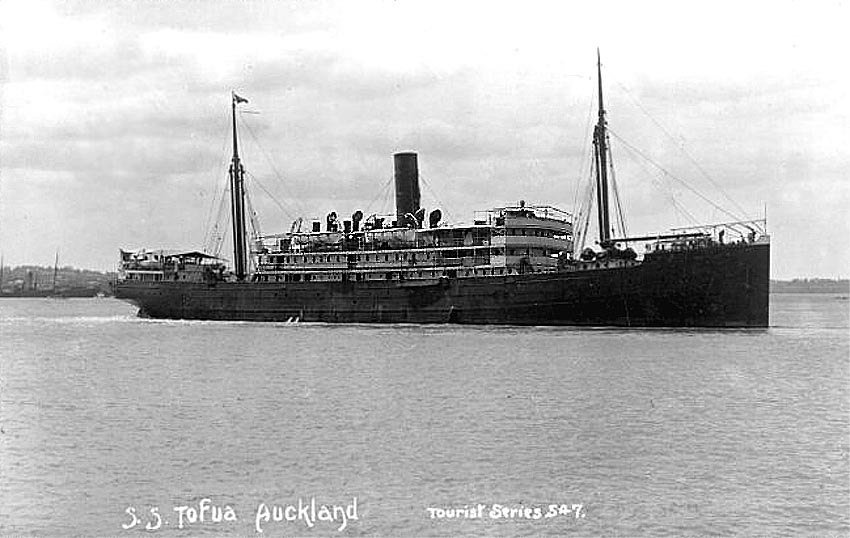 A postcard of the Tofua seen in Auckland Harbour
Originally photographed by Frederick G. Radcliffe
The Tofua sailed on very successfully for many happy years, but eventually the time came that a new USSCo ship was built to replace her.
After 24 years of hard work on the Pacific Island service, as well as a very tough WWI service, the time had came that the S.S. Tofua was due to be retired.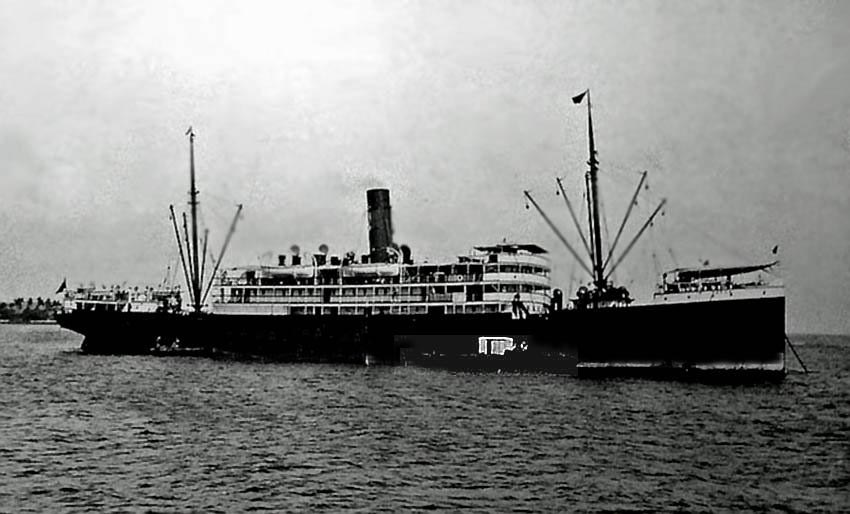 The Tofua coming close to her final voyage of the Pacific!
She finally completed her last Pacific Island run in 1932, and other ships, such as the 10,602 T.S.S. Monowai II and the magnificent 13,415 GRT R.M.S. Niagara took over the Pacific circuit for several years few years until the USSCo's new M.V. Matua was completed and made her maiden voyage to Tonga, Samoa and Fiji in August-September of 1936. The Matua continued until 1968, but the newer and glamorous MV Tofua II had joined her in 1951 being the very last Pacific Island Passenger-Cargo liner to be built and operate on the Island service!, The Tofua II finally ended her service and was sold in 1973, it was an end to a fine era!
Final Tofua I Details: She was laid up in Auckland on April 12, 1932, and was finally sold in 1934 to "Miyachi K.K.K", of Kobe Japan. She departed Auckland without any notice in 1934 and on board there were just a small and a basic crew, as she headed directly to Osaka Japan where she was soon broken up.
Stat's & Details:
Owner:                               Union Steamship Company, London 1908 to 1934.
Builder:                              William Denny & Brothers, Dumbarton, Scotland.
Type:                                 Passenger/Cargo Steamship (Refrigerated).
Date Built:                          1908.
Tonnage:                            4,345 GRT, 2,634 NET.
Length:                              350.3 ft - 106.8 m.
Breadth:                             48.2 ft - 14.7 m.
Draught:                                           20.5 ft - 6.25 m.
Engine:                              Steam - two triple expansion engines.
Propellers:                          Twin screw.
Speed:                               4.5 knots service speed, 15.8 knots maximum speed.
Passengers:                        100 First Class, and 44 Second Class.
Sold:                                 To Miyachi K.K.K, in 1934 & was scrapped in Osaka Japan.
Remembering the delightful USSCo's …
S.S. Tofua (1)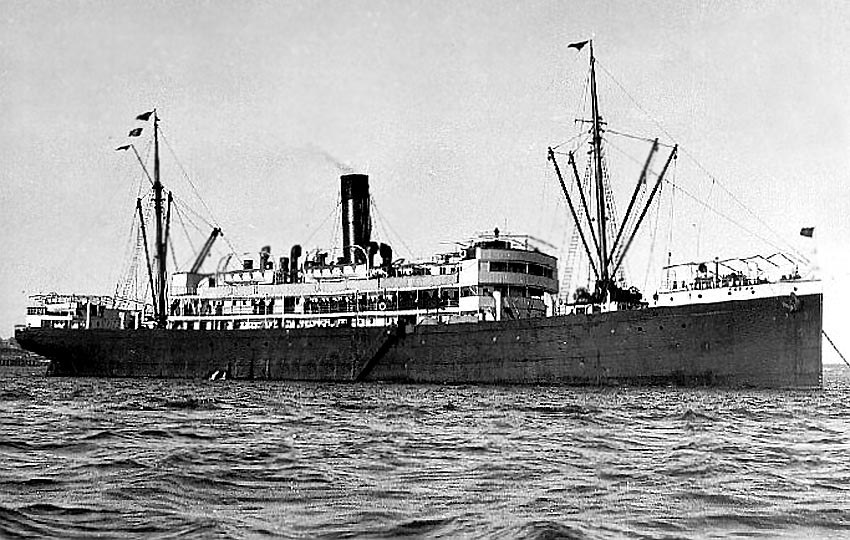 She was not like the huge glamorous ships of today, but she was a delightful and a much loved ship indeed!
Also visit the M.V. Matua Feature
And the final USSCo Pacific Passenger-Cargo Liner - M.V. Tofua II
***************************
 

"Blue Water Liners sailing to the distant shores.
I watched them come, I watched them go and I watched them die."
Return to the ssMaritime MAIN INDEX
ssMaritime.com & ssMaritime.net
Where the ships of the past make history & the 1914 built MV Doulos Story
The Author has been in Passenger Shipping & the Cruise Industry for a good 60 years!
Please Note: ssmaritime and associated sites are 100% non-commercial and the author seeks no funding or favours of any shape or form, never have and never will!
Photographs on ssmaritime and associate pages are: by the author or from the author's private collection. In addition there are some images that have been provided by Shipping Companies and private photographers or collectors. Credit is given to all contributors. However, there are some photographs provided to me without details regarding the photographer/owner concerned. I hereby invite if owners of these images would be so kind to make them-selves known to me (my email address may be found on www.ssmaritime.com only), in order that due credit may be given.
This notice covers all pages: although, and I have done my best to ensure that all photographs are duly credited and that this notice is displaced on each page, that is, when a page is updated!
ssMaritime is owned & © Copyright by Reuben Goossens - All Rights Reserved