Please Note: Firefox and some other search engines are not suitable – Use "Internet Explorer" for this page to load perfectly!
Click the logo above to reach the ssMaritime FrontPage for News Updates & "Ship of the Month"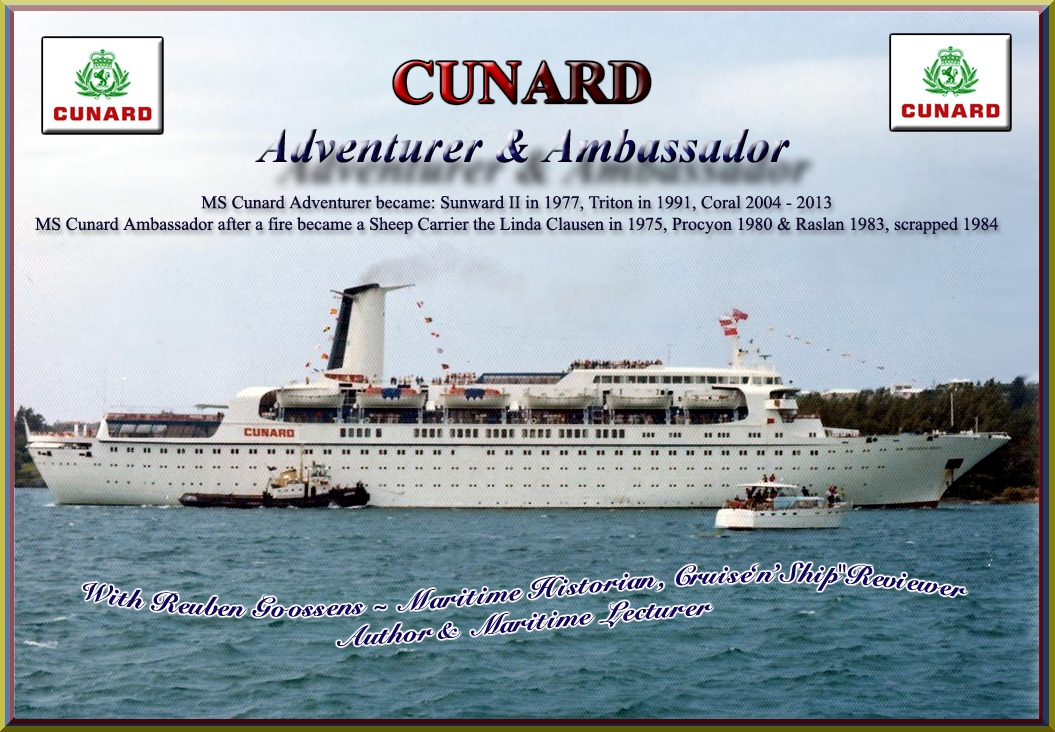 Page Three
MS Cunard Adventurer & Ambassador
Photo Page
Introduction to locating the Photographs!
Welcome to this very special page. I am well aware that very soon you will discover that this photo page is no ordinary photo page for it is far more that! First of all this page contains images that are part of a very exclusive collection of photographs and illustrations that were obtained from a variety of sources, such as: the ships maritime architect as well as their interiors designers. Other photographs are directly from the two Dutch builders in Rotterdam as well as from Cunard Line. Thus, I can assure you that these images ate originals making this page is very rare indeed.
You may ask, Mr. Goossens, how did you come by such an amazing collection? Well I am delighted to tell you!
Whilst I was researching these two remarkable ships, I discovered the availability of this superb parcel, which I discovered by accident. A good friend of mine Don Leavitt, who I have been dealing with for many, many years of www.nautiques.net sends out a monthly e-newsletter, and there were a few items available, thus I purchased them. I asked Don if he had anything else anywhere. Don advised me that he had searched his archives and found a considerable bundle and asked me if I wanted it, of course, I did, and this bundle now makes up my new sizable collection, which I am delighted to share with you all! However, Don Leavitt deserved full credit!
For those who are looking for maritime memorabilia, Nautiques.net is without a doubt the very best place to visit and best yet you will discover that the prices are simply excellent, if not rather low! You can email Don at: dml@nautiques.net.
Reuben Goossens.
Maritime Historian, Author & Maritime Lecturer.
Commenced in Passenger Shipping in May 1960.
1. MS Cunard Adventurer

Advance illustration of the profile of the Cunard Ambassador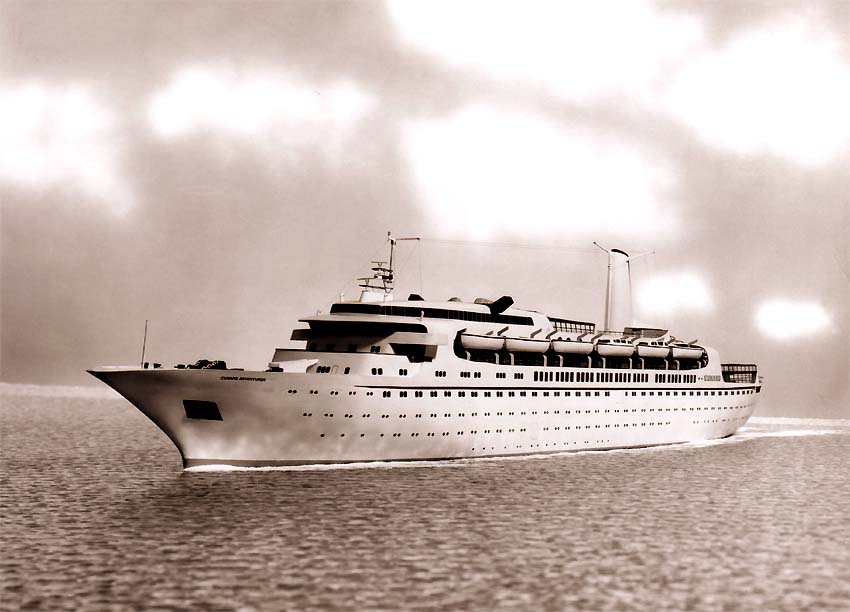 A maritime designer's impression of the two new ships – Cunard Adventurer & Ambassador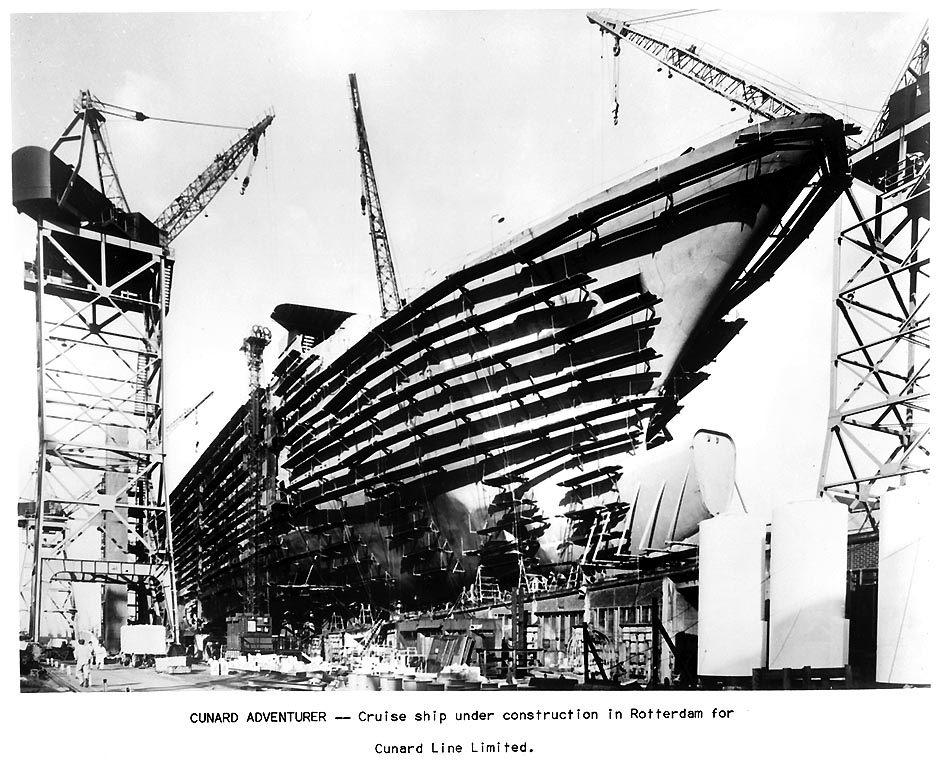 The Adventurer is seen being built by Rotterdamsche Droogdok Maatschappij N.V. Rotterdam, Holland

A large model was created especially for Cunard to take on the road to promote the new ships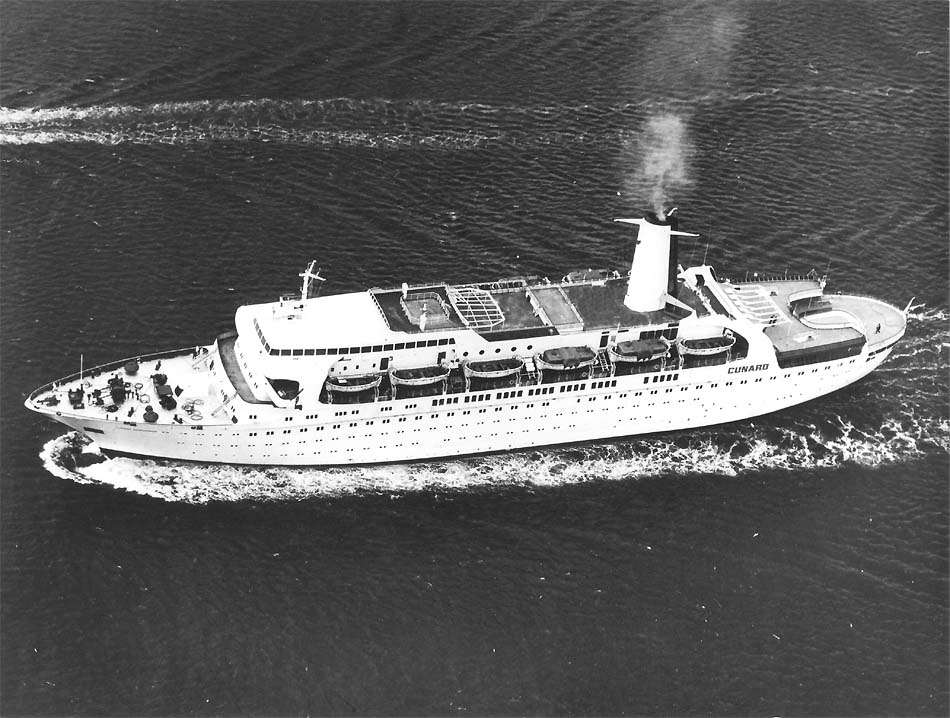 Cunard Adventurer is seen whilst on the North Sea during her deep-sea trails on August 28, 1971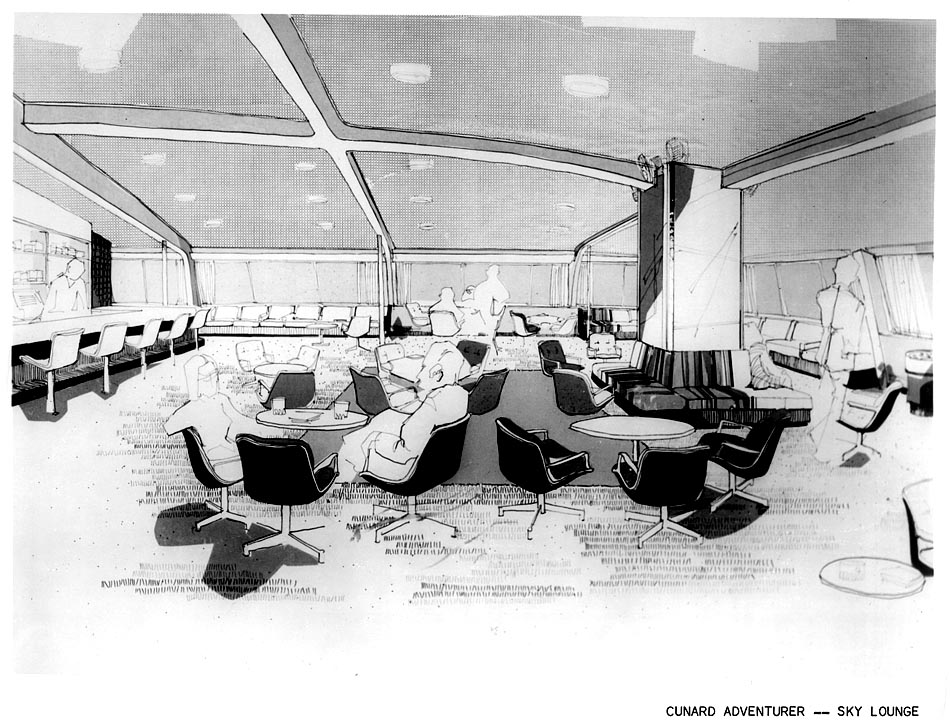 A series of artist impressions were released of a variety of public venues
Above we see the delightful Sky Room far forward up on Sun Deck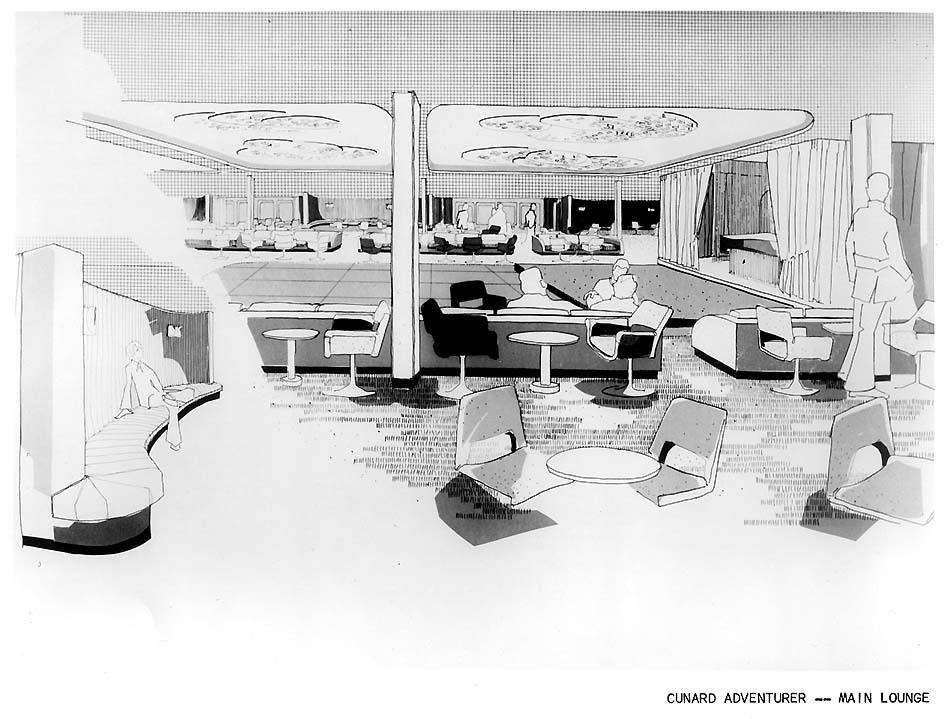 Here we see an artist impression of the Main Lounge, or what would become the Mayflower Room on Boat Deck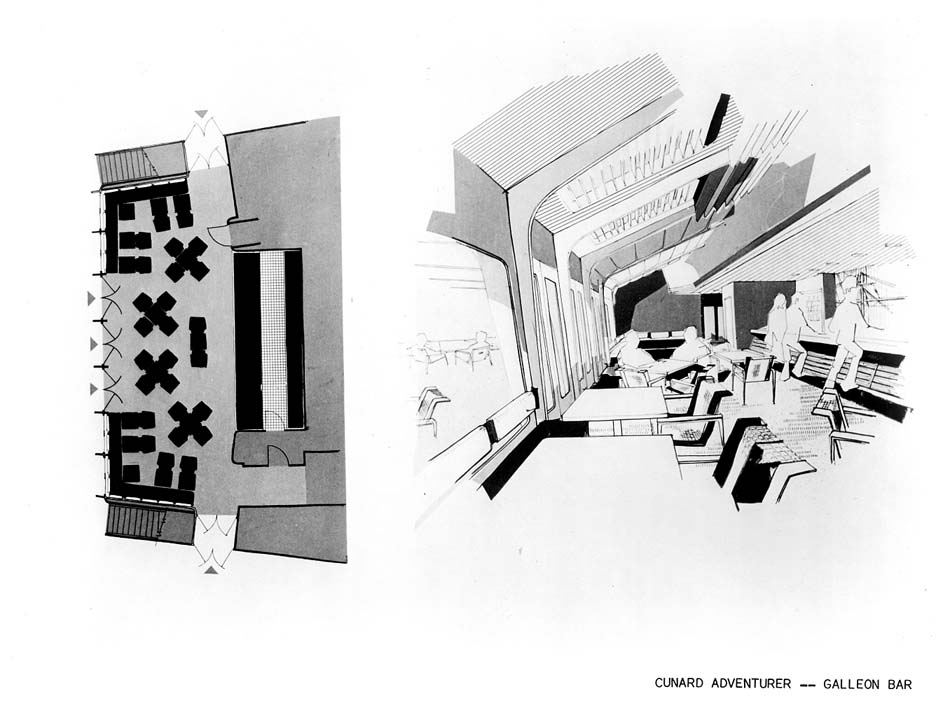 Here we see the delightful Galleon Bar aft on Boat Deck
On the left is the plan as seen from above – right is the Bar looking to port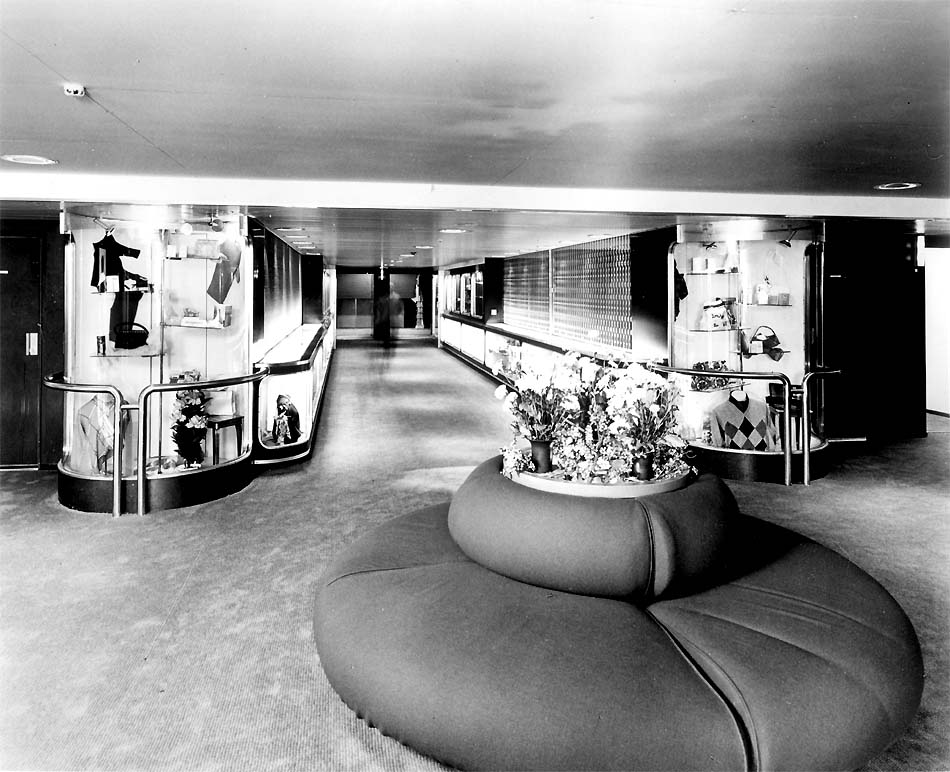 An adventurous for the time, but it became popular Lobby and Interior Shopping Gallery
On Columbus Deck – looking forward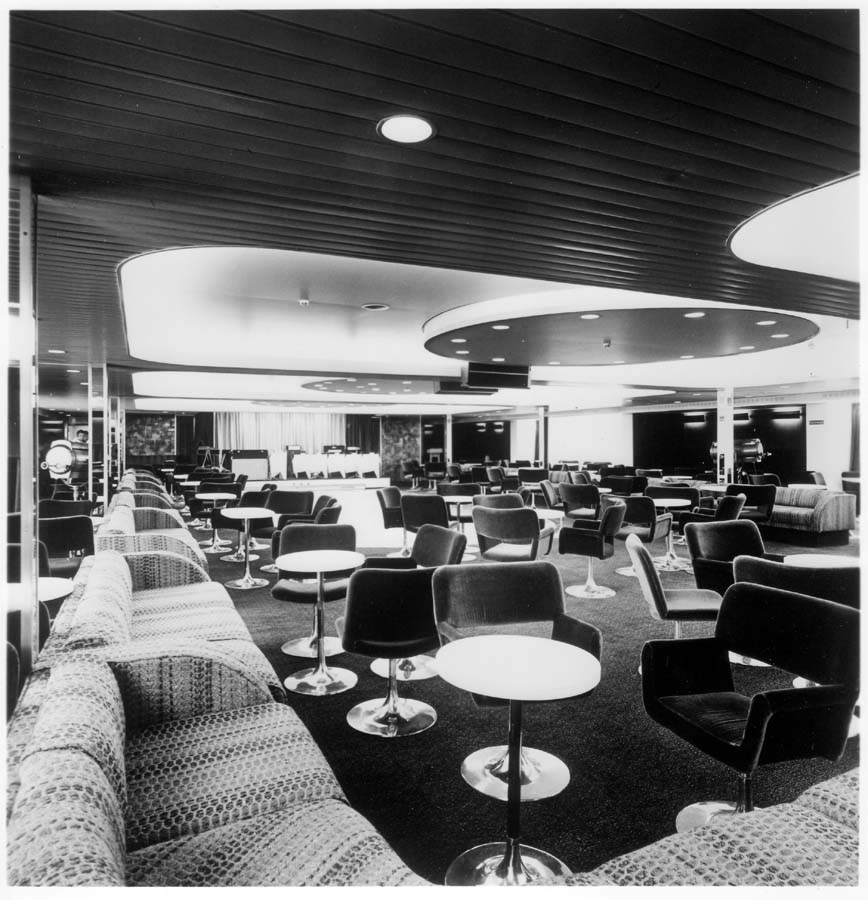 Here we see the spacious Mayflower Room amidships on Boat Deck, looking aft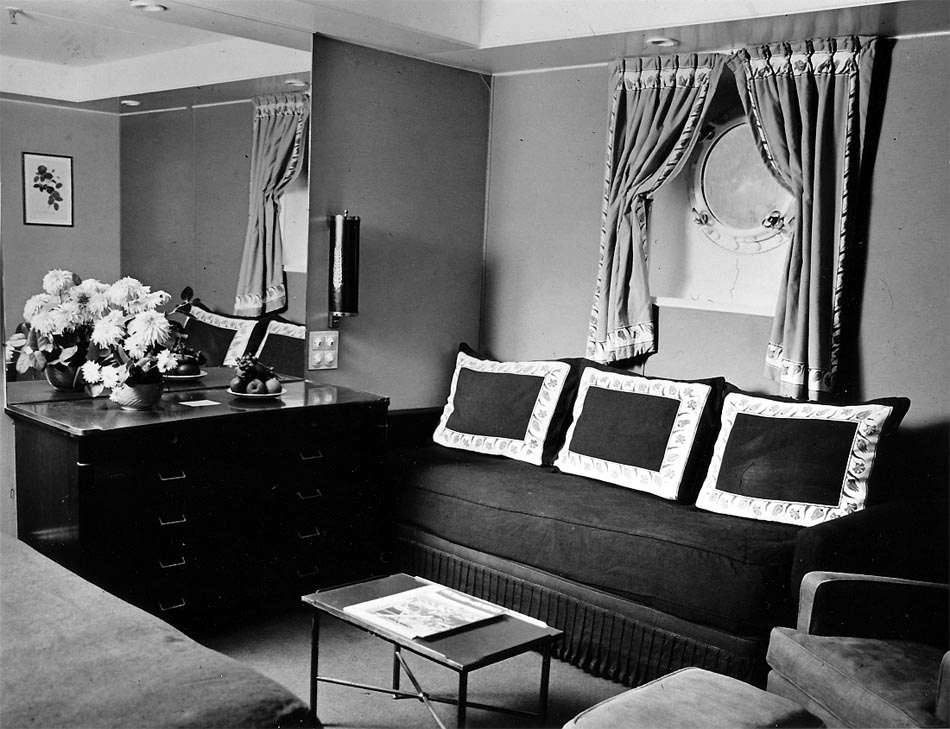 Above & below: Here we see several mock up staterooms for the Cunard management
to choose from for the Cunard Adventurer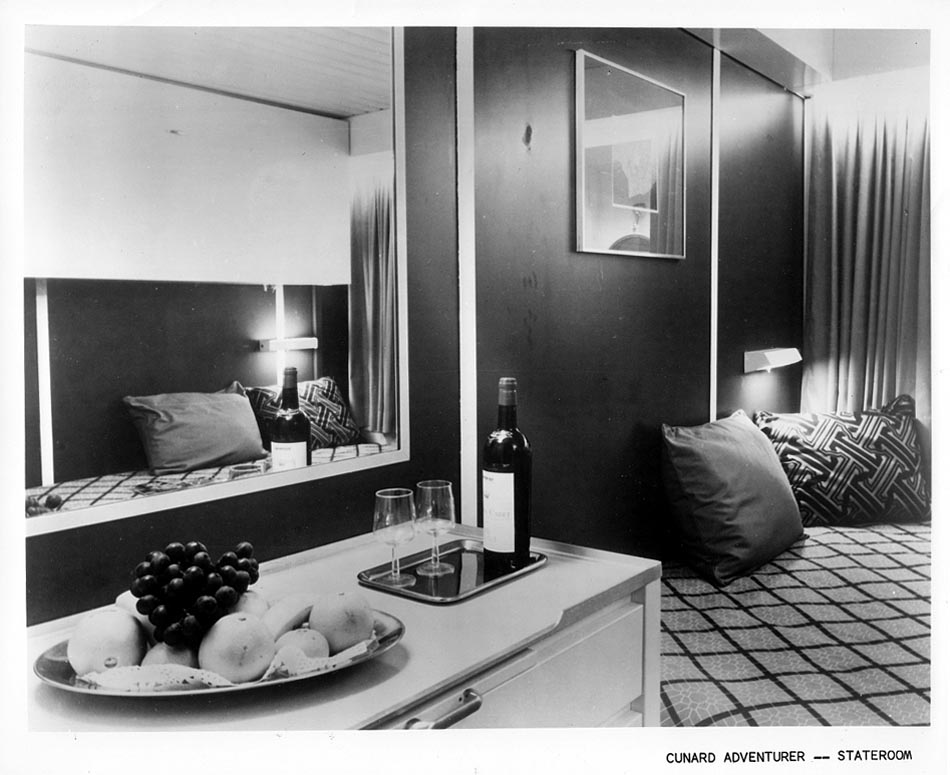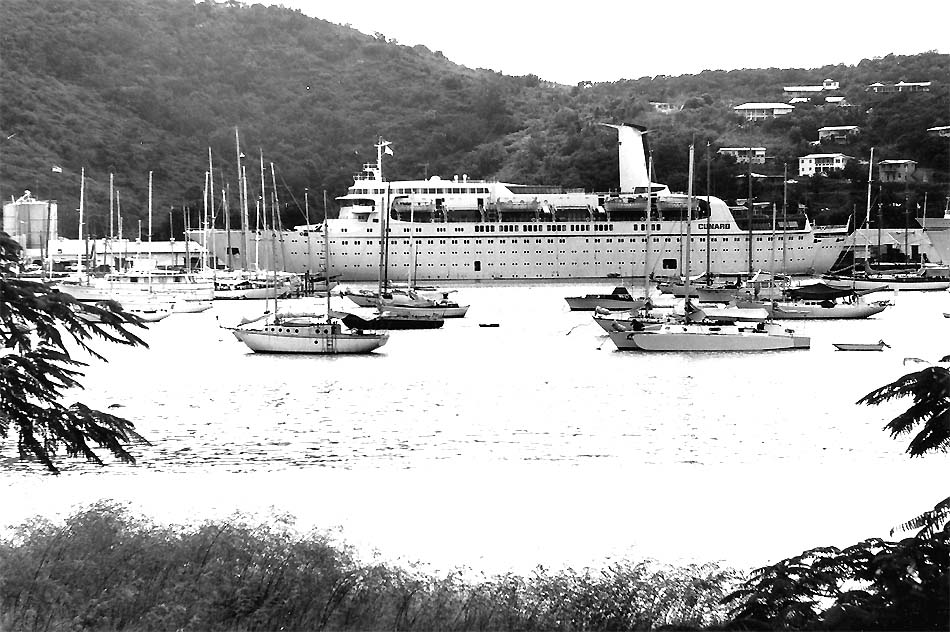 The Cunard Adventurer is seen berthed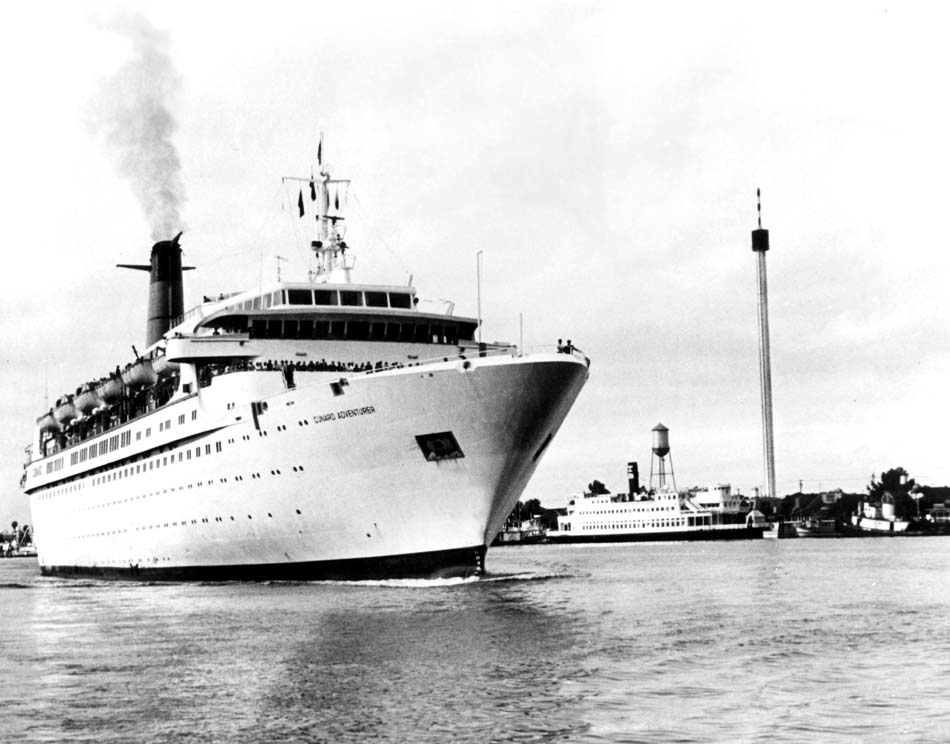 This photograph was released by Cunard America directly after the Adventurer was given the traditional Cunard funnel of red and black
This was done to make her more popular with the Cunard clientele, but sadly it just did not work for the Cunard snob's!
2. MS Cunard Ambassador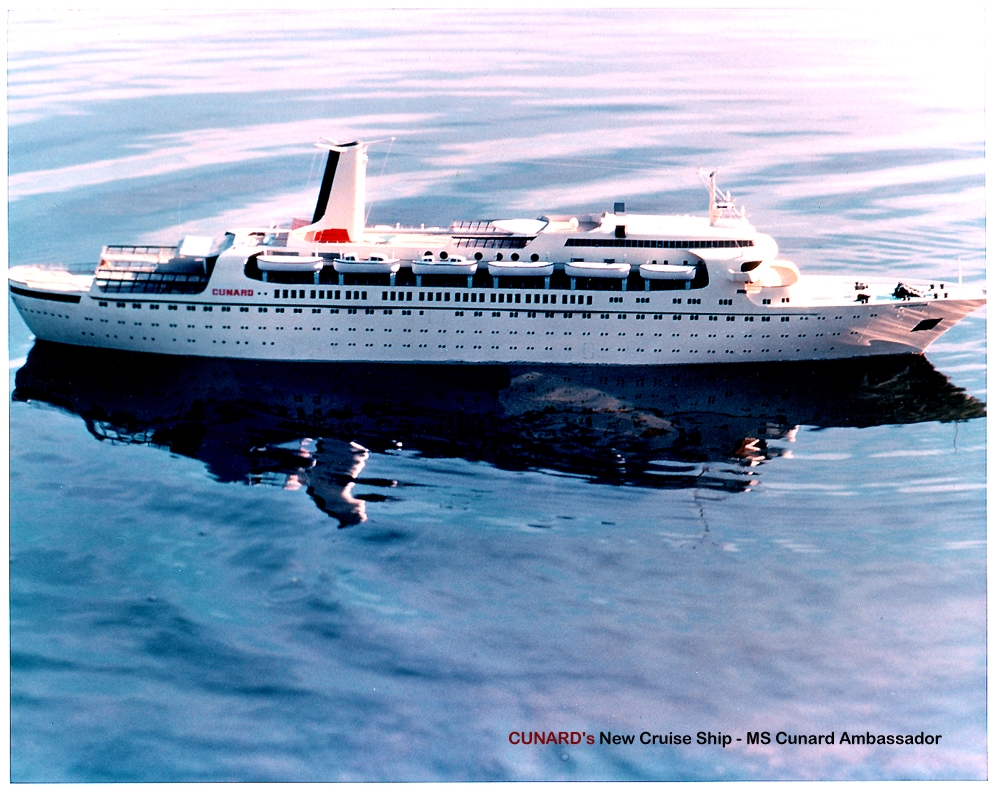 A photograph of the Cunard Ambassador model in water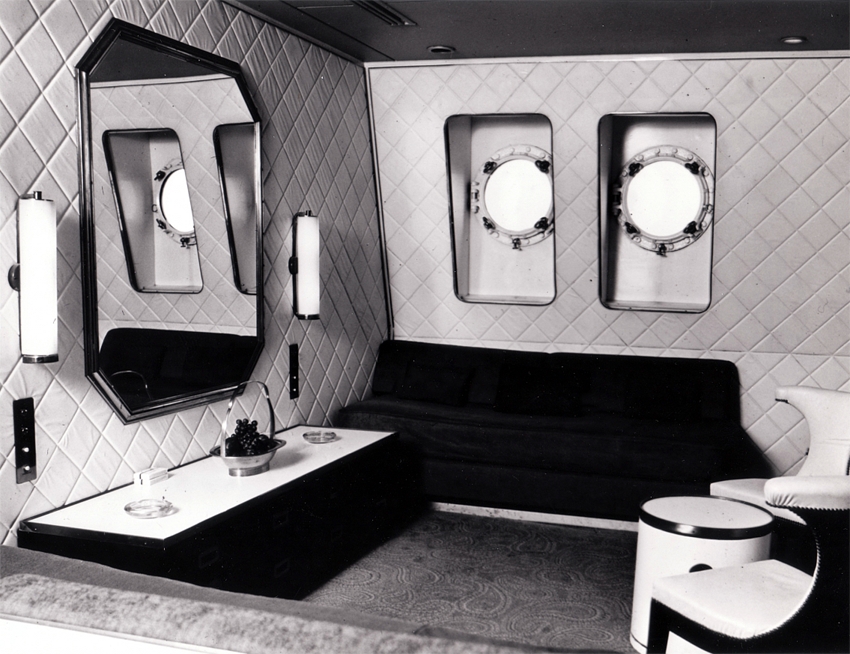 Here we see another mock up of a stateroom for the Ambassador, but it was not chosen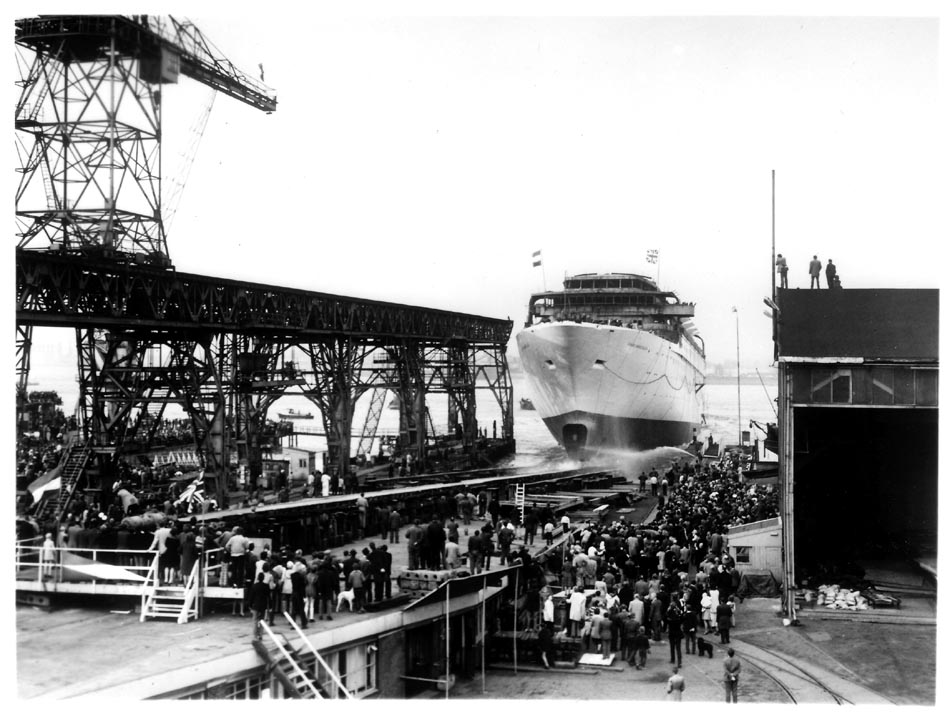 The Cunard Ambassador was launched on March 16, 1972 at the P. Smit Jr Ship Yards
These are the Ship Yards official photographs!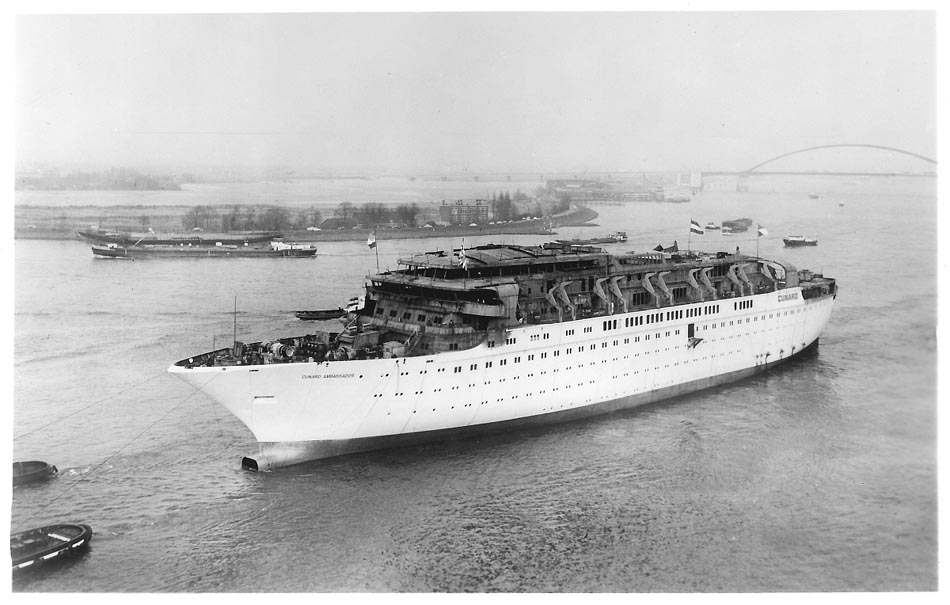 Here we see the Ambassador just after her launching and heading for her fit-out berth
Note the missing bulbous bow-cone
Early in October Cunard-Trafalgar had made the above announcement to travel agents in Britain and the USA
The all knew her sister ship the Cunard Adventurer, thus they knew of the kind of ship that was about to arrive!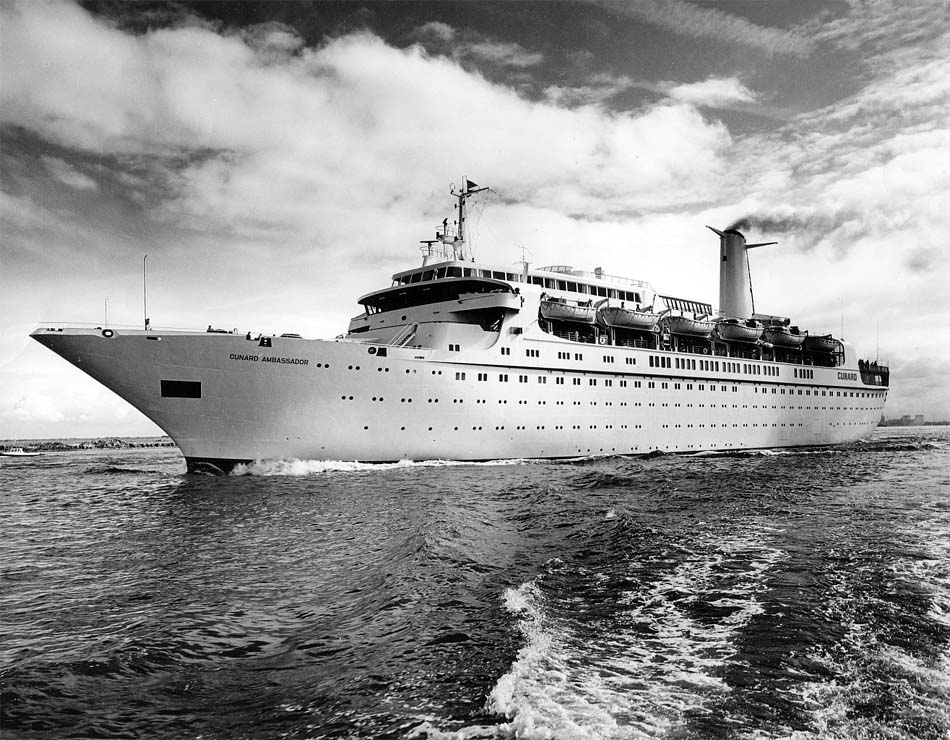 A wonderful photograph of the Ambassador whilst she was heading for the North Sea during her trials
Taken by the Cunard publicity agency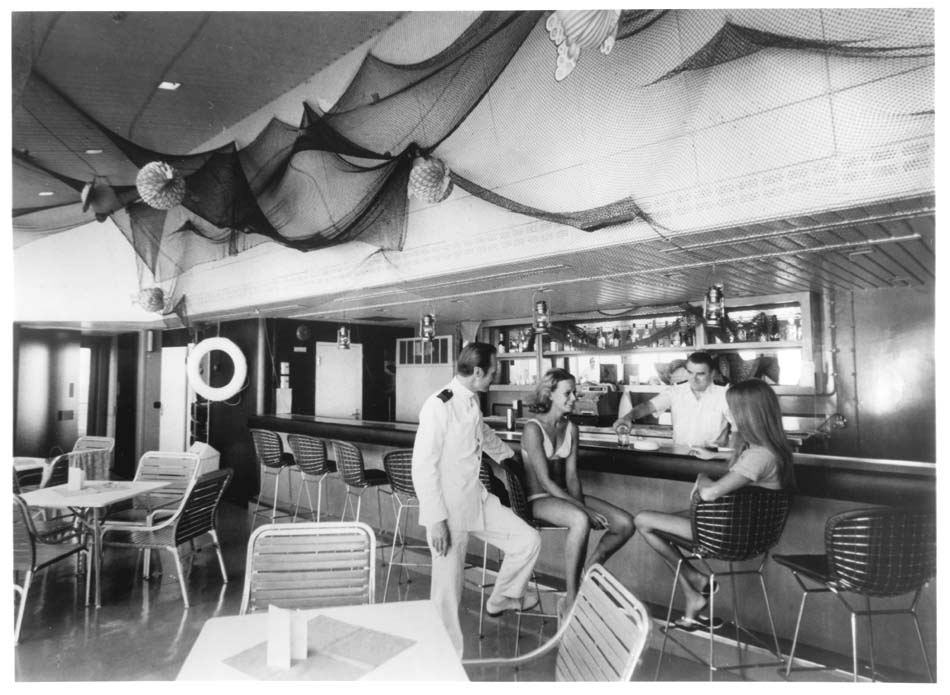 Here we see the wonderful and popular Galleon Bar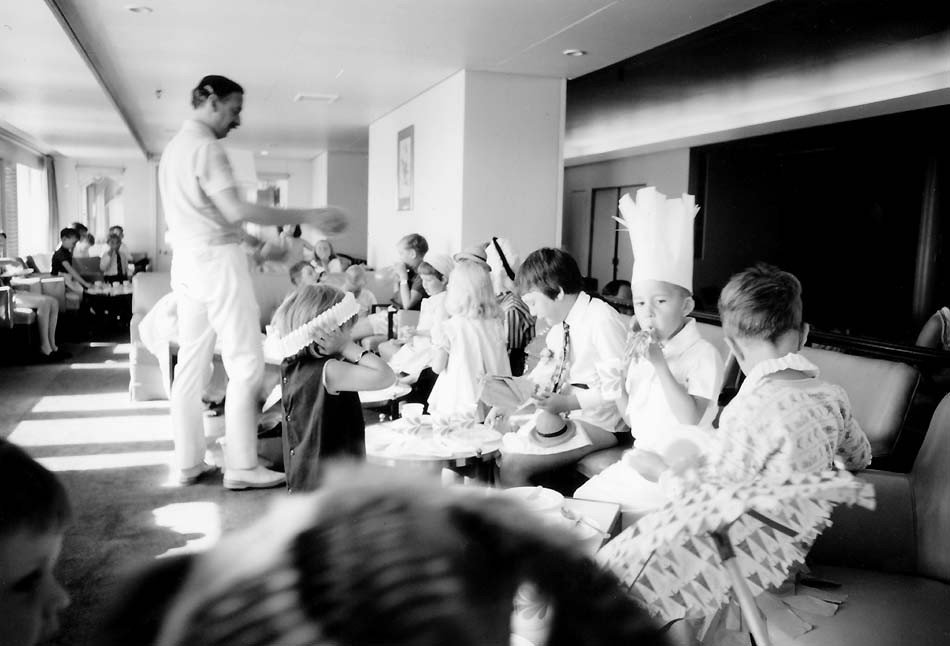 Ship's Staff entertain some children in the Sky Lounge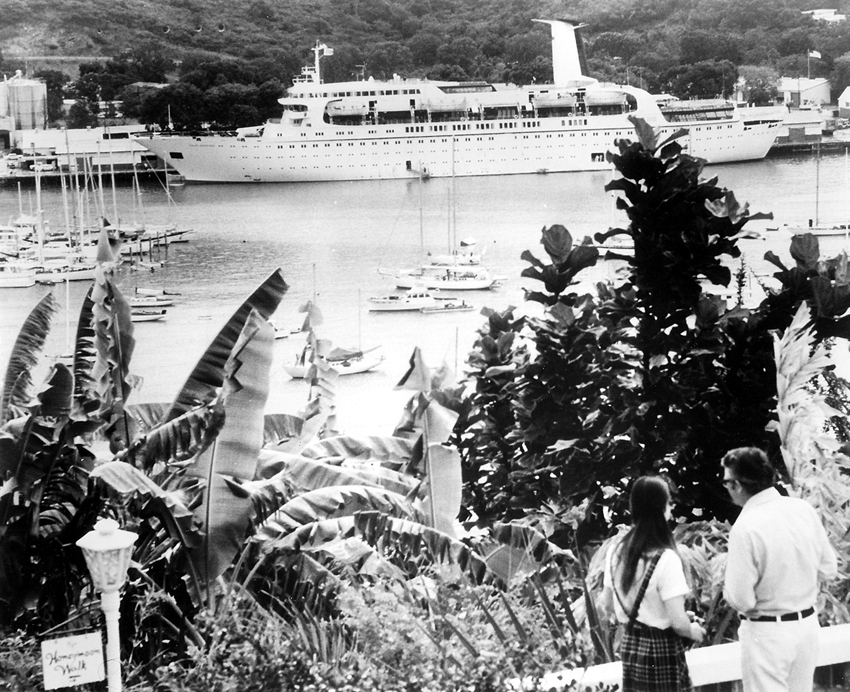 An unusual view of her whilst in port with several passengers looking on their home away from home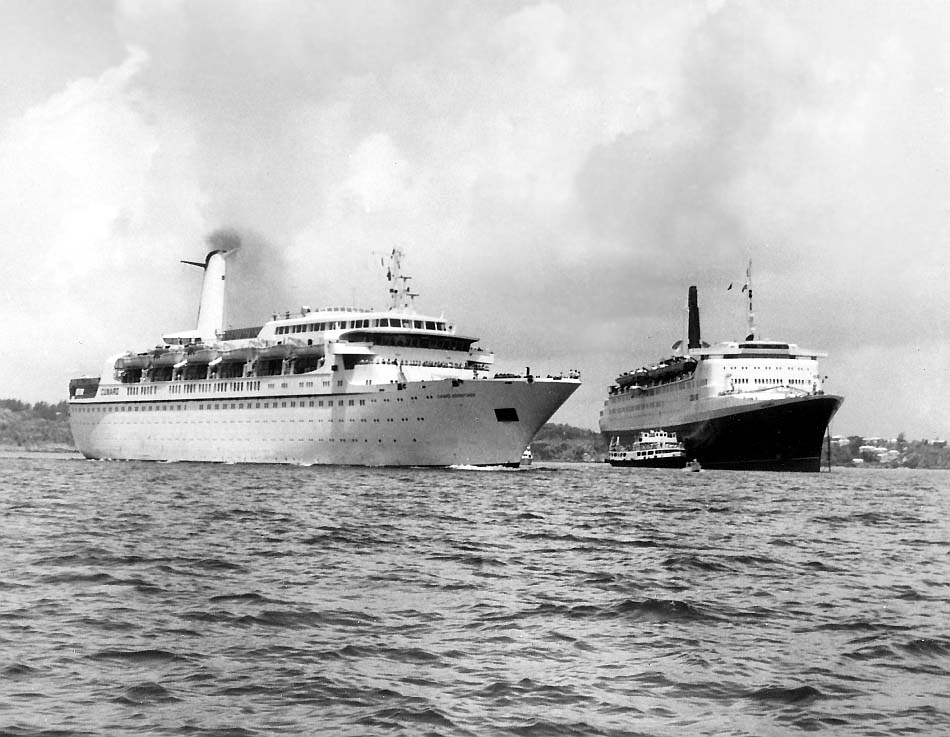 The Ambassador meets the great SS Queen Elizabeth 2
Cunard Adventurer - Ambassador -
INDEX
Including an Introduction of both ships!
Including her next stage the: NCL's MS Sunward II
Exclusive images and photographs covering the Cunard Adventurer & Ambassador
Page Four: MTS Triton & MV Coral
Operated by:
Epirotiki Lines & Lois Cruises
DECK PLANS
Deck Plan 1: Deck Plans
MS Cunard Adventurer & Ambassador
Deck Plan 2: Deck Plan
MTS Triton
Deck Plan 3: Deck Plan
MV Coral
****************************************
Use the Back button on your browser or Close the Page to return to the previous page
or go to our INDEX
Who is the Author of ssMaritime?
Commenced in the Passenger Shipping Industry in May 1960
ssMaritime.com & ssMaritime.net
Where the ships of the past make history & the 1914 built MV Doulos Story
Also visit my …
"Save The Classic Liners Campaign"
Photographs on ssmaritime and associate pages are by the author or from the author's private collection. In addition there are some images that have been provided by Shipping Companies and private photographers or collectors. Credit is given to all contributors. However, there are some photographs provided to me without details regarding the photographer/owner concerned. I hereby invite if owners of these images would be so kind to make them-selves known to me (my email address may be found on www.ssmaritime.com only), in order that due credit may be given.
This notice covers all pages, although, and I have done my best to ensure that all photographs are duly credited and that this notice is displaced on each page, that is, when a page is updated!
ssMaritime is owned and © Copyright by Reuben Goossens - All Rights Reserved