Please Note: Firefox and some other search engines are not suitable – Use "Internet Explorer" for this page to load perfectly!
Click the logo above to reach the ssMaritime FrontPage for News Updates & "Ship of the Month"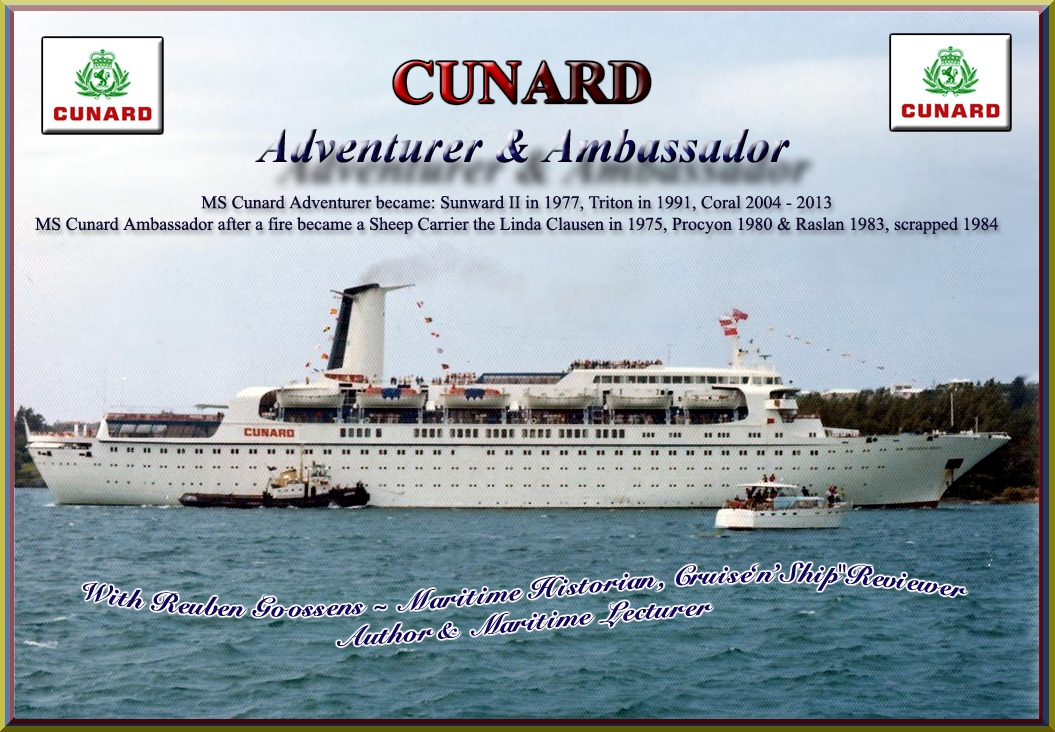 Deck Plans
*Please Note: Whilst I was researching these ships, I discovered that there was a superb collection of rare builders and Cunard architect drawings and photographs, as well as brochures and a host of valuable materials on both of these fine ships available from Nautiques.net. Thus, I highly recommend that if you are looking for a rare maritime memorabilia then contact Don Leavitt at dml@nautiques.net. Or head for - www.nautiques.net as there are countless thousands of items online, covering every possible shipping company! Nautiques will ship worldwide.
On this page I am please to present first the MV Cunard Adventurer Deck Plan, which will be followed by the Deck Plan of her earlier, but tragic sister that caught fire so early in her career, the MV Cunard Ambassador.
You will note that although in general their interior layout was almost identical, except for the following differences. Forward of the Main Lounge on board the Ambassador there were many staterooms, whist on the Adventurer, there were none. However, far forward on the lowest deck on board the Adventurer there were a few additional staterooms, these being the main differences. Although as you will soon discover, decks had different names on each ship and public venues had their own names on each ship, in order to keep their identity. However, the décor in all public venues as well as in cabins were very much identical, which was done for uniformity!

Here we see a beautiful model created prior to the building of the ships, it sits on beautiful mahogany timber
*Photograph part of the Author's private collection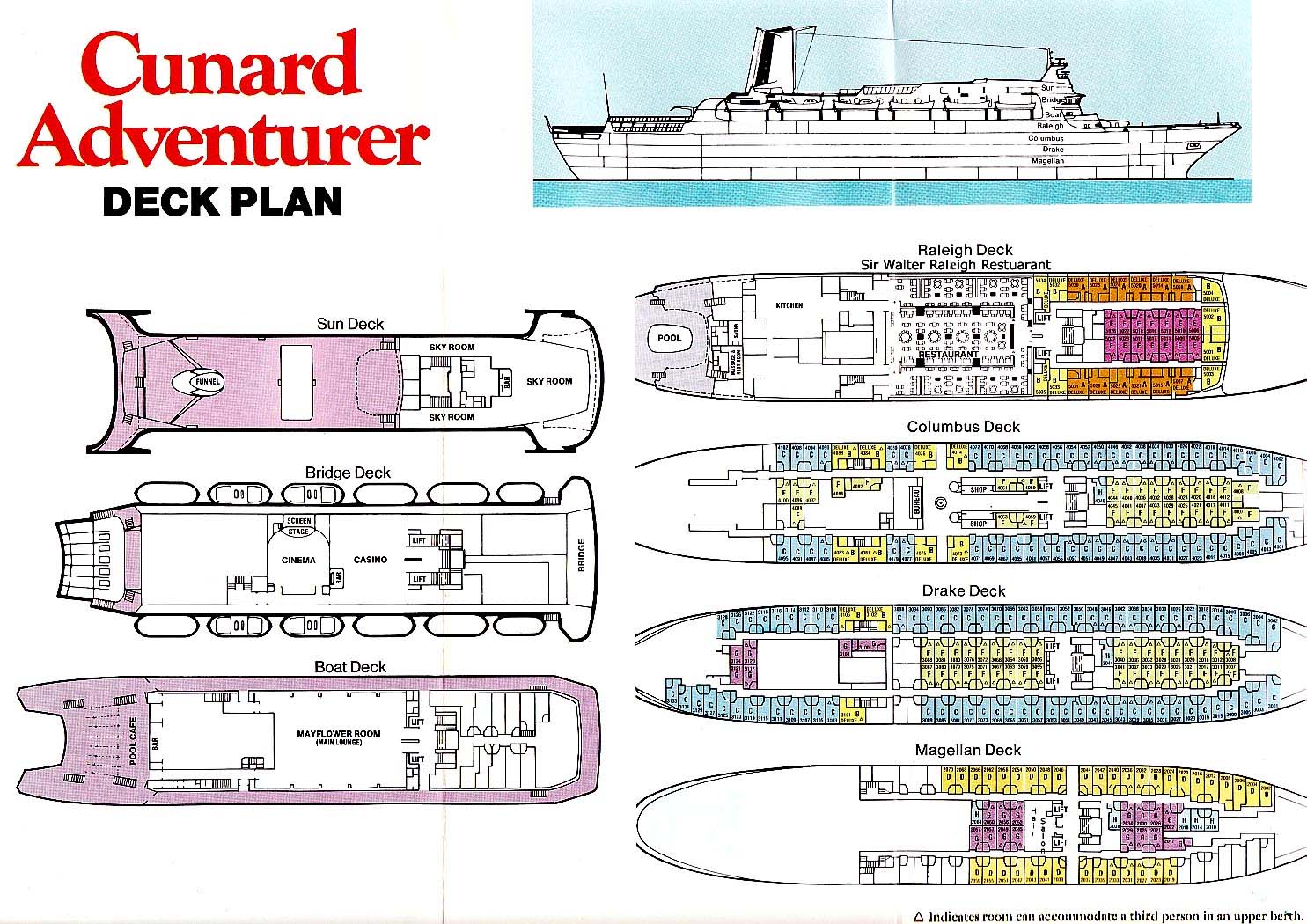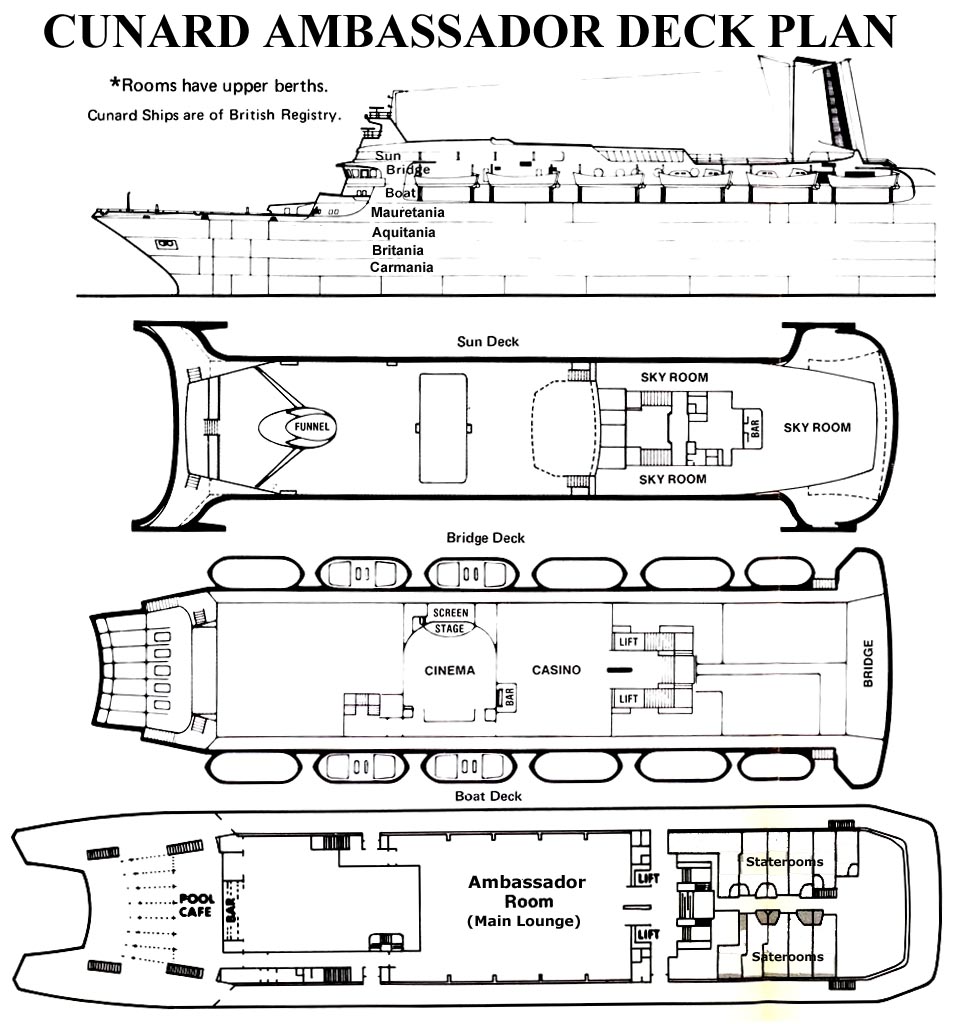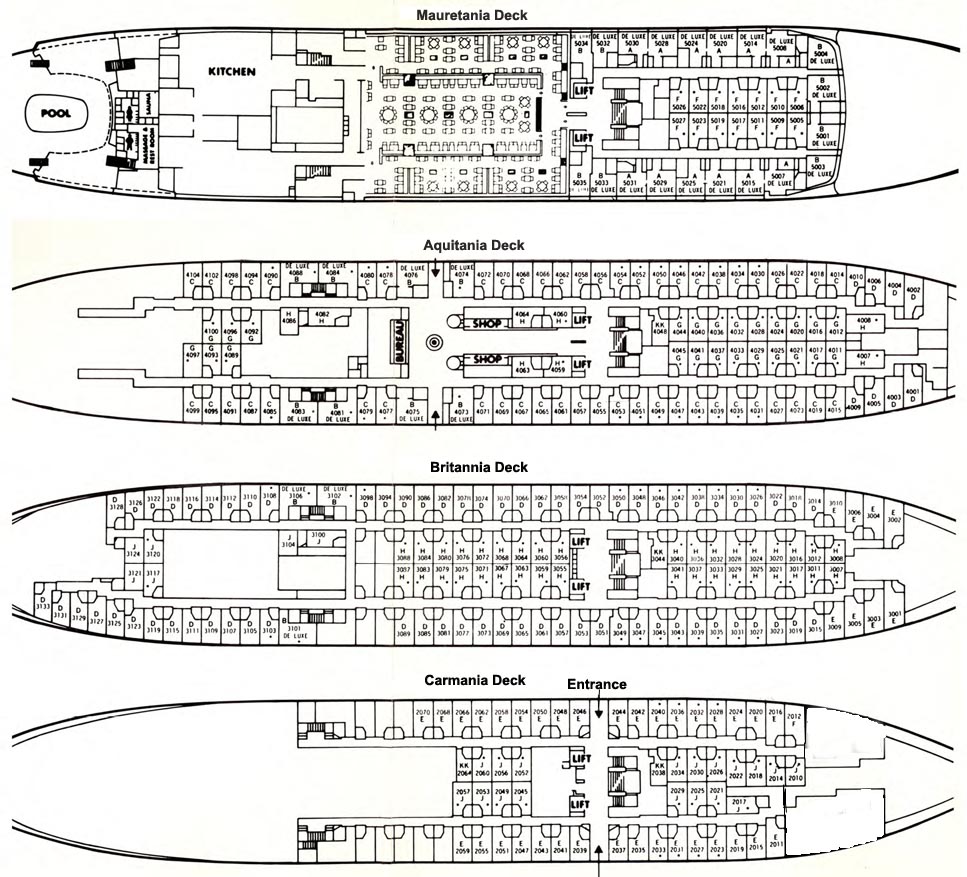 Cunard Adventurer - Ambassador - INDEX
Including an Introduction of both ships!
Including her next stage the: NCL's MS Sunward II
Exclusive images and photographs covering the Cunard Adventurer & Ambassador
Page Four: MTS Triton & MV Coral
Operated by:
Epirotiki Lines & Lois Cruises
DECK PLANS
Deck Plan 1: Deck Plans
MS Cunard Adventurer & Ambassador
Deck Plan 2: Deck Plan
MTS Triton
Deck Plan 3: Deck Plan
MV Coral
****************************************
Use the Back button on your browser or Close the Page to return to the previous page
or go to our
INDEX
Who is the Author of ssMaritime?
Commenced in the Passenger Shipping Industry in May 1960
ssMaritime.com
&
ssMaritime.net
Where the ships of the past make history & the 1914 built MV Doulos Story
Also visit my …
"Save The Classic Liners Campaign"
Photographs

on ssmaritime and associate pages are by the author or from the author's private collection. In addition there are some images that have been provided by Shipping Companies and private photographers or collectors. Credit is given to all contributors. However, there are some photographs provided to me without details regarding the photographer/owner concerned. I hereby invite if owners of these images would be so kind to make them-selves known to me (my email address may be found on www.ssmaritime.com only), in order that due credit may be given.
This notice covers all pages, although, and I have done my best to ensure that all photographs are duly credited and that this notice is displaced on each page, that is, when a page is updated!
ssMaritime is owned and © Copyright by Reuben Goossens - All Rights Reserved