ard Adventurer & Ambassador and their later versions
Note: iPhones, iPads, Firefox & some other Search Engines may not be suitable
Use Google Chrome for this Web Page to load perfectly!

Click the logo above to reach the ssMaritime FrontPage for News Updates & "Ship of the Month"
With Reuben Goossens
Maritime Historian, Author, Lecturer & Cruise'n'Ship Reviewer
Please Note: All ssmaritime as well as my other related maritime & cruise sites are 100% non-commercial and privately owned sites. Be assured that I am NOT associated with any shipping or cruise companies or agencies or any other organisations! The author has been in the passenger shipping industry since May 1960, but although retired and unwell, I occasionally attempt to write an article now and then, in order to bring enjoyment and pleasure to ship enthusiasts past passengers and crew.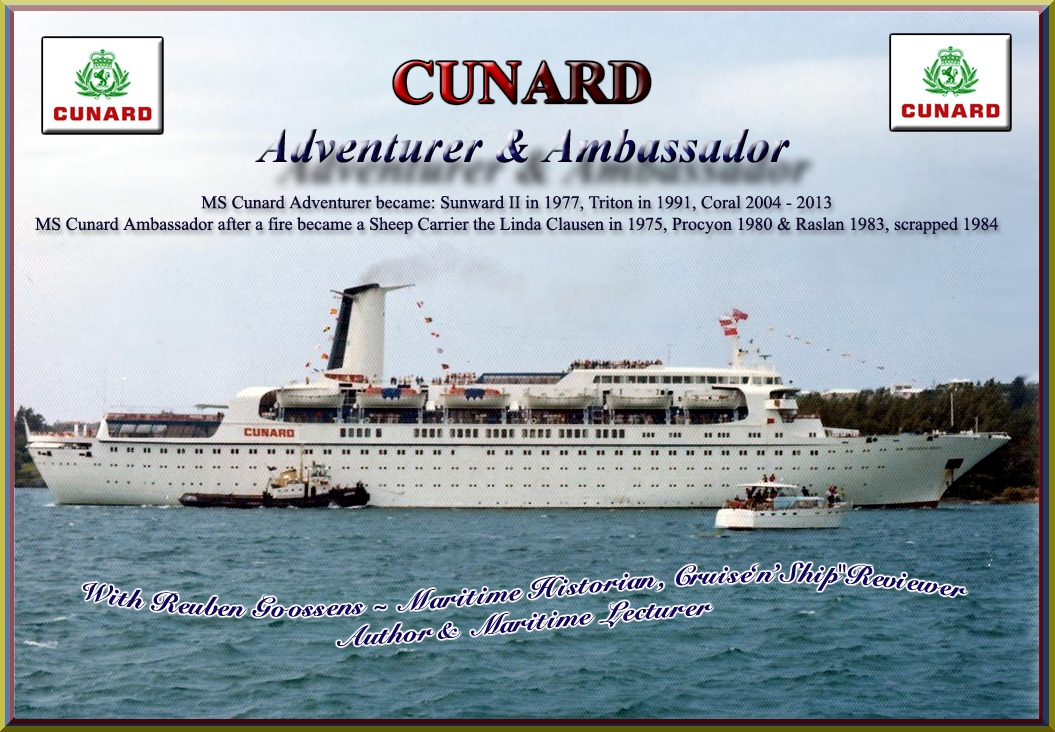 Page One
Covering the MS Cunard Adventurer - Also the ship as the MS Sunward II
Please Note: Photographs and other images on this feature are from the author's private collection unless stated otherwise
Introduction:
A series of eight identical ships were especially designed for the "Overseas National Airways" (ONA) in the mid-sixties to be built in the early seventies. Two ships were ordered to be built; the first to be commenced was by the "Rotterdamsche Droogdok Maatschappij N.V.", of Rotterdam, the Netherlands and the second a year later by "P. Smit Jr Shipbuilders," also in Rotterdam.
But OAM soon enough realised that due to the huge amounts of money that was being placed into the project with the first two ships, ONA found that in 1971 they were running into financial difficulties and they had to abort their project, even though the ships were already partially built! However, considering that Cunard Line had a 50% share in ONA, they decided to take the opportunity to take over ONA as well as these two ships and enter them into a new Cunard fly/cruise market in the America's, and thus they commenced in a new market! In the meantime the other six ships were cancelled and Cunard ensured that the two ships in building would be completed as soon as possible.
Cunard's new cruise ships when launched were named the Cunard Adventurer of 1971 and Cunard Ambassador of 1972.
Cunard knew that once completed that both the Adventurer as well as her identical sister the Ambassador would essentially operate seven-day cruises for which the were especially designed! Some of the cruises planned were; San Juan to Caribbean and South American ports, as well as New York to Bermuda, as well the ever-popular Alaska cruises out of Vancouver and Trans-Panama canal voyages during the summer months.
Although these ships officially became Cunard cruise ships, but as the Adventurer was the first of the pair to be launched and named, she became the very first Cunard ship in the 20th.century to be given a name that did not end in "ia" or begin with "Queen," therefore she and her sister commenced a whole new trend!
But the simple truth was and this was obvious right from the beginning was that both ships were not really suitable to be true Cunard ships, for they did not meet the stringent Cunard requirements. Therefore their life with the company would sadly be rather short lived. Although the Cunard Adventurer continued her Caribbean cruises, until her sale in September 1976.
Ships exterior appearance:
Upon first sighting the new ships they certainly stood out from any other ship in the world, for their overall design was so advanced and certainly unusual! The hull with four decks was somewhat bulky looking, although in reality it was really beautifully long and sleek with a nicely shaped curved bow with a long protruding bulbous bow and a nicely rounded traditional style stern. However, due to her high sides it had a slab like appearance and was also due to the somewhat low slung, yet ultra modern low superstructure of just four decks. However, the lowest deck of her superstructure was almost fully enclosed, thus giving her hull that additional high appearance! Above this was her Boat (Promenade) deck with Lifeboats directly above on Bridge deck, and top side on Sun deck forward there was the spacious "Sky Room" that that had window facing forward and on both sides of the ship with doors aft out to the spacious Sun Deck.

A good look at her portside as per image does reveal her rather unusual design for the early 1970's
However these ships had three very unusual features, which made them stand out from all other ships. Both forward and aft there were two of these features and they were located alongside of the superstructure and they where shapely slab like panels placed on the exterior side of the ship that looked like they were part of the hull and it reached up to around deck level of Sun Deck. The top of each panel was curved inward and shaped to fit in with the ship. The forward one became the roofline of the Bridge and reached around to meet the one on the other side and it also reached a little aft. The aft panel was more curved from aft to forward and when it reached the top it became part of the funnel housing. The third feature was not as attractive as the first two, for they looked very good! But the funnel was without a doubt the most prominent feature of these ships, for you just could not miss it, even if you tried! And let me say this, it was without a doubt a funnel once you had seen it, you would always know what ship it was, even from a distance at sea! It was rather slender sided and very tall and strangely enough although the front although it being almost vertical, the funnel always seemed to appear as it leaned slightly forward. This was mostly due to the forward section having a white wrap around section, whilst the aft section of the funnel was shaped and slanted backward, thus giving the appearance of it leaning forward. The back of the funnel from top to the bottom was dark blue in colour.
You will note: that this page does not feature many of the ships interiors, the reason for this is that these will be covered on a very special photo page, being Page Three!
Sadly and this became rapidly obvious very early that both these ships were not really suitable to be genuine Cunard ships, for they did not meet the stringent Cunard requirements. Therefore their life with the company would be rather short lived. Although the Cunard Adventurer continued her Caribbean, Alaska and New Orleans cruises until her sale in September 1976, after which she had a long and profitable life until recent years!
Please Note: Although the MS Cunard Adventurer was indeed the first of the pair to be built and she remains with us to this very day, but I have decided to cover her on Page Two, as the rest of this page will be dedicated to the Cunard Ambassador a ship that had a rather short and a tragic life!
PLEASE NOTE: Recently I have obtained a supreme bundle of photographs which were taken by the ships respective builders, there images and photographs include artist drawings of the proposed interiors, there are models of the future ships as well as the finest interiors, photographs of the launching's, etc as well as their sea trails and many other photographs! All these photographs are all exclusive to ssMaritime. However, I wish to personally thank Mr. Don Leavitt of www.nautiques.net who has located all these amazing items for me and thus he deserves credit! For those who are looking for maritime memorabilia, Nautiques.net is one of the very best placed to go and best yet, the prices are simply excellent! You can email Don at: dml@nautiques.net. All items marked *Photograph part of the Author's private collection were obtained from Don!
******************************
MS Cunard Ambassador
The MS Cunard Ambassador was built in Rotterdam Holland by "P. Smit Jr Shipbuilders," whilst her sister was built by another shipyard in Rotterdam. When completed she was launched on March 16, 1972 and as she had entered the river she was towed to her fitting out berth where she was completed and when she was ready she headed for her seep sea trails.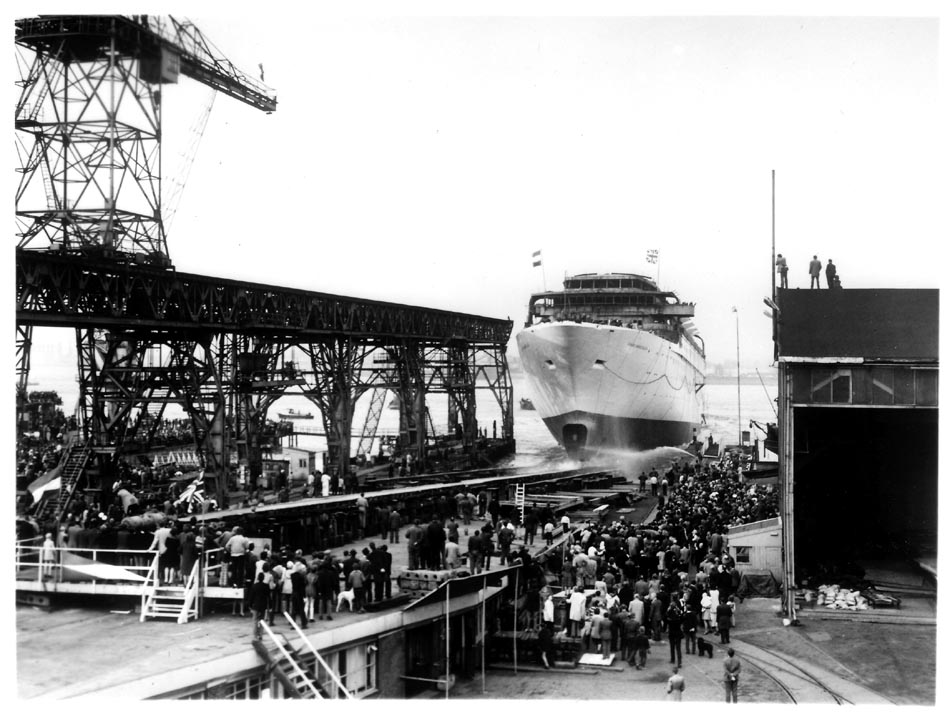 The Launching ceremony on March 16, 1972 as we see the Cunard Ambassador heading down the slipway
After her fitting out she headed of for her deep-sea trails, where she reached a top speed of 24 knots, she was delivered to her owners to be made ready for departure on October 21. At 14,160 GRT Cunard Ambassador accommodated 831 passengers in all First Class, and she had a crew of 410, and she operated at a cruising speed of 22 knots.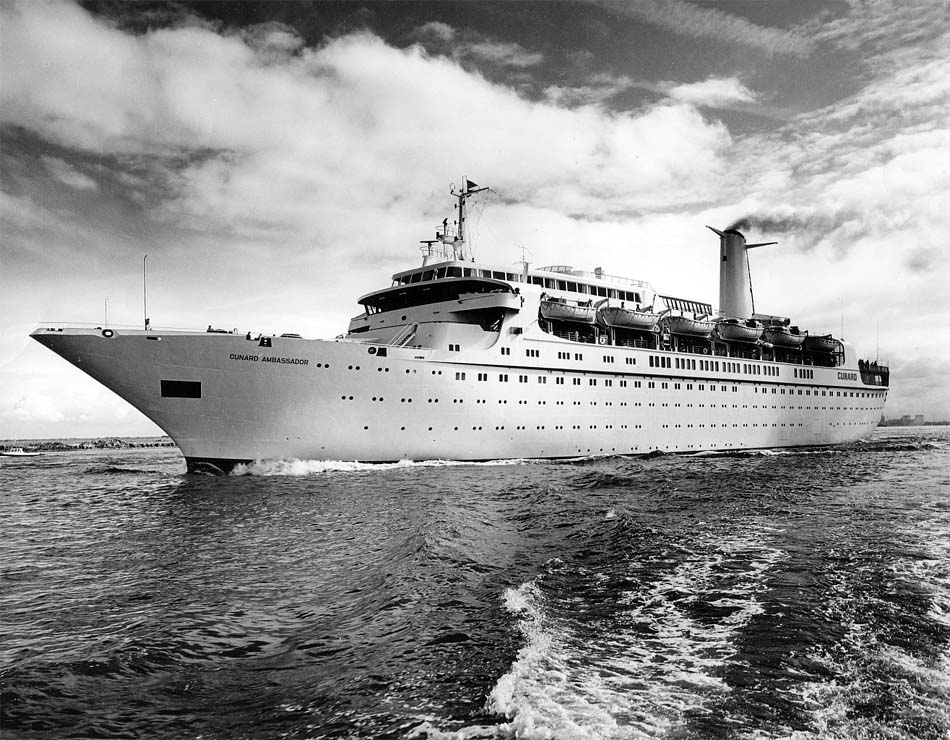 A superb black and white photograph taken by the builders as she was heading off on her sea-trails
Photo Gallery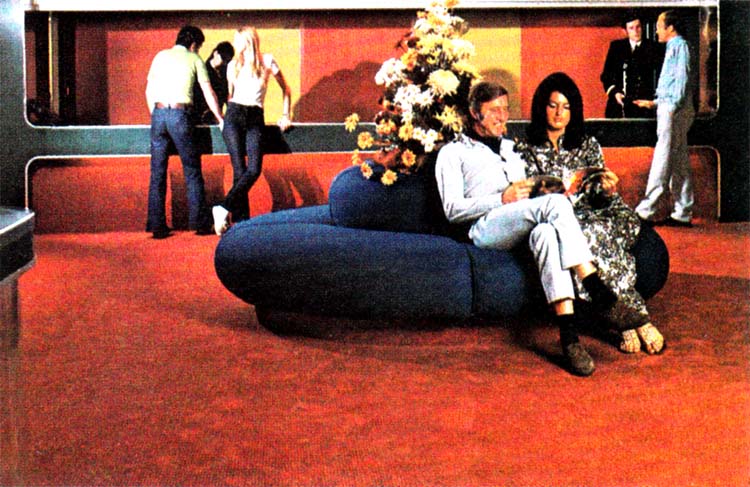 The ships Lobby and Pursers Office
The photographs above and below were sourced from one of the brochures from my collection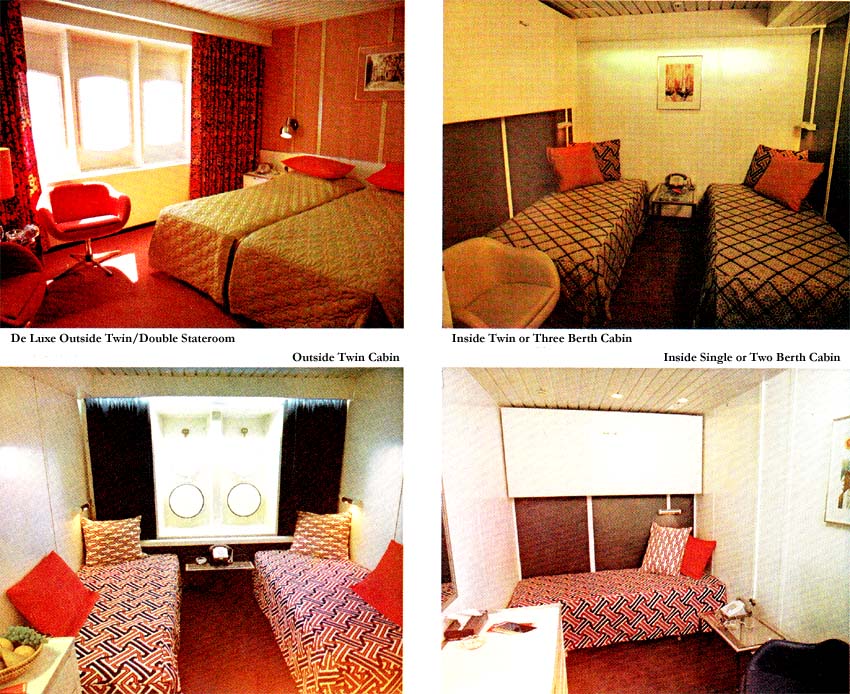 Here are just a few of the Ambassador's cabins
Just several days after her sea trails, the Cunard Ambassador departed for her maiden voyage and she headed for San Juan, Puerto Rico, from where she commenced fly/cruises around the Caribbean and South America on the 26th.and later as she would also sail from American ports.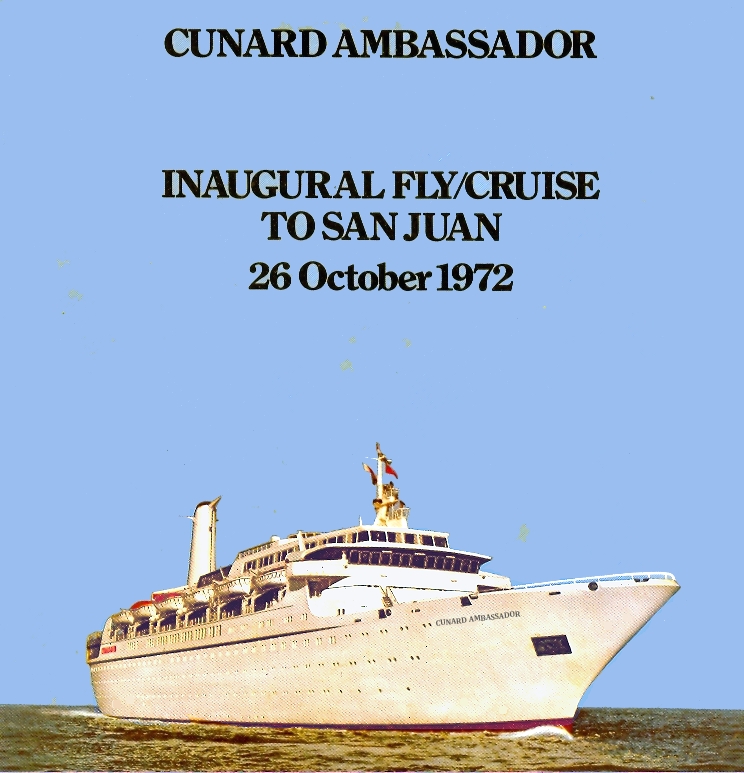 The inaugural Brochure - Fly from around America and the UK to San Juan on October 26 and join the ship there for her
first Caribbean/South America cruise after she had arrived from her Atlantic cruise and passengers stay and then fly home
Although the Cunard Adventurer would annually relocate to Vancouver and operate popular 7 night Alaska cruises combines with two trans-Panama Canal voyages the Cunard Ambassador did not do this as she remained mostly on the East Coast.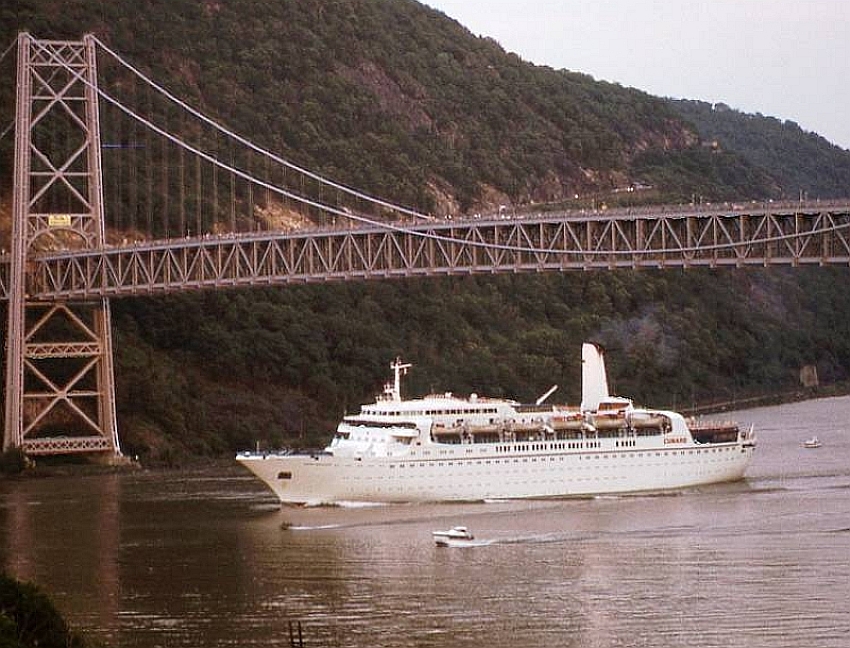 A rare sight, as the Cunard-Ambassador sails northbound under Bear Mountain Bridge
Photograph by & © William H. Miller
Special Note regarding Bear Mountain Bridge:
The following information was kindly provided to me by Mr. Herbert C. Schneider - U.S.A.
The Cunard-Ambassador was cruising out of New York to Bermuda, but in the photograph above she is seen sailing north bound under Bear Mountain Bridge, which crosses the Hudson River about 40 miles north of New York City, at the place where Westchester, Putnam, Rockland and Orange counties (more-or-less) come together. The highway (US Route 6) heading from the bridge along the side of Anthony's Nose Mountain towards Peekskill, NY and the road is visible in the photograph to the right.
It is unusual for ocean-going passenger ships to appear in the Hudson River north of the New York City, thus on the West Side of the piers. But, the U.S. Military Academy (USMA) at West Point is located on the west bank of the Hudson about 10 miles or so north of the Bear Mountain Bridge. And on occasion, the USMA alumni association has chartered smaller cruise ships and arranged to board the ship for a cruise from the USMA campus. Such a charter may be the story behind the photograph of the Cunard Ambassador sailing under the Bear Mountain Bridge.
Cruising out of New York City:
Cunard Ambassador would be located in New York and from May 26 to November 24, 1973 she operated 7-night holiday–voyages to Hamilton Bermuda, just as the Cunard Adventurer had done a year earlier, the only difference being that the Adventurer departed Norfolk Virginia. But the Ambassador would head to Bermuda at a slightly higher speed and she would still be able to remain in Hamilton for the four days.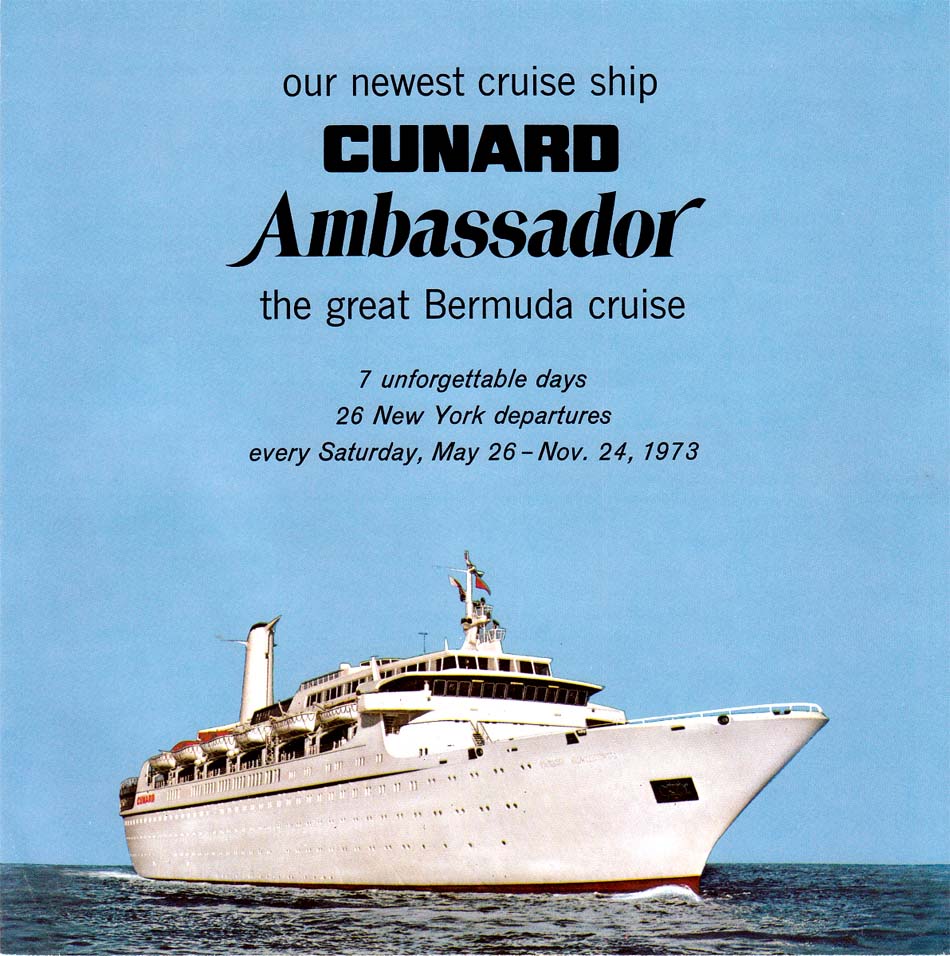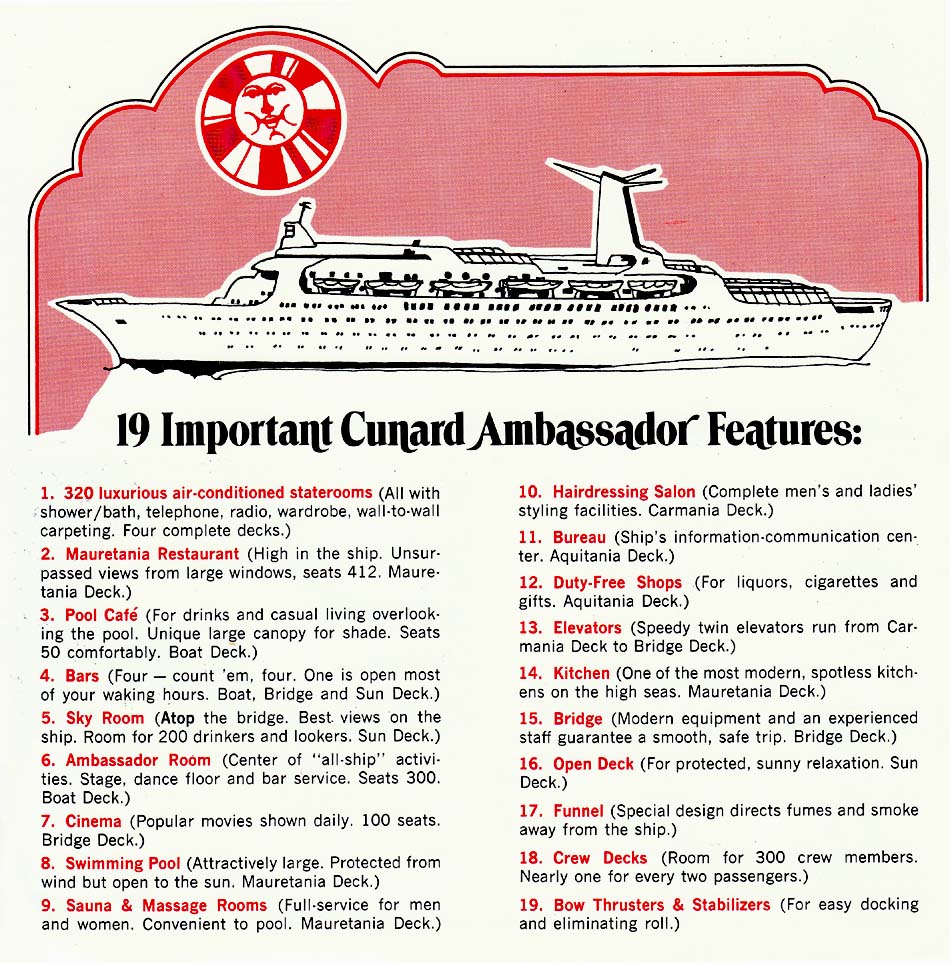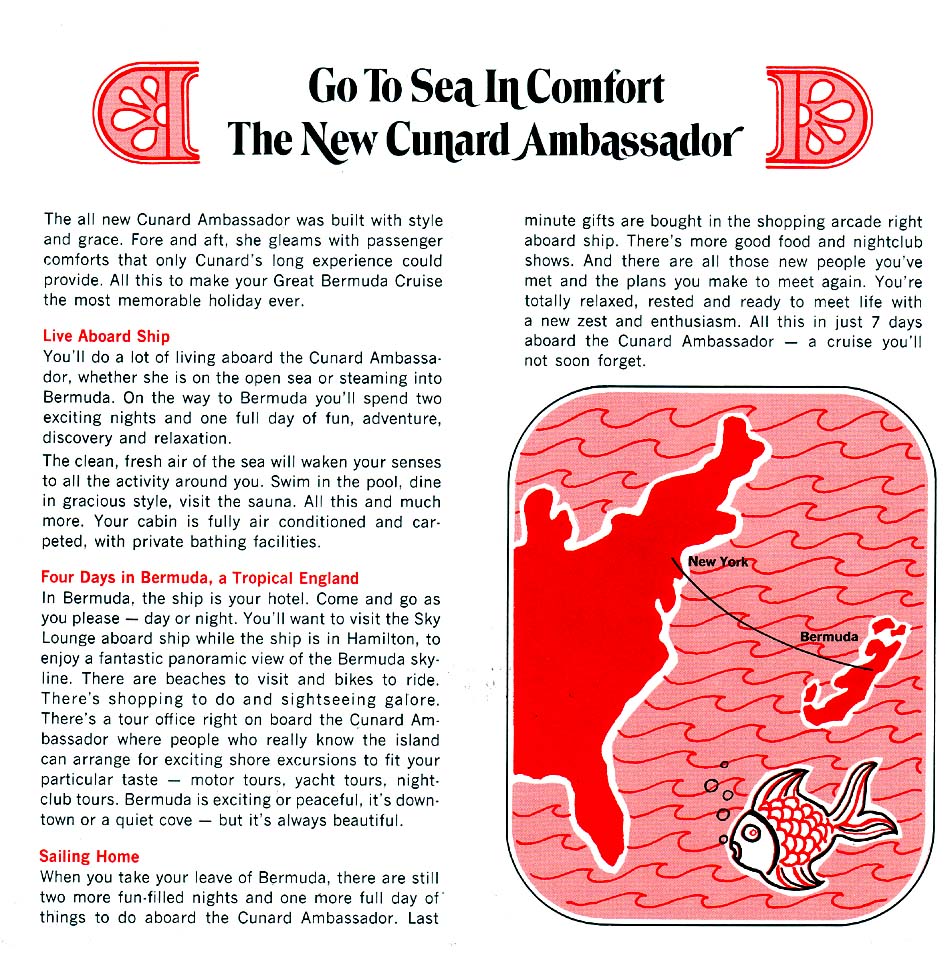 She also operated a number of special three-day specialty cruises that did not show any destination, it was advertised as a voyage to "Nowhere … or Somewhere?"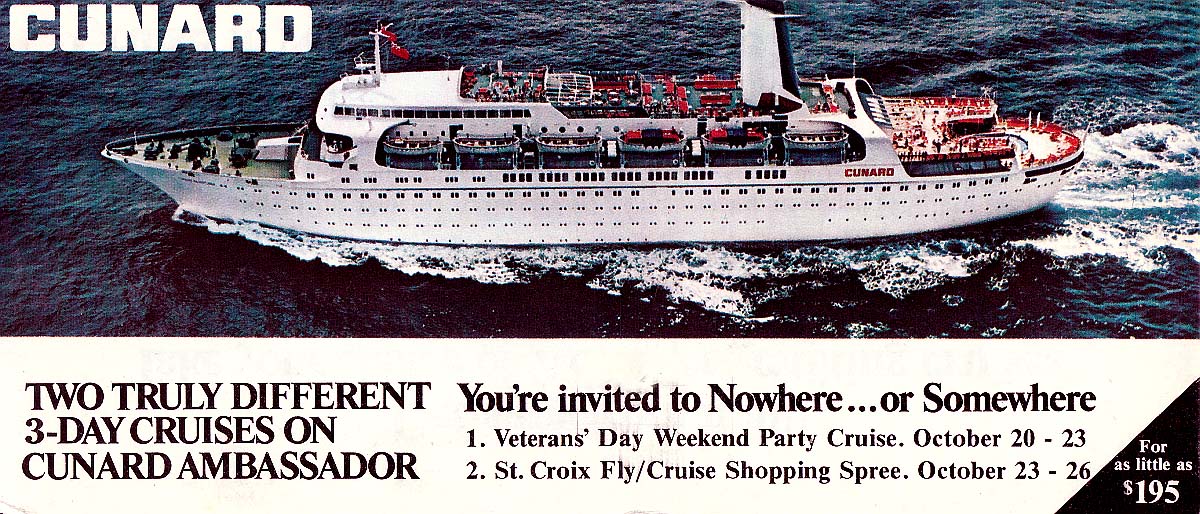 *Flyer above & below: part of the Author's private collection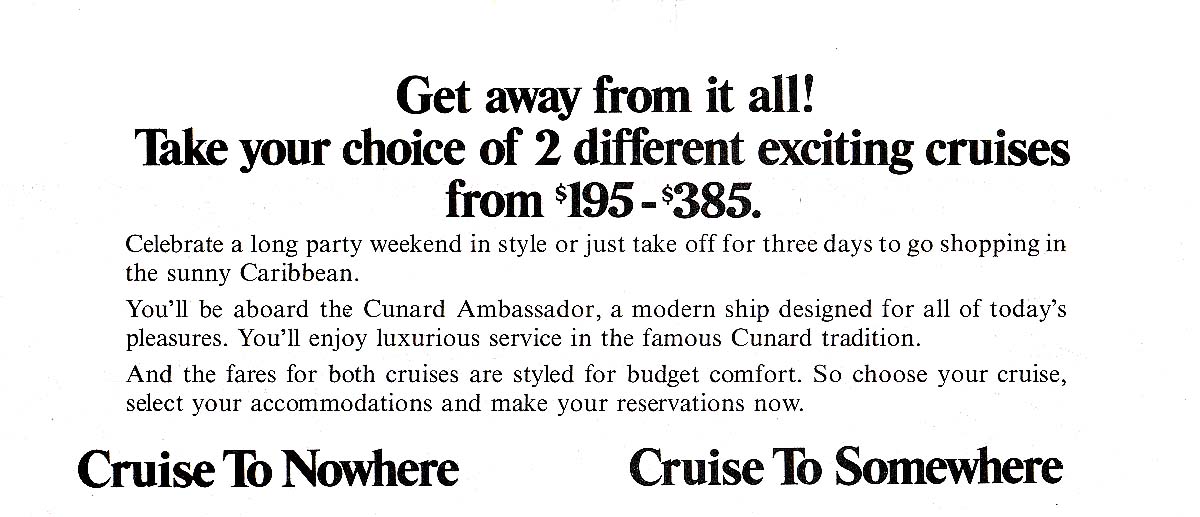 The fire tragedy - 1974:
However, as the ship was being relocated from Port Everglades to New Orleans, on September 12, 1974 and thankfully this was being done without any passengers on board, a fire broke out in the engine room and it rapidly spread to a number of decks and disabled the ship. With the fire having burned out the salvage tug "Cable" towed her into Key West. It was not until very early 1975 that she was officially declared a "Total Loss."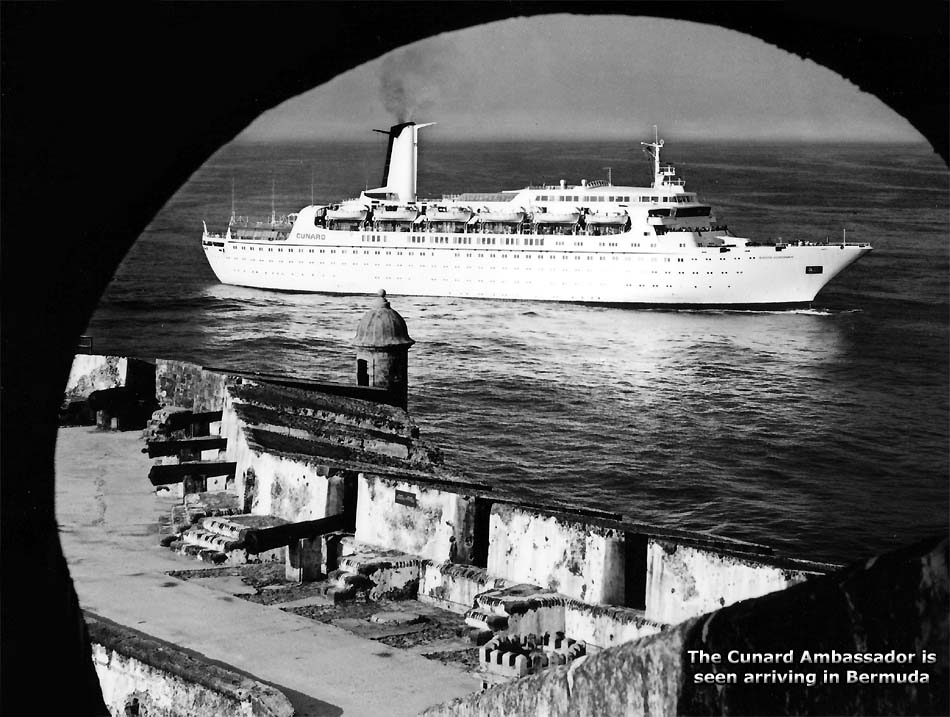 MS Cunard Ambassador in her better days cruising from New York to Bermuda!
A Special Note regarding the Cunard Adventurer:
On Page Three you will discover images and photograph that cannot be found anywhere else, for these were obtained from the builders and the ships designers. These images contain drawings of the ship and what they would look like, photographs of models built prior to them being built, illustration of some of their interiors as well as their venues completed and some of the accommodations. Then there are some superb photographs and further rare items that make this feature on the MS Cunard Adventurer and Ambassador so very rare!
Reuben Goossens.
Cunard Ambassador - Specifications:
Built:                                     P. Smit Jr Shipbuilders.," Rotterdam, the Netherlands.
Yard:                                     666.
Launched:                              March 16, 1972.
Delivered:                              October 21, 1972.
Maiden Voyage:                       October 23, 1972.
Tonnage:                                14,160 GRT.
Propulsion:                             Four 12-cylinder Stork-Werkspoor diesel engines.
Screws:                                  Twin – 28,000 BHP.
Speed:                                   21.5 knots cruising speed – 24 knots maximum.
Length:                                  148m - 486ft.
Beam:                                    22m - 72ft.
Passenger Decks:                    7.
Draught:                                6.15m - 20ft.
Passengers:                            831 First Class only
Crew:                                    410.
Stabilizers:                             Denny Brown.
Air-conditioning:                     Throughout.
MS Linda Clausen:
Although the Cunard declared her a total loss, somehow the Danish certainly did not think so, thus they purchased the gutted ship. Her new owner was "C. Clausen D/S – A/S" from Copenhagen and in March she was renamed Linda Clausen.
On April 30, the Linda Clausen was towed to Landskrona by a remarkable ship being a large unusual looking Dutch as she had four funnel aft, and was named the Willem Barendsz. But what was so sad, she was built to be a wale factory ship. Am I making it clear that I am 100% anti whaling and sadly it is still going on!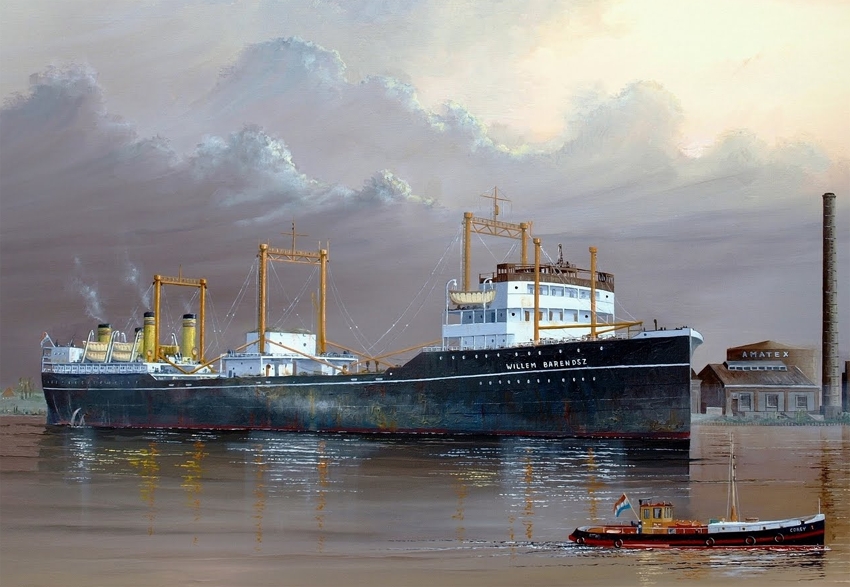 The amazing ship MS Willem Barendsz with her four funnels aft
Painting by the superb artist Hans Breeman - http://home.tiscali.nl/hansbreeman/indexuk.htm
At the shipyard at Landskrona the Linda Clausen had her engines rebuild and the ship was completely converted from a luxury passenger ship into a livestock/sheep transport ship to be operated between the Middle East and Australia!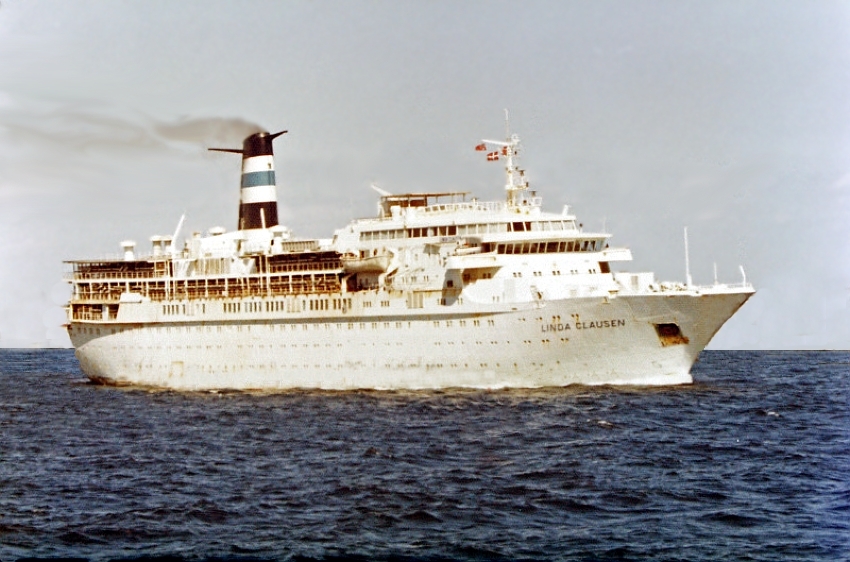 The sheep Carrier Linda Clausen seen shortly after her first rebuilt
later the windows on the top deck in the hull were replaced by portholes
Photographer unknown – Please see Photo notes at the bottom of the page
Considering that this service is one of the most profitable operations, at sea, it was decided to take her to Hamburg for a further rebuild in January 1976. She was completed in June and resumed operations.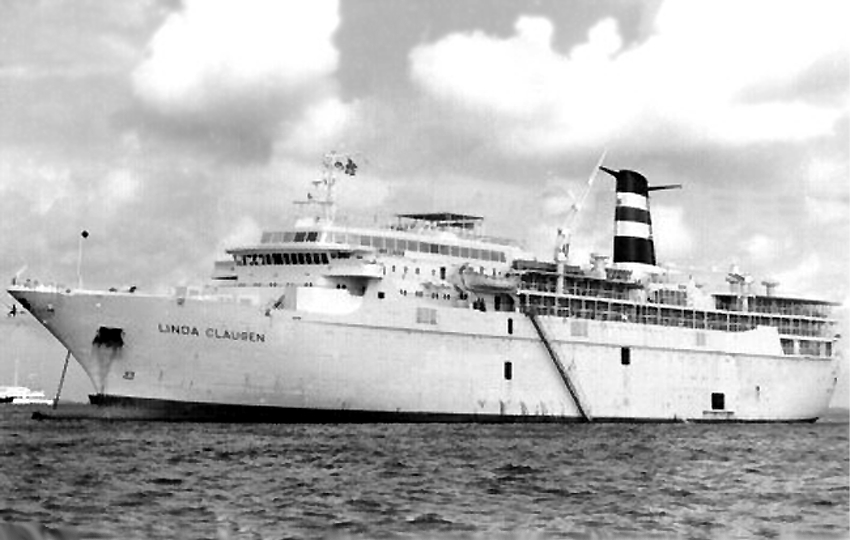 She is seen here later around 1978/79
MS

Procyon

(1980-1983) and MS

Raslan

(1983)
However, as the company ordered a new build ship, in 1980 the Linda Clausen was sold to "Lembu Shipping Corporation" of Panama who renamed her Procyon, and she continued her livestock services to Australia!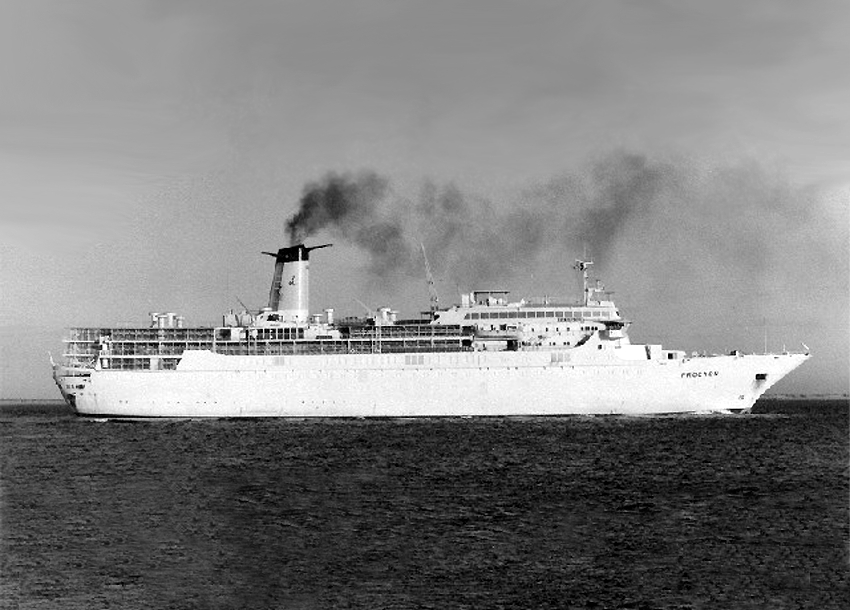 The MS Procyon is seen fully laden with livestock at sea and still looking beautiful!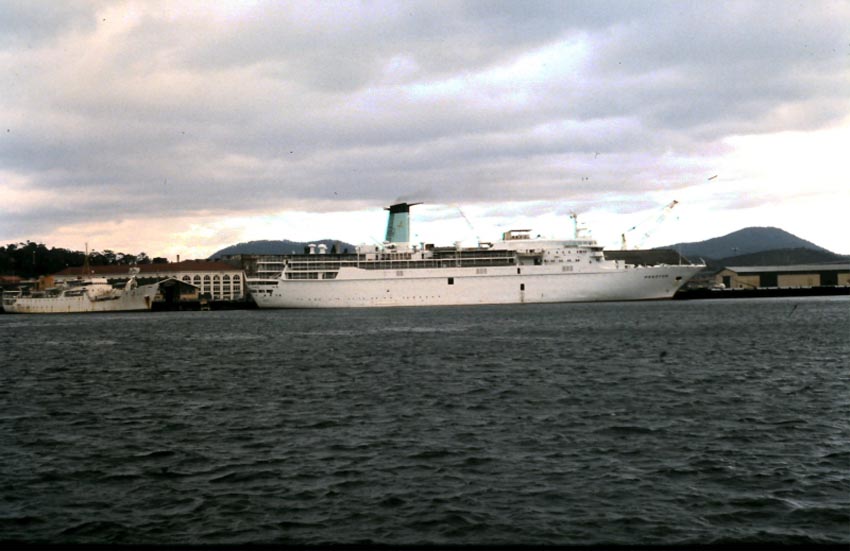 The MS Procyon is seen in Hobart Tasmania, Australia
Photographer unknown – Please see Photo notes at the bottom of the page
She was sold once more in 1983 to "Qatar Transport & Marine Services" of Doha and was renamed the Raslan. She continued as a livestock carrier between the Middle East and Australia and New Zealand.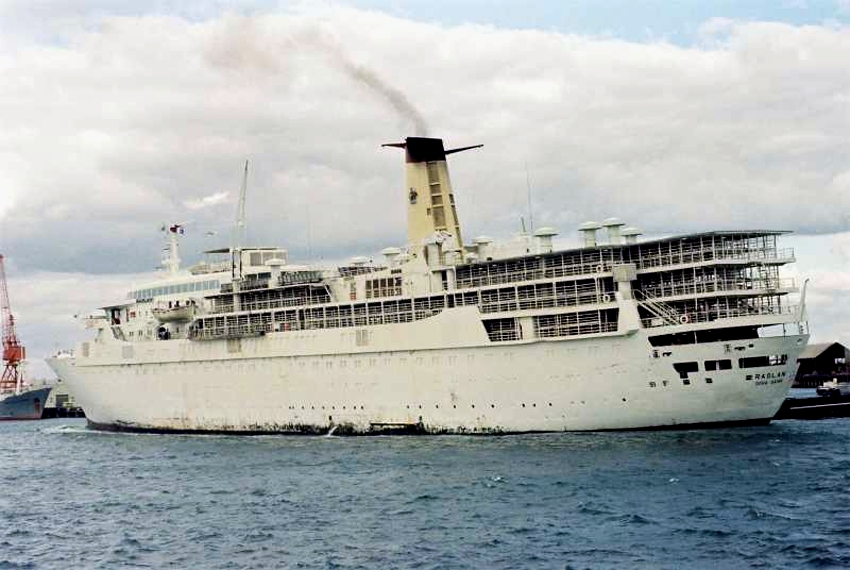 This would be the final photograph taken of the ex Cunard Ambassador, now the MS Raslan
For sadly she would soon suffer yet another fire
Photographer unknown – Please see Photo notes at the bottom of the page
However, she was certainly not the lucky ship for with in months, in July 3, 1983 whilst on a voyage from Jeddah to Singapore with returning pilgrims on board, for she still had some accommodations on board, she caught fire, once again in her Engine control room which caused massive damage. She was laid up in Singapore in July 17. The company in due course decided to sell her to the breakers for the cost to repair her would not simply not be possible for the cost of bringing the Raslan for she had become a "constructive total loss", which means that it would have cost more to repair the ship than the actual value of the ship herself, and thus she remained laid in Singapore until she was sold and ready for departure. She finally sailed for Kaohsiung Taiwan, and she arrived there on September 7, 1984 to be broken up.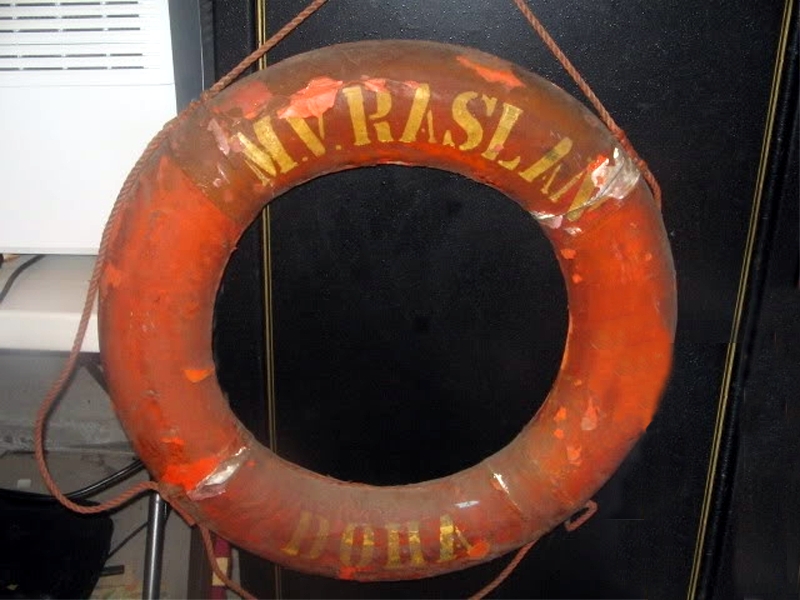 Here we see a Lifebuoy from the MS Raslan, I wonder if it was used during the fire, for no details are available
There is no doubt that the MS Cunard Ambassador was the unlucky ship, whereas her identical sister, the Cunard Adventurer sailed on long into the future and in fact she continues to sail to this very day!
Remembering what was really a fine Cruise Ship!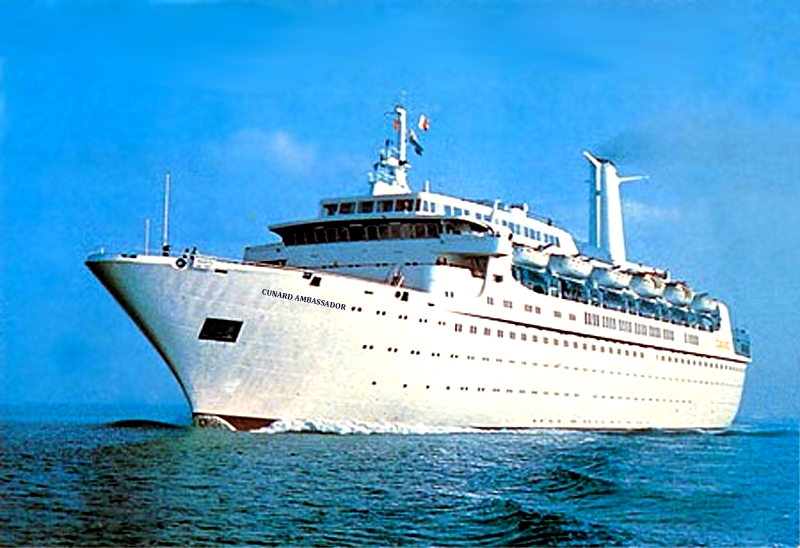 The MS Cunard Ambassador flying both the Dutch and Pilot Flags during her Sea Trails on the North Sea
But all too sad, her life was far too short for such a beautiful ship!
Cunard Adventurer - Ambassador -
INDEX
Page One: MS Cunard Ambassador
Including an Introduction of both ships!
Page Two: MS Cunard Adventurer
Including her next stage the: NCL's MS Sunward II
Page Three: Photo Page
Exclusive images and photographs covering the Cunard Adventurer & Ambassador
Page Four: MTS Triton & MV Coral
Operated by: Epirotiki Lines & Louis Cruises
DECK PLANS
Deck Plan 1:
Deck Plans
MS Cunard Adventurer & Ambassador
Deck Plan 2: Deck Plan
MTS Triton
Deck Plan 3: Deck Plan
MV Coral
***********************************
"Blue Water Liners sailing to the distant shores.
I watched them come, I watched them go and I watched them die."
Return to the ssMaritime MAIN INDEX
ssMaritime.com & ssMaritime.net
Where you will discover over 1,300 Classic Liners & the 1914 built MV Doulos Story
The Author has been in Passenger Shipping & the Cruise Industry for some 60 years!
Also visit the …
"Save The Classic Liners Campaign"
Founded in the early 1990's - The author is the founder and president
Please Note: ssmaritime and associated sites are 100% non-commercial and the author seeks no funding or favours of any shape or form, never have and never will!
Photographs on ssmaritime and associate pages are by; the author or from the author's private collection. In addition there are some images that have been provided by Shipping Companies and private photographers or collectors. Credit is given to all contributors. However, there are some photographs provided to me without details regarding the photographer/owner concerned. I hereby invite if owners of these images would be so kind to make them-selves known to me (my email address may be found on www.ssmaritime.com only), in order that due credit may be given.
This notice covers all pages; although, and I have done my best to ensure that all photographs are duly credited and that this notice is displaced on each page, that is, when a page is updated!
ssMaritime is owned & © Copyright by Reuben Goossens - All Rights Reserved