Please Note: Firefox and some other search engines are not suitable – Use "Internet Explorer" for this page to load perfectly!
Click the logo above to reach the ssMaritime FrontPage for News Updates & "Ship of the Month"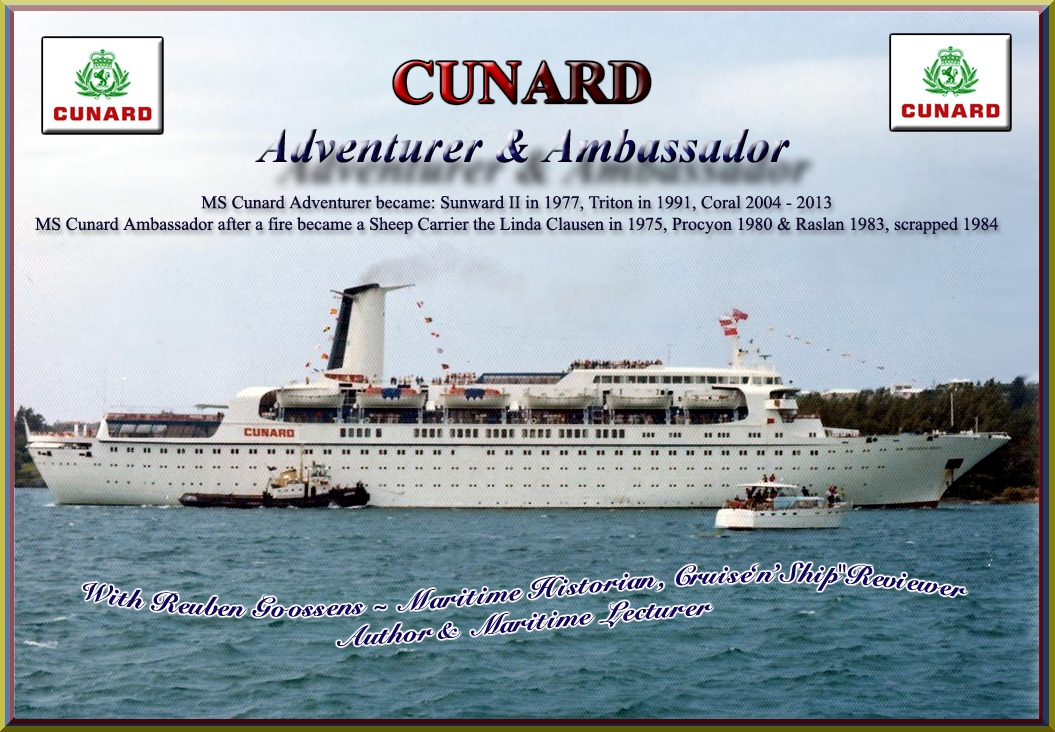 Page Four
The Next Incarnation's
MTS Triton & MV Coral
Cunard Adventurer's Next Life: MTS Triton.

Klosters Cruise Ltd, Nassau sold the MV Sunward II in 1991 to my dear late friend George Potamianos who was part of the one of the oldest Greek shipping companies that goes way back to 1850, out of which came the famed "Epirotiki Steamship Navigation Co, SA.," of Piraeus, who now owned the Sunward II, but she was renamed the Triton. She received the company's traditional livery a buff hull and a white superstructure, her funnel was blue with the Epirotiki logo being a Yellow Byzantine Cross.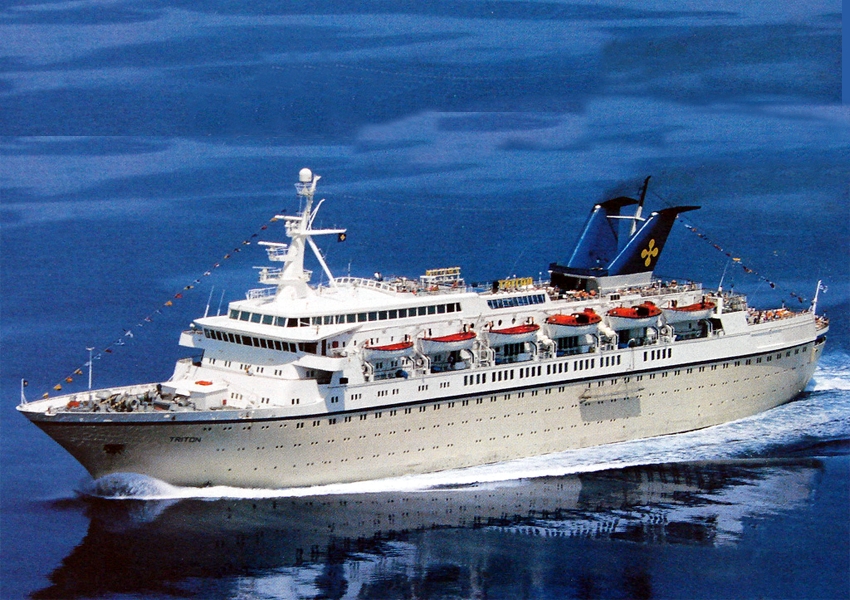 She looked at her very best as the MTS Triton as her Epirotiki livery suited her perfectly!
Epirotiki publicity photograph – from the author's private collection
Once again her accommodations were reduced to a maximum of 706 passengers in 353 cabins and she commenced operating cruises mostly out of Piraeus. However, just like the Sunward II had been, the MTS Triton proved to be exceptionally popular with the travelling public and American's as well as travellers from around the globe would sail on this delightful ship as she commenced to operate weekly cruises from Piraeus around the popular Aegean Sea!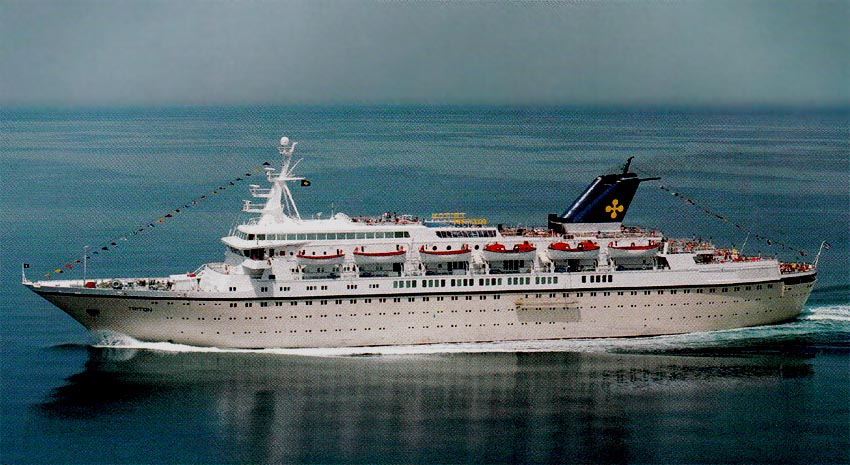 The delightful MTS Triton seen at sea

Left: Here we see the Sirenes Show Lounge – Right: The Bar in the Monte Carlo Casino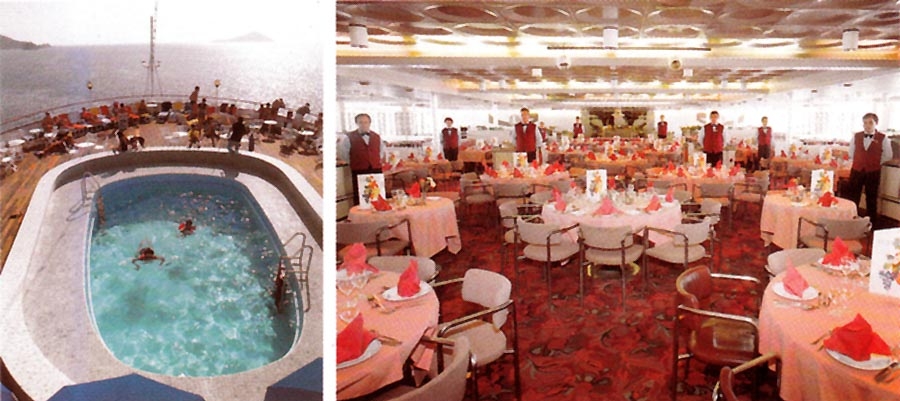 Left: The Swimming Pool aft, with the "Olympia" Gym & Spa nearby – Right: The Horizon Dinning Room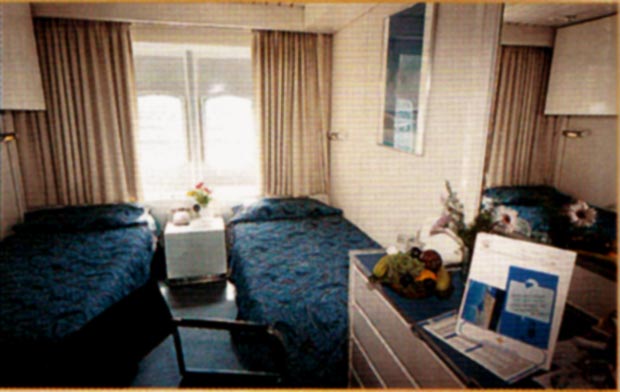 A typical outside twin bedded cabin that converts to a double-bedded room
This room can also be sold as a three-berth cabin.
See the Triton Cabin Plan – link at bottom of the page
Between April to November she operated on one of the most popular of the 7 night cruises, being the "Golden Fleece" Aegean Sea cruises. Ports of call were; Piraeus, Herklion (Crete), Santorini, Rhodes, Patmos, Kusadasi, Istanbul Turkey, Delos, Mykonos back to Piraeus.
The other option was to join either the "Aegean Hellenic" 3-day cruise or the "Aegean Classic" 4-day cruise, in other words, when these were combined they would make up the full 7 day "Golden Fleece" cruise, but it suited some cruisers to take a shorter voyage. During the summer months she would be used on other services!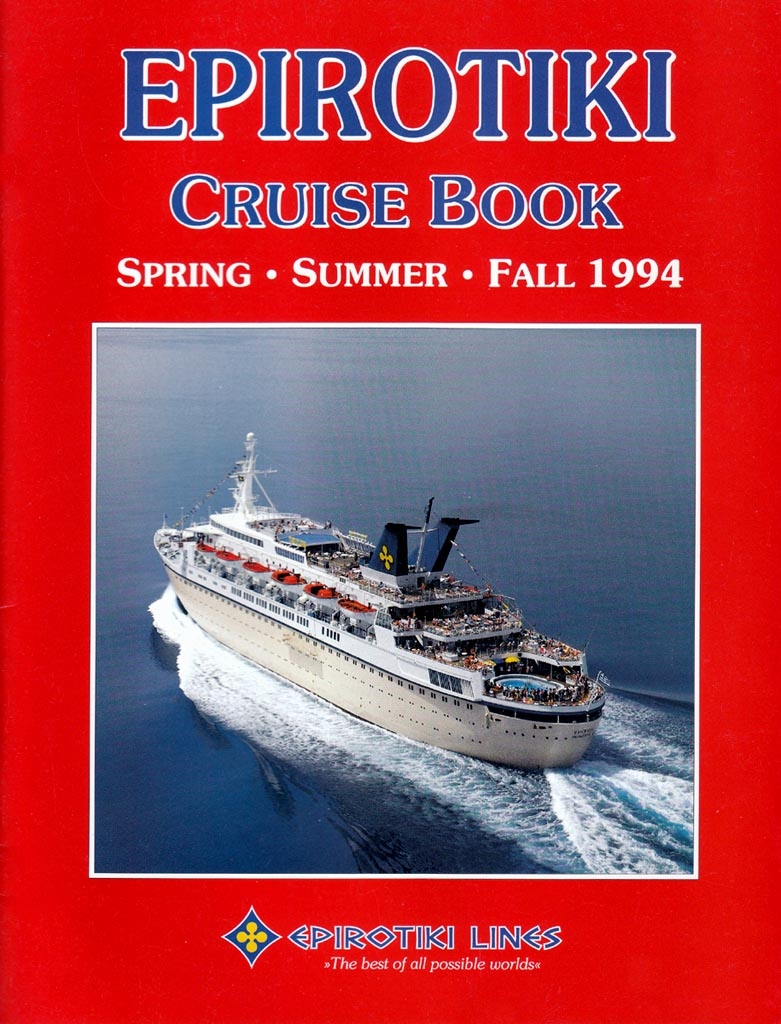 The 1994 edition was sadly the last official Epirotiki Cruise Brochure
Not because it was the end of the company, but the beginning of a new one!
Epirotiki Lines had a considerable fleet of ships, such as the MTS Pallas Athena, MTS Triton, MTS Word Renainasance, MTS Odysseus, MTS Jason, MTS Argonaut, MTS Orpheus, MTS Neptune, MTV Hermes, MV Apollon, MV Mistral II – The following were ships in operation just before or after 1974; MTS Apollon II, MTS Atlas, MTS Olympic. Obviously there has been a massive fleet in the Epirotiki long and proud history! Mr. George Potamianos being a genius had a long time ago chartered a fine Portuguese ship to operate a series of cruises, which had been a huge success! Later her chartered her again and then purchased her outright and commenced a new company based in Portugal together with a Scandinavian family. Later He and his family would move there!  
In 1995 Epirotiki merged its operations with the wonderful Greek Sun Line and together they created a new company named "Royal Olympic Cruise Lines." Although, they decided that at first each would maintain their own brand names and market as such and retain their own livery and this lasted for sometime. Then in 2001, the Maltese shipping company "Louis Cruise Lines," purchased shares in Royal Olympic Cruise Lines, and part of the ROCL management passed to the Louis Group, although the founding families however retained a controlling interest in the business.
In the meantime all ships had received a new livery, dark blue hulls and a new logo, a circle with the original Epirotiki star in the middle.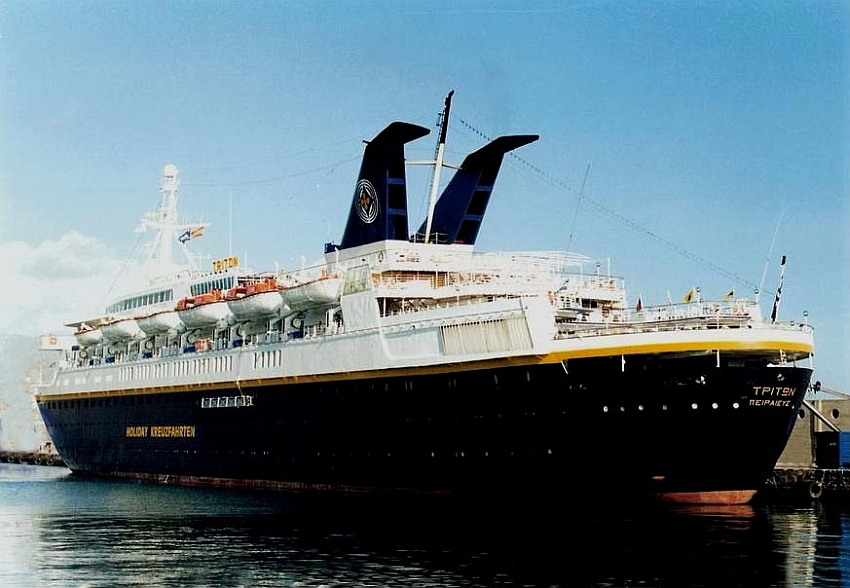 MTS Triton featuring her new livery and funnel logo
Then Royal Olympic announced that they had decided to build two new cruise ships that sail at high speeds of around 33 knots. These special ships were designed for a 'three continents' and thus high-speeds were required. In addition these two ships would carry 800 passengers each. Already the company was shedding it older fleet, regardless their popularity as well their reliability and still being SOLAS compliant at the time! Many of their supporters were not pleased and no longer booked with them for their much-loved ships were gone and these hideous new ships were certainly not greatly desired!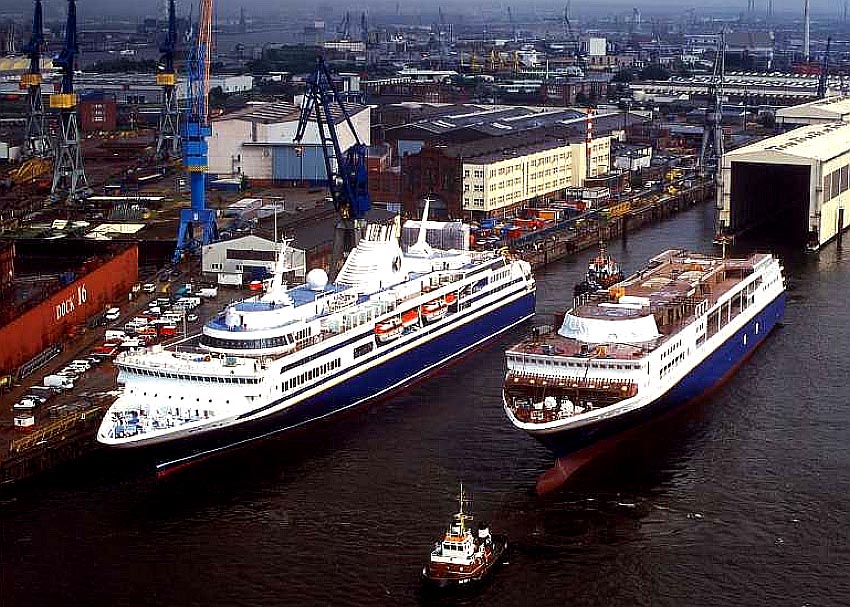 The Olympic Voyager seen completed (left) and Olympic Explorer in building (right)
Are seen at the Blohm & Voss Shipyards, Germany. But no matter what, they were of
An extremely poor design, being the fault of an even worse management!
ROCL took delivery of its first new build ship the MV Olympic Voyager in 2000, whilst her sister the Olympic Explorer was due for delivery in 2001 and she was delayed due to objections by Royal Olympic about the poor quality of building and terrible vibration problems, thus she was finally delivered almost a year later. The ships were to operate a summer season in the Eastern med and a winter season in the Caribbean and West Coast of America. However, both ships had a far too many shortcomings as well as poor sea qualities, all of which played a significant part in the demise of what were once two fine companies!
The International Olympic Committee forced Royal Olympic Cruise Lines to change its name to Royal Olympia Cruise Lines in 2003. In addition the prefix of the two new "Olympic" ships was also changed to "Olympia Voyager & Explorer! However, the truth is that ROCL struggled on for just a few for months, and certainly not because of ships such as the popular MTS Triton, for she continued to sell well right to the day of the company's shut down, but finally this now poorly run company with, and I must say a bunch of - nit wit's running it, for Mr. George Potamianos had departed a long tome ago to start his own successful company in Portugal, but ROCL collapsed in March 2004.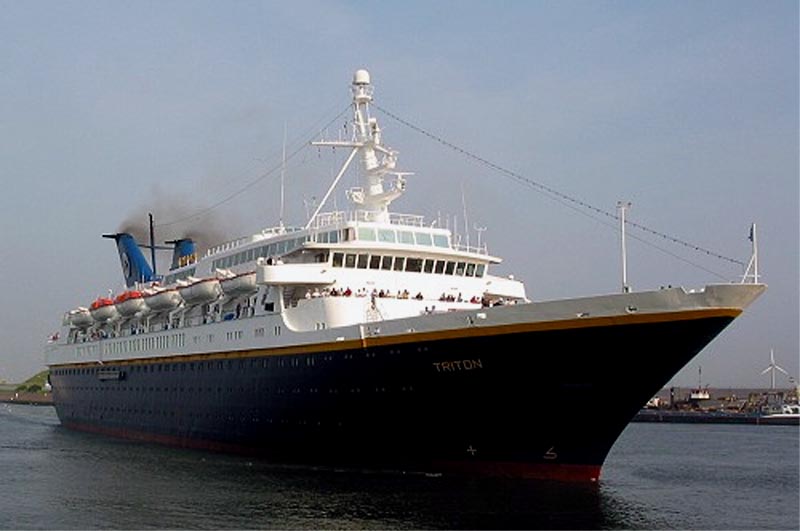 The Triton seen around 2002, before the end days of ROCL
The two new ships survived and were sold, but both had ongoing problems. All of the Royal Olympia ships were either sold to be broken up or purchased at auction by other companies and the Triton was obtained by the Maltese based Louis Cruises!
MV Coral: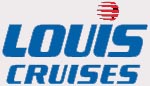 Louis Hellenic Cruises obtained the beautiful MV Triton at auction late in 2004 and she was renamed Coral. She was given a comprehensive refit, refreshing her public venues and accommodations and making a number of changes suitable to the Louis Cruises requirements. She was completed in time for the 2005 cruise season.
The Louis Cruises MV Coral after receiving her first refit
She was placed on the Mediterranean and Greek islands cruise operations, which proved to be very popular indeed. At times, she would be taken out on charter by one of the various companies being a regular with Louis Cruises, for chartering ships out was one of Louis Cruises' big money-makers and they had purchased a number of ships especially for the purpose to be operated, very much on a semi permanent charter bases!
However, the MV Coral proved to be very popular both whilst she was operating for Louis Cruises

or charter operators, for the ship was in such good condition, and she was known for her excellent service, great food, entertainment and over all as being a happy ship!
To make her even better, she was given a further extensive refit and as well as a partial rebuild in 2008, which would see her aft decks extended up to her stern with side windows shielding her decks from the wind. Topside, where Muses used to be the top housing was extended to just aft of amidships and 30 cabins were installed. Aft of this there was a deck space with side windows and the bar, however on top of the new rooftop, about the middle of the housing there was a new modernistic structure that housed the satellite and navigational equipment. One deck own where the Casino and the Cinema used to be, this space had become one large venue named 9 Muses, replacing the original lounge forward topside. However, it also housed the casino on one side. In addition, her interiors were vastly upgraded and additional cabins were installed she was also fitted with new generators.
Upon completion she was registered at 14,195 GRT, and she now accommodated 968 passengers certainly looked like one of the most stylish small cruise ships around and she became one of the most sought after ships! Considering that in 2008 she was 37 years old, amazingly she looked as modern as tomorrow!
MV Coral Photo Album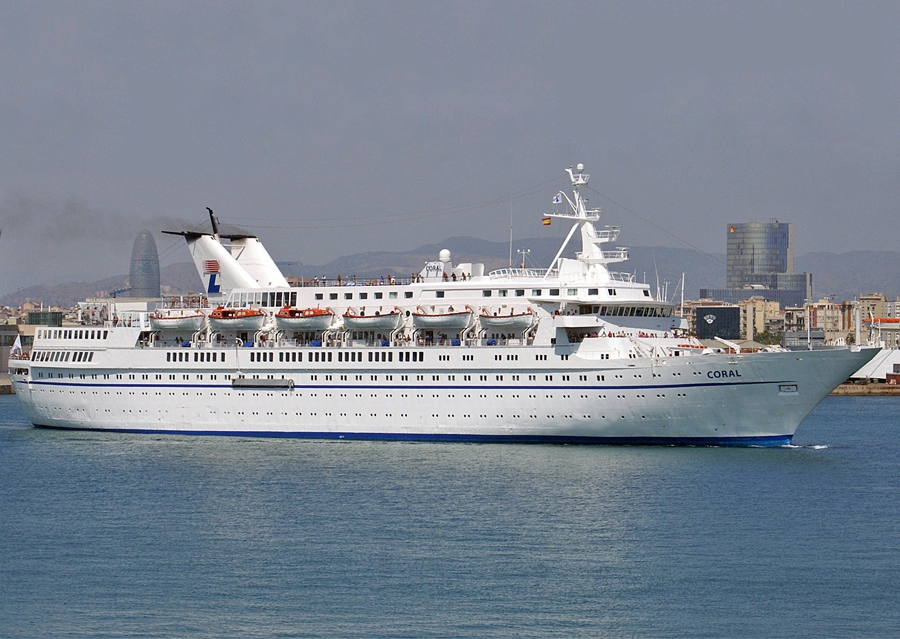 Here we see the new and refitted MV Coral, an attractive small cruise ship indeed!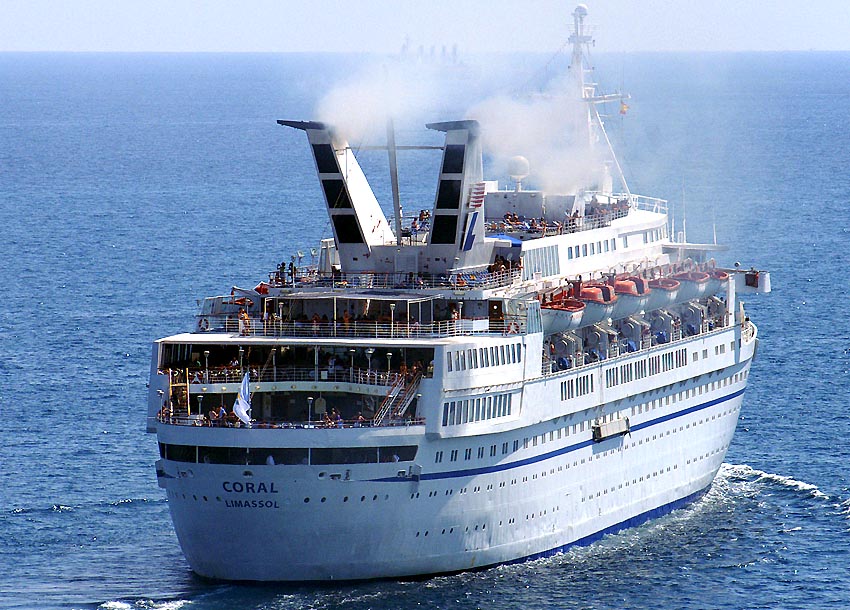 An excellent view of her beautiful traditional stern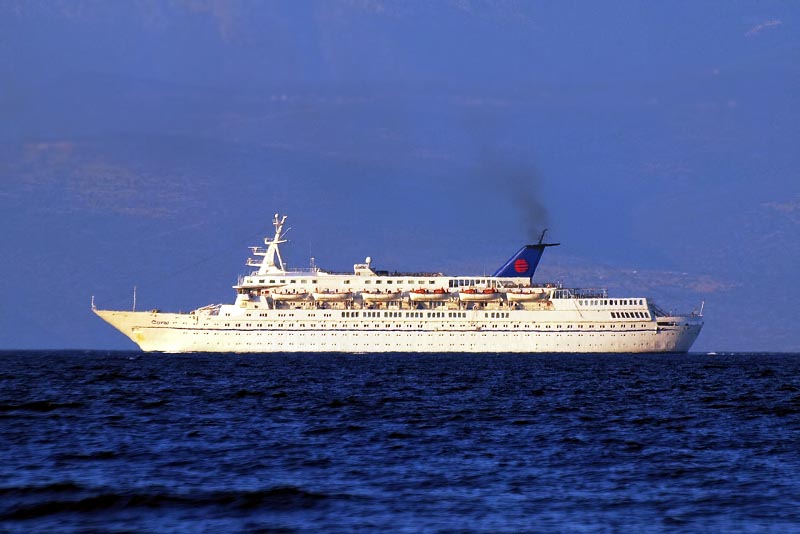 A superb photographic study of a fine ship!
This was taken whilst she was under charter, thus her funnel livery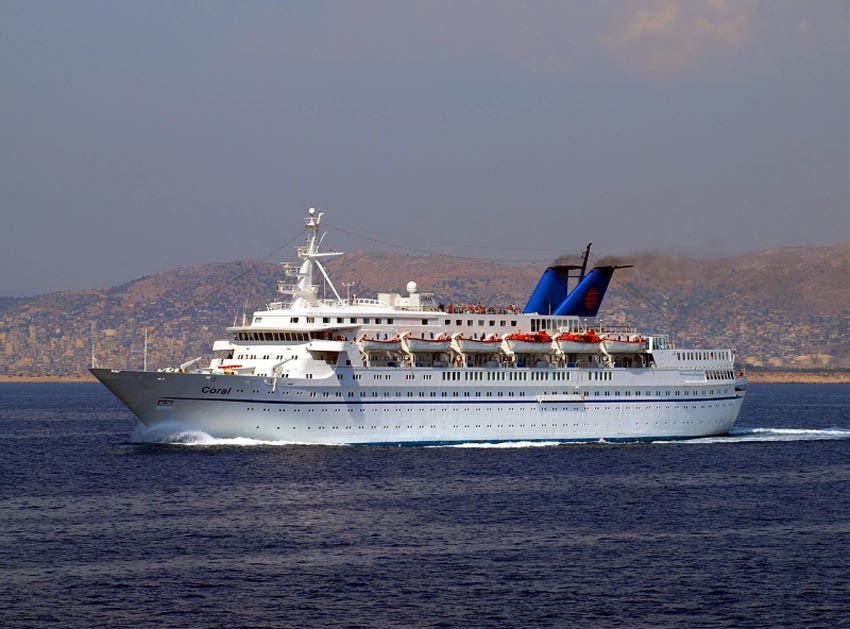 The MV Coral, still under charter seen off Naples
She continued cruising for Louis as well as for charter operators until 2011, but sadly bookings in general had started to slow down and Louis Cruises decided to place the MV Coral in lay-up in Piraeus.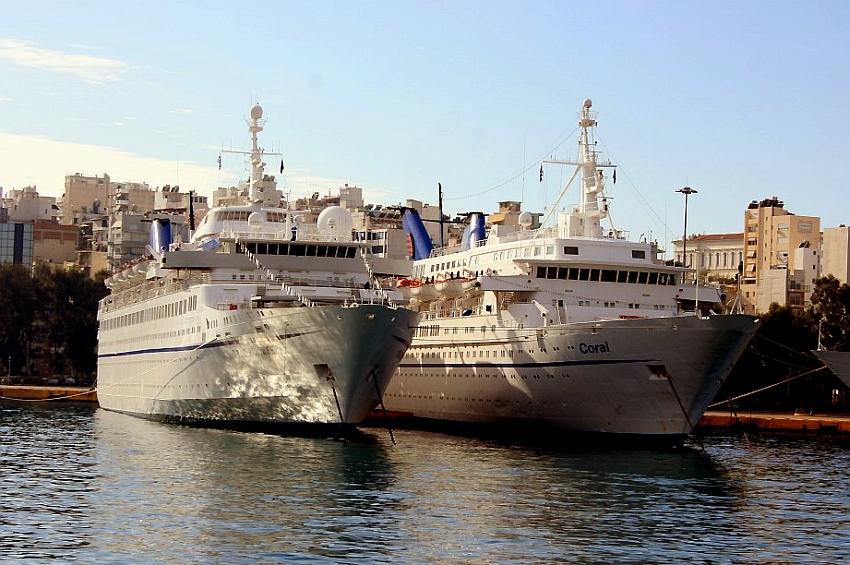 Here we see two Louis ships, the MV Orient Queen and the MV Coral in Piraeus
As the Coral remain in Piraeus all of 2012 and in early 2013, although she remained beautifully maintained, etc., Louis Cruises announced in May 2013 that the MV Coral would be renamed, as she would recommence for the 2014 cruise season and her new name would be Louis Rhea. The main reason to add "Rhea" was to reflect the company's "Hellenic heritage."
However, sadly, on December 12, 2013 I received the news from my good friend Peter Knego, that an announcement had been made that the Coral, which was to return to service in 2014, that "the MV Coral had been sold to the breakers" this week.
Thus, the delightful Coral like most ships heading to India and she will most likely be given a shortened name, such as Cora for the voyage to Alang being her final destination and that should happen very soon.
The MV Coral, ex Triton, Sunward II, Cunard Adventurer departed Piraeus named Cora and she has now arrived offshore at the Alang breakers yards on January 21, 2014. Thus, this is the end of one of the most successful cruise ships having sailed successfully for 43 years, except for those six years whilst she was with Cunard, all because she was the wrong ship for them, but perfect for other companies!
Farewell Old friend!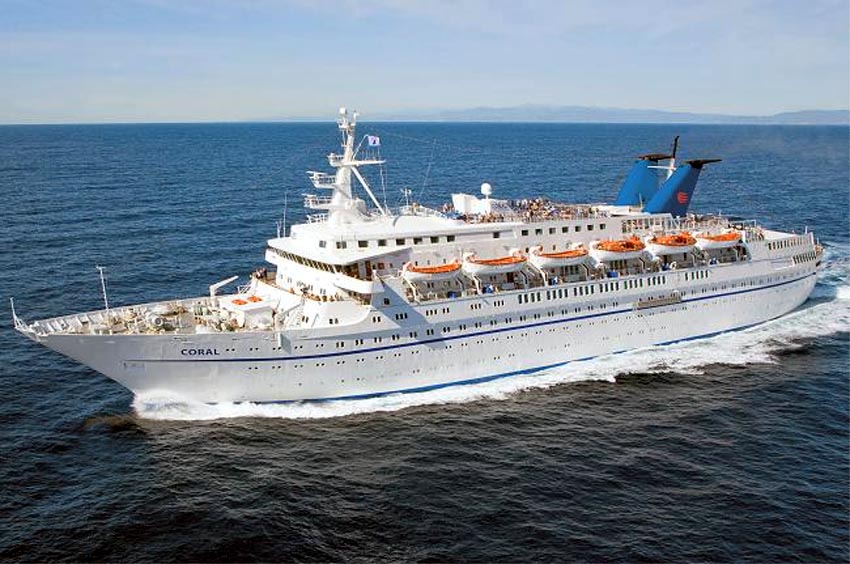 She is simply too beautiful and in such perfect condition to be broken up, what a shame!
Cunard Adventurer - Ambassador -
INDEX
Including an Introduction of both ships!
Including her next stage the: NCL's MS Sunward II
Exclusive images and photographs covering the Cunard Adventurer & Ambassador
Page Four: MTS Triton & MV Coral
Operated by:
Epirotiki Lines & Lois Cruises
DECK PLANS
Deck Plan 1: Deck Plans
MS Cunard Adventurer & Ambassador
Deck Plan 2: Deck Plan
MTS Triton
Deck Plan 3: Deck Plan
MV Coral
****************************************
Use the Back button on your browser or Close the Page to return to the previous page
or go to our
INDEX
Who is the Author of ssMaritime?
Commenced in the Passenger Shipping Industry in May 1960
ssMaritime.com
&
ssMaritime.net
Where the ships of the past make history & the 1914 built MV Doulos Story
Also visit my …
"Save The Classic Liners Campaign"
Photographs

on ssmaritime and associate pages are by the author or from the author's private collection. In addition there are some images that have been provided by Shipping Companies and private photographers or collectors. Credit is given to all contributors. However, there are some photographs provided to me without details regarding the photographer/owner concerned. I hereby invite if owners of these images would be so kind to make them-selves known to me (my email address may be found on www.ssmaritime.com only), in order that due credit may be given.
This notice covers all pages, although, and I have done my best to ensure that all photographs are duly credited and that this notice is displaced on each page, that is, when a page is updated!
ssMaritime is owned and © Copyright by Reuben Goossens - All Rights Reserved