MS Cunard Adventurer & Ambassador and their later versions
Note: iPhones, iPads, Firefox & some other Search Engines may not be suitable
Use Google Chrome for this Web Page to load perfectly!

Click the logo above to reach the ssMaritime FrontPage for News Updates & "Ship of the Month"
With Reuben Goossens
Maritime Historian, Author, Lecturer & Cruise'n'Ship Reviewer
Please Note: All ssmaritime as well as my other related maritime & cruise sites are 100% non-commercial and privately owned sites. Be assured that I am NOT associated with any shipping or cruise companies or agencies or any other organisations! The author has been in the passenger shipping industry since May 1960, but although retired and unwell, I occasionally attempt to write an article now and then, in order to bring enjoyment and pleasure to ship enthusiasts past passengers and crew.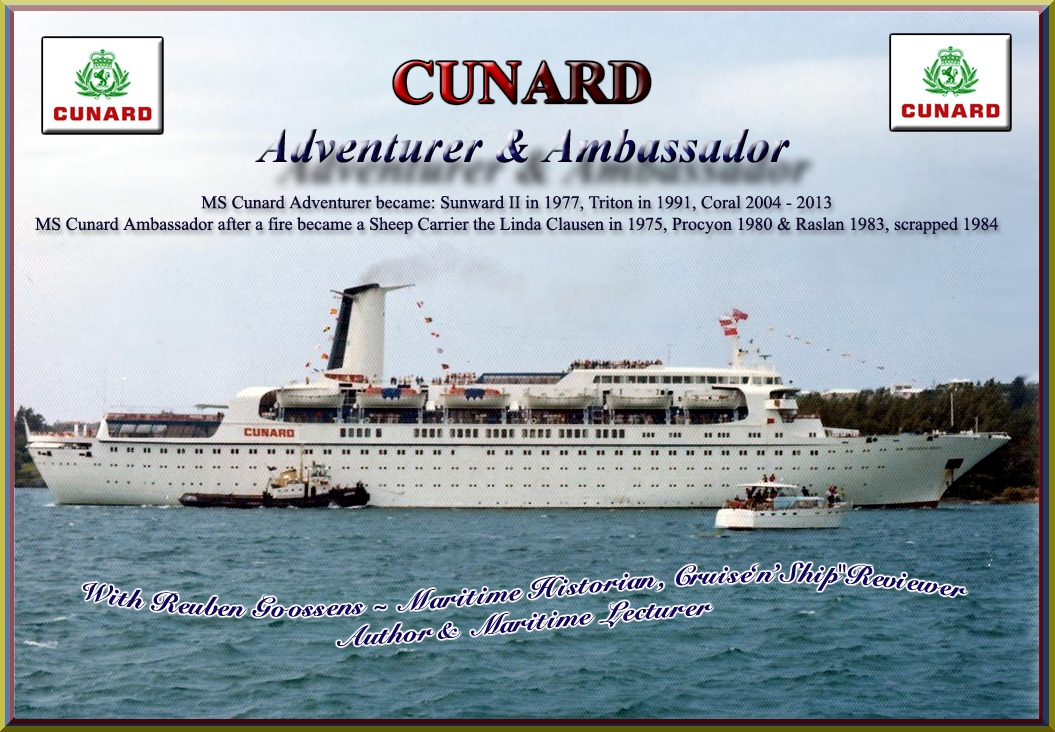 Page Two
Covering the MS Cunard Adventurer - Also the ship as the MS Sunward II
Please Note: Photographs and other images on this feature are from the author's private collection unless stated otherwise
The Introduction part of this page below is very much the same as on Page One, which mostly covers the Cunard Adventurer, but I have included it here for those who may have arrived on this page via a search engine. You can go and read Page One first, or do so after reading this page as there is a full index to this seven page feature at the bottom of this page.
Introduction:
A series of eight identical ships were especially designed for the "Overseas National Airways" (ONA) in the mid-sixties to be built in the early seventies. Two ships were ordered to be built; the first to be commenced was by the "Rotterdamsche Droogdok Maatschappij N.V.", of Rotterdam, the Netherlands and the second a year later by "P. Smit Jr Shipbuilders," also in Rotterdam.
But OAM soon enough realised that due to the huge amounts of money that was being placed into the project with the first two ships, ONA found that in 1971 they were running into financial difficulties and they had to abort their project, even though the ships were already partially built! However, considering that Cunard Line had a 50% share in ONA, they decided to take the opportunity to take over ONA as well as these two ships and enter them into a new Cunard fly/cruise market in the America's, and thus they commenced in a new market! In the meantime the other six ships were cancelled and Cunard ensured that the two ships in building would be completed as soon as possible.
Cunard's new cruise ships when launched were named the Cunard Adventurer of 1971 and Cunard Ambassador of 1972.
Cunard knew that once completed that both the Adventurer as well as her identical sister the Ambassador would essentially operate seven-day cruises for which the were especially designed! Some of the cruises planned were; San Juan to Caribbean and South American ports, as well as New York to Bermuda, as well the ever-popular Alaska cruises out of Vancouver and Trans-Panama canal voyages during the summer months.
Although these ships officially became Cunard cruise ships, but as the Adventurer was the first of the pair to be launched and named, she became the very first Cunard ship in the 20th.century to be given a name that did not end in "ia" or begin with "Queen," therefore she and her sister commenced a whole new trend!
But the simple truth was and this was obvious right from the beginning was that both ships were not really suitable to be true Cunard ships, for they did not meet the stringent Cunard requirements. Therefore both their lives with the company would sadly be rather short lived.
Ships exterior appearance:
Upon first sighting the new ships they certainly stood out from any other ship in the world, for their overall design was so advanced and certainly unusual! The hull with four decks was somewhat bulky looking, although in reality it was really beautifully long and sleek with a nicely shaped curved bow with a long protruding bulbous bow and a nicely rounded traditional style stern. However, due to her high sides it had a slab like appearance and was also due to the somewhat low slung, yet ultra modern low superstructure of just four decks. However, the lowest deck of her superstructure was almost fully enclosed, thus giving her hull that additional high appearance! Above this was her Boat (Promenade) deck with Lifeboats directly above on Bridge deck, and top side on Sun deck forward there was the spacious "Sky Room" that that had window facing forward and on both sides of the ship with doors aft out to the spacious Sun Deck.

A good look at the side on design in this image reveals her rather unusual design for the very early 1970's
However these ships had three very unusual features, which made them stand out from all other ships. Both forward and aft there were two of these features and they were located alongside of the superstructure and they where shapely slab like panels placed on the exterior side of the ship that looked like they were part of the hull and it reached up to around deck level of Sun Deck. The top of each panel was curved inward and shaped to fit in with the ship. The forward one became the roofline of the Bridge and reached around to meet the one on the other side and it also reached a little aft. The aft panel was more curved from aft to forward and when it reached the top it became part of the funnel housing. The third feature was not as attractive as the first two, for they looked very good! But the funnel was without a doubt the most prominent feature of these ships, for you just could not miss it, even if you tried! And let me say this, it was without a doubt a funnel once you had seen it, you would always know what ship it was, even from a distance at sea! It was rather slender sided and very tall and strangely enough although the front although it being almost vertical, the funnel always seemed to appear as it leaned slightly forward. This was mostly due to the forward section having a white wrap around section, whilst the aft section of the funnel was shaped and slanted backward, thus giving the appearance of it leaning forward. The back of the funnel from top to the bottom was dark blue in colour.
You will note: that this page does not feature many of the ships interiors, the reason for this is that these will be covered on a very special photo page, being Page Three!
Sadly and this became rapidly obvious very early that both these ships were not really suitable to be genuine Cunard ships, for they did not meet the stringent Cunard requirements. Therefore their lives with the company would be rather short lived.
Although the Cunard Adventurer was indeed the first of the pair to be built, but I have decided to cover her on Page Two, whist I dedicated Page One to the more tragic Cunard Ambassador which had a rather sad, varied and also a very short life as 1. A cruise ship. 2. And a livestock/sheep transport ship for a number of owners!
PLEASE NOTE: Recently I have obtained a supreme bundle of photographs which were taken by the ships respective builders, there images and photographs include artist drawings of the proposed interiors, there are models of the future ships as well as the finest interiors, photographs of the launching's, etc as well as their sea trails and many other photographs! All these photographs are all exclusive to ssMaritime. However, I wish to personally thank Mr. Don Leavitt of www.nautiques.net who has located all these amazing items for me and thus he deserves credit! For those who are looking for maritime memorabilia, Nautiques.net is one of the very best placed to go and best yet, the prices are simply excellent! You can email Don at: dml@nautiques.net. All items marked *Photograph part of the Author's private collection were obtained from Don!
******************************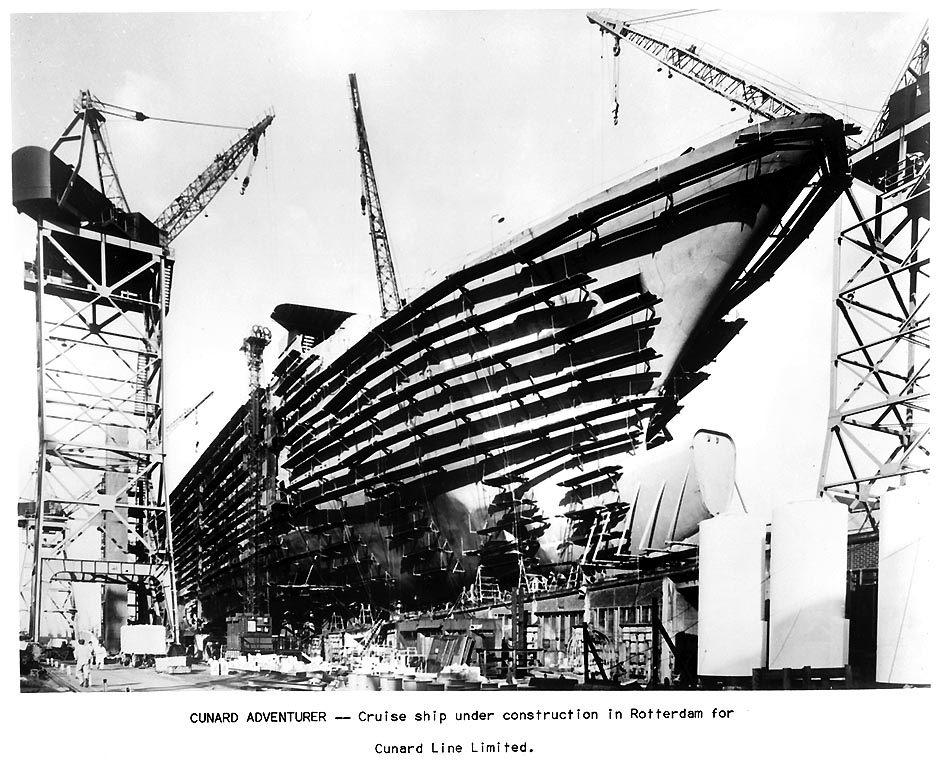 MS Cunard Adventurer Introduction:
This ship was the first of the pair built and she was built by the famous "Rotterdamsche Droogdok Maatschappij N.V.," in the Netherlands and she was launched on February 2, 1971.
When her fitting out had been completed, she undertook her North Sea deep-sea trails on August 28, and she reached a respectable top speed of 24 knots, whilst the ship was found to be without any shudders whatsoever, which was a great plus for her designers!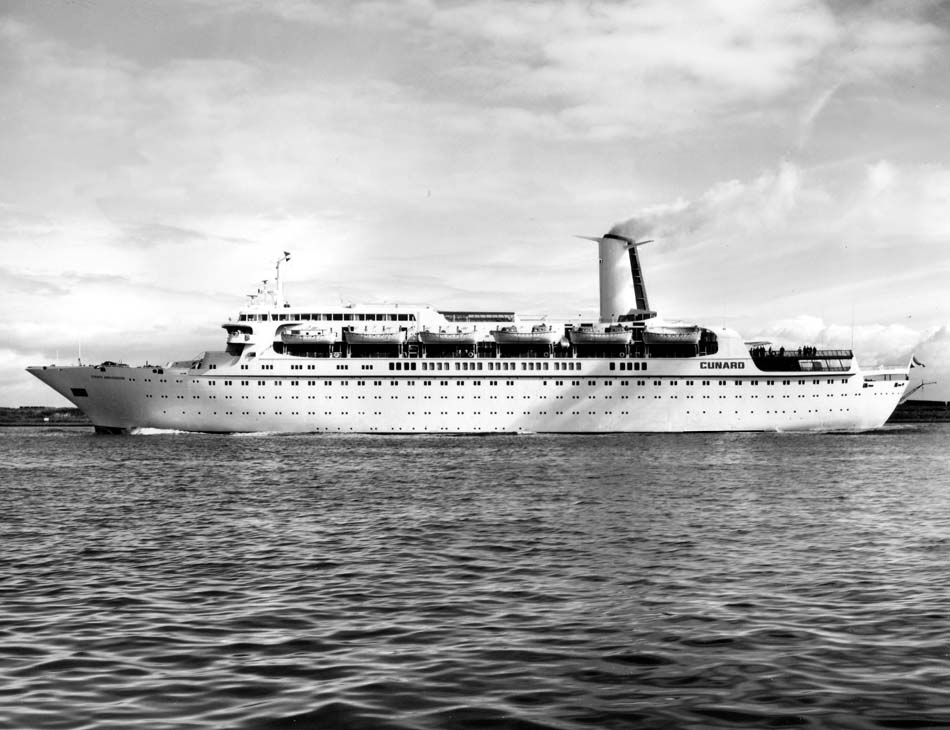 A photograph taken by the builders as the Adventurer was heading off on her sea-trails, note the Dutch flag at her stern!
When she was ready the MS Cunard Adventurer was delivered to her owners in Southampton to a great welcome on October 19, 1971 she would be in Southampton for a whole month, being made ready and crewed for her maiden voyage to Puerto Rico. Therefore, during this period considering she was a whole new style of ship for the company, she was used for a good number of publicity opportunities, such as functions for the travel industry and other guests, including prospective travellers, who would be most likely in the future book a fly/cruise vacation on her or her sister, as she would be ready just a year later.
At 14,151 GRT (Gross Registered Tons) she accommodated 832 passengers in a One all First Class configuration with a crew of 412 and she operated at a cruising speed of 22 knots.
Photo Gallery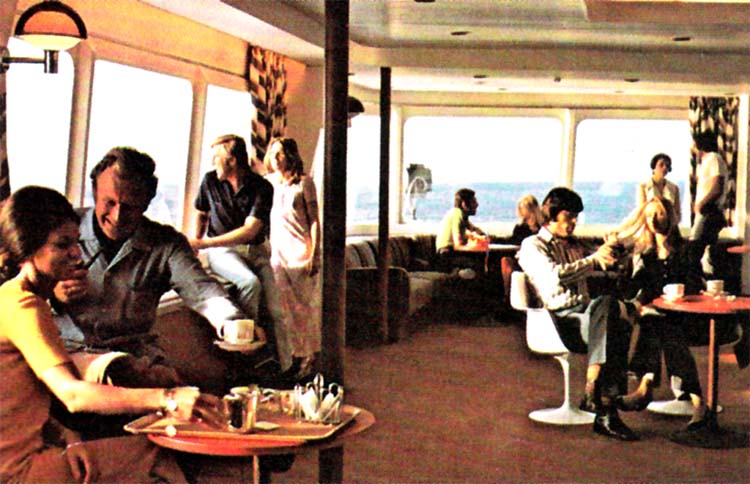 The Sky Room located far forward atop of the ship – this was indeed a "Room with a View"
These five images were sourced out of one the brochures from my collection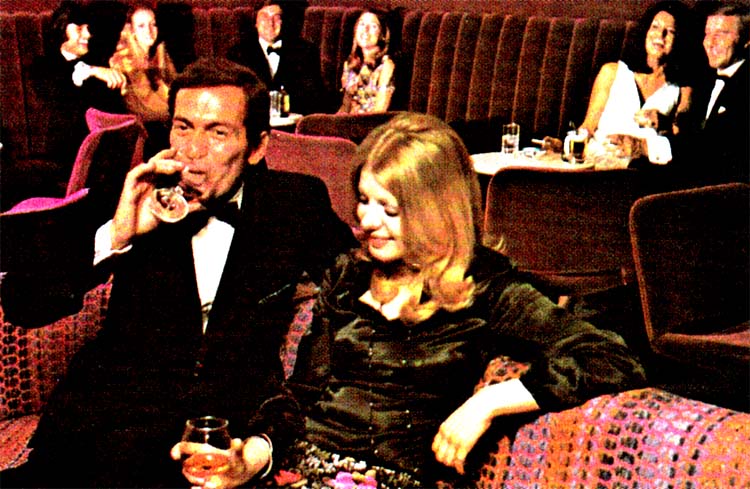 The Mayflower Room was an elegant Lounge and Ballroom and entertainment venue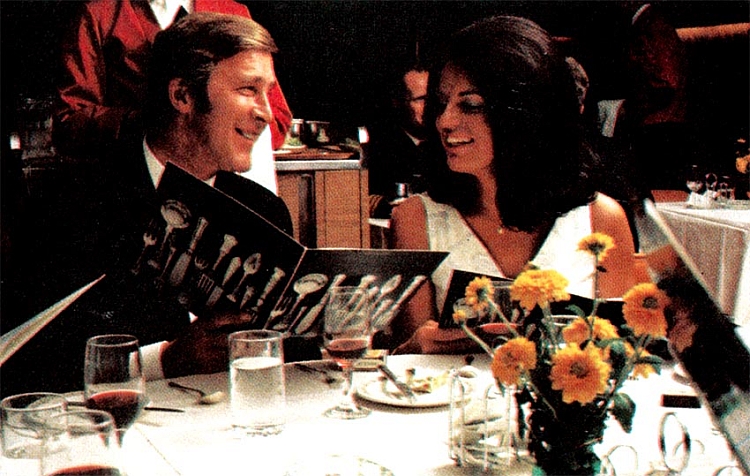 The Sir Walter Raleigh Restaurant offers superb dinning with the best that Cunard can possibly offer!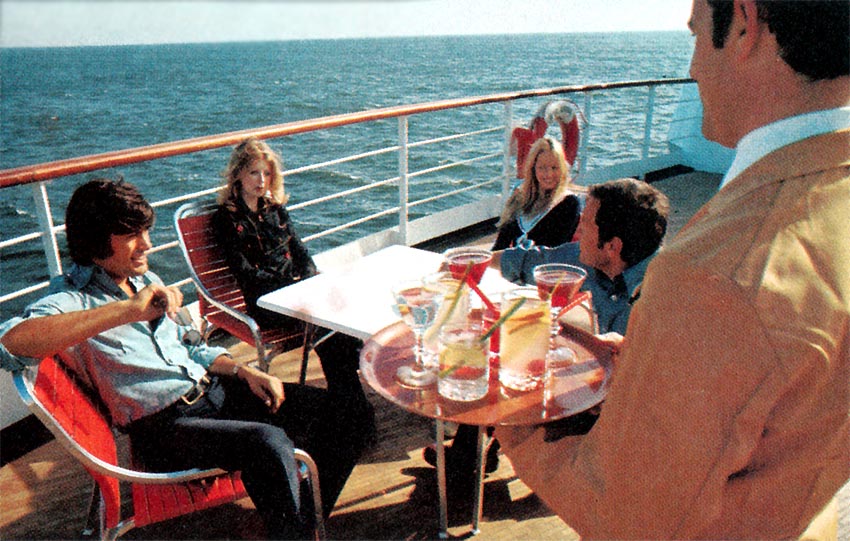 A relaxing time out on deck and always a friendly steward at hand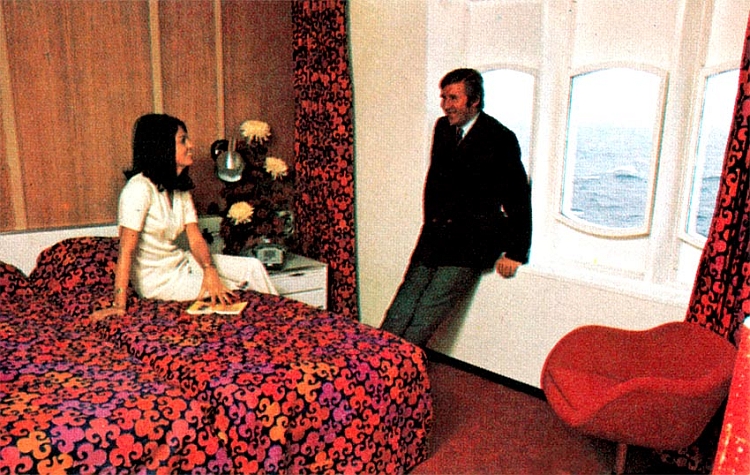 The ship offered a fine range of excellent Staterooms
Then, on November 19, the delightful Cunard Adventurer departed Southampton for her maiden voyage fully booked and sailed across the Atlantic bound for San Juan in Puerto Rico. From here she commenced fly/cruises for American and British passengers to visit South America and the wonderful Caribbean! Later, she would sail around the Caribbean from other destinations as well.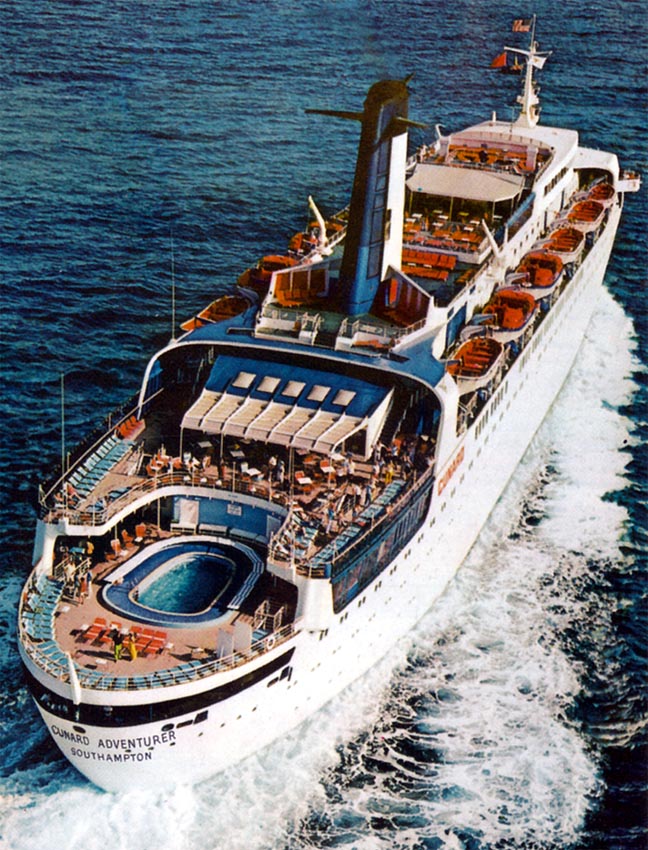 What a wonderful view of the aft and amidships decks of the Cunard Adventurer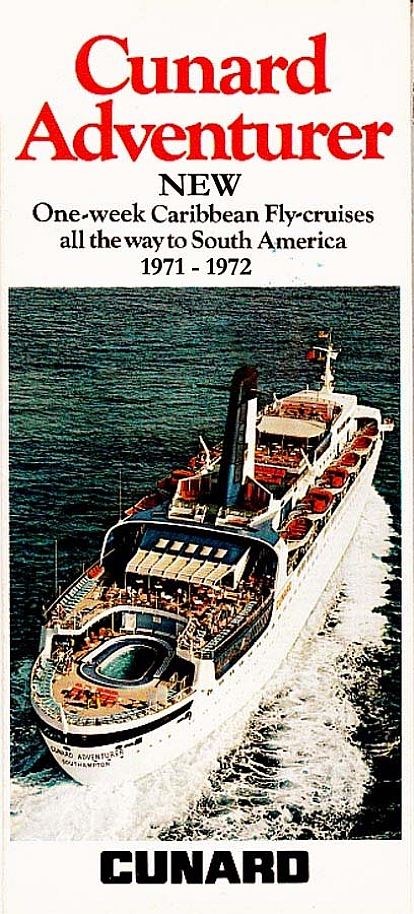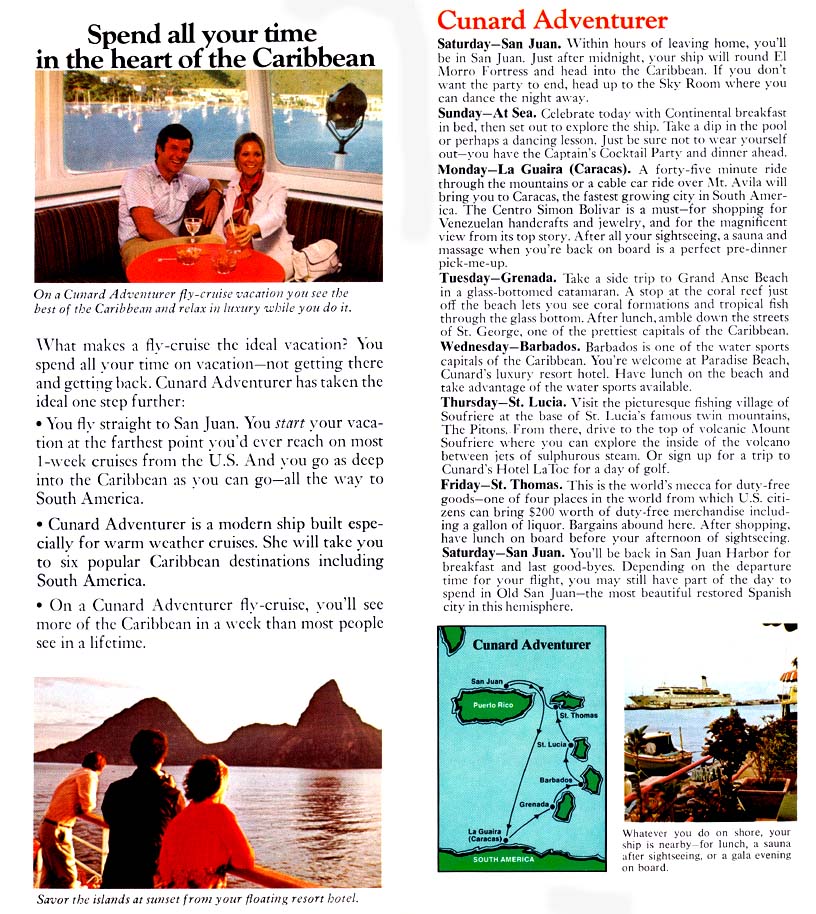 This is the front cover (left) and the interior containing ships details and the itinerary
Cunard Ambassador's maiden arrival in Hamilton Bermuda, a port where she would spend a great deal of time, considering she would operate 7-night cruises departing Norfolk Virginia and she would remain in Hamilton for four full days, this the voyage would offer two full days and four nights at sea.
Her maiden arrival in Bermuda was on May 10, 1972 when Cunard Adventurer's Master, Captain Peter Jackson invited dignitaries and other leading local guests and agents, etc to join him and his officers for a special reception to be held on board in the Mayflower Room.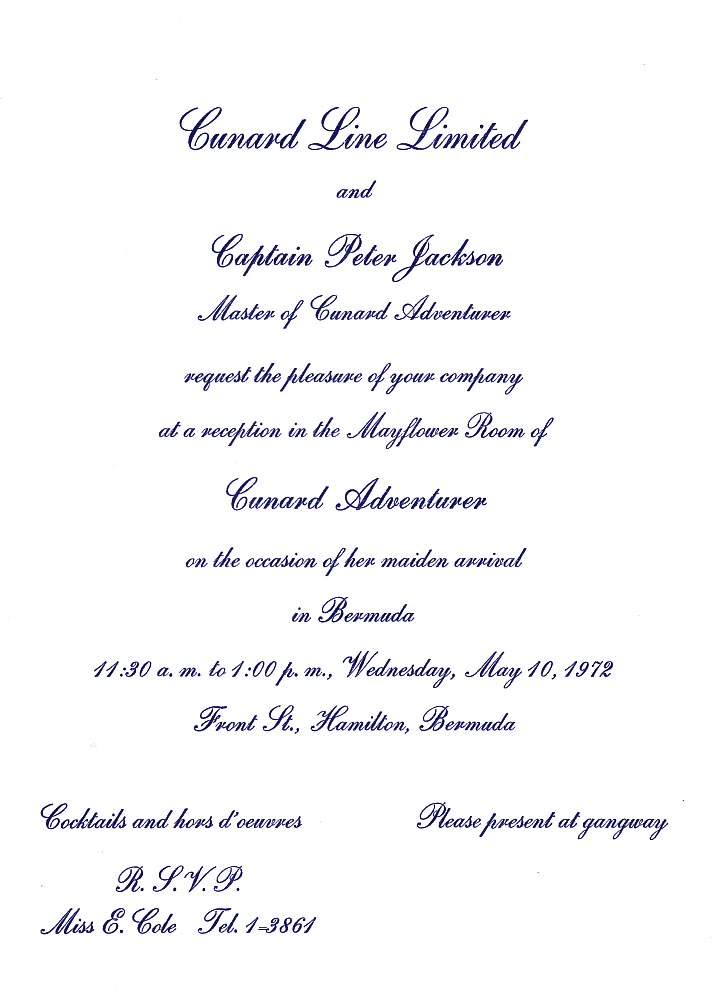 This is a copy of a very exclusive invitation!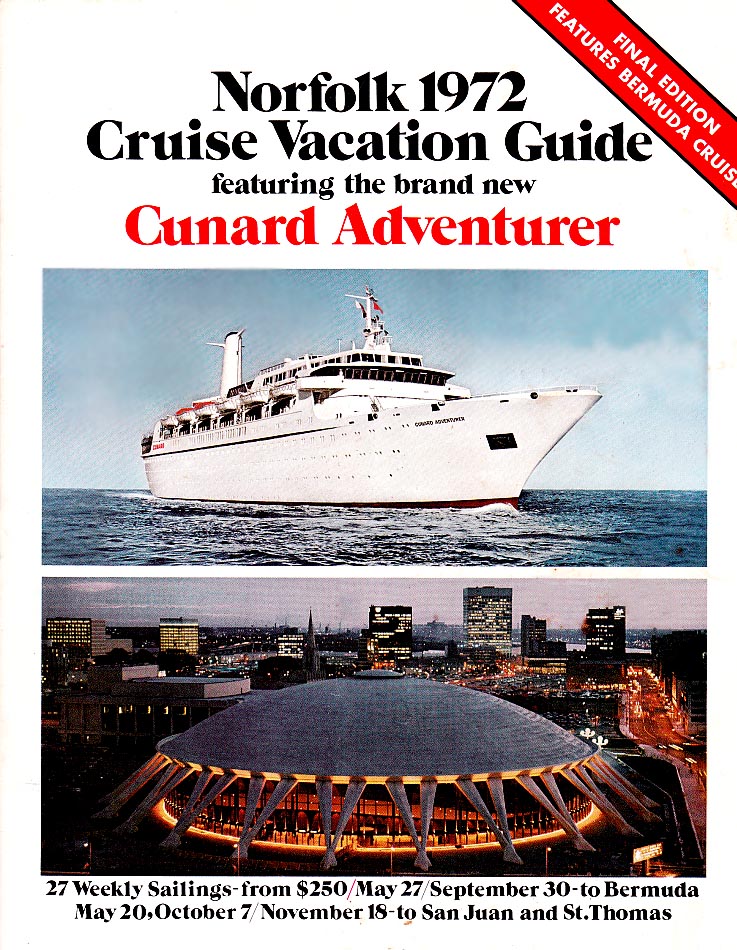 Here we see the Norfolk brochure from where the Adventurer operated her 7-night holiday voyages to Hamilton Bermuda
There would be just 2 days at sea and 4 days in Bermuda - including arrival & departure
In addition, as was also planned, for the Cunard Ambassador to operate annual trans-Panama Canal voyages bound for Vancouver from where she would operate a series of popular 7-night Alaska cruises and then return for another trans-Panama Canal voyage.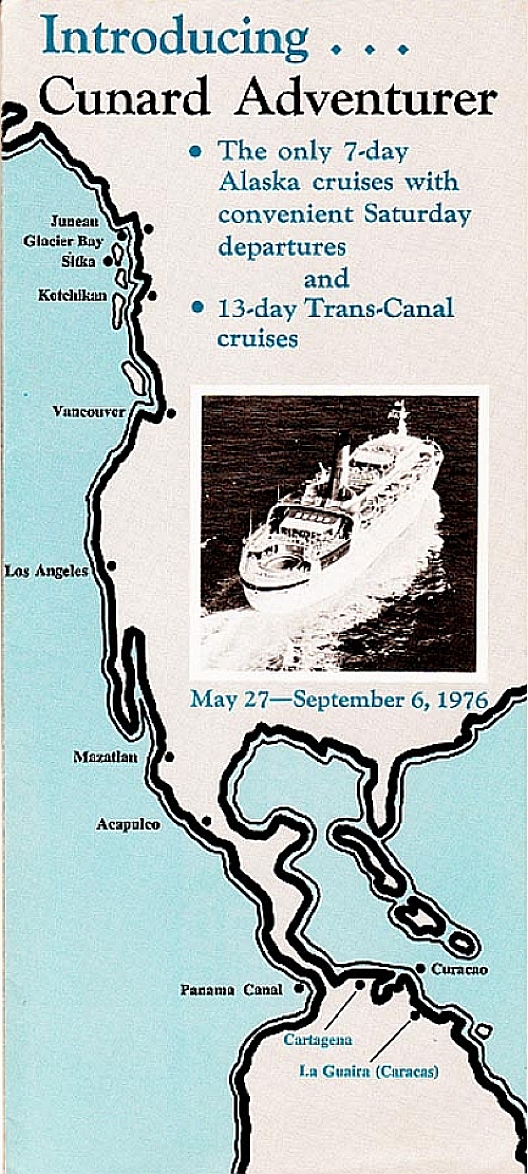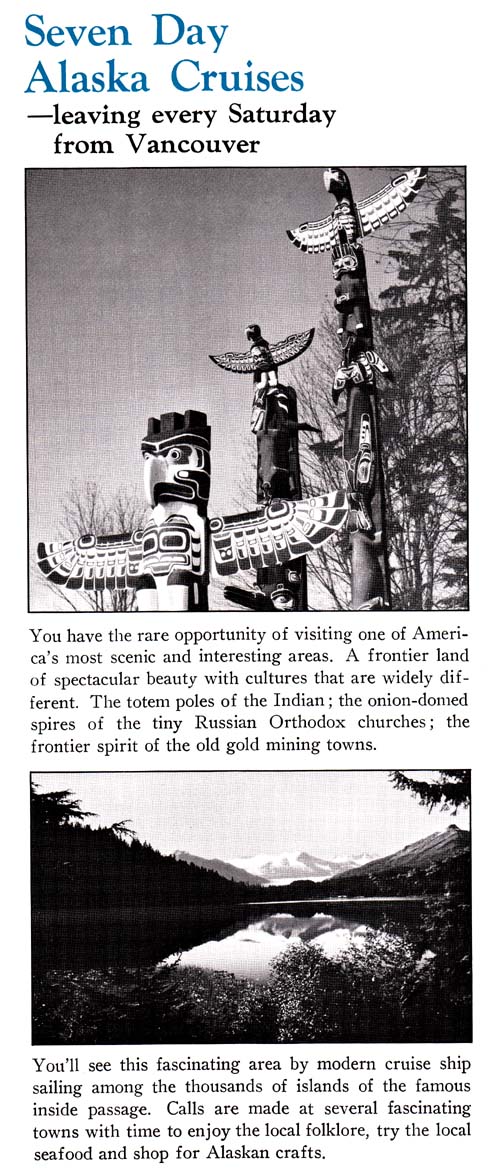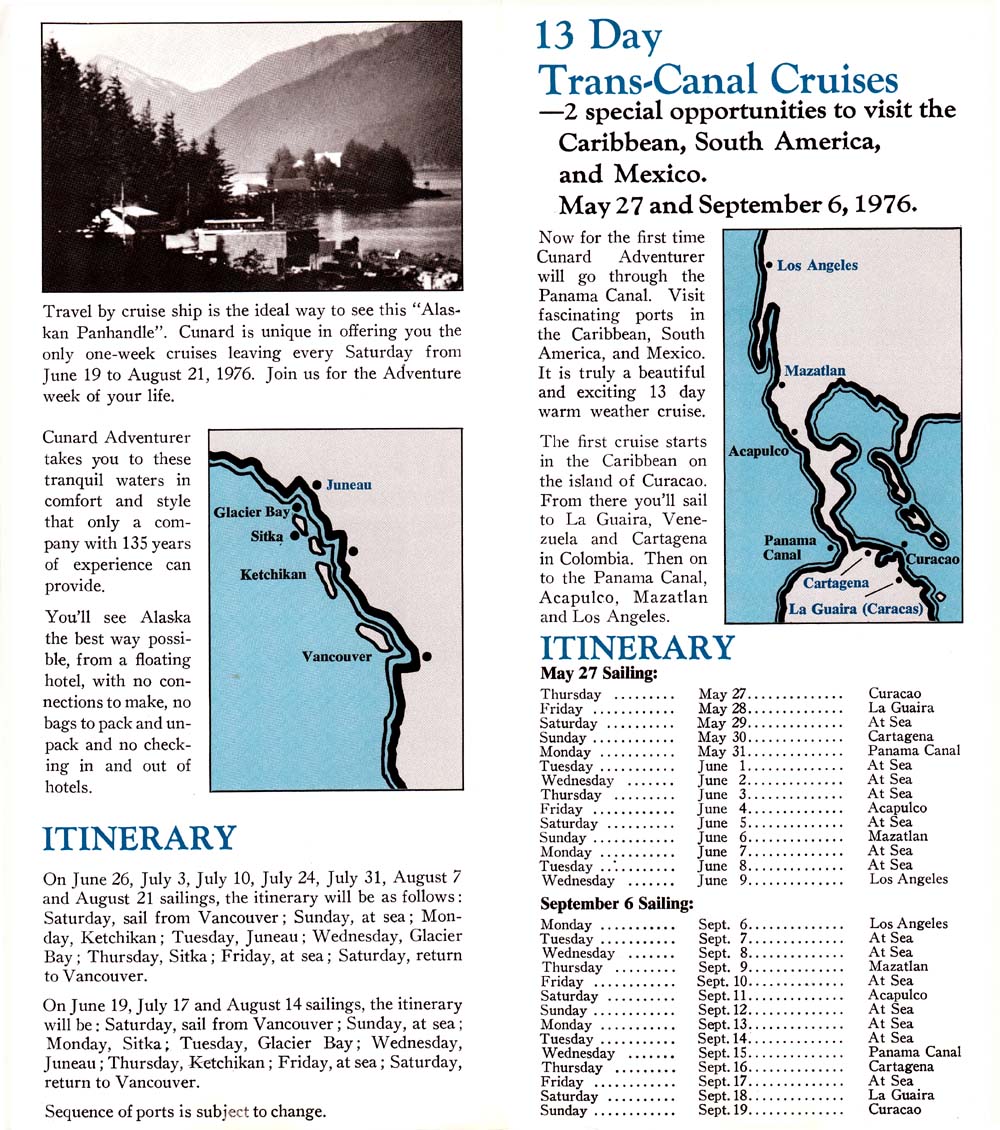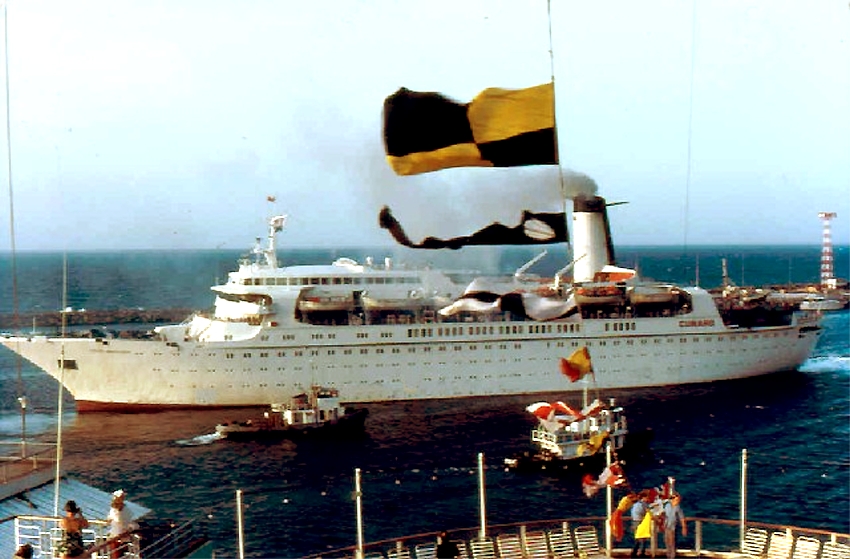 The Cunard Adventurer is seen here from the stern of another cruise ship
At first Adventurer sold reasonably well, but sadly as the years passed by, there were so many other ships in the region that were by far superior to her. In 1974 her sister the Cunard Ambassador had already been sold after a fierce fire and she been rebuilt to become a livestock carrier sailing between the Middle East and Australia, but she her bad luck continued and her days ended with yet another fire!.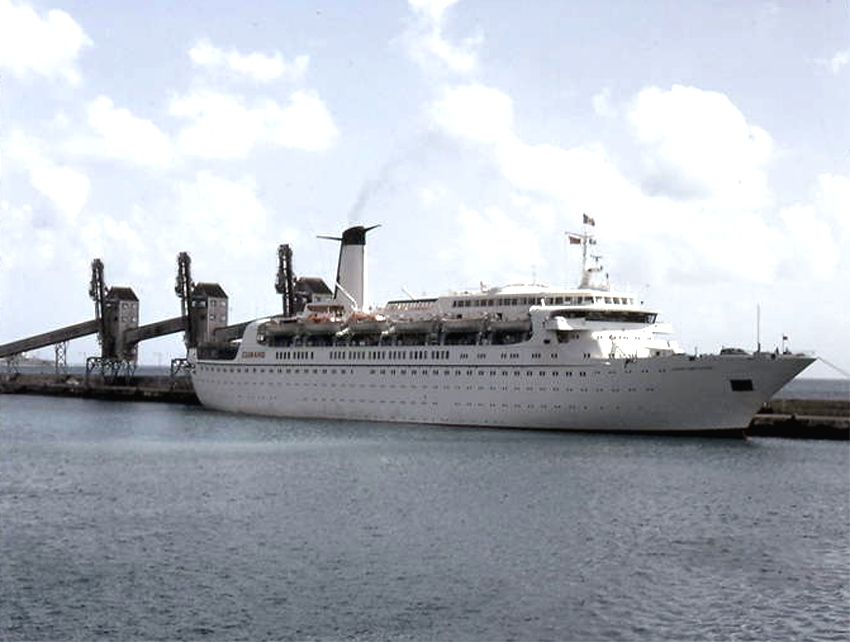 Here we see the Cunard Adventurer in port in 1974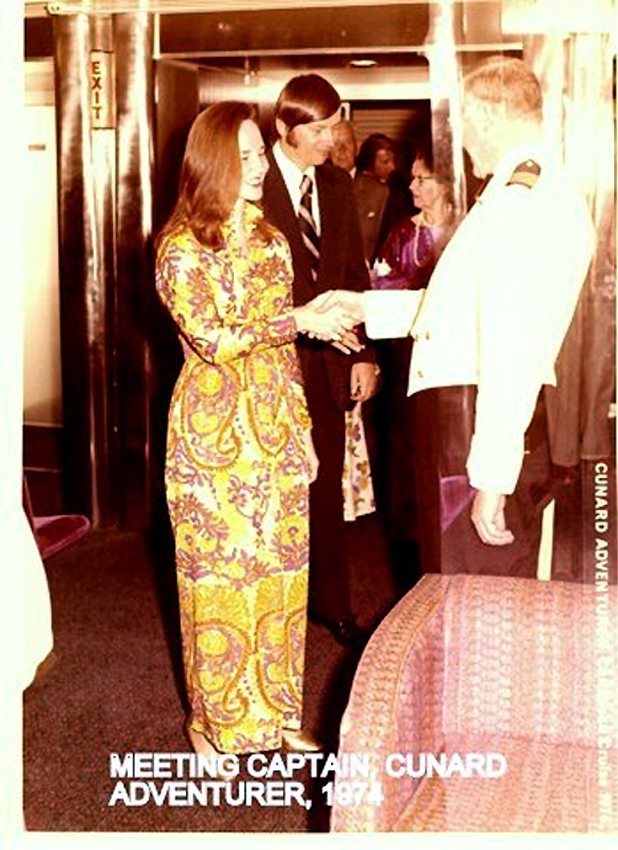 Above & Below: Welcome to the Captain's Dinner in 1974
Photographs were sent in by a supporter, Photograph by thee then ships photographer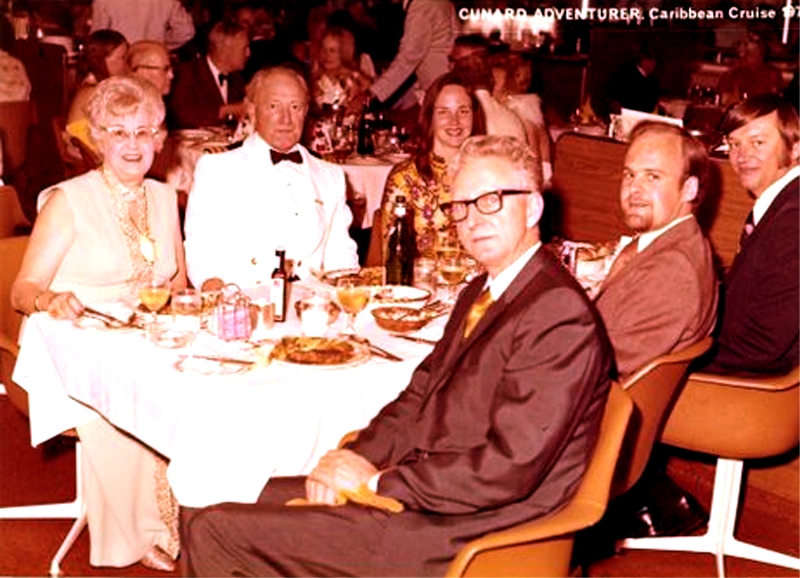 Understandably, the news of the fire on her sister did not assist the Cunard Adventurer greatly, and with the newer ships with superior facilities as well as many more lounges, superior buffets, and showrooms, etc, something that the Adventurer just did not have, she was losing passengers numbers rapidly and cost cutting became the norm.
Suddenly in 1976 she was placed under the ownership of "Cunard Cruise Ships Ltd.," based in New York and they decided to repaint her funnel in the traditional Cunard colours, as well as the Cunard Logo aft!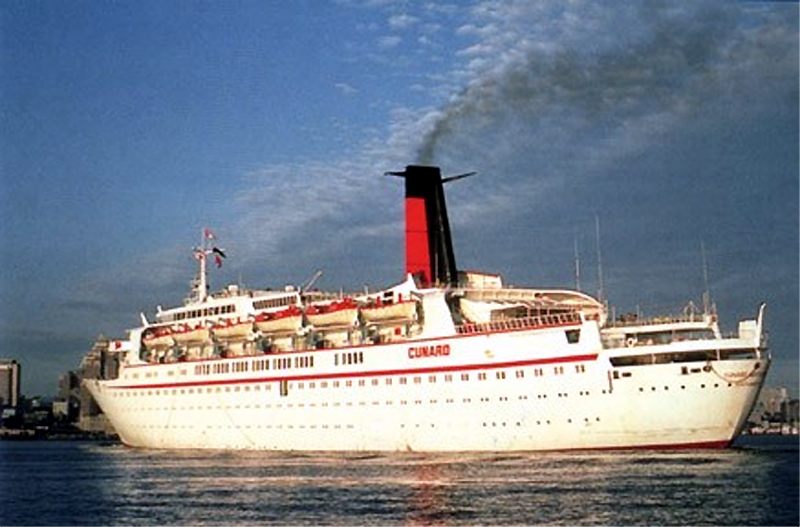 Here we see her in the Cunard livery and arriving in port
As I already stated, the Cunard Adventurer did not prove to be a great success for Cunard and by 1975 and 1976 her loadings had became rather poor, so much so the time had come that towards the end of 1976 she was no longer sustainable for Cunard and they just had to sell her.
But why was she unsuccessful?
The truth is Cunard was not used to such failures, but being completely realistic is, that both of these ships never fitted the Cunard mould, for essentially Cunard's older ships were either three or two class liners, whilst the newer ships may seem to be One Class, but be not fooled for they are certainly not, as they are very much three class based ships!
The truth is, if you book in any of the accommodations you will dine in a designated restaurant, from the super glamorous Queens or Princess Grill, which matches the Owners suite, deluxe Suite, Veranda Stateroom, etc,. Or there is the multi-level giant Britannia Restaurant for the masses, thus the lower grades. And that friend's is called the Cunard class system. Did you know that there are even separate lounges and deck spaces available for the Queens and Princess Grill passengers! Thus the truth was that although being First Class, the MS Cunard Adventurer simply was not up to standard of other Cunard ships and she certainly did not fit the company traditional mould and traditional snob like Cunard passengers simply would not sail on this "lower class ship!"
A Very Special Note regarding the Cunard Adventurer:
On Page Three you will discover images and photographs that cannot be found anywhere else, for these were obtained from the builders and the ships designers. These images contain drawings of the ship and what they would look like, photographs of models built prior to them being built, illustration of some of their interiors as well as their venues completed and some of the accommodations. Then there are some superb photographs and further rare items that make this feature on the MS Cunard Adventurer and Ambassador so very rare!
Reuben Goossens.
Cunard Adventurer - Specifications:
Built:                                     De Rotterdamsche Droogdok, Rotterdam, Netherlands.
Yard:                                     329.
Launched:                              February 2, 1971.
Sea Trails:                              August 28.
Delivered:                              October 19.
IMO No:                                 7046936.
Maiden Voyage:                       November 19, 1971.
Tonnage:                                14,151 GRT.
Propulsion:                             Four 12-cylinder Stork-Werkspoor diesel engines.
Screws:                                  Twin – 28,000 BHP.
Speed:                                   21.5 knots cruising speed / 24 knots maximum.
Length:                                  148m - 486ft.
Beam:                                    22m - 72ft.
Draught:                                6.15m - 20ft.
Passengers:                            832 First Class only.
Crew:                                    412.
Stabilizers:                             Denny Brown.
Air-conditioning:                     Throughout
The New Beginning: MV Sunward II: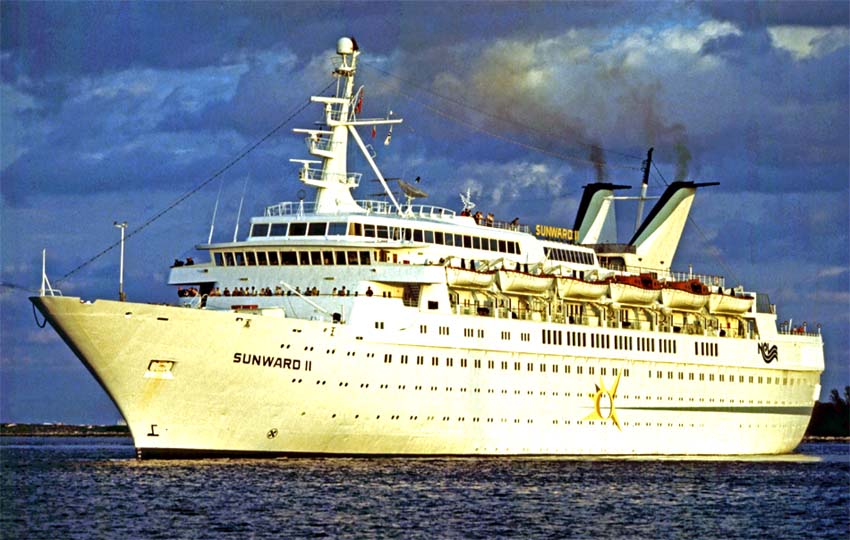 The refitted MV Sunward II is seen here departing Nassau
Photograph taken by & © Hans Jürgen Amberg
Early in 1977 the Cunard Adventurer was sold to Klosters R/A, Oslo who renamed her Sunward II.
A really good passenger shipping mind like was at Kloster's, he knew what was the perfect ship for the right service, but more so the perfect ship for the right time, thus, Kloster's purchased her for his NCL fleet to be used on cruises to the Bahamas cruises out of Miami and she would operate 3 and 4 night cruises, which could be combined as a full 7 night cruise! The longer cruises proved to be quite successful as many who enjoyed a full week in the sun and visiting the Islands as well as the excellent shipboard life!
But prior to all this she arrived in Bremerhaven at the Hapag-Lloyd Shipyards on March 8, and here she was about to received a major refit. Externally there would be the fitting of a pair of the then traditional "side by side NCL style funnels" in place of her original rather ugly tall smoke stack, as well as her interiors required a good sprucing up and certainly required to be lightened up and more suitable for a casual happy style cruising of the Caribbean.
In addition, there were other external alterations, such as changes to her radar mast as well as the shortening of those forward and aft side panels along the side of the ship, which were shortened by one full deck. Upon completion she ended up looking a much smarter ship indeed, certainly a huge improvement to when she was built, even with those side by side funnels, which was not a greatly loved feature by a Cunard traditionalists and maritime historians, but amazingly the vast majority over the years have come to love them. But having spoken to one of the aforementioned just earlier this year (2013), he admitted "They did improve the look of the ship, even though I was very much against them at first!"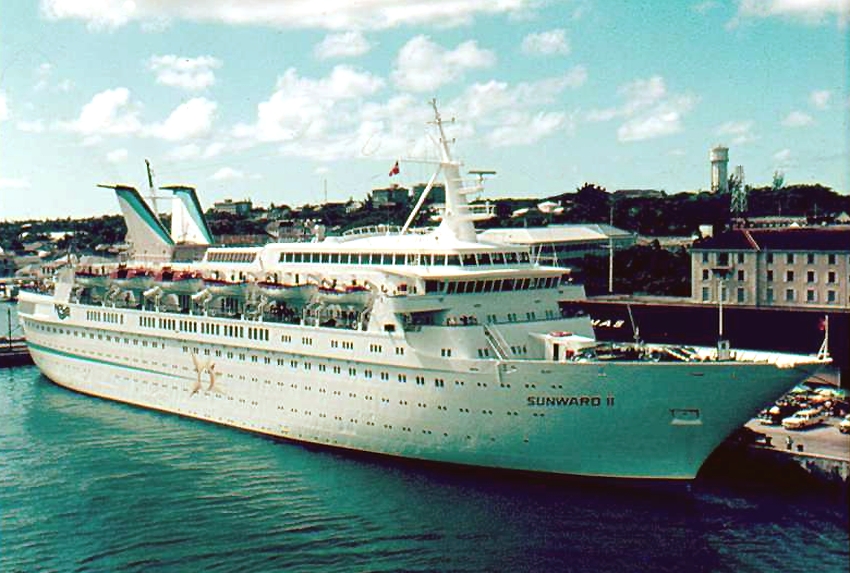 A smart looking Sunward II seen in a Scandinavian port just after her refit
The MV Sunward II was completed and delivered on April 24, 1976 having a new tonnage of 14,110 GRT, but having her passenger reduced to 718 in an all Tourist Class configuration. She would be operated and managed by the associated "Norwegian Cruise Lines" (NCL), and she soon sailed across the Atlantic as she would commence cruising around the Caribbean, where she quite unlike previously became an extremely popular and sought after cruise ship. The main reason for this being that she was marketed to a completely different market as well having a lower passenger capacity!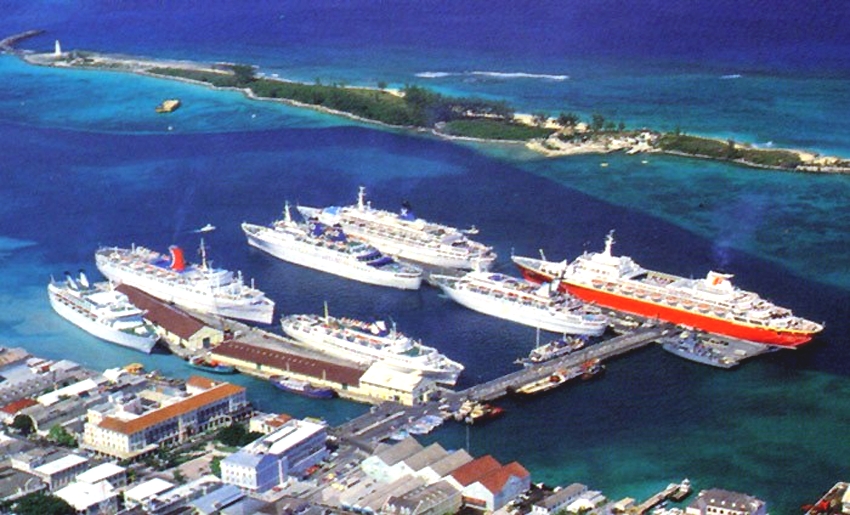 Here we see a wonderful photo taken at Nassau - from left to right & top to bottom
MS Southward, SS Carnivale, SS Dolphin IV, SS Emerald Seas, MV Sunward II, MV Galileo and SS Oceanic
Photographer unknown – Please read the photo notes at the bottom of the page!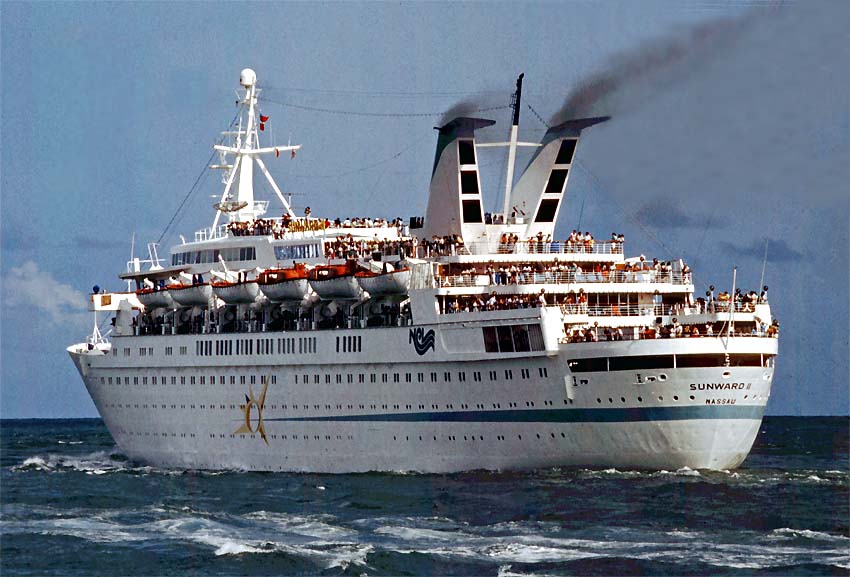 Here is a wonderful stern photograph of the Sunward II just off Miami in 1989
Photograph taken by & © Hans Jürgen Amberg
In 1987 she was reregistered under ownership of Klosters Cruise Ltd, Nassau. In 1990 she received a further refit, freshening up all her interiors once more, as well as restoring her original cabins and adding a few new ones. When completed her new capacity was 857 passengers.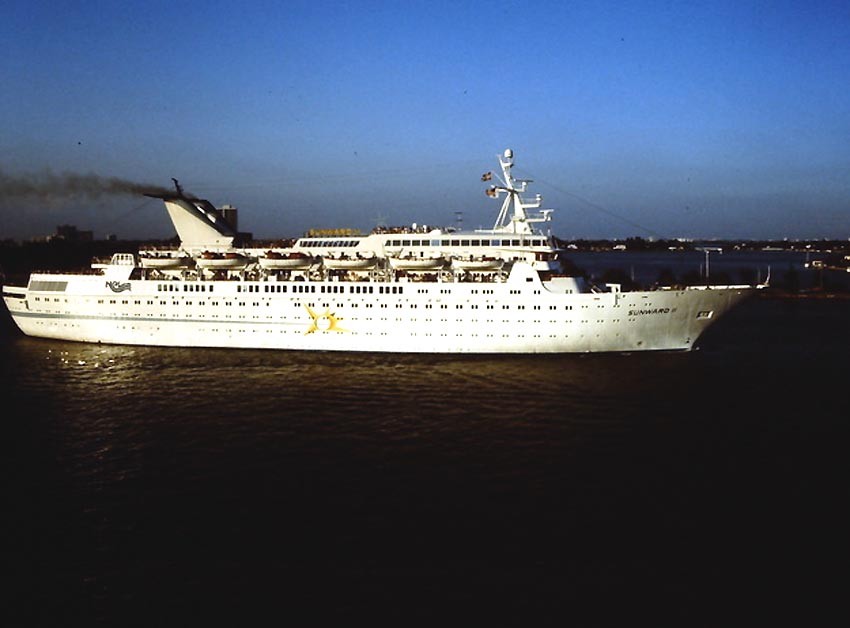 One of the latter photographs of the MV Sunward II and she still looked really smart!
She sailed on, but it always seems that whenever a ship is transferred to the America's, that ship will soon be sold, for that is precisely what occurred in 1991! The questions may be why, but the truth is that NCL was expanding with much larger ships, such as the wonderful grand dame SS France, which had gained huge popularity, and other larger ships were joining the fleet, and the truth is that the Sunward II and her relatively smaller sisters were being outgrown and being sold off!
Now visit the Index seen below and discover the ships full details with many images, brochures & menus, as well as their next incarnation as they sailed on for many more years most successfully and how finally the Sunward II, ex Cunard Adventurer's end came whilst I was writing this very special feature, mid December 2013!
Cunard Adventurer - Ambassador -
INDEX
Page One: MS Cunard Ambassador
Including an Introduction of both ships!
Page Two: MS Cunard Adventurer
Including her next stage the: NCL's MS Sunward II
Page Three: Photo Page
Exclusive images and photographs covering the Cunard Adventurer & Ambassador
Page Four: MTS Triton & MV Coral
Operated by: Epirotiki Lines & Louis Cruises
DECK PLANS
Deck Plan 1:
Deck Plans
MS Cunard Adventurer & Ambassador
Deck Plan 2: Deck Plan
MTS Triton
Deck Plan 3: Deck Plan
MV Coral
***********************************
"Blue Water Liners sailing to the distant shores.
I watched them come, I watched them go and I watched them die."
Return to the ssMaritime MAIN INDEX
ssMaritime.com & ssMaritime.net
Where you will discover over 1,300 Classic Liners & the 1914 built MV Doulos Story
The Author has been in Passenger Shipping & the Cruise Industry for some 60 years!
Also visit the …
"Save The Classic Liners Campaign"
Founded in the early 1990's - The author is the founder and president
Please Note: ssmaritime and associated sites are 100% non-commercial and the author seeks no funding or favours of any shape or form, never have and never will!
Photographs on ssmaritime and associate pages are by; the author or from the author's private collection. In addition there are some images that have been provided by Shipping Companies and private photographers or collectors. Credit is given to all contributors. However, there are some photographs provided to me without details regarding the photographer/owner concerned. I hereby invite if owners of these images would be so kind to make them-selves known to me (my email address may be found on www.ssmaritime.com only), in order that due credit may be given.
This notice covers all pages; although, and I have done my best to ensure that all photographs are duly credited and that this notice is displaced on each page, that is, when a page is updated!
ssMaritime is owned & © Copyright by Reuben Goossens - All Rights Reserved