SS Malaysia, ex Booth Line SS Hubert
Please Note: Firefox and some other search engines are not suitable - Use "Internet Explorer" for this page to load perfectly!

Click the logo above to reach the ssMaritime FrontPage for News Updates & "Ship of the Month"
With Reuben Goossens
Maritime Historian, Cruise'n'Ship Reviewer, Author & Maritime Lecturer
Please Note: All ssMaritime and other related maritime/cruise sites are 100% non-commercial and privately owned. Be assured that I am NOT associated with any shipping or cruise companies or any travel/cruise agencies or any other organisations! Although the author has been in the passenger shipping industry since 1960, although is now retired but having completed around 680 Classic Liners and Cargo-Passengers Ships features I trust these will continue to provide classic ship enthusiasts the information the are seeking, but above all a great deal of pleasure! Reuben Goossens.
Austasia Line
SS Malaysia
Previously Booth Line's - SS Hubert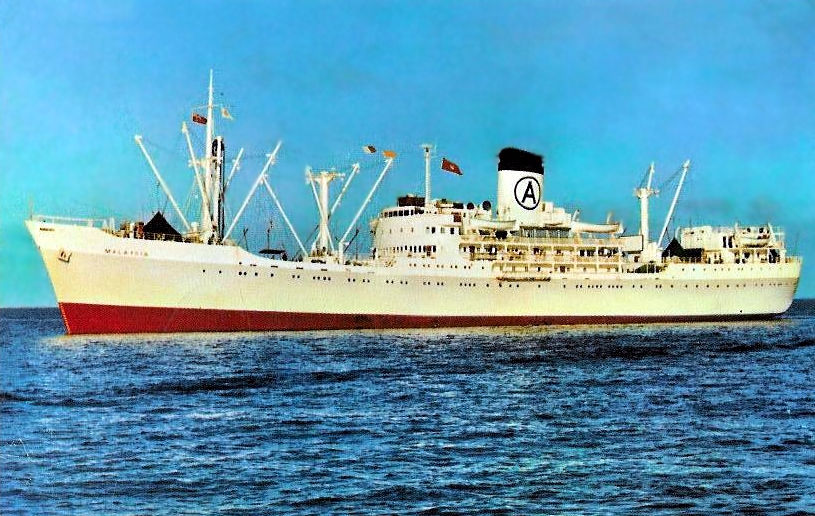 SS Malaysia seen well into her Asian / Australian service
From the author's private collection
Introduction:
This rather traditional looking passenger cargo liner was built for Booth Line by the famed Cammell Laird & Co. Ltd, at Birkenhead. Named Hubert she was launched on August 31, 1954 and after her fit-out she ran her sea trails early in January 1955.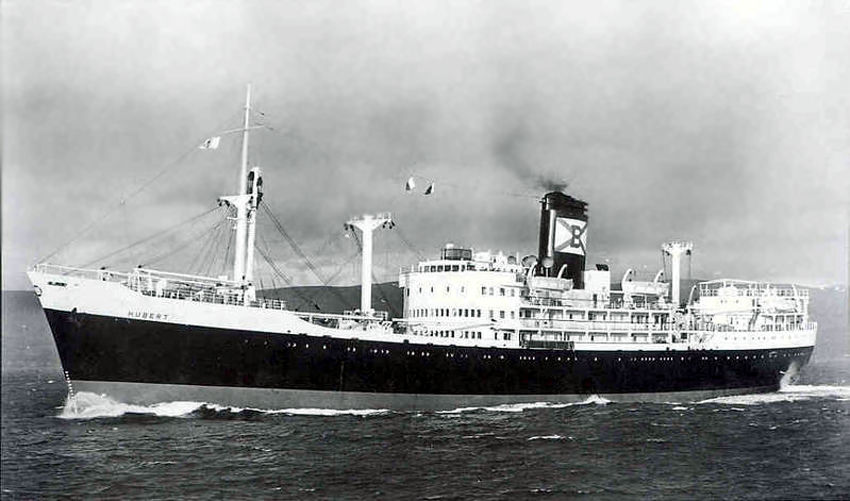 The SS Hubert is seen here during her sea trails in January 1955, note that her radar mast has not as yet been fitted
From the author's private collection
Having been delivered to her owners, on February 11, 1955 she departed from King's Dock at Liverpool for her maiden voyage sailing to Lisbon, Madeira, Barbados, Trinidad, Fortaleza, Belem, then up the Amazon to Manaus and return. Obviously the calls to the Portuguese ports first was to obtain this market as well as the British. Not all voyages visited Manaus and frequently she would turn around at Belem. Like many ships of her kind carrying a great deal of freight, she would spend a number of days in various ports, which suited many of her First Class who would take a round voyage as a cruise and enjoy the tropic delights of these destinations!
Ship details & background:
Booth Line part of the Vestey Bros Group who also owned Blue Star Line, Lamport & Holt, decided to build two new ships in the 1950's, first was the SS Hildebrand also built Cammell Laird in 1951 of the close to 8,000 tons. She was launched on June 20, 1951, and sailed on her maiden voyage 28/12/1951 from Liverpool on December 28, 1951, sailing to Lisbon, to Belem and up the Amazon to Manaus, etc. But, sadly some years later, on 25 September 25, 1957, when the Hildebrand was sailing from Liverpool to Lisbon with some 164 passengers on board, she suddenly ran aground during some thick fog at Cascais Point as she was entering Lisbon in order to disembark some 17 passengers. Tugs "Herakles" as well as "Em.Z.Svitzer" attempted to save her, however she was declared a "total constructive loss" three days later, on the 28th. Thankfully there were no casualties!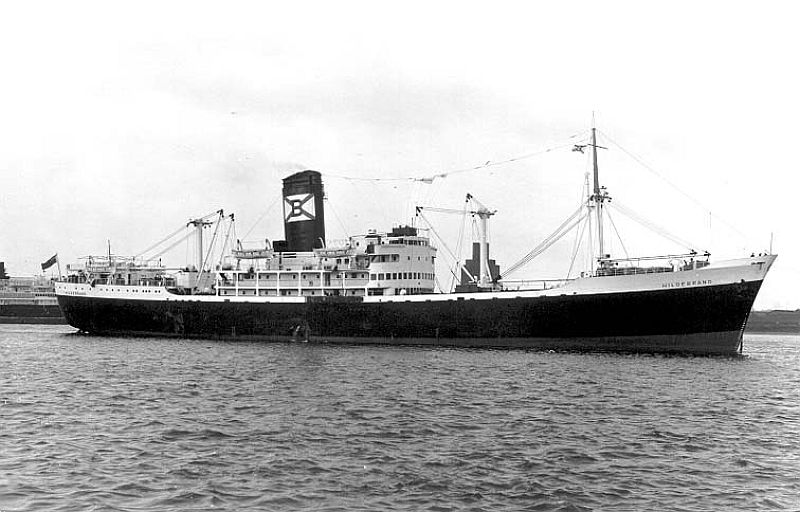 SS Hildebrand
From the author's private collection
The second ship to be built was the SS Hubert and although she was a good looking passenger cargo liner, she was still rather of a traditional style. For some strange reason Vestey Bros had refused to add that rather new radar system to their new built ships, and thus the Hubert is seen during her sea trails without a radar mast above her Bridge. However, they did changed their minds after the massive disaster and loss of the Hildebrand at Portugal with the destruction of the SS Hildebrand and a radar was fitted later to the Hubert.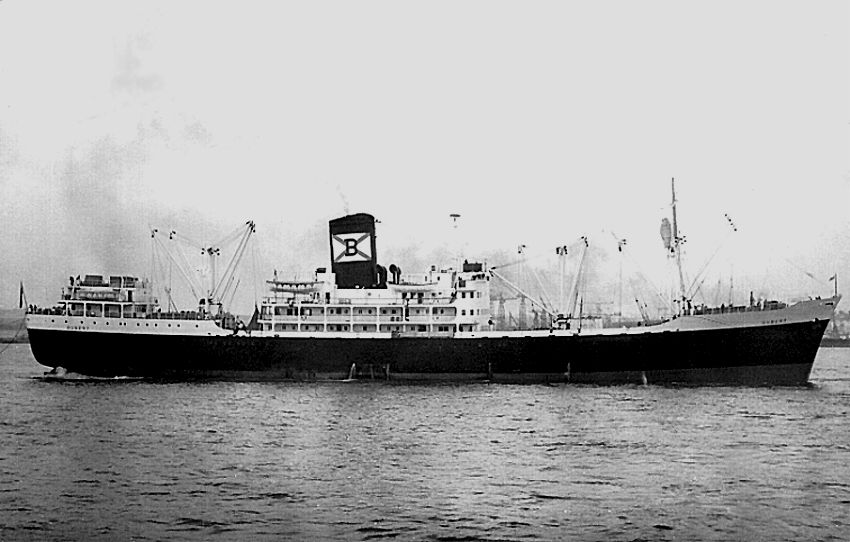 The SS Hubert is seen here after she had the radar mast fitted
From the author's private collection
Her short mid section superstructure was lined with two open sided, but covered Promenade Decks and atop an spacious open Boat/Sports Deck. These decks provided her passengers ample deck space for relaxation and sun baking and sport facilities. The aft section, also offered a covered deck and a topside recreation deck.
First Class offered accommodation for 70 passengers all in outside cabins and suites, which were either single bedded or two bedded rooms, all having a bathroom. There was a Lounge forward on Promenade Deck and was quite pleasantly wood panelled opening into the large Verandah. The Dinning Room was below it on A Deck. Both Promenade and Boat Decks were exclusive to First Class passengers.
Tourist Class offered accommodation for 96 passengers who had cabins for two and four berths, most of which being outside and only some having private facilities. These were located on A and B Decks. Those on A Deck were aft of the First Class Dining Room and their cabins. Their Lounge and Dining room was located in the aft superstructure – A and B Decks.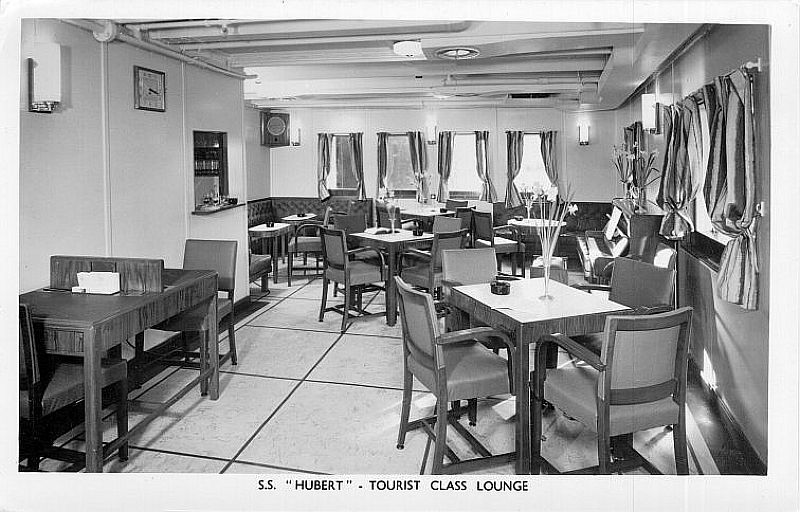 The Tourist Class Lounge had a piano, a small bar and several writing desks was located aft on Promenade Deck
From the author's private collection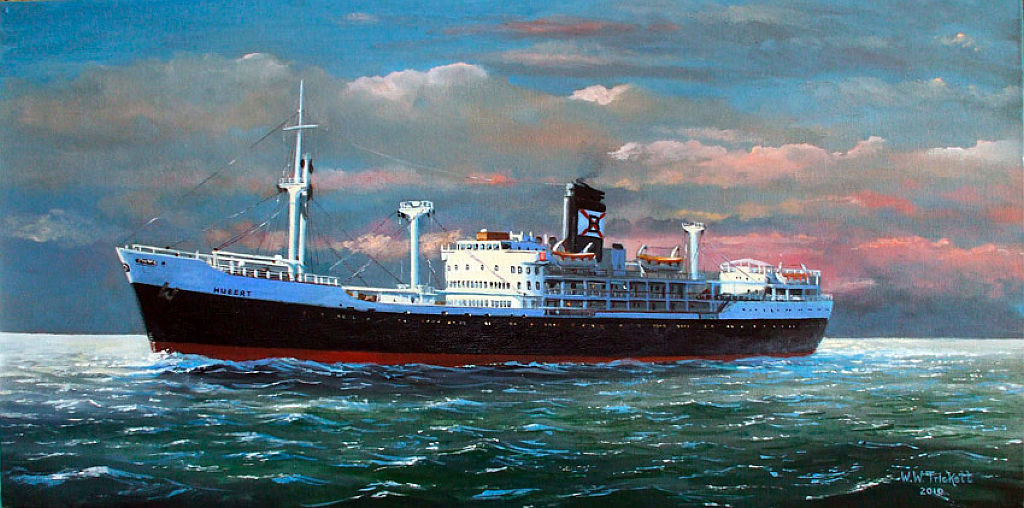 A superb painting of the Booth Line liner SS Hubert
By New Zealand's Wallace Trickett – See my Maritime Art Page online
With a well shaped bow, a black hull with a gleaming white superstructure and a nicely raked tall black funnel with the funnel was topped by a Thorneycroft Cowl, she did look quite attractive. But one of her unusual features was that she had three masts with only her forward mast being traditional and the full height, whist the two other masts, the one forward of the Bridge and one further aft had been, well, to put it plainly - "stumped," - cut short and it did look odd! For her loading duties, she had heavy duty derricks, which were capable of handling anything, including those hardwoods from the Amazon. With her five holds, she had a considerable cargo space, that included sufficient room for refrigerated and Vegetable oils, etc,.
Specifications.
Built:                    Cammell Laird & Co. Ltd, at Birkenhead.
Launched:             August 31, 1954.
Maiden Voyage:      February 11, 1955.
Tonnage:               7,905 – later 8,062 GRT.
Length:                 133.8m / 439ft.
Width:                  18.3m / 60ft.
Draft:                    7.60m / 25ft.
Engine:                 2 x Pametrada type DR steam turbines by Cammell Laird 5,800 BHP.
Screw:                  Single.
Speed:                  14 knots.
Passengers:           70 First Class.
                            92 Tourist Class.
Her service continued, but like so many services and with newer and more modern and larger passenger ship competing, the Hubert in due course was no longer profitable  and there were other markets where she could be of better use within the greater Vestey Bros Shipping Group. Thus by 1964 she was withdrawn and placed on charter to one of their subsidiaries in Asia, being Austasia Line.
Austasia Line:

 
Austasia Line Ltd was formed in 1952 by Vestey Bros, and had their head office in Singapore. And in order to operate a new cargo service from Singapore to Malaysian and Australian ports with intermediate calls at various Indonesian ports and later also operate a passenger service, the Booth Line's Clement was renamed the Malay and she initiated Austasia new cargo service. But in due course the Hubert would become the SS Malaysia and head Down Under!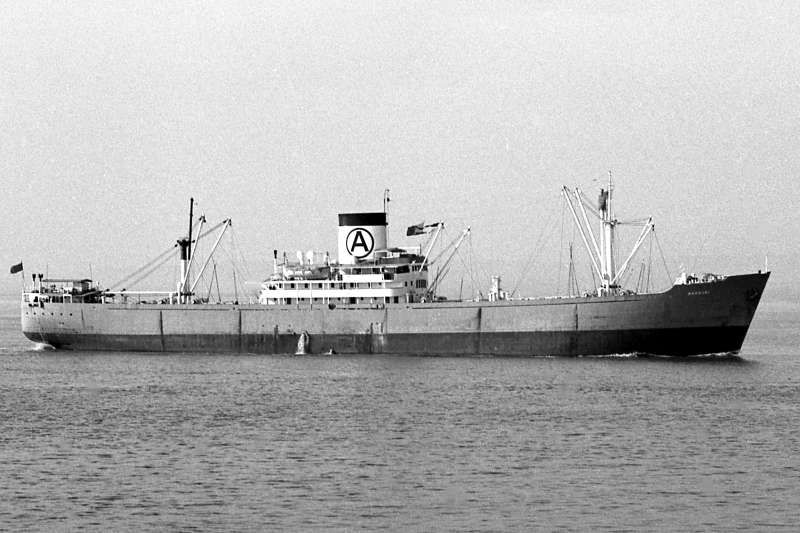 The 4,474 ton Booth Line cargo ship MS Clement became the Malay, being one of the first of the Austasia Line ships, later named Mashuri
From the author's private collection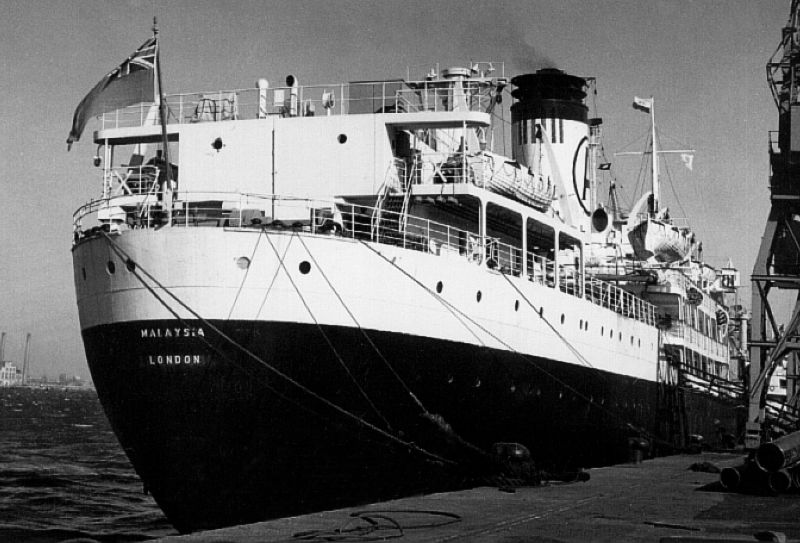 The SS Malaysia is seen in 1965, before her hull was repainted grey
Photographer unknown - * Please see photo notes at bottom of page
It would not be until 1964 when Austasia's major passenger service was finally introduced. Austasia Line had chartered the SS Hubert and renamed her Malaysia. She departed London on December 3, 1964 with her holds filled with cargo but no passengers and sailed via South Africa to Lourenco Marques, then crossing the Indian Ocean to Albany in Western Australia, and continued to Sydney arriving on January 28, 1965. She continued to Melbourne and departed from there on her first official Austasia Line voyage on February 6. This maiden sailing took her from Melbourne to Sydney, Brisbane, Port Moresby, Singapore, Malacca, Penang and Port Swettenham after which she returned directly to Singapore and returned to Melbourne via Port Moresby, Brisbane and Sydney. Later Jakarta was added to the list of ports of call.
The Malaysia (soon had her hull pained grey) became a popular ship on this service, so much so that she was joined by the somewhat more attractive liner that had been renamed MV Australasia, which had previously been also a Booth Liner the MS Anselm, but had been built as the Belgium passenger cargo liner MS Baudouinville in 1950. She commenced her maiden sailing from Melbourne on January 9, 1966, almost a year after the Malaysia had commenced her service.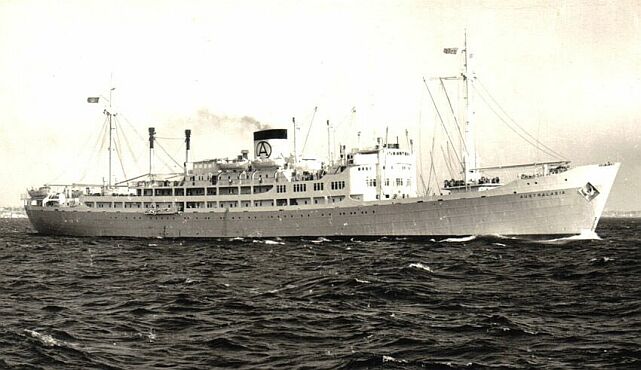 Austasia Lines MV Australasia SS Malaysia's running mate
From the author's private collection
Thee interesting Photographs of the SS Malaysia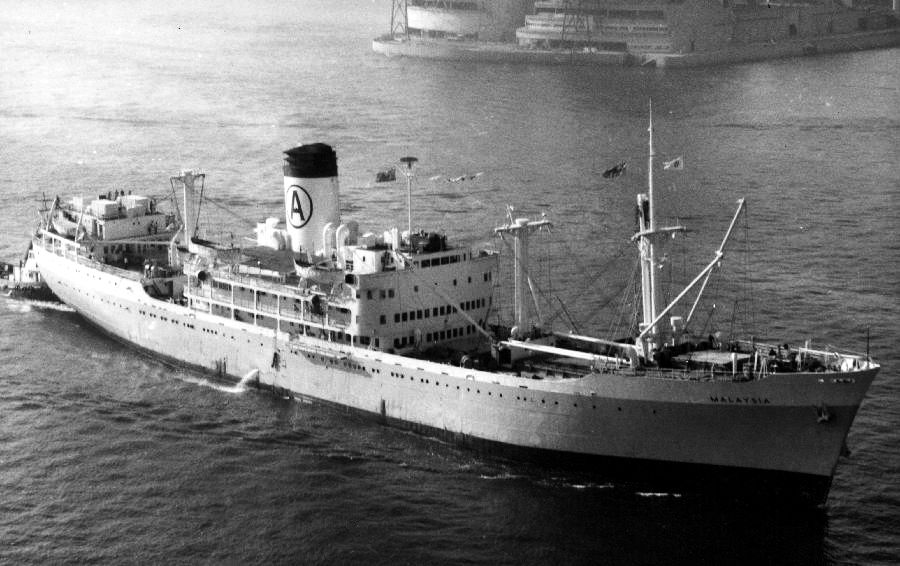 SS Malaysia seen arriving in Sydney heading for Darling Harbour
From the author's private collection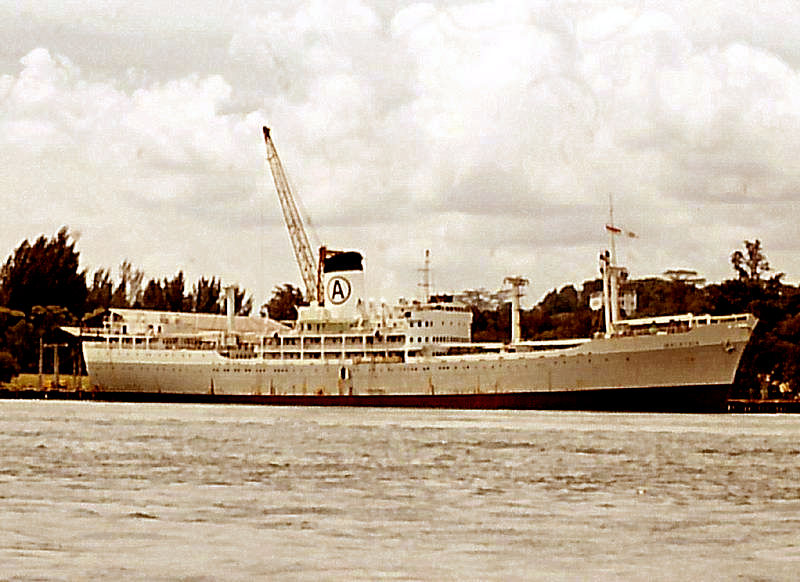 SS Malaysia is seen at a ship repair yard in Singapore in 1970
Photographer unknown - * Please see photo notes at bottom of page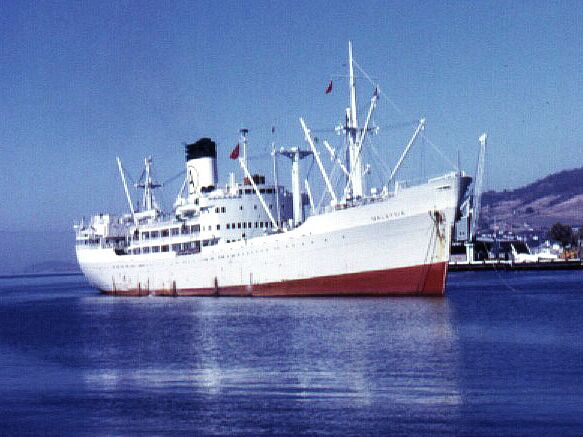 The Malaysia is seen here in Hobart Tasmania
Photographer unknown - * Please see photo notes at bottom of page
However 1970 saw a number of occurrences, 1. the Australasia was transferred to the west coast of Australia and operated on the Fremantle (Perth) to Singapore service. 2. The Malaysia ran aground just off Jakarta and remained stuck until she was refloated five days later.
Mike Turner was a passenger on the Malaysia as he departed Sydney in June 1970, little knowing that this was the voyage that would become the ships thorn and one that would be much written about for quite some time! And why was this – "We ran aground in Jakarta harbour entrance, very interesting experience, before sailing for Singapore." He took the following slide/photograph during an earlier voyage as she departed Sydney.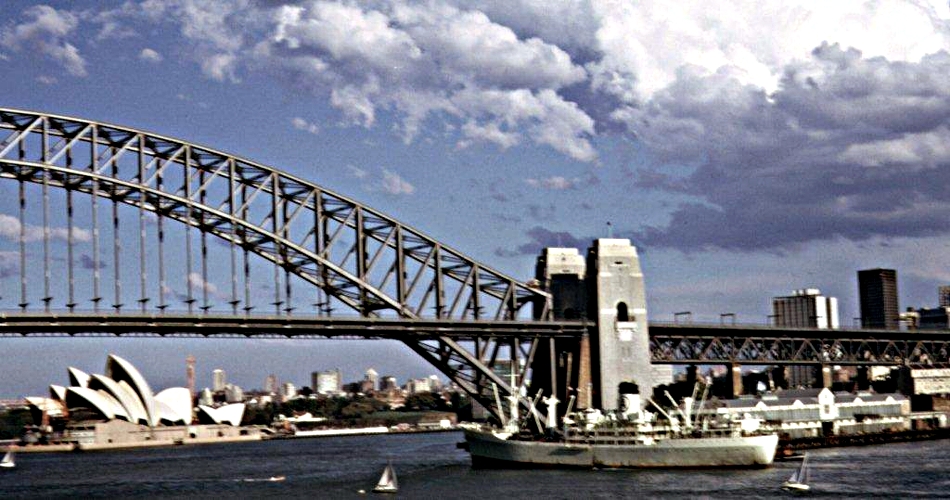 The Malaysia is seen departing Sydney
Photograph by & © Mike Turner
In 1972 the MV Australasia was sold and the SS Malaysia was transferred in December to the Fremantle service as the competition on the east coast of Australia had become formidable, with so many superior passenger cargo ships in operation and most being one class and by far more luxurious!
The SS Malaysia Australian service continued for a good twelve years, but she was finally withdrawn in 1976 due to a series of setbacks, including the ever increasing popularity of air travel as charter flights were the thing those days and cheap fares were available, and a big change was happening with containerisation. Thus new container ships were required. In 1993 the services of Austasia Line was wholly integrated into the Blue Star Line and the name of Austasia Line just disappeared into history! However the end of the SS Malaysia came when she departed Fremantle for the very last time on May 5, 1976 as she headed for Singapore.
Her Latter Days:
The Malaysia was sold to Singaporean "Atlas Shipping Agency" who took delivery of her on May 14, 1976. She was renamed United Challenger and received a comprehensive rebuilding programme to become a sheep livestock carrier to the Middle East. In her former cargo holds there were now pens, even in much of her past passenger areas. As most animals would be below decks, this meant that additional ventilation was required and many ventilators were add3ec atop the ships to carry air down to her holds and past passenger areas, but one wonders if this would have been enough, we know that live animal treatment on even the modern ships today are far from good and to be truthful, I believe that all live transports world wide should be banned. I believe that there are sufficient Halal butcher facilities in Australia and worldwide, as well as excellent freezing facilities, that live shipping is no longer needed, for the treatment and the killing method in some of these places are hideous and cruel t the extreme!
The rebuilding n the ship was completed in October, but by then she had already been renamed SS Khalij Express.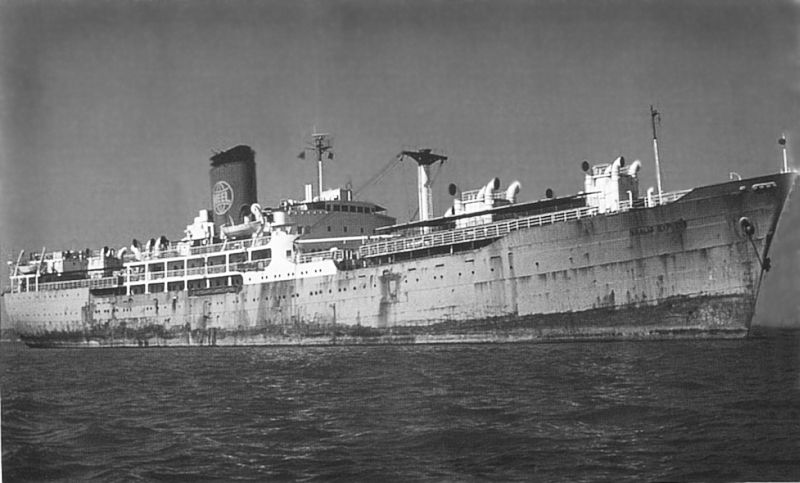 The rusty looking sheep carrier SS Khalij Express, unlike todays carries she was not built up much & note the many air vents
From the author's private collection
SS Khalij Express first port was from Fremantle and over the next seven years she would operate from various Australian ports to load sheep and transport them to various Middle Eastern ports. Although in 1977 she was sold to a Saudi owner, the "Arabian Maritime Transport Company, Ltd," but she remained on the same service and name.
Then in 1983 SS Khalij Express was withdrawn from service and it was reported that she had been sold to Pakistani breakers, however as it turned out she departed Jebel Ali (UAE) on February 4, 1985, for her last ever voyage heading for India and the beach at Alang where she was broken up having given 29 years of faithful and excellent service as the SS Hubert, Malaysia and yes, even the Khalij Express!
Memories of the SS Malaysia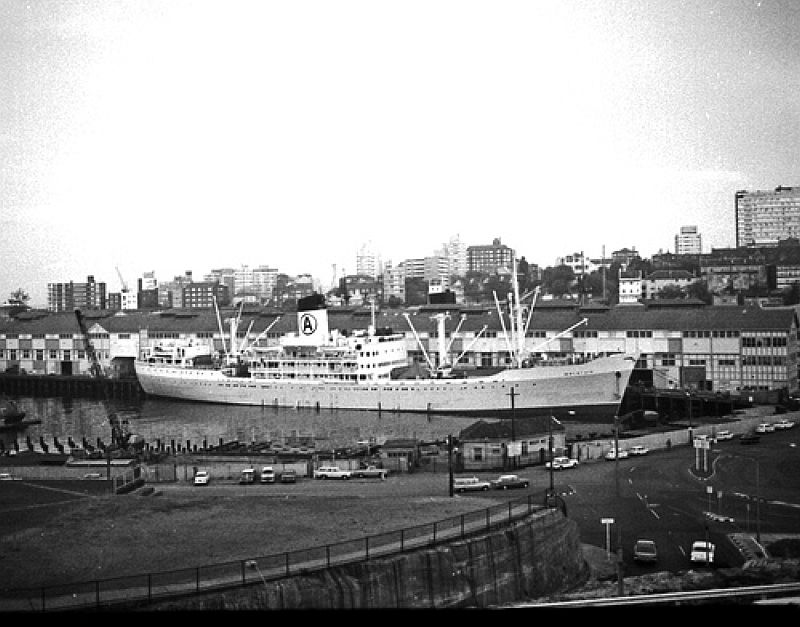 SS Malaysia seen in Sydney's in the late 1960's
Photographer unknown - * Please see photo notes at bottom of page
Also read more about the … MV Australasia
"Blue Water Liners sailing to the distant shores.
I watched them come, I watched them go and I watched them die."
****************************
Visit our ssMaritime Main INDEX
Where you will discover around 680 Classic Passenger & Passenger-Cargo Liners!
ssMaritime.com & ssMaritime.net
Where the ships of the past make history & the 1914 built MV Doulos Story
Please Note: ssmaritime and associated sites are 100% non-commercial and the author does not seek funding or favours and never have and never will.
Photographs on ssmaritime and associate pages are either by the author or from the author's private collection. In addition there are some images and photographs that have been provided by Shipping Companies or private photographers or collectors. Credit is given to all contributors, however, there are some photographs provided to me without details regarding the photographer or owner concerned. Therefore, I hereby invite if owners of these images would be so kind to make them-selves known to me (my email address can be found at the bottom of the page on www.ssmaritime.com), in order that due credit may be given.
ssMaritime is owned & © Copyright by Reuben Goossens - All Rights Reserved