Union Steam Ship Company – SS Razmak / TSS Monowai 1922 to 1960
Please Note: Firefox & Google Chrome other search engines may not suitable
Please use Internet Explorer - Google for this page to load perfectly!

Click the logo above to reach the ssMaritime FrontPage for News Updates & "Ship of the Month"
With Reuben Goossens
Maritime Historian, Cruise'n'Ship Reviewer, Author & Maritime Lecturer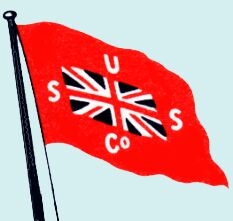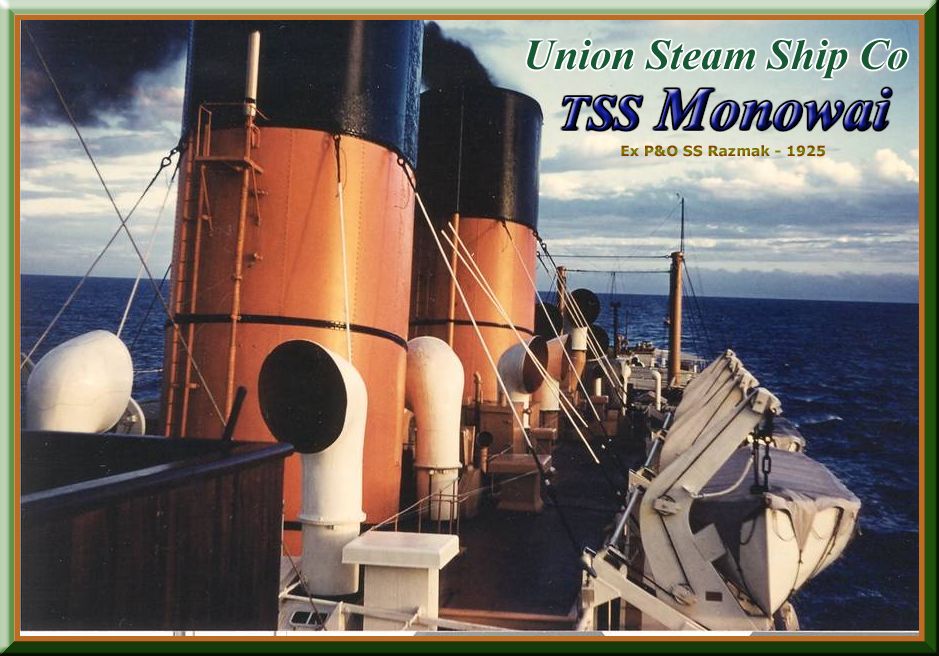 Please Note: Photographs of TSS Monowai, other ships, interiors & other images are from the author's private maritime collection, unless stated otherwise.
Introduction:
Personally I do not feel that the TSS Monowai was the best-looking ship externally, to be honest, myself, and others used to call her "the ugly duckling of the Tasman Sea." However, having been so truthful, the other truth is that the Monowai did prove to be a superb, a reliable ship, and a fine workhorse. Even though she may not have been the most luxurious of ships! Yet, over countless years of faithful service she proved to be an efficient "Express Trans Tasman Steamer." In spite of the lack of luxury the Monowai did become such a loved Kiwi liner by the thousands who regularly sailed on her, for it is not always beauty that makes the ship, but the feel and the atmosphere of a ship, for ships tend to have a heart and a soul of their own. Many people think that such a statement is pure madness, but those who have sailed on classic liners of yesteryear on many occasions know just what I am speaking about! As you board, it is like coming home, and there is a feeling if the ship welcomes you! Well having been on the Monowai many times, I felt just that way!
The Monowai was the complete opposite to the glamour ships of the Tasman, such as the Union Steam Ship Co (USSCo) super fast liner and elegant TSS Awatea and the most beautiful of ships, the Huddart Parker's glamorous TSMV Wanganella, both ships offered the ultimate in luxury. However the latter of these two, TSMV Wanganella and TSS Monowai did have something in common, for neither of these two ships were designed and built for the Trans-Tasman service, but rather for a British company and were to be operated for a rather staid British market. For interest, both the Awatea and Wanganella features are also online, see the links at the bottom of this page.
SS

Razmak:
The Monowai was originally built by the famed Harland & Wolff Shipyards at Greenock (Yard 659) as a P&O liner. Her keel was laid on June 20, 1923, and she was officially named as "Rasmak" with an "S" and she was launched on Thursday October 16, 1924, by Viscountess Inchcape, the wife of P&O's Chairman. After the launch, she was towed across the Irish Sea to Harland and Wolff's Belfast yard to have her propulsion machinery installed and to be fitted out. She was completed in February 1925 she ran her trials in Belfast Lough and accomplished a speed of 19.8 knots.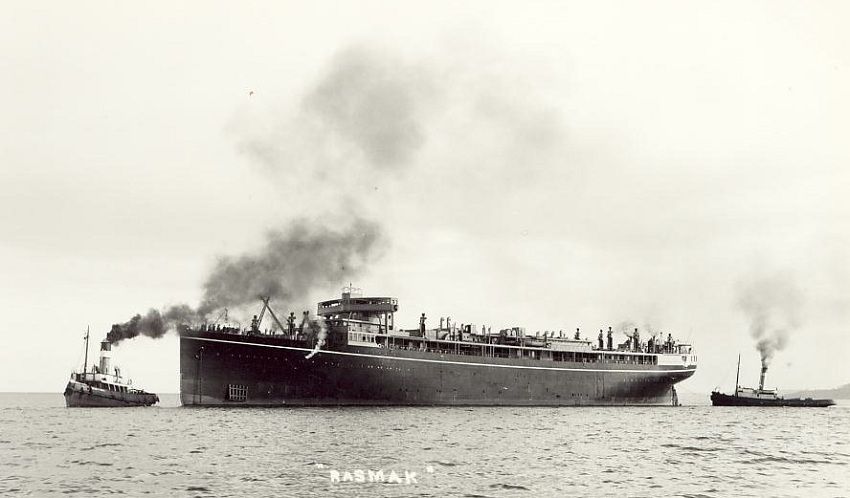 SS Rasmak seen having just been launched
However, P&O had already decided to slightly change her name from RaSmak to RaZmak and with her altered name with a "Z" she was completed and delivered to P&O in London on February 26, 1925 and she was handed over to Mr Frank Ritchie, who was the joint Managing Director of P&O. Immediately P&O commenced to make her ready for her maiden voyage that would in mid March.
The SS Razmak was registered as being 10,602 GRT (gross registered tons) and accommodated 142 First Class passengers, as well as 142 in Second Class and 108 in that humble Steerage section of the ship! In addition she was able to carry a considerable amount of cargo which was loaded into the ships six holds by twelve hydraulic cranes, which was quite revolutionary for the times! Her holds were capable of carrying some 131,460 cubic feet of cargo space. She had two sets of quadruple expansion engines, each of them turning one of her propellers, developing some 12,000 IHP, giving her a respectable speed of 18 knots. She had six boilers; four of these were double ended, whilst the other two single ended ones. They burned oil under forced draught in order to provide steam at 215 psi.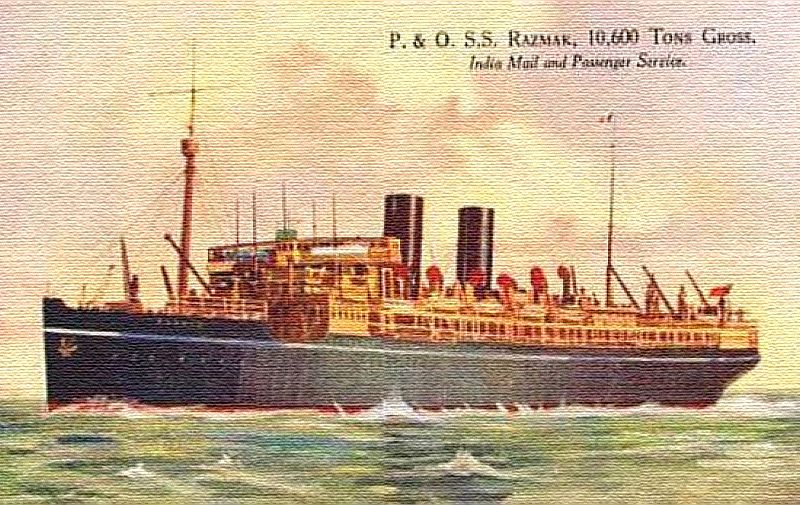 An artist's impression of the SS Razmak
Externally she had that much loved counter stern, with a long black hull line with a white ribbon, topped by a low slung, one and a half deck, superstructure that was painted in that horrid "manila folder" to a "light stone brown" colour, topped by two tall black slender funnels that were slightly slanted. Her bridge far forward was a small two-deck structure that stood out, and it did the ship no favours when it came to her looks, yet there are those that say that she was attractive. Personally I believe that there were a good number of far more attractive ships built at that time, and she was certainly not one of them. However said that, she became a much-loved ship and that is what really counts here, for she was a most reliable ship when she was in service for her later owner Down Under, but that story comes later!
SS Razmak was ready and dressed for her Maiden Voyage from London on Friday March 13, 1925 bound to Bombay (India) with calls to Marseilles, Suez, and Aden, being her designated service. However, a year later, in 1926 she was placed on the Marseille to Egypt and India service, and this would be in cooperation with the British India Steam Navigation Company. In 1928 P&O decided to give the ship a comprehensive refit that saw her tonnage change from her original 10,602 GRT to 10,852 GRT with her becoming a two-class ship.
However, her days with P&O would prove to be very short indeed, for on July 18, 1930, the Razmak was withdrawn from service and she was laid up at Tilbury and placed on the market, but sales would be very slow in those days! Thus her future looked quite unsure considering the economic situation at that time.
A Transfer was due for the

Razmak

:
However there was good news was on the horizon for the Razmak, which came entirely due to the demise of another fine passenger liner. The Union Steam Ship Co based in New Zealand, but part of the greater worldwide P&O group, had just lost their beloved veteran liner, the SS Tahiti, which was due to a freak engine room accident located some 400 miles (643.73 Klm) off Rarotonga in August 1930 Obviously her loss left a big gap in the companies busy Trans-Pacific schedule and thus they were in great need to replace her as quickly as possible.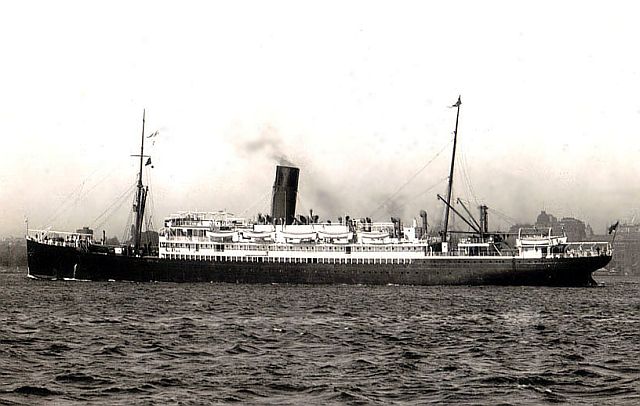 SS Tahiti seen during her better days
The SS Razmak being available, she was the perfect replacement, thus she was officially transferred to the USSCo in August 1930 and she was renamed Monowai making her the second ship to carry this much loved name in New Zealand for it means "One Water" in the Maori language. Also, considering the Razmak's previous service, having sailed in the warmer climates, she would need very few alterations for the tropical waters of the South Pacific, thus she would be the perfect ship! However, several alterations were made, such as Bauar-Wach low-pressure double reduction exhaust turbines were fitted to each of her reciprocating engines, with a total output now being 14,740 IHP, giving a maximum speed of 19 knots. Also, her accommodations were altered to 280 First Class and 203 Second Class.
For interest: The first 3,433-ton, 330ft – 100.6m long, SS Monowai (I) was built by W Denny & Bros, Dumbarton, Scotland for Union Steamship Co, Ltd, Dunedin in 1890, but she was finally sold to be scuttled near Gisborne Harbour as a breakwater in 1926. She had triple expansion engine and single screw made a good 13 knots.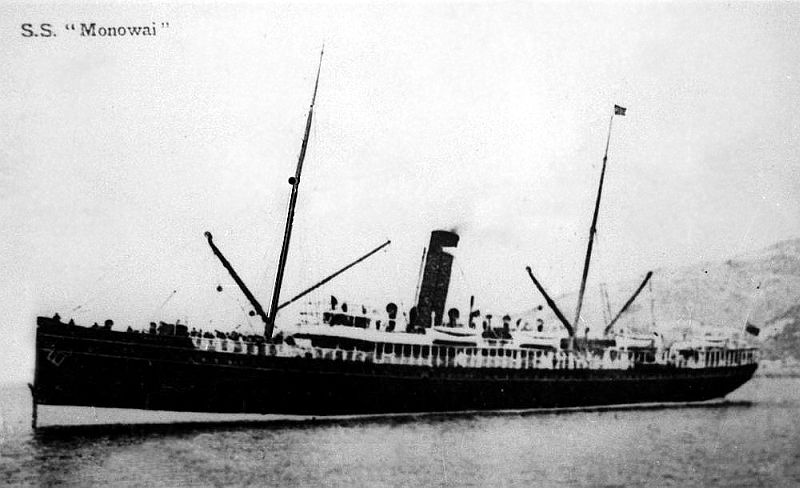 The 1890 built ss Monowai
TSS

Monowai:
The SS Razmak departed from London on October 3, 1930, which would be her final voyage as a P&O liner with passengers on board. She sailed via Gibraltar, Marseilles, Suez, Bombay, and Colombo, arriving in Sydney Australia mid November. She then continued to Wellington New Zealand arriving looking very much the P&O liner in her rather staid livery and flying the P&O pendant.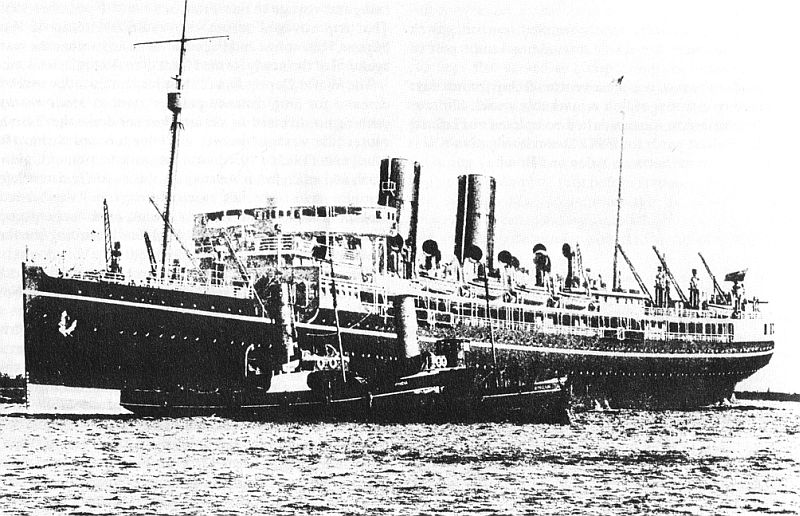 The newly named Monowai arrives in Sydney November 1930
Originally copied from a newspaper - from the author's private collection
She was given an internal partial refit and given her new name - Monowai. Some of the fittings from the companies SS Mararoa, which had been laid up in Wellington for three years, as used on board. Her hull was painted in the Union company's traditional Bronze Green, with a white superstructure, however at first all the ships ventilators were left in the original P&O buff colour. Her funnels were painted red with black caps. When completed, she certainly looked a great deal better than she did than she did when she was the dowdy looking SS Razmak! Considering the style of ship she was, she looked quite splendid in her new livery. Captain A. T. Toten who was the captain of the lost liner Tahiti, was placed in command of the Monowai.
Interior Mini Photo Album – the 1930s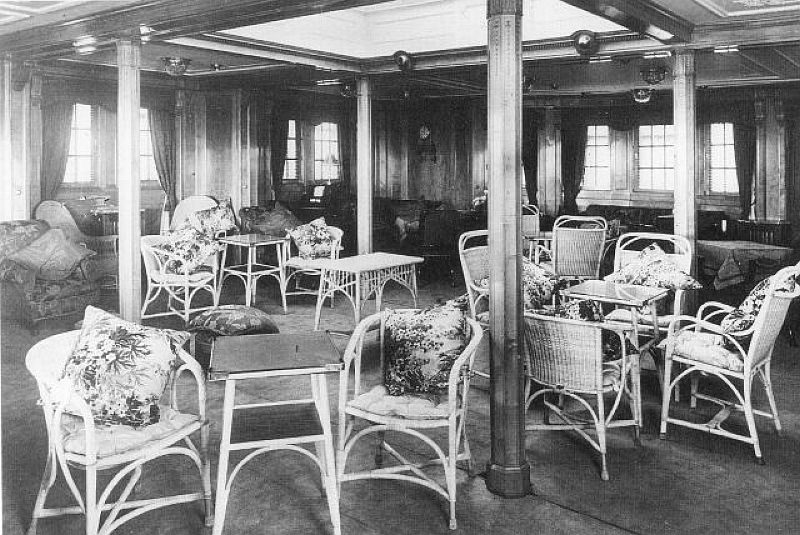 The First Class Lounge had both a casual rattan stay in the middle, and the more traditional heavy sofa's lining the walls
The walls were clad with dark walnut timbers and the windows had heavy drapes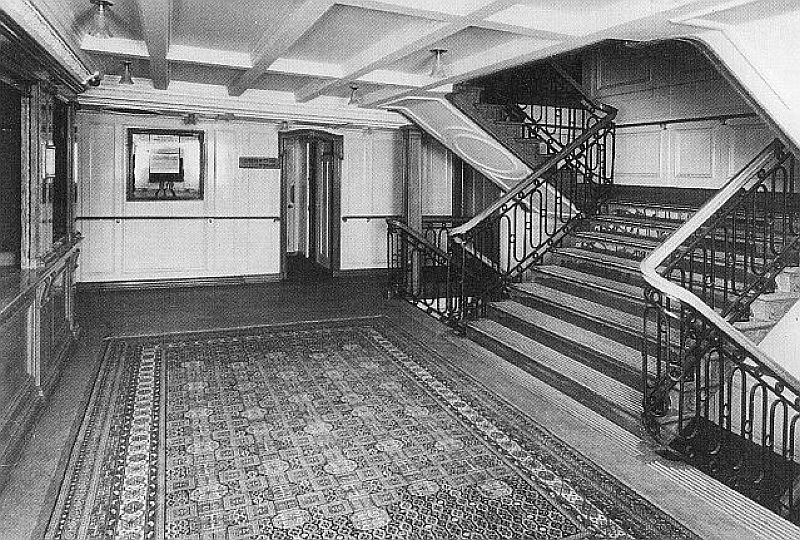 The forward stairwell was quite splendid and featured large Persian rugs and facing the stairs timbered walls with large mirrored features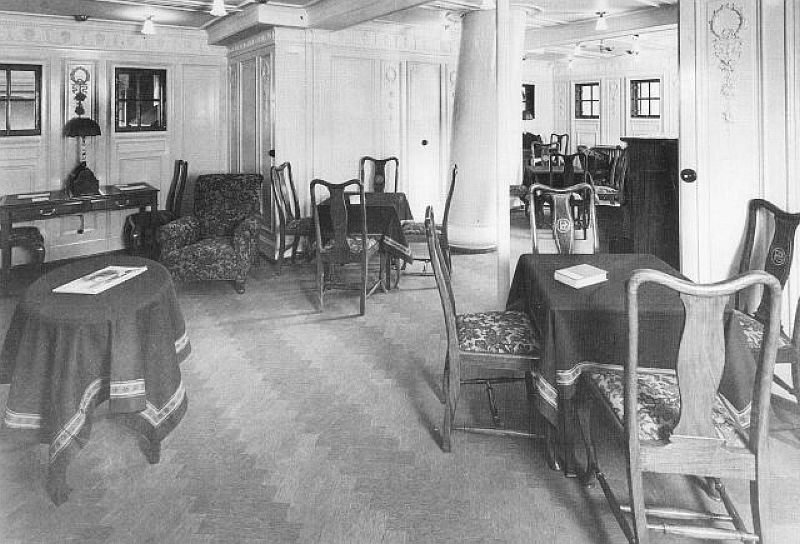 The Cabin Class Lounge was much brighter and in many ways very smart and comfortable indeed!
Trans-Pacific Service:
And on December 2, 1930 the SS Monowai officially commenced her first Trans-Pacific voyage, sailing via Sydney, back to Wellington (thus also offering a return or one way Trans-Tasman passages),then to Rarotonga, Papeete to San Francisco and return via the same ports to Wellington and Sydney. The Monowai had been placed under the management of the newly formed Canadian Australasian Line.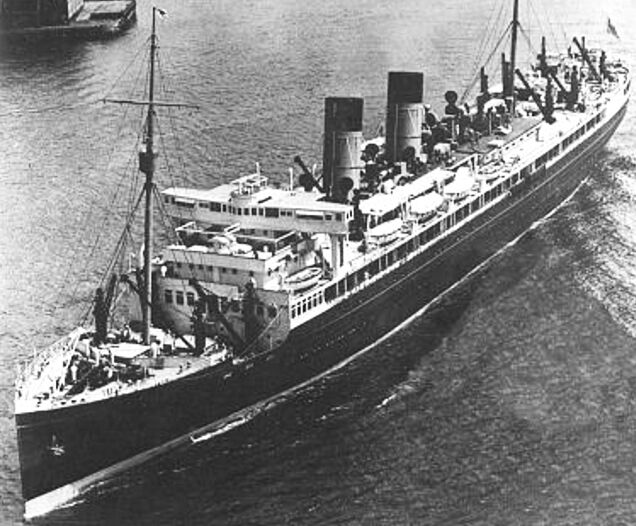 TSS Monowai seen arriving in Sydney in the 1930's
However, the SS Monowai in comparison to her main rivals, being the glamorous, much faster, and larger Matson Liner's the SS Malolo and Lurline, the Monowai looked very dated and her interiors as well as her facilities looked rather tragic and very out of date, if not ancient! If anyone had sailed on one of these ships and boarded the Monowai, they would have thought they had stepped back into ancient history, such as the 1800s! She became known as the "Ugly Duckling of the Pacific" very quickly and she did not prove to be very popular, like the SS Tahiti was!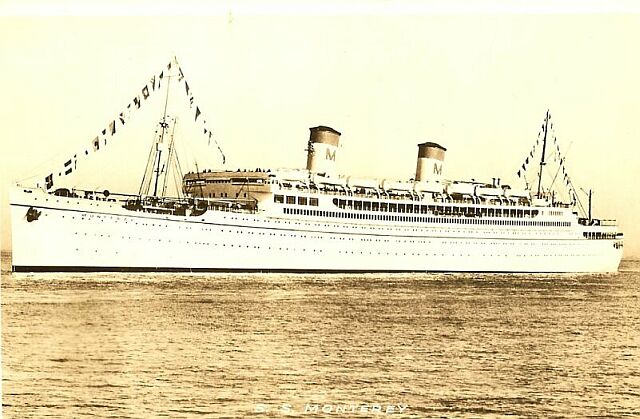 This is just one of the luxurious grand 20,000-ton Matson liners, and the super fast and glamorous Australia Awatea would follow in 1936!
With the Monowai sailing on the company's regular trans-Pacific run, between Wellington to Vancouver, it was decided to replace her with the SS Maunganui on the run in 1932. She departed on her first voyage on November 24, that year and continued to operate on this service together with the SS Makura.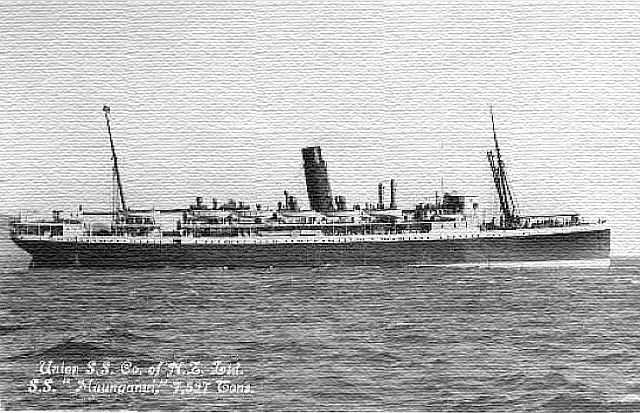 The SS Maunganui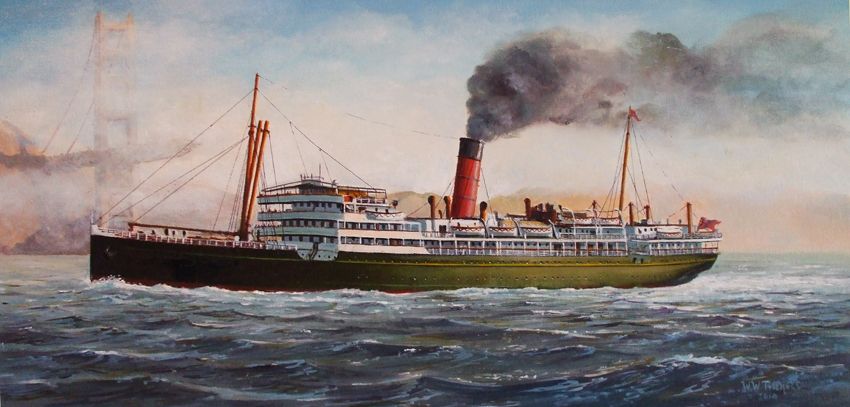 A painting of the SS Makura by Wallace Trickett (NZ)
Enter Wallace's website HERE
In the meantime the Monowai was placed on the popular and busy Trans-Tasman service, between Wellington and Sydney, as well at various times, Auckland Sydney, or even Melbourne would be included at various times.
There was one thing for certain the TSS Monowai was a solid and a most sturdy well built ship, for she survived many years on the high seas, let alone World War II, without sustaining any severe damage. One of the worst things to ever happen to her was during a summer crossing from Sydney to Wellington in 1934, when a severe storm was encountered. Apparently it was at least a force-eight Southeast gale, one of the worst storms heard off in at least 20 years, just off the New South Wales coast. The Monowai battled the storm for some 24 solid hours, taking on huge seas that roared high over her bridge and the waves were so powerful that they smashed a good number of forward to midsection superstructure windows of cabins and public rooms and thus it saturated many of the cabins and other public facilities and this left the ship in a terrible mess. The crew had a huge job on their hand cleaning up and making the ship clean and fit to move around in and the windows reasonably closed up again! Unbelievably, on the passengers list on this very voyage was no other than Alexander Shaw, who was the new chairman of the Union Steamship Company.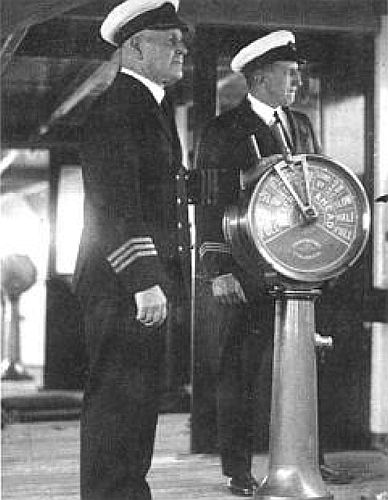 One of the Monowai's well know and honoured Captain's Arthur Davey
Who received the Finnish honour of the "Knight of the White Rose"
Later the Monowai was also involved in a medical emergency after receiving a radio message that one of the cadet's aboard the Finnish Sailing Vessel and training ship, the "Favell" was stricken with acute appendicitis. Thus, the Monowai altered course and met the Favell and had the cadet taken on board through one of the gun-port doors. She then sailed for Wellington where the cadet was treated at the Wellington hospital. Monowai's Captain, Arthur Davey was awarded the honour of the "Knight of the White Rose" by the President of Finland for his services at a later date!
A Disappearing Yellow Hull Ribbon in 1933: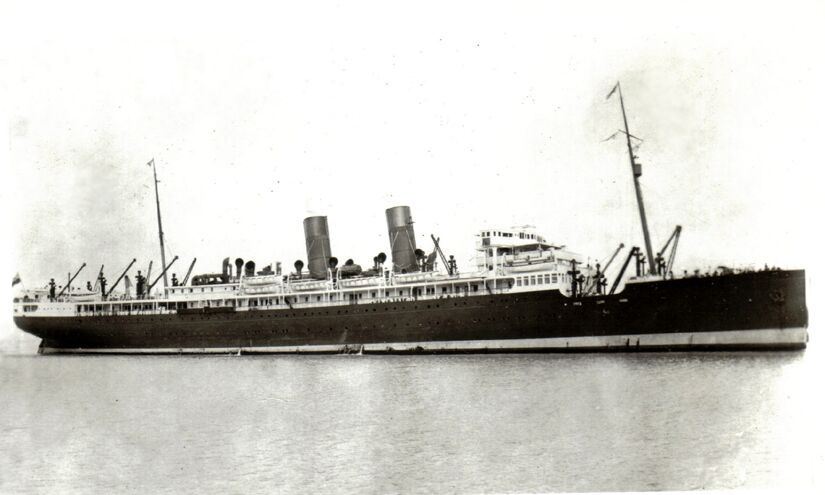 TSS Monowai seen in 1933 – For some reason during that year that famed USSCo yellow hull ribbon had been removed, but thankfully it returned by 1934
Image from an unknown source – Please see photo notes at the bottom of the page
For some reason by 1933 the yellow ribbon around her hull had gone, and I cannot find any reason for this, but it was back on her hull in 1934. The only reason I became aware of this was due to a number of photographs I had seen, such as the one above that shows her in 1933 and the Wellington storm image below in 1934, we see that the yellow ribbon had returned.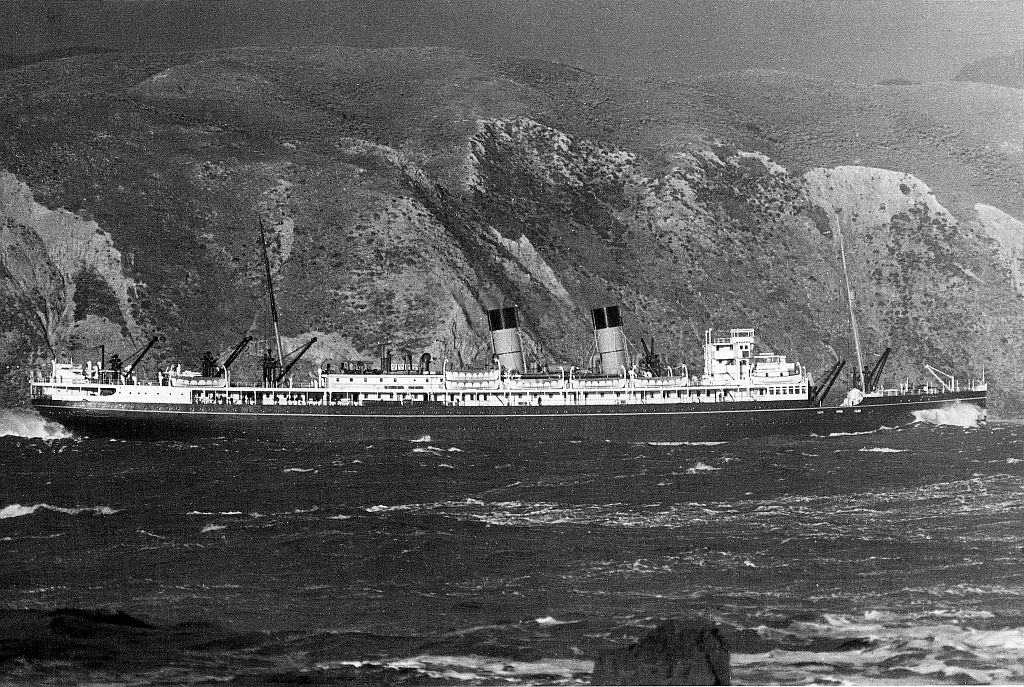 The Monowai is seen departing Wellington harbour on May 10, 1934, during one of
Wellington's famed southerly gales, with her bow seen ploughing into the waves
Photograph is by courtesy of the "Museum of Wellington"
Monowai the Cruise Ship:
The Union Lines very first ship to operate cruises was the SS Wanaka in 1877 and now the larger and superior TSS Monowai commenced a Milford Sound cruise from Wellington in 1933.
Then on January 8, 1934 a new service commenced for a New Zealand ship taking Australian cruise enthusiasts on the Monowai on a round voyage, thus a cruise to New Zealand, commencing in Sydney or in Melbourne and do the complete Circle-Tasman voyage. This voyage would also make calls to the Milford and other the other famous Sounds, which are and remain one of New Zealand's great destinations, giving passengers the opportunity to disembark the ship, and join a small boat cruise of the region and get close to the native seals, dolphins and waterfalls, etc. As cruising was more of a tourist venture, cruising onboard would be a big feature, therefore the catering crew was under greater pressure than on they would be on Trans-Tasman voyages, and they ensured that the menus were more elaborate with excellent meals served, as well with more entertainment being featured.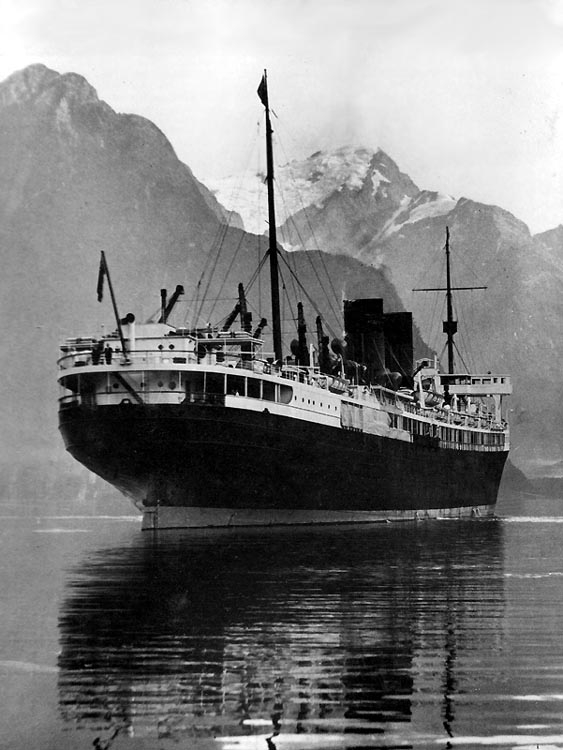 A photograph of the TSS Monowai in Milford Sound just off Mitre Peak in 1933
The Monowai had became the very first Union Steam Ship Company liner to cruise the West Coast Sounds since the ill-fated SS Waikari in 1910, and she was by the largest ship ever to enter the Sounds at the time. On the very first voyage was a special delegation from the Australian "Scottish Union of Victoria" who was on a "goodwill tour." Although the cruise was a success, there was one tragic event at Milford Sounds, when a climber slipped and fell and injured his spine. He was transferred back to the ship, as there are no facilities in the region and the Monowai has an emergency hospital for treatment by the ships doctor. He was stabilised, and the ship sailed for Port Chalmers where he was taken to the Dunedin hospital for recovery. As it turned out the ship's doctor had done extremely well, and the man came out without any permanent injuries!
However, as time went by passenger numbers dropped and it had become obvious that the Monowai was not obtaining her passenger or its cargo quotas, thus she was running very close to making a loss. And thus and it was decided to cancel her calls at Melbourne purely as an economy measure, and the company was rethinking its future for at that time the Tasman traffic seemed to be slowing down for some reason. Yet there seemed to be a demand for cruises, thus why not explore that, thought the Union Steam Ship Company?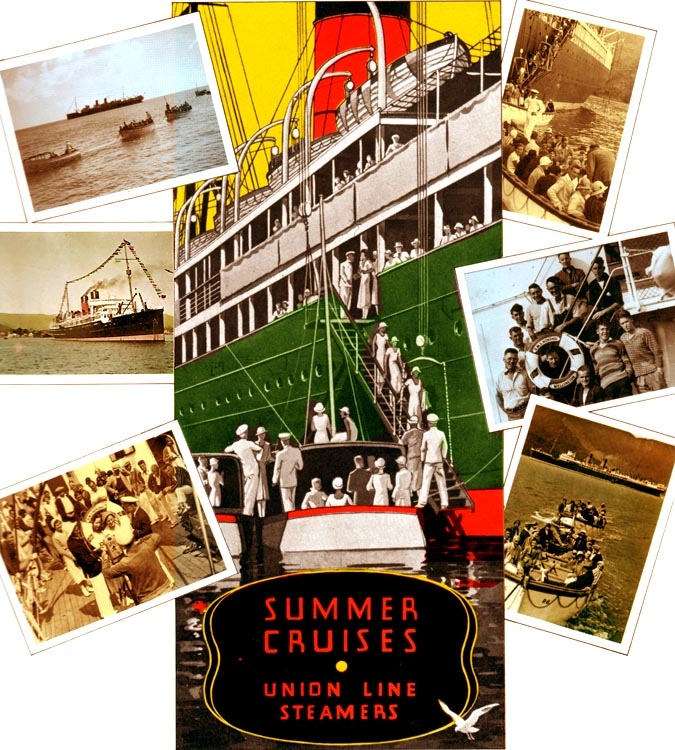 A Union Steamship Co Cruise Brochure for the 1934/1935 summer season
And that they did for in July 1935, the Monowai departed a fully booked ship from Auckland sailing on a two-week South Pacific Island winter cruise. She visited tropical ports such as, Nuku'alofa - Tonga, and whilst there HRH Queen Salote joined the Monowai for the rest of the cruise. The Monowai continued to Vavua, the next Tongan port of call and the ships master then added an extra surprise visit to Pago Pago - American Samoa having obtaining special permission from the US authorities to enter port. The ship did not actually officially stop there, but she circled the harbour for half an hour showing passengers the magnificent views. Thus the reason for this special call to Pago Pago was for passengers to be able to see the sheer beauty of this, one South Pacific's finest natural harbours. However, there was also something symbolic about this manoeuvre, for it is one of the key ports on the company's rival lines, and this was a port on the "Matson Line's" itinerary. The Monowai then sailed to Niuafo'ou, which is also known as "Tin Can Island" where the time-honoured sealed biscuit tins were cast overboard for retrieval by the swimmers from the shore.
She then headed for Levuka - Fiji, where Captain Davey managed to obtain great publicity from for Levuka was originally Fiji's original capital, and it was also the first port where the ship was able to berth dockside since leaving Auckland, and this meant that passengers could walk off the ship, rather than go ashore in a lifeboat or a tender provided from ashore. Captain Davey had been told by a visiting dignitary that it was customary for ships "never to turn their backs on the old capital" and, although this practice applied only to the local "mosquito fleet of inter-island ships" but with the Monowai being the largest ship to visit Levuka at that time, the captain thought to himself, "what a great challenge" to his ship handling abilities. He took one of the ship's lifeboats around the harbour and by the time of the departure, his plans were ready and made. He set the telegraph astern, and the propellers bit into the water and the ship moved rapidly backwards across the harbour, the entrance opened up before the bows. Then a quick ring on the engine room telegraph to full ahead and the Monowai was heading out to sea and after a short coastal run she arrived in Suva the capital of Fiji.
One last day before returning to Auckland, Captain Davy anchored the ship in Port Fitzroy and passengers held a special "Farewell Fancy Dress Ball" on an Island there. Everyone had a most wonderful evening, although had the captain had the party out at sea, it might not have been so, for big waves had come up and the ride for the first time during the cruise was rather rough. But the ball continued into the early hours of the morning, before the short for the morning voyage back to Auckland the seas had calmed. The voyage was a huge success and the Union Line received many complimentary letters, so much so that the General Manager wrote a letter of appreciation to the master and crew for "a job done really well!"
World War II:
The TSS Monowai continued on her Trans-Tasman service until the World War II broke out in 1939, when she was requisitioned on October 21, 1939 by the Royal New Zealand Navy and she was refitted as an armed merchant cruiser (AMC) at Devonport, Auckland. She was officially commissioned on August 30, 1940 the HMNZS Monowai having a complement of 336. She was equipped with the following armament: 8 x 6-inch guns with 4 on each side of the ship. 2 x 3 in AA. 6 x 20-mm. 6 x 1 twin 20-mm. She also had MGs and 8 Depth charges. The ships radar was fitted in June 1942!
While she spent the war primarily working as a troop carrier, the HMNZS Monowai was armed with eight 6-inch guns, two 3-inch anti-aircraft guns and six 20 mm guns, plus some machine guns and depth charges. Her USSCo engineering officers were given commissioned rank and remained with her. In addition to carrying troops the cruiser was assigned to escort freighters, tankers, and passenger liners between Australia, New Zealand, and Fiji during the war. Special thanks to http://navymuseum.co.nz/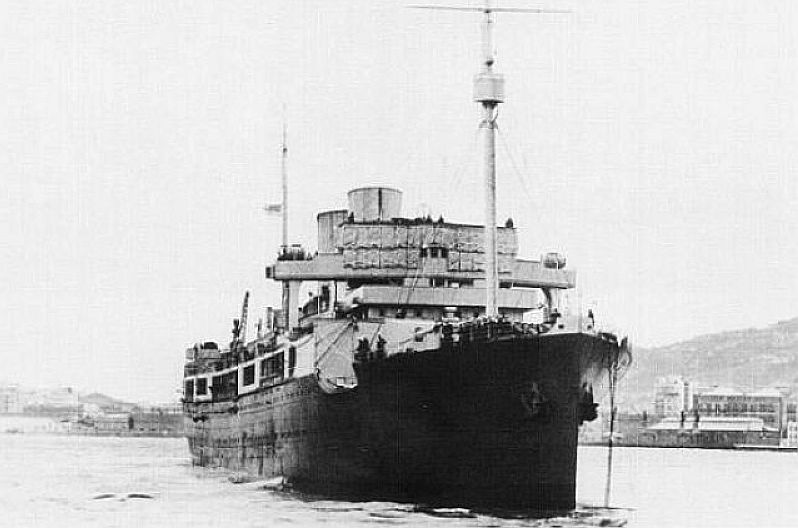 HMNZS Monowai is seen here as an "Armed Merchant Cruiser" (AMC)
In January 1942 the Monowai was attacked by a Japanese submarine the 120 whilst escorting troopship HMNZS Taroona just off Suva. However, she fought back valiantly firing all her portside guns and drove the submarine off as her fife was finding range and the submarine rapidly dived. She then steamed at high speed to avoid the Monowai's torpedoes. Official Japanese records prove that the sub 120 fired four torpedoes, but they all missed their target.
On June 18, 1943, the Monowai was taken over by the British Ministry of War Transport and she was converted into an assault landing ship (ASL). Captain G. B. Morgan was given command of the now designated HMS Monowai. She would receive yet another major overhaul and refitting that included installation of defensive armaments and replacement of lifeboats with 20 assault boats capable of landing 800 troops. Her new armaments were as follows: 1 x 4-in, 2 x QF 12-pdr ( 2 x 1), 2 x QF 2-pdr AA ( 2x1 ), 2 x 40-mm (2 x 1) 8 x RPs (2 x 4), 8 x 20-mm AA (8 x 1).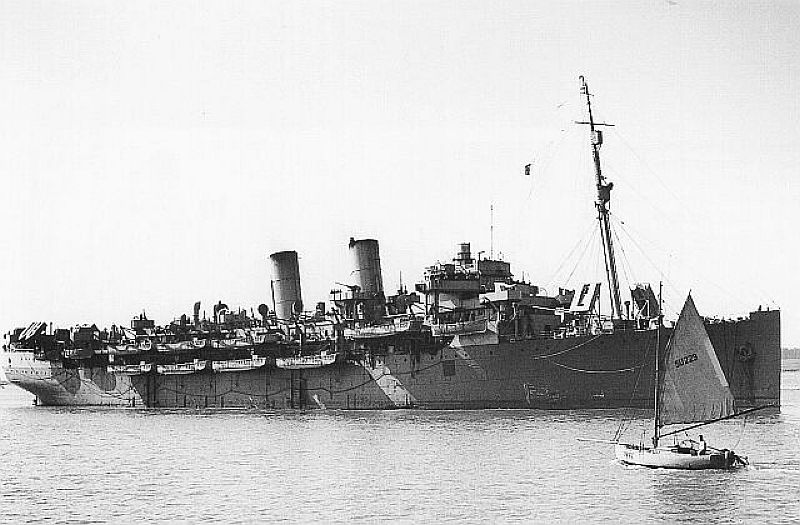 HMS Monowai now seen as an Assault Landing Ship (ASL)
She was involved in a landing at Taranto in February 1944, and then she was fully involved in the D-Day landings of June 6, 1944 that delivered some 1,800 commandos to Gold Beach during the Normandy Invasion. Of the 20 landing craft that departed from the Monowai that day, sadly only six returned as all of the others had been destroyed whilst in combat, mostly by mines during the landing. In 1945 she was placed on a shuttle service between Southampton and Le Havre. In all she made a good 45 North Sea crossings and carried around 73,000 troops to France.
TSS

Monowai and a Holocaust Connection:
Amazingly the Monowai has a connection to one of the world's most remarkable WWII stories, it is the Poignant story of the Dutch Jewish Frank family and their much loved late daughter who wrote that remarkable and poignant "Dairy of Anne Frank." The connection comes via her father, Otto Frank.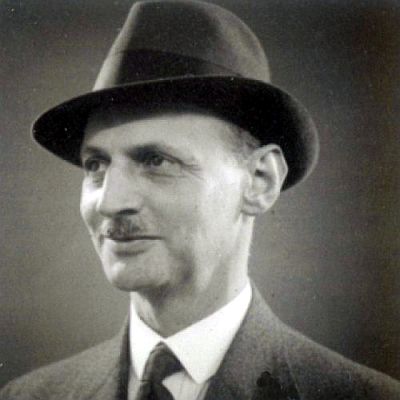 Otto Frank
Just before the end of the war in Europe, on April 22, 1945, the TSS Monowai sailed from England for Odessa on the Black Sea carrying 1,600 Soviet citizens who had been captured serving with the Germans in France. The Monowai then embarked many Jewish Holocaust survivors from Western Europe, including Otto Frank, who had been liberated from the Auschwitz death camp by the Soviet army. The Monowai departed on May 21 from Odessa and she arrived on the 27th.at Marseille, France. In the book "The Footsteps of Anne Frank" published in 1959, Ernst Schnabel wrote the following: 'The Monowai flew the New Zealand flag, and had come all the way from New Zealand so that a few survivors from Europe could return home.' Strangely enough, even though, she had not been decommissioned yet, but she was already flying the New Zealand flag!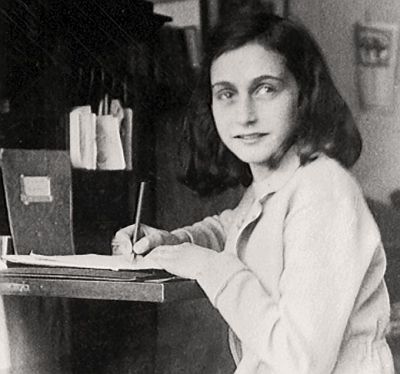 Anne Frank seen prior to the war
From the record, I am aware that the men slept in hammocks, whereas all the women were accommodated in cabins. Apparently according to Mr.  Schnabel, Otto was impressed by the ship's comfort, especially the abundant food and the kindness of her crew. However, by this time Frank had discovered that his wife, Edith, had died at Auschwitz, but to date he did not know anything regarding the fate of his two daughters, Anne and Margot. On board the Monowai, he wrote to his mother who was living in Switzerland:
"My entire hope lies with the children. I cling to the conviction that they are alive and that we'll be together again, but I'm not promising myself anything."
Thus the Monowai will always be part of an amazing part of history having transported Mr. Otto Frank, who would in due course locate the most amazing book that would become a sad, but a world's best seller, and movies and TV specials would be made to tell Anne's and her families tragic story! The book is of course the "Dairy of Anne Frank."
Concluding the War Years:
However, there was yet another war going on further south, much closer to home, and thus the Monowai was being made ready to participate in yet another invasion, this time it was related to the Japanese war. However, the Japanese surrendered before the invasion was carried out, and the HMS Monowai was sent to Singapore as a "mercy ship." She returned to England with some 650-service personnel as well as 199 civilians who had been prisoners of war. After months of carrying troops back to their homes throughout the British Empire, the Monowai had fallen in a rather neglected condition and she was finally decommissioned on August 29 1946 when she arrived in Sydney and her war duties had finally completed!
During the war years the Monowai as the AMC guise she had sailed around 121,000 miles and whilst an ASL she had sailed an additional 140,000 miles. In total she had transported some 105,000 troops, POWs, as well as civilians, and has been in a number of close encounters, but survived the war much unscathed, although very worn!
Refitting the Monowai for passenger service:
The Monowai was returned to the Union Steam Ship Co in September 1946.
The USSCo were at first very reluctant to pay the cost of refitting this old worn-out ship. But very much like most of the shipping trade, be it British, or many of the European nations that fought the Germans, many companies having lost ships and a severe lack of ships available at the end of the war, the company soon changed their mind and the work was undertaken at a cost of around a million pounds. The work would be undertaken in Sydney Australia at Mort's Dock & Engineering Co, Ltd and they soon began the modernisation of the old worn out girl in October 1946.
Changes to her would be as follows: Her main mast with the hydraulic cranes had already been removed during the war and now in their place were two sets of twin king posts with derricks. Whilst her far forward, her well deck had had been closed in, which some did not approve off, but personally, I feel that it made her look far superior. Also her funnels were enlarged by cutting them lengthwise and inserting new sections and welding them together, and now rather than being slim and round the were more elliptical in shape. As far as her superstructure was concerned, parts of her forward and aft Promenade Deck was now glass enclosed, thus both First and Tourist had a glass enclosed deck space. She was given six brand new lifeboats hung on gravity davits. Her interiors were greatly upgraded with better cabins and lighter and brighter public venues.
Externally there was one other unusual change, for she had a newly styled bridge, for it now had a curved front added where the armoured compass platform and wing searchlights were before. The all timber teak bridge was now varnished in a dark colour giving it that old fashioned look, yet it did suit this older style ship!
As a two-class liner, each class would have it own public venues on various levels. The Main Lounge and Smoke Rooms were located on A (Promenade) Deck. Obviously First Class located forward and Tourist aft. Both Dining Rooms were on C Deck. First Class Dining Room could seat 124 passengers, whilst Tourist had 132 seats.
All her cabins were completely new and upgraded to the current standards to accommodate 181 First Class and 205 Cabin (Tourist) Class passengers. First Class cabins were located up on A and B Decks, and Cabin (Tourist) Class were on B aft and C decks.
Her lounges also were had greatly improved from those pre war, they still retained some of her excellent fine timber fittings, but they were much brighter and by far more pleasant!
Her tonnage had increased by 185-tons, thus she was now; 11,037 GRT, and on board there would be a compliment of officers and crew of 187.
Although USSCo had hoped to have her back in service much earlier, due to various circumstances, such as delays in her completion due stoppages and unavoidable delays in obtaining materials, etc, it would not be until mid January 1949 that she finally ran her sea trails off Sydney heads.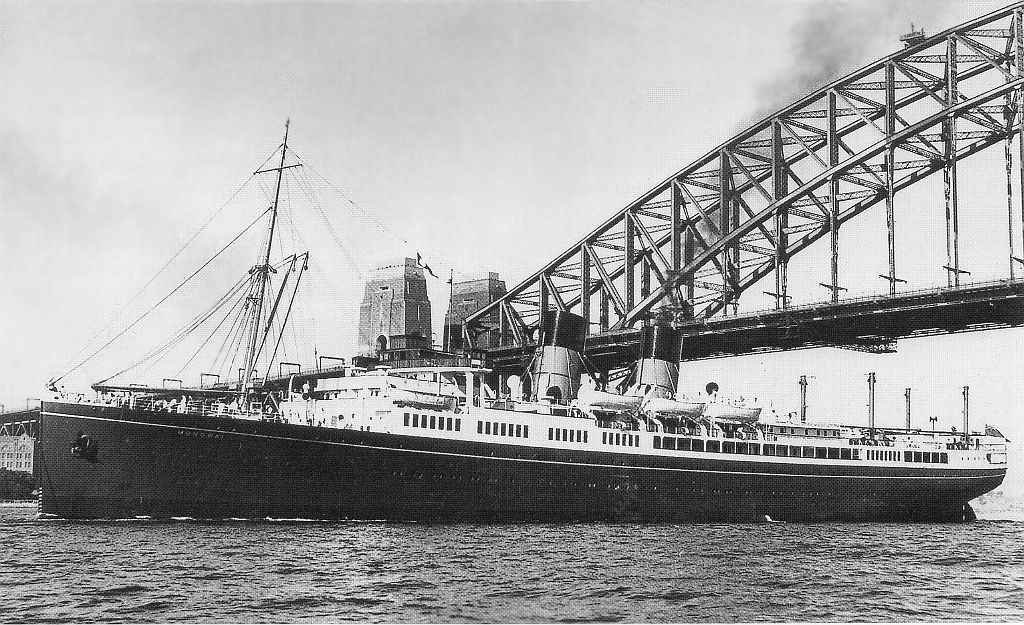 TSS Monowai passing under the Sydney Harbour Bridge heading off for her sea trails mid January 1949
Having passed her sea trials, several minor details were attended to, as well a little paintwork, and she was ready to be returned to her owners.
Interior Mini Photo Album – the 1950s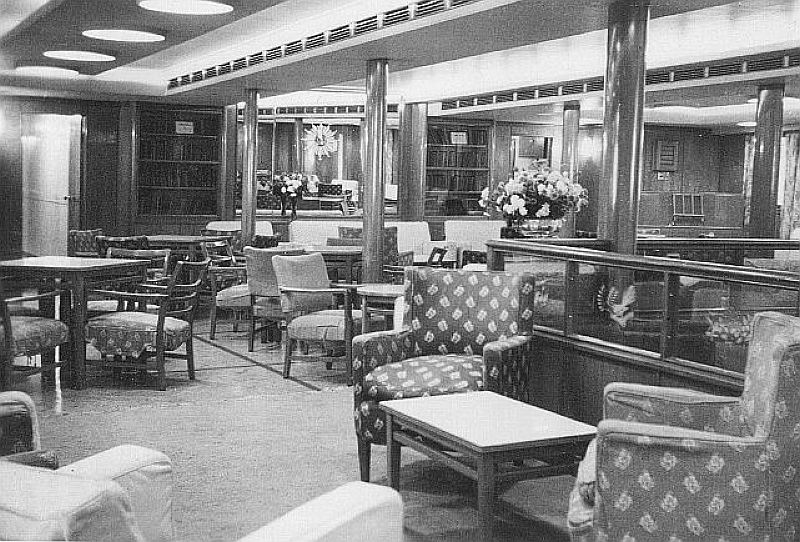 The First Class Lounge was now by far more luxurious in detail and also more spacious!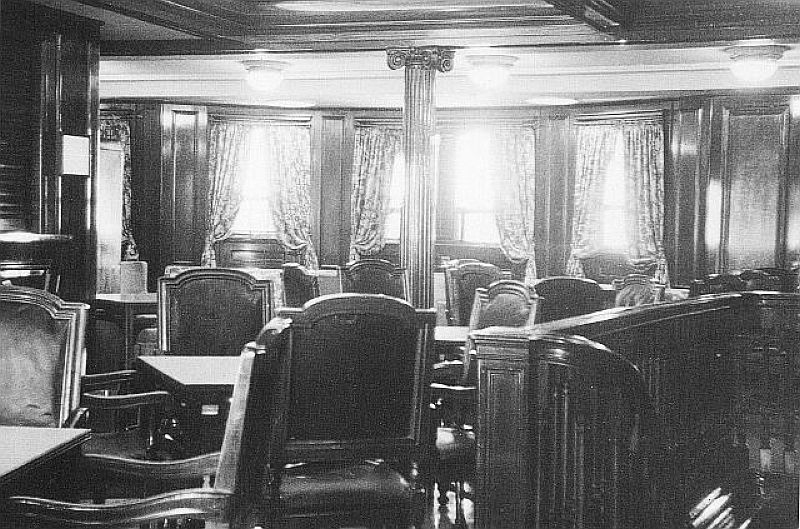 The First Class Smoking Room retained that traditional timber Gent's club feel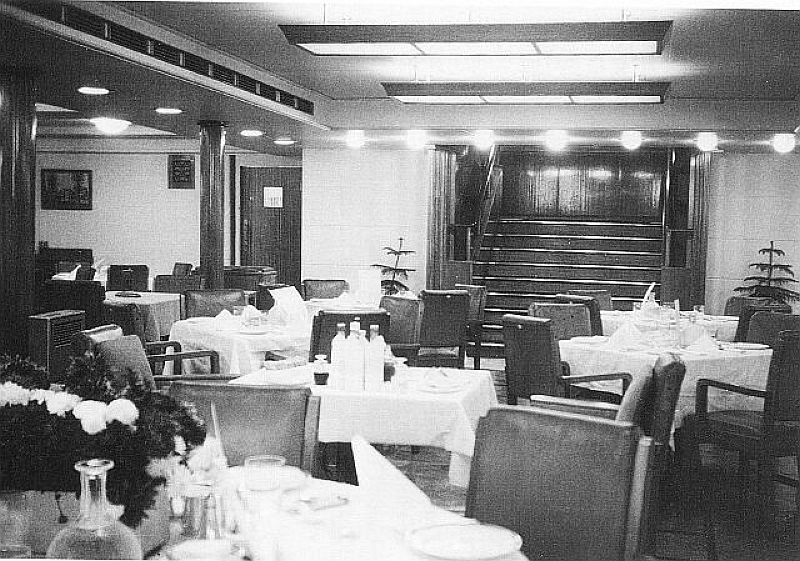 This is the First Class Dinning Room, which is certainly much lighter that the earlier version, yet a few of the early timber features remain.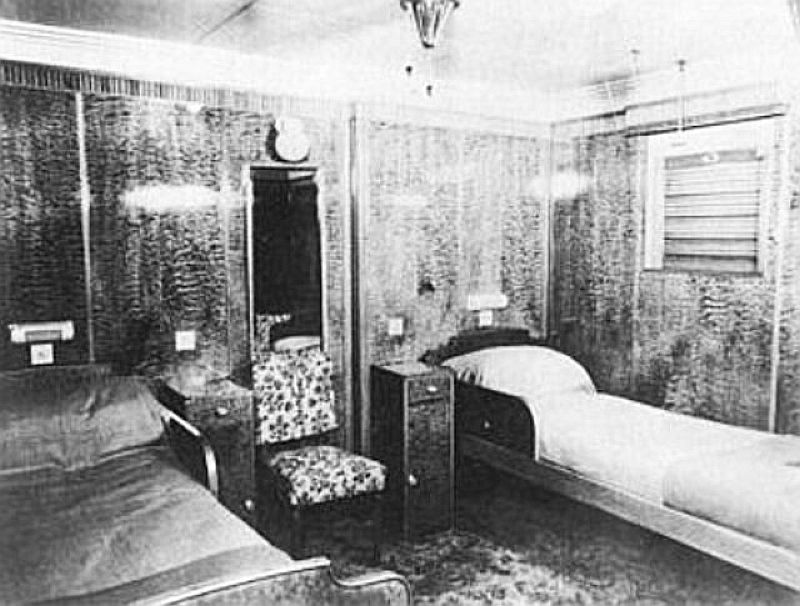 First Class deluxe Twin bedded stateroom. These rooms were heavily clad in superior timbers, which was popular those days
a bit too dark these days. Whilst most other cabins throughout the ship were mostly in lighter painted tones!
Monowai returns to her Trans-Tasman service:
The TSS Monowai was placed under the command of Captain G.B Morgan DSO, DSC, once more, and he would remain in command until this great man retired late in 1950. Finally after a long ten-year absence, the TSS Monowai was delivered to the company (without any passengers on board) in Wellington on January 27, 1947.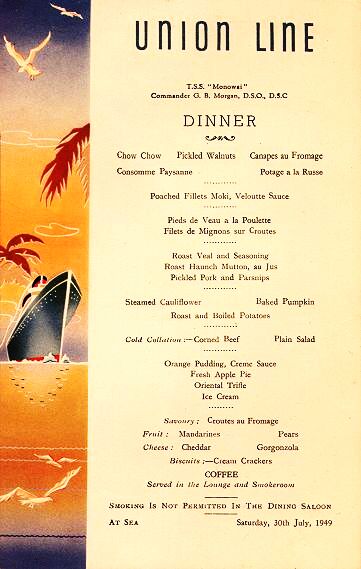 A First Class Dinner Menu for Sunday July 30, 1949
This was sent in by a relative of a past passenger
However, her very first voyage had been greatly anticipated and it had been long booked out, thus on the next day January 28, she departed for Sydney. She continued on this operation for a good eleven years and sailed in combination with the TSMV Wanganella.
In 1951 due to a long waterfront dispute in both Australia and New Zealand, the Monowai was laid up for three months from April to July. Sadly Industrial conflict was an ongoing conflict of the times and not just Down Under, but all over the world.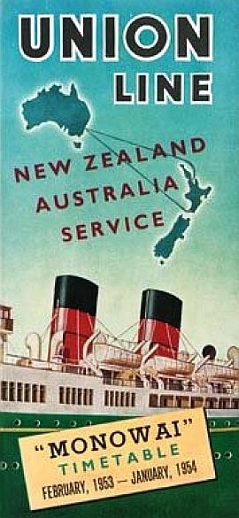 A Monowai Time Table from February 1953 to January 1954
Although the Monowai operated the Trans-Tasman from Wellington, but as can be clearly seen from the schedule above, she now operated a Wellington and Auckland Sydney voyages. These Trans-Tasman voyages were scheduled as follows:
Wellington to Sydney - Sydney to Auckland - Auckland to Sydney - Sydney to Wellington - Wellington to Sydney, etc!
Memories from a young male passenger - G. White:
"We had already boarded the Monowai, and stood up on the deck, and looked down to see our friends, and there on the wharf at Auckland were our good friends Mr and Dalguish. Their parting gift was a small round fruit bowl that was made from a variety of New Zealand native woods. As the Monowai was slowly moving away from the wharf, the band was playing and there were hundreds of streamers that stretched from the hands of passengers on board to their loved ones on the wharf, being their last link as the ship slowly moved away." Continued below ….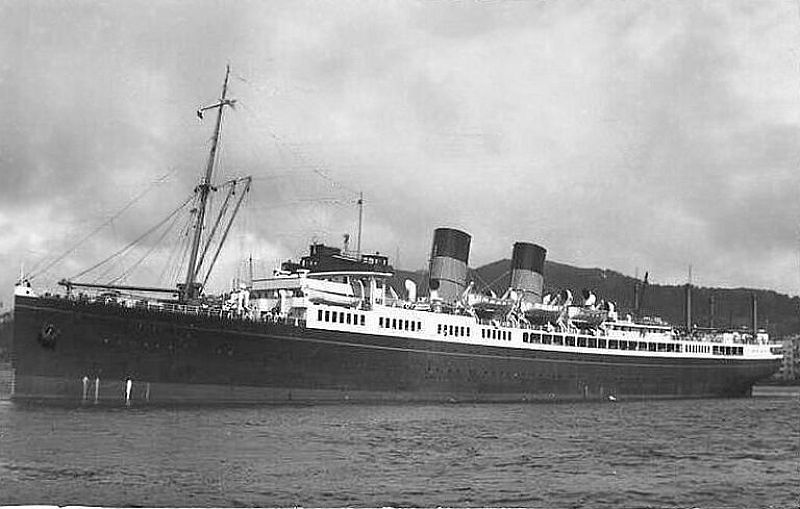 The popular Union Steam Ship liner - TSS Monowai
With thanks to the Ian J. Farquhar collection
"I remember little about the actual voyage, except that I shared a cabin with other men and my Mother with some other ladies. I was scared, but did not cry. I felt that the boat was very crowded."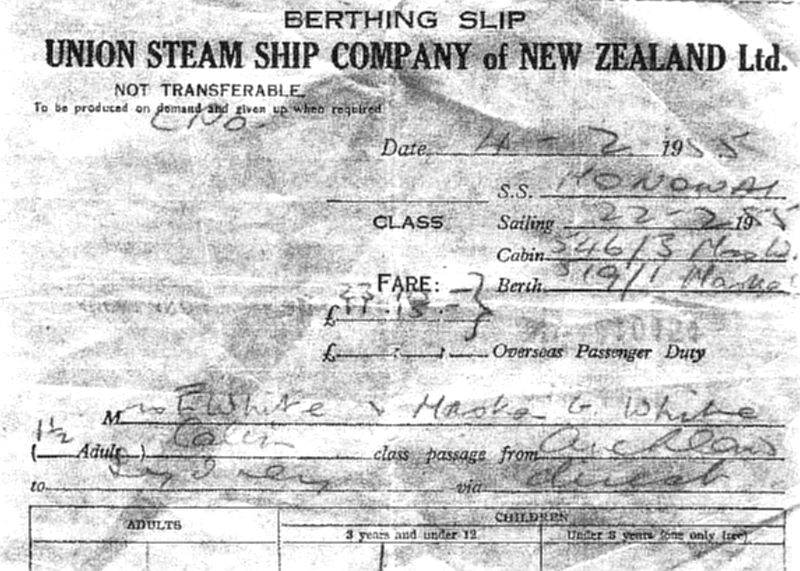 This is G. White and his Mother's ticket for the Monowai departing on February 22, 1955
I am most grateful to G. White for his contribution to the Monowai feature!
During 1956 she continued the Trans-Tasman service and I know that she departed Wellington on Thursday May 10, 1956 crossing the Tasman and arriving in Sydney on Monday 14, May, having made an excellent voyage across the "Ditch"! However, she did operate voyages in order that New Zealanders could head to the 1956 Melbourne Summer Olympic Games as one passengers Mr. M. Peden departed Auckland on November 8, 1956 and disembarked in Sydney on November 12, but he headed for Melbourne to attend the Opening of the Games on November 22, 1956.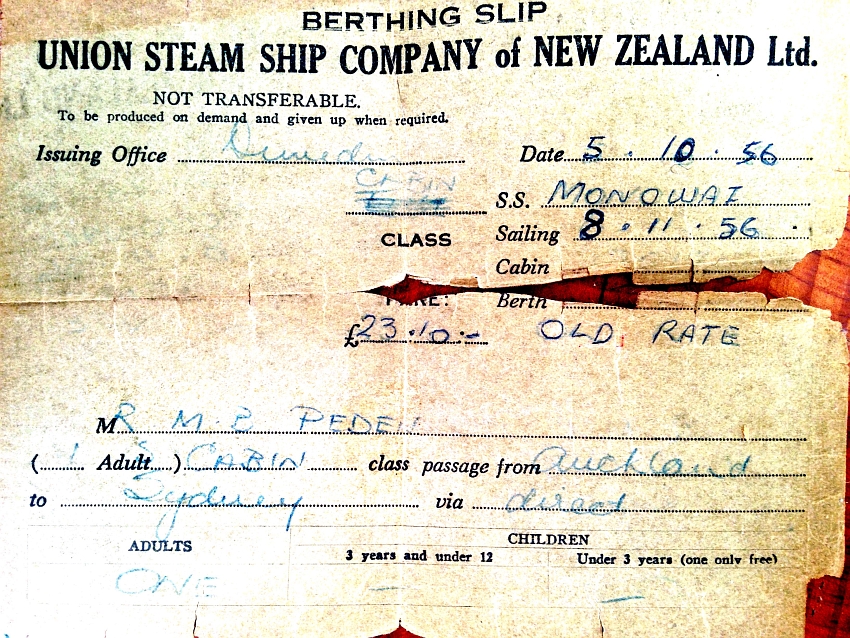 The berthing slip for M. B. Peden
Provided by son Ross Peden
Monowai: the Cruise Ship:
TSS Monowai operated some cruises out of Wellington as well as from Auckland during the summer months. These cruises varied from short overnight cruises, as well as two or a three night cruises from wellington they would be to Milford Sounds, and from Auckland to the Bay of Islands. There were also short cruises from Melbourne and Sydney, but there were far and few between.
Let us look at a cruise undertaken in January 1957 she undertook her most popular cruise from Wellington, being the four-day circumnavigation of the South Island of New Zealand. Passengers would board the Monowai early in the morning and she would sail across 'Cook Strait', during the voyage, passengers had the comfort of her fine lounges, as well as the special entertainment that was provided, with the band playing in the lounge and even out on deck. There were sport events as well as many other activities, in addition meals for cruises were also upgraded! Upon arrival at the southern tip of the South Island, the Monowai would enter the sublimely beautiful 'Marlborough Sounds' where she remained for the night and in the evening there would be a special welcome aboard diner and party. Departing again early in the morning, the Monowai would be at sea all day sailing south along the eastern coast of the South Island, giving passengers a full day to enjoy the comforts of the ship and its many features and entertainment, etc. Early evening she would arrive at 'Port Chalmers,' being the port of 'Dunedin,' the only city visited during this cruise, where passengers were able to spend some time ashore. At 11.59 pm the ship would depart and sail overnight through 'Foveaux Strait,' for a morning arrival at 'Dusky Sound' along the west coast, and having visited 'Dusky Sound' the Monowai proceeded through 'Acheron Passage' between 'Resolution Island' and the mainland, and then sail into 'Breaksea Sound,' and then return into the 'Tasman Sea' once again and continued north. The visit would be to the famed 'Doubtful Sound' and then she would head down 'Thompson Sound' inshore of 'Secretary Island' before returning to the open sea. The next visit was indeed the main feature of the cruise being a visit to 'Milford Sounds.' She would arrive at the majestic, but very narrow entry to 'Milford Sound' where the Monowai would sail deep into the sound, with grandiose views of snow capped mountains high up on the north side and looking east (inland). The ship would continue down the sound, and pass the famous and spectacular "Mitre Peak" and continue further ahead until she would have slowly sailed quite close the famed 'Bowen Falls' on the north side of the sound, and only then she would make a complete turn around and slowly sail through 'Milford Sound,' back to the Tasman Sea.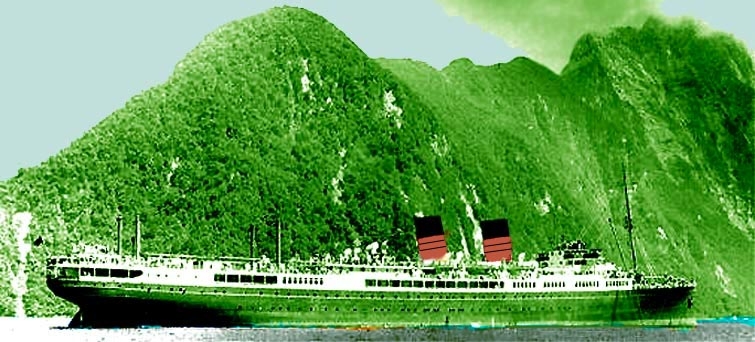 A colourised photograph of the Monowai seen just off Mitre Peak
Colourisation by the author of ssMaritime.com - Reuben Goossens
The circumnavigation of the South Island would be completed with the voyage up the West coast and round 'Cape Farewell' and she would drop anchor at 'Tennyson Inlet', 'Pelorous Sound', for the Grand Farewell Dance and party on the final evening onboard. Early next morning the TSS Monowai return to Wellington, and passengers would quickly disembark, and she would be made ready for her next voyage, sailing her next return Trans-Tasman voyage.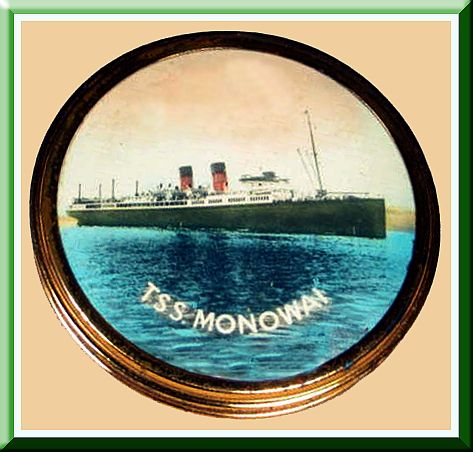 This a Monowai 1950s ladies powder compact being a typical souvenir was purchased aboard during a cruise
The 1957 cruise I have detailed above was only the third ever cruise she had undertaken to Milford Sound since the 1930's, thus proving that cruises were far and few between, for principally she was a fulltime Trans-Tasman liner!
1957 also had its Problems:
Having long returned to service and she was struck by further problems, when on April 11, 1957, just prior to her departure all passengers were provided with newspapers that stated "The Monowai's crew refuses to man the ship." Thus the USSCo were forced to withdraw the ship for the time being, which cost them a fortune in lost revenue! When she did return to service, it became obvious that passenger numbers were declining, due to various reasons, including the new fad of air travel across the Tasman.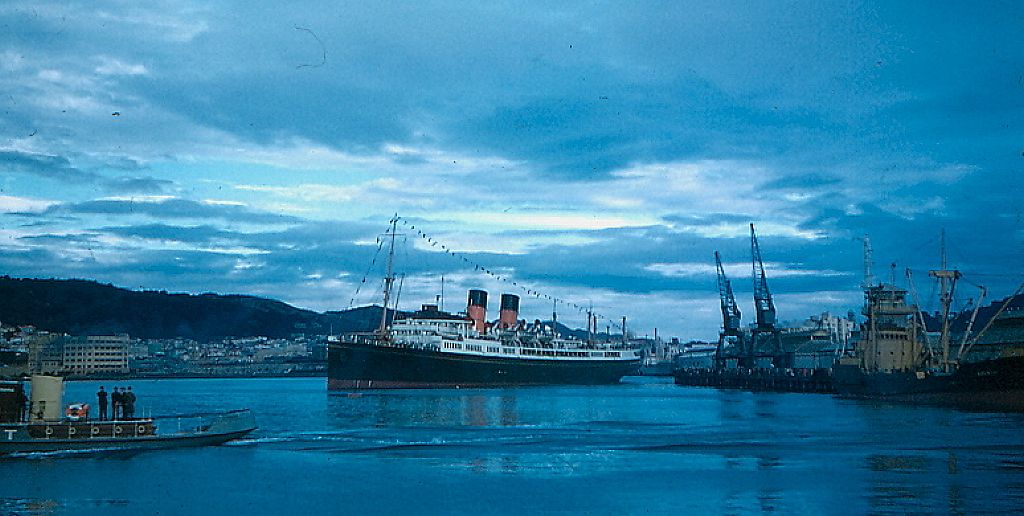 A delightful photograph of the Monowai in colour seen in Wellington Harbour
Image from an unknown source – Please see photo notes at the bottom of the page
However, the company decided to improve the ship with an extensive refit rather than worry about the passenger numbers and entice passengers back to this popular ship. It worked quite well, as by 1959 passenger occupancy was at least 85%, which was well above the profit level. However, better still during the summer months she was booked out and always had a waiting list!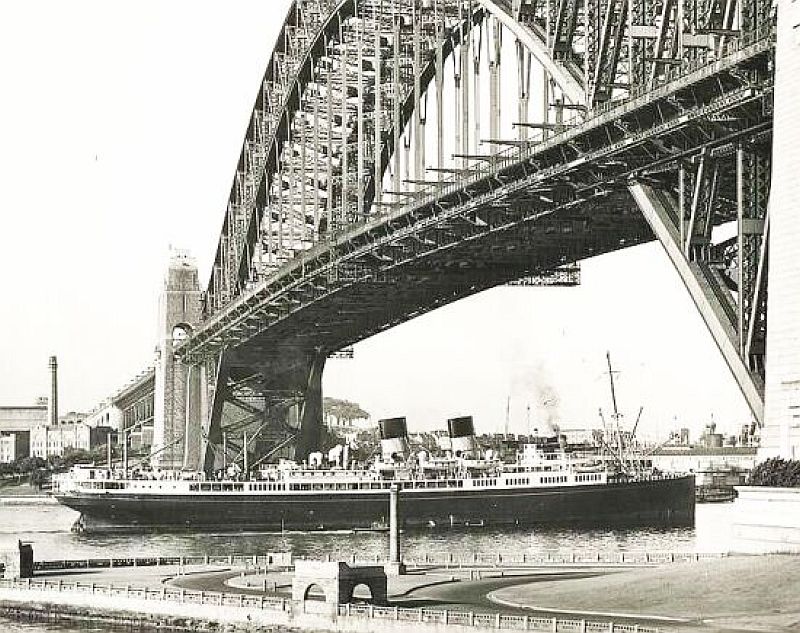 The Monowai is seen arriving in Sydney and going under the famed Sydney "Coat hanger" Harbour Bridge!
Yet in spite of all this, it was becoming obvious that there was no real future in passenger shipping across the Tasman, and the good old Monowai was surely showing her age at 35 years, which was at least 15 to 18 years longer than most ships of those days would sail. Also her engines were costing more and more to run and maintain, thus the profit margins were changing by the day. Thus on November 11, 1959, the Union Steam Ship Company in Wellington decided that she would be withdrawn at the end of May 1960. Strangely enough I would be working with the company several months later and she was still one of the main subjects of discussions among the staff, who just loved the old girl! Of course prior to that I had been on board a good number of times and knew her well!
She departed Sydney on Friday May 29, 1960, and the shores from Darling Harbour to Sydney Heads were covered with throngs of people bidding the old girl farewell, ships in port sounded their horns and sirens in salute to a fine ship!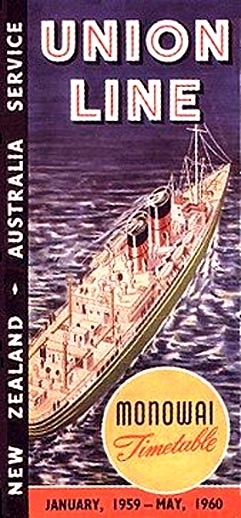 The very last timetable ever printed for the TSS Monowai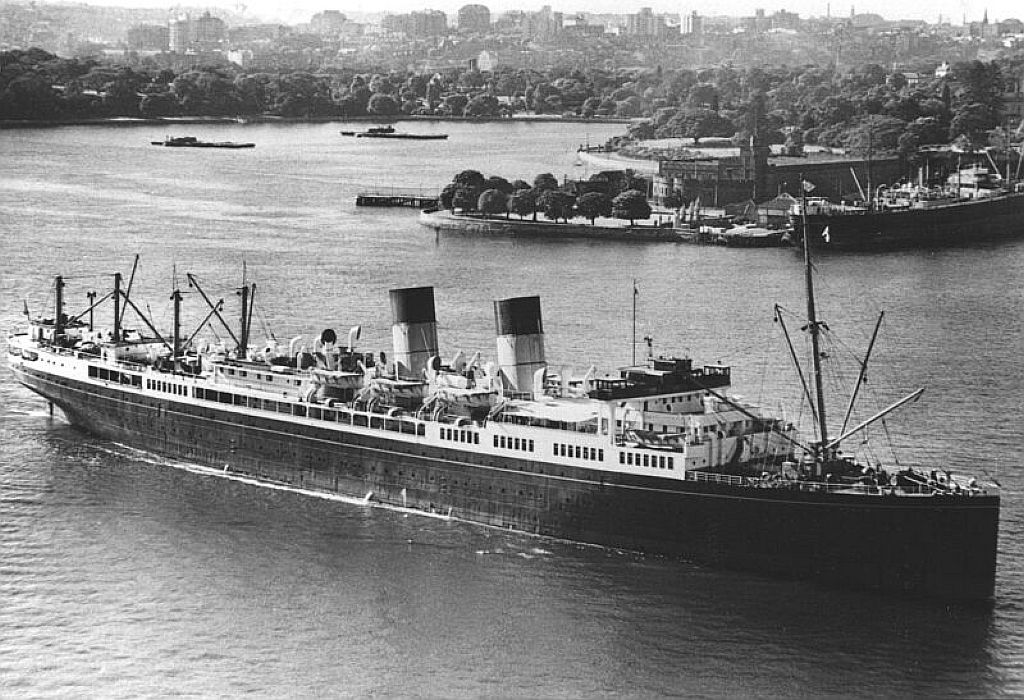 The Monowai, lovingly known as the "Grand Old lady of the Tasman"
is seen departing Sydney on May 27, 1960 for the last time
Image from an unknown source – Please see photo notes at the bottom of the page
She sailed across the Tasman for Auckland where she arrived on Tuesday May 31, 1960 and she departed two days later on Thursday June 2 for an 18 day South Pacific cruise, visiting ports such as Fiji, Samoa and Tonga, ports were she was already well known, but in her earlier guise, when she was sailing on her Trans-Pacific voyages in the early 1930s. She returned to Auckland on Sunday June 19 and her final paying passengers with great sadness disembarked!
That afternoon and into the evening a special farewell reunion was held for her wartime crewmembers on board, and it was a very special occasion for everyone! Then at 10 PM, The TSS Monowai departed and she headed for Wellington slowly sailing via the East Coast of the North Island, arriving at Clyde Quay Wharf in Wellington on Sunday June 22. Over the next few days slowly all-important items were taken from the ship, and she was almost stripped of all her belongings. When finished Captain Young, who was in command at the time left the ship, and so did the crew who were paid off as per custom. The very last person to leave the Monowai was her carpenter W. Hendry, as he had joined the Monowai in 1949.
The Monowai had already been sold to the Far East Metal Industries and Shipping Company of Hong Kong, whose intension was to have her broken up. However, once the ship had been signed over, she remained at her wharf for six and a half weeks, then finally on Monday August 15, 1960 her engines were firing up and smoke emerged from he funnels and she was ready for departure. She had British Hong Kong based captain and officers and some 50 Chinese and European crewmembers. I recall, it was one of those typical Wellington days, windy (a northwesterly) and wet, as I watched her lines go at 1500 hours (3 PM). I recall many of her past crew were watching her go and they removed their hats looking rather sombre, as was I, for she had been a stalwart of the Union Steamship Company and I worked for the company at the time.
Then. as she moved slowly away from the wharf she sounded three short blasts from her steam horn and this was answered by every single ship and vessel that was in Wellington Harbour. As she steamed away and round the Harbour, she was making black smoke and she slowly disappeared as she turned to starboard heading out through the entrance.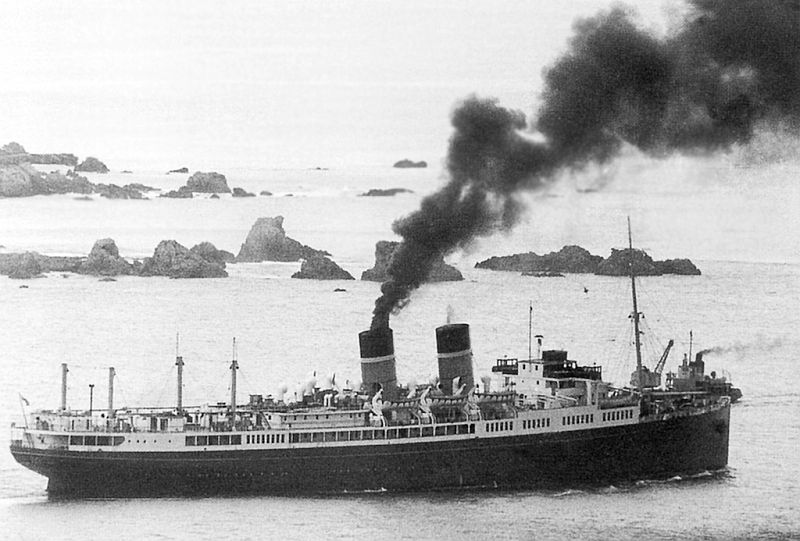 The sad departure that I witnessed from wharf level on Monday August 15, 1960
Photo obtained from the NZ "Dominion Post" in 1960, and has long been part of private my collection
Once the Monowai had sailed through Wellington's "Entrance" she would then sail westward into the Tasman Sea for her final voyage to Australia as she was heading for my future home port of Brisbane where she would bunker, taking on fuel, She arrived in Brisbane on Saturday August 20, and as soon as bunkering had been completed she departed and sailed north heading directly for Hong Kong.
Sadly it would be within just three and a half short weeks that her engines would be shut down and recorded as being "Finished with Engines." The neat and tidy looking ship, with her paintwork being close to perfection, the  new white line around her funnel between the red and black tops looked just fine, in fact she looked more like she was about to commence a brand new cruise service.
But, sadly that was not the case, for the Thirty Six year old TSS Monowai arrived at the Hong Kong ship breakers on September 13, 1960, and as they were finished with her engines, the captain on the Bridge rung "Finished with Engines" for the very last time, and breaking up of the ship commenced almost immediately.
Specifications:
SS Razmak:
Built:                            Harland & Wolff Shipyards, Greenock, Scotland.
Yard:                             659.
Laid Down:                    1923.
Launched:                      October 16, 1924.
Tonnage:                       10,602 GRT / After a 1928 refit 10,852 GRT.
Length:                         158.2m / 519ft.
Breadth:                        19m / 62.3ft.
Draught:                        7.9m / 26ft.
Engines:                        Combination quadruple expansion engines by her builder, but in Belfast.
Screws:                         Two.
Service speed:                18 Knots.
Maiden Voyage:              March 13, 1925.
Passengers:                    142 First Class, 142 Second Class and 108 in Steerage.
Laid Up:                        July 18, 1930.
Modifications:                 Bauar-Wach low-pressure dble reduction exhaust turbines to each of her reciprocating engines IPH -                                 14,740.
Speed:                          19 knots.
Departure:                     October 3, 1930.
TSS Monowai:              "Grand Old lady of the Tasman"
Tonnage:                       10,852 GRT / 11,037 GRT from 1949.
Engines:                        Combination quadruple expansion steam engines, & Bauar-Wach low pressure turbines IPH 14,740.
Screws:                         Two.
Service speed:                19 Knots.
Maiden voyage:              December 2, 1930 from Wellington, via Sydney to the USA and back.
Service:                         1930-1932: Trans-Pacific service.
.                                   The balance of her passenger career: Trans Tasman service & the occasional Pacific cruise.
Wartime duties:              HMNZS Monowai from October 21, 1939 to June 18, 1943, when she became the HMS Monowai.
Decommissioned:           August 29, 1946 – Refitted in Sydney completed in 1949.
Passengers:                    280 First Class, 203 Second Class until 1939.
Passengers:                    181 First Class, 205 Cabin (Tourist) Class from 1949.
Crew:                            180.
Passenger Decks:            Five.
Headed for the breakers:  August 15, 1960 sailing via Brisbane, Australia to Hong Kong.
Arrived Hong Kong:         September 13, 1960 to be broken up.
Memories of a much-loved Kiwi Liner the …
TSS Monowai
"Grand Old Lady of the Tasman"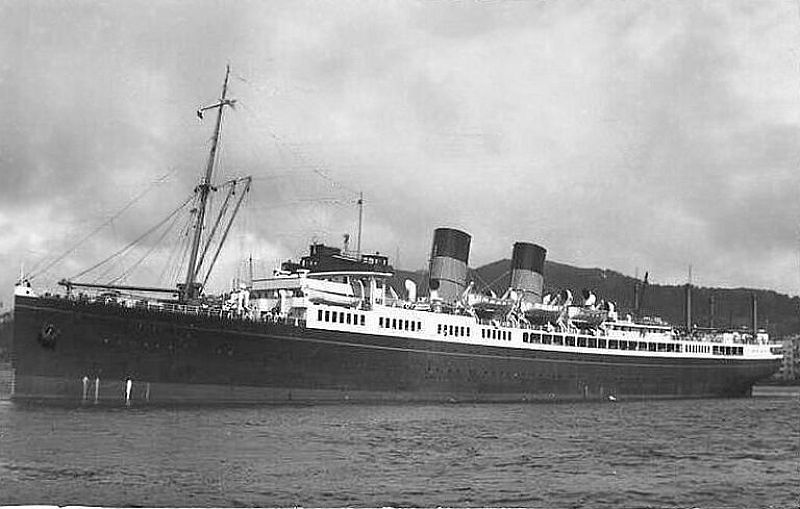 With thanks to the Ian J. Farquhar collection
Above: The popular New Zealand Liner – T.S.S. Monowai seen in Wellington Harbour in then 1950's
Below: An excellent stern view of the T.S.S. Monowai seen toward her final days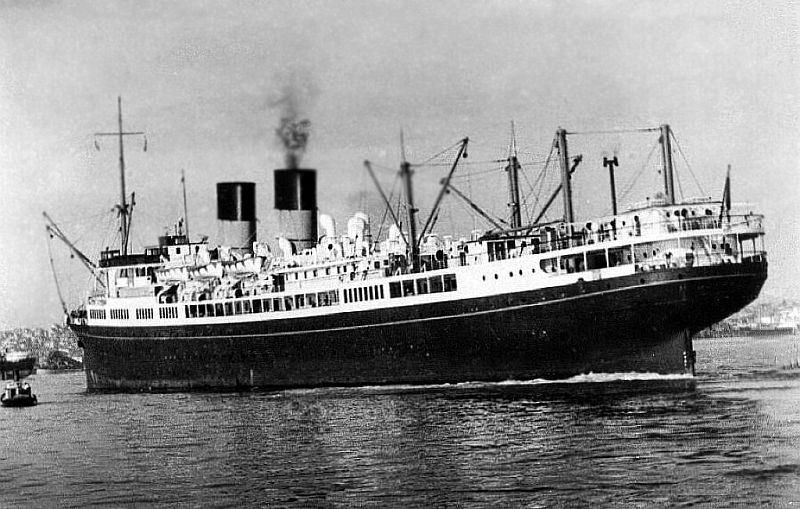 Image from an unknown source – Please see photo notes at the bottom of the page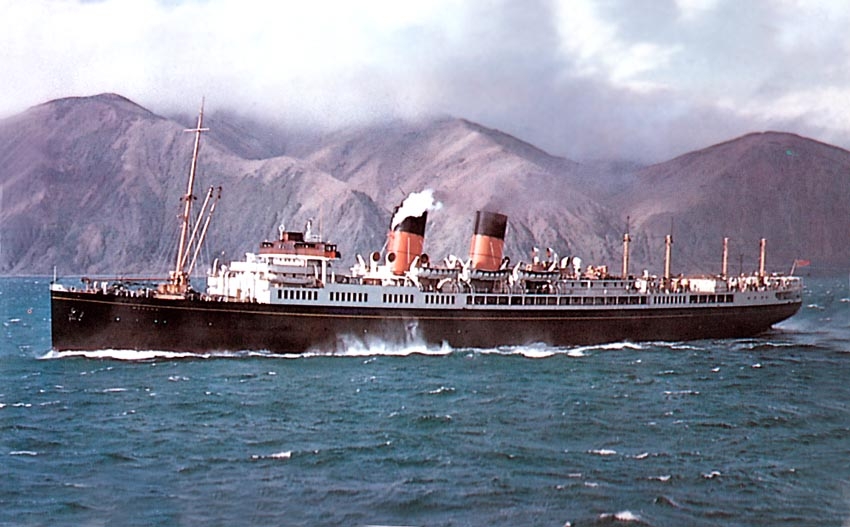 This fine photograph was taken, whilst she sailed from Auckland to Wellington on June 21, 1960

This was her very last voyage for the Union Steamship Company, as she had already been sold

Photograph released by the Union Steamship company, Wellington in the late 1950's

***********************************

Also view other USSCo Passenger Ships online, from oldest to the last ever built

SS Waitaki / SS Moeraki & Manuka / SS Marama & Maheno / SS Tofua

RMS Aorangi / TSS Monowai / TSS Awatea / MV Matua & MV Tofua

***********************************

Use the Back button on your browser or Close the Page to return to the previous page
or go to our ssMaritime INDEX

ENTER OUR ssMaritime Main INDEX

Where you will discover over 1,350 Classic Passenger & Passenger-Cargo Liners!

ssMaritime.com & ssMaritime.net

Where the ships of the past make history & the 1914 built MV Doulos Story

Photographs on ssmaritime and associate pages are by the author or from the author's private collection. In addition there are some images that have been provided by Shipping Companies and private photographers or collectors. Credit is given to all contributors. However, there are some photographs provided to me without details regarding the photographer/owner concerned. I hereby invite if owners of these images would be so kind to make them-selves known to me (my email address may be found only on www.ssmaritime.com), in order that due credit may be given.

This notice covers all pages, although, and I have done my best to ensure that all photographs are duly credited and that this notice is displayed on each page, that is, when a page is updated! A Special thanks to http://navymuseum.co.nz/.

ssMaritime

is owned and © Copyright by Reuben Goossens - All Rights Reserved