KNSM - S.S. Cottica 1927to 1958
Please Note: Firefox and some other search engines are not suitable
Use Google Chrome for this web page to load perfectly!

Click the logo above to reach the ssMaritime FrontPage for Ships of the Month & News Updates
With Reuben Goossens
Maritime Historian, Cruise'n'Ship Reviewer, Author & Lecturer
Please Note: All ssmaritime as well as my other related maritime & cruise sites are 100% non-commercial and privately owned sites. Be assured that I am NOT associated with any shipping or cruise companies or agencies or any other organisations! The author has been in the passenger shipping industry since May 1960, but although retired and unwell, I occasionally attempt to write an article now and then, in order to bring enjoyment and pleasure to ship enthusiasts past passengers and crew.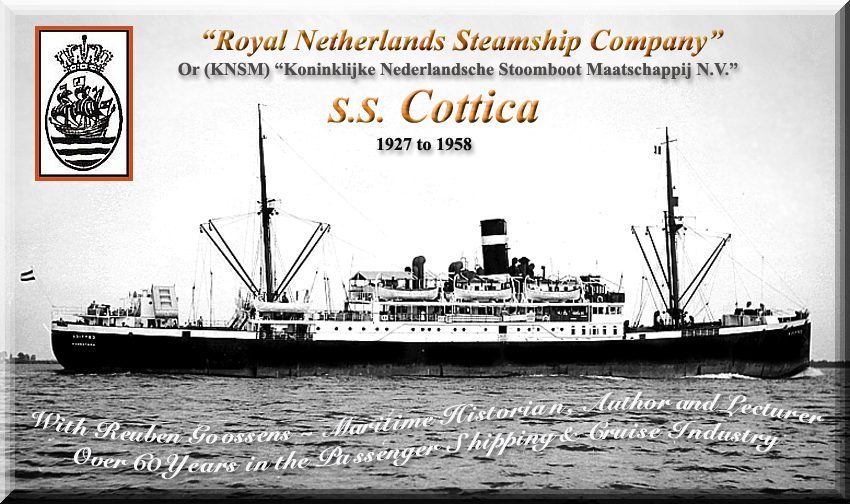 Photographs are provided by the Author, unless noted otherwise, those that are unknown, please see the photo notes at the bottom of the page.
Construction to Completion:
In the mid-1920s the Koninklijke Nederlandsche Stoomboot Maatschappij (KNSM) commenced to renew their fleet for its passenger-cargo service on the Dutch Suriname and U.S. service, as companies in Germany, France and other countries were already building new and better ships.
Thus in September 1926, an order for the construction of a new ship was placed with "P. Smit Jr. N.V.", Shipyards in Rotterdam, Netherlands. Her hull was soon laid down in Yard N° 410 and she was launched and christened "Cottica" on April 30, 1927. She was named "Cottica" being a river in Dutch Suriname. Having been launched, she headed for her fit-out berth where she was completed, and in early September 1927 she undertook her first speed trials in the North Sea, which she did successfully, achieving a maximum speed of just over 12 knots.
Her Maiden Voyage:
She was delivered to her owners in Amsterdam on September 15, 1927, and several weeks later having been fully manned with her 78 crew, and fully stored, she departed for her maiden voyage having been fully booked out.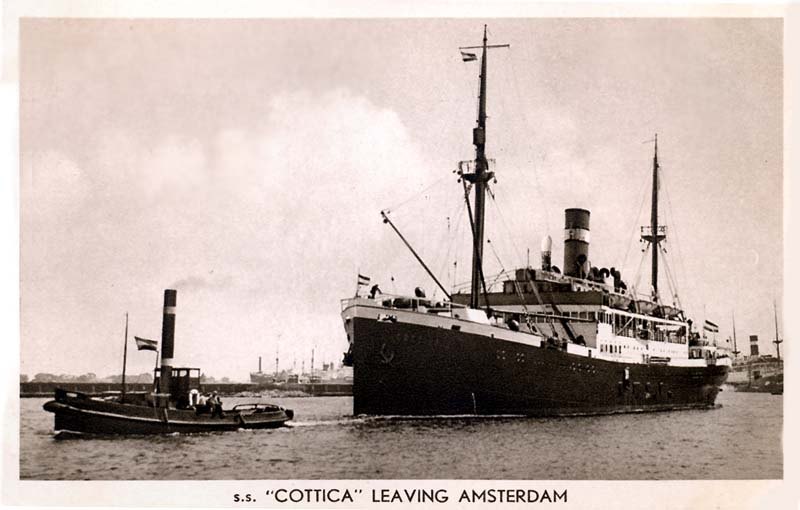 A postcard of the 3,989 GRT - S.S. Cottica departing Amsterdam for her long voyage to the Suriname and the U.S.A.
(GRT is Gross Registered Ton)
Although her schedule may well have been varied, the only one I have been able to obtain was one dated "Sailings October 1935 to May 1936" and that service was as follows:
From Amsterdam, Dover, Madeira, Paramaribo, Demerara, Trinidad, Carupano, Pampatar, Puerto Sucre (Cumaná), Guanta, La Guaira, Curaçao, Port au Prince to New York.
Return service being:
Fom New York, Port au Prince, Curaçao, Puerto Cabello, La Guaira, Guanta, Puerto Sucre, Pampatar, Carupano, Trinidad, Demerara, Paramaribo, Madeira, Plymouth, Le Havre to Amsterdam.
Interiors:
The interior photographs below mostly hail from a KNSM brochure I own, and they are on view below.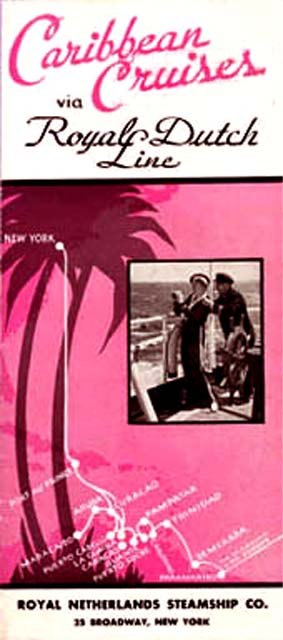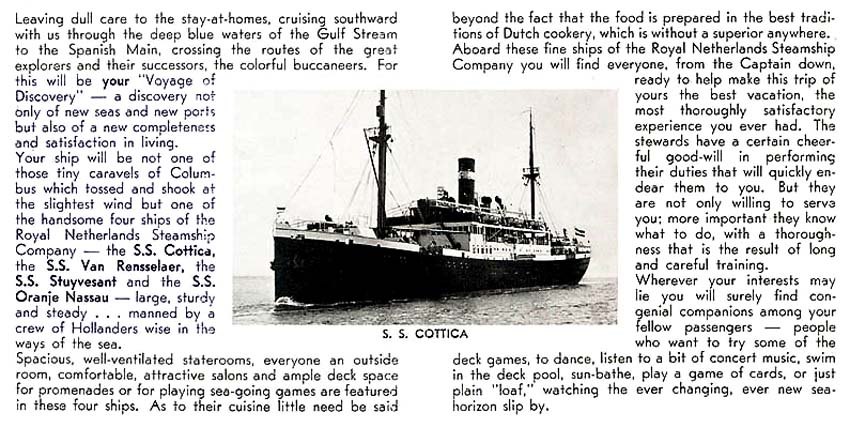 The S.S. Cottica certainly had most comfortable accommodations for her 88 First Class passengers offering excellent cabins, as well as spacious Lounge with a service Bar, which was located far forward on the Promenade Deck, with a Library and the Music Saloon aft within the superstructure, which was followed by the undercover outdoor Verandah Café aft. She had a spacious U shaped deck for passenger enjoyment, be it an early morning walk, deck sports, or relaxing in a deck chair with a good book, or a drink and there was also a Deck Swimming Pool aft.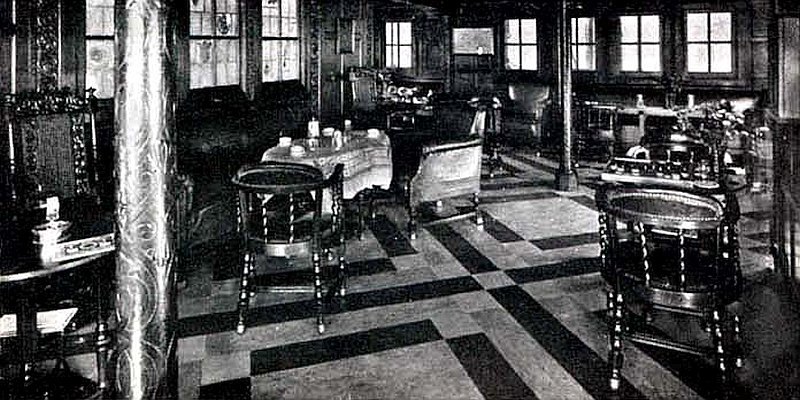 A cosy and a delightful Lounge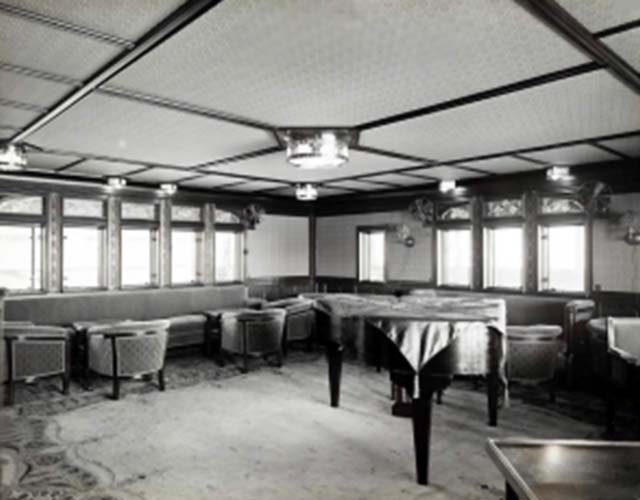 The Music Saloon was more contemporary in style
This photo was kindly provided by KNSM supporter Johannes van Staveren NL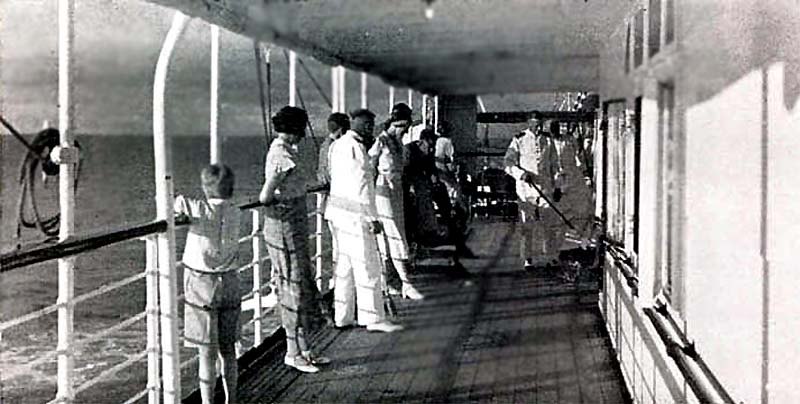 The Promenade Deck and it is time to place some deck games
Up on Boat Deck there was a spacious Sports Deck which was covered, protecting passengers from the blistering sun whilst sailing in the hot weather.
The whilst the ships magnificently timbered walled Dinning Room was located forward on A Deck, with most of this deck also containing the First Class accommodations.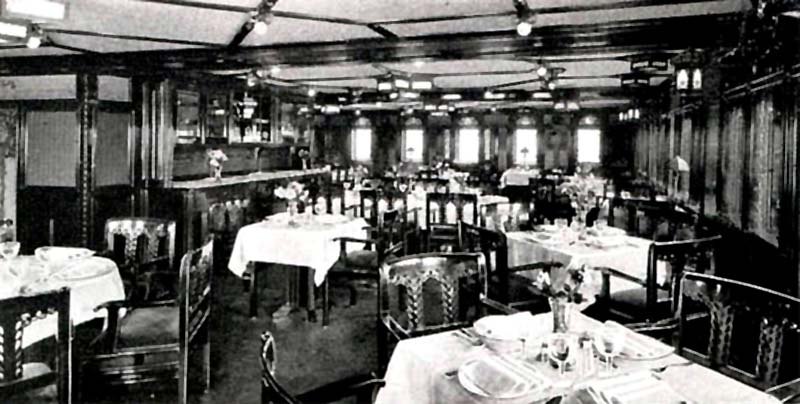 A superbly styled Dinning Room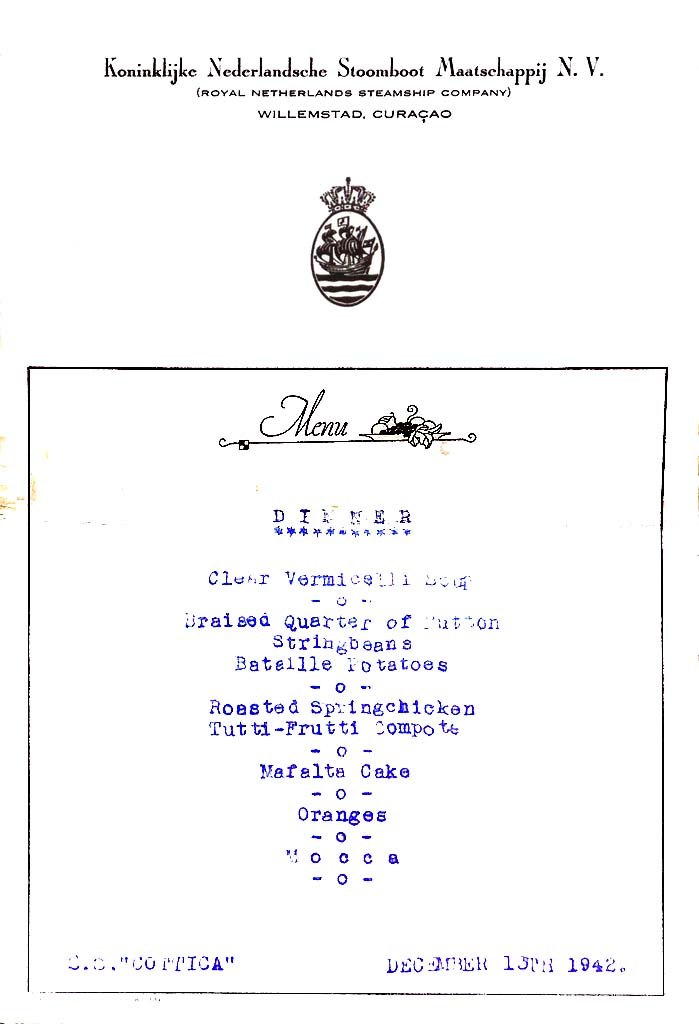 A wartime Diner Menu dated December 13, 1942
The Menu was kindly provided by Marc Stegeman of Amsterdam, as a number of his family were crew on the Cottica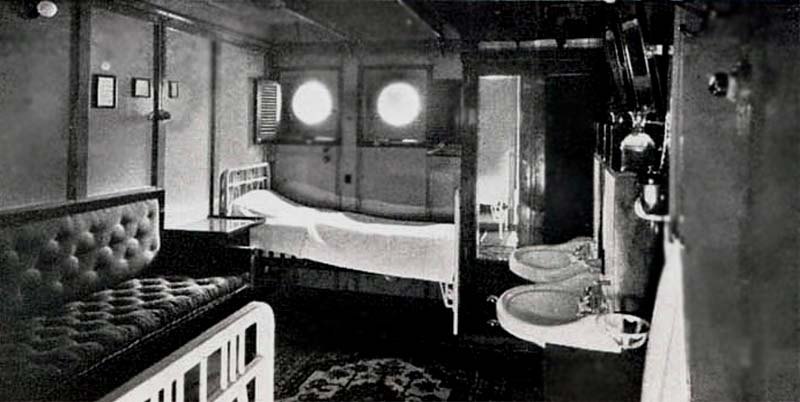 A two berth cabin complete with a large sofa
However far aft there was the Tourist Class Deck Saloon, whilst their Dinning Room and accommodations where located on B Deck. From what I have read, there would not have been much more than 50 passengers, although it is reported that she transported 55 between Jamaica and Paramaribo in 1943. Sadly I have little to no further details regarding Tourist Class, but it carried mostly migrants.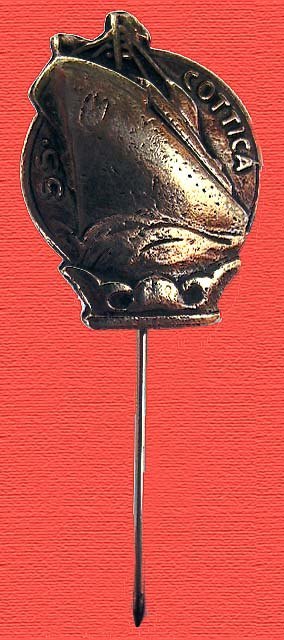 A "Cottica Pin", which was obtained onboard by winning a sports tournament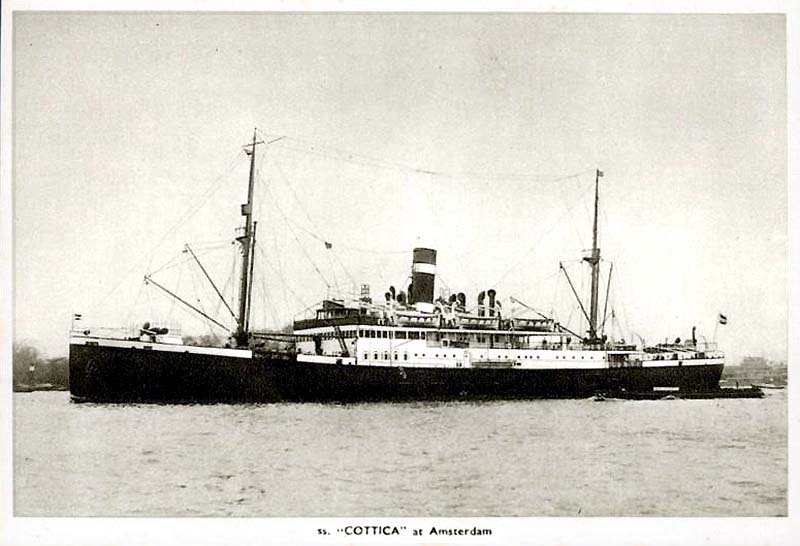 Another postcard of the S.S. Cottica during her early days
WW2 - Migrants and Jewish Refugees:
Prior to World War 2, she carried many European migrants to various Caribbean Islands, as well as the United States. Considering the Netherlands had always treated the Jewish people as simply part of their population, there was a notable event in 1943, when the S.S. Cottica took onboard 55 Jewish refugees from Jamaica and transported them in complete First Class comfort to Paramaribo for things had become far too dangerous in Jamaica for them, but more about this later.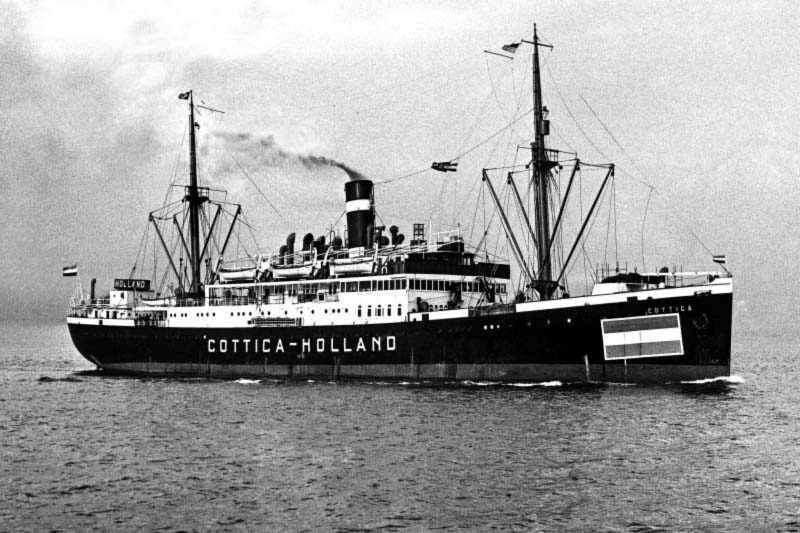 The S.S. Cottica is seen about to arrive in New York on October 17, 1939
You will note that she has COTTICA - HOLLAND painted on her hull, as well as the Dutch Flag on her bow, this is to show that she is from the Netherlands which is officially a "Neutral Country", however the Germans still invade the Netherlands and bombed and flattened the giant harbour city of Rotterdam!
The story below of an unknown Dutchman was sent to me by a Dutch supporter, Johannes van Staveren. The person who wrote the story was obviously on the Cottica as seen in the photograph above.
"I Departed Amsterdam in September 1939 on the KNSM ship S.S. Cottica and sailed to Willemstad in Curacao. Then, in 1941 I joined the Dutch Navy in Curacao, and then I went to the West Indies where I was trained. I was then transferred to the H.M.S. Van Kinsbergen and we patrolled in the Atlantic with the convoys travelling from America to England. In 1942, I volunteered to serve in Dover, England, on the Motor Torpedo Boats (MTB's). I then returned to Curacao for comprehensive training on MTB's, which took six months, after which I served Motor Torpedo Boat 235 and several other MTB's for eighteen months, torpedoing German cargo ships, etc, but it all commenced with my voyage on that wonderful ship the Cottica". (Sadly, the author is unknown).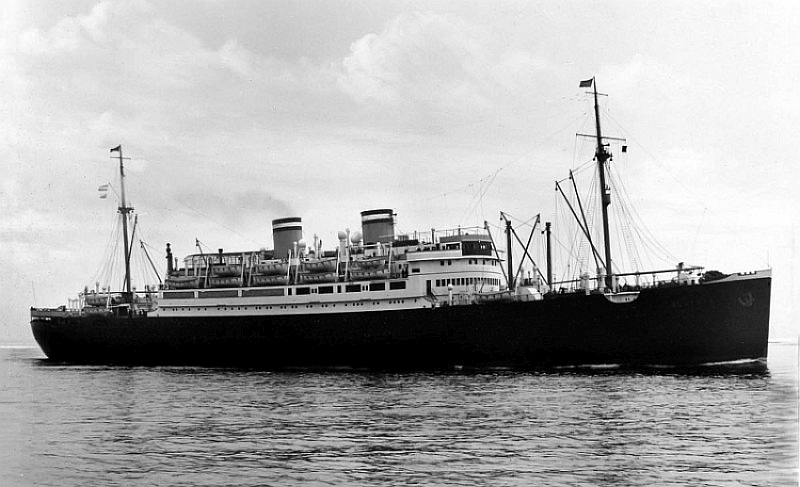 The Hamburg American Line Liner, M.S. St Louis
Of course many of us may well remember the story of that German liner the 16,732 GRT, M.S. St Louis that arrived later in Jamaica with 937 Jewish refugees, but the evil pro Nazi Jamaican Government refused them entry, even though all passengers had been given visas by the Germans, and they thus they were sent back to Germany. Although the wonderful German Captain Gustav Schröder who was a good and honest man, did everything in his power to find safe havens for his passengers, but the racist governments of the United States, and Britain flatly refused to take a single one of these poor refugees. The ship reached a safe Europe port and it was only the Netherlands, Belgium and France who took in those who decided to go there. A few did manage to get into England. Tragically many of the Jewish passengers did not survive, for those who disembarked in Europe, the three countries mentioned were invaded by Nazi Germany and in due course the vast majority of the Jewish people where transported to death camps in Eastern Europe, and over 600 of the 937 passengers on the St Louis lost their lives in those evil Nazi concentration death camps such as Auschwitz, as well as in several other concentration camps.
Visit the T/v Irpinia story, which was used in the Movie "Voyage of the Damned" as the German liner M.S. St Louis.
There is also a link on that page to view the full movie!
Enter: T/v Campana-Irpinia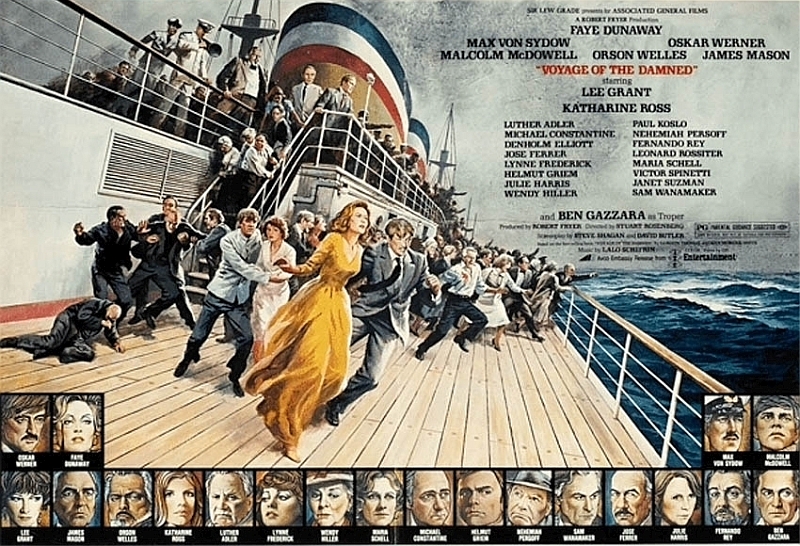 Island Nations Soldiers:
It is also worthy to mention, that during the war the S.S. Cottica as well as other KNSM ships transported countless soldiers from various Island Nations, such as Suriname and Curaçao to England, and without doubt these men fought bravely in Europe against the Nazis!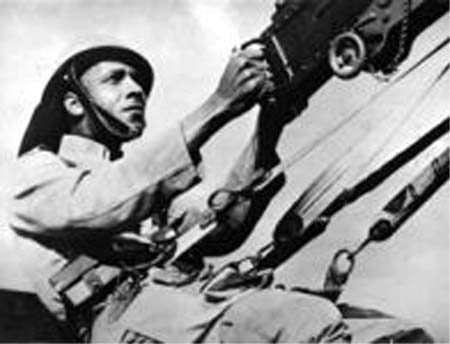 A soldier from the Suriname is seen above operating as a Gunner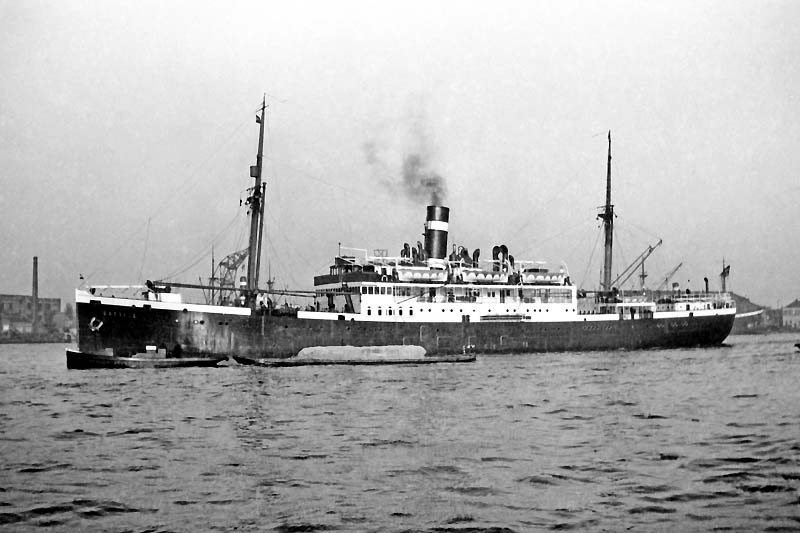 A final photo of the S.S. Cottica seen as built with just six lifeboats
In 1946, the Cottica was renovated to become an all First Class ship, which saw the both the Lounge and the Dining Room somewhat enlarged, and the Tourist Class Deck Saloon became a partially enclosed kindergarten. She now accommodated 119 First Class only passengers.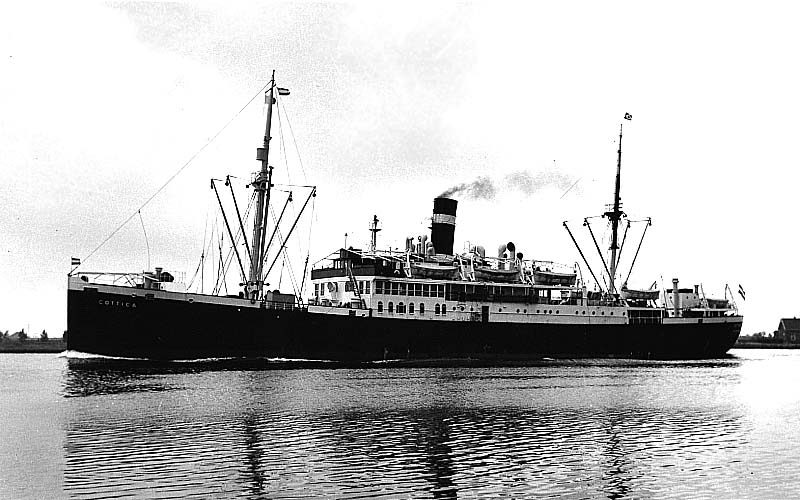 Here we see the upgraded Cottica with anew aft section as well as two new lifeboats added aft.
S.S. Cottica's Specifications and Details.
Shipbuilder:                     P. Smit Jr. NV Shipyards, Rotterdam, the Netherlands.
Yard number:                   410.
Launch Date:                   April 30, 1927.
Delivery Date:                  September 15, 1927.
Ships Name:                    Cottica.
Owner:                            Koninklijke Nederlandsche Stoomboot-Maatschappij NV, Amsterdam the Netherlands.
Managed by:                    The owner.
Homeport - Flag:              Amsterdam - Netherlands.
IMO number:                   5606564.
Call signs:                       NLRB - PDMR in 1934.
Category:                        Passenger-Cargo Ship.
Engine Manufacturer:        By the ship builder.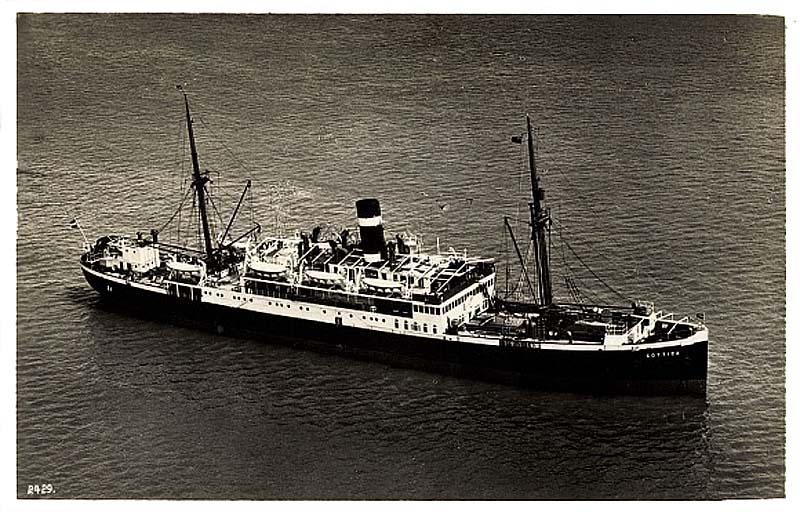 A postcard with an aerial view of the Cottica
Engine Type:                    Steam triple expansion.
Cylinders:                        3.
Power:                            1,750 HP.
Speed:                            11.5 knots, 12 knots maximum.
Screws:                           1.
Length 1:                        96.09 m length overall (Loa).
Length 2:                        94.59 m length between perpendiculars (Lbp).
Beam:                             14.39 m registered.
Draught:                         8.36 m registered
Gross Tonnage:                3,989 GRT.
Net Tonnage:                   2,312 NET.
DWT:                              3,905 DWT.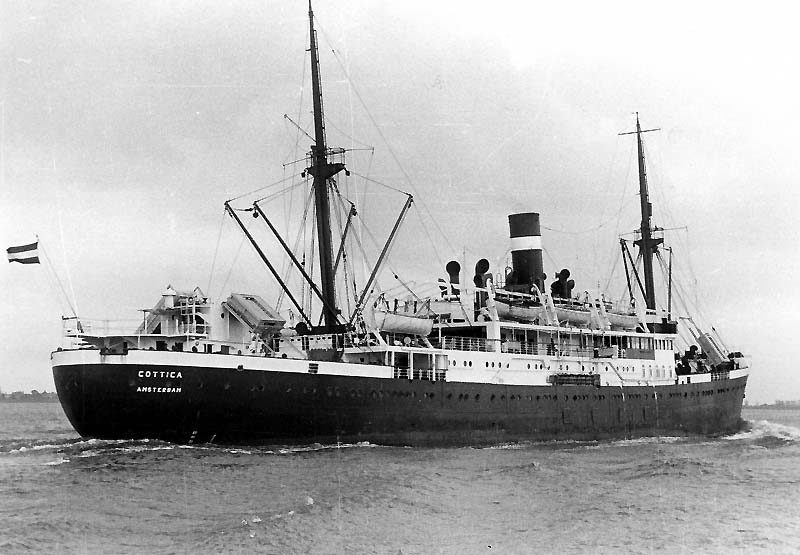 A fine stern view of the S.S. Cottica
Passengers:                     88 First Class.
.                                     Tourist Class, unknown number of passengers.
1946:                              119 First Class.
Crew:                              78
Grain:                             153,380 Cubic Feet.
Bales:                             140,190 Cubic Feet.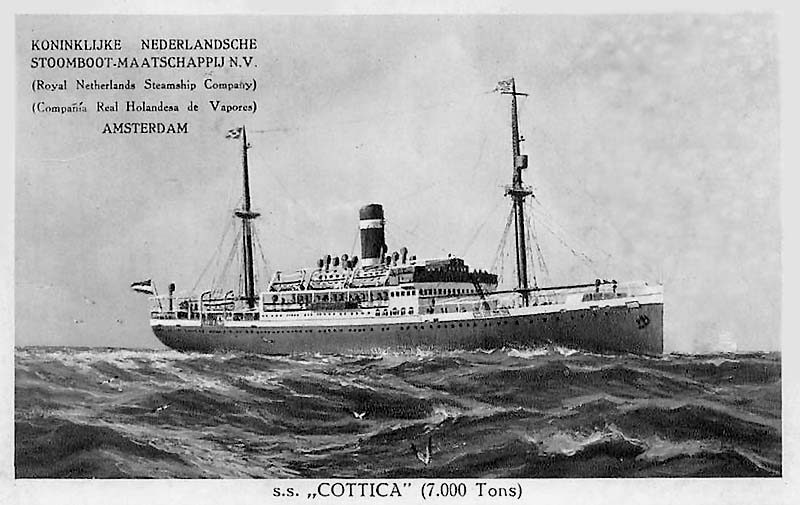 A wonderful postcard of the Cottica
S.S.

Cottica's Final Days:
She was laid up at Amsterdam on April 29, 1958, later the Cottica was sold a ship breaker "Frans Rijsdijk" at Hendrik Ido Ambacht, and she was towed November 6, to the breakers yard. Breaking up of the S.S. Cottica commenced in November 1958.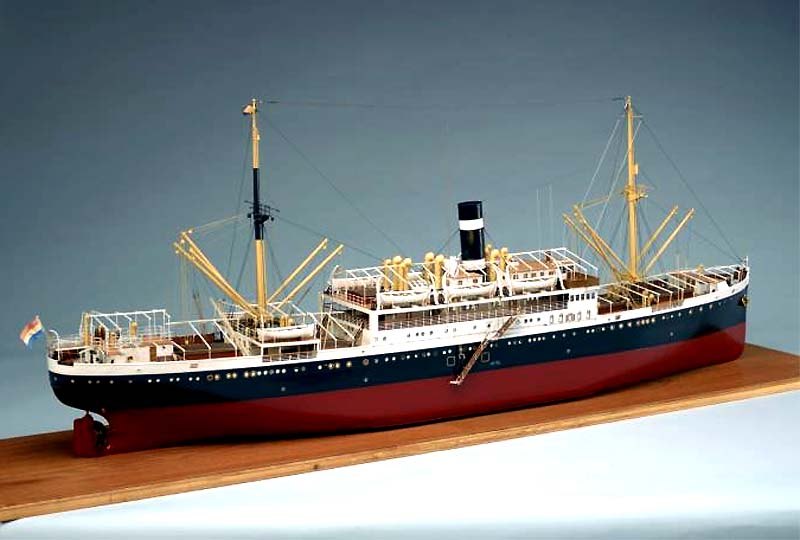 A magnificent model of the S.S. Cottica
This image was kindly provided by Johannes van Staveren NL
Remembering the KNSM Liner, S.S. Cottica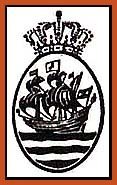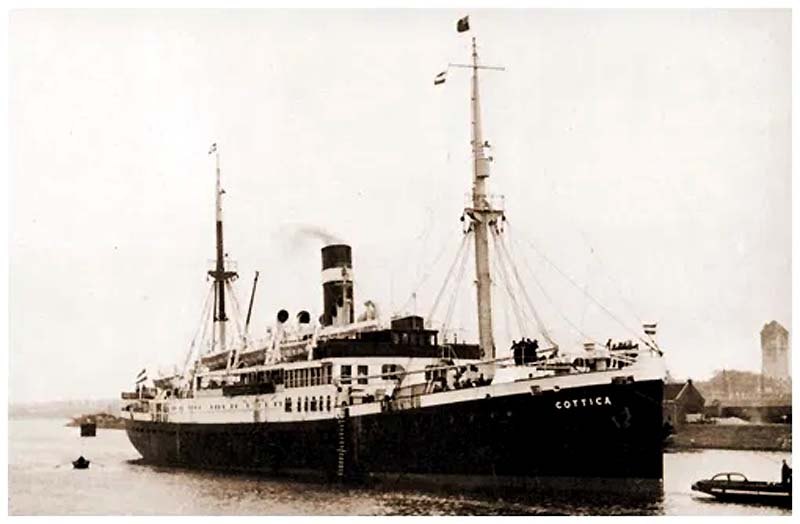 She was an intimate but a delightful small liner serving the Caribbean Islands & the USA
Also visit the KNSM 1930 flagship MS Colombia
Also the MS Oranje Nassau & Prins Der Nederlanden of 1957
And the 35 KNSM-Passenger-Freighters
***********************************
 "Blue Water Liners sailing to the distant shores.
I watched them come, I watched them go and I watched them die."
Return to the ssMaritime MAIN INDEX
ssMaritime.com & ssMaritime.net
Where you will discover over 1,358 Classic Liners & the 1914 built MV Doulos Story
The Author has been in Passenger Shipping & the Cruise Industry for a good 60 years!
Please Note: ssmaritime and associated sites are 100% non-commercial and the author never seeks any funding or favours of any shape or form, never have and never will!
Photographs on ssmaritime and associate pages are: by the author or from the author's private collection. In addition there are some images that have been provided by Shipping Companies and private photographers or collectors. Credit is given to all contributors. However, there are some photographs provided to me without details regarding the photographer/owner concerned. I hereby invite if owners of these images would be so kind to make them-selves known to me (my email address may be found on www.ssmaritime.com only), in order that due credit may be given.
This notice covers all pages: although, and I have done my best to ensure that all photographs are duly credited and that this notice is displaced on each page, that is, when a page is updated!
ssMaritime is owned & © Copyright by Reuben Goossens - All Rights Reserved