Please Note: Firefox and some other search engines are not suitable – Use "Internet Explorer" for this page to load perfectly!

Click the logo above to reach the ssMaritime FrontPage for News Updates & "Ship of the Month"
With Reuben Goossens
Maritime Historian, Cruise'n'Ship Reviewer, Author & Maritime Lecturer
Please Note: All ssMaritime and other related maritime/cruise sites are 100% non-commercial and privately owned. Be assured that I am NOT associated with any shipping or cruise companies or any travel/cruise agencies or any other organisations! Although the author has been in the passenger shipping industry since 1960, although is now retired but having completed around 680 Classic Liners and Cargo-Passengers Ships features I trust these will continue to provide classic ship enthusiasts the information the are seeking, but above all a great deal of pleasure! Reuben Goossens.
TSS

Empress of Canada
TSS Mardi Gras / Star of Texas / Lucky Star / Apollo / Apollon
Page One - Her History
In 1958, Canadian Pacific Steamships Ltd placed an order with Vickers-Armstrong's of Newcastle for the Empress of Canada. Her keel was laid in January 1959, in yard 171. She was launched on May 10, 1960, with her trails taking place on March 7, 1961, and was delivered to Canadian Pacific on March 29.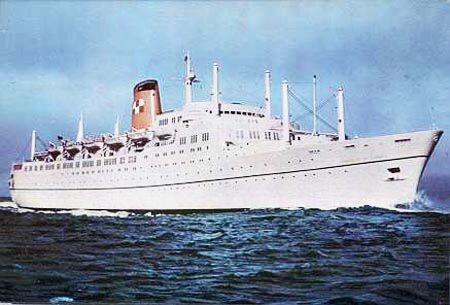 Empress of Canada showing her long sleek lines
On April 24, 1961, she departed on her maiden voyage from Liverpool to Canada. Due to air travel becoming the preferred means of travel, Canadian Pacific decided to operate her only during the summer months, and for the rest of the year place her on cruise duties. Her first cruise was a Caribbean cruise, which departed New York in December 1961. With the number of summer Atlantic crossings reduced rapidly, until only seven crossings in 1969. In
1968 she received a bright new funnel design, which Carnival Cruise Lines would later use as their symbol, although somewhat revised.
After her 121st Atlantic crossing in November 1971, it was decided to place her on the market. At first Shaw Savill had thought to team her up with the Ocean Monarch, renaming her, Dominion Monarch. However, due to the drawn out conversion of Ocean Monarch, the plan was dropped.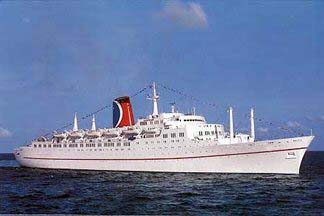 Carnival Postcard of the Mardi Gras
Empress of Canada was sold to Carnival Cruise Lines in February 1972, and was renamed the Mardi Gras. She was Carnival's first ship, and placed Carnival on a roller-coaster rime to success! Mardi Gras received extensive internal changes, however her external profile remained mostly unchanged. She departed Tilbury on February 26, 1972, for her Atlantic crossing to Miami. 1975 saw the Greek Line's Queen Anna Maria; built as the Canadian Pacific liner Empress of Britain, join the Mardi Gras.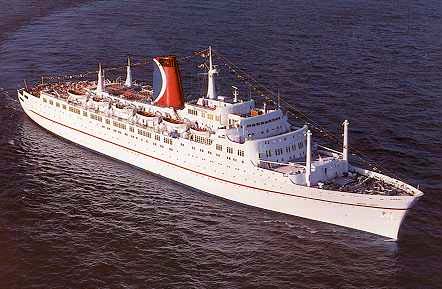 Carnival Postcard of the Mardi Gras
Carnival decided it needed new purpose-built tonnage, thus Mardi Gras was sold to Epirotiki in 1993, with the intention to rename her Olympic. However, she chartered to become a casino ship named Star of Texas and she cruised the Gulf of Mexico. In 1994, she became the Lucky Star, cruising out of Miami; thereafter she was named Apollon by Epirotiki.
In 1999, she was chartered to Direct Cruises for cruising out of the UK. Direct Cruises marketed her with the revised name of Apollo. Later, Direct Cruises was taken over by Airtours. Due to Direct cruises being cancelled in 2000, Apollo/Apollon returned to Greece and was laid up.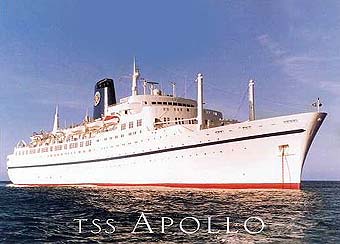 Apollo Post Card issued by Direct Cruises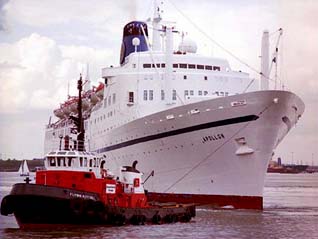 Apollon seen departing Southampton in April 1999
Photograph courtesy of the Seapix collection, NZ - © all rights reserved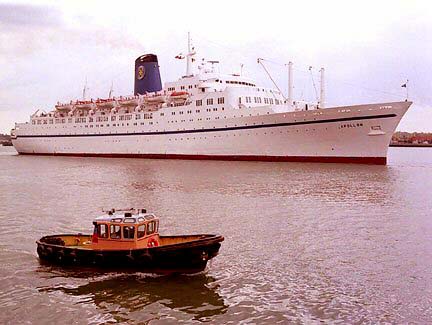 April 1999 -Apollon departs Southampton for another cruise
Photograph courtesy of the Seapix collection, NZ - © all rights reserved
In 2001, due to long delivery delays of Royal Olympic Cruises (ROC) new Olympic Explorer, the company decided to place Apollon back in service, operating her on 4 and 3-day cruises out of Piraeus. At this time, she received the traditional ROC dark blue hull. With her long sleek lines, she still looked very attractive, and was a well maintained ship!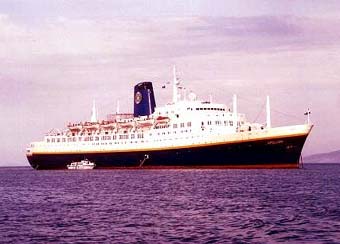 Seen as the Epirotiki Apollon
From mid 2003, CLIP (Cruise Liner Investment Plan) attempted to purchase Apollon from ROC, however, ROC continued to insist that she was not for sale. Then, without notice they sold her for scrap, not giving anyone the opportunity to purchase this magnificent ship. Considering ROC is now bankrupt, with their ships being sold off at action for little to nothing, all this author has to say is, Royal Olympia Cruises, "what goes around comes around." I for one have no pity for the decline of ROC!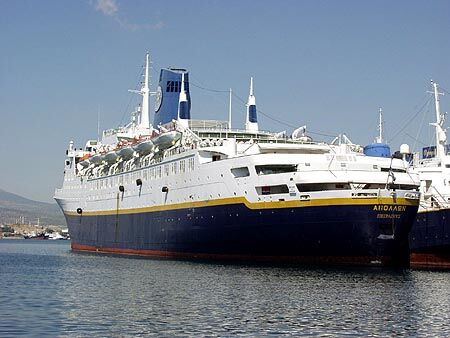 Apollon laid up at Eleusis Bay – October 2003 - just prior her departure for India
Photograph by the late Captain Yiorgos (George) Graikos
Apollon arrived at Alang India, December 26, 2003 to be broken up. Another magnificent ship is lost to the world.
Link to Photo Album is located below
Builder:                                Vickers-Armstrong's of Newcastle.
Tonnage:                              27,284 GRT / 9,551 DWT.
Length:                                650ft - 198.1m.
Beam:                                  86.6ft - 26.4.
Draft:                                   29ft - 8.38m.
Engines:                               Parson Geared Steam turbines.
                                           22,400 kW -30,000 SHP.
Screws:                                Twin.
Speed:                                 21 Knots (23 on trials).
Passengers:                          192 First Class.
                                           856 Tourist Class.
                                           650 One Class - Cruising.
Crew:                                   470.
Mardi Gras
Tonnage:                              27,284 GRT.
Passengers:                          950 one class - maximum berths 1,240.

The Empress of Canada & Mardi Gras Photo Album
TSS Apollon's Deck Plan & Photographs provided by the Breakers, Alang India
"Blue Water Liners sailing to the distant shores.
I watched them come, I watched them go and I watched them die."
****************************
Visit our ssMaritime Main INDEX
Where you will discover around 680 Classic Passenger & Passenger-Cargo Liners!
ssMaritime.com & ssMaritime.net
Where the ships of the past make history & the 1914 built MV Doulos Story
Please Note: ssmaritime and associated sites are 100% non-commercial and the author does not seek funding or favours and never have and never will.
Photographs on ssmaritime and associate pages are either by the author or from the author's private collection. In addition there are some images and photographs that have been provided by Shipping Companies or private photographers or collectors. Credit is given to all contributors, however, there are some photographs provided to me without details regarding the photographer or owner concerned. Therefore, I hereby invite if owners of these images would be so kind to make them-selves known to me (my email address can be found at the bottom of the page on www.ssmaritime.com), in order that due credit may be given.
ssMaritime is owned & © Copyright by Reuben Goossens - All Rights Reserved