Please Note: Firefox and some other search engines are not suitable – Use "Internet Explorer" for this page to load perfectly!

Click the logo above to reach the ssMaritime FrontPage for News Updates & "Ship of the Month"
With Reuben Goossens
Maritime Historian, Cruise'n'Ship Reviewer, Author & Maritime Lecturer
Please Note: All ssMaritime and other related maritime/cruise sites are 100% non-commercial and privately owned. Be assured that I am NOT associated with any shipping or cruise companies or any travel/cruise agencies or any other organisations! Although the author has been in the passenger shipping industry since 1960, although is now retired but having completed around 680 Classic Liners and Cargo-Passengers Ships features I trust these will continue to provide classic ship enthusiasts the information the are seeking, but above all a great deal of pleasure! Reuben Goossens.
TSS

Empress of Canada
TSS Mardi Gras / Star of Texas / Lucky Star / Apollo / Apollon
Page Two - Photo Album
The Empress of Canada was the last passenger liner built for Canadian Pacific Steamships Ltd, and she was certainly their most attractive ship in the fleet. Her interiors were not very spacious, but they had that wonderfully understated British charm. Her cabins were large compared to the modern cruise ships of today, and featured fine timber walls. When purchased by Carnival, she received a comprehensive refit, giving her a brighter feel. As the Mardi Gras she became one of the most popular cruise ships in the American cruise market, so much so, that Mardi Gras was the success story that made Carnival what it has become today, tragically the largest cruise company in the world, which now is destroying everything that is good in shipping and genuine ocean going travel, for they have turned it more like a mass transport system, where you are now paying not just your cruise fare, but also for far more other on board facilities than ever before. But that is another matter!
Interiors shown on this page are those of the Mardi Gras, which remains mostly unchanged as the Apollo and Apollon.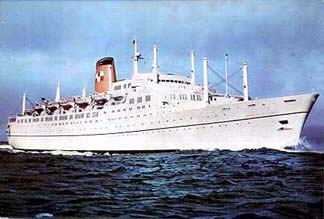 TSS

Empress of Canada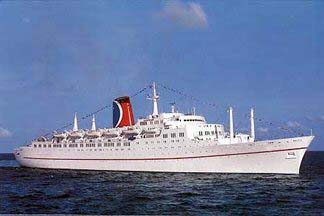 TSS Mardi Gras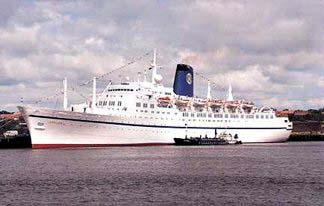 TSS Apollon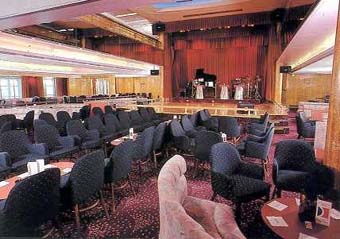 Grand Ballroom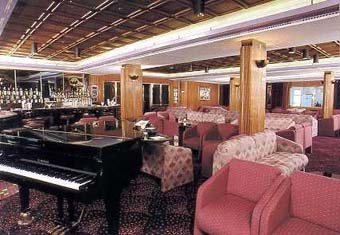 Carousel Lounge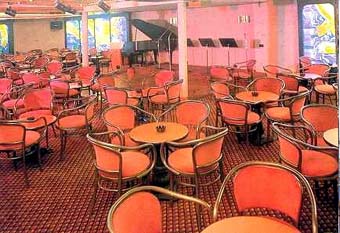 Showboat Lounge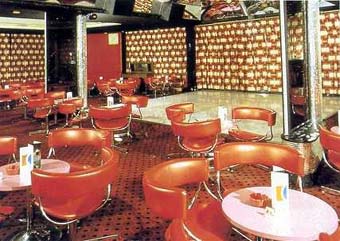 Club Disco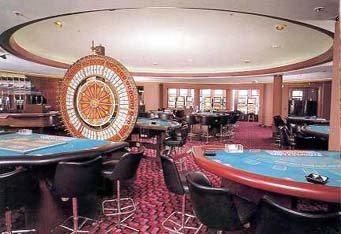 Showboat Casino

Flamingo Dining Room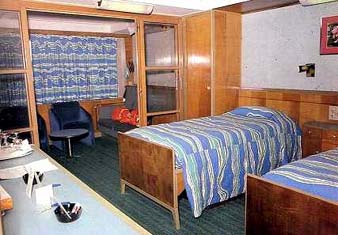 Twin bedded Stateroom

Indoor Swimming Pool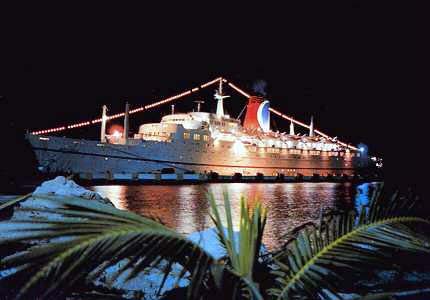 A fine night view of the Mardi Gras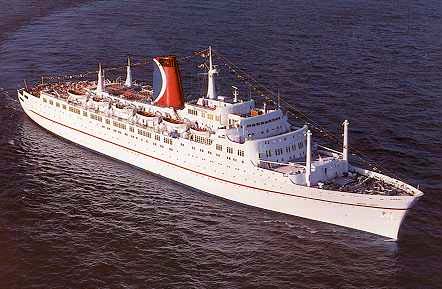 An excellent postcard of the Mardi Gras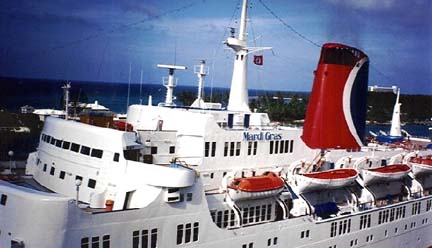 A fine close up of the Mardi Gras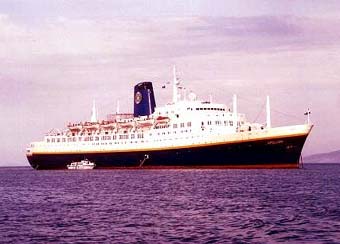 Apollo looking magnificent with her new dark blue hull
The following Photographs are indicative of the interior beauty of this fine ship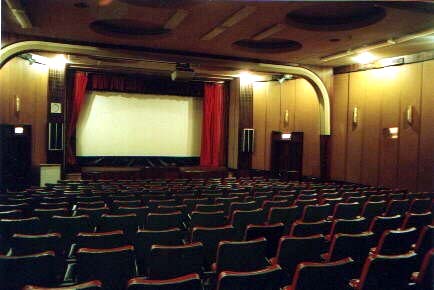 The Cinema and Conference Centre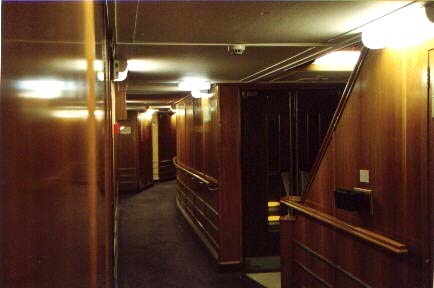 Hallway leading to the cinema stairs on the right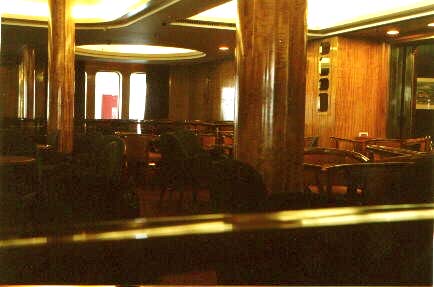 Lower level of the Grand Lounge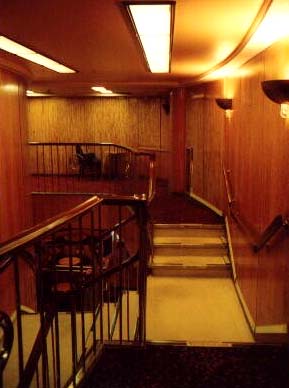 Stairs of the upper level of the Grand Lounge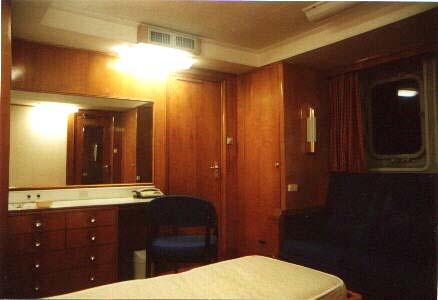 Many cabins remain as they were when originally built
The tragedy, all the ocean going beauty of the above will never be seen again, for now ships are just huge top-heavy balcony clad square floating boxes that many call apartment (condo) boxes! Indeed inside the have 12 deck high atriums with Las Vegas style décor, but that id gaudy and over the top typical American style of junk! There are more people in the world and that include countless American's who agree with me, that loathe Carnivalisation, for it was Arison who started the destruction of all that was beautiful in shipping and turned the industry into a money making concern, with the majority of the emphasis on the shareholders! I am sorry, but when I see a superbly beautiful ship such as thus go to waste, I am greatly saddened, and when I see the overall cruise industry today with ships up to 230,000 tons, that is just hideous!

Epirotiki's Apollon, seen laid up, awaiting her journey to the breakers
TSS Apollon ex Empress of Canada was beached at Alang India on December 9, 2003. The Crown Steel Company is the ship breaker. Prior her departure there were a number of overtures to save her, but sadly these failed. Click here for interesting photographs supplied to me by the breaker.
The Empress of Canada & Mardi Gras Photo Album
TSS Apollon's Deck Plan & Photographs provided by the Breakers, Alang India
Or Return to the Empress of Canada History Page One
"Blue Water Liners sailing to the distant shores.
I watched them come, I watched them go and I watched them die."
****************************
Visit our ssMaritime Main INDEX
Where you will discover around 680 Classic Passenger & Passenger-Cargo Liners!
ssMaritime.com & ssMaritime.net
Where the ships of the past make history & the 1914 built MV Doulos Story
Please Note: ssmaritime and associated sites are 100% non-commercial and the author does not seek funding or favours and never have and never will.
Photographs on ssmaritime and associate pages are either by the author or from the author's private collection. In addition there are some images and photographs that have been provided by Shipping Companies or private photographers or collectors. Credit is given to all contributors, however, there are some photographs provided to me without details regarding the photographer or owner concerned. Therefore, I hereby invite if owners of these images would be so kind to make them-selves known to me (my email address can be found at the bottom of the page on www.ssmaritime.com), in order that due credit may be given.
ssMaritime is owned & © Copyright by Reuben Goossens - All Rights Reserved