ssMaritime.com & ssMaritime.net
With Reuben Goossens
Maritime Historian
---ss OceanBreeze---
Southern Cross, Calypso, Azure Seas
Deck Plan

ss OceanBreeze is rated as a 3 star ship
Please note: Sadly, the magnificent ss OceanBreeze has now been broken up at Chittagong Bangladesh, however, I have left the descriptions in the present tense as originally written.
Reuben Goossens.
Maritime Historian
Ships Facilities
ss OceanBreeze has a Country Club atmosphere as she features lots of brass and teak. Cabins are comfortable, with air-conditioning, a bath or shower, phone, and ample drawer and wardrobe space. Amenities include: the spacious Caravelle Restaurant, having both an early and a late sitting. There are lounges for relaxing, and entertainment, including the grand Rendezvous Lounge Showroom and Cafe Miramar. OceanBreeze has card room, library, Cinema, as well as conference and meeting rooms. Other facilities include a Shopping Arcade, Hairdresser, Children's Centre, Video Arcade, a Gym, and a Medical Centre. There are all the usual deck activities, such as aerobics, shuffleboard, ping-pong, outdoor heated swimming pool, and a Jacuzzi.
The OceanBreeze is the perfect cruise ship for those wanting a pleasant traditional cruise vacation at an affordable price.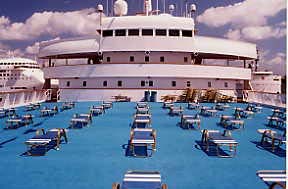 Observation Deck forward on Bridge Deck

The Lido on Bridge Deck
Decks – Working down from the top deck
ss OceanBreeze has nine passenger decks. The top-most passenger deck is Deck 1 - Bridge Deck. Please note; the ships the Bridge is actually located two decks higher. The lowest passenger deck is Deck 9 - Nightclub Deck. This page provides a deck-by-deck description of facilities available.
To view a deck use the link – ea. 1 – "Bridge Deck"
---
Bridge deck features a large observation deck forward of the Bridge superstructure, overlooking the bow. Amidships is the vast Lido, with a Jacuzzi forward, a Bar and the heated Swimming Pool further aft. The pool however, is relatively small. Due to the ships unique design, it has more deck space per passenger that almost any other ship today.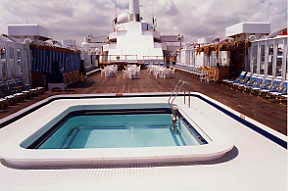 Bridge Deck
Three A Grade deluxe Suites are located forward of Boat Deck, as well as nine B grade Suites. All suites have sitting area, colour TV, and floor to ceiling picture windows. There are no balcony suites on OceanBreeze. Also located forward, is the 120 seat Cinema, Meeting and Conference Rooms. Just aft of the forward stairwell is the spacious Pacific Card Room and Library, which is followed by the upper level of the rather large Casino onboard. There is a Sauna just aft on portside. Out on aft deck is the delightful, very romantic, Cafe St. Tropez with 50 seats. The Fitness Center located just aft of the funnel.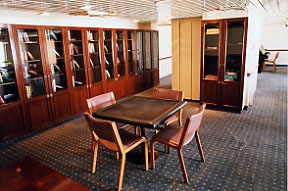 Pacific Card Room & Library
Promenade Deck has the majority of the Lounges onboard. All have a particularly spacious feeling. Forward on Promenade Deck is the massive 400 seat Rendezvous Lounge, which is the ship's main Show Lounge. Amidships is the superb Mayfair Lounge and Bar, seating 88, which is followed the shopping and Video Arcades as well as the Photo Gallery. On the starboard aide of the Arcade is the lower level of the casino. The spacious 160 seat Cafe Miramar is located furthermost aft. This delightful room doubles as a buffet during the day and turns into a colourful nightclub. Aft out on deck is ample seating to enjoy Buffet in the fresh sea air.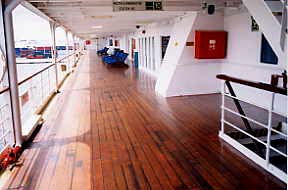 --Promenade Deck
One of the great features of the OceanBreeze, is the availability to sit in a cosy lounge or out on one of the three magnificent decks that run alongside the ship, being Boat, Promenade, and Atlantis Decks. Each runs from forward of the superstructure to aft, alongside of the ship. This luxury is no longer found on the modern cruise ship. The fully covered Promenade Deck connects the Rendezvous Lounge located forward, to Cafe Miramar aft. Relaxing on a wide Promenade Deck will make you appreciate the joys of cruising on a classic liner.
The next two decks are mostly devoted to passenger cabins. Having been built as a one-class liner, the ship has long, straight corridors, which, like the rest of the ship, makes finding your way around the ship very easy.
On this deck, all outside cabins overlook the covered Atlantis promenade Deck. It is a little narrower, but is longer than Promenade Deck above, as it extends almost the full length of the superstructure. This deck contains many inside and outside cabins. Categories C & D are outside cabins with a porthole, and category D are inside cabins. The Beauty Salon and a well-equipped Children's Room are located aft.
Forward the main stairwell is Pursers Office and Shore Excursion Office. The balance of this deck is dedicated to accommodations. Category D are outside cabins with a porthole, with category H being inside cabins.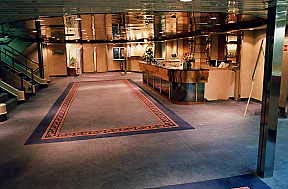 Main Foyer & Pursers Office--
Forward are eleven category E, outside cabins, with the large Caravelle Restaurant aft of the main stairwell. The Restaurant offers tables for two, four, six, and eight, which encircles a grand piano. Aft of this deck is the ships hospital and surgery.
Decks 7 & 8 are accommodation decks. Categories E & F outside cabins, category I inside cabins on Dolphin Deck. All cabins on Emerald Deck are inside, with categories J & K.
The lowest passenger deck is Deck 9, Nightclub Deck, and as the name suggests has a Night Club, the Five-Star Disco. When the ship was built as the ss Southern Cross, this space was the Indoor Pool.
Cabins
Vintage ships offer a wide range of cabin types and these are quite varied There are total of twelve suites, all located forward on Boat Deck. Suites are able accommodate up to four passengers, although each differ in configuration. There are ten categories of standard cabins; 60% of which have an ocean view. Like many classic ships, there are cabins that may have one or two Pullman upper berths, whilst some have one double bed.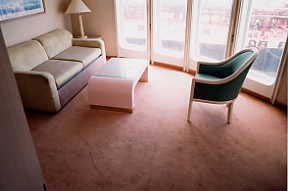 Suite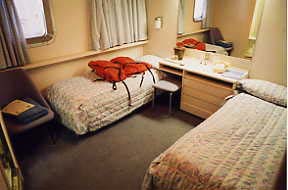 Twin bedded cabin
It needs to be understood, that OceanBreeze, as a classic ship, she offers the feel and the atmosphere of a true Passenger Liner from days past. This may mean that cabins vary in size, and some are typical of the Ocean Liner, and may be considered relatively small. However, all accommodations onboard have private facilities and are extremely comfortable. All cabins have been refurbished, but the atmosphere reveals the day of her as a Liner. Cabin size is very much dependant on your taste, and on fares paid. Always remember, your cabin is to sleep in and not to party in!
As this is a vintage ship, we must realise that accessibility is limited for some. OceanBreeze has one elevator located at the forward stairwell, and operates from Boat Deck down to Emerald Deck, covering all accommodations. Bridge & Nightclub Decks are accessible only via stairs.
OceanBreeze is not only a unique ship, due to her being a survivor of the grand ocean liners, but more so, she has more old world charm and graciousness per tonne, than any other active classic passenger ship cruising today!
Sadly, the OceanBreeze has been beached in Chittagong Bangladesh to be broken up, never to sail again. Enjoy the Memories!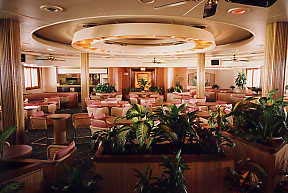 The elegant Mayfair Lounge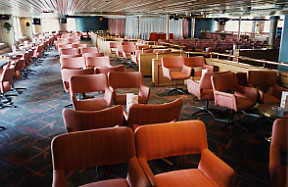 The 400 seat Rendezvous Lounge
Return to the Southern Cross / OceanBreeze Index
**************************************************
Use the Back button on your browser or Close the Page to return to the previous page
or go to our INDEX
Who is the Author of ssMaritime?
Commenced in the passenger Shipping Industry in May 1960
ssMaritime.com & ssMaritime.net
Where the ships of the past make history & the 1914 built MV Doulos Story
Also visit my …
"Save The Classic Liners Campaign" & "Classic Ocean Voyages" pages
Photographs on ssmaritime and associate pages are by the author or from the author's private collection. In addition there are some images that have been provided by Shipping Companies and private photographers or collectors. Credit is given to all contributors. However, there are some photographs provided to me without details regarding the photographer/owner concerned. I hereby invite if owners of these images would be so kind to make them-selves known to me (my email address may be found on www.ssmaritime.com only), in order that due credit may be given. I know what it is like, I have seen a multitude of my own photographs on other sites, yet these individuals either refuse to provide credit or remove them when asked, knowing full well that there is no legal comeback when it comes to the net. However, let us show these charlatans up and do the right thing at all times and give credit where credit is due!
This notice covers all pages, although, and I have done my best to ensure that all photographs are duly credited and that this notice is displaced on each page, that is, when a page is updated!
ssMaritime is owned and © Copyright 2010/12 - by Reuben Goossens - All Rights Reserved