ssMaritime.com & ssMaritime.net
With Reuben Goossens
Maritime Historian
Southern Cross a Fallen Star
ss OceanBreeze, ex Azure Seas, Calypso, Southern Cross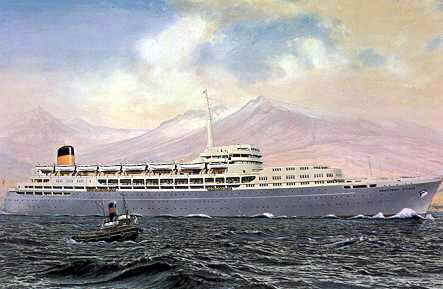 An early Shaw Savill Postcard
Introduction
This is a story I did not wish to write, however, write it I must, as the demise of the ss Southern Cross became a personal issue after having been heavily involved with her during the final six months of her lengthy life at sea. This article contains the whole story of our "Save the Cross" campaign, which over six months filled us with hope, which concluded with devastation. From the outset, I have to state that the Southern Cross/OceanBreeze should be afloat right now and she should still be cruising out of Australia, but tragically, she is not. "Southern Cross is a Fallen Star" this article will reveal why.
<![if !vml]>

<![endif]>
Reuben Goossens
Maritime Historian
Member of the HTML Writers Guild
Part One …???????????? An Encounter with the Southern Cross
Part Two …???????????? What was so Special about the Cross
Part Three …?????????? Her Years at Sea
Part Four …??????????? A New Career for the Cross
Part Five …???????????? OceanBreeze is Laid Up and Sold
Part Six …????????????? The Battle to Save the Cross
Part Seven …????????? The End is Near
INDEX …???????????????? 23 pages on ss Southern Cross, Calypso, Azure Seas and OceanBreeze, including a Deck Plan of the OceanBreeze
Part One - An Encounter with the Southern Cross
For me the story began in 1961, as I stood on a wharf in Wellington New Zealand looking at a liner that was about to depart for Southampton. This ship certainly looked different to other liners, not just because her funnel being aft, but also her unusual livery, a grey hull with a green superstructure. These features made her stand out amongst all other liners of the day. Hundreds of well-wishers stood on the wharf saying goodbye to their loved ones who heading for the "mother country," some on a vacation, others visiting families and friends. As her lines were cast into the water loudspeakers playing "Now is the Hour" tears began to flow, both of those ashore and onboard. In those days the departure of a passenger liner was an emotional experience, especially when the ships horns sounded the customary triple blasts, saying farewell to the port, it was and still is. I recall standing on the wharf thinking how big she was (for her day).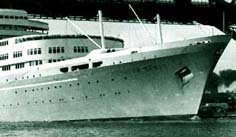 As she slowly slid back, it was the magnificence of her sharply raked bow that really struck me, on it her name was written in large yellow letters "Southern Cross." I took a number of black and white photographs, which sadly were lost whilst moving to Australia.
At the time, I was employed by Russell and Somers, a well-known travel agency and General Sales Agent for Royal Dutch Mails. I requested that I might visit the Southern Cross on her next visit to Wellington and if I might have a meal onboard. This was arranged and I was given a special two-hour lunch break to do so. As I boarded, my first impressions were that she had that typical understated British elegance, even for an all tourist class liner. Her superb teak promenade and vast open deck spaces were impressive, far superior to the ships I had boarded or sailed on at that time. My visit concluded with lunch in her forward restaurant, which was greatly enjoyed. (See photo page one for a collection of interior photographs. www.ssmaritime.com/sthcrossphoto1.htm)
The above were my first experiences with the Southern Cross, which resulted in a longstanding affinity with this remarkable liner.
I worked in the shipping industry from 1960, as an office boy with Royal Dutch Mails, then in the stevedoring department of the Union Steamship Company, both in Wellington New Zealand. After moving to Australia in the mid 60's, I worked with the GSA of Chandris Lines, never thinking that in the mid seventies I would be an executive of Shaw Savill Holidays, a new cruise company associated with Shaw Savill, based in Australia.
In the early sixties I fell in love with the Southern Cross, in the seventies I managed Shaw Savill Holidays. These were my beginnings with the Southern Cross, the ship that in 2003 was in mint condition and should have been saved from a lonely beach in Chittagong Bangladesh!
Part Two - What was so special about the ss Southern Cross?
Besides being the first merchant ship to be launched by a reigning British Monarch, HRH Queen Elizabeth II, the Southern Cross was a unique ship for many reasons, but four of these stand out.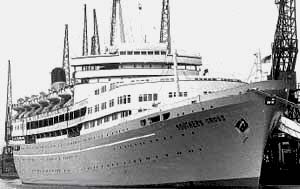 1… She was the first liner built with her engines and smoke stack located aft, a feature that gave her vast interior and exterior deck space, as well as a unique profile. Before, and during her construction, ship designers advised Shaw Savill that there was a serious design error in relation to the weight ratio with her machinery being located aft. This was soon proved unfounded.
2… She was the world's first all tourist (one) class liner to be built.
3… As Southern Cross did not carry cargo, she was also the first true Passenger Liner.
4… She was one of the last surviving Harland and Wolff built passenger liners.
As the years passed, it is now obvious that all shipping & cruise companies have adopted the revolutionary standards set by the ss Southern Cross and later her ill fated sister, the Northern Star. Today 99% of passenger ships have their machinery and funnels placed aft with all cruise ships being one class, transporting passenger only.
HRH Queen Elizabeth II launched the Southern Cross on 17 August 1954, which was an historic event, as the Southern Cross was the first merchant ship to be launched by a reigning Monarch.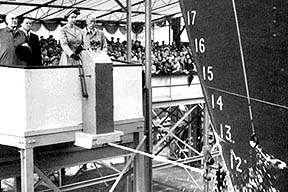 HRH Queen Elizabeth II launches the Southern Cross
After her trials late January 1955, ss Southern Cross departed on March 29, for her maiden voyage for Australia and New Zealand. Her first three outward voyages were fully booked, long before Southern Cross went into service, which indicated the interest in the liner by the travel, not only by travel agencies, but also the public.
Southern Cross departed Southampton on her maiden voyage to New Zealand and Australia. Her 76-day voyage included ports such as Trinidad, Curacao, the Panama Canal, Tahiti, Fiji, Wellington (May 2), Auckland, Sydney (May 9), Melbourne (May 11), Fremantle (May 16), Durban, Cape Town, Las Palmas and back to Southampton. Upon her return to the UK, she undertook three cruises out of Southampton, before departing on her second line voyage.
Southern Cross proudly continued on the Australian / New Zealand service bringing multitudes of immigrants across the seas to start a new life Downunder. Then came the arrival of the 747 "Jumbo Jet," which changed the history of sea travel forever. By the end of the 60's passenger loadings rapidly declined, thus Shaw Savill decided to operate more cruises between her circumnavigations hoping for the ship to remain profitable. She cruised out of Southampton for several months, after which she sailed for Sydney, from where she would undertook South Pacific cruises, before returning to the UK. In order to make her more suitable for cruise duties, she was extensively overhauled and refurbished in May 1970.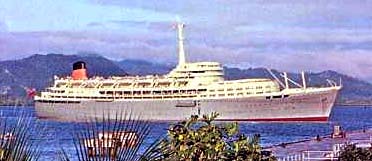 Southern Cross the cruise ship
In May 1971, having returned to Southampton from another line voyage and commenced a two and a half month cruise programme. However, these proved unsuccessful. In August 1971, Southern Cross departed Southampton for her final line voyage to New Zealand and Australia. She arrived back in Southampton in November and was duly laid up. In April 1972, she was relocated to the River Fal where she was berthed astern of Cunard's Carmania and Franconia. Southern Cross remained on the market until January 1973.
Part Four - A New Career for the Cross
In January 1973, she was sold for half a million UK pounds to Cia de Vap Cerulea SA, Ithaka for Ulysses Cruise Line. She departed the UK in March with her bow revealing her new name, Calypso. Later she became Admiral Cruises Azure Seas.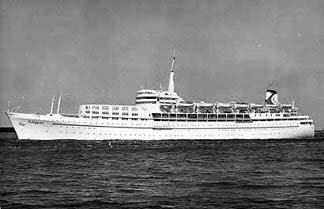 SS Calypso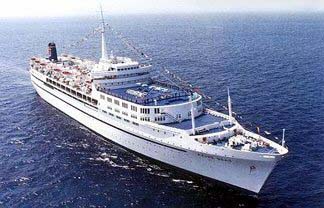 SS Azure Seas
She was sold to Dolphin Cruise Lines in 1991 renamed OceanBreeze. Late in 1997, Dolphin, Seawind and Premier Cruises amalgamated and OceanBreeze continued her cruise duties under a new banner. Under Premier, she received a bright new livery: a dark blue funnel and hull, which was topped with a gold ribbon. She looked very impressive indeed.
In 1999, Premier Cruises chartered the OceanBreeze to IMC "Imperial Majesty Cruises," who operated her on festive two night cruises to Nassau. With the venture being successful, IMC decided to purchase the ship outright. OceanBreeze became so popular she was frequently booked out. Even more so than in her Shaw Savill days, she became a popular, much sought after ship in her final days.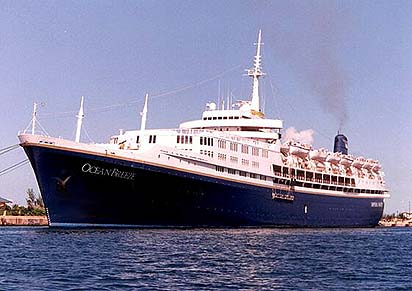 SS OceanBreeze
Part Five - OceanBreeze is laid up and Sold
After four years of faithful service, IMC made a sudden announcement on June 3, 2003. OceanBreeze was going to be replaced by another classic cruise ship, the Regal Empress (ex Caribe I, Olympia). Mr. Arthur M. Pollack, President Imperial Majesty Cruise Line, told us (the Australian campaign) on 10 October 2003, that the OceanBreeze was laid off for the following three reasons.
1… IMC needed to spend US$ 5 million to make her ADA (American with Disabilities Act) compliant.
2… For short cruises, "The cost of operating a Steam Turbine vessel was prohibitive."
3… IMC required a ship with "bow thrusters." Thus, IMC decided on the option to purchase another classic ship that was on the market for what we might call at a bargain basement price at that time being the Regal Empress. Apparently, Regal Empress fitted all of the aforementioned requirements, saving IMC, according to Mr. Pollack, an operating cost of US$ 1.5 million a year.
It needs to be understood that OceanBreeze was not sold because of deterioration or mechanical failures, the truth being she was in excellent condition and described as "ready for trade." In addition, OceanBreeze was in possession of a SOLAS (Safety Of Life At Sea) certificate valid to 2010.
Also on the 10th of October, Mr. Pollack told the author:
"We all cried together when there were no takers and she, the OceanBreeze, was sent to the breakers. We worked diligently up to and including the last week supplying information to anyone who asked in an attempt to help save the vessel."
Where these tears genuine or crocodile tears? Let us look at the order of events, which will clarify the tearful situation.
Order of Events
(From announcement of sale to being beached on a Chittagong beach)
03 Jun????? IMC announces that OceanBreeze is to be replaced by the Regal Empress. OceanBreeze is on the market.
22 Jun????? OceanBreeze departs on her final cruise.
24 Jun????? OceanBreeze returns to Ft Lauderdale.
27 Jun????? OceanBreeze is laid up in Grand Bahamas Shipyard.
03 Jul?????? OceanBreeze is sold to Indian Breakers.
25 Aug???? OceanBreeze departs Freeport under her own steam, heading for Gibraltar.
03 Sep???? OceanBreeze arrives in Gibraltar bunkers and departs, destination Alang India.
12 Sep???? OceanBreeze passes through the Suez Canal.
Whilst on the Indian Ocean, OceanBreeze is sold by the Indian breakers for a better price to Ahmed Muztaba Steel Industries, Chittagong, Bangladesh.
05 Oct???? OceanBreeze arrives at the outer anchorage of the Port of Chittagong.
13 Oct???? Chittagong Press reported that OceanBreeze was hit by a storm, took on water, which resulted in a 20-degree list. However, she was soon upright again. The storm report turned out to be an untruth, as later it was discovered by Ian Jones (UK marine surveyor) who reported: "The list being caused by un-stability on account of all the permanent ballast being pumped out to lighten her prior to beaching, this list being accelerated by water ingress to aft engine room space by a burst pipe in a void space off the duct keel."
05 Nov???? OceanBreeze was beached at the Ahmed Muztaba Steel Industries yard located approximately 18 kilometres from Chittagong.
27 Nov???? Mr. Ian Jones boards the ship for a survey, with the hope of re-floating her.
01 Dec???? Mr. Jones' (damning) report released.
Feb 2004? Information reached the author from Chittagong that engines and other mechanical items have been removed from the ship and that her bow is badly damaged from resting on the beach for over 4 months.
Mar 2004? Haydn Stevens (UK campaign) maintains that he "can still save the Southern Cross." More on Haydn Stevens later.
From the above events, it becomes obvious that IMC's tears meant little in the end. Remember, the President of IMC, Mr. Arthur Pollack said:
"We worked diligently up to and including the last week supplying information to anyone who asked in an attempt to help save the vessel."
The truth is, OceanBreeze never stood a chance, as a deal was signed with the Indian breakers precisely one month from the announcement to retire her. Even if she had been on the market for two months prior the announcement, this would still have been insufficient time to sell her.
Part Six - The Battle to "Save the Cross"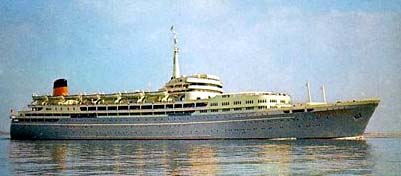 Around May/June 2003, UK based Martin Hill, in cooperation with an Australian company had been looking for a suitable classic liner to operate cruises out of Fremantle (Perth). Their first attempt was to obtain "Big Red Boat III" (ex Transvaal Castle, S.A. Vaal, Festivale, Island Breeze), which they considered a suitable ship for a new Australian operation. For a number of reasons, this effort failed and sadly she went to the breakers in India (failure #1). It had been intended that Big Red Boat III would be the first classic liner to be inducted into CLIP "Cruise Liner Investment Programme." The purpose of CLIP is to finance the long-term preservation of classic ships on a commercial basis. Martin Hill then looked at the Apollon (ex Mardi Gras, Empress of Canada). Whilst involved with the Apollon (now scrapped failure #2), OceanBreeze became available and she was now regarded to be a superior ship and perfect for Australian cruise operations. Martin Hill, through a New York based broker, attempted to obtain OceanBreeze on a charter with an option to purchase the ship. However, this attempt failed. Martin Hill told me "the broker did not contact IMC with our offer," but they came back to him insisting that only an outright offer to purchase the OceanBreeze outright would be considered. The question needs to be asked, had IMC known that an offer had been made things may have been different. However, it seems that the broker concerned, either did not contact IMC, or IMC was simply not interested. Martin Hill recently stated:
"We were lead to believe by the broker that IMC did not care and wanted shot (get rid of) of the OceanBreeze quickly, this is why IMC had no idea of the British approach, which could have seen a charter with a option to purchase deal arranged, if the barrier had not been put in the way of direct talks with IMC."
Mr. Arthur Pollack told the author, that IMC had over a "period of almost (3) three months attempted to sell the OceanBreeze. All to no avail." Three months? June 3, to July 3, happens to be 30 days. Is this not a little short of three months? IMC claimed, "OceanBreeze was sold with much regret for scrap." Had IMC kept her on the market for just a little longer, she would be sailing today.
Martin Hill discovered the authors site, MaritimeWorldOnline.com (now ssMaritime.com) and emailed me on July 30, requesting my assistance to raise finance in Australia to save the OceanBreeze. For this purpose, I commenced the "Save the Cross" campaign. Looking back, I ask the question, what was the Australian company doing at this time, considering they were looking for a ship? Rolex Replica Watches
Then, on October 2, Michael Barnes joined the Australian campaign and together, we contacted a number of well-known wealthy Australians, several of these being, Pete Smith, Greg Norman, even the wealthiest of them all, the media magnate Mr. Kerry Packer. Mr. Smith advised us, through a secretary, that he had far too many projects on his plate and was not able to assist. We appreciated the reply. However, Greg Norman and Kerry Packer did not have the courtesy of sending a short reply, even if it had been one from their under secretaries, which would have sufficed. We again made several other attempts to no avail. Considering the thousands of migrants Southern Cross and other liners brought to Australia and New Zealand, I found that there was little to no regard for maritime history, passenger ships, which were of historical significance. This is obvious when visiting the "Australian National Maritime Museum" in Sydney, where Passenger Liners, who collectively carried countless thousands to this country, receive but a 'token' display, whereas yachts and the navy predominate.
During October, I communicated with Mr. Arthur Pollock of IMC a number of times. In one email Mr. Pollack said:
"I will be happy to buy the OceanBreeze back should you wish to put up the funds with a guarantee … etc" (October 10, 2003).? This offer came with certain conditions.
This message charged us with excitement and hope. This hope would soon be dashed on November 21, 2003. More later.
On Sunday 25 August, OceanBreeze departed the Bahamas and headed under her own steam for Gibraltar where she took on fuel and headed for Alang, India. During her voyage to India, the Indian breakers sold her to yet another breaker in Chittagong, Bangladesh, having been able to obtain a better scrap metal price. During this time the attempt to save her continued without success. In fact, it stood still. Steaming across the Indian Ocean for Chittagong, we lost track of her.
Michael Barnes being busy phoning around the world finally located her in Chittagong. He had phoned the "Port of Chittagong Authority" on a number of occasions and was advised that OceanBreeze had arrived at the outer anchorage on October 5, where she remained at anchor. Omega Replica Watches
Then, on October 13 we received disturbing news from Chittagong - "Fight to keep liner afloat." It turned out that OceanBreeze had taken on water. The Bangladeshi's claimed that she had been damaged by a severe storm, however, upon checking, this claim was unsubstantiated and we are now aware of the facts. Her twenty-degree list was due to the pumping out the ships ballast tanks to lighten the ship for beaching purposes and things went terribly wrong. Later after an inspection of the ship in Chittagong, I received a report explaining the reason for her taking on water and the list.
"The list being caused by un-stability on account of all the permanent ballast being pumped out to lighten her prior to beaching, this list being accelerated by water ingress to aft engine room space by a burst pipe in a void space off the duct keel." (Ian Jones, maritime surveyor).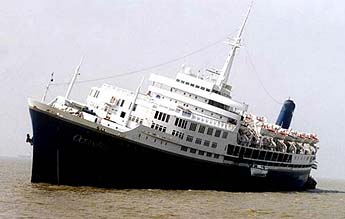 SS OceanBreeze on a list at Chittagong - Taken 12 October 2003
Apparently, she was soon righted and OceanBreeze remained at the Chittagong outer anchor.
With the earlier attempt to save OceanBreeze having failed, we were delighted when a Mr. Haydn Stevens became involved mid November. From what at first appeared to be a professional effort, again we were to be disappointed. (Martin Hill handed over the UK campaign to Haydn Stevens).
Whilst the OceanBreeze was at anchor, I was told that Mr Stevens was unable to obtain details of who the Bangladeshi owners (breakers) were.
"The problem we encountered was the difficulty in locating the present owner to negotiate even going through their London Agents Electra and people out in Bangladesh … Do you have any local contacts in Chittagong." (November 13).
In order to solve this problem and stop wasting precious time, Michael Barnes decided to hunt the Chittagong scrap merchants down for us. He spent countless hours on the phone tracking them down. Obviously, we obtained their name (Ahmed Muztaba Steel Industries), phone number, and address. We forwarded these details, as well as the Chittagong Port Authority phone numbers.
Each day we checked the Chittagong Port Authorities website, to see if OceanBreeze was still at anchor. Then, on November 5 we noted that she had been removed from the listing, which did not show if she had been beached being the norm with other ships. We were told by Mr. Stevens that OceanBreeze had been moved "from the outer anchorage to the breakers wharf." Again, the UK contingent did not bother to check if this was correct, thus once again we phoned Chittagong direct and discovered: a. The Chittagong breakers do not have wharves and b. OceanBreeze had in fact been partially beached on November 5. It became obvious to us that even though the intentions of those in the UK to save the ship was well meant, their resources of doing so were poor to say the least. The truth is, if we in Australia were able to obtain all the required information by making phone calls, why did the UK contingent not do so. The answer to that question comes in one word "inexperience."
By now, the UK was finally in contact with the breakers and they were advised that November 26 was the commencement date of her breaking up. However, this date was deferred, as the breakers now realised that there was interest in the ship. Due to this, their asking price became a massive US$ 8 million, even though her bow was resting on the beach. In spite of this and the asking price, Mr. Stevens and his team filled us with hope, including the statement that finance had been arranged and would be available.
Mr. Stevens phoned me frequently with messages of the progress made. Then came the news that the breakers requested a "Goodwill Fee" of US $70,000 to stop all work on the ship. Mr. Stevens made the following request "If you can raise the Goodwill Fee of US $70,000, we will be able to save the OceanBreeze."
Suddenly he laid the responsibility of saving the ship at my feet, whereas the proposition was obviously ridiculous. 1. The truth being, OceanBreeze had already been lost at this point. 2. Where was the finance that I was told "was in place?" However, with an ounce of hope, I continued the "Save the Cross" campaign and sought financial assistance through the Website ssMaritme.com.
Having received a positive response from Mr. Pollack on October 10, I decided to contact him, asking if it was at all possible for IMC to assist us with the "Goodwill Fee." I wrote:
"Dear Mr. Pollack … Currently a team of surveyors are onboard the OceanBreeze, and it now seems that she will be saved from the scrappers. This being the case, I am told that she will head for Bombay for a refit. However, there is a need for a short-term loan of $70,000 as a deposit to the owners once the survey and evaluation is complete. This loan is to be reimbursed once the main finance package is in place after she is released. I decided to contact you Sir, considering your most generous offer, made on the 10th of October, that you would be 'happy to buy back the OceanBreeze,' etc. Sir, in light of this, I humbly seek your assistance to keep this fine ship afloat." (November 21, 2003).
The reply was short and to the point:
"I HAVE NEVER STATED I WOULD PUT ANY MONEY INTO THIS PROPOSITION. I AM INTERESTED IN RUNNING THE VESSEL FOR YOU. LET ME KNOW IF THERE IS AN INTEREST. OTHER THAN THAT, IMPERIAL MAJESTY IS NOT INTERESTED IN ANY FINANCIAL COMMITMENT." (November 21, 2003).
Request upon request came for me to raise the required funds:
"I am still on a full scale rescue attempt as regards to the SS Ocean Breeze, the vessel is still in discussion with my company, Dolphin (Sea), but will go to Australian waters later next year. At this stage I could do with all the help I can get as regards to financial support to save vessel at the 12th hour. Would you kindly send a message across the spectre that this is an urgent plea following all my long hard effort to save this maritime legend of the seas." ( Haydn Stevens December 5).
As stated earlier, Mr. Stevens told me on a number of occasions that he had sufficient financial backing in place to purchase the OceanBreeze. However, later I was told that these funds would only be available after the ship had been released by the breakers. Apart from this "financial backing" was obviously was not available. I was led to believe, that Mr. Stevens's "company, Dolphin (Sea)," had no funds whatsoever. It became obvious that Mr. Stevens could not even raise a mere US $70,000 in Britain. I am still amazed to this day, with all the wealth in Britain, the Australian campaign was requested to raise the funds, which I did through the sheer power of the website. Soon I received a number of offers for funds to "Save the Cross."
By now the "Save the Cross" campaign had some 18 WebPages online campaigning to save the OceanBreeze (ex Azure Seas, Calypso, Southern Cross). The campaign resulted in around 6,000 emails between late July to November. Through the campaign, I received three major offers for financial assistance. These were:
1… A Korean businessman who was looking to purchase a classic ship for the use as a floating hotel. He did not require the ship until 2009/10. For this reason, he was happy to "assist us to obtain her" and have her cruising until 2010, when he would purchase her outright for the as a hotel in Korea. (November 19). I am unsure of the amount of the investment; this was discussed with Terence Jones the UK financier.
2… A Greek Captain & magnate of a huge shipping/crewing operation, was happy to finance OceanBreeze at 50% of her scrap value, which at the time was set at US $5 million. Thus, his offer was $2.5 million. He genuinely wished to be involved with the future of the OceanBreeze. Thus, his generous offer. (December 5)
3… Another businessman offered a loan of US $70,000 for the "Goodwill Fee." (December 9).
What happened to these millions raised through the Australian "Save the Cross" campaign? Tragically, it has to be said these funds were lost due to the sheer inexperience of the leadership of the UK effort.
Late November, I had considerable doubt in Mr. Stevens's capabilities, thus I urged an associate to encourage Mr. Stevens to hand the above investors over to his financiers and maritime solicitors and have them negotiate the required contracts. Instead of doing what I had requested, I was severely reprimanded for making the suggestion. Instead, Haydn Stevens decided to "negotiate" directly by phone or his 'hotmail' email address, which proved to be a disaster!? Speaking to one of the parties concerned, I am told he said, "as soon as I have secured the ship I will be putting on my boiler suit and spend a week working on her." Inexperience led to these unprofessional comments, which obviously discouraged the investors, several of which later contacted me saying that they could not support this "amateur attempt, no matter how sincere his desire to save the ship is." Another wrote Mr. Stevens,
"It is impossible for me to wire $ 70,000.00 USD without an actual contract and discussion to fully understand your plan and if any risks are involved, and what would be my participation in the venture. I tried calling you today but could not get through." (December 11).
There is another issue relating to this failed attempt, not related to those in the UK. However, I am unable to include details due to possible legal repercussions.
The Southern Cross was certainly not lost because of lack of funds, but a sheer lack of expertise, by "Southern Cross fanciers" in the UK, men who had the fervour and a genuine desire to save her, but sadly did not have the expertise to accomplish this. Obviously, they should have used shipbrokers and maritime legal experts in all facets of the operation. The result of poor management is seen in the three photographs hereunder. In addition, we may ask, why did the Australian company interested in her not make their own attempt prior to the OceanBreeze being beached, when it was still possible to save her for a song?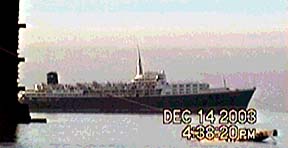 Above and below: Seen here with her bow resting on the beach in Chittagong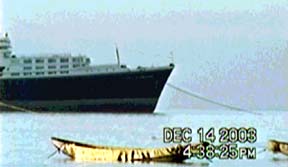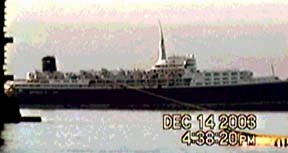 A tragic sight for all who love this wonderful ship
Up until February/March 2004, Mr. Stevens continued to claim that the "Southern Cross can still be saved." What, without engines and most of her interior fitting including furnishings, generators and electrical systems. Reports from Chittagong are clear, her bow is badly damaged and the cutting up has commenced. She is beyond saving, which has now been accepted.
As stated earlier, in reality, November 6, was the day a great and noble British Liner was lost and I have to say I am angry as you the reader will have clearly seen this in this article. However, time will heal the pain, but it is hard to forgive the lack of expertise of those concerned in the UK!
In conclusion, the Australian effort achieved everything that was possible. We raised US $2.740,000-00, which as you now know was lost. Southern Cross/OceanBreeze may be "a Fallen Star," however, for us she will always be a bright and shining star living on in our memories. I hope that the tragic British comic opera will not continue, as it will only harm her sweet memory!
I hereby wish to thank my hard working associate, Michael Barnes, and all my staunch supporters from around the world who supported the "Save the Cross" campaign. You have done the ship proud. The "Save the Southern Cross/OceanBreeze" campaign does have a positive spin, as it made the "Save a Classic Liner" campaign a byword online.
I wish to conclude this article with a statement made by Michael Barnes:
<![if !vml]>

<![endif]>
Southern Cross … "did not die as a rusted hulk, but as a clean cut, fresh looking vessel. The Southern Cross finished her career going to her end as a lady!"
Michael Barnes
Below: OceanBreeze seen after being winched up on the beach. For further photographs of her beached and during her breaking up see the Southern Cross/Ocean Breeze INDEX. (Link below).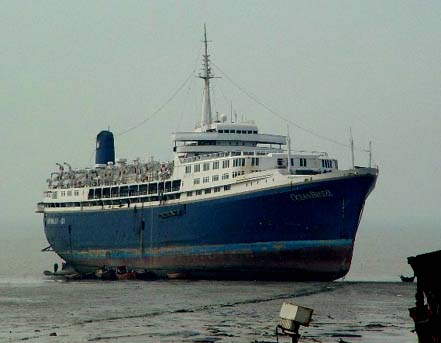 OceanBreeze may be "down and out," but she is still looking 'THE LADY!'
The Photograph above is ? 2004 - Ian Pritchard and is NOT to be copied!
Now available - See SS OceanBreeze on Peter Knego's Video Number 6
Return to the Southern Cross / OceanBreeze Index
**************************************************
Use the Back button on your browser or Close the Page to return to the previous page
or go to our INDEX
Who is the Author of ssMaritime?
Commenced in the passenger Shipping Industry in May 1960
ssMaritime.com & ssMaritime.net
Where the ships of the past make history & the 1914 built MV Doulos Story
Also visit my …
"Save The Classic Liners Campaign" & "Classic Ocean Voyages" pages
Photographs on ssmaritime and associate pages are by the author or from the author's private collection. In addition there are some images that have been provided by Shipping Companies and private photographers or collectors. Credit is given to all contributors. However, there are some photographs provided to me without details regarding the photographer/owner concerned. I hereby invite if owners of these images would be so kind to make them-selves known to me (my email address may be found on www.ssmaritime.com only), in order that due credit may be given. I know what it is like, I have seen a multitude of my own photographs on other sites, yet these individuals either refuse to provide credit or remove them when asked, knowing full well that there is no legal comeback when it comes to the net. However, let us show these charlatans up and do the right thing at all times and give credit where credit is due!
This notice covers all pages, although, and I have done my best to ensure that all photographs are duly credited and that this notice is displaced on each page, that is, when a page is updated!
ssMaritime is owned and ? Copyright 2010/12 - by Reuben Goossens - All Rights Reserved