ssMaritime.com & ssMaritime.net
With Reuben Goossens
Maritime Historian
---
ss OceanBreeze
---
Photo Album Page 2
We trust that this photographic page will bring back many happy memories to those who have sailed on her during her forty-eight years of faithful service.
Photographs on this page are courtesy of well-known maritime historian Mr Peter C. Knego, who has produced six fine videos as well as a remarkable CD-Rom – "The Worlds Passenger Fleet."
Special Links are located at bottom of page
Please note; all photographs on this page are © copyright, and are not be copied!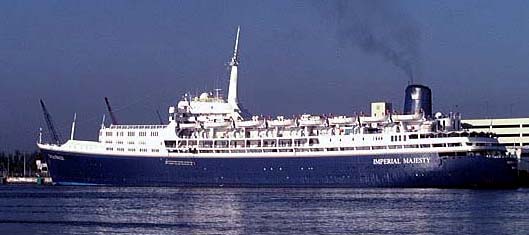 ss OceanBreeze berthed at Ft Lauderdale
Now available … OceanBreeze on Video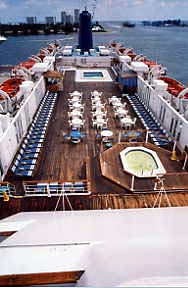 Left: Sun deck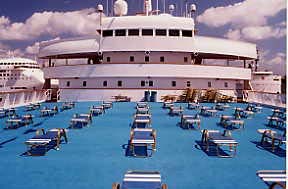 Observation deck
When built, the Southern Cross revolutionised ship design forever, being the first ship to have her machinery and the funnel placed aft. The result being, a ship with a huge expanse of deck space, as seen in these photographs.
On both port and starboard, OceanBreeze featured three spacious teak decks, running from forward to aft, something not seen on the modern cruise ship.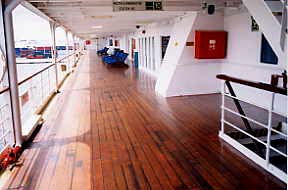 Above: Promenade Deck – Below: Boat Deck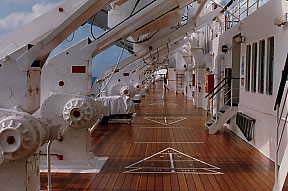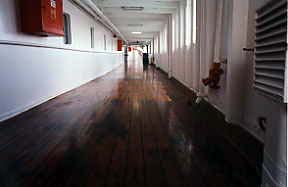 Atlantis Deck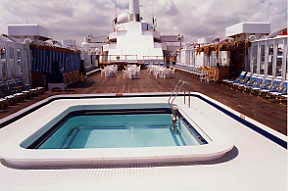 Sun deck, looking forward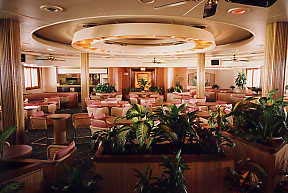 The elegant Mayfair Lounge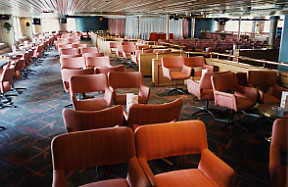 the 400 seat Rendezvous Lounge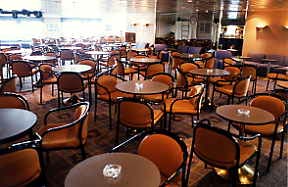 Miramar Lounge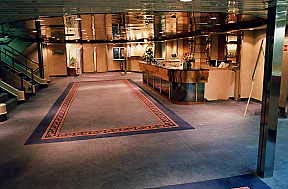 The Front (Pursers) Office on Atlantis deck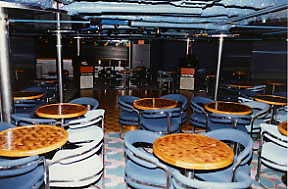 The Disco, which originally was the indoor swimming pool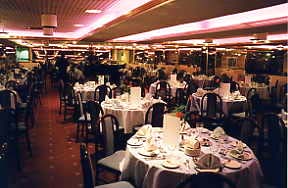 Caravelle Dinning Room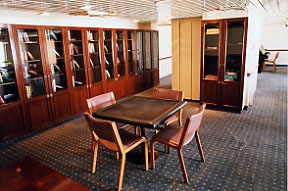 South Pacific Card Room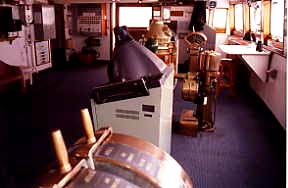 The Bridge
The Bridge with her magnificent brass fittings were well maintained. In spite of the traditional hardware, OceanBreeze was well equipped with the latest navigation and safety equipment.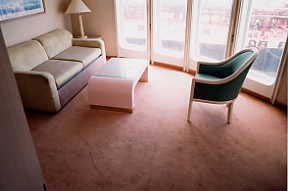 Lounge of the Owners Suite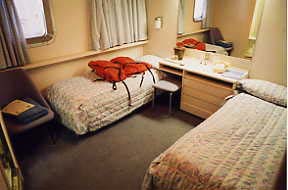 Outside Twin bedded cabin
The accommodation on OceanBreeze was bright, comfortable, and in many ways unlike the modern cruise ships. She was a traditional ship, built with a wake (the curve from front to back), thus many of her cabins would differ is shape and size, whereas the modern ships has cabin modules that arrive at the shipyard and are hoisted on board by a crane then rolled into position, secured, and connected to services.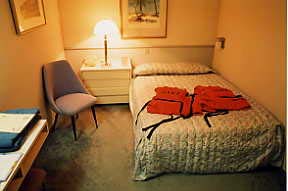 Inside Double bedded cabin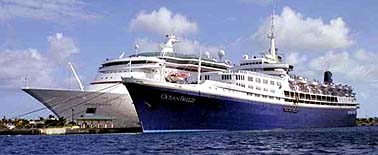 OceanBreeze seen alongside a Royal Caribbean cruise ship.
Although she is a good 23,000 tons, she looks very much like the little big ship
What was so special about the Southern Cross/OceanBreeze?
ss Southern Cross is one of the last surviving Harland and Wolff built passenger liners, and she is a unique ship for three reasons.
1… She was the first liner built with her engines and smoke stack located aft, a feature that gave her vast interior and exterior deck space, as well as a unique profile. Before and during her construction, ship designers advised Shaw Savill that there was a serious design error in relation to the weight ratio, with her machinery being located aft. This soon proved to be unfounded, so much so, that today, all passenger ships have their machinery and funnels placed aft.
2… She was the world's first all tourist (one) class liner to be built.
3… As Southern Cross did not carry any cargo, she was the first true Passenger Liner.
As the years have passed, it is obvious that all shipping/cruise companies have now adopted the revolutionary standards set by the remarkable ss Southern Cross.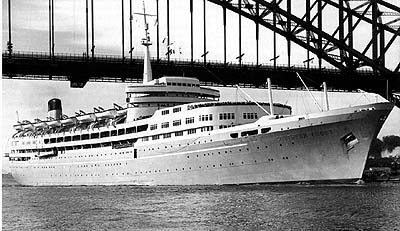 ss Southern Cross the ship that changed ship design forever!
Photograph from the authors private collection

View Two fine Photographs of SS OceanBreeze by Tim Rubacky © 2004 - Photo 1 – Photo 2

Return to the Southern Cross / OceanBreeze Index

Next Page … OceanBreeze Photo Page 3

Also available is Peter Knego's … OceanBreeze on Video

All Photographs on this page (except for those indicated otherwise) are © 1997-2003 by Mr. Peter C. Knego - Visit Maritime Matters and discover many of Mr Knego's articles.

Peter Knego is a classic passenger ship preservationist, writer, lecturer, videographer, and photographer of passenger vessels has travelled the globe documenting ocean liners and cruise ships. Peter has produced six videos each with exterior footage of fifty liners in the series "The World's Passenger Fleet" (available in VHS video in NTSC and PAL formats). A CD-Rom is also available.

Click here for information on Video's and CD-ROM

The CD-ROM is an engaging historic narrative with over 2,000 photographs taken of some 300 passenger ships. The fully indexed CD-ROM is a must for who love passenger's liners and cruise ships!

**************************************************

I trust you have enjoyed reading about this loved passenger liner. If you have sailed on her I would like to hear from you, and if you have any photographs I would greatly appreciate some, especially those of the interiors and out on deck.

Email Me!

Use the Back button on your browser or Close the Page to return to the previous page
or go to our

INDEX

Who is the Author of ssMaritime?

Email Me …

PLEASE NOTE: I receive hundreds of requests for Passenger/Crew Lists and Sailing Schedules. I hereby wish to advise that I am unable to assist due to time restrains and as most shipping companies have long gone these lists/schedules are no longer available. I regret to advise that any request for these will no longer be answered regardless of the circumstances presented!

ssMaritime.com & ssMaritime.net

Where the ships of the past make history & the 95 year old MV Doulos Site

NOTE: MV Doulos was saved from the Indian breakers in February 2010 by the author's ALL Australian

"Save the Classic Liners Campaign"

Visit - www.savetheclassicliners.com

Please Note:

Photographs on ssmaritime and associate sites are: 1. By the author. 2. From the author's private collection. 3. As provided by Shipping Companies and private photographers or collectors. Credit is given to all contributors. However, there are photographs provided to me without details provided regarding the photographer concerned. I hereby invite if owners of these images would be so kind to make them-selves known to me, that due credit may be given. I know what it is like, I have seen a multitude of my own photographs on other sites, yet they either refuse to give me credit and even refuse to remove them, knowing full well that there is no legal comeback when it comes to the net. However, let us show the charlatans up and do the right thing at all times and give credit where credit is due! Note: I do not credit those who send me photos as they are not the owners of the photographs concerned, unless the image is part of their private collection.

This notice covers all pages, although, I have done my best to ensure that all photographs are duly credited and that this notice is displaced on each page, that is, when a page is updated!

ssMaritime is owned and © Copyright 2010 - by Reuben Goossens - All Rights Reserved

melbourne dry cleaners Counter