The Spanish Line (CTE) MS Guadalupe & Covadonga - 1953 to 1973
Please Note: Firefox, iPhones, iPads & some other Search Engines may not be suitable
Use Internet Explorer & Old Google for this Web Page to load perfectly!

Click the logo above to reach the ssMaritime FrontPage for News Updates
With Reuben Goossens
Maritime Historian, Cruise'n'Ship Reviewer, Author & Lecturer
Please Note: All ssmaritime and my other related ssmaritime sites are 100% non-commercial and privately owned sites. Be assured that I am NOT associated with any cruise or shipping companies or travel/cruise agencies or any other organisations! The author has been in the passenger shipping industry since May 1960 and is now semi-retired, but continues to write article on classic liners and cruise ships in order to better to inform cruise and ship enthusiasts for their pleasure!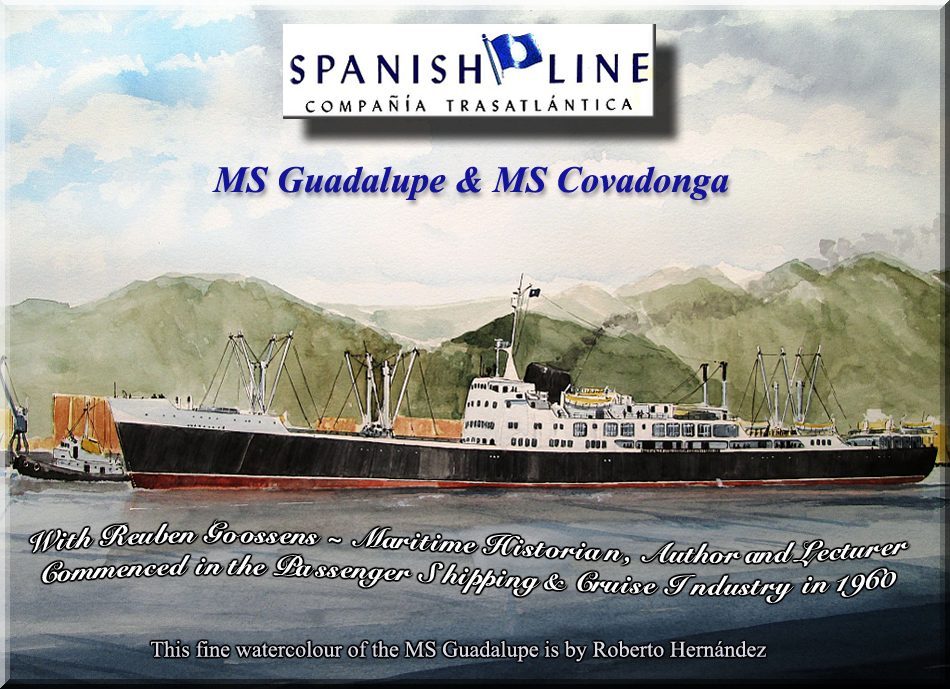 The painting is of the MS Guadalupe by the artist as stated above
This is the story of two delightful Spanish Passenger-Cargo (Combination) Liners that operated between Spain, the United States, Cuba, and Mexico. They were completed in 1953 and were an attractive and a most successful pair of ships!
Brief Introduction to "The Spanish Line":
"The Spanish Line" became the premier overseas Passenger Shipping Company of Spain and it commenced in 1850 and continued for a good 162 years. Although its beginnings originates from the late 1820s and 1830s when Spanish Antonio Lopez immigrated to Cuba when he was just twelve years of age. Antonio was born in 1817, and he was followed to Cuba by his brother Claudio. He began trading in dry goods, and became wealthy. In 1850 the brothers joined forces and together they began shipping dry goods, sugar, rum as well as molasses around the coast from Santiago and Guantanamo to Havana Bay.
At that time, the vessels they used was the wooden screw steamer "General Armero" being 716 tons and also a small wooden paddle steamer the "Botafuego" of just 143 tons.
In 1856 the brothers then returned to Alicante a port located south east of Spain and there they to set up a new shipping company, "Antonio Lopez Compania" and commenced a new passenger service from Alicante to Marseille with their three small Denny built ships; the "Madrid" 715 tons, "Alicante" 604 tons, and the "Marsella" 715 tons, and at Marseille the ship was able to connect with the newly opened railway lines there.
The company grew and prospered, but in 1881 the company decided to move its base from Alicante to Barcelona ad well as changing their name to a Limited (S.A.) Company, "Compania Trasatlantica S.A."
Antonio Lopez also had interests in certain parts in Asia, he wished to expand a service to Manila in the Philippines, but sadly they were suddenly put on hold as the award of the "Eastern Royal Mail" contract was given to a rival, the "Marques de Campo", who was a wealthy banker. Although he did not own a single ship, but he rapidly purchased "British India Line" and "Union Castle Line" passenger liners with which he established the new eastern route sailing via the Suez Canal.
However, The Spanish Line prospered over the years and operated many fine ships, including two well known ex Sitmar Line sisters the SS Begona (ex SS Castel Bianco) and the SS Montserrat (ex SS Castel Verde) as well as many fine passenger-cargo liners!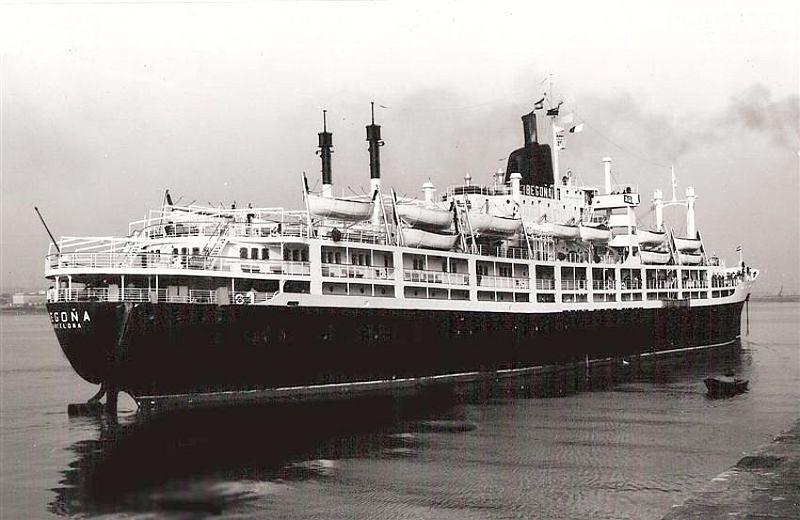 The very popular liner, SS Begona
Constructions to Fitting-Out:
Both ships were laid down as cargo liners at their respective builders as part of the "Monsasterio Class" ordered by "Empresa Nacional Elcano". The first (1) ship of the pair was originally to be named; "Monasterio de Guadalupe", and the second (2) ship; "Monasterio de la Rábida" but they were never given those name.
The first (1) ship was built by; "Soc. Espanola de Const, Naval", at Bilbao and she was launched on May 2, 1951 as the "Monasterio de Guadalupe".
The second (2) ship was constructed by; Cia Euskalduna, Bilbao and she was launched on October 31, 1951 as the "Monasterio de la Rábida".
However whilst they where at their fit-out berths, both ships were obtained by "The Spanish Line" who then modified their design and greatly enlarged their accommodations.
Two Fine Looking Liners:
Upon completion, they were certainly most attractive looking ships with their streamlined sloping forward superstructures set back almost too amidships, accommodating her three forward cargo holds. Her fo'c'sle had holds N°2 & 3 and the forward island section had hold N°1. They had raked bow and a traditional cruiser stern. Hulls were painted black, with red boot topping topped with a thin white ribbon, and her superstructure all white.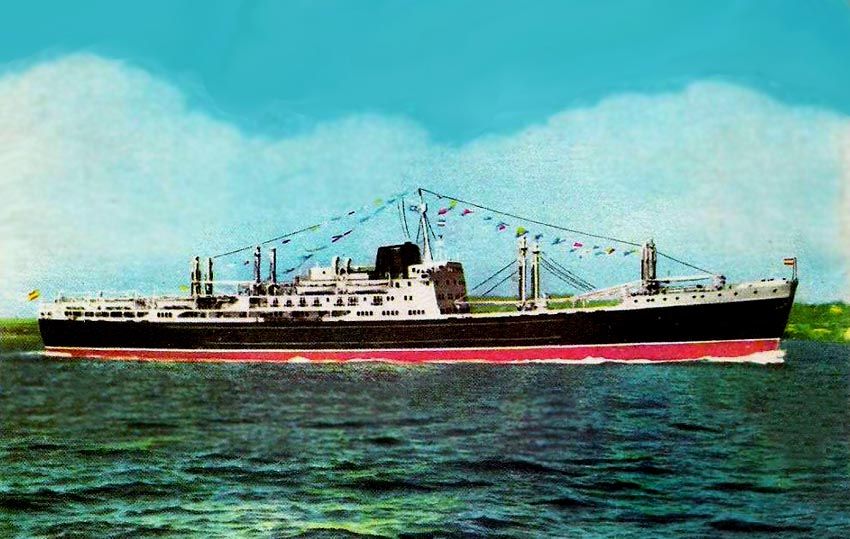 A postcard of the MS Covadonga and she is certainly a fine looking ship!
Take note of her after decks, *see the note below
Atop her bridge was a well designed shapely tall mast with a traditional look-out close to the top, whilst directly aft was a rather short but tapered black funnel.
On Promenade (Bridge) Deck along the side of the ship, beside the four evenly paced half height windows, in pairs of two (the Smoking Room), directly aft there were a series of seven multi-paned windows, which were for the First Class special cabins private glazed in veranda's.
*If you will look carefully at the two ships on this page you will note that their aft decks are quiet different as are their lifeboat configurations, for the MS Covadonga aft decks were built up more than her sister ship the MS Guadalupe.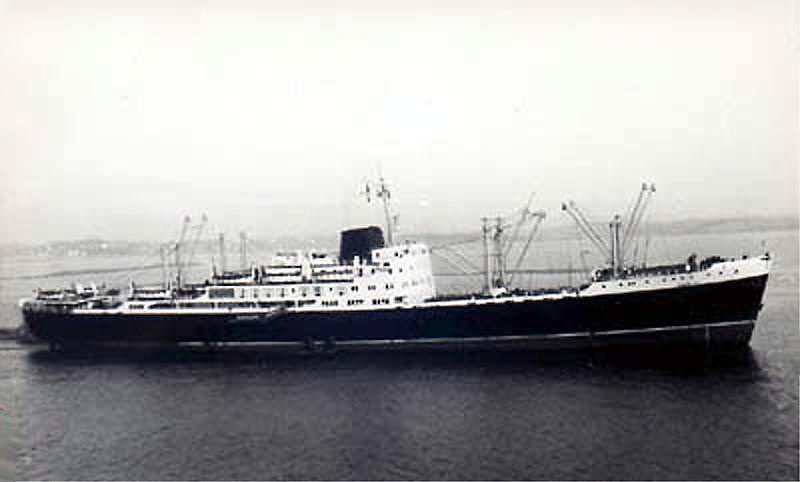 A Photograph of the MS Guadalupe, you will note her different style of aft decks
Of course because being passenger-cargo liners, they had a large cargo capacity, and thus there were five holds including some with insulated space. These holds were serviced by four sets of king posts and their respective derricks.
Delivery & Maiden Voyages:
(1), The first ship became the MS Guadalupe and she completed and ran her speed trial in March 1953, and thereafter was delivered to her owners.
MS Guadalupe departed for her maiden voyage on May 21, 1953 from Bilbao and headed for New York and onto Vera Cruz.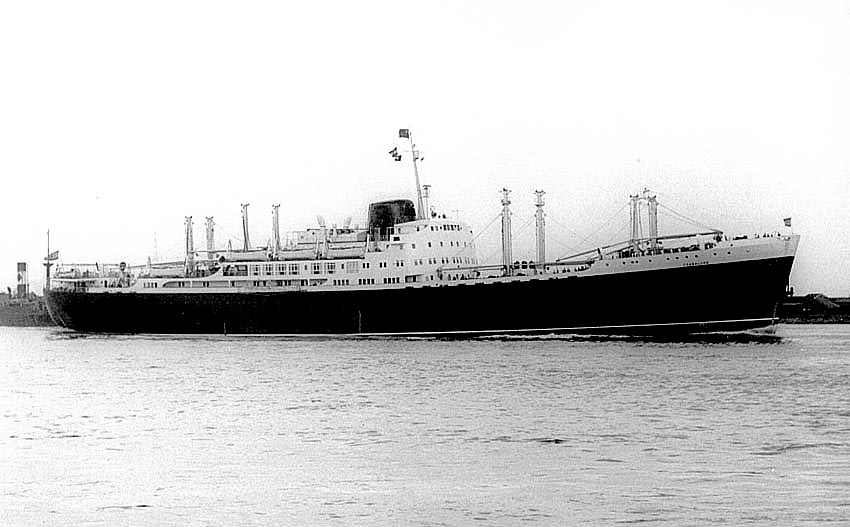 An excellent photographic postcard of the MS Guadalupe, a fine looking ship indeed!
(2) The second sister of the pair became the MS Covadonga and when she was completed she ran her speed trial late in April 1953, and was delivered to her owners early in May
MS Covadonga had a rather unusual maiden voyage, which had nothing to do with the company's regular schedule, but her maiden voyage was more like a special cruise to London for passengers and dignitaries to attend, or view the Coronation of HRH Queen Elizabeth II, which departed late in May 1953. However, when she returned to Bilbao on August 27, she the departed for her maiden voyage to New York and Vera Cruz.
MS Covadonga is seen arriving in New York on her maiden arrival on September 7, 1953
Photographer is unknown - Please see photo notes at the bottom of the page
Accommodations and Public Venues:
Boat Deck:
Topside fat forward are the Captain and other officers accommodations, whilst far aft was the First Class Music Salon and Bar.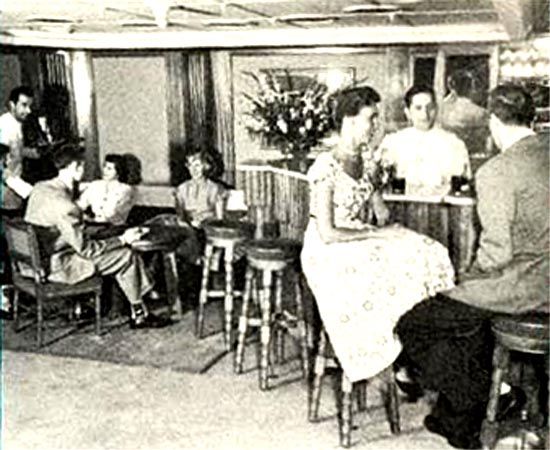 The Music Salon up on Boat Deck aft
Promenade (Bridge) Deck:
Forward on Promenade (Bridge) Deck by the main stair well was the First Class Smoking Room, which was followed by two exceptionally spacious Deluxe Suites one on the starboard and the other on the portside.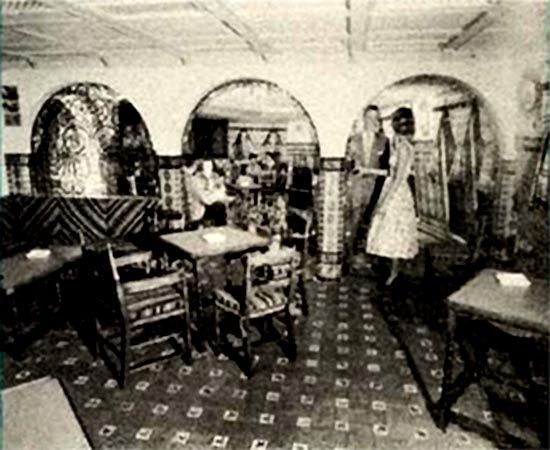 This is the First Class Smoking Room
Amidships there were six single cabins and eight twin bedded cabins each having a glazed in private veranda as well as private bathroom. Aft on this Deck was the location of the First Class Veranda.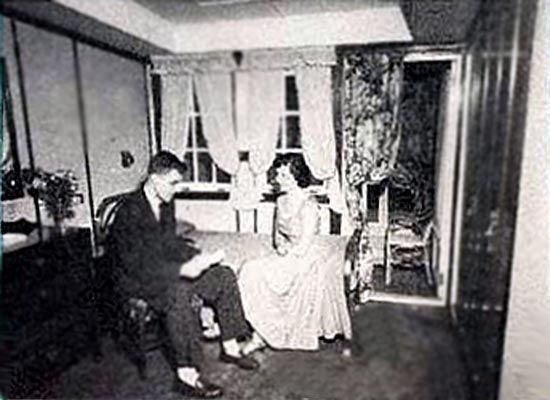 This is one of those special twin bedded cabins with a private veranda
This can just be seen in the rear of this photo
Upper (A) Deck:
Forward on this deck was the First Class Dining Room, which was followed by a further twenty six First Class cabins, for two, or three persons, the former having its own private facilities. Far aft (only on the MS Guadalupe) was a Cabin Class Lounge. Whilst on MS Covadonga there was a small Bar overlooking the swimming pool just aft. Along the both sides of this deck there was also some sheltered deck space ideal for a morning walk.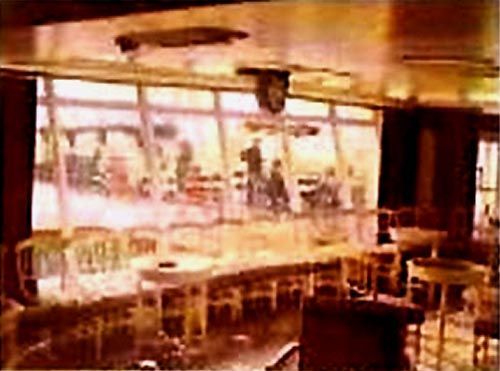 Cabin Class Lounge on board the MS Guadalupe overlooking the Pool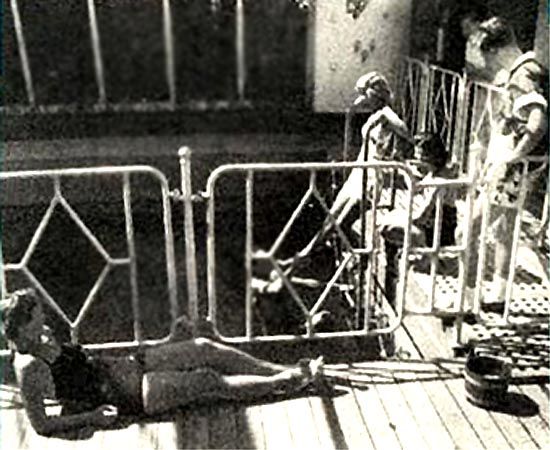 The ships Swimming Pool
Main (B) Deck:
It was on this Deck where all of the Cabin Class accommodations were located, and although there were some two berth cabins, but the majority were four berth cabins, which could also be sold for three persons. All Cabin Class accommodations had shared facilities. However, on this deck there was also the Cabin Class Lounge located further forward, and the Cabin Class Dining Room towards the aft. Both ships had partial air-conditioning.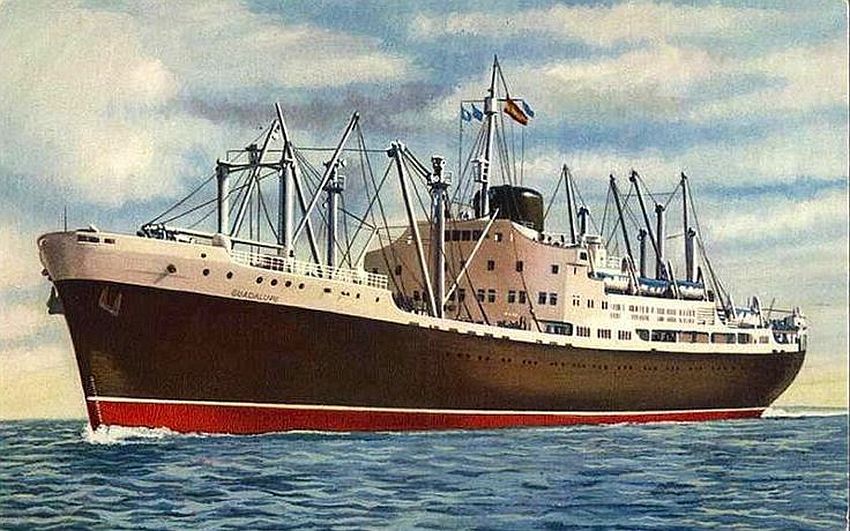 A great company colour postcard of the first of the sisters completed MS Guadalupe
Deck Plan and Brochures:
Below you will find a deck plan covering the two ships, although each ship has a slight differentials when it came to the Cabin/Tourist Cass Lounge, etc, as noted above, and this is also shown on the deck plan, but in a rather confusing manner I must say.
The brochure containing the Deck Plan below is a smaller version, and in order to view a larger size you can either click on the plan, or brochure as marked, or use the link located below same and as new page will open with the larger version. Although a smaller sized image may appear at first, just click on it and it will enlarge to its full size.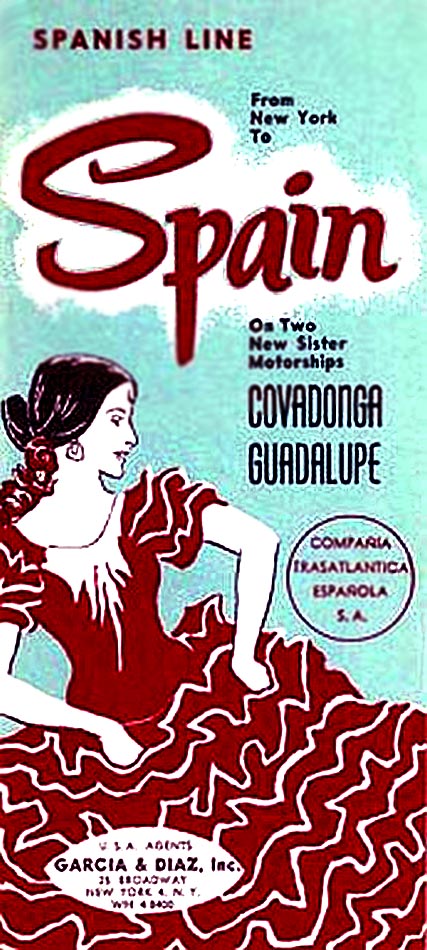 Brochure cover that contains the deck plan
This is the first feature of the brochure describing the voyage from New York to Bilbao Spain
www.ssmaritime.com/CTE-Brochure-Lge.jpg
www.ssmaritime.com/CTE-Deck-Plan-Lge.jpg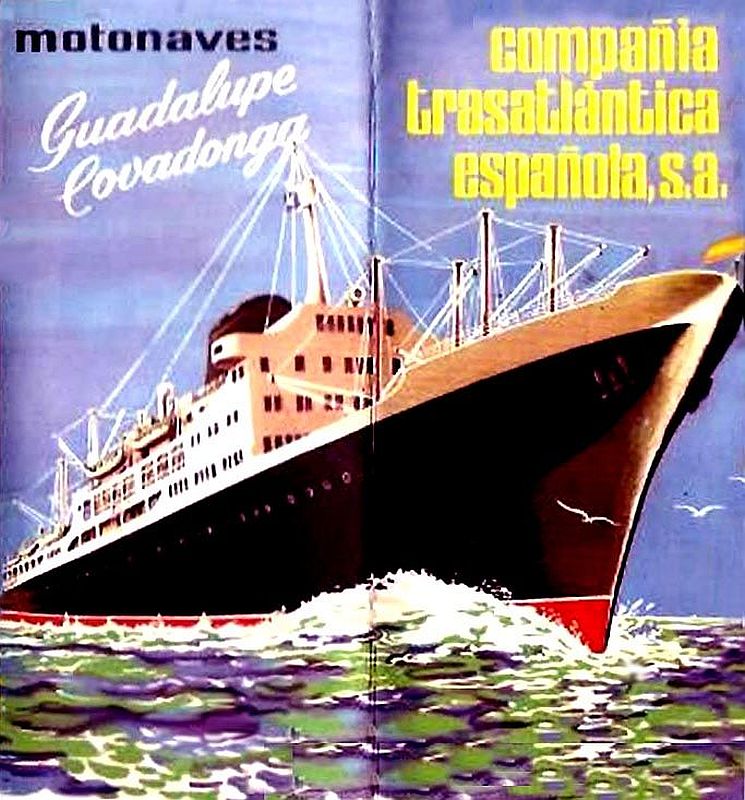 Here we see yet another American based brochure promoting travel to Spain on these fine ships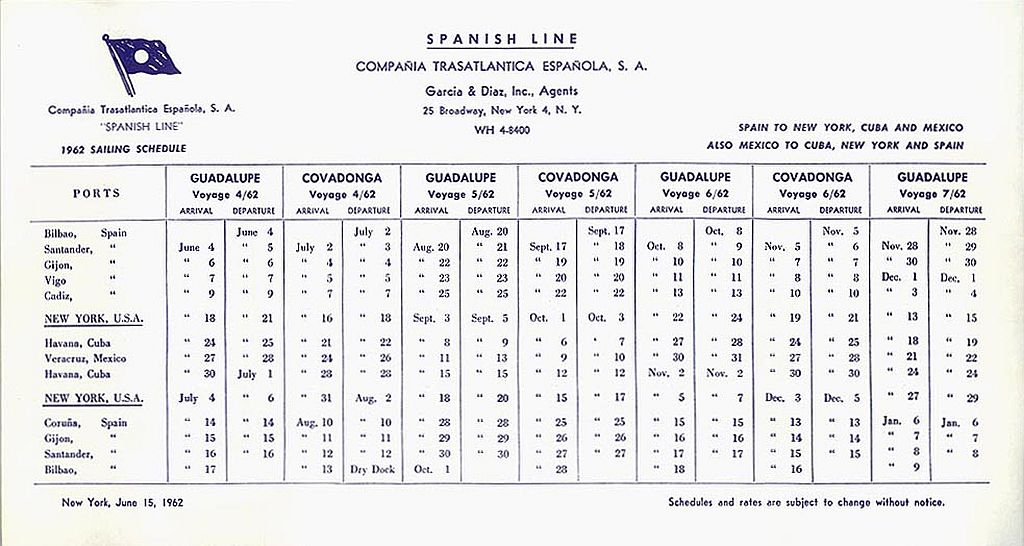 This 1962 sailing schedule, speaks for itself, more on details below
The final Chapter for the Sister Ships:
The MS Guadalupe and her sister ship the Covadonga operated on the Spain, Porto Rico, Mexico, New York service for a successful 20 years. There was no doubt that the Americans especially enjoyed the Spanish hospitality and the fine food served on board these ships as well as the great hospitality shown by their crew, which was their best publicity! Of course what was also so great, this was not just a Trans-Atlantic crossing, no matter in which direction people would choose to sail, the ports made the journey so special, for it was like a grand tour of north-western Spain, as well as Portugal and great ports on the way! Ports of call in general were as follows:
1 … 1962 Schedule:
Bilbao, Santander, Gijón, Vigo, Cádiz, New York, Havana, Veracruz - New York, Coruña, Gijón, Santander, Bilbao.
2 … Although they did vary occasionally and Cuba was deleted, and thus this would be their Schedule:
Bilbao, Santander, Gijón, Vigo, Lisbon, Cádiz, San Juan, Vera Cruz, New York - Coruña, Gijón, Santander, Bilbao
The Map on the brochure shown above, which can be enlarged, will give you some idea of the wonderful ports visited in and around Spain, and this made these two ships so popular.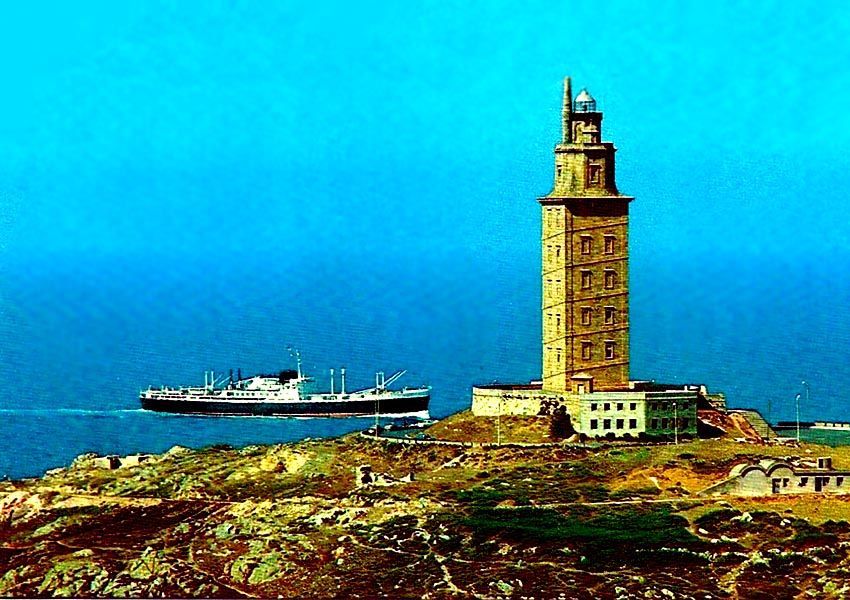 A fine postcard of the MS Cavadonga arriving at Coruña passing the famous "Tower de Hércules" seen on the mountain
However, as he years passed and suddenly the late 1960's had arrived and the company had become well aware that the passenger trade, as well as regular cargo services was rapidly changing. Slowly passengers were beginning to travel by air, and the truth was that a new style of cargo handling service had arrived on the scene. By around 1970, the Spanish Line became aware that profits were slowly declining. However, the company continued to make a reasonable, be it a lesser amount then in the past on these ships, thus they decided to keep them going, even in these slowly declining days.
But sadly two years later things had come to the point where a decision had to be made if it was worth to continue operating these two ships for by now, passenger loading had fallen to very low loadings, as well as cargoes were disappearing to much larger ships that operated at much greater speeds and had superior handling equipment, etc., all this was reducing costs for all concerned, but the Spanish Line was now beginning to lose considerably.
Therefore in 1973, The Spanish Line decided, with a great degree of sadness, to sell MS Guadalupe and the Covadonga to local Spanish ship breakers and they were duly broken up.
It is noteworthy that these two fine Passenger-Cargo Liners were the very last ever to operate on this special service on a regular basis, and it was a great loss to all ports they visited so regularly, for the passengers would undertake excursions and spend good deal of money in each port, thus it was good for the local economy.
Specifications (1) MS Guadalupe & (2) MS Covadonga:
Ship Type: Passenger-Cargo Liners.
Ship (1):
Built by: Soc. Espanola de Const, Naval, at Bilbao.
Launched: May 2, 1951 as the 'Monasterio de Guadalupe'.
Registry N°: 397.
Completed: March 1953 & named 'Gaudulupe'.
Maiden Voyage: May 21, Bilbao, New York to Vera Cruz.
Ship (2);
Built by: Cia Euskalduna, Bilbao.
Launched: October 31, 1951 as the 'Monasterio de la Rábida'.
Registry N°: 400.
Completed: May 1953 & named 'Covadonga'.
Maiden Voyage Late May 1953 to London for the coronation of Queen Elizabeth II
August 27, 1953 - Maiden voyage to the USA and Vera Cruz.
Ships (1 & 2)
Tonnage: 10,226 GRT, 8,023 NRT, 8,500 DWT 14,800 Displacement.
Sold to: 1952 both ships were obtained by "Cia Transatlantica".
Length: 487 ft - 148.5 m.
Beam: 62 ft - 18.92 m.
Draft: 26.3 ft - 7.61 m.
Propulsion: Sulzer Diesels, 10 Cyl x 720 mm bore x 1,250 mm stroke, 7,300 HP.
Propellers: One.
Speed: 16.5 knots service speed, 17.5 knots maximum.
Passenger capacity: (1) Total 353, 105 First Class & 248 in Cabin Class.
. (2) Total 349; 105 in First Class and 244 in Cabin Class.
. Partial air-conditioning.
Remembering Two Fine Ships of the …
Compania Trasatlantica Espanola S.A.
('The Spanish Line")
MS Guadalupe & MS Covadonga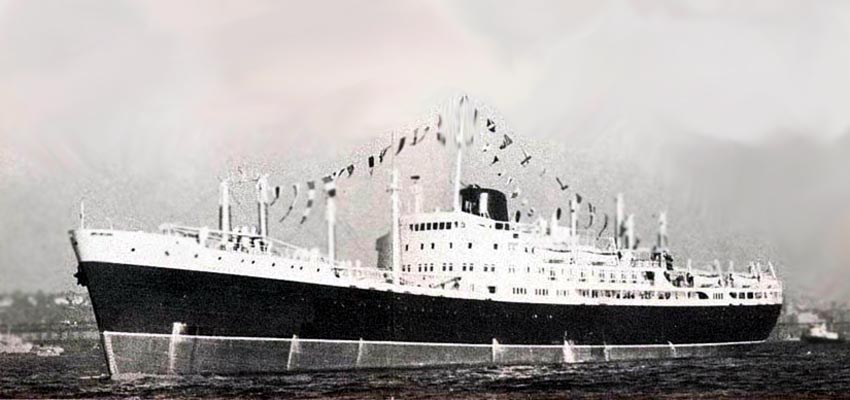 The MS Guadalupe and sister MS Covadonga served the Spanish Line well for a full 20 years

And they certainly were greatly admired by both Americans as their European passengers

Also read about other Spanish Ships …

The last of the 'Ybarra' Liners … MS Cabo San Roque & Cabo San Vicente

'Aznar Lines' Monte Style Liner … MS Monte Ulia

***********************************

Email the author: rg@ssmaritime.com

Please NOT for Passenger or Crew Lists, or sailing schedules, for if I had them, they would be online!

If you do email and ask me for them, you will receive no reply as you email will be DELETED!

Use the Back button on your browser or Close the Page to return to the previous page
or go to our ssMaritime Main INDEX

ssMaritime.com & ssMaritime.net

Where you will discover over 1,125 Classic Liners & the 1914 built MV Doulos Feature

Photographs on ssmaritime.com, &.net and associate sites are: 1. By the author.2. From the author's private collection. 3. Or as provided by Shipping Companies and their Publicity Companies as well as by private photographers or collectors. Credit is given to all contributors. However, there are some photographs provided without details regarding the photographer concerned, therefore I hereby invite if owners of those images to be so kind and make them-selves known to me per email at rg@ssmaritime.com in order that due credit may be given!

ssMaritime is owned and © Copyright - Reuben Goossens - All Rights Reserved